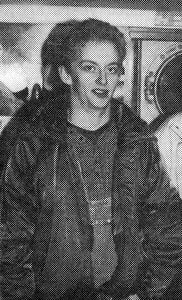 Chris Adams After being involved in land-based pirate radio in Essex, Chris spotted a recruitment advert for DJs required on the Israeli offshore station, the Voice of Peace. He joined Caroline from the Peace ship on 1st June 1989. Many other DJs had made that same move but Chris claims to have made the fastest transition - from a ship off Israel to a ship in the North Sea in just five days. We asked Chris if he had any particular memories of his time on the Ross Revenge: "One story I would love to share was after making contact with a couple of CB breakers from Ramsgate I invited them out to see Caroline. To be honest, I never really expected them to turn up however they did and we had a great afternoon. They enjoyed themselves and I decided to return with them as the station was off air at this time and I was getting quite fed up. The return was a scary experience as the two-man sailing boat was not really ideal for the North Sea. We were being thrown about and we were all quite concerned. However we made it back - only just. I remember one of the breakers had a peg leg and he could not get out of the boat as his leg had frozen up due to the waves breaking onto the deck." Chris was a member of the crew airlifted off the Ross Revenge by RAF helicopter when the ship got into trouble in December 1990. He later ran two successful radio stations, TKO FM and TKO Gold, on the Costa Blanca in Spain but has since sold them and is now living back in Britain. For a time he could be heard presenting a show of eighties music every Saturday on BRFM. (Photo by John "The Paint", from the Caroline Movement Bulletin. There is another picture of Chris in Tony Palmer's photo album. Thanks to Chris and Kevin Turner for their assistance.)
Chris Adams having a few problems - with his turntable, a missing record and a lost weather forecast - on Radio Caroline from Sunday morning 11th June 1989. This is an edited version of a recording made available by The Offshore Radio Archive (duration 2 minutes 42 seconds)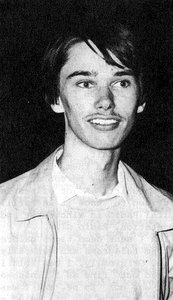 Ian Akers had wanted to be a radio presenter from an early age. While on holiday in Sussex in 1983, he heard the test transmissions for the returning Radio Caroline and was determined to join the station. He did some freelance work for BBC Radio Solent and was employed by the Independent Broadcasting Authority, as well as gaining some experience through hospital and campus radio, while sending demo tapes to Caroline. Eventually he got a response to his applications and he joined the station in April 1986. Initially he mainly played back-to-back music and ran the religious progammes on "Viewpoint 963" but he did get the occasional weekend show too. During the summer of 1987 he worked on Novo 103 in Portugal before moving on to a couple of stations in Ireland and Blue Danube Radio in Austria, before returning to Caroline under a new name in March 1989. He was now known as Ian Miles. Ian celebrated both his 18th and 21st birthdays while aboard Caroline. After coming ashore, Ian worked on both BBC and commercial radio as a presenter and news editor before becoming a media manager for the police force. He has also presented shows on Radio Seagull. (Photo from 'Monitor' magazine.)
Ian Akers on Radio Caroline from the evening of Saturday 26th April 1986, soon after he joined the station. This is an edited version of a recording available from www.azanorak.com. Our thanks to Ray Robinson (duration 3 minutes 2 seconds)
Ian Miles on Caroline-558 from an afternoon in May 1989. This is an edited version of a recording posted by Vincent on the Internet Radiocafé, now known as the Radiotrefpunt (radio meeting point) forum. Our thanks to him (duration 3 minute 33 seconds)
Alex We don't know anything about Alex except we are told that that he was an American who station founder Ronan O'Rahilly met in a bar and persuaded to become a Radio Caroline DJ. He was heard on the station between 15th February and 2nd April 1988. Can anyone provide more information?
Alex kicking off the 9pm-1am show on Radio Caroline, 19th February 1988. This is an edited version of a recording posted by Vincent on the Internet Radiocafé, now known as the Radiotrefpunt (radio meeting point) forum. Our thanks to him (duration 1 minute 31 seconds)
Chris Allan From Maine, USA, Chris was a generator engineer on the mv Communicator, the Laser ship. For a couple of months in late 1984, Laser-558 extended its broadcasts by an extra hour on Friday and Saturday nights. This late night show, initially hosted by Charlie Wolf, became known variously as The Mariners' Hour, The Zany Hour or The Not Ready For Prime Time Broadcasters' Hour and was presented by various DJs, crew-members and engineers. Chris was one of the people heard on this programme. There is a photo of Chris in Michael Dean's photo album.
Charlie Wolf is joined by Chris Allan on a Saturday night Zany Hour in late 1984. Recording kindly provided by Hans Knot (duration 4 minutes 8 seconds)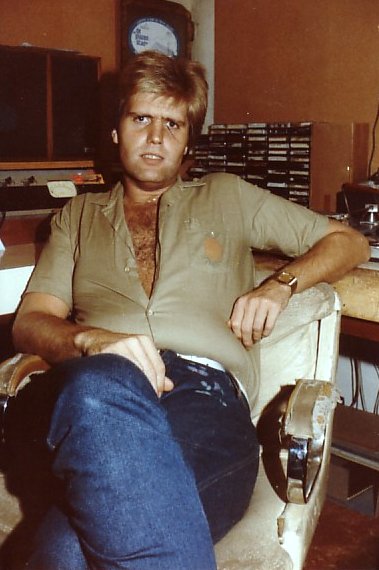 Brian Allen In 1970 Brian, then 14 years old, visited a local land-based pirate station, Free Radio Colchester. He was fascinated by what he saw there and offered his services. Unfortunately his father heard him on the air and, worried about his son breaking the law, stopped him broadcasting. But the seed was sown. Brian wanted to be a DJ. He borrowed £15 from his father to buy equipment and was soon working as a mobile DJ in the area around his Essex home. At 18 he went travelling, working as a club DJ all over Europe. Still interested in radio, his friend Carl Kingston put him in touch with Radio Caroline. The station had recently resumed broadcasting from a new ship, the mv Ross Revenge. Programme Director Annie Challis gave him an audition, which he passed, and he joined Caroline in January 1984. He stayed there for most of that year - "the best year of my life", he said. He told us: "Since leaving in November '84 I have lived in the west coast of Denmark. I married a Norwegian girl and have two daughters. I have built seven pubs and restaurants over the last 35 years. I recently retired after 50 years of being self employed but still have Cheers, an old English pub in Blokhus, Denmark." Sadly Brian has passed away since he wrote that. He died in Denmark on the afternoon of 13th May 2021. (Thanks to Keith King for supplying the photo taken by Leendert Vingerling.)
Brian Allen counting down the new Album Top 30 on Radio Caroline from the afternoon of Sunday 19th February 1984. This is an edited version of a recording available from www.azanorak.com. Our thanks to Ray Robinson (duration 5 minutes 45 seconds)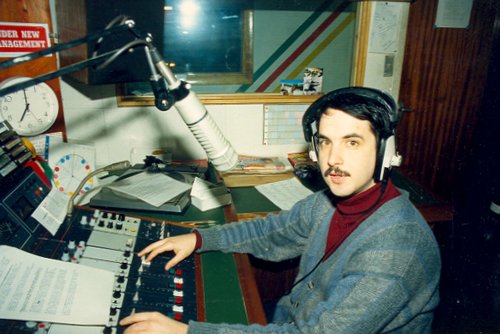 John Allen Relief newsman on Laser Hot Hits, John was heard on the station for about a month, starting on 23rd February 1987. Ray Anderson, the man behind Laser Hot Hits, tells us: "John came from Ipswich, Suffolk. I haven't seen him since the Laser days." Can anyone provide more information? (Photo © Dennis Mikelas.)
John Allen reading a news bulletin on Laser Hot Hits from Sunday 1st March 1987. This is taken from a recording available on www.azanorak.com. Our thanks to Ray Robinson (duration 1 minute 52 seconds)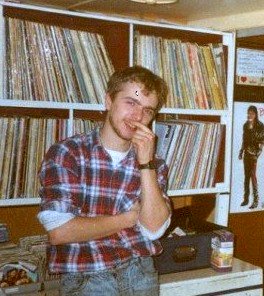 Tim Allen had worked on a number of London's land-based pirates including Radio Duck, the north-west London medium wave station Radio Floss and Hits-FM, before joining Caroline-558, as it was then called, in October 1987 to present drive and weekend breakfast (and occasionally lunchtime) shows. He was on board when the infamous hurricane hit and also the night the 300 ft. mast collapsed. He was due to spend four weeks on the ship but ended up staying twice as long. His last show on Caroline was on 10th December. He then spent two years "sitting in a goldfish bowl in the middle of the store and being stared at by customers" at HMV's in-store radio station before joining the Chiltern Radio network. From there he moved to Northants Radio for three years presenting the mid-morning show, then Drivetime at Hereward FM in Peterborough. The Classic Gold Network in Bedfordshire was next. Tim can currently be heard on Wave-105 on the south coast of England where he is also Station Producer. (Thanks to Tim and Paul Graham.)
Tim Allen on Caroline-558 from his 5-9pm show, one evening in October or November 1987. This is an edited version of a recording made by Tim on the ship. Our thanks to him for providing it (duration 3 minutes 21 seconds)
The Pirate Radio Hall of Fame needs your

The site is updated regularly and we are always on the look-out for new material to add. If you have any information, photographs, recordings or contact details for any of the disc-jockeys we haven't been able to trace, please get in touch.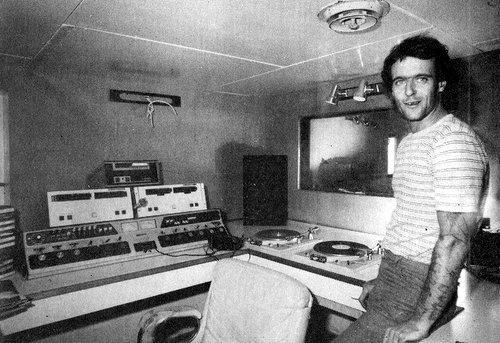 Tom Anderson had previously broadcast on Radio Caroline during the seventies (see entry in The Pirate Radio Hall of Fame 'Seventies Supplement'). One of the DJs to be rescued from the mv Mi Amigo the night she sank, Tom was closely involved in the fitting out of the new ship and presented the first show from the Ross Revenge when the station launched on 20th August 1983. At the end of 1984 he left the ship to work for the station on land although he returned to the air a year later to run the 'Caroline Overdrive' rock service. This finished in January 1987. Tom was heard occasionally after that but eventually left the organisation to work for Sunshine Radio on the Riviera. When he returned to the UK he joined radio syndication company PPM, moving to the BBC's Greater London Radio in 1991, working mainly as a lecturer on a radio training scheme but also presenting a Saurday evening show on the station. When the training scheme ended a year later, Tom moved back to the south of France and Riviera Radio, later becoming Programme Director. He still lives in France. (The photo shows Tom in the brand new Caroline studio at the time of the station launch in 1983. It is taken from 'Monitor' magazine. There are more photos in Caroline Martin's album.)
A rather low key Tom Anderson reopens Radio Caroline from her brand new ship at 12 noon on 20th August 1983. At that time the music was played in sweeps of up to 20 minutes with minimal chat from the DJ. This is an edited version of a recording available from www.azanorak.com. Our thanks to Ray Robinson (duration 1 minute 45 seconds)
A much more lively Tom Anderson from the following June, presenting one of his regular early evening shows. The clip is edited from a studio recording donated to www.azanorak.com by Bill Rollins. With thanks to Bill and Ray Robinson (duration 3 minutes 44 seconds)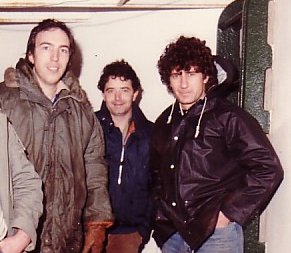 Alton Andrews A former club DJ, Alton joined Radio Caroline in September 1984. His first stint aboard ended on 27th October and, when he returned in January 1985, he used a different name as the authorities had begun to take an interest in the station. He was then known as Mark Summers. He left the following month to join the in-store radio station at the Oxford Circus branch of Top Shop in London. Alton later worked for Riviera Radio in the south of France, spent two years on Radio Luxembourg, was with Liberty Radio in London for five years and British Forces Broadcasting, including a period serving in the Middle East during the Gulf War. He tells us he was the first ever British Forces DJ to work on AFRTS, American Forces Radio Television Service. Alton presented the afternoon show on Red Rose Radio in Preston for about 4 or 5 months, before moving to the Breakfast Show. He has also been heard on European Klassic Rock and Thames FM, Big L in Frinton and presented various shows on BBC Radio Cambridge. He says: "I walked away from radio in 2008. I still do the odd voice-over and write stuff for people. I now live in the countryside in a very, very small village. I am enjoying the quality of life with my wife. We keep chickens and ducks and, yes, life is pretty good." Alton can currently be heard on Saturdays on Red Rose Radio and German internet station novumfm.de. (Thanks to Alton for his assistance and to Philip Champion for some information. The photo shows, left to right, Alton, Nick Richards and Tony James. It was taken by Leendert Vingerling and kindly supplied by Keith King. There are more photos in Caroline Martin's album.)
Alton Andrews on the Radio Caroline Breakfast Show on Sunday 14th October 1984. This is an edited version of a recording made available by The Offshore Radio Archive (duration 3 minutes 41 seconds)
Mark Summers from a marathon eight hour programme on Radio Caroline International, 17th January 1985. This is an edited version of a recording posted by Vincent on the Internet Radiocafé, now known as the Radiotrefpunt (radio meeting point) forum. Our thanks to him (duration 4 minute 7 seconds)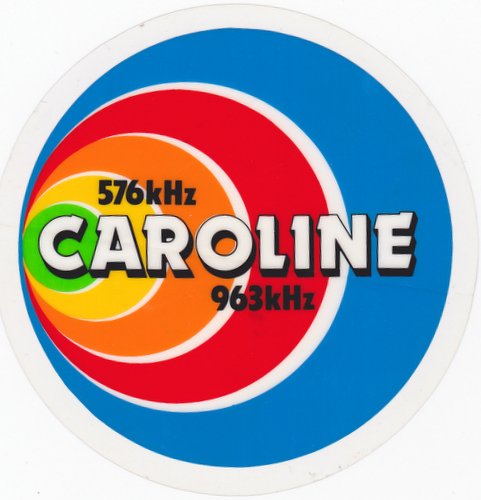 Radio Caroline car sticker.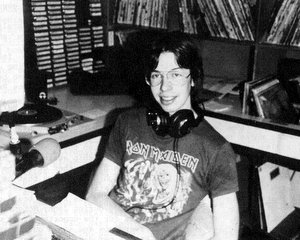 David Andrews A former bank clerk and hospital radio volunteer from Chelmsford, David joined Radio Caroline on Saturday 29th June 1985, presenting his first show at 2am the following day. One year later, minus a day, having put in many, many hours on the air, he left Caroline to join the Dublin pirate Energy-103, where he was known as Alan Burns. In July 1987 he moved to Riviera Radio in the south of France followed by Chiltern Radio then Capital Gold. David can currently be heard presenting weekend mornings on Gold. (Photo from 'Monitor' magazine.)
David Andrews on Radio Caroline on the afternoon of 28th August 1985. This clip is part of a longer recording made available by The Offshore Radio Archive (duration 3 minutes 53 seconds)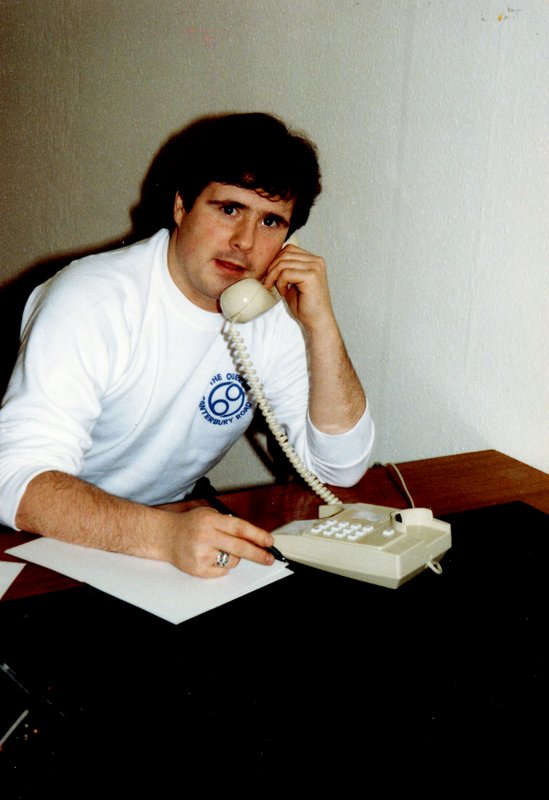 John "Rock'n'Roll" Anthony Born 6th October 1964, John was 22 years old when he joined Laser Hots Hits. An American, from Worcester, Massachusetts, he had previously worked for station WORC. Two of his friends, Jay Mack and Craig Novak, had previously worked on Laser-558 so he was aware of British offshore radio and, on lst December 1986, John became the first DJ on the station's successor, Laser Hot Hits. At the time he was, in fact, the only DJ and John put in many marathon sessions behind the microphone while the engineers put the finishing touches to the equipment. He was used to long shows - his WORC shift had been midnight-10am! He was last heard on air on 24th March 1987 and John then returned to the USA. He went to live in Florida, where his parents were based, and, after enjoying a vacation, started DJ-ing in clubs. This led to him playing music in strip clubs which he described as "the easiest thing I had ever done and the money was sick". Unfortunately he received a massive electric shock from a faulty lighting board in the club. John thought that a fellow DJ, who had just been fired from the club, had sabotaged the board. He woke up in hospital, alive but in severe pain. He had to endure a number of operations. He told The Pirate Radio Hall of Fame in 2012 "I am currently cutting tapes for cable voice-overs and trying to edge back into radio." He never did return to radio. He continued DJ-ing in a strip club in Clearwater, Florida, but sadly his poor health continued and he died on 7th October 2014, the day after his fiftieth birthday. (Thanks to Chris Edwards and François Lhote of Offshore Echo's for the photo.)
John "Rock'n'Roll" Anthony on Laser Hot Hits during the afternoon of 9th December 1986. This is an edited version of a recording made available by The Offshore Radio Archive (duration 3 minutes 46 seconds)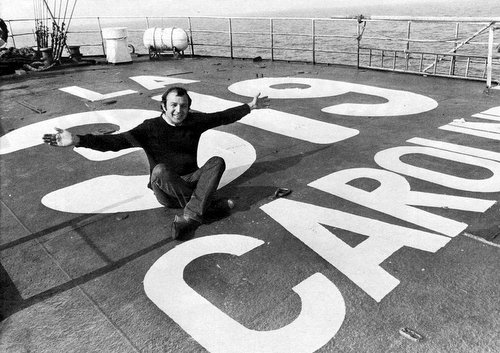 Andy Archer is the only DJ to have worked offshore in the sixties, seventies and eighties (see entries in the main section and 'Seventies Supplement' of The Pirate Radio Hall of Fame). Following his time with Caroline in the seventies, Andy was heard on Radio Orwell, Devonair, a number of Irish stations and Leicester's Centre Radio but, when this last station went bust, he was free to join the new Radio Caroline in time for its re-launch in 1983. As in the previous decade, Andy was caught coming ashore and, again, was fined under the Marine Offences Act. He left Caroline in January 1984 and, after a short stint on Guildford's County Sound, returned to Orwell. This was followed by jobs on a number of stations including Invicta, Mellow 1557, CN-FM, North Norfolk Radio and BBC Radios Suffolk and Norfolk. He is now enjoying a well-earned retirement. There are some recent photos here. (This photo of Andy on the deck of the Ross Revenge was taken for the East Anglian Daily Times and is reprinted from 'Caroline 319 - Into The 80s', a book he compiled, published by Seagull Press.)
Andy Archer on Radio Caroline during the afternoon of 29th August 1983, soon after the station launch. This is an edited version of a recording made available by The Offshore Radio Archive (duration 3 minutes 41 seconds)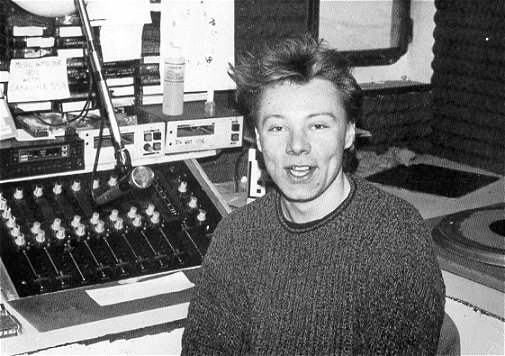 Dave Asher Birthday 23rd May. From Oxford, Dave had worked on the Mediterranean offshore station, the Voice of Peace, for many years before joining Caroline in May 1988. He was on board at the time of the Dutch police raid on the Ross Revenge in August 1989 which did so much damage. Together with Caroline Martin and engineer Peter Chicago, Dave was part of the team who managed to get the station back on the air again after the raid. Since his time at sea, he has been heard on numerous stations including Contact-94, a French-based station broadcasting to the Channel Islands, CN-FM, XTRA-AM, Piccadilly, Invicta Supergold, Red Rose in Preston, Magic 999 and The Bay. Dave spent a number of years on NRJ Radio in Beirut, Lebanon, before moving to Cyprus where he worked for Sunshine Radio and Rock FM. After a period at Hi FM in Oman, Dave returned to Cyprus and hosts the Breakfast Show on Viva FM. He can also currently be heard on the internet stations Quasar Radio and Atlantis. (Photo courtesy of 'Offshore Echo's Photo Gallery'. There are more photos in Caroline Martin's and Chris Cooper's photo album.)
Dave Asher on Radio Caroline during the afternoon of 5th October 1989. This is an edited version of a recording made available by The Offshore Radio Archive (duration 3 minutes 43 seconds)