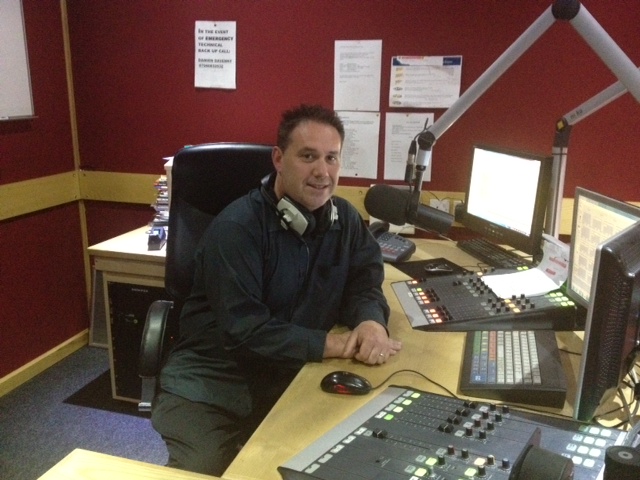 David Baker had worked on a number of Irish stations, including Radio City, Big D and ARD before joining Radio Caroline. His first show on Caroline was on 5th July 1987 but he only stayed a few days (last one: 11th July) because another job came up. Since then David has worked for Queens Park Rangers, as a freelance reporter and commentator for Sky Sports, for Breeze AM, Chelmer FM / Dream 107, Time FM and Classic Gold Breeze before returning to Ireland. There he was heard on Q102 in Dublin between 2006 and 2008, KFM in County Kildare and then Spirit Radio. Later he was in Wales as Deputy Programme Manager and presenter on Radio Pembrokeshire. David is a wedding DJ (winner of the 2011/2012 Wedding DJ of the Year Award) and is now Programme Controller of Chelmer Radio, a local station for mid-Essex. His website is www.davidbaker.biz. (This is a recent photo. Can anyone provide one of David from his time on Caroline? Thanks to Paul Graham and David for their assistance.)
David on the 9am-1pm show on Caroline-558, 7th July 1987. The recording was kindly shared by Hans Hendriks on The Offshore Radio Club Forum. Our thanks to him (duration 3 minutes 50 seconds)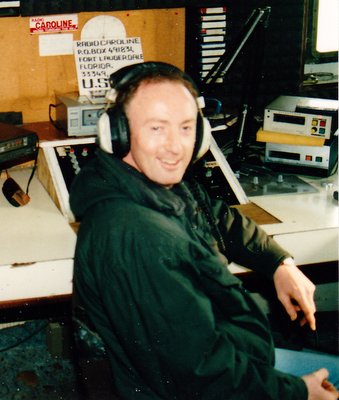 Steve Ball Radio Caroline used to keep a stock of pre-recorded shows in case of severe weather causing problems. Towards the end of its time at sea, some of these were provided by Steve Ball, a DJ from Stoke-on-Trent. He says: "I used to do pre-recorded shows for Caroline in my little studio at home. In fact I sent a few out to the ship via different means. They were played at similar times to Colin Ward's great pre-recorded rock shows. Mine were all oldies and jingle based 90 minute shows. I have it on good authority from a contact living in Lowestoft that at least 3, possibly 4, were broadcast on different occasions, although the signal might not have been reaching far at the time due to weather conditions, etc.. I had a couple of offers to join Caroline in the late eighties but sadly had to refuse as I had just taken on a new house, job and girlfriend. I started my DJ career in 1971 at the age of 15 doing our local youth club. From there, as I got older, I went down the usual route of pubs, nightclubs and mobile discos, eventually landing residencies at local major discos including The Place nightclub. I still keep my hand in with local clubs on the soul circuit here in Staffordshire." (With thanks to Steve for his assistance and for the photograph, taken in the studio on the Ross Revenge by Neil Gates.)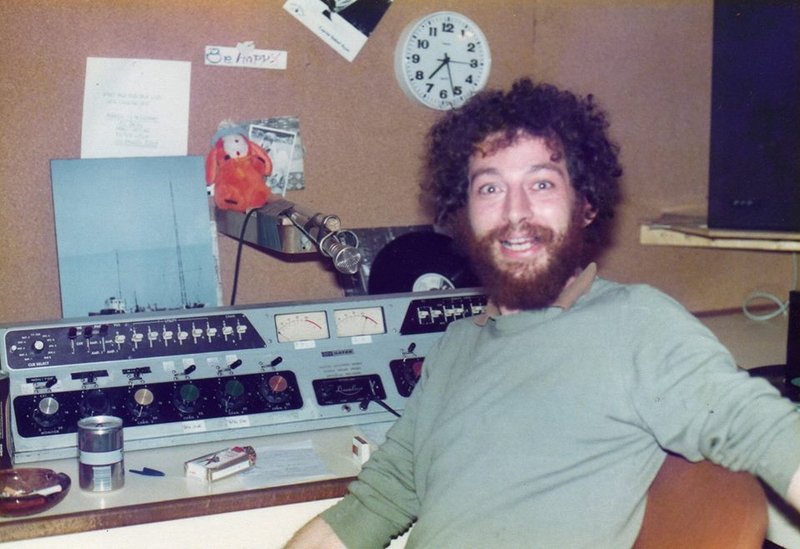 Simon Barrett had previously worked for Caroline aboard the mv Mi Amigo (see entry in The Pirate Radio Hall of Fame 'Seventies Supplement'). He returned to the station, now aboard the mv Ross Revenge, in September 1983. He left a year later to work in Dutch clubs, returning occasionally when the station was short of staff and he was available to help out. He was back for ten days in January 1985, again in April 1985, and yet again for a week in April/May 1986 while on holiday from a new job, working for a cable and satellite TV company in Holland. As in the seventies, he used Come A Little Bit Closer by Fleetwood Mac as a theme tune. Often referred to by the nickname "Wally", he was also heard as "Bert Twigworthy of Radio Anorak" on a late night test broadcast on 2nd May 1986. While living in The Netherlands, Simon also made some appearances on the Laser roadshow there. He later worked for Radio Wyvern in Worcester before moving to Majorca to run a guest-house. He still lives on the island. (Photo taken on the Ross Revenge in September 1983 by Rob Ashard and kindly passed to us by Simon. Thanks to Hans Knot for his assistance. There are more photos of Simon in Michael Dean's, Caroline Martin's and Stevie Lane's photo albums.)
Simon Barrett on Radio Caroline from the afternoon of 28th April 1986. This is an edited version of a recording made available by The Offshore Radio Archive (duration 4 minutes 26 seconds)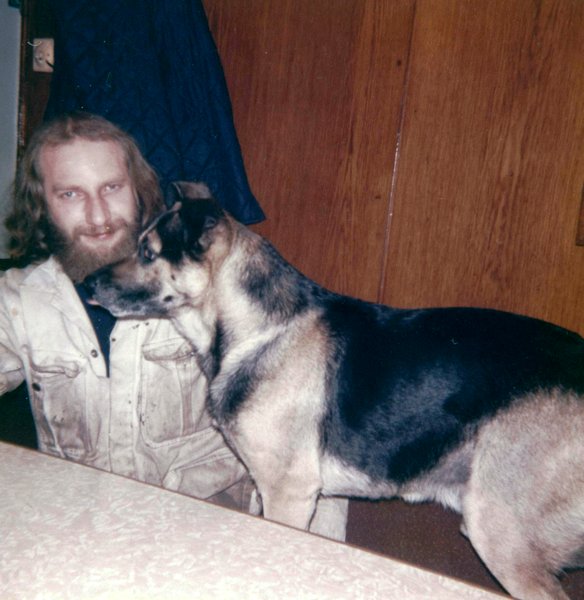 Mike Barrington An engineer, Mike had previously worked for Radio Caroline on the mv Mi Amigo (see entry in The Pirate Radio Hall Of Fame 'Seventies Supplement'). He was also involved with the south London landbased pirates Radio Sovereign and Radio Jackie. Mike returned to Caroline in the eighties, now aboard the mv Ross Revenge, where he was heard occasionally on air. He presented two test transmissions on 576 kHz in October 1984 and another in December 1984. He was also heard fronting a one hour show on Laser-558 in the early hours of 27th August 1984. Although not often broadcasting himself, Mike was busy behind the scenes and set a new record for staying on board the longest, being on the Ross Revenge a total of one year and two weeks between June 1985 and June 1986. Mike was later an engineer on Laser Hot Hits, although he did not present any shows there. Since then he has worked for Sealand, the independent man-made state based on Roughs Tower. (Photo of Mike with Raffles, the ship's dog, taken by Captain Campbell, kindly provided by Chris Watford. There are more photos in Caroline Martin's album.)
Engineer Mike Barrington hosting a test transmission on 576kHz in the early hours of 17th October 1984. This is an edited version of a recording kindly provided by John E. Patrick (duration 3 minutes 26 seconds)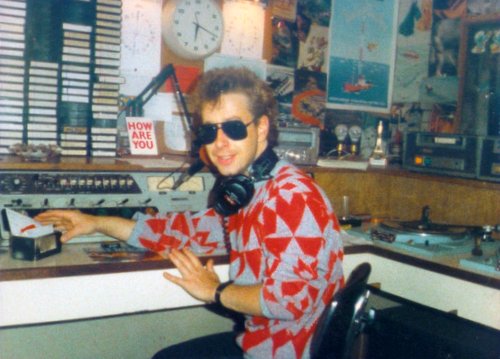 John Bennett had worked as a DJ in various nightclubs and discotheques in and around the Cheshire and Manchester area before joining the Israeli offshore station the Voice of Peace in 1980. From 1981 he was heard on Heartbeat Radio as well as providing voice-overs for local radio stations. Between 1984 and 1986 he was on Radio Barlavento in the Algarve, Portugal, joining Radio Caroline at the beginning of July 1986. He was later with Contact 94, a French-based station broadcasting to the Channel Islands, BBC local radio in Yorkshire and various commercial stations, as well as teaching radio techniques to potential broadcasters. In 2000 he began a three year course at Edinburgh University where he got a degree in Combined Studies. John provided voice-overs and made shows for broadcast in both the UK and Spain, as well as running a very active Facebook page celebrating the station he grew up listening to, Radio Caroline North, but he was in poor health and sadly died in St. David's Hospice, Llandudno, on Saturday 6th September 2014.
John Bennett on the Radio Caroline Breakfast Show from a Thursday in July 1986. This clip is edited from some Caroline audio that John posted on YouTube. It is no longer available there (duration 2 minutes 32 seconds)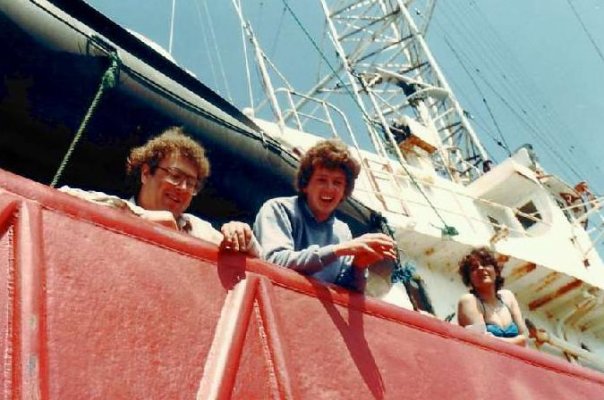 Grant Benson joined Radio Caroline in October 1983. We asked him about his career and time with the station: "I was born (on 31st March 1963) and raised in Watford, Hertfordshire, and had always had a fascination with radio from when I built my first crystal set as a kid. I found Radio Caroline while tuning around one evening in the mid-seventies and like many before became totally hooked - both for the music they played and the mystique! I started visiting the Caroline Roadshows and got to know some of the people involved with the station and I vowed to myself that I'd get there eventually. When the Mi Amigo sank in 1980 I thought I'd missed my chance and so I applied to Abie Nathan for a job at (the Israeli offshore station) The Voice of Peace. At this time I was only 17 and had practically no experience whatsoever. I remember sitting down with a cassette player and reading articles from the newspaper as my demo-tape for the VoP! To my surprise I got a telegram back from Israel asking me to get on the first available plane for Tel Aviv. I spent an eventful six months in the Middle East and then joined Radio Nova, an English station on the French/Italian border. Shortly after my arrival at Nova, the Ross Revenge dropped anchor off the UK. I got out my old address book and pleaded with anyone who would listen to help me get out there. Eventually my insistence paid off and in the latter part of 1983 I arrived on board. I remember being totally in awe of the whole situation. I spent about six weeks on board for my first shift and then came off and got arrested .... It happened late one night. It was a beautiful crisp evening, the sea was totally calm. The tender came alongside, a large comfortable ex-RAF cruiser fitted out with bunks which was to take us somewhere near Ipswich. The journey was expected to take about 3 hours so I got some sleep. Also on board the tender was Andy Archer and some others. We approached Felixstowe and started to make our way up the river when all of a sudden a police launch came alongside. We were boarded and told we were being arrested on suspicion of being illegal immigrants. They herded us into a police transit and took us to Ipswich police station. After a while they took me for questioning and explained that they suspected that I worked for Radio Caroline. They told me that the others had confirmed that I was a Caroline jock. I replied that I was somewhat confused by the whole business. Firstly I'd been arrested as an illegal immigrant, now I was being accused of working for Caroline. I said I'd rather get some independent advice before saying anything. I remember the copper being quite friendly and a few minutes later they let me go. I never heard anymore about it. The others were charged and found guilty under the Marine Offences Act. I returned to Caroline a few weeks later and, in all, probably spent about a year working on the Ross before going back to Italy. In Italy I was offered a gig on the biggest commercial national station Network 105 and went on to do some TV work too. Being a native English speaker meant that I got to do all the best interviews and got to meet a whole range of stars, from Jimmy Page and Robert Plant to The Ace of Base! I now do mid-mornings on Radio Number One in Milan and run Music 100.9, an FM station in Monte Carlo." Since writing this, in December 2019, Grant left Radio Number One after 13 years with the station. (With many thanks to Grant for his assistance. This photo shows Grant leaning over the side of the mv Ross Revenge, centre, with Jay Jackson on the left. There are more photos of him in Caroline Martin's, Stevie Lane's and Paul McKenna's albums. Grant attended Caroline's 45th birthday party in 2009, picture here.)
Grant Benson on Radio Caroline from the afternoon of 22nd December 1983. This is an edited version of a recording shared by The Offshore Radio Archive (duration 2 minutes 9 seconds)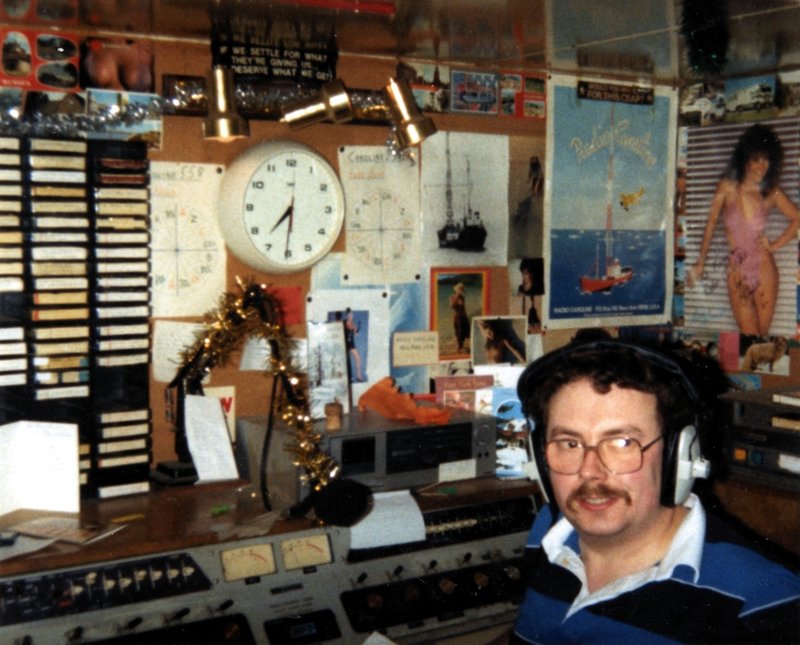 John Bibby worked on the Radio Caroline ship, the mv Ross Revenge, as a chef during 1987. He was occasionally mentioned on air as "Gary the cook". He became known as John Bibby when he presented some shows on the station over Christmas 1987. He later joined the Voice of Peace, off Israel, where he used the DJ name Gary Cook. John Burch of the Caroline Movement tells us: "we've known each other since school days. He is a transport enthusiast and has worked for London Transport, Stagecoach and British Railways. He adopted the name John Bibby on Caroline when one of his best friends of that name sadly passed away." (Our thanks to John Burch. Photo by B.Dom from Offshore Echo's magazine, kindly provided by Chris Edwards and François Lhote.)
John Bibby on Caroline-558 from the evening of 27th April 1988. Recording kindly provided by Hans Knot (duration 2 minutes 32 seconds)
Johnnie Blackburn chose his on-air alias by combining the names of two offshore DJ heroes from a previous era: Johnnie Walker and Tony Blackburn. Born in Essex and educated at Colchester Royal Grammar, Johnnie joined Radio Caroline in June 1990 during his gap year between school and attending Kings College London. He had got his first taste of radio as a volunteer at Hospital Radio Colchester in the late eighties. Tony Palmer tells us that Johnnie, like the earlier Blackburn, was often the butt of practical jokes on board the ship. After Caroline Johnnie joined Essex FM, presenting their overnight show as Jonathan Hemmings, and was later appointed Programme Controller of SGR Colchester. This station later became Heart FM. This local newspaper article from 2009 is about his time on Caroline. Johnnie later moved on from Heart to be in charge of programmes on Anglian Radio which operated five radio stations in East Anglia but that company was taken over and he now works in marketing.
Johnnie Blackburn on Caroline-558 from the morning of 9th June 1990. It sounds like he may have found a copy of his namesake's old joke book! This is an edited version of a recording provided by Evert Stolman and posted on the Internet Radiocafé, now known as the Radiotrefpunt (radio meeting point) forum by Vincent. Our thanks to both of them (duration 3 minutes 1 second)
The Pirate Radio Hall of Fame needs your

The site is updated regularly and we are always on the look-out for new material to add. If you have any information, photographs, recordings or contact details for any of the disc-jockeys we haven't been able to trace, please get in touch.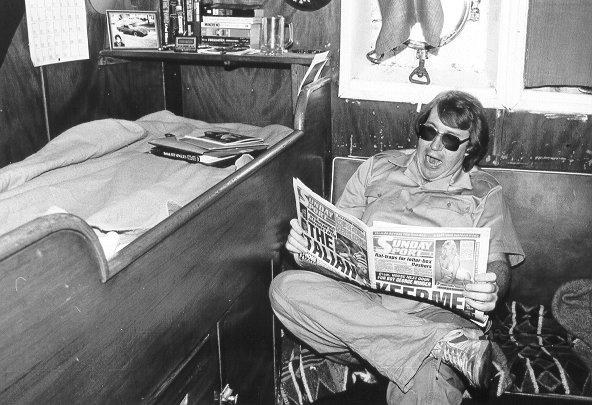 D.L Bogart Self-appointed 'Europe's Most Eligible Bachelor', D.L was born in the late-fifties in south-west Missouri and was heard in the UK on Laser Hot Hits. He had first become involved in radio while attending the University of Missouri, Rolla, while studying chemistry, earning two advanced degrees in the subject. He writes: "I came to Laser Hot Hits after an 18 month run as Programme Director and PM Drive talent for a small Adult Rock station on the fringes of St. Louis Missouri, where I had been made redundant due to a management change. I arrived in the UK the day after Brandy Lee and we debuted on the Laser airwaves on 2nd February 1987. I was promoted to Laser Programme Director a month later. The on-air schedule was in constant flux due to weather and crew rotations but I managed to spend most of my time working either mid-days or afternoons." Laser Hot Hits went off the air in April 1987. D.L takes up the story: "After departing the mv Communicator, I found it hard to re-enter American radio. No one could believe that I had actually worked on a British pirate radio ship and it came to the point where it was easier to just leave Laser off my C.V. Eventually I found myself back in the studio, bouncing from city to city on what seemed like a yearly basis, and eventually landed in Joplin, Missouri (yes, the multiple F-5 tornado target), where I spent four happy years as Operations Manager & PM Drive talent on the area's leading classic rock outlet ... until I was replaced by automation in 1996. Sadly I've not been on the air since, and I truly miss it. 'Dumb luck and good references' - that's how I made the leap from small-market radio to an alternate dimension called Hollywood, where I toiled in the spec-script trenches until it occurred to me to write about my time in the North Sea. Who saw The Boat That Rocked? Bet you didn't know that D.L. Bogart's pirate radio screenplay Calling London was first optioned by Hollywood FIFTEEN years before TBTR was released. My Laser-based script languished in development hell, floating from studio to studio for most of a decade, yet remaining unproduced because producers felt that U.S. audiences wouldn't understand the idea of offshore radio. Sigh ... Would Calling London have been any better than TBTR? We shall never know. After writing eight screenplays, getting paid for six, and having none of them actually produced, I decided to return to the Midwest and put yet another branch of showbiz behind me." D.L. is currently a part-time I.T. consultant and a fervent collector of progressive rock (he describes himself as "one of those suckers who pre-pays 2 years in advance for the next Marillion album") and BBC Britcom DVDs. Never married, he still considers himself 'Europe's Most Eligible Bachelor'. For a time D.L Bogart played "all the great stuff I wasn't allowed to play back then ... along with all the incredible new things I've discovered since" on a podcast, The Very Heavy Uncle Show, but, after 77 editions, this has now finished. (The photo of D.L enjoying the 'Sunday Sport' in his cabin on the mv Communcator is from 'Offshore Echo's Photo Gallery'. Our thanks to D.L for his assistance.)
D.L Bogart on Laser Hot Hits from the afternoon of 18th February 1987. This is an edited version of a recording available from www.azanorak.com. Our thanks to Ray Robinson (duration 4 minutes 2 seconds)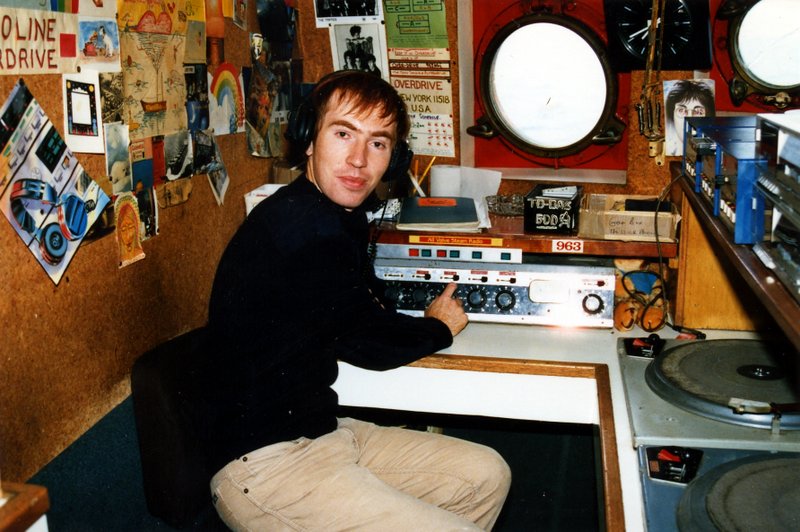 Nick Bolland Like many of the offshore DJs of the eighties, Nick had previously presented shows on land-based pirate radio, having been inspired by hearing the Caroline of a previous generation. After a short-lived station at school, he ran Watford Sound with friends and, soon after, joined the established north-west London pirate Radio Floss. He also teamed up with Floss's Tim Allen on Radio Duck. After Radio Caroline started broadcasts from the Ross Revenge Nick sent in a demo tape but accepted a more secure job in telecoms. He continued to harbour plans to be part of the station and, after applying again in 1987, got the call. He arranged a two week holiday from his day-job. He says "The journey out to the ship was, of necessity, tortuous. Strangely I recall my Caroline contact's detailed critique of the Vauxhall Nova during the journey. Eventually the isolated and striking sight of the Ross Revenge came into view, along with the sound of the generator rumble." Nick was heard on Caroline-558 between 20th and 31st July 1987 and says of his stay: "it was a short but unforgettable experience. Kevin Turner and John Tyler were helpful to me as the new guy." Nick presented 9pm to 1am, played out the Viewpoint religious programmes, did weekend newsreading duties and occasionally helped engineer Mike Watts with the technical side. He discussed going back to the station at Christmas 1987 but the challenges brought about by the mast collapse put paid to the idea. Nick continues to broadcast part-time and has been heard on Basingstoke's Kestrel FM, Reading 107 and the Caroline RSL which took place in Chatham in 1996. He is currently presenting on Atlantis where he broadcasts under his real name, Nick Carter. Nick has very kindly provided some photos of the Ross Revenge. (This photo taken in the Caroline Overdrive studio by B.Dom, forwarded by Chris Edwards and François Lhote of Offshore Echo's magazine. Thanks to Nick for his help.)
Nick Bolland on Caroline-558 from the evening of 21st July 1987. This is an edited version of a recording made available by The Offshore Radio Archive (duration 2 minutes 36 seconds)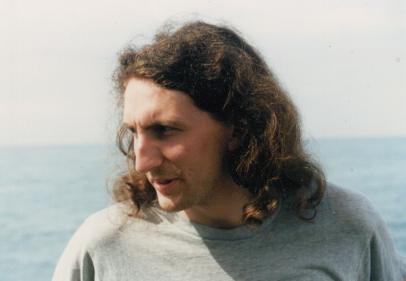 Andy Bradgate first broadcast on student radio in 1984 with Loughborough Campus Radio where he won a Radio One student radio award for best DJ programme. A chance meeting with Radio Caroline DJ Paul Graham led to him joining the offshore station. His first show was on 25th June 1988. At that time Caroline-558 was quite heavily pop-based and, in January 1989, the station began a second rockier service, The Overnight Alternative, on 819kHz, six nights a week from 10pm to 4am. Andy broadcast on this as Colin Mueslibar. He stayed with Caroline for a couple of years, later working for Contact-94, an English language station based in France which beamed programmes into the Channel Islands, and Sunshine Radio in Luxembourg. Andy also ran a number of legal, licensed, landbased Radio Caroline restricted service broadcasts in Bristol from the mv Thekla, a ship-based music venue. Nowadays he can be heard on BCfm, a local Bristol community station, where he is known as Steve Satan and is involved in many festival radio stations including those at Glastonbury, Womad and Bestival. (Thanks to Andy for his assistance. This photo is ©François Lhote and courtesy of 'Offshore Echo's Photo Gallery'.)
Andy Bradgate on Caroline-558 during the afternoon of 31st March 1990 (duration 2 minutes 34 seconds)
Colin Mueslibar from the first night of the Caroline-819 Overnight Alternative, 24th January 1989. Both clips are edited from recordings shared by The Offshore Radio Archive (duration 2 minutes 50 seconds)

Laser 558 car sticker.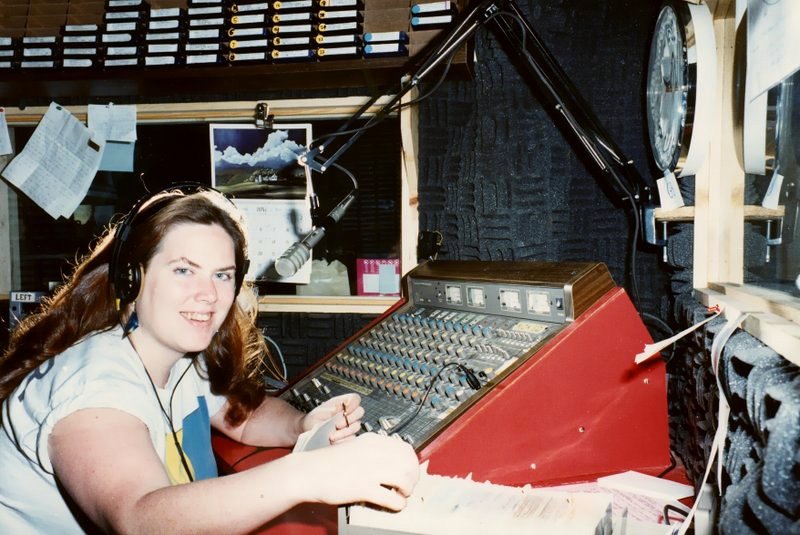 Jessie Brandon Birthday 6th July. From Washington DC, Jessie graduated from the University of Maryland with a degree in Radio TV & Film. She worked for a number of rock stations, including three years at KISW, Seattle, before heading for Europe and a job on Laser-558, being first heard on day one of the station, 24th May 1984. She was the station's Music Director, presented the early evening show and rapidly became one of their on-air stars. Her last show for Laser was on 26th November 1984, leaving to take up a position with London's Capital Radio. This was due to begin after Christmas but work permit problems delayed the start until February 1985. Jessie presented weekend shows for Capital but, when the work permit expired, the Department of Employment refused to renew it and she left to join Radio Nova in Dublin. In the spring of 1986 she returned to America and joined WBMW-FM in Washington DC, later moving to WTRG-FM in Raleigh, North Carolina. In December 1986 Jessie headed back to Europe and Radio Luxembourg. In 1988 it was back to the States and she was heard on a number of stations in the Washington DC area and, between 1998 and 2003, worked for the Feature Story international news agency. Jessie then took some time off from radio to acquire a degree in horticulture. She then combined both interests, writing: "I keep my hand (vocal cords?) in radio with a 'utility' position, as they call it, at the Portland Radio Group. The building pumps out seven stations 24 hours a day. I have regular shifts on three of them. And I use my latest degree in horticulture working at Skillins Solar Greenhouses just north of my present home in Portland, Maine. It's a seasonal position (off November-February) but it's my passion these days and I think I'm bringing some fresh skills to an old family-run company." Since writing this, Jessie has returned to full-time radio work and currently hosts evening drive on Adult Album Alternative station WCLZ. (With grateful thanks to Jessie. Photo by T.Dencker from Offshore Echo's magazine, kindly provided by Chris Edwards and François Lhote. There are more photos of Jessie in Michael Dean's photo album. There are more recent pictures of her, taken at the Amsterdam Radio Day in 2009, here.)
Jessie Brandon on her 6-10pm show on Laser 558, 18th August 1984. Recording kindly provided by Hans Knot (duration 3 minutes 23 seconds)
Pat Brookes Pat's main claim to fame is that he was broadcasting on Radio Caroline when, in the middle of his show, the ship's enormous aerial mast fell down. (Dutch DJ Wim van Egmond has posted a fascinating video on YouTube which includes Pat talking about that terrible night accompanied by some footage shot at the time.) Pat had a couple of stays on Caroline. His first show was in the early hours of 2nd October 1987, his last on 7th March 1989. Kevin Turner tells us that Pat was a friend of fellow DJ Simon West but that's pretty much all we know about him. Can anyone provide more information?
Pat Brookes on Caroline-558 in the early hours of 25th November 1987, battling against the elements shortly before the ship's mast collapsed. The station went off the air abruptly in the middle of Satellite by The Hooters when the feed to the aerial broke. Just under half an hour later, at 3.20am, the mast came crashing down. Reception is not great on this clip but it is possible to hear Pat bravely carrying on despite the appalling weather. This is an edited version of a tape posted by 'Drumbeat' on the Internet Radiocafé, now known as the Radiotrefpunt (radio meeting point) forum. We are very grateful to him but does anyone have a better quality recording? (duration 4 minutes 23 seconds)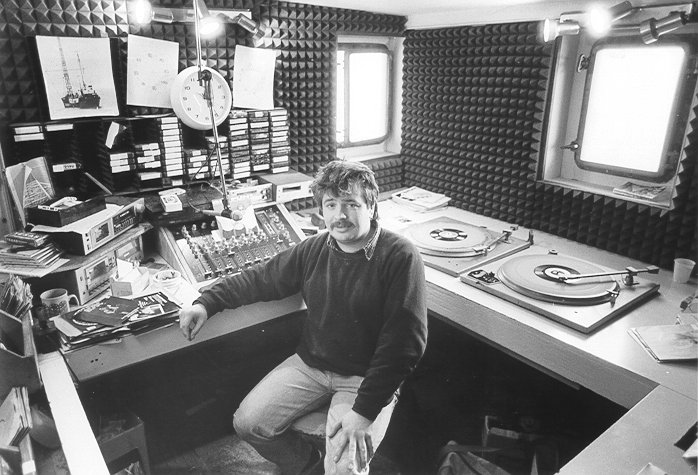 Max Buchanan was heard on Radio Caroline during the latter half of 1989 and was later on Contact-94, an English language station based in France which beamed programmes into the Channel Islands. Can anyone provide more up-to-date information? (This photo is courtesy of 'Offshore Echo's Photo Gallery'.)
Max Buchanan on Radio Caroline during the afternoon of 11th June 1989. Recording kindly provided by Hans Knot (duration 1 minute 32 seconds)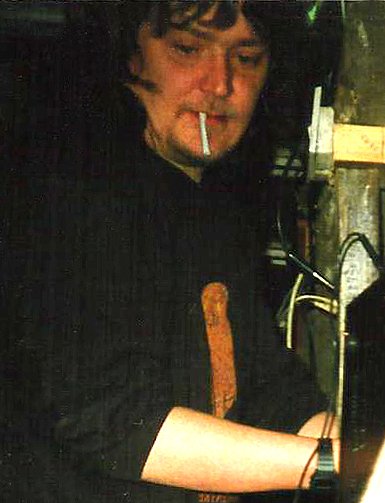 Arthur Burton was born in December 1958 and grew up in Bermondsey, later moving to the outskirts of Bromley, Kent. In 1975 he started his lifelong career in landbased pirate radio, using the name Andy Allman, on London's Sun Radio. He was also a member of the Radio Jackie staff in the mid-seventies. Arthur nearly joined Radio Caroline in 1977 but it was more than a decade later, in April 1989, that he first stepped aboard. As well as broadcasting as Arthur Burton, he was known as Glen Fiddich on the night-time Overnight Alternative service. He was part of the original team that helped set up Radio Nova in Italy, was on the extremely popular Radio Free London, has been programme controller on London Music Radio, did breakfast on Rock FM in its pirate days and was programme controller and head of production during its brief period as a legal station doing RSL broadcasts. He was drive presenter on Brighton Festival FM/Adur FM and started The Edge, a short wave station which broadcast from Dublin in the nineties. Arthur appeared briefly on European Klassic Rock, a satellite radio station, was on a short wave pirate version of Laser Hot Hits, the internet station Offshore Music Radio and the web reincarnation of Swinging Radio England. In more recent times he hosted the breakfast show on Skyline Radio in Southampton and been heard on the net revival of Radio Northsea International. Recently he was on Royalty Free Music Radio, a station piped round UK stores, as a presenter and can currently be found on Cruisin' Radio. He works in audio production, voiceovers and imaging. John Burch of the Caroline Movement writes: "he is an accomplished engineer and for many years ran a business providing communications equipment in London." (This photo of Arthur dates from the early nineties, shortly after his time on Caroline. Out thanks to Arthur for his assistance.)
A clip of Arthur Burton on Caroline-558, midnight to 3am on 22nd April 1989. Recording kindly provided by the man himself (duration 2 minutes 7 seconds)
Arthur in his guise of Glen Fiddich on the night-time Caroline 819 "hippy service" as he refers to it in this programme from 23rd April 1989. The recording was kindly shared by a poster on The Offshore Radio Club Forum (duration 4 minutes 20 seconds)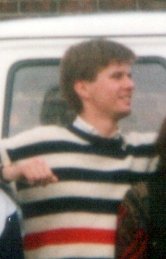 Howard Butler was one of a group of DJs to join Radio Caroline from the student radio station in Loughborough. He was heard on Caroline-558 in 1990. The Pirate Radio Hall of Fame understands he is now a senior teacher in London. (Thanks to Andy Bradgate and Andy Parka for the information, and the latter for the photo.)
Howard Butler on Caroline-558, lunchtime on 12th April 1990. This is an edited version of a recording posted by Vincent on the Internet Radiocafé, now known as the Radiotrefpunt (radio meeting point) forum. Our thanks to him (duration 2 minutes 43 seconds)