Andy Cameron was heard reading the news on Radio Caroline for a few days in November 1987. Paul Graham tells us he was from New Zealand. Can anyone provide more information?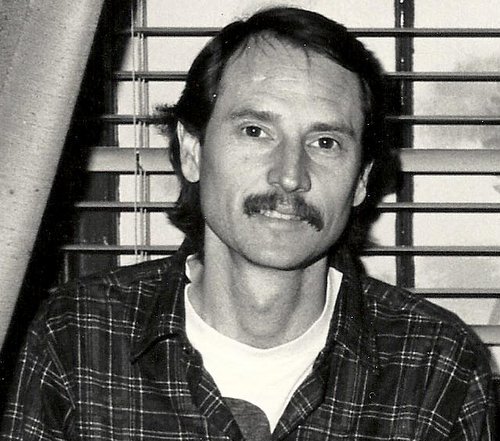 Chuck Cannon Born in California, Chuck studied radio and TV at the College of San Mateo. His first radio job was at KSTN in Stockton. From there he moved on to Kansas City, San Bernardino, San Diego, Phoenix and finally to his favourite station growing up, KFRC in San Francisco. He joined Laser-558 in late September 1985. He was still on board when the station closed down a few weeks later on 5th November. He then worked on such stations as Q106 San Diego, KPSN Sunny 97 Phoenix and, from 1997 to 2009, Chuck was Program Director and morning host at Oldies 98.3 in Savannah, Georgia. He was then heard on Oldies Radio, AM 1200, KYAA serving the greater Monterey Bay Area in California. There is a 1989 video of him in action on Q106 in San Diego on YouTube. (Photo kindly provided by Jeff Davis.)
Chuck Cannon on Laser-558 either side of midnight on 4th November 1985. This is an edited version of a recording shared by The Offshore Radio Archive (duration 3 minutes 32 seconds)
Chris Carson was one of the 'Laserettes', the three female broadcasters who graced the airwaves of Laser-558 during 1985. (The others were Erin Kelly and Liz West.) Chris joined Laser on 3rd February that year, having previously worked on American radio for four years, on KXJX Des Moines and KKRQ in Iowa City. She left Laser while the station was off the air with technical problems at the beginning of October 1985 and returned to the States. She worked for KVLT Tulsa, Oklahoma, until 1986 but we have no later information. Can anyone help? (Photo by Dave Chappell from Offshore Echo's magazine. There are more photos of Chris in Michael Dean's and Mark Stuart's photo albums.)
Chris Carson on Laser-558 around 6pm on 31st August 1985. It was the 'Eurosiege' period when the Government was trying to close the offshore stations by preventing tenders reaching them. The Dioptric Surveyor, which she mentions, was an ocean-going launch chartered by the Department of Trade and Industry to keep a constant eye on the ships. This is an edited version of a recording shared by The Offshore Radio Archive (duration 3 minutes 12 seconds)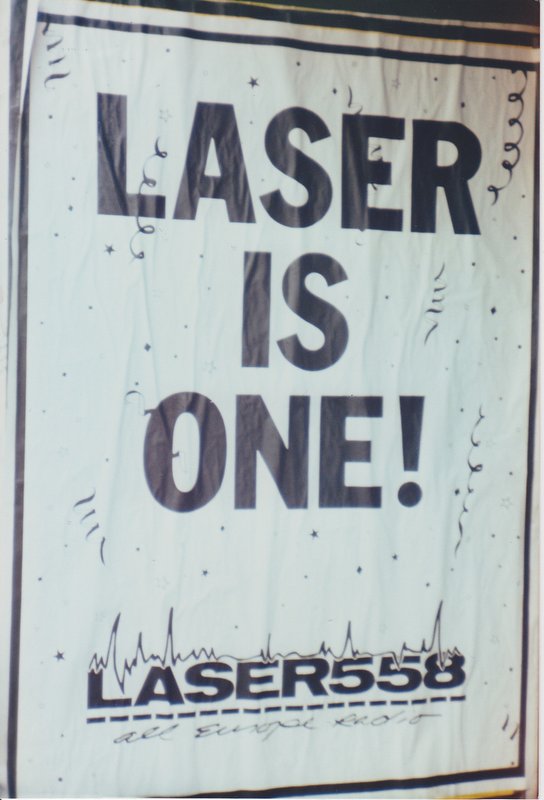 Billboard in a London bus shelter, advertising the first birthday of Laser-558.
Thanks to Andy Wint for the photo.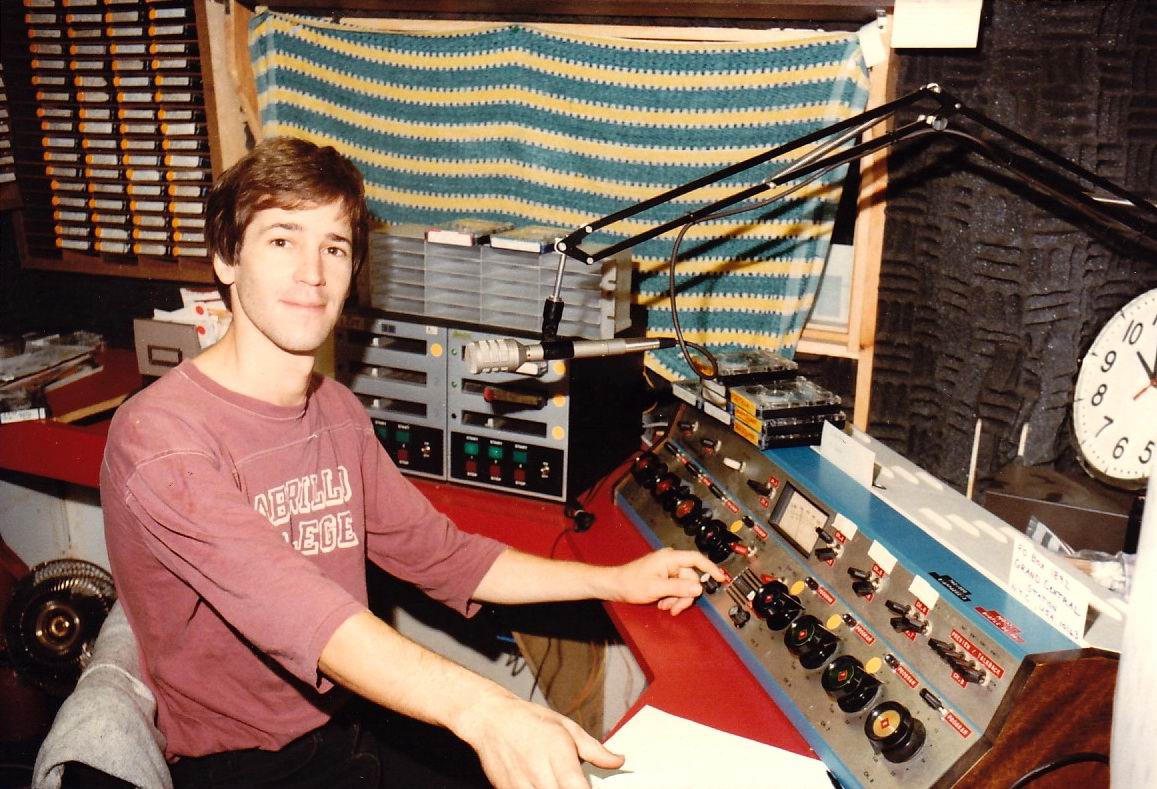 Dave Chaney Although born in Australia, Dave had lived in California before joining Laser-558 and had worked on stations KKHR, KLOS, KMET and KOME. He was first heard on Laser on 12th October 1984 but he suffered badly from sea-sickness and left in early January 1985. He returned to the States and a job with KTVD Santa Barbara, Califonia. More recently he was Music Director at KTHX (The X) in Reno, Nevada. Dave has written on music, media and sport for various central and northern California newspapers. (Photo by Leendert Vingerling. There are many more excellent pictures in Leendert Vingerling's Laser Scrapbook and more of Dave in Michael Dean's and Paul McKenna's photo albums.)
Dave Chaney on Laser-558 on Sunday morning 4th November 1984, a 'Sixties Sunday'. This is an edited version of a recording made available by The Offshore Radio Archive (duration 3 minutes 41 seconds)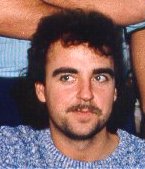 Rob Charles was born in Nottingham on 17th September 1963. His broadcasting career began in 1982 at Wythenshawe Hospital's Fab Radio. He also presented on a landbased pirate station in Stockport called KFM. In 1986 he joined Radio West in Mullingar, Ireland, moving later the same year to the Israeli offshore station, The Voice of Peace. After nearly six months in Israel, he followed the well-trodden path to Radio Caroline, where he worked alongside a number of former Voice of Peace colleagues. He was first heard on Caroline on 7th January 1987 and stayed until the end of February. He went next to Top Shop's in-store stations in Manchester and Liverpool, as well as one in Debenhams, Preston. In 1990 the former pirate KFM was given a license to broadcast legally and Rob was the station's first breakfast show presenter. KFM was later taken over by Signal Radio and Rob presented the evening show across the Signal network. Since then he has been heard on Rock FM, Red Rose 999, Century 105, Magic 999, The Bee and Sandgrounder Radio. He also has a weekly show on the internet reincarnation of The Voice of Peace. In 2015 his voice was heard on the BBC hit television comedy Car Share as a DJ whose show on the fictional Forever FM is playing on the car radio. Details here. He currently can be heard on Liverpool Live 24/7, TKO in Spain and on a number of stations that take his syndicated show Songs That Don't Get Played On The Radio Anymore. (Photo courtesy of 'Offshore Echo's Photo Gallery'.)
Rob Charles on Caroline-558 from the morning of 29th January 1987. This is an edited version of a recording available from The DX Archive (duration 4 minutes 27 seconds)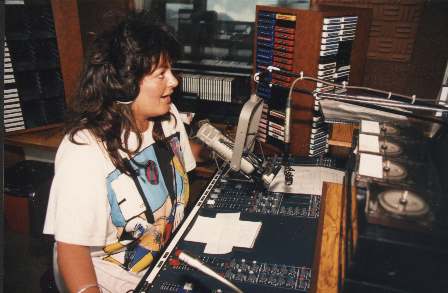 Susan Charles A Canadian, Susan joined Radio Caroline after meeting one of the station's former staff in a pub. She had previously been heard on CFFL Weyburn, Saskatchewan and CJCI Vancouver. Susan started on Caroline as a newsreader on 5th November 1984. She presented the occasional weekend show and these were so well received that she switched to full-time DJ-ing. She was with the station for over a year (last show 21st March 1986) but unfortunately she broke her leg while on shore-leave which prevented her returning to the ship. She worked for the station on land for a time before moving to Radio Aire in Leeds, followed by stints on KISS-FM Monaghan and 98FM Dublin in Ireland before returning to Canada where she now works in real estate. (This photo dates from Susan's time with KISS-FM and was kindly provided by Miles Johnston. There is another photo of Susan in Caroline Martin's album.)
Susan Charles in mellow mood on one her first shows for Radio Caroline, the morning of Saturday 10th November 1984. This recording was shared by Harm Koenders on The Offshore Radio Club Forum (duration 3 minutes 46 seconds)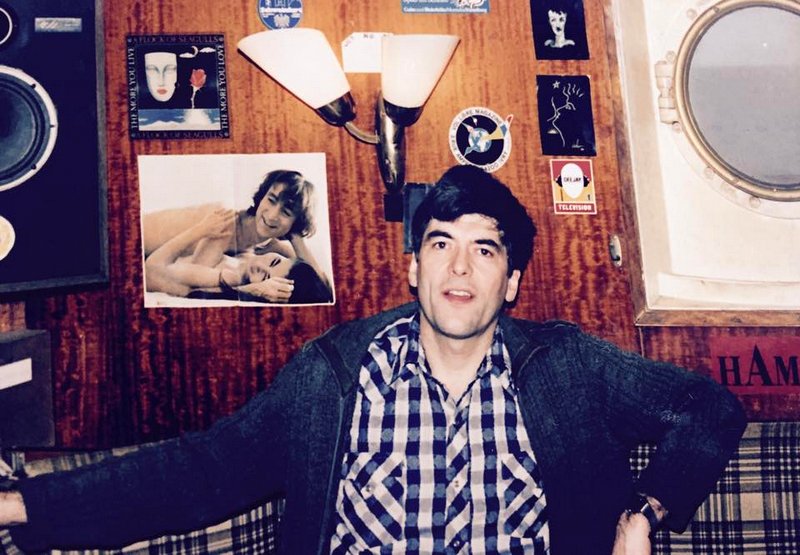 Peter Chicago This legendary offshore radio engineer first came to public attention with Radio Northsea International and Radio Caroline in the seventies (see entry in The Pirate Radio Hall of Fame 'Seventies Supplement'). After the sinking of the mv Mi Amigo, Peter was closely involved in the equipping of the new Caroline ship, the Ross Revenge and, although he left for a while to work in America, he returned to Caroline in July 1984. After the Dutch authorities' destructive raid on the ship in August 1989, Peter really came into his own, rebuilding the station virtually from scratch. When Caroline returned to the air, two months later, he was heard presenting a few shows but he preferred to remain behind the scenes as senior engineer, technical advisor and confidant to station founder Ronan O'Rahilly. Peter attended Radio Caroline's fortieth birthday party in March 2004. There is a picture here. There is an interview with Peter here. (Photo by Caroline Martin. There are more of her photos of Peter here.)
Peter Chicago closing the station at 6pm after a shortened day of low-powered broadcasting on 9th October 1989. The station had returned to the air a week earlier using a transmitter that Peter had managed to build from the shell of the former short-wave transmitter, various electronic bits that had been left by the raiders, some items salvaged from the wrecked transmitters and some spares from shore. The playing of Chris de Burgh's 'Lady In Red' indicates that Peter is keen to make contact with the office. This is an edited version of a recording available from www.azanorak.com. Our thanks to Ray Robinson (duration 1 minute 58 seconds)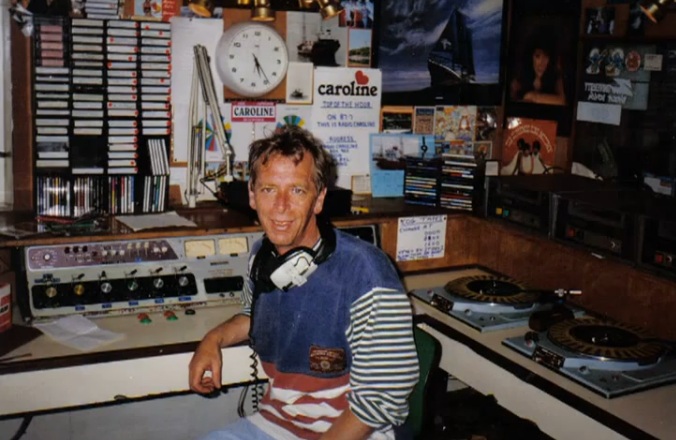 Tony Christian was a mobile disco DJ then progressed to residencies in nightclubs as a compère and DJ. He got involved with a local hospital radio station and then joined the Radio Thamesmead community station. He was heard on a number of London landbased pirates including JFM, LWR and Skyline Radio. He moved to RTM FM and Music Power Radio in Ireland, then Radio Sovereign International in Italy. He joined Caroline on 30th June 1986 but only stayed until the 21st July because of family commitments. He has been heard on Caroline again since, on land, on various Restricted Service License broadcasts and the satellite/internet incarnation, as well as on Radio Seagull. There is more about Tony's career on the German Radio Caroline site. (This photo shows Tony in the Radio Caroline studio during one of the RSL broadcasts. It is from his YouTube page.)
Tony Christian on Radio Caroline from a morning in June or July 1986. This is an edited version of a recording posted by Tony on YouTube (duration 2 minutes 11 seconds)
The Pirate Radio Hall of Fame needs your

The site is updated regularly and we are always on the look-out for new material to add. If you have any information, photographs, recordings or contact details for any of the disc-jockeys we haven't been able to trace, please get in touch.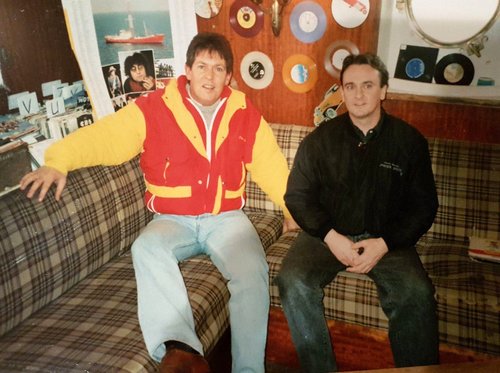 Peter Clark Born in March 1950, Peter joined Caroline on 10th September 1983. Previously known as Peter Tait, he had worked on the United Biscuits Network and Radio Trent in Nottingham. Unfortunately Radio Caroline's rather relaxed attitude towards paying its broadcasting staff did not meet with his approval and he quit the station in December, threatening to sue over the lack of salary. He returned to his old name and joined Radio Aire in Leeds, moving later to its AM oldies service Magic 828. His departure from Radio Caroline obviously didn't lessen his enthusiasm for offshore radio because he signed this website's guest book fairly soon after we launched it in 2000, naming his favourite broadcaster as Radio London's Dave Dennis. Sadly Peter died in September 2002 from a brain tumour, aged just 52. (The photo shows Peter, left, with his colleague Carl Kingston. Our thanks to Carl who posted the photo on Facebook. There is another picture of Peter in Stevie Lane's photo album.)
Peter Clark counting down the Album Top 30 on Radio Caroline from the afternoon of 20th November 1983. This is an edited version of a recording made available by The Offshore Radio Archive (duration 4 minutes 23 seconds)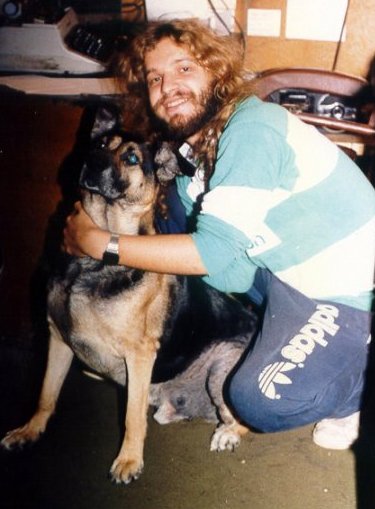 Stuart Clark Born in Croydon in 1963, Stuart joined Radio Caroline as a newsreader on Christmas Eve 1986. He was there for one stint, leaving at the beginning of February 1987. Stuart had honed his broadcasting skills on landbased pirate radio during the seventies before joining the Voice of Peace off the coast of Israel. He had also worked on ABC Tramore in Ireland and Radio Sovereign, Italy. He remembers: "I arrived on board in the wee small hours of Xmas Eve. We were smuggled out from Kent by Lifeboat Lou (the wheel house was full with three of us in it!) and back in on the Bellatrix through France. We went back via Laser (the Bellatrix tendered both ships) so I was on all three boats in the space of about six months. The Ross was a 5-star hotel compared to the Communicator, although they had a far better supply of beer. I nearly fell into the sea jumping off the tender – the Ross was stationary, but the tender variously 10 feet above and below it due to the massive waves. Luckily (Dutch DJ) Ad Roberts grabbed my arm before I fell into the water. I loved my time on board, but seven weeks was mentally quite tough. I was going back for a second stint when I was offered a radio gig in Limerick with a station called Hits 954. Steve Conway, a Dublin neighbour of mine, took over from me as newsreader in chief." As Stuart has said, he left Caroline to join a station in Ireland and has since been heard on a number of others. He still broadcasts occasionally but is mainly employed by the Irish music magazine Hot Press. Stuart: "Yep, I'm Deputy Editor of Hot Press with Bruce Springsteen, Noel Gallagher, Bono, David Bowie, Brandon Flowers, Adele, Amy Winehouse and Slash among the people I've been fortunate enough to interview. I do a weekly music slot on Today FM where Tom Hardy is the man in charge. He has a lovely photo of the Mi Amigo on his desk! Congrats on the site; it's a brilliant resource and much appreciated by us ageing offshore jocks! Have to say, the VOP and Caroline were superb adventures and lifelong dreams come true. I never thought, listening to Atlantis, RNI, Caroline and Veronica in the '70s, that one day I'd be there myself in the middle of the North Sea. I still pinch myself!" (Our thanks to Stuart for his help. The photo of him with Raffles the ship's dog courtesy of 'Offshore Echo's Photo Gallery'.)
Stuart Clark reading the 5pm news on Radio Caroline on New Year's Eve, 31st December 1986. This is taken from a recording available from www.azanorak.com. Our thanks to Ray Robinson (duration 2 minutes 1 second)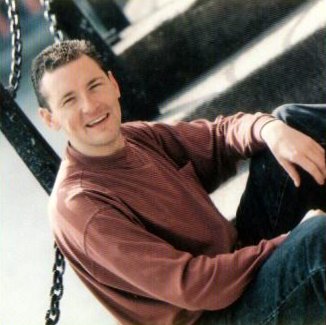 Dave Collins first broadcast on various Liverpool land-based pirates using the names Dave Rogers and Paul Rogers. As the latter, he also worked on board the Israeli offshore station The Voice Of Peace during 1984/1985. He was first heard on Radio Caroline in the early hours of 7th August 1985 but had to use a different name as they already had a DJ with the same surname, Del Rogers. He became Dave Collins. He left the station in October and has since worked as a presenter for Radio Top Shop, Red Rose Radio, Radio City, The Wave and held various Programme Manager and Head of Music roles at The Bay in Lancaster, CFM in Carlisle and Alpha 103.2 in Darlington. Before leaving the UK in 2007 to travel around the world, his last show was on Wire FM in Warrington on the Drivetime show. Following his return to the UK, he entered the world of radio sales. He joined Yorkshire Coast Radio, Minster FM and Viking FM/Magic 1161 as Sales Account Manager. After living in York for 6 years, he moved to Brussels in 2014 where he is currently Sales Account Manager at The Brussels Times. He was heard on Radio Caroline North, the tribute station moored at Albert Dock in Liverpool in April 2014 where he was also involved in airtime sales. Dave still enjoys radio, presenting shows on Radio Seagull from Harlingen, Netherlands. (Our thanks to Dave for his assistance. This photo dates from his time with Radio City Gold. Can anyone supply one from his stint on Caroline?)
Dave Collins on Radio Caroline at lunchtime on 19th August 1985. This is an edited version of a recording made available by The Offshore Radio Archive (duration 3 minutes 38 seconds)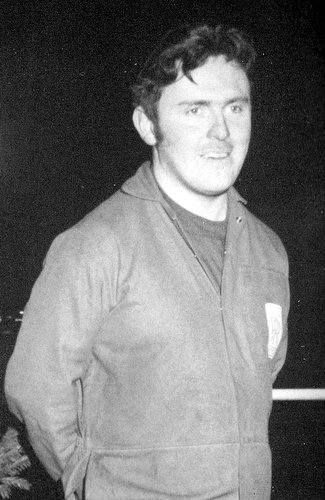 Steve Conway Birthday 6th July. Originally from Dublin, Steve was working for a computer dealership in London when he first became a Radio Caroline fan. He got involved with a local landbased pirate station, South-East Sound, and through the people there met a Caroline DJ called Richard Jackson. Jackson helped Steve put together a demo tape which resulted in him joining the station in February 1987 as a newsreader. On top of his news duties, he began to present the occasional programme and eventually became a full-time DJ, and, in 1988, programme director. He became one of the mainstays of the station during its last few years at sea. When the mast collapsed and most of the DJs left the ship in November 1987, he and his brother, fellow DJ Chris Kennedy, kept the station going 12 hours a day on their own. He was with Caroline until its last moments at sea, being one of the final crew rescued from the ship when it ran aground on the Goodwin Sands in November 1991. He returned to Dublin in 2000 where he spent eleven years working for the indie rock station Phantom 105.2. He has since been heard on Radio Seagull and the internet incarnation of Radio Caroline but is currently on 8Radio.com. He also works for a major computer company in Dublin. In 2009 Steve published a fascinating book about his time at sea with Caroline called Shiprocked (updated and expanded in a new edition published 2014). He blogs at steveconway.wordpress.com. Steve attended Caroline's 45th birthday party in 2009, pictures here. (Our thanks to Steve for his assistance. This photo, taken by B.Dom, is from Offshore Echo's magazine. There is another photo in Caroline Martin's album.)
Steve Conway in the studio with his colleagues on Caroline-558 at lunchtime on Christmas Day 1987. This is an edited version of a recording shared by The Offshore Radio Archive (duration 3 minutes 59 seconds)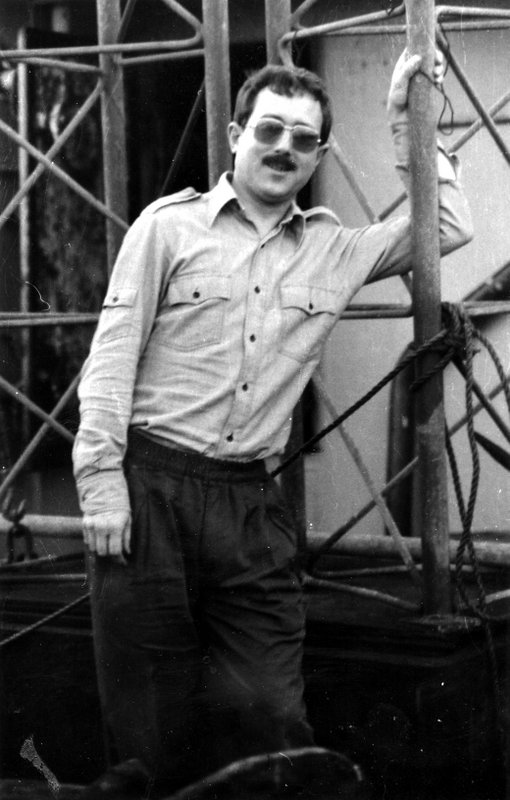 Chris Cooper A former land-based pirate and hospital radio DJ from Birmingham, Chris had previously worked briefly on the Mediterranean offshore station, the Voice of Peace, during a summer holiday. Through former Voice of Peace DJ Dave Asher, he offered his services to Radio Caroline and spent Christmas 1989/New Year 1990 on the station. He says: "I was on board the good ship from Tuesday 19th December 1989 until Monday 8th January 1990. Most of this time I was presenting the late night rock show from 10pm until 2am. It was shortly after the raid, when Caroline was on very low power. I think maybe a few seagulls heard my programmes! After leaving Caroline, I was involved in several RSL stations in the Birmingham area, during the 1990s. Since the turn of the century, however, I've not been on the radio." After twenty years of radio silence, Chris returned to the air in July 2017 to present programmes on the temporary Radio Mi Amigo (not the offshore station of the same name) broadcasting to the Harwich area from the lightvessel LV18, anchored in the harbour. He joined Radio Seagull the following year where he hosts a weekly show. There is a photo of Chris attending Radio Caroline's 45th birthday party in 2009 on this page. (Photo from Offshore Echo's magazine, kindly provided by Chris Edwards and François Lhote. Chris has generously donated some of his own photos from his time on the Ross Revenge. Many thanks to him.)
Chris Cooper on Radio Caroline on the evening of 29th December 1989. This is edited from a studio recording donated to www.azanorak.com by Chris himself. Our thanks to him and Ray Robinson (duration 2 minutes 36 second)