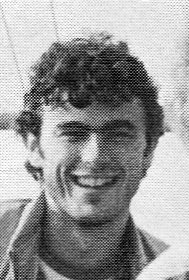 Tony Gareth Dubliner Tony met Robin Ross while they were working on rival Irish pirate stations - Tony at KISS-FM, Robin at Sunshine Radio. When the new Radio Caroline was being planned, Robin suggested that Tony might like to join it. He did, and was on board in August 1983 when programmes began from the mv Ross Revenge. After only a month, however, his services were dispensed with, as the management decided that his presentation did not fit in with the laid-back station style. He returned to Irish radio but, while he was away, the postbag arrived from Caroline's Los Angeles mailing address and it turned out that Tony was one of the most popular presenters on the station! He was invited to return, which he did on 20th March 1984 but, after only four days on board, he became ill and had to be taken off by tender. In May 1984 he joined Mercia Sound in Coventry, using his real name of Gareth O'Callaghan. From there he moved to Leeds' Radio Aire, and then BBC Radio Bedfordshire. He was also heard in 1986 on a few BBC Radio 2 Sunday morning shows. He returned to Ireland, to Energy-103, Q-102, Radio Millennium, RTE's 2-FM, Radio One, Galway Bay FM and Classic Hits 4FM. He is also a successful author, having written novels and personal memoirs. In August 2018 he announced that he was having to give up broadcasting because of suffering from a rare neurodegenerative disease, Multiple System Atrophy, although happily in February 2022 he felt strong enough to resume a weekly show on Classic Hits. Gareth's book What Matters Now: A Memoir of Hope and Finding a Way Through the Dark is about how he is dealing with his Multiple System Atrophy. (Photo from a group shot taken by Dave Kindred for the East Anglian Daily Times, reprinted from 'Caroline 319 - Into The 80's', published by Seagull Press.)
Tony Gareth on Radio Caroline from the morning of Sunday 21st August 1983, the station's second day on air. This is an edited version of a recording posted by Hans Hendriks on The Offshore Radio Club Forum.Our thanks to Hans (duration 3 minutes 43 seconds)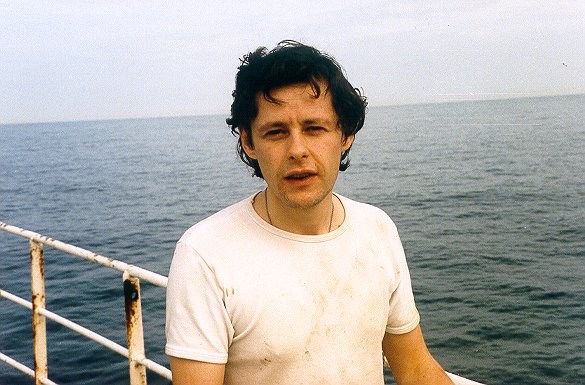 Neil Gates from Gateshead, Durham, born 29th March 1960, Neil's was the last voice to be heard from Radio Caroline while the station was broadcasting from sea when he closed it down for the night in the early hours of 5th November 1990. Like many of his Caroline colleagues, Neil had also worked on the Voice of Peace. He joined Caroline in June 1988 but left after expressing some dissatisfaction with the station on air. However he later returned and was part of the final crew who were rescued from the Goodwin Sands in November 1991. Steve Conway tells us: "I have to say Neil was one of the hardest working guys I ever had the pleasure of working with. No task was ever too big or too small for him to help with. He gave me immense help during my time as programme controller and he never waited to be asked for extra duties - he was always finding things that needed to be done on board and volunteering to do them. In the last year at sea, when the ship was off air, Neil became responsible for the generators and general ship safety, as there was usually no engineer on board. During the spring of 1991, when few people could be found to 'babysit' the silent radio ship, he was on board almost constantly and, at one stage, manned the ship all on his own for a period of two weeks. An outstanding guy, and no better man to have beside you in a crisis." Neil now works as a chef in Newcastle upon Tyne. (Photo courtesy of 'Offshore Echo's Photo Gallery'. There are more pictures of Neil in Caroline Martin's and Chris Cooper's photo albums. Our thanks to Steve Conway.)
Neil Gates presenting the last hour of broadcasting from Radio Caroline at sea and closing the station for the night just after 1am on 5th November 1990. Despite what he says, there was no Breakfast Show at 6am. The last record to be played, before the station theme, was Pilot Of The Airwaves by Charlie Dore. This clip is taken from a recording available from www.azanorak.com. Our thanks to Ray Robinson (duration 2 minutes 36 seconds)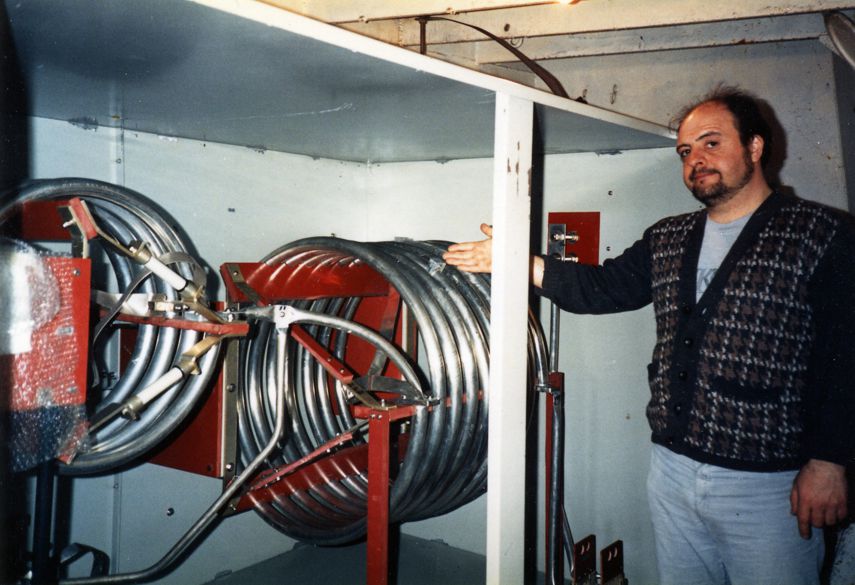 Paul Graham Educated at Uppingham School and Trinty College, Dublin, Paul started work in broadcasting as a volunteer with BBC Radio Leicester. He says "I was a volunteer studio assistant, gram operator, outside broadcast assistant and general dogsbody around the station. I had several spells at the station. Eventually I became a contributor to the Disco Connection show and in 1977 I became the co-presenter of this and the reggae programme." He worked on the short-lived Dutch pirate, Radio Delmare, before moving to Ireland where he was heard on a number of the landbased pirate stations there, including WKLR, South Coast Radio and Radio ERI, all in Cork, Radio Sligo, North West Radio in County Roscommon, Radio 257 in Dublin, Zee 103 and Solid Gold Radio Sovereign, County Louth. He was also on Sunshine Radio in Shropshire and RBL-FM, Radio Boulogne Littoral, France. He joined Radio Caroline in June 1987, on the day the ship moved from the Knock Deep to the Falls Head because of the forthcoming Territorial Sea Act extending British waters. Paul remembers one of the most dramatic incidents from his time with Caroline: "We had some rough seas and, when I rejoined again for my third stint in March 1988, she was drifting, having lost the main mooring but, at the time I joined, was in no immediate danger. But that changed within a few days. The weather blew up worse with a north-easterly gale force 7/8 which slowly pushed the Ross towards UK waters and the dangerous sand banks of the Thames estuary. At one point we where just 12 miles from the coastline and in serious danger of being run aground on the southern end of Long Sand. The Mi Amigo had sunk on the Long Sand so, to all of us on board, it looked for a while like history was about to repeat itself! We did get the main engine going and, despite damaged steering gear which had broken a long time before but never fixed, we did slowly make our way back out into the North Sea. It was a couple of days of excitement for all the wrong reasons. This all happened around the stations 24th birthday, Easter 1988. And not content with us drifting, we also had a fire down in the accommodation section at the stern of the ship which filled the vessel with thick smoke. We had to open all the hatchways and deck hatches for a few days to vent the place out. Chicago went down into the billowing smoke with an extinguisher and put the fire out. We were also short-handed at the time, most DJs not wanting to return until we where back on full power so I always did two shows a day on this stint plus some news-reading duties at the weekend. I was on board for just over 4 weeks with a lot of rough seas and rain. All for the sake of FREE RADIO ... hey but it was a great experience and to keep 'the lady' on the air." Paul was later heard on Chris Cary's Radio Nova International then HMV's in-store radio, KCBC Kettering, Mellow 1557 Frinton, Chiltern Supergold, WGMS, Invicta Supergold and many others. He currently presents a syndicated show Soundtrack of the 60s which can be heard on several stations in the UK and overseas. (Photo provided by Chris Edwards and François Lhote of Offshore Echo's magazine. Many thanks to Paul for his assistance with The Pirate Radio Hall of Fame 'Eighties Supplement'. He has also kindly provided some photos from his time with Caroline and some from the sixties.).
Paul Graham on Caroline-558 from Easter Sunday, 3rd April 1988. Radio Caroline always celebrated Easter as the station's official birthday, whatever date it fell, hence the references to Caroline's 24th birthday. This is an edited version of a recording posted by Vincent on the Internet Radiocafé, now known as the Radiotrefpunt (radio meeting point) forum. Our thanks to him (duration 2 minutes 23 seconds)
The Pirate Radio Hall of Fame needs your

The site is updated regularly and we are always on the look-out for new material to add. If you have any information, photographs, recordings or contact details for any of the disc-jockeys we haven't been able to trace, please get in touch.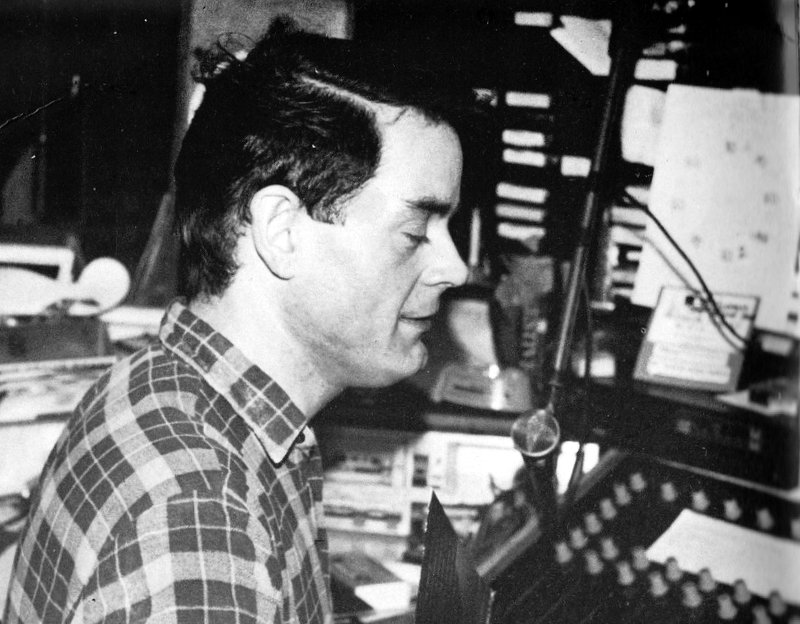 Nigel Harris As Stuart Russell, he had been heard on Radio Caroline for many years from the mv Mi Amigo (see entry in The Pirate Radio Hall of Fame 'Seventies Supplement'). Following the sinking of the Mi Amigo, he was involved in unsuccessful attempts to launch a couple of other offshore stations, Radio Phoenix and Radio Paradise, but he returned to Caroline - now broadcasting from the mv Ross Revenge - in June 1984. Still calling himself Stuart Russell on this first stint, he only stayed for one month as, due to lack of a decent salary, he needed to find paid employment on land. It was three years before he returned and, when he came back, he had a new name. His real first name is Nigel and occasionally other DJs had referred to him on air as "Nigel, I mean Stuart" so he now became known as Nigel Harris, the name he still uses. Nigel stayed with Caroline until the end of its time at sea, becoming the last programme controller during that period. Following the final maritime transmissions, he joined the Voice Of Peace off the coast of Israel. Since then Nigel has been heard on Invicta FM, Breeze AM, EKR, KMFM and RFM. He currently presents a weekly show on the internet incarnation of Radio Caroline and, under his old name of Stuart Russell, on Quasar Radio. At the Amsterdam Radio Day in 2009 he was presented with an award by Caroline as a mark of appreciation of his 33 years of loyal service to the station (see photos). That same year he published an excellent book about his offshore career, Ships In Troubled Waters. Away from the radio, he is a church organist. There is an interview with Nigel here. (Photo by Caroline Martin from Offshore Echo's magazine. There are more of Caroline's photos here. Nigel also features in Chris Cooper's photo album.)
Stuart Russell on a Sunday morning Breakfast Show from Radio Caroline, 22nd July 1984, with Jay Jackson reading the news (duration 2 minutes 20 seconds)
Five years later, with a different DJ name and different station format, Nigel Harris on Caroline-558 from the afternoon of 26th December 1989. Both clips are edited from recordings made available by The Offshore Radio Archive (duration 4 minutes 9 seconds)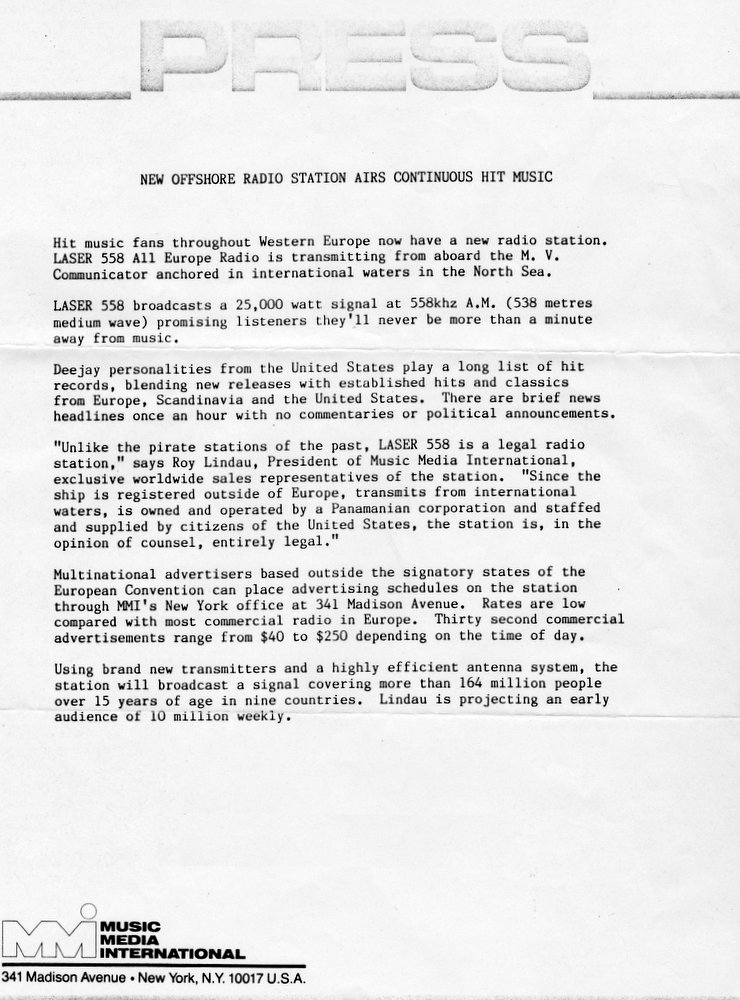 Laser-558 launch press release. Click to enlarge.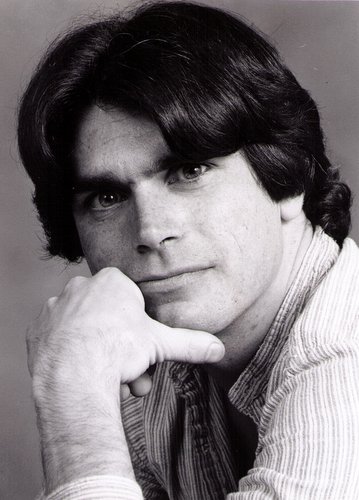 Ric Harris As the godson of Laser-558 boss, Roy Lindau, Ric was one of the first people to hear about the Laser project - and the first DJ to sign up for the station. He was also the first to be heard on Laser-558 when he presented the Breakfast Show on day one, 24th May 1984. His broadcasting career began in 1975 at his university station WPLT, Plattsburgh, NY. He was also heard on WIRY in Plattsburgh, WCVR Randolph Vermont and WKZE, Cape Cod Massachusetts before crossing the Atlantic. Ric was with Laser for over a year. His last programme was on 23rd June 1985. After a brief time on Ireland's Radio Nova, Ric returned to the States and a job on WGMX, Norwalk Connecticut. He then went back to college and earned a degree in computer science. He has since worked in IT. (Thanks very much to Ric for the information and the photo. There are more photos of Ric in Michael Dean's, Mark Stuart's and Paul McKenna's photo albums.)
Ric Harris on the Breakfast Show on day one of Laser-558, 24th May 1984. The first voice is David Lee Stone, who has just read the 7am news bulletin, finishing with a story about the launch of Laser. This is an edited version of a recording available from www.azanorak.com. Our thanks to Ray Robinson (duration 3 minutes 49 seconds)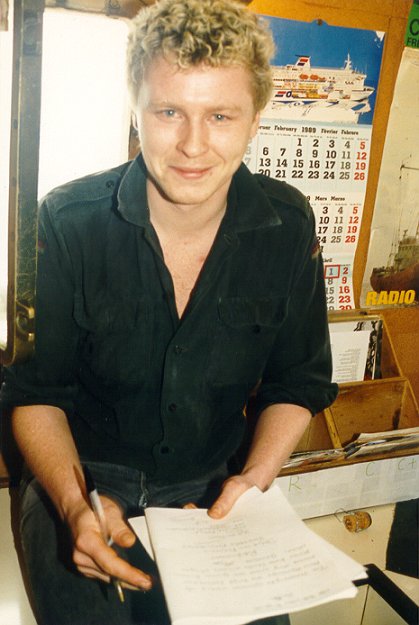 Rob Harrison Birthday 11th April. Rob was first heard on Radio Caroline in early 1988 using the name Robbie Jay but, when he returned to the ship in May that year, he took the name which he was to use for the rest of his offshore career, Rob Harrison. Born in Epsom, Surrey, he was educated in Cambridge and London and started his radio career in 1986 at Sunshine Radio in Antibes. It must have been something of a shock to the system, moving from the south of France to the North Sea in the middle of winter. As well as being heard on the pop-based Caroline-558 programmes, Rob was in charge of the 'Overnight Alternative' rock service. In 1990 he joined French station Contact 94 in Normandy, where he spent a year, before returning to the South of France to join Riviera Radio. He worked every air shift on the station, was Head of Commercial Production, Head of Music, and News and Sports Editor. He also presented the breakfast show for 27 years. Between 2011 and 2018 he had a weekly programme on the internet incarnation of Radio Caroline. Andy Bradgate tells us that "Rob can (also) occasionally be heard in the UK reporting from the south of France for Radio 4, Five Live and LBC." He now hosts a weekly show on Poptastic Radio, a French web station dedicated to British rock music. (Photo courtesy of 'Offshore Echo's Photo Gallery'. Our thanks to Rob for his assistance.)
Robbie Jay on Caroline-558, the morning of 7th March 1988. Recording from the collection of Golden Radio Flanders courtesy of Jean-Pierre Legein, shared on the Radiotrefpunt (radio meeting point) forum by MartinJA. Our thanks to them both (duration 3 minutes 56 seconds)
Rob Harrison on Caroline-558 during the morning of 9th June 1988. This is an edited version of a recording posted by Vincent on the Internet Radiocafé, now known as the Radiotrefpunt forum. Our thanks to him (duration 3 minutes 46 seconds)
Rob Harrison on the Caroline-819 'Overnight Alternative' service on 20th March 1989. He is joined in the studio by brothers Chris Kennedy and Steve Conway and mentions another DJ, former Caroline colleague Judy Murphy who by this time had joined Radio Luxembourg. This is an edited version of a recording available from www.azanorak.com. Our thanks to Ray Robinson (duration 4 minutes 1 second)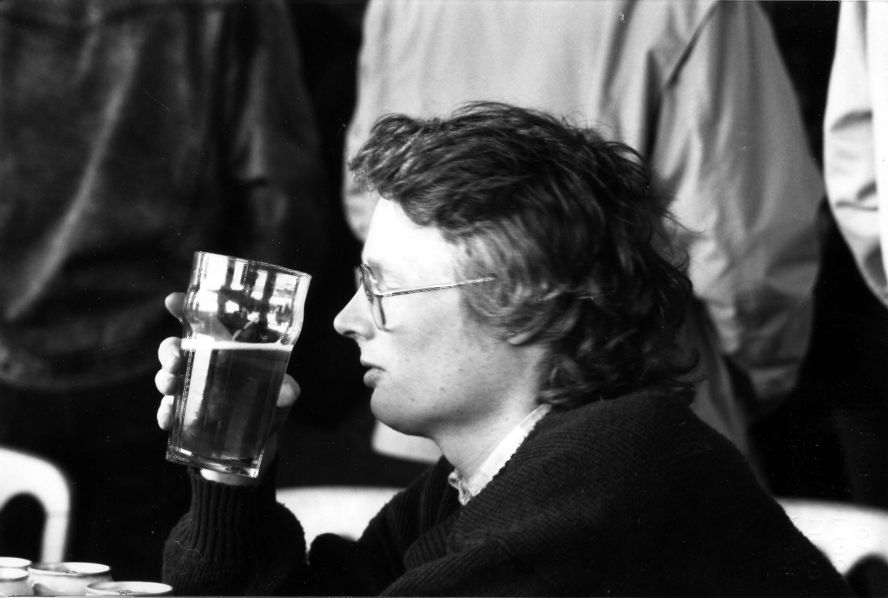 Victor Hartman Born and raised in Grimsby, Victor joined the Mediterranean offshore station, The Voice of Peace, in spring 1978 as a transmitter engineer. During 1978/9 he appeared on short wave pirate stations Voice Of Britain and Radio Sunshine and in the early eighties worked as an engineer for the BBC. In March 1990 he joined Radio Caroline. Victor later became resident DJ on a North Sea ferry, plying the route between Hull and Rotterdam. During the mid-nineties he worked on radio in Spain along the Costa Del Sol. Victor has since been heard on a number of commemorative RSL broadcasts back in the UK (for RNI, Caroline and London). (Photo kindly provided by Chris Edwards and François Lhote of Offshore Echo's magazine. There are more pictures of Victor in Tony Palmer's photo album.)
Victor Hartman on Radio Caroline from an afternoon in March/April 1990. This is an edited version of a recording posted by Vincent on the Internet Radiocafé, now known as the Radiotrefpunt (radio meeting point) forum. Our thanks to him (duration 3 minutes 47 seconds)
Frances Hayes The girlfriend of Radio Caroline engineer Mike Watts, she spent the Christmas 1988/New Year period on board the Ross Revenge with him and co-hosted one programme with Kevin Nelson between 2.00 and 4.45am on 1st January 1989. Mike tells us: "an accomplished musician, well known on the Irish music scene, Frances worked for the Arts Council booking jazz tours in the UK. Since then she has attained a first class degree in Composition and Conducting, and has arranged strings for various recordings including the band Ride." (Thanks to Mike and Steve Conway for their assistance.)