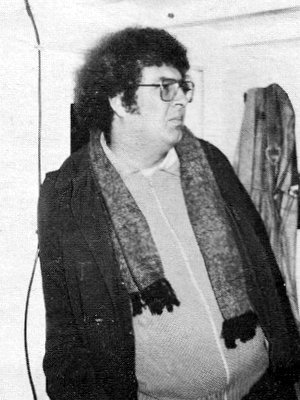 Jay Jackson Real name Howard Rose, he had previously broadcast on Radio Northsea International, Radio 199, Radio Caroline and Radio Atlantis as Crispian St.John (see entry in The Pirate Radio Hall of Fame 'Seventies Supplement'). During the late seventies and early eighties he worked on the Israeli offshore station, the Voice of Peace. He returned to the UK to run the successful Surrey land-based oldies pirate Radio Sovereign. Court action forced this station to close down on 1st January 1984 and, on 19th January, he joined Caroline as news director using the new name of Jay Jackson. After a period concentrating on news, Jay moved back to DJ-ing. In June 1985 he left Caroline and joined Viking Radio in Hull, moving the following year to Radio Aire in Leeds. Later he transferred to Hereward Radio. He wrote a book on how to operate an offshore station, The Pirates that Waive the Rules, and also published Now Radio magazine for a number of years. In 1989 he was awarded the franchise to operate a radio station in Kettering, Northants, but later returned to publishing with Radio magazine. He already had a large number of unsuccessful publishing ventures under his belt but this time it worked. The UK radio industry had now grown large enough to sustain a trade paper and the magazine was well received. In fact it thrived. Although now fully occupied with the magazine, he also found time to lobby successfully for the introduction of 28 day radio licences and later ran a charity station, Radio Carousel, on one of these temporary licenses from a studio built at the back of the magazine's offices. He never lost his passion for offshore radio and Paul Graham tells us that he and Jay came close to launching a ship in 2001 but the authorities warned them off. In 2002 he sold the magazine, intending to carry on editing it for the new owner. A few weeks later he entered hospital for a routine operation for gall stones but died of a heart attack following the operation. He was just 49 and left a wife, Patricia, and three children. (Photo from 'Caroline 319 - Into The 80s', published by Seagull Press. More photos in Caroline Martin's album.)
It is a triple celebration as Jay Jackson marks St.Patrick's Day, Mothers Day and his own 32nd birthday on Radio Caroline, Sunday morning 17th March 1985. This is an edited version of a recording available from www.azanorak.com. Our thanks to Ray Robinson (duration 4 minutes 34 seconds)
After years of being known as Crispian St.John, Jay Jackson forgets his new name while reading a news bulletin, soon after re-joining Radio Caroline in 1984 (duration 34 seconds)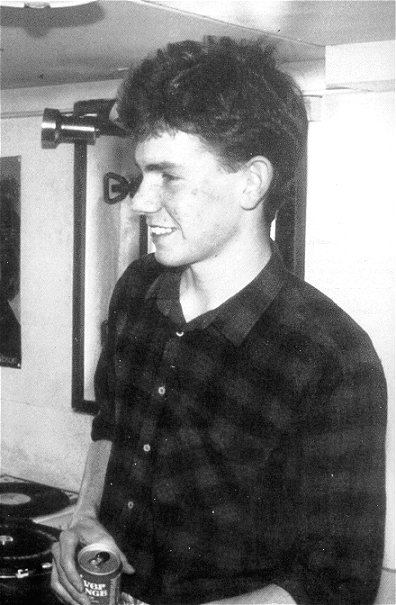 Nick Jackson from Leicester, he was a friend of former Caroline DJ Paul Graham. He joined the station on New Years Day 1989. Since his time at sea he has been heard on a wide range of UK commercial stations including Sound FM, Lincs FM, SGR Colchester, Heart, Virgin, BRMB, Century, Absolute, Smooth, Original and the internet incarnation of Radio Caroline. He can currently be heard on Virgin Radio Anthems. (Photo courtesy of 'Offshore Echo's Photo Gallery'. There are more pictures of Nick in Tony Palmer's photo album.)
For Radio Caroline's 25th birthday in March 1989 the DJs presented a listeners' all-time Top 1000. This is Nick Jackson from Sunday 26th March counting down some of the tracks around the 360-mark. You may spot a couple of old jingles as well, adding to the festivities. This extract is taken from a longer recording available from www.azanorak.com. Our thanks to Ray Robinson (duration 3 minutes 49 seconds)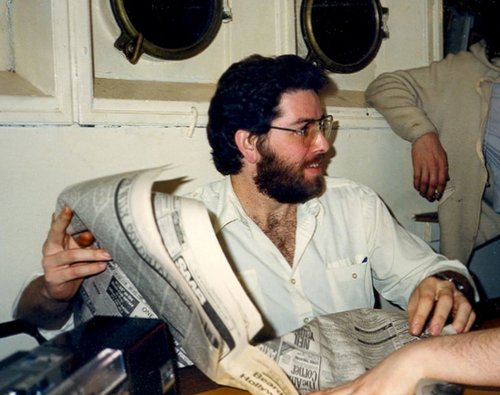 Paul Jackson A tall, bearded American DJ, he got his start in broadcasting on college radio. He moved from there to a local FM rock station. He joined Laser Hot Hits on 24th February 1987 after seeing an advert in an American trade magazine. The station closed in April 1987 but Paul stayed around and in August famously and single-handedly took the Laser ship mv Communicator on a journey from the South Falls to a new anchorage in the Galloper Channel, outside the new territorial limit which was due to come into force. He attended the 2009 Radio Day in Amsterdam (photos here, audio available to download from www.radioday.nl). (Photo ©Dennis Mikelas.)
Paul Jackson on Laser Hot Hits from the morning of 1st March 1987. This is an edited version of a recording available from www.azanorak.com. Our thanks to Ray Robinson (duration 4 minutes 22 seconds)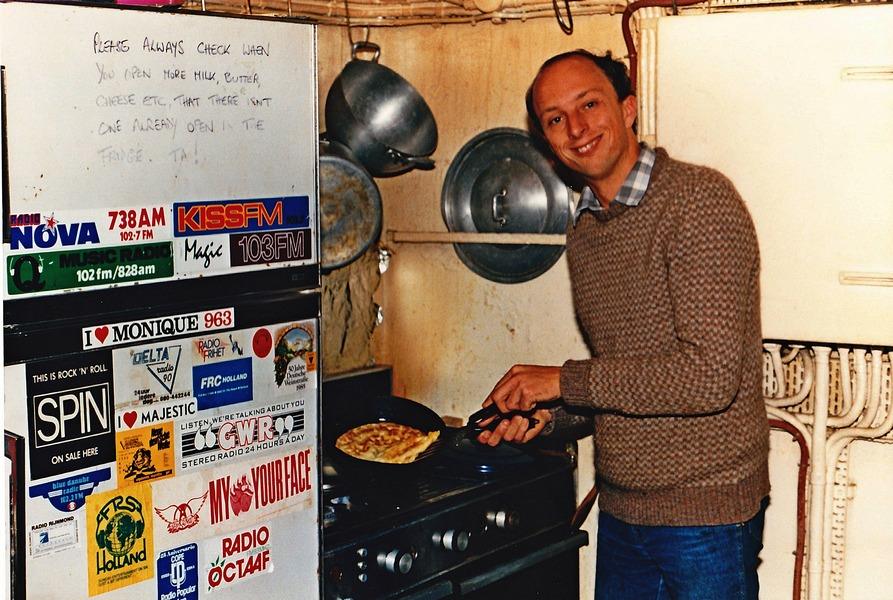 Richard Jackson Birthday 27th March, Richard joined Radio Caroline in August 1986. He writes: "My first radio encounter was with Radio Jackie during its pirate days in the seventies, an exciting time helping the station grow, realising you don't need millions of dollars to run radio. I made many long-term friends there who are still in touch today. In the summer of 1976 there was an opportunity to visit and work on the Voice Of Peace (off Israel), again an excellent learning and life experience. While on shore I remember meeting and having dinner with friends from 10 different countries which really brought home the fact that we really are all from the same place. I think this influenced my outlook on life and gave me the desire to travel. In the late seventies a couple of friends and I had assisted with ship to shore communications with Radio Caroline and in the evenings would drive up to the hills on the North Downs where we could, with a little luck, communicate directly with the Mi Amigo or via the radio amateur repeater at Dover. We would often respond to a series of numbers broadcast over the air which would relate to different needs and concerns onboard. We were in communication as the Mi Amigo was sinking (in 1980). In 1985 I went to look at Radio Nova in Dublin and worked there for several months, presenting overnights, then early evenings. This was at the time Chris Cary decided to experiment with long wave. Nova closed then we moved to Energy 103. In 1986 I joined Radio Caroline for what was probably the most exciting adventure of all time. By now I was actually quite good on air and worked every shift going, as we all did. Everyone was very together, great co-operation from our Dutch friends and Willie running his tender trips from Belgium." Richard was with Caroline until March 1987. He continues: "In 1988 I was offered a job at 95.5 Radio Bangkok. I couldn't resist .... this turned out to be a total life changing experience." Still living in Thailand, he says: "The country is very open and friendly and I decided to stay on working in programming at 95.5FMX and Smooth 105 for 14 years. The nineties were terrific and challenging. We had an international team of broadcasters and together there were plenty of opportunities to develop ideas such as providing on-air training, developing I.R.N news packages, learning digital audio editing & production, mastering the perhaps infamous RCS Selector ... I was probably guilty of bringing the format clock to Thailand which soon caught on with other stations. I carried out interviews with many international artists and bands as they visited Asia, including The Corrs, The Spice Girls, Phil Collins, Backstreet Boys, Boyzone, Gwen Stefani, Maurice Gibb and many others. Today I still do voice-overs, mainly for corporate clients, and contribute to the new radio publication Asia Radio Today. I am married with two children. Ten years ago a good friend and myself started our company BMAsia (Best Music Asia) which provides music channels to leading 5-star hotel properties across South & East Asia through to the Middle East. This has allowed us to travel extensively throughout the region. I still love radio and enjoy being able to listen to stations all over the world while driving thanks to Tunein.com. I am fascinated by new audio technology and how radio embraces this and evolves." Since writing the above Richard has joined some of his old Jackie colleagues on 121 Radio where he broadcasts under his real name of Richard Buckle. (Our thanks to Richard for his help. There are more than a hundred photos taken by him while he was working on Caroline available on Flickr, including this one of omelette-making in the Ross Revenge galley.)
Richard Jackson during the early evening of 27th September 1986(?) on Caroline-558. This is an edited version of a recording posted on The Offshore Radio Club Forum by Hans Hendriks. Our thanks to him (duration 3 minutes 35 seconds)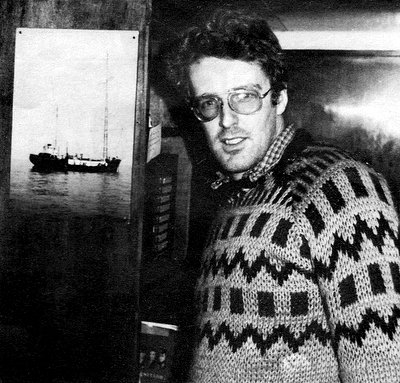 Chas James The captain of the mv Ross Revenge for three months, Charles broadcast occasionally in the weekend 2-6am slot on Radio Caroline, both under this name and as Charlie Farley. His first show was on 28th January 1984, his last on 4th March the same year. Remembering his time with the station on Facebook, he wrote "I was skipper when the anchor chain broke. She broke adrift the first night I was on board. Bit of a shock, as (station boss) Ronan had specifically said that ship is not going anywhere! I took her up to another anchorage. Then a storm blew up so we stayed a few days before going back to the Knock Deep. In the meantime a TV crew had come out to the Knock Deep and we were not there. Ronan got a small tug from Flushing to come and find us. Unfortunately he did not have the code words, so I could not let him alongside. Remember there was not any communication with the shore then." (Photo from 'Caroline 319 - Into The 80s', published by Seagull Press.)
The Pirate Radio Hall of Fame needs your

The site is updated regularly and we are always on the look-out for new material to add. If you have any information, photographs, recordings or contact details for any of the disc-jockeys we haven't been able to trace, please get in touch.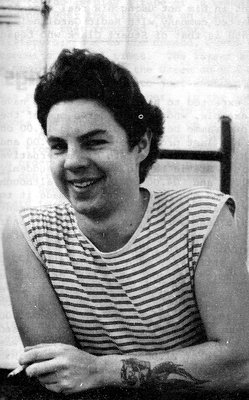 Dave James Previously of Hertford Hospital Radio and the Voice of Peace, Dave was first heard on Radio Caroline in the early hours of 21st July 1986. He was with the station for nearly a year, leaving in May 1987. He was later on the London land-based pirate HITS-FM and Donegal station KTOK before forging a career in legitimate commercial radio. Kevin Turner remembers encountering him again, after Caroline. He writes: "In the mid 90s I did a week covering Afternoon Drive on The Breeze in Southend and he was on the other end of the line doing the travel news for me from AA Roadwatch." Dave later presented shows on Breeze himself as well as Classic Gold. (Photo from 'Monitor' magazine. We previously said that Dave also worked for Ipswich's Town 102 but correspondent Mark Keable has informed us that that was a different 'Dave James'. Apologies for the confusion.)
Dave James battling a hangover on Christmas morning 1986. This is an edited version of a recording shared by The Offshore Radio Archive (duration 4 minutes 4 seconds)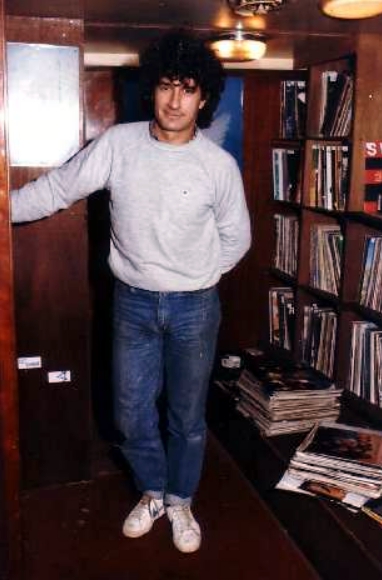 Tony James joined Radio Caroline in December 1984 as an engineer, and was immediately asked to present a show! Despite his lack of on-air experience, he was an excellent DJ and stayed until the end of February 1985. He then joined Ireland's Radio Nova, as Tony McKenzie. (Station owner Chris Cary gave him the new name and created a jingle for him by editing together parts of two old jingles - the start of a Tony Allan jingle and the end of a Brian McKenzie one.) Tony later became Programme Controller and, when Nova closed down, ran its successor Energy-103. He was later Programme Director of Liverpool's Radio City and has been heard on a number of other stations including Magic, Smooth and Hallam. He was then Senior Programme Controller for Peak-FM in North Derbyshire and The Pulse in Bradford, Kirklees and Calderdale. He can currently be heard on the internet station Radio Nova International. (Photo kindly provided by François Lhote of Offshore Echo's magazine. There is another photo of Tony in Caroline Martin's album.)
Tony James in mellow mood on Caroline in the early hours of Boxing Day, 26th December 1984. This is an edited version of a recording available from www.azanorak.com. Our thanks to Ray Robinson (duration 2 minutes 1 second)
Trevor James Previously on Radio Nova, Dublin, Trevor joined Radio Caroline in August 1985, taking over the Breakfast Show. He stayed with the station for just one stint, until 11th October. The following year he joined Marcher Sound where he was Presenter, Head of Music and Deputy Programme Controller, followed by Producer / Presenter on Viking FM, Programme Controller of Q103 Cambridge and other stations in the GWR group, Programme Director of Vibe FM, Metro Radio and the north's Magic network and then Programme Director of three stations owned and operated by UTV: Wish FM, Wire FM and Tower FM. (Thanks to Andy Gelder for pointing out that we previously posted the wrong photo. It wasn't Trevor. Apologies. It has now been removed. Can anyone provide a genuine photo of him?)
Trevor James on the Radio Caroline Breakfast Show on 11th September 1985. The first voice belongs to Susan Charles. The Dioptric Surveyor, mentioned by Trevor, was a boat chartered by the British government to monitor the offshore stations in the North Sea. This is an edited version of a recording available from www.azanorak.com. Our thanks to Ray Robinson (duration 2 minutes 30 seconds)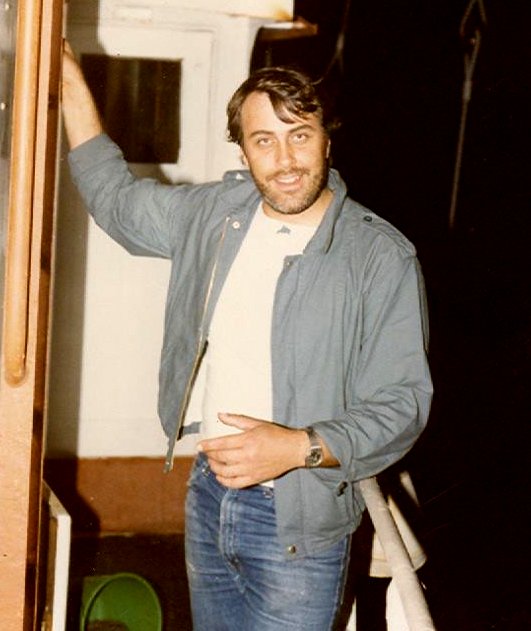 Dennis Jason A stalwart of the Caroline Movement supporters group and former land-based pirate on South East Sound and Radio Jackie, Dennis ran a mobile disco business. He presented shows on Radio Caroline for a week in May 1986 and another few weeks later in the year. He was also heard on Laser Hot Hits in March 1987. Dennis also helped out with the perilous task of aerial rigging, occasionally taking fantastic photos while up the mast. He later presented on various restricted service license radio stations, Mellow 1557 and the Frinton-based Big L. He also owned a window/conservatory company in Reigate. An excellent photographer, he kindly provided a number of the photos on The Pirate Radio Hall of Fame, including this one. Sadly Dennis suffered from cancer and died on 9th July 2021, aged 68. There is a tribute on the Offshore Echo's website and many of his photos are on Flickr.
Dennis Jason on Radio Caroline from the evening of 9th May 1986. This is an edited version of a recording available from www.azanorak.com. Our thanks to Ray Robinson (duration 3 minutes 37 seconds)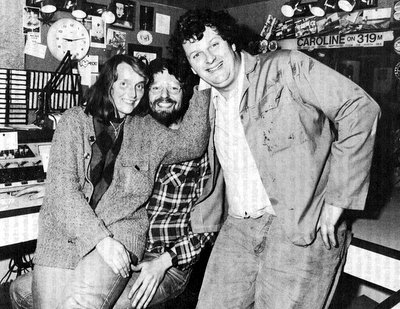 Fiona Jeffreys was just 17 when she visited the mv Ross Revenge in January 1985 to interview the DJs for a BBC schools programme. She had previously worked on London pirates Shoestring and Jackie and, while aboard, she presented a couple of shows in the middle of the night. On 26th February, she returned to Caroline as a full-time DJ and stayed until July. Romance blossomed on board and she left to marry fellow DJ Dave Richards. (Photo of Fiona with Dave Richards and John Lewis from 'Monitor' magazine.)
Fiona Jeffreys in the early hours of 7th April 1985, Easter Sunday, on Radio Caroline. Apologies for the interference. Can anyone supply a better recording of Fiona on Caroline? This is an edited version of a recording available from www.azanorak.com. Our thanks to Ray Robinson (duration 3 minutes 14 seconds)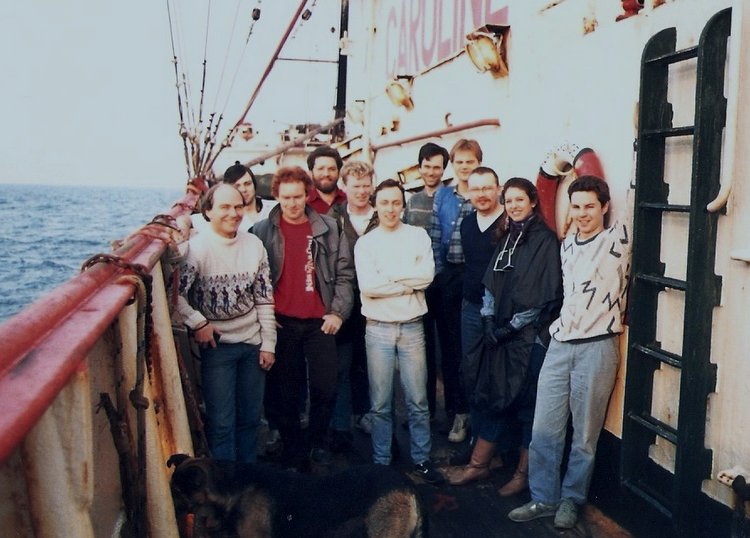 Staff from Laser Hots Hits, Monique and Caroline get together on the Ross Revenge, April 1987. Left to right: Mick Williams, Mark Matthews (both Caroline), Jan Veldkamp (Monique), Paul Jackson (Laser), unknown (Laser marine crew), Kevin Turner, Peter Philips (both Caroline), unknown (Monique), John Bibby (Caroline), Brandy Lee (Laser) and Dave James (Caroline) with ship's dog Raffles down the front. Thanks to Mick Williams for the photo.
Philip John was a New Zealander who joined Radio Caroline in April 1989. Arthur Burton tells us that "he went out there because his boss down under was a friend of (station founder) Ronan (O'Rahilly)." Shaun Tilley: "Philip John really impressed me on air. He was a tall moustached New Zealander with a great deal of commercial radio experience back home and I really liked his energy between the songs!" Can anyone tell us more?
Philip John on Caroline-558 from the evening of 31st May 1989. This is an edited version of a recording available from www.azanorak.com. Our thanks to Ray Robinson (duration 1 minute 51 seconds)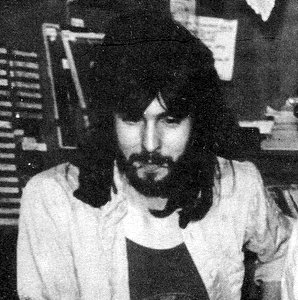 Andy Johnson nicknamed 'Cosmic' because of his hippyish tendencies, Andy had previously been a local newspaper journalist (and the original editor of the Caroline Movement Bulletin) before moving into broadcast news. He had also gained DJ-ing experience on hospital radio and the heavy metal landbased pirate Radio Amanda. He initially joined Radio Caroline to work on the news service in March 1984 but also presented shows. He was last heard on air in June 1986 but then helped to run the station on land. He brought us up to date on an internet message-board in March 2009: "I haven't done any real broadcasting since leaving Radio Caroline and until the end of last year I had got heavily involved in social housing in a big way. Probably the old hippie in me but I feel really strongly about the right of everyone to have a decent, affordable, secure home. The missing pillar of the welfare safety net I believe. Before taking a life break in December (it gets us all in the end...) and moving away to spend a few months down time in Bulgaria, I was Project Director for Home North West and before that Head of Housing at Allerdale Borough Council. My first and to date only book was published last year by Haynes (the motor manual people): Cars of the Soviet Union - the Definitive History." Andy then published a second book Cars of Eastern Europe: The Definitive History and was Strategic Housing Manager for Eastbourne Borough Council but now lives in Telford, where he has written his third book Trucks of the Soviet Union. See this article from the Shropshire Star for more information. (Photo from Offshore Echo's magazine. There are more pictures in Caroline Martin's and Stevie Lane's photo albums.)
Andy Johnson nearing the end of The Caroline Countdown Top 30 Album Show on Radio Caroline, 27th May 1984. This is an edited version of a recording posted by Harm Koenders on The Offshore Radio Club Forum. Our thanks to Harm (duration 4 minutes 59 seconds)
On 6th November 1985 Laser-558 stopped broadcasting and the station's vessel, mv Communicator, was been escorted into port. Andy Johnson reports. The voice at the start of the clip belongs to Neil Francis. This recording was donated to www.azanorak.com by Bill Rollins. Our thanks to Bill and Ray Robinson (duration 2 minutes)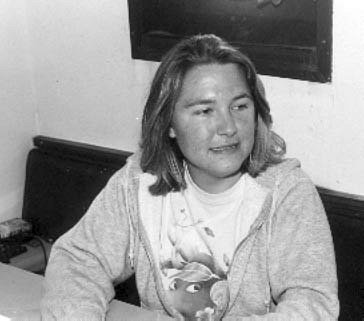 Jonell Full name Jonell Pernula, a Finnish surname she thought too difficult to use on air, she was summer relief presenter on Laser-558 from July to September 1985. The Pirate Radio Hall of Fame asked Jonell for her story: "I grew up in Minnetonka, Minnesota. Attended Brown Institute for Broadcasting. Graduated in 1980. Worked at KRSI/KFMX with Tommy Rivers (known as Gil Brandson on the air then). 'Gilly' got the job on Laser and hired me as a summer fill-in, while full time jocks took their vacations. Upon returning to Minneapolis, I was hired at a great station called The Cities 97 (KTCZ 97.1). It was a wonderful 10 years. After The Cities 97 fired the whole air staff in early '95, I enjoyed working as a bartender, as well as an Assets Protection Officer. That's basically an undercover floor walker, catching shoplifters. Some months later, a new station launched called Smooth Jazz. They called me and I accepted the job. That gig went from 1996 to 1998. Again, new management and owners, everyone was let go ... Soon I was offered a job at Metro Traffic Control. I did traffic reports for various stations throughout the Greater Twin Cities area. In November of 2002 I was told I would be demoted because 'there were too many women' on one of the stations I reported for. That meant I'd lose my full-time position, as well as health benefits. I came home in tears and told my fiancé what had happened. He immediately called an attorney (golf pal) and I ended up suing for Gender Discrimination. I prevailed (finally!!) in 2005. After that news hit the local paper, I was not a hot commodity ... My sweetie (Timmy) said 'retire'. And I did. Sadly, in September of 2009, Timmy passed away. I'm still living in our house in SW Minneapolis with my cat Maggie Mae (named after the final ditty on Let It Be, not the Rod Stewart song). I enjoy gardening in the summer and shoveling snow in the winter!" Sadly Jonell died on 9th December 2021, aged 61. Her former Laser colleague Erin Kelly wrote on Facebook: "Jonell was always optimistic, carefree and so very friendly to everyone. She cherished those close to her. Nothing was ever a problem to her. She sparkled. Those were magical radio days. Very sad news that she left so soon on our next great voyage. Too soon." (This photo courtesy of 'Offshore Echo's Photo Gallery'. There is another photo of her here. )
Jonell on Laser-558 on the evening of 16th July 1985, edited from a recording posted by Vincent on the Internet Radiocafé, now known as the Radiotrefpunt (radio meeting point) forum. Our thanks to him (duration 3 minutes 17 seconds)
Charlie Wolf and Jonell discussing the confusion over her name one evening on Laser-558. Chris Edwards, mentioned in the clip, is one of the editors of Offshore Echos magazine. The recording has been kindly provided by the other editor, François Lhote. Our thanks to them both (duration 1 minutes 51 seconds)
Jerry Jones formerly of Radio Jackie, Severn Sound and Coast AM/Radio Invicta, where he was known as Jerry James, he joined Radio Caroline in October 1989. For the first day on board he called himself Jerry Jackson. He shared some vivid memories of his time on board the Ross Revenge with The Pirate Radio Hall of Fame: "We were on low power after the August raid ('Radio Margate 558') but, thanks to the amazing work by Peter Chicago and others, there we were, on the air and in a rather defiant mood. One morning, a fisheries protection vessel came rather too close for Peter and he ordered us to grab a hose and prepare to aim at the ship! It passed without incident I'm glad to say. I was on the Ross for November 5th. The night was clear enough for us to see fireworks along the coast from the bridge! Also I remember well a flat-bottomed ex-Thames passenger cruiser purring alongside on an extremely calm night with drums of diesel and drums of water in ex-fizzy drink flavour concentrate. That, and the smell of diesel, haunt me although I was never seasick, even in heavy weather." Other memories include: "On one occasion it was rather rough and the rudder was flapping around and thumping the side sending a dull metallic thud along the whole ship; going to the loo at the top end of the ship and having to flush with a bucket of seawater raised on a rope from over the side; always slightly fibbing on air about the sea conditions at our anchorage to make sure the tender came. The skipper would always comment on how rough it was on arrival - amazing how quickly it can blow up! Standing on deck with a long fluorescent tube, waving it as it lit up when brought close to the aerial wire, as the Olau Line ferry passed near by, much to the delight of many on board; going out on a tender that was a large RIB (rigid inflatable boat) with Mike Dundee and co. - now that was an experience! Spending 3 or 4 days off with no fuel, no lights at night, that was a bit spooky especially when hit by a tender at stupid o'clock which virtually rammed the ship." Jerry later worked for Breeze AM, Minster FM, Yorkshire Coast Radio and BBC Radio York as Jerry Scott. In June 2006 he hosted a special show on BBC Radio York to celebrate the fortieth anniversary of Radio 270 (photos here). His final station was Coast and County Radio, who announced some sad news on 21st December 2017: "It is with a heavy heart that we have to announce that today 21/12/17 at 2.30pm, our leader Captain Jerry Scott left the ship for the last time. Goodnight, God Bless, RIP" (see Radio Today). Bob Dunn told us: "Jerry had fought lung cancer for some time having come in contact with asbestos back in 1976 when he started his first job from school. A great friend and an accomplished broadcaster who I had the pleasure of first meeting when we were both on Radio Jackie during the mid 1970s. He will be greatly missed."
Jerry Jones, with assistance from Dave Richards and Dave Asher, on Caroline-558, Christmas afternoon 1989 playing some of the best music from the eighties. This is an edited version of a recording made available by The Offshore Radio Archive (duration 4 minutes 12 seconds)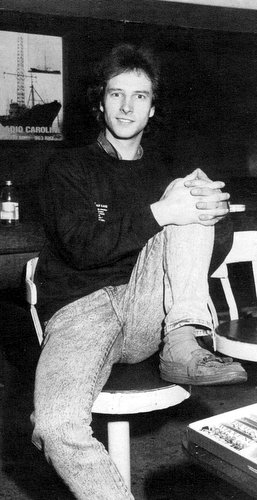 Ricky Jones formerly on Kent's Radio Invicta, Ricky was first heard on Radio Caroline in February 1990. His partner Tracy was also on board and broadcast occasionally. Part of the last caretaker crew of the Ross Revenge, he was rescued by the RAF from the Goodwin Sands in November 1991. He told The Pirate Radio Hall of Fame about his career: "I began with hospital radio in Hastings back in the eighties and moved quickly on to Invicta Radio working with Dave Brown (he of the 'Funky Hi') on a show called 'Yours For A Day'. At this time I was being mentored by the late Kerry Juby (known as Kerry Clarke on Caroline in the sixties), and was offered a presenting job on the newly opening CoastAM in 1989 (CoastAM was an Invicta Group service operating on its AM frequencies). After a short stint on overnights I was made redundant when the decision was made to link the overnight AM service with FM. A few months later I was approached by Radio Caroline. I must admit it took a couple of attempts as I didn't initially take the request seriously as, in my then naivety, I wasn't aware Radio Caroline was still broadcasting! However a meeting at a burger bar in Maidstone was arranged and I was shown a few rusty photos, asked how I was with boats, if I'd ever been seasick and would I like to give it a go. I can't swim for toffee but said yes straight away, one of my best decisions EVER! I remember waking up for my first morning and just minutes before my first show was told I'd have to come up with another name. So there I was getting dressed reeling off random names to my then partner, Tracy, and as I pulled on my trousers, I settled on Ricky Jones. Minutes later I was presenting my first show. I continued with Radio Caroline until the boat-sitting days (after the suspension of broadcasting from the ship) and was one of the last crew to have been on board the Ross at sea, being airlifted when the ship ran aground on the Goodwin Sands. To this day I deeply regret abandoning the Ross as I had developed a strong fondness for the rusty old ship and I believe anyone who has ever spent time on her at sea will admit that a very strong bond forms. My time at sea on Radio Caroline provided some of the happiest and most emotional memories of my life. Mental illness got the better of me after this time but a few years later, following further study and winning awards for scriptwriting, I moved from presentation to broadcast news, working on local radio stations in Thanet, East Kent. I continued this on and off whilst battling with my illness until roughly the time of the new millennium when offers of work dried up and I was away from the broadcast industry for over ten years. I returned briefly in 2012, producing and presenting local news in Thanet, and my first radio show for well over 10 years was with Red Sands Radio in Whitstable at the same time. Quite a learning curve as this was my introduction to software assisted programming, a far cry from vinyl on floating turntables. In recent years however, having received a diagnosis, I have begun treatment with the help of a doctor from The Priory. I am presently looking to embark on audio documentary production and am available for work!" (Our thanks to Ricky for his assistance. This photo is by B.Dom and taken from Offshore Echo's magazine.)
Ricky Jones on Caroline-558, the afternoon of 28th February 1990. This is an edited version of a recording posted on The Offshore Radio Club Forum by Hans Hendriks. Our thanks to him (duration 3 minutes 50 seconds)