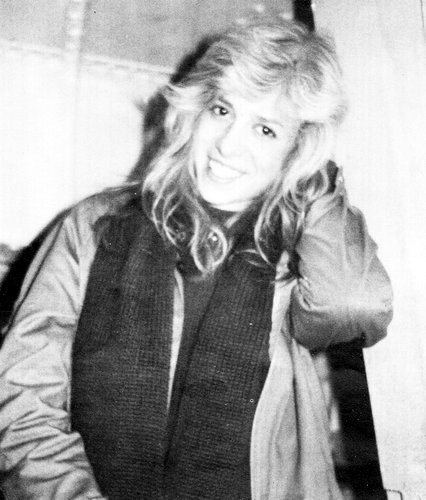 Stevie Lane was heard on the Caroline Overdrive rock service for a few months, between March and May 1986, but her involvement with the station lasted much longer than that. She tells us: "My first experience of Caroline was in 1976 when I was babysitting for the daughters of a record producer friend of the family. They were out very late, and had an amazing stereo. I put the radio on and started tuning around. I found this incredible radio station which actually played peoples' entire top 30s, comprising almost all of my favourite songs at the time, I couldn't believe it! I was hooked. In 1978 I joined Chris England's (landbased pirate) Radio Amy and was given my own afternoon programme. There was quite a camaraderie between the London stations at the time and we often socialised with Radio Jackie, North London Radio, Radio Amanda and Telstar 1. One day we had a visit from James Kaye from Caroline. I was on the next tender to the Mi Amigo with James and Tony Allan. I then joined the road crew of the Caroline Roadshow for a few months as well as DJ-ing regularly in a couple of London night clubs in Kensington. After the ship sank, I went to live in South Africa. In the spring of 1983 Chris wrote to me in Cape Town with news that Caroline had a new ship. Within a few months I came home, drove down to Ramsgate, and met a very kind boat owner who agreed to give me a lift out to the ship. Tom Anderson recognised me from the Roadshow, so I was allowed on board. The Ross looked fantastic, the mast was visible for miles. Shortly afterwards I got involved with land-based operations and spent most evenings after work at the office with Ronan and the rest of the staff. Over the following three years I made over a hundred trips out to the Ross in all kinds of weather, and was always greeted with smiles. In 1986 money had become tight so Tom volunteered to go ashore and 'sort things out', at which point Fergie McNeal took over Tom's programme on Overdrive 9pm-1am and I did Fergie's 1-4am slot for a few weeks. I also read the international news during the day on Radio Monique, followed by the weather (in Dutch), made dinner for everyone, and after my programme, introduced the beginning of Radio Monique at 4am and then had to go downstairs and wake them up! I left in late '86 but have since kept in touch with some of the wonderful friends I made. I went to the reunion at the Red Lion in 2004 and in 2007 we had a Mi Amigo reunion in Highgate." Stevie currently works for a university and manages a clothes shop. (Thanks very much to Stevie for her assistance. This photo is from 'Caroline 319 - Into The 80s', published by Seagull Press. Some of Stevie's own pictures, taken on Caroline, can be found here and there are some recent photos of her, taken at a 2018 DJs' reunion, here.)
Stevie Lane closing down Caroline Overdrive, reading the international news and weather on Radio Monique, and opening Monique in English, French and Dutch and beginning a programme she says "for Mark Stam who couldn't get up!". Clip taken from SMC Audio Magazine no.8 (duration 2 minutes 8 seconds)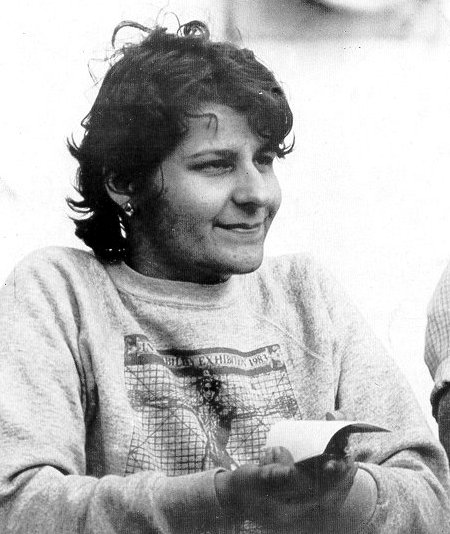 Diane Lauren A Californian, Diane had previously worked on college radio before setting off to travel round Europe. She was a friend of DJ Peter Quinn who introduced her to Radio Caroline. She joined the station in March 1984 and served two stints on board. Can anyone provide any up-to-date information? (Photo courtesy of 'Offshore Echo's Photo Gallery'. There is another picture of Diane in Stevie Lane's photo album.)
Diane Lauren on Radio Caroline from the afternoon of 28th March 1984, edited from a long extract posted on The Offshore Radio Club Forum by Hans Hendriks. Our thanks to him (duration 3 minutes 31 seconds)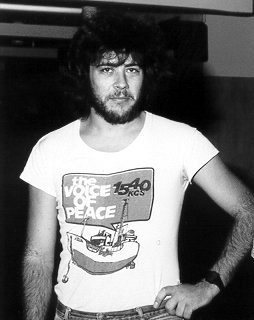 Alex Lee Alex followed the traditional path of the eighties Caroline DJ, having worked on the Voice of Peace in the Mediterranean and Irish pirate stations before joining Radio Caroline in October 1989. He was there a couple of months. Can anyone provide more up-to-date information? (Photo of Alex in his Voice of Peace T-shirt taken by B.Dom and courtesy of the 'Offshore Echo's Photo Gallery'.)
Alex Lee on Radio Caroline from the evening of either 12th or 13th December 1989. Taken from a recording shared on www.azanorak.com by Brian Nichols. Our thanks to him and Ray Robinson (duration 2 minutes 10 seconds)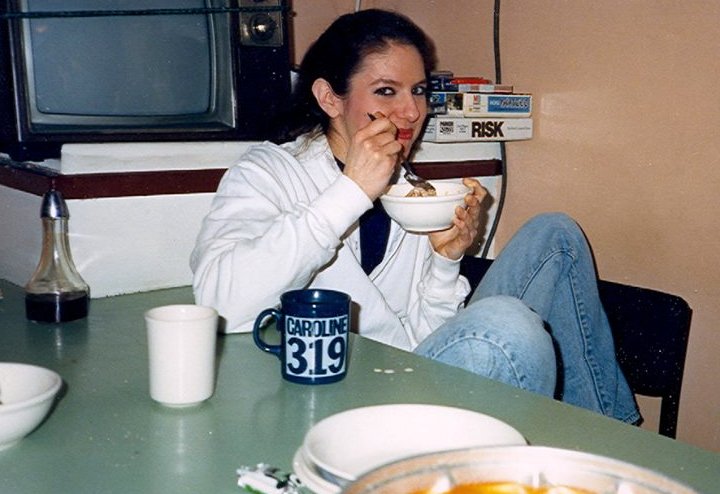 Brandy Lee Born in California, but brought up in North Dakota, Brandy arrived on board the mv Communicator in January 1987 while Laser Hot Hits was off the air following the loss of the aerial. A new one was erected and she was first heard during some test transmissions. Proper programming resumed on 2nd February. She hosted the Breakfast Show. Brandy had begun her radio career as an actress, booked to voice a commercial (her university studies had been in Theatre Arts). After the recording, the Programme Director asked if she had ever considered working in radio. They were looking for an overnight DJ and would train her. After six months working overnights on KVOX AM 1330, a top 40 outlet in Moorhead, Minnesota, Brandy was promoted to the evening shift on sister station K-100 FM (country format), followed by a move to middays where she enjoyed successful ratings in the Fargo-Moorhead market for several years. Brandy was then recruited to join a newly licensed FM station, KZ102 FM (adult contemporary) in Fargo, North Dakota, as midday announcer and Production Director. During this time she also hosted a local TV talk show on KVRR TV. After a few years KZ102 was sold (and the station subsequently automated). Brandy and her co-workers were made jobless. She saw an advertisement for 'Radio Europe' in the trade magazine Radio & Records. Curious, she submitted an air-check tape and résumé. She was contacted by a representative of Laser Hot Hits who explained that it was on a pirate radio ship. Figuring it would be the biggest adventure of a lifetime (and, she says, it was), Brandy accepted the job. She considers it "the craziest, scariest and most interesting time spent behind a microphone!" Sadly Laser Hot Hits did not last long. It closed down in April 1987. Brandy returned to the States and created her own cabaret performance group which worked in the Fargo-Moorhead area for several years. She also continued in theatre. In 1992 Brandy married and was finally able to enjoy one of her lifelong plans - being an at-home mother to her children Grace & Stefan - to whom she could truthfully state: "Mommy was a pirate!" When the kids reached school age, she started her own theatrical company Ursa Major Productions, which produced several musicals and plays in the area. Brandy also worked in patient education at the Red River Women's Clinic. Her only return to radio was as a theatrical reviewer for Prairie Public Radio in Fargo, North Dakota. Currently she has begun a new job as a phlebotomist for a local clinic - and loves it. (Photo ©Dennis Mikelas. Our thanks to Brandy for her help and to Dennis for the photo.)
Brandy Lee opens up the Laser Hot Hits Breakfast Show on 2nd February 1987. The station had been off the air while a new aerial was erected. This was their first full day back on the air and Brandy's first proper show. The clip is edited from a recording posted by Vincent on the Internet Radiocafé, now known as the Radiotrefpunt (radio meeting point) forum. Our thanks to him (duration 4 minutes 20 seconds)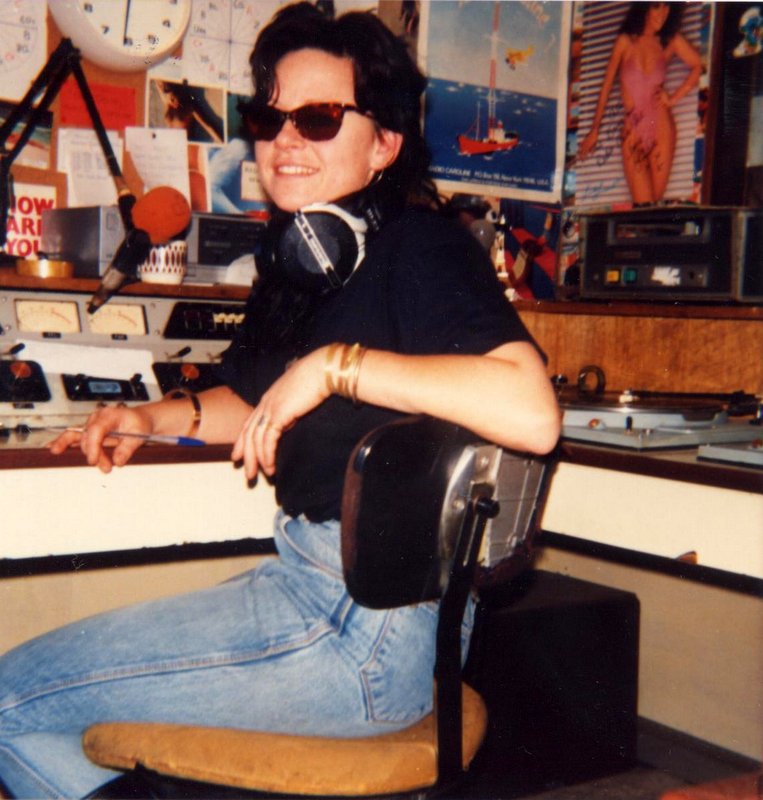 Jackie Lee From Australia, Jackie joined Radio Caroline in May 1987 and stayed with the station until October. She is fondly remembered by her colleagues. Paul Graham said: "What a great gal. She mainly did the 9:00-13:00 shift. She was in her mid-20s when she was on Caroline." She returned to Australia after her stay on Radio Caroline and worked on radio there, including time on the Triple-J Network, but is currently Director of Marketing, Public Relations and Communications for an educational organisation. (This photo kindly provided by Paul Graham. There are more of his photos here.)
Jackie Lee on Caroline-558 from the morning of 31st July 1987. This is an edited version of a recording shared on the Internet Radiocafé, now known as the Radiotrefpunt (radio meeting point) forum by Robin Westhof. Our thanks to him (duration 3 minutes 22 seconds)
Richard Lee From Market Harborough in Leicestershire, Richard was introduced to Radio Caroline by fellow DJ Paul Graham, joining the station in January 1988. Paul tells us: "Richard was a great guy. He helped out with things like climbing the mast in March 1988 to attach the new antenna system. He was not scared of heights! He later ran a successful mobile road show in the Leicester area before moving to Australia." (There is a picture of Richard in Paul Graham's photo album.)
Richard Lee on Caroline-558 from the morning of Easter Day, 3rd April 1988, Caroline's official 24th birthday. This is an edited version of a recording shared on the Internet Radiocafé, now known as the Radiotrefpunt (radio meeting point) forum by Vincent. Our thanks to him (duration 3 minutes 47 seconds)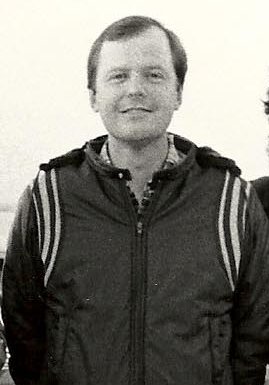 John Leeds From Texas, John was first heard on Laser-558 in October 1985 and was still on board when the station was closed by generator failure the following month. In fact his was the last voice to be heard on Laser-558, minutes before it suddenly left the air on 6th November. Prior to Laser, John had worked for KITE, a top 40 station in Corpus Christi, TX. Following his time in the North Sea, he returned to Texas and KEYS 1440, an oldies station in Corpus Christi, where he did the morning show. He took a break from radio in 1993 to study at the University of Houston before joining KZEP in 1995. This was followed by KKYX Radio in 1996-1997 (both stations in San Antonio). John left full time radio in 1998 to start his own commercial photography business. He is still in the city doing professional event photography and videography. He also became a non-denominational ordained minister in 2008. He enjoys performing weddings, specialising in creative, spiritual, and interfaith ceremonies. (Photo courtesy of Jeff Davis. Thanks to John for his assistance and to Jay Mack for putting us in touch.)
John Leeds from the last few minutes of Laser-558 on 6th November 1985. When the last track Oh Sheila by Ready For The World ended, there was silence. This is an edited version of a recording shared by John Spargo on www.azanorak.com. Our thanks to John and Ray Robinson (duration 1 minute 34 seconds). Jay Mack, another member of the final Laser-558 team, writes: "The last song played on Laser-558 was Oh Sheila by Ready For The World. All of our songs, with a couple of 12" vinyl exceptions, were played on tape cartridges that were common in those days of radio. At one point after we'd stopped broadcasting that day, I took a break from the generator salvage work down below and walked into the air studio, where I spotted the Oh Sheila tape cartridge still in the machine where it had played. I popped it out and took it with me. I kept it for many years. Then one day, while doing a little house cleaning a few years ago, I tossed it out, figuring I had no more need to keep it. If I'd known there was going to be a Pirate Radio Hall of Fame, I would have hung onto it and sent it along as a collectors item for the HOF. My bad. Sorry."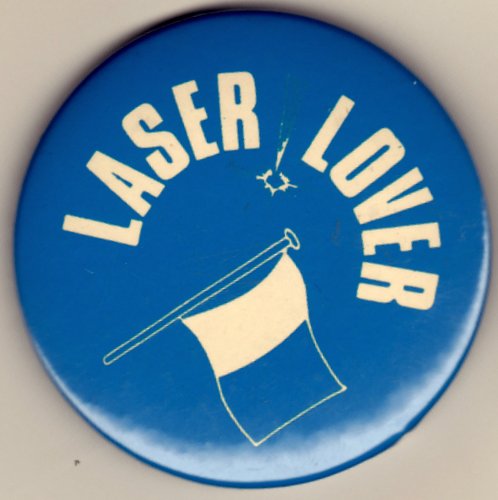 Laser badge. Some of the colour has been lost in the scanning.
The white in the above image should be fluorescent yellow.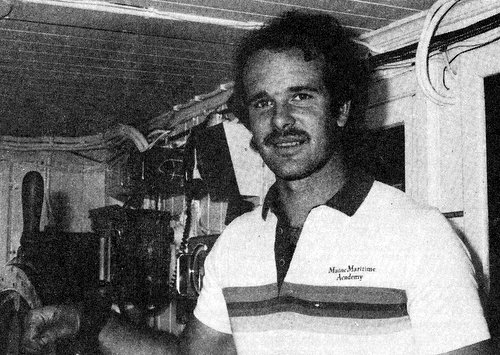 Tim Levansaler was Captain of the mv Communicator, while the ship was the home of Laser-558. He was heard occasionally on air. The first time was on The Zany Hour in the early hours of 15th September 1984. He later married his Laser colleague, DJ Holly Michaels. They now live in Florida and Tim runs a company called Sophlex Marine Management. (Photo from 'Monitor' magazine. There is another photo of Tim in Michael Dean's photo album.)
The Pirate Radio Hall of Fame needs your

The site is updated regularly and we are always on the look-out for new material to add. If you have any information, photographs, recordings or contact details for any of the disc-jockeys we haven't been able to trace, please get in touch.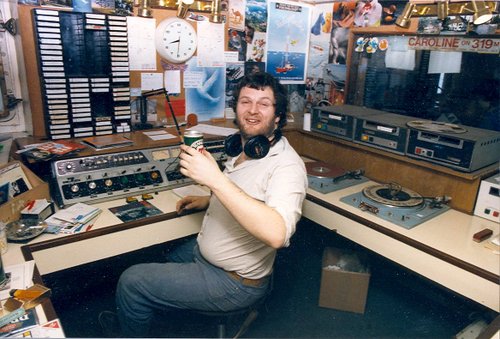 John Lewis Johnny had previously broadcast on Radio Caroline during the seventies under the name of Stephen Bishop (see entry in The Pirate Radio Hall Of Fame 'Seventies Supplement'). After working on Irish pirates and the Voice of Peace off the Israeli coast, he broadcast again from the North Sea when Laser began test transmissions in January 1984 on 729kHz. When the station formally launched in May, its on-air team were all American and Johnny wasn't heard again. A few months later he joined Radio Caroline. His first show there was on 12th August 1984 - after a break of 4 years, 5 months, 3 weeks, 6 days, 9½ hours, according to 'Monitor' magazine! For a time he served as ship's Captain as well as DJ and being responsible for the home-brewed beer. One of the station's most popular personalities, he left in September 1986. He moved back to the mv Communicator to work as an engineer on Laser Hot Hits and also occasionally presented on the station. He was later on Radio Wyvern, Radio Invicta and KMFM, as well as community stations Academy FM, RFM Radio, Seaside Radio and Coastal Radio. He can now be heard on Caroline Community Radio, a station serving the Maldon District of Essex, internet station Radio Jupiter and the current incarnation of Radio Caroline. There is an interview with him here. Johnny has a website devoted to his hobbies - beer, golf and radio. (Photo ©Dennis Mikelas. There are more photos of Johnny in Caroline Martin's album.)
Johnny Lewis on a test transmission for Laser, broadcast on 729kHz on Sunday 4th March 1984. It was to be the station's last day on that frequency. When Laser returned to the air in May it was on 558kHz. This is an edited version of a recording shared on The Offshore Radio Club Forum by Hans Hendriks. Our thanks to him (duration 3 minutes 10 seconds)
Exactly six months later, Johnny Lewis on Radio Caroline's Breakfast Show for 4th September 1984. The newsreader is Jay Jackson. This recording shared on The Offshore Radio Club Forum by Harm Koenders. Our grateful thanks (duration 3 minutes 28 seconds)

Keith Lewis Keith had previously broadcast on the Voice of Peace under the name Keith West and was first heard on Radio Caroline in the early hours of 28th November 1986. He had to stay on board longer than originally planned because his passport expired while he was at sea which meant he couldn't go home by the normal route. His last show was on 19th January 1987. He was later heard on Radio Nova International, QEFM, Buzz-FM, EKR, Merlin Network One, etc.. Can anyone provide more up-to-date information? (Photo courtesy of Kevin Turner.)
Keith Lewis on Radio Caroline from the afternoon of New Year's Day, 1st January 1987. This is an edited version of a recording shared by The Offshore Radio Guide (duration 3 minutes 26 seconds)