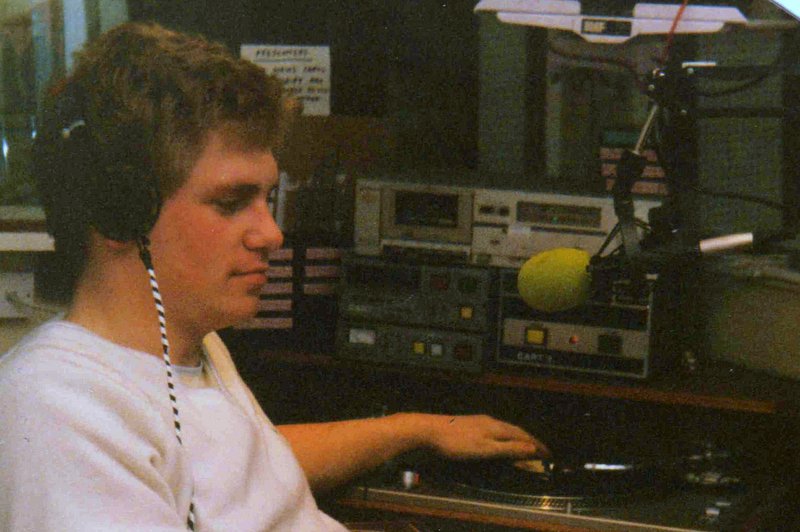 Ian Palmer joined Caroline 558 in November 1988, initially for just a couple of weeks, but he returned the following year. He was also heard on 'The Overnight Alternative' Caroline 819 rock service where he used the name Roger Melladio, "the man on the radio" - a spoof of the Viz magazine character "Roger Mellie, the man on the telly". Like a number of Caroline's DJs from that era, his broadcasting career had begun at Loughborough Campus Radio. The Pirate Radio Hall of Fame asked Ian for some memories from his time on board the mv Ross Revenge: "Sleeping soundly for twelve hours every night, thanks to the pitch darkness of a windowless cabin and the rocking motion of the ship; hearing the Stone Roses for the first time, on playing their single Made of Stone on air; regularly playing a pop trivia board game around the mess table with the rest of the DJs; showering in brine because fresh water was too precious; drinking water contaminated with diesel when the clean water ran out; an over-enthusiastic Kiwi DJ throwing much of the cooking equipment over the side; eating the freshest fish I've ever had courtesy of our friendly tender-man cleaning out his nets; the terror of jumping from the edge of the tender vessel up to the broken rope ladder of the Ross Revenge in heavy seas. I shudder to think what would happen if you missed; throwing up solidly for two weeks during an extended period of bad weather; and, more recently, recognising our main studio being used on-screen in the film The Boat That Rocked." Asked about life since his time at sea, Ian says "After Caroline I never tried to develop a paid career in radio. I worried that the best I could aspire to was to become 'the new DLT' but I was keen to keep it as a hobby and ran a couple of Sheffield-based 'independent' (i.e. independent of licence) stations in the early 1990s – Sunstroke FM (rock/ pop) and Classicstroke FM (Sheffield's leading classical music pirate station). Then I teamed up with old friend Andy Bradgate during the Britpop era to run four massively successful RSLs in Bristol under the Caroline name in the 1990s. These days I live in rural Somerset and have a family. My annual dose of rock'n'roll is presenting world music shows on Radio WOMAD, the station associated with Peter Gabriel's Wiltshire-based festival. I've never earned a penny out of radio in 25 years, but I'm still at it and I still love it. Let's rock!" (Our thanks to Ian for his assistance, the audio clip and this photo taken at Loughborough Campus Radio. Also to Andy Bradgate for putting us in touch.)
A couple of undated clips of Ian Palmer on Caroline-558. The recordings were kindly provided by the man himself. Our thanks to Ian. He says "sorry that the quality is pretty poor. The years in the loft have not been kind to my collection of recorded-over-God-tapes." Does anyone have a better recording of him? (duration 4 minutes)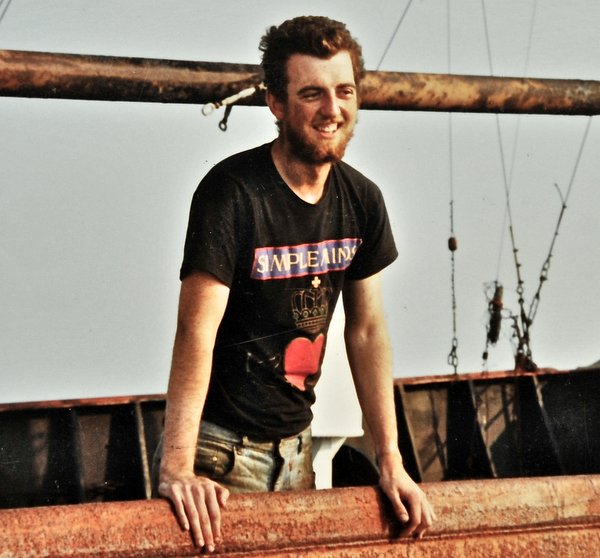 Tony Palmer Like many of the people in The Pirate Radio Hall of Fame, Tony was interested in radio from a young age. He discovered his local landbased pirate stations and became involved with one of them, Radio Lumberjack, run from a house in Bexleyheath, south-east London. As well as DJ-ing on Radio Lumberjack, Tony also helped out at WHBS Hospital Radio in Woolwich and had a weekend job as a studio assistant/general dogsbody at BBC Radio London. He says: "I was involved with Caroline for a couple of years before I went out to work on the Ross. I helped run shore-side supply operations (the 'Gravesend navy')." Tony joined Caroline as a DJ in May 1990. "I was also Project Manager to repaint the ship. We had a very wealthy benefactor who donated something like £10,000 of marine quality paint and it was my day job to supervise the chipping and painting. I also did an overnight album rock show. Since Caroline I have had little involvement with radio - I never had any interest in a career (in broadcasting) and consider Caroline to be the ultimate. Nowadays I am a senior IT Analyst for a multinational consulting firm. Many of my colleagues are amazed when I tell them about my past life!" Tony now lives in Erith, Kent, and is responsible for the Arthur Pewty's Maggot Sandwich blog which occasionally includes stories about his time in offshore radio. (Thanks to Tony for the photo and assistance. He has also provided a number of other photos from his time on the Ross Revenge for which we are very grateful.)
Tony Palmer on Radio Caroline from the morning of 13th June 1990. This clip is taken from a recording posted on The Offshore Radio Club Forum by Hans Hendriks. Our thanks to him (duration 3 minutes 59 seconds)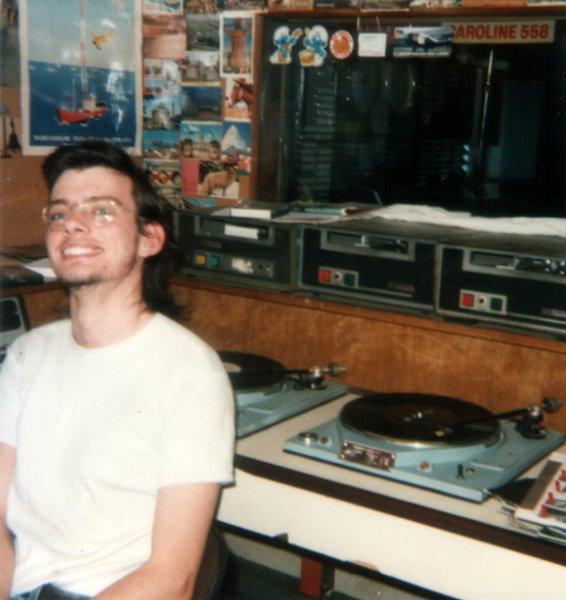 Andy Parka was one of a group of DJs who followed Andy Bradgate out to Radio Caroline from the student radio station at Loughborough. He was heard during July/August 1989. He says: "The ship was a bit short staffed so I was immediately put on to the 9am to 1pm show. I also read the news for Rob Harrison's breakfast show and broadcast as the almost horizontally laid back Joss Stick on 'The Overnight Alternative' Caroline 819 rock service which was a fantastic experience apart from when I was told off for playing Neneh Cherry records(!)." Andy also worked on Radio HMV Oxford Street with Chris Pearson and Simon West (see Steve Conway's blog) and DJ-ed in various London pubs and clubs. He went on to produce the Sparks technical and media news programme with Trevor Brook on 'Britain's number 2 short wave station', Radiofax (their website has archive programmes to download). Andy has since worked as an electronics engineer for various household names in the computer and motorsports industries. With an interest in ancient sites, he also operates The Megalithic Portal. (Thanks to Andy for his assistance and this photograph, and to Trevor Brook for putting us in touch.)
Joss Stick on the 2-4am show, Caroline 819's 'Overnight Alternative', 26th July 1989 with an interruption from Chris Adams. Tape kindly provided by Joss/Andy himself (duration 4 minutes)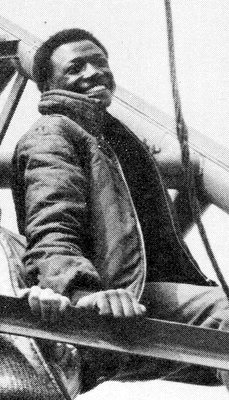 Dixie Peach Previously known as Bernie Michael, he was a session singer and member of the funk group Mirage. He suggested to his manager that he fancied trying his hand at DJ-ing. The manager was involved with Radio Caroline (see Mike Person, below) and introduced Dixie to Caroline founder Ronan O'Rahilly. O'Rahilly thought that Dixie could be "the singing DJ" and signed him up to be part of Caroline's first on-air team when the station launched from the mv Ross Revenge in August 1983. In fact Dixie didn't do a lot of singing during his programmes, although there is a small amount in the clip below, but his DJ-ing was well received and he was soon offered a job on land. He left Caroline in February 1984 to join BBC Radio One, later being heard on British Forces radio and CN-FM. He now works in the law courts. (Photo from a group shot originally taken for the East Anglian Daily Times and reprinted in 'Monitor' magazine. Thanks to Dixie for confirming this information.)
Dixie Peach on Radio Caroline, leading up to 2am on 22nd November 1983. This clip is edited from a recording made available by The Offshore Radio Archive (duration 3 minutes 16 seconds)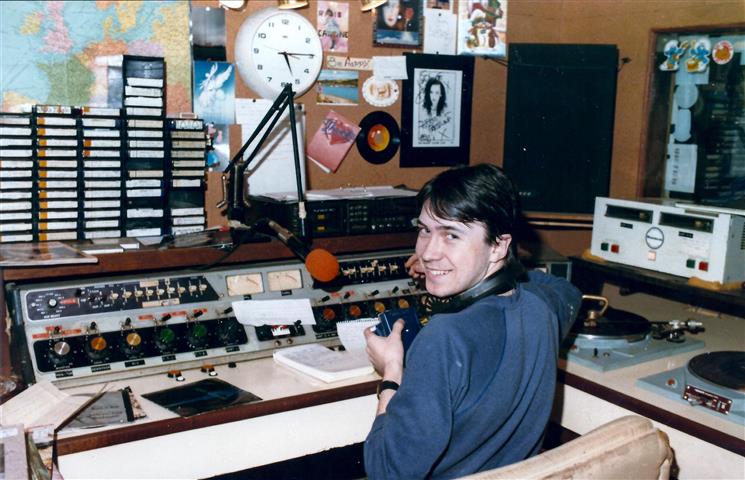 Chris Pearson joined Radio Caroline in March 1985. Prior to that, he'd been on hospital station Dart Radio in his hometown of Dartford, Kent, alongside future Caroline colleagues Dave Foster and Tony Christian. A spell on a cable station, Radio Thamesmead, in south London, lead to former offshore DJ Jason Wolfe handing Chris's demo tape on to Radio Caroline. Chris says he'll never forget clambering up the rope ladder to board the ship for the first time on that dark March night. "It was just mind-blowing to actually be setting foot onboard as one of the team." Finally getting to bed at around 5.30am, he was awoken by knocking on his cabin door to be told that he would be on-air in 15 minutes as someone had gone ill. "Thanks to Nick Richards for the ten minute crash course on using the Ross desk!" After leaving Caroline, Chris spent six months aboard the Peace Ship with the Voice of Peace 'from somewhere in the Mediterranean' before returning to in-store radio with the newly launched Radio HMV in Oxford Street. Several years in commercial radio followed (Invicta Radio, Essex Radio, Ocean Sound, Power FM, Chiltern Radio, Horizon Radio, The Superstation and Key 103) before Chris joined the forces station BFBS. He was with them for 28 years as a presenter and Station Manager in the Falkland Islands, Germany, Cyprus, Belize, Northern Ireland, Kosovo, Bosnia, Iraq and two three-month long tours of Afghanistan using the studios at Camp Bastion. Off-air highlights for Chris included flying a Red Arrow Hawk jet from the back seat, ramp riding Chinook helicopters and Hercules aircraft, a Royal Navy trip to South Georgia, a back seat in a Tornado jet in the Falklands and being winched into a helicopter from the Belizean jungle. His day job saw him running ten stations across the UK from Edinburgh via Belfast and Catterick to Brize Norton and Salisbury Plain for BFBS. In 2015 he also returned to Caroline when he began presenting shows on the internet incarnation of the station. In 2019, after a long career with BFBS, Chris was appointed Managing Director of Manx Radio. (Unfortunately Chris no longer has the photos he took while working on Caroline. He lent his pictures - and negatives - to a friend who lost them. This photo was taken by Leen Vingerling and shared on Facebook by Hans Knot.)
A studio recording of Chris Pearson on Radio Caroline from Easter Sunday 1985. The station was celebrating its 21st birthday with a party, some home-brewed beer and a darts match and Chris's show contained regular updates on proceedings. This clip is taken from a recording posted on www.azanorak.com. Our thanks to Ray Robinson (duration 4 minutes 18 seconds)
The Pirate Radio Hall of Fame needs your

The site is updated regularly and we are always on the look-out for new material to add. If you have any information, photographs, recordings or contact details for any of the disc-jockeys we haven't been able to trace, please get in touch.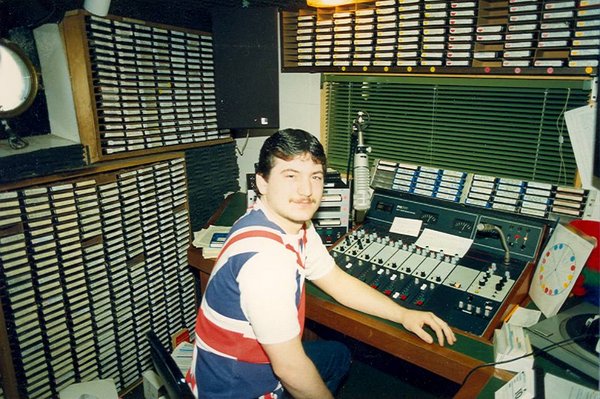 Jim Perry was an American DJ who was heard on Laser Hot Hits. Originally from New England, he had previously worked on WWMR Romford and W121 Bath, both in Maine. His friend Craig Novak had worked on Laser-558 and, in March 1987, Jim joined the station's successor - Laser Hot Hits. He celebrated his 19th birthday while on board (on 16th March) but sadly the second version of Laser did not last long. It closed the following month. Jim attended the Amsterdam Radio Day in 2009 (pictures here). He now lives in Williamsburg, Virginia. (Photo ©Dennis Mikelas.)
Jim Perry's first show on Laser Hot Hits from 8th March 1987. This clip is taken from a recording posted on The Offshore Radio Club Forum by Hans Hendriks. Our thanks to him (duration 4 minutes 24 second)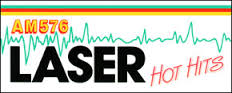 Laser Hot Hits sticker.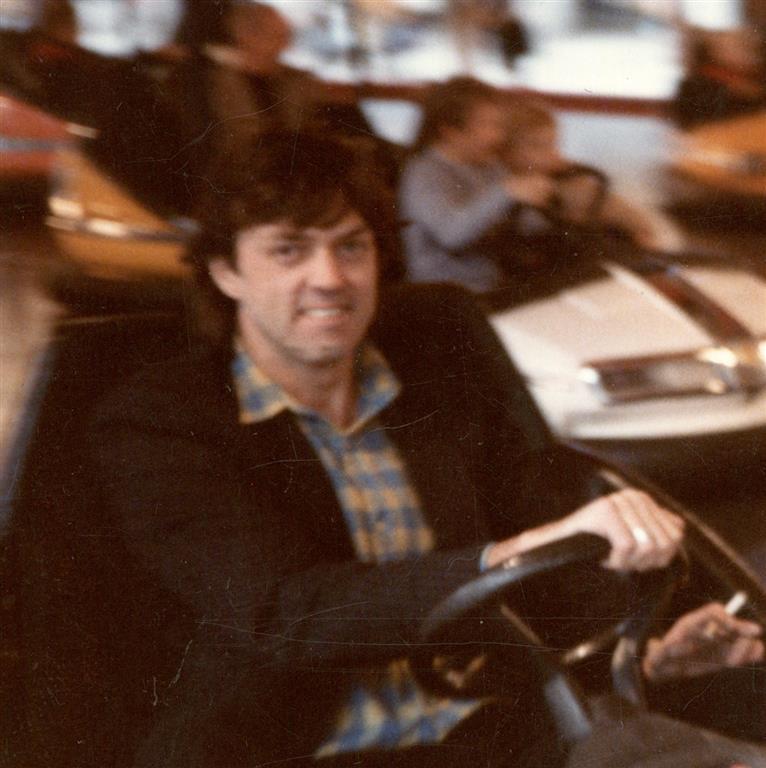 Mike Person A friend of Radio Caroline founder Ronan O'Rahilly, Mike - nicknamed "Mango Mike" by Peter Chicago because of his love of reggae - was involved behind the scenes of Caroline for many years. The only time he was heard on air was between 10th and 12th February 1984 when he deputised for Tom Anderson who was unable to present his shows because he was suffering from toothache. Mike happened to be visiting the Ross Revenge at the time and was persuaded to cover for Tom. He currently works in music PR/management and as a film producer. (Thanks to Mike for his help and this photo. Can anyone provide a recording of one of Mike's shows?)
Tony Peters was first heard on Radio Caroline on 8th March 1986. He was with the station for nearly two years (last show 10th December 1987). Born on 21st May 1958 in West Norwood, London, his family emigrated to Australia when he was 6. He enjoyed Aussie commercial radio and found returning to the UK in the early seventies was something of a culture shock. He says that radio here was a shadow of what he'd become used to - until he "discovered the English service of RNI and Radio Caroline". In March 1986 Tony joined Caroline-558, initially presenting the 9pm to 1am show, before moving to afternoons and weekend breakfast. In 1987, following the collapse of Caroline's 300 foot aerial mast, he was offered cover work at Radio Wyvern in Worcester, before joining the regular line-up as late show presenter. Late 1988 saw a move down the motorway to Severn Sound, Gloucestershire as overnight presenter for six months then moving on to weekday afternoons. In 1990 Tony took over the evening show on Chiltern Radio's networked service Supergold. This was followed by weekend shifts for Red Rose Gold in Preston and overnights on Touch Radio in Cardiff, before moving back to Kent in 1992 and joining Invicta FM and Invicta Supergold. In November 1994 he moved to 603 Radio in Cheltenham as Programme Controller to re-launch the station as Boss 603. 1996 saw a return to Radio Wyvern as Programme Manager for the Wyvern AM service, before it became Classic Gold after being sold to GWR. In 1999 Tony became the Programme Manager and Breakfast Presenter at Valleys Radio, South Wales. He stayed with the station until its closedown in April 2009. In July 2011 he and his wife Mel launched The Willow, a soft rock internet station. He can currently be heard on 45 Radio. (Thanks to Tony for his assistance and to Kevin Turner for putting us in touch.)
Tony Peters on Caroline-558 from lunchtime on 28th May 1987, an extract from a recording posted on www.azanorak.com. Our thanks to Ray Robinson (duration 2 minutes 59 seconds)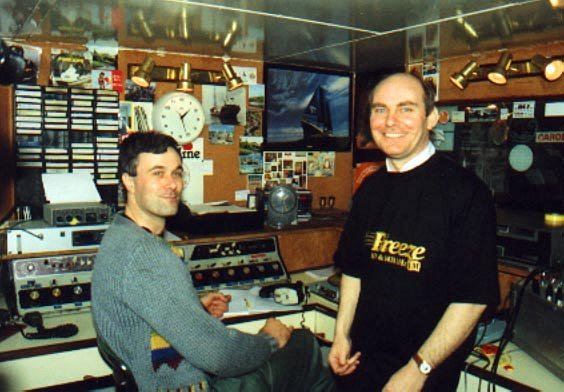 Peter Philips Known as "The World Service" because of his well-spoken BBC-ish tones, Peter joined Radio Caroline in February 1985. His dry humour and distinctive voice made him an offshore radio favourite and Peter was one of the main-stays of Caroline during the mid-eighties. As Programme Controller, he was responsible for the station's shift from playing purely album music to being more pop-oriented. The Pirate Radio Hall of Fame asked Peter about his career: "I started in radio on the Voice of Peace in 1978 - Kenny Page gave me my first job, bless him - and I learned my trade out there off the coast of Israel, working with people like Kenny, Crispian St.John, Mark Lawrence, Brian Martin, Mike Stevens and others. I was invited to go out to the Mi Amigo but she sank before I was able to take up the invitation so I went to Italy and worked on Radio Nova International there for a while. I passed through one or two London landbased pirates in the early eighties, including Radio Jackie where I stayed until they were raided in 1984, after which I went back out to sea, finally joining Radio Caroline. (Station founder) Ronan (O'Rahilly) asked me to re-programme the station; the idea originally was that Tom Anderson and I would do it jointly, and we sat in an office together for many weeks chewing over ideas and drawing up lists of music. Tom decided eventually to set up an entirely different service on 963 which he called 'Caroline Overdrive', leaving me to programme 576 (later to become 558). Kevin Turner later joined and took that responsibility when I was on shore. I also did the Breakfast Show and read the news, and did a bit of mast climbing and such when the occasion arose - one might as well stay busy while sitting on a ship at anchor! Not that it's of much interest to an offshore radio website, but I left Caroline in May 1988 and worked for Invicta Radio in Kent for a few months, followed by a quick stint on Blue Danube Radio in Vienna before joining Breeze AM in Essex, where I stayed for five years. That was followed by BBC Radio Kent, which is where I am now (March 2015)." Since writing this Peter has retired from the BBC. He can currently be heard on the internet station Radio Jupiter. We have pictures of Peter at both Caroline's 45th and 50th birthday events. There is an interview with him here. (This photo of Peter Philips, left, with Mick Williams courtesy of 'Offshore Echo's Photo Gallery'. There are more pictures of Peter in Paul Graham's and Caroline Martin's photo albums. Thanks to Peter for his assistance.)
Peter Philips on Radio Caroline from 2nd April 1987, an extract from a recording posted on The Offshore Radio Club Forum by Hans Hendriks. Our thanks to him (duration 2 minutes 55 seconds)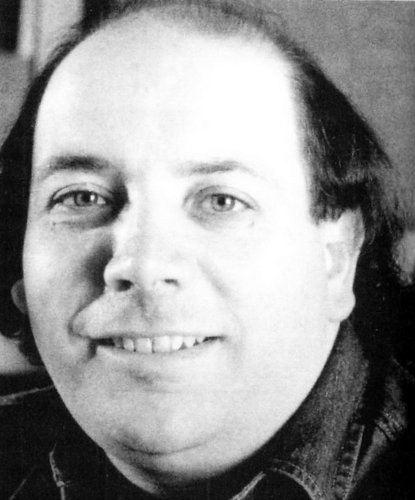 Steve Phillips From Yorkshire, Steve was introduced to Radio Caroline by fellow DJ Carl Kingston. He joined the station in February 1984 but seasickness plagued his life aboard and he stayed less than a month (last show 7th March 1984). He has since been heard on a number of UK stations including Viking Radio Hull, Radio Aire in Leeds, Great North Radio Newcastle on Tyne, Century, Smooth, Star Radio and the Magic network. (Photo from 'Who's Who In British Radio 2002', published by Broadcastdata Publications.)
Steve Phillips on Radio Caroline from the morning of 19th February 1984. This clip is taken from a recording posted on The Offshore Radio Club Forum by Hans Hendriks. Our thanks to him (duration 1 minute 44 seconds)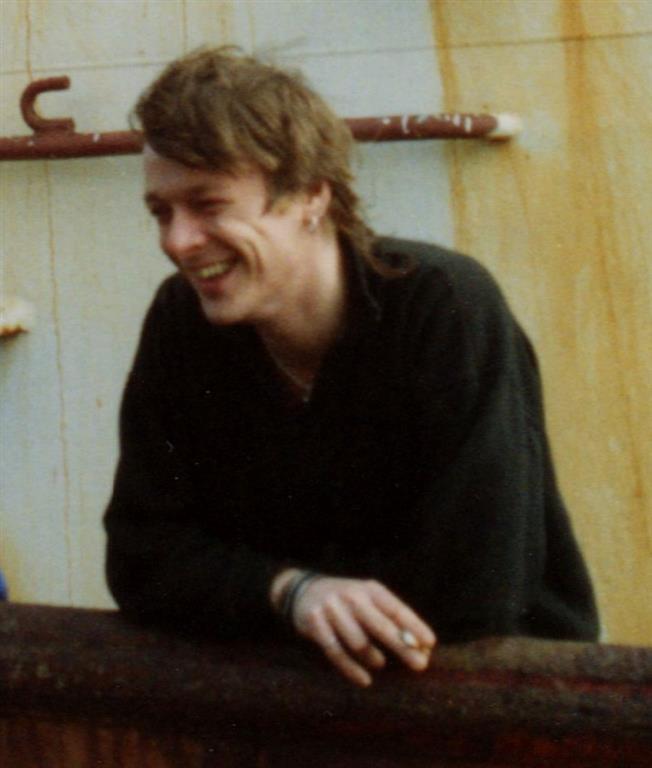 Paul Pornon made his first appearance on Radio Caroline during June 1988, mainly playing non-stop music on the 'North Sea Gold' feature. He got his on-air name from his taste for adult video entertainment. Andy Bradgate tells us "his cry of 'get the f*cking porn on' every time he entered the mess room led to the name." A friend and colleague of Caroline's station manager Peter Moore, he had gone out to the Ross Revenge to assist Mike Dundee erect a new aerial mast but ended up helping out on air too. He returned to the ship in August 1988 and was mainly heard on 'The Overnight Alternative' Caroline 819 rock service under a different name. He was now known as Paul Shelton because of his liking for a certain brand of lager. Andy Bradgate points out: "Shelton is an anagram of Holsten." Sadly Paul passed away on New Years Day 2015, aged 51. His friend Peter Moore posted a tribute on-line: "We were not always bosom buddies, sometimes we fell out big time, but he was very loyal and no disagreement was so huge that it could not be sorted out over a few drinks. On that subject, he liked his drink and his cigs and to bet on the horses and that was his life even when he knew he was damaging his health. He had no desire to make old bones. For several months he was desperately ill in hospital and the medical profession moved mountains to save him to the point where he was well enough to go home. But while Rob Harrison and I assumed he was slowly recovering, having at last learned his lesson, he died on New Years Day." (Photo kindly provided by Chris Edwards of Offshore Echo's magazine. There are other pictures of Paul in Caroline Martin's photo album.)
Paul Pornon on Caroline 558 from the evening of 15th June 1988. Clip from a longer recording shared on www.azanorak.com by 'rad10nut84'. Our thanks to her and Ray Robinson (duration 1 minutes 51 seconds)
Paul Shelton on 'The Overnight Alternative' Caroline 819 rock service from the early hours of 22nd March 1989. This is an edited version of a recording shared on www.azanorak.com by Andy Parka. Our thanks to him and Ray Robinson (duration 4 minutes 34 seconds)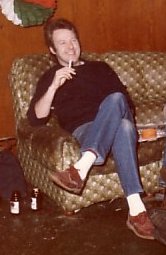 Bruce Purdey Bruce was initially a crew-member on the Ross Revenge. He first broadcast on Radio Caroline at 2am on 16th November 1984 and regularly "did the business" thereafter. He left the station in January 1985 but returned four years later under a new name, Bruce Munroe. He was on board when the Dutch authorities mounted their raid on the ship in August 1989. All the crew were offered the opportunity to leave and be taken ashore on one of the official vessels. Bruce accepted and left with them. We have been told he now runs a video production company in Liverpool. Can anyone confirm this and/or provide more information? (Photo courtesy Keith King. There is another photo of Bruce in Caroline Martin's album.)
Bruce Purdey on Radio Caroline from Christmas afternoon 1984, with Dave Richards and Johnny Lewis giving a guided tour of the ship. This is an extract from a much longer recording posted on www.azanorak.com. Our thanks to Ray Robinson (duration 4 minutes 15 seconds)
Bruce Munroe on Caroline-558 from the morning of 18th August 1989. Bruce finishes his overnight show, ready to hand over to the Breakfast Show presenter but Dave Richards has overslept and Bruce has to keep going. This is an edited version of a tape posted by 'Drumbeat' on the Internet Radiocafé, now known as the Radiotrefpunt (radio meeting point) forum. Our thanks to him (duration 4 minutes 44 seconds)