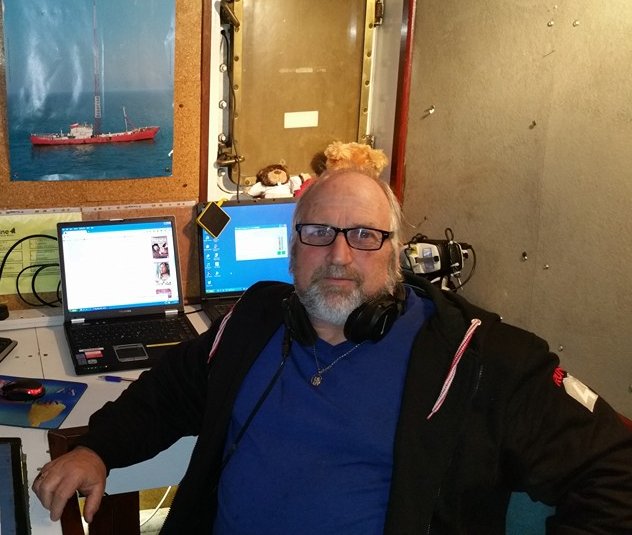 Barry St.James Formerly a singer in a band and disco DJ, Barry spent ten years as part of the very succesful Caroline Roadshow. During the eighties he helped Radio Caroline on land, organising tender trips, etc., and presented live shows from the mv Ross Revenge for ten days in October 1984. He has also been heard on Hastings Rock, XLfm in Ely and Tulip Radio in Spalding, as well as on various Radio Caroline restricted license broadcasts on land. Now known as Barry James he can still be heard on the internet incarnation of Caroline. There is an interview with him here. (The photo shows Barry on the mv Ross Revenge in 2015 and was posted on the Radio Caroline Facebook page.)
A tiny clip of Barry St.James on Radio Caroline from the early hours of 17th October 1984. This is taken from a recording kindly provided by John E. Patrick. Can anyone provide a longer one of Barry? (duration 16 seconds)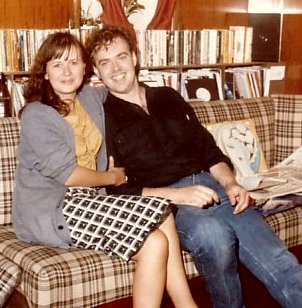 Samantha Real name Ellen Kraal, she had been heard as both 'Ellen' and 'Samantha Dubois' on Radio Caroline during the seventies (see entry in The Pirate Radio Hall of Fame 'Seventies Supplement'). She left the station in 1978 to get married and moved to New Zealand. Unfortunately the marriage did not last, and following her divorce, she returned to Caroline - now on board the mv Ross Revenge - for one final stint between September and November 1984. This time she dropped the Dubois surname and was just known as Samantha. After three years living in Holland, she returned to New Zealand where she had a son named Luke (born 18th September 1991). Sadly Samantha died from liver cancer on 1st October 1992 and is buried at North Shore Memorial Park in Auckland. (The photo shows Samantha with Ross Revenge crew-member Theo and was kindly provided by François Lhote of Offshore Echo's magazine. Thanks to Paul Graham for identifying Theo.)
Samantha on Radio Caroline from the 2-6am show on 7th November 1984. This is an edited version of a recording shared on the Internet Radiocafé Forum by Vincent. Our thanks to him (duration 3 minutes 17 seconds)
Tim Scott was first heard on Radio Caroline in February 1990. We asked if anyone could provide information about him. Thanks to correspondent Leigh Preece for telling us that that Tim came from a hospital radio station in Stoke. Can anyone provide a photo?
Tim Scott on Caroline-558 from the evening of 11th March 1990. This is an edited version of a tape posted by 'Drumbeat' on the Internet Radiocafé Forum. Our thanks to him (duration 3 minutes 46 seconds)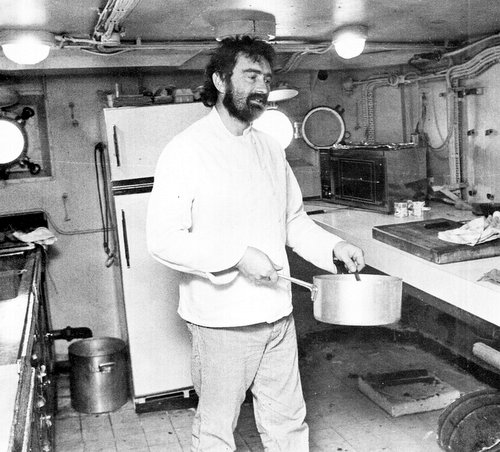 Tony Scott A cook on the mv Ross Revenge, Tony broadcast occasionally on Radio Caroline in 1983. His first show was on 15th October, his last on 17th December. (This photo is from 'Caroline 319 - Into The 80s', published by Seagull Press.)
A short clip of Tony Scott on Radio Caroline from the evening of 23rd October 1983, recorded by a DX-er in Germany. Can anyone provide a longer recording? (duration 1 minute 17 seconds)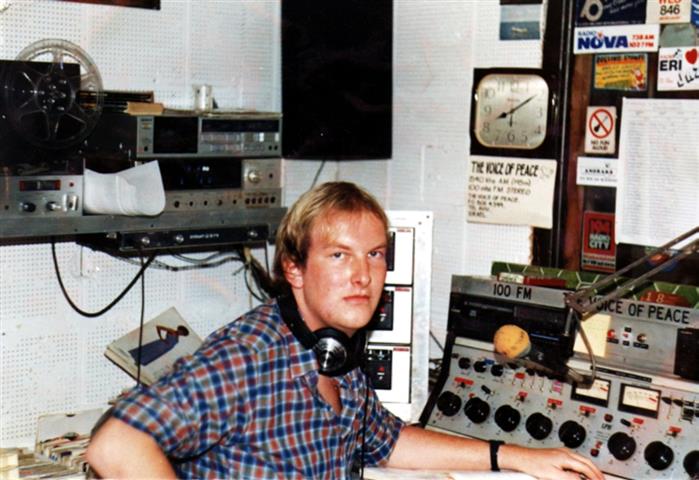 Tim Shepherd An engineer as well as DJ, Tim had previously worked on the Israeli offshore station the Voice of Peace before joining Radio Caroline in February 1987. He writes: "I'm originally from Birmingham. Electronics and radio were hobbies of mine since I was a kid so, when I heard some local FM pirates, I was keen to help out and ended up presenting shows on EST-FM among others. That led to a six month stint on the Voice of Peace in Israel. On returning to the UK, the next move was obviously to Caroline which had always been something of a dream. I travelled out with Steve Conway, on what was to be the first of many trips for him. I think I was on the ship for 6-7 weeks, mostly doing nights. I also got to do the 'Gods' - putting out the likes of Johan Maasbach and Roy Masters (sponsored religious programmes) on 963 in the evening. The time just flew by and soon enough it was time for my first shore leave. I'd fully intended to return but fate intervened. When I got back to Birmingham, there were urgent messages from Abie Nathan (owner of the Voice of Peace) wanting me to go back to Israel to help install a new AM transmitter on the Peace Ship. That trip lasted until December 87 when I decided to pursue a career in IT back in England. Later I married an Israeli, moving back to 'Somewhere in the Mediterranean'. These days I still work in IT, but present a Voice of Peace show twice a week on the commercial station which took over the old VoP frequency of 100FM, Radius 100FM." (Many thanks to Tim for his assistance. This photo of Tim on the Voice of Peace kindly provided by François Lhote of Offshore Echo's magazine.)
Tim Shepherd on Caroline-558 at lunchtime on Saturday 28th March 1987, the station's 23rd birthday. This is an edited version of a recording shared on the Internet Radiocafé Forum by Vincent. Our thanks to him (duration 3 minutes 29 seconds)
The Pirate Radio Hall of Fame needs your

The site is updated regularly and we are always on the look-out for new material to add. If you have any information, photographs, recordings or contact details for any of the disc-jockeys we haven't been able to trace, please get in touch.
Mike Spenser Originally from Brooklyn, New York, but now resident in Britain, Mike was the vocalist with rock group The Count Bishops before forming The Cannibals. He was heard on Laser Hot Hits, using the name 'Micky Baron', hosting a pre-recorded sponsored programme called The Garage Goodies Radio Show. His co-presenter was Bal Croce, known as 'The Count'. The idea was that bands would pay £65 to have their demos aired on the programme. The first show was on 8th March 1987 but unfortunately the station closed the following month. Passionate about sharing his love of guitar-driven rock'n'roll, he later operated Pirate Radio 603AM, a licensed station broadcasting from a ship, the mv St Paul, in Finland's Swedish speaking Åland Islands during 2004/5. Mike also hosted some shows on a Radio Caroline RSL and on Resonance FM in London. More recently he has run Trashcan Radio and Golden Radio which can be heard on the Surrey/Sussex DAB multiplex and on-line. Mike's website is www.mikespenser.com.

Richard Staines also known as Steve Silby, started in radio from the first moment he had money in his pocket. In 1977 he joined the land based London Music Radio in south-east London where he met soon-to-be Caroline stalwart Richard Thompson. Also on the team was Cliff Osbourne who spent time on the Mi Amigo too and, more recently, was Programme Director for the internet version of Radio Caroline. Richard/Steve considered himself far too inexperienced to go out to the Mi Amigo at that time and was busy with a less than promising career in banking. In mid-1980 he joined Kevin Turner in heading for Ireland, where the local pirate radio scene was flourishing. (They were two of the earliest English-born DJs to work on the Irish stations.) Throughout this period he took occasional sabbaticals and spent time with Radio Sovereign in Italy (again with Turner), The Voice of Peace and, in January 1987, joined Radio Caroline. Sent out to manage 'Caroline Overdrive', this was over-ruled when he reached the ship and he mainly found himself on the Caroline-558 pop service instead. He remembers: "During this time Overdrive, with its increasing reliance on religious programming, ceased broadcasting. I may have been Overdrive's final presenter." He says that in hindsight he laments the closure of Overdrive as it was "an interesting alternative and an early broadcast champion of indie music". Immediately after his tour on Caroline, he returned to Ireland but a career in British radio beckoned with time spent on Ocean Sound, Gold AM, 2CR FM, Wave 105 and others. In 1997 he joined BFBS Television as a transmission controller and continuity announcer. Richard/Steve returned to permanent residency in Ireland in 1999 to campaign for and manage the application of Ireland's first regional radio station. Re-joining Richard Thompson (now known as Bob Lawrence) and Cliff Osbourne a quarter of a century after their initial meeting, he returned to Caroline on the internet in 2003 for long periods on Breakfast (and more recently Friday afternoons). Since 2001 he has worked with the US developer responsible for the popular Powergold music scheduling software. Representing the product has allowed him to visit and teach music scheduling all over the world. He also works as an occasional voice-over artist and produced the epic 8 hour Voices From The Sea two-parter, broadcast by Caroline on the day of the station's 50th anniversary. He also helped cement Caroline's recent relationship with Manx Radio, producing a series of programmes which included contributions from The Pirate Radio Hall of Fame. (Many thanks to Richard/Steve for his assistance. This photo is from the 'Offshore Echo's Photo Gallery'.)
Richard Staines on Caroline-558 from the afternoon of 23rd January 1987. This clip is edited from a recording posted on www.azanorak.com. Our thanks to Ray Robinson (duration 3 minutes 11 seconds)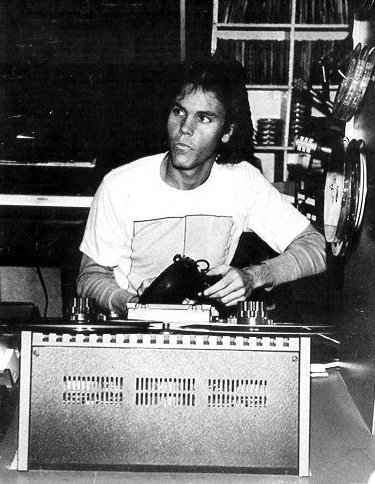 David Lee Stone From Los Angeles, California, David had been a DJ, Programme Director, actor, model and singer before joining Laser-558, most recently working as a DJ in Phoenix, Arizona. He was part of the original team on Laser, being heard on day one, 24th May 1984. He was Head of Music for a time then Programme Director, staying with the station until April 1985. He then joined Radio Luxembourg, presented some shows on Chiltern Radio, then moved to Italy from where he provided pre-recorded 'Magic Motown' shows for Laser Hot Hits. He presented a few shows on Chris Cary's Radio Nova International, opened a production company in London, was heard on Radio HMV and Atlantic 252 but sadly died from alcohol-related medical problems back in the United States in 1997, aged 37. (Photo from the 'Offshore Echo's Photo Gallery'. There are more pictures of David in Michael Dean's photo album.)
David Lee Stone on Laser-558 from the afternoon of 19th October 1984 (duration 4 minutes 5 seconds)
David Lee Stone on the very first Magic Motown show on Laser Hot Hits from the morning of 7th December 1986. Both clips are edited from recordings shared on the Internet Radiocafé Forum by Vincent. Our thanks to him (duration 3 minutes 54 seconds)
Charlie T presented one show on Radio Caroline, 5-9pm on 17th May 1986. Kevin Turner remembers: "He was sent out on a tender during one of my spells on board. Lovely chap, a fair bit younger than the rest of us, and with absolutely no experience. The story we were told was that (station founder) Ronan was trying to tap-up his very wealthy father and had told him he'd send him out to the ship where he would become 'the next Tony Blackburn'! Poor lad was extremely nervous so we suggested he 'spun' the overnight show without saying anything to get used to the studio. Even then he struggled. The next day we got a message from shore to say 'where was he?' and that Ronan wanted to hear him doing 5-9pm. This was the slot I'd been on so I drove the desk for him and he did an occasional announcement. Somehow we got through the 4 hours and went down to the mess-room for a well deserved shandy where he told us all very apologetically that he didn't think he was cut out for the life of a DJ and when could he go home please? We duly relayed this to shore and a boat arrived the next day to take him off. We never saw or heard from him again." (Thanks to Kevin for the information.)
Dave Taylor was heard on Radio Caroline between 27th January and 8th February 1990. We asked if anyone could provide information about him. Thanks to correspondent Leigh Preece for telling us Dave was also hear on south London's Radio Jackie where he used the name 'Dave Small'. There is a recording of him on Jackie on The Pirate Archive. Can anyone provide a photo?
Dave Taylor on Radio Caroline from the morning of 3rd February 1990. This is taken from a recording shared on the Internet Radiocafé Forum by Vincent. Our thanks to him (duration 3 minutes 33 seconds)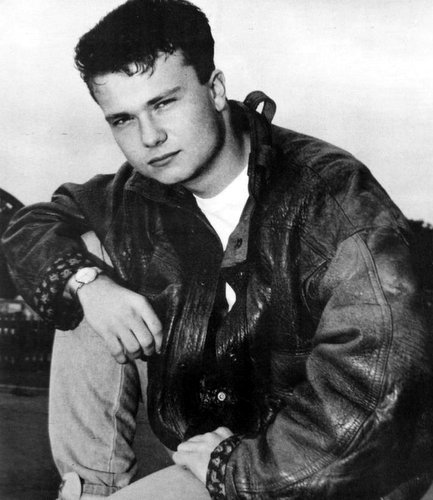 Shaun Tilley was first heard on Radio Caroline presenting a one-off show, 4-6am on Monday 5th November 1984, while working on the mv Ross Revenge as a cook. He then spent some time with the BBC World Service but returned to Caroline as a full-time DJ in June 1989. He then joined Radio Luxembourg and has since been employed by numerous stations including Capital Gold, Sunshine Radio and Magic, as well as hosting a syndicated series about the Top Of The Pops TV programme transmitted by a number of BBC local radio stations round the country. He can currently be heard on BBC Radios Surrey & Sussex and United DJs Radio. (Photo shared by Shaun on Facebook.)
"Young Shaun in the morning" on Caroline-558, 18th June 1989. This clip is taken from a recording shared on The Offshore Radio Club Forum (duration 3 minutes 37 seconds)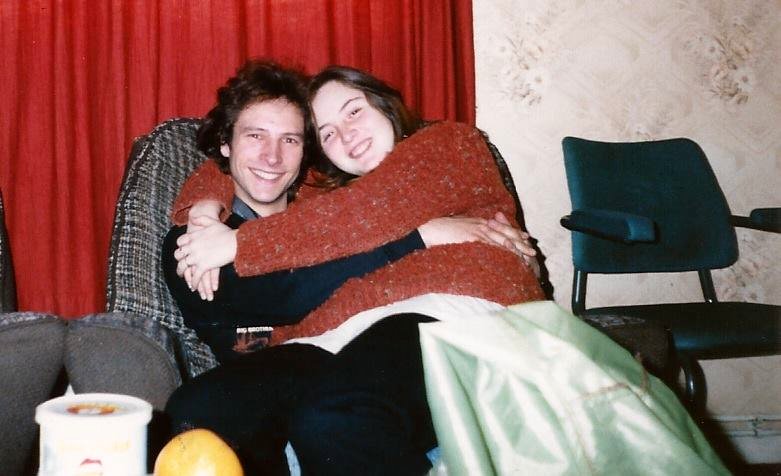 Tracy Then girlfriend of DJ Ricky Jones, Tracy presented a few late night shows on Radio Caroline, the first being on 14th April 1990. She says "I was 16 on my first trip out to the Ross Revenge and celebrated my 17th and 18th birthdays on board (and possibly my 19th while the ship was in Dover harbour). My first experience inside a studio was when I met Ricky. He was working for Coast AM and I instantly fell in love with it. When Ricky lost his job at Coast he was offered work on Caroline. I don't know what God I need to thank for it but I was allowed to go out to the ship with him if I worked, if not on air, then behind the scenes. I started by helping to rebuild the record library then moved on to pulling all the records for the shows. Nigel Harris was on board during my first trip and he taught me how to type up the playlists so I moved on to that. That quickly changed to writing the weather and travel news. After Caroline went off air at night, we used to grab a few beers and doss in the studio playing a whole host of music. I can honestly say my entire music taste was born on that boat. So I learned how to use the decks, mixer and cartridge machines. I also learned how to cue up records and how to segué - and I learned how to do this while rolling in some of the most awful storms! I think the first time I actually went live on air it was just before my 17th birthday. Rico suggested it. I have so many memories from on board but the happiest usually circle around Steve Conway and Neil Gates, both of whom I am still in contact with. I remember waking up in the early hours of the morning on my 17th birthday and Rico was busy in the kitchen. He was making cakes for my birthday. I remember hazy summer days spent painting the ship ... it was like the Forth Bridge. As soon as you got to the end it was time to start again. But mostly I remember the people and growing-up out there and being lucky enough to do so. Sadly Ricky and I are no longer together but to him I will always be eternally grateful, for Caroline and for the people that came into my life because of it." Tracy and Ricky stayed on the Ross Revenge as part of the caretaker crew, looking after the ship following the suspension of programming in November 1990. She went ashore just before it went aground on the Goodwin Sands. She says: "I came off two days before that night and thank God I did, I was just pregnant with my daughter. What have I been doing since? I have been raising my children. I'm now in a position where I'm just starting to think about going back into media. A couple of opportunities have come to light but who knows? Watch this space. You never know....." (Thanks to Tracy for her help and for providing the photo of her and Ricky.)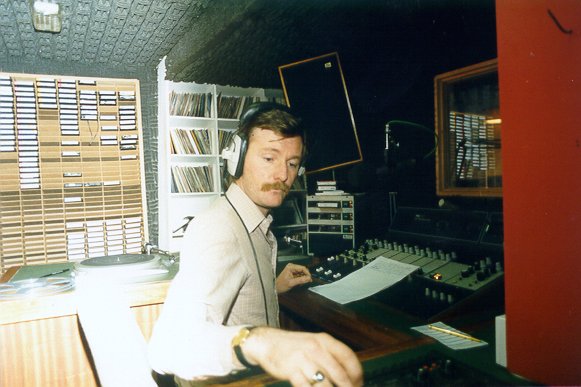 Andrew Turner Born 22nd October 1954, Andrew had worked in local radio - both commercial and BBC - before becoming a journalist on BBC Radio One's Newsbeat. His was a regular voice on Radio One's Breakfast Show during the time it was hosted by Dave Lee Travis, Mike Read, Mike Smith, etc.. Andrew then went freelance and joined Laser Hot Hits as news chief (and occasional DJ) in December 1986. He alternated months on Laser with stints on Radio Blue Danube in Vienna, but in May 1987, with Laser silenced, he turned up reading the news on LBC/IRN. He then worked for publisher Robert Maxwell for a time before joining the Press Office of Sky TV. He was later heard on Atlantic 252 and Capital Gold. (Photo ©Pat Shea from the 'Offshore Echo's Photo Gallery'.)
Andrew Turner on the first full day of programming from Laser Hot Hits, 7th December 1986. The clip is taken from a recording shared on the Internet Radiocafé Forum by Vincent. Our thanks to him (duration 3 minutes 40 seconds)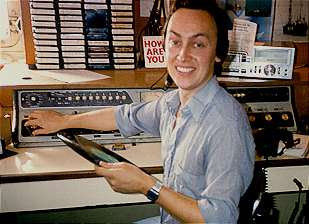 Kevin Turner grew up in Reading, Berkshire, and trained as a printer. He got into radio full-time in 1980 when he was offered a job at Suirside Radio in Waterford (through his friend Richard Staines). He was there for a year then joined the Israeli offshore station the Voice of Peace in 1981. On leaving the VOP, he and some collagues set up ABC Radio in Tramore, Ireland. Then another ex-Voice of Peace colleague Grant Benson got in touch and told him of a vacancy on Radio Nova in Italy. When Nova was sold in 1983, Kevin returned to the UK and joined Radio Sovereign in Twickenham, staying with the station when it re-located to Italy the following year. When Sovereign was sold in 1985 he returned to the UK and worked with GWR and Severn Sound, joining Radio Caroline in January 1986. He also did shifts on Radio Blue Danube in Vienna while on leave from Caroline. Kevin shared responsibility for programming Caroline-558 with Peter Philips and was a mainstay of the station during the mid-eighties. He left Caroline at the end of 1987 following the collapse of the aerial mast. He joined Ocean Sound in Hampshire, then Contact 94 and Sunshine Radio, both in France, before returning to Ocean in 1989 where he stayed until 1992, working as Senior Presenter on the Gold AM service. He was Head of Music for Spire FM in Salisbury until 1995 when he transferred to Cheltenham Radio to become Programme Controller. In 1998 he moved into television when he became a continuity announcer for BFBS, becoming Programme Editor of BFBS-2 TV when it launched in 2002. He stayed in that role until the channel closed in 2013, and is now "semi-retired and enjoying life on the allotment" (apparently his parsnips are most impressive!). Kevin now hosts the Saturday Breakfast Show on the internet incarnation of Radio Caroline, a Sunday morning show on Music 100.9 broadcasting to Monte Carlo, and a Sunday lunchtime programme on community station Brill 1449. Kevin has been a huge help in compiling The Pirate Radio Hall of Fame 'Eighties Supplement'. We are very grateful to him for his assistance. (Many thanks also to Kevin for providing this photo. There are more pictures of him in Nick Bolland's photo album.)
Kevin Turner on the Breakfast Show from Caroline-558, 15th July 1986. This clip is taken from a recording shared on the Internet Radiocafé Forum by Vincent. Our thanks to him (duration 4 minutes)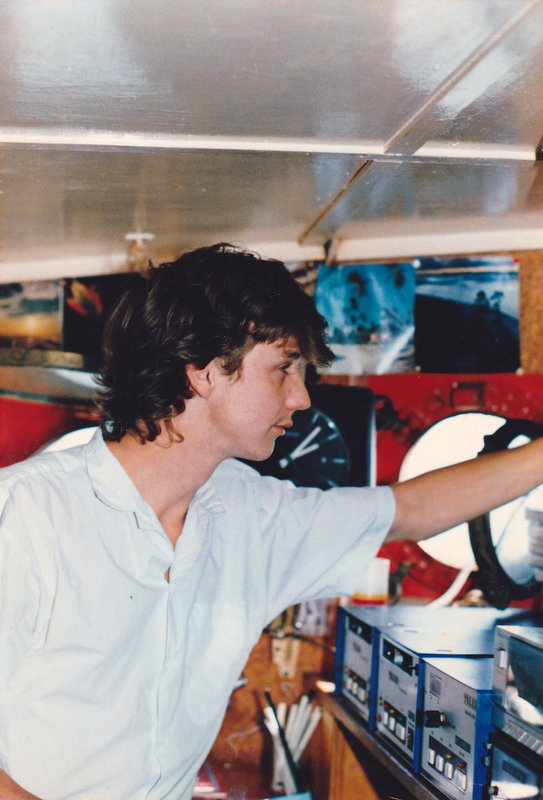 John Tyler was first heard on the 'Caroline Overdrive' rock service in the early hours of 24th August 1986, later moving to the Caroline-558 pop service as well. He had learnt his craft on a landbased pirate station and campus radio while a student at Hull University. John stayed with Caroline for a year (last show 15th August 1987). This was followed by a spell as DJ, commercial producer and eventually Manager of Contact 94 in Normandy, broadcasting to the Channel Islands, where he had the honour of being on-air when the gendarmes raided the studio. After working in advertising sales for LBC he returned to the air with Island FM in Guernsey, switching after a couple of years to BBC Radio Guernsey. Under his real name, Jon Myers, he then worked in sports broadcasting including time at Sportsmedia, Talk Radio (now Talksport), BBC Sport and various outlets including Ladbrokes and Turf TV which broadcast to betting shops, but, twenty years later, he returned to BBC Radio Guernsey. Sadly his second stay there was brief as he was diagnosed with pancreatic cancer. He died on Christmas Day 2015, aged 52. There are some clips of John/Jon on Radio Guernsey on the BBC website. Caroline colleague Kevin Turner says: "John was one of the great unsung heroes of the eighties era of Caroline. DJ, cook, mast-climber and stay-fixer. Plus an absolute joy to be on board with. Never a dull moment when 'Tyler talks turkey'." Tom Anderson posted on Facebook: "Another one gone far too soon. RIP Jon, a real genuine guy, a pleasure to have worked with you." Jamie King wrote: "Cannot believe Jon has died at 52. He was so cool to hang out with on Radio Caroline, RIP." and Steve Conway posted: "Apart from being a great music head, presenter, cook and mast-climber, he was a really friendly and easy to like guy, and was very kind to me when I was a newbie. A lovely guy, who lived too short a life." John's death was reported in The Racing Post. (This photo of John in the Caroline Overdrive studio was kindly provided by the man himself.)
John Tyler on 'Caroline Overdrive' from the evening of 3rd January 1987. This is an edited version of a recording shared on the Internet Radiocafé Forum by Vincent. Our thanks to him (duration 4 minutes 28 seconds)
John Tyler on Caroline-558 from the afternoon of 10th May 1987. This is an edited version of a recording made available by The Offshore Radio Archive (duration 2 minutes 29 seconds)
Graeme Vega A New Zealander, Graeme had also worked on Australian radio before joining Radio Caroline as a newsreader in November 1985. Initially he only read the news but was eventually persuaded to present some shows too - the first in the early hours of 7th December. His last bulletin was on 17th January 1986. He then returned down-under but John Ford tells us that Graeme is now living in Thailand.
Graeme Vega reading the 9am news bulletin on Radio Caroline, 15th December 1985. This clip is taken from a recording posted on the Internet Radiocafé Forum by Vincent. Our thanks to him (duration 1 minute 54 seconds)
Graeme Vega, from his first show on Radio Caroline, 7th December 1985. This clip is edited from a recording posted on www.azanorak.com. Our thanks to Ray Robinson (duration 2 minutes 11 seconds)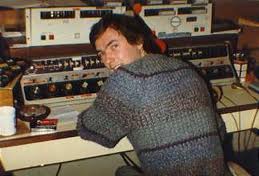 Stuart Vincent was an engineer and DJ on Radio Caroline, as well as an engineer on Laser. After completing an HND in electronics at Canterbury College through an apprenticeship, Stuart followed his friend Dave Richards to the Israeli offshore station the Voice of Peace in 1980 where he used the name Stuart Rogers. He transferred to the Ross Revenge an an engineer but also presented shows fairly regularly on Radio Caroline between January and December 1984. He later switched to Laser-558 for ten months although he did not broadcast there. In fact he kept a very low profile. He says: "they were so careful to keep me out of view through the pretence that it was an all-American crew. I hid away in my cabin when the anorak boats turned up! (honestly) but, funnily enough, when I left the ship for the last time, the Captain gave me a discharge certificate, how funny is that? After leaving Laser I followed my good friend Ric Harris to Radio Nova in Dublin for about a year before returning home and joining Invicta Radio." Stuart currently works for Global Radio in their engineering department as a Team Leader for the group's south stations, responsible for 3 other engineers and the outputs for all services from their Fareham, Whitstable, Brighton and Reading bases. Real name Stuart Vint, he has a website which features photos from his offshore career at www.stuartvint.com. In 2017 he published a book about his offshore radio career. Live From the North Sea and Other Places is available from Lulu.com as a paperback or e-book. (This photo is courtesy of Stuart's website. Our thanks to him for his assistance. There is another picture of him in Michael Dean's album.)
Stuart Vincent, with Jay Jackson on news duty, from the evening of 24th May 1984. This is an edited version of a recording shared on The Offshore Radio Club Forum by Hans Hendriks. Our thanks to him (duration 2 minutes 44 seconds)