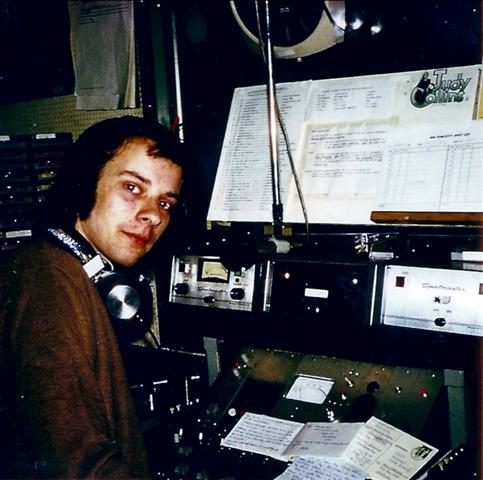 Terry Davis joined Radio Northsea International in October 1971, at the age of 17. Despite having had no previous broadcasting experience, he was an excellent DJ and, from January 1972, was also station news editor. His theme tune was El Dopa by Maynard Ferguson. Terry left RNI in October 1972 to do a degree. He attended Hull University but, in June 1974, returned to the air when he worked on Radio Atlantis for ten days during his summer vacation. After graduating, Terry joined Bradford's Pennine Radio, later moving to Essex Radio. A talented singer, his voice has been heard on a number of radio jingles, including a package for Radio Caroline. In 1985 he left Essex Radio to concentrate on a career in music. Can anyone provide more up-to-date information? (This photo is courtesy of Paul May. There are more of Paul's photos here.)
Terry Davis on the Target Ten programme on Radio Northsea International, 27th January 1972. This clip is part of a longer recording shared by The Offshore Radio Archive (duration 3 minutes 22 seconds)
Terry Davis on the Midnight Special programme on Radio Atlantis, 11th July 1974. This clip is from a longer recording shared by Hans Hendriks on the Offshore Radio Club Forum. Our thanks to him (duration 4 minutes 29 seconds)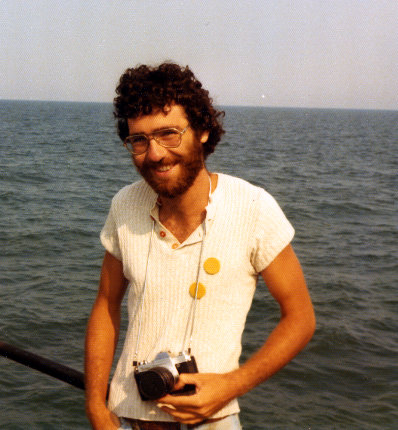 Jonathan Day An American DJ from Garden City, New York, he was a graduate of Cornell University (as was an earlier Caroline DJ, Michael Lloyd). Jonathan was heard on Radio Caroline between May and August 1976, a fondly-remembered period in the station's life as his arrival coincided with the launch of an all-day English service. After completing his education, he worked in journalism, initially for Associated Press, then five years with NBC news in their London office. He returned to New York and worked for several years for FOX 5 network news. In the early 1990s he became a producer for Dateline NBC. Tragically Jonathan's life was cut short when he died in a boating accident in New York harbour on 7th September 1998. He was out sailing with his wife, daughter and a work colleague. He was a diabetic and had not taken his insulin. On what appeared to be a beautiful summer's day, an extremely unusual, powerful and fast moving squall swept across the harbour, overturning his boat. Due to his diabetic condition Jonathan was unable to tread water for very long. His wife, daughter and the friend were picked up by a passing boat but sadly Jonathan did not survive. His real name was Bruce Hagan and the Manhattan Yacht Club organises The Bruce Hagan Memorial Regatta in his memory every year. (With grateful thanks for the information to his brother, Richard Hagan, and to Bob Lawrence. Photo taken by Marc Jacobs, kindly provided by Hans Knot.)
Jonathan Day on a Saturday afternoon from June or July 1976. This is an edited version of a recording available from www.azanorak.com. Our thanks to Jim Nantz and to the anonymous donor (duration 1 minute 55 seconds)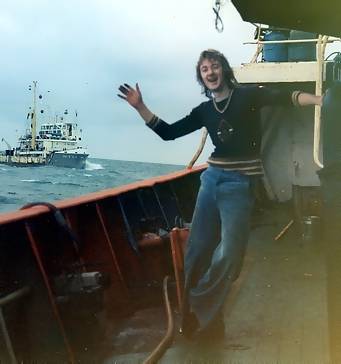 Rob Day was first heard on 5th January 1974 in an interview on Radio Mi Amigo, where he was introduced as 'Robbie Ronson', Radio Seagull's newest DJ. He never did actually broadcast on Radio Seagull but he joined Radio Atlantis in May that year for a ten day stint as summer relief DJ. He later recorded the station's American Top 20 programme on land, a show that ran until the closedown in August. He later worked as a record plugger, helped to operate the Caroline Roadshow and, during the eighties, was involved in the running of Laser Radio (see The Pirate Radio Hall of Fame 'Eighties Supplement'). He now runs, and hosts shows on, oldies station Atlantis. (Photo courtesy of Steve England.)
Rob Day on Radio Atlantis from May 1974. Recording made by Jan Kees Bruinooge and kindly passed on to us by Hans Knot (duration 3 minutes 28 seconds)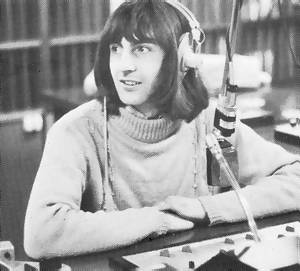 Roger Day worked on "Swinging" Radio England and Radio Caroline South during the sixties. There is a biography in the main section of The Pirate Radio Hall of Fame. Roger joined the newly launched Radio Northsea International as Programme Director/Senior DJ in January 1970. He put together an excellent team of presenters and that period of RNI's output is fondly remembered but, unfortunately, he clashed with Larry Tremaine, an American TV producer who was brought in to run the station. Roger left RNI in June, after six months. He worked in clubs and on the United Biscuits Network factory radio system then, on 25th June 1973, he presented a pre-recorded show on Radio Caroline. He was about to rejoin the station full-time when generator failure closed it down the following day. His return to live radio came instead in April 1974 when he was heard on Manchester's Piccadilly Radio. Since then he has worked on a string of radio stations throughout England. He set-up an internet station called UnCool Radio, supported by contributions from listeners and accessible via his website www.rogerday.co.uk. These programmes were also heard on Caroline Flashback and Delux Radio. Roger moved to Spain in 2019 and, for a time, continued with the Radio Kent show but that has now stopped. He can currently be heard in Spain on Bay Radio and in the UK on Boom Radio. He also presents the syndicated Sixties Vinyl Countdown programme. Roger published his autobiography Pirate of the Airwaves in July 2023. For more photos and recordings, check out Spotlight On Roger Day. In March 2004 Roger organised Caroline's fortieth birthday party. There are pictures of the event here. We also have pictures of Roger at Radio England's 40th anniversary reunion. (Photo from the RNI Souvenir Book, published by Hit-Publications, Zurich.)
Roger Day, sitting in for Mark Wesley on the 3-6pm show on Radio Northsea International, 9th June 1970. This clip is taken from a studio recording. The show would not have sounded like this on the air because at the time, in the run up to the 1970 General Election, RNI was being jammed. Tape kindly provided by Stuart Russell (duration 4 minutes 54 seconds)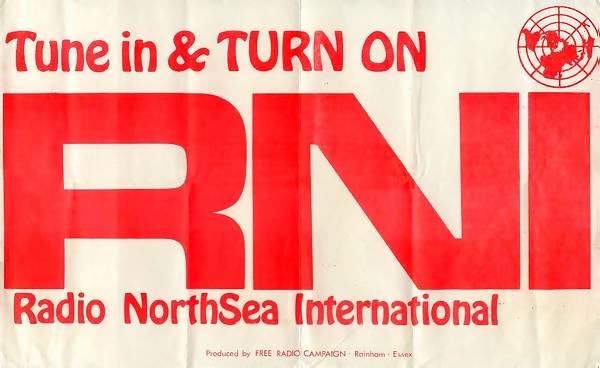 A Radio Northsea International poster, produced by the Free Radio Campaign.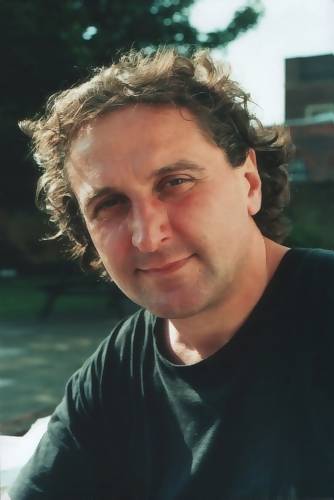 John Denny was heard briefly on Radio Northsea International, presenting shows from 24th July to 5th August 1970. He had previously worked as a club and mobile DJ. Correspondent Peter James Leadbetter knew John some time after his stint on RNI. He informs us that John later appeared in the seventies sex comedy film Come Play With Me, playing a DJ (screen-grab from the film, featuring John in a Capital Radio T-shirt, here). When Peter knew him during the late eighties, John was working as a chauffeur. Peter lost touch with his friend in the mid-nineties. Another correspondent David Smith noticed John on a 1988 episode of the TV quiz show Fifteen to One when it was repeated on Challenge TV. He says "He was credited as a broadcaster. His home town was announced as Bayswater. Sadly he got his two questions wrong and was elimimated!" In December 2017 we heard the sad news that John had died. Our condolences to his family and friends. (With thanks to Mark Keable, Peter James Leadbetter, David Smith and Samantha Mohamed-Ali for their help. This photo, courtesy of Peter, was taken some time after John's involvement with RNI. There are some pictures of him, taken during his time on the ship, here and here.)
John Denny on his early evening programme from Radio Northsea International on 27th July 1970. This is an edited version of a recording posted by Jan-Fré Vos on the Internet Radiocafé, now known as the Radiotrefpunt (radio meeting point) forum. Our grateful thanks to him (duration 4 minutes 19 seconds)
The Pirate Radio Hall of Fame needs your

The site is updated regularly and we are always on the look-out for new material to add. If you have any information, photographs, recordings or contact details for any of the disc-jockeys we haven't been able to trace, please get in touch.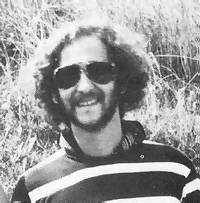 Stephen Diamond was an American writer, a friend of Mike Hagler's, who broadcast on Caroline while visiting the ship for a few days in August 1974. No other information is known about him. (Photo from 'Caroline 319, Into The 80's', published by Seagull Press.)
Stephen Diamond's first show on Radio Caroline, 18th August 1974. This clip is part of a longer recording made available by The Offshore Radio Archive (duration 4 minutes 24 seconds)
Chris Drummond was an engineer on board Radio Caroline. As well as his technical duties, he presented one show on the station on 1st September 1979, sitting in for his engineering colleague James Kaye. Ray Robinson informs us that Chris's real name was Bob Ginger. Before joining Caroline he had been involved with a land-based pirate station in Middlesex called Radio Free England. Sadly he passed away a few years ago from lung cancer. (With thanks to Ray for the information and audio.)
A clip from Chris Drummond's first and only show on Radio Caroline, 1st September 1979. For the previous few months the station had been closing each evening at 10pm. From 1st September broadcasting hours were extended until midnight. This recording courtesy of Dave Fromberg and Ray Robinson (duration 3 minutes 6 seconds)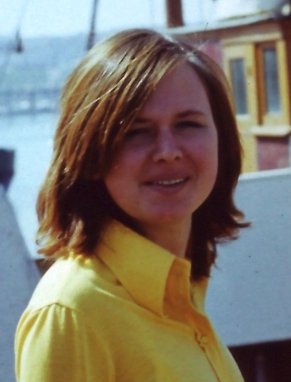 Samantha Dubois Born in Holland, she had learnt to speak English in New Zealand which resulted in a unique and instantly recognisable accent. She originally joined Caroline as Peter Chicago's girlfriend, helping out with the cooking on board the Mi Amigo. She was first heard on air in February 1973, just calling herself Ellen, her real name. The following year she began working as a regular broadcaster and that was when she took the name for which she is best known, Samantha Dubois. She left the station in September 1976 and, the following January, was fined in a Dutch court for her involvement with the station. Despite this, she returned to Caroline, briefly, in March 1977, and again in September 1978. She left the following month, got married, and moved to New Zealand. She later returned to the station for a short time during the eighties (see The Pirate Radio Hall of Fame 'Eighties Supplement') but then went back to New Zealand where she sadly died on 1st October 1992. There is an excellent article about her on the Goldmine magazine website. (Photo kindly provided by Onno van Buuren. More of his pictures here.)
Ellen, as she was then called, making an announcement in Dutch on Norman Barrington's show on Radio Caroline, 6th February 1973. Was this her on-air debut? Recording kindly provided by Hans Knot (duration 2 minutes 39 seconds)
Samantha on Radio Caroline on 29th September 1978. This clip is from a studio recording made by Dutch DJ Marc Jacobs on the Mi Amigo and shared by The Offshore Radio Guide (duration 2 minutes 55 seconds)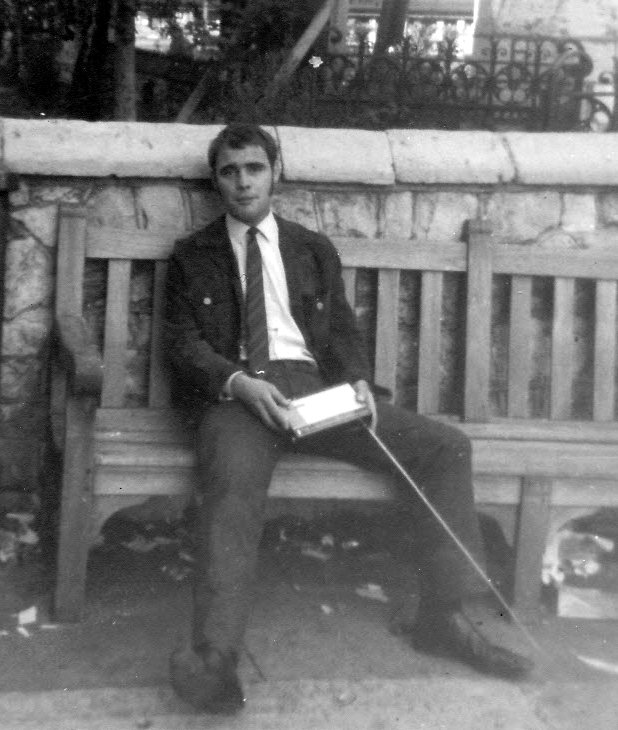 Robbie Duke. Robbie's first job in the music industry was back in 1962 when he started working for the legendary record producer Joe Meek. He told us: "while I worked for him I used to deal with Caroline to get our records played, got to know (Radio London's) Tony Windsor and stayed friends with him until his death in the eighties. I was lucky to have been able to go out to the Radio London ship in 1966." Robbie was heard on Radio Caroline for just one stint, between 6th September and 18th October 1975. At that time Caroline was transmitting English programmes at night-time only but Robbie also presented some early morning shows on the Dutch Radio Mi Amigo and was one of the first DJs to take part in some short-lived test broadcasts on 773 kHz. He told us: "I was never a good seaman. I was sick a lot and so never went back. Instead I went to Canada and worked for CHUM in Toronto for a while, got married and came back to the UK. I formed my band and went on tour as I am also a singer." He worked in music publishing and, according to this interview in The Sunday Express in 2009, also spent time as a London tube driver. Robbie's original name was Patrick Pink (he changed it by deed poll in 1973). Sadly he died on 15th May 2018. (Thanks to Mike Barraclough for his help. The photo, taken in 1970, was kindly supplied by Andy Wint.)
Robbie Duke on Radio Caroline in the early hours of 11th October 1975. This clip is courtesy of The Offshore Radio Archive (duration 3 minutes 1 second)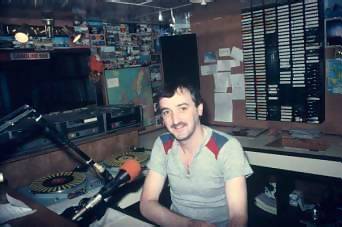 Johnnie Dwyer Birthday 15th September. From Liverpool, Johnnie worked as cook and DJ on Radio Atlantis from Christmas 1973 to March 1974. He was involved in a number of Merseyside land-based pirates, such as the Liverpool Broadcasting Company and Merseyland Alternative Radio, as well as being heard on a licensed station - Liverpool's Radio City. During 1984 Johnnie worked on the Voice of Peace in Israel. He was also on Radio Caroline during the eighties (see The Pirate Radio Hall of Fame 'Eighties Supplement'). For twenty years he operated a radio station in Ibiza every summer, Sunshine 101, aimed at tourists until the Covid pandemic prevented them travelling. (Photo courtesy of Hans Knot.)
Johnnie Dwyer battling the elements on a stormy North Sea, on the evening of 8th January 1974 (not 1973, as he says). This recording is courtesy of The Offshore Radio Archive (duration 4 minutes 9 seconds)