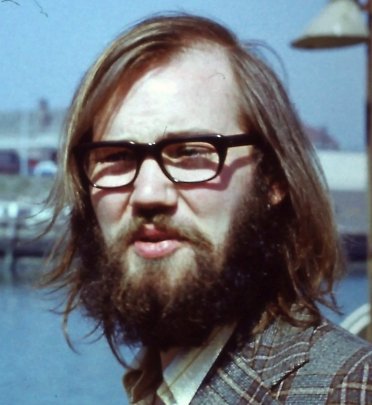 Bob Noakes started on the mv Mi Amigo as a transmitter engineer in June 1973, having previously worked for the BBC and RTÉ, the Irish state broadcaster. Bob presented his first programme on Radio Seagull on 28th July 1973 when the regular DJ, Norman Barrington, was taken ill. Bob was such a success that he broadcast regularly after that. At the end of July 1974, fed up with the lack of direction he perceived at Radio Caroline (as the station was now called), he moved to the rival Radio Northsea International. Bob stayed with RNI until the closedown in August and intended to join Mebo's planned Radio Nova International project in Italy. He was involved with preparing the ship for her new role, but when the Dutch authorities intervened and put paid to the project, he joined Chris Cary's electronics company. He worked on the Voice of Peace off the coast of Israel for a short while, before returning to live and work in Holland. In 1984 he published an excellent book, Last of the Pirates, a 'warts and all' account of his time at sea. An updated version was published in 2009 and another in 2019. Bob now lives in Belgium and can currently be heard at weekends on Radio Atlantis. Some photos he took on board the Caroline ship in 1973 can be found on Flickr. (This photo was kindly provided by Onno van Buuren. More of his pictures are here.)
Bob Noakes in the early hours of 14th April 1974 on Radio Seagull, joined in the studio by generator engineer Mike Wall-Garland, also known as "Mike the Poet". This is an edited version of a recording made available by The Offshore Radio Archive (duration 4 minutes 12 seconds)
Bob Noakes on Radio Northsea International, near the end of the station's life in August 1974. This is an edited version of a recording available from www.azanorak.com. Our thanks to Jim Nantz and Ray Robinson (duration 2 minutes 38 seconds)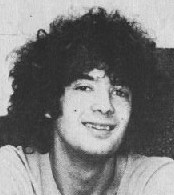 Hugh Nolan was heard on Radio Seagull between 11th and 24th August 1973. He was born in Australia in 1944 and came to the UK when he was nine. He went to Kings College in Wimbledon but was expelled for smoking in the toilets. After finishing his education he was a junior journalist in local newspapers before becoming the editor of the Scene page of the pop music weekly Disc. While working with the music management and promotion company, Blackhill Enterprises, Hugh became involved in plans to broadcast programmes of rock music to the UK over the transmitters of Radio Andorra. Two of these programmes were transmitted in late 1969 but reception in Britain was poor and the project underwent a change of plan. It became Radio Geronimo, broadcasting at weekends over the transmitters of Radio Monte Carlo. Geronimo was well received but the money ran out and the station suspended operation in October 1970. In 1973 Ronan O'Rahilly, the founder of Radio Caroline, invited two former Geronimo broadcasters, Hugh Nolan and Barry Everitt, to help create a new progressive rock station on board the mv Mi Amigo. This station became Radio Seagull. Hugh only stayed on board for one stint. He refused to go back, despite the entreaties of O'Rahilly, because he said he hadn't been paid for his services. Following this Hugh moved north to Scotland, leaving journalism and broadcasting behind, taking a job with the Forestry Commission. He moved to Shetland in 1980 and worked for the oilfield services company Schlumberger. He later lived in Vietnam but then returned to Australia where he died on 3rd November 2009 after a long illness. He was 65. There is an obituary written by Ian Anderson, a friend and colleague from the days of Radio Geronimo, here. (With many thanks to Ian for much of the above information. The photo dates from 1970 and is courtesy of Chris B of the Radio Geronimo web site.)
A short clip of Hugh Nolan on Radio Seagull, just before 3am on 18th August 1973. Recording kindly provided by Ian Biggar (duration 1 minute 4 seconds)

Radio Seagull car sticker.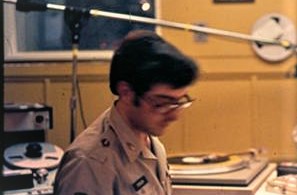 Jack O'Brien was an American, from Boston, Massachusetts, who was serving in the US forces in Germany and working at AFN Berlin. A fan of Radio Caroline, he joined with German Dennis King to produce The Berlin Service programmes. These pre-recorded shows were broadcast on occasional weekend nights on Caroline between the beginning of August 1975 and the end of that year. (This photo of Jack, taken in the AFN studio, kindly provided by Hans Knot.)
Jack O'Brien on The Berlin Service of Radio Caroline in the early hours of 23rd August 1975. This is an edited version of a recording available from www.azanorak.com. Our thanks to Jim Nantz and Ray Robinson (duration 3 minutes 20 seconds)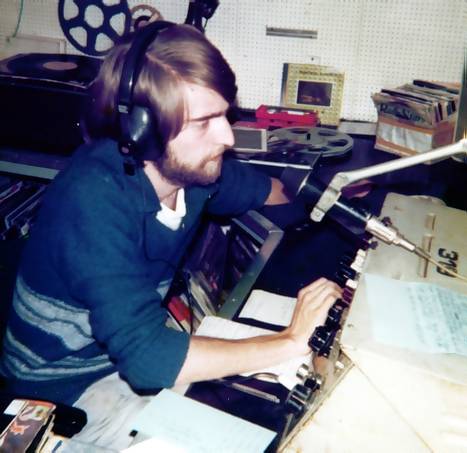 Cliff Osbourne Formerly of the land-based pirate London Music Radio and various hospital radio stations, Cliff was heard a couple of times on Radio Caroline in September 1979. He was later involved with the Greenwich Sound cable community station and worked on a number of local commercial stations around the country (Viking, Pennine, The Pulse, Wessex FM, Spirit FM and Vale FM) under a different name, and has been heard on the web incarnation of Radio Caroline, but is currently on internet album station Quasar Radio. There are recent photos of him, taken at a 2018 DJs' reunion here and the Spirit of the Seventies reunion broadcast of July 2022 here. (With thanks to Cliff for the information and the photograph, taken on board the Mi Amigo.)
A short clip of Cliff Osbourne on Radio Caroline from the evening of 12th September 1979. This is from a recording contributed to www.azanorak.com by Dave Bullock. Our thanks to him and Ray Robinson (duration 43 seconds)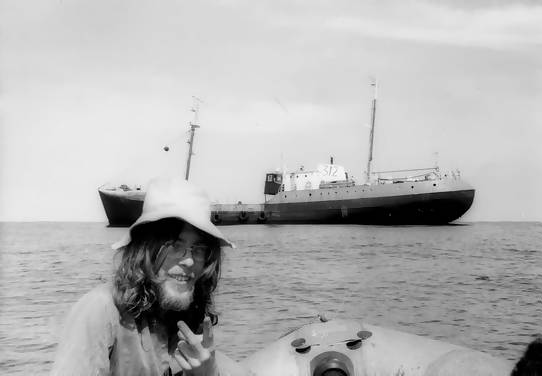 Dave Owen Born 20th February 1953 in Hammersmith, London. Dave was a stalwart of the London landbased pirate scene from 1968, being heard on two of the larger stations, Radio Jackie and Radio Kaleidoscope. He went to sea in February 1974 when he joined Radio Atlantis. He stayed with the station until its closedown in August and, on 31st October, joined Radio Caroline. His last programme on Caroline was on 9th March 1975 and, in the autumn, he moved to Piccadilly Radio in Manchester. He then worked at a number of commercial stations across the UK, including Wolverhampton's Beacon Radio. In 1982 he returned to Radio Jackie as Programme Controller. He was the first person to truly test the Wireless Telegraphy Act. He and his colleagues had spotted a loophole in the law which allowed the station to begin 24 hour operation. Dave was quoted as saying "I was surrounded by members of the DTI (Department of Trade & Industry - the people who policed the airwaves at the time) who insisted on taking the equipment we were using. I refused and admitted ownership. I knew it was an exciting moment the minute the authorities left the building with no equipment. Within minutes we were back on the air and a new era had arrived for radio." Within twelve months, in London alone, there were at least 20 unlicensed stations operating on a daily basis. Later the law was changed with an addition to the BT Privatisation Act which allowed authorities to confiscate suspected broadcasting equipment with no court order. The change in the act led to the closure of Radio Jackie in February 1985. Dave then returned to the relaunched Radio Caroline (see The Pirate Radio Hall Of Fame 'Eighties Supplement') for a couple of weeks before joining Severn Sound as Head of Music. He worked for a number of large commercial radio stations as well as setting up his own radio production company, Complete Production. In March 2003 the original management team of Radio Jackie bought out Thames FM in Kingston. Radio Jackie re-launched on October 19th 2003 on 107.8FM with Dave as Programme Controller and presenter. He can now be heard at weekends on the new Atlantis (no relation to the offshore station of the same name). (This photo is of Dave in the Radio Atlantis inflatable dingy. He says "in the summer months this was often moored to the ship by a 60 metre rope and allowed the DJs a bit of time away from the boat and a lot of fun." The Atlantis ship, the Jeanine, is in the background. Picture kindly provided by Steve England. Our thanks to both Dave and Steve for their help.)
Dave Owen on the Snap, Crackle & Pop programme on Radio Atlantis, Sunday morning 25th August 1974. This is an edited version of a recording shared by The Offshore Radio Archive (duration 4 minutes 31 seconds)
Dave Owen opens up the programmes of Radio Caroline for another evening, 6pm on 6th November 1974. This is an edited version of a recording available from www.azanorak.com. Our thanks to Jim Nantz and Ray Robinson (duration 3 minutes 8 seconds)
The Pirate Radio Hall of Fame needs your

The site is updated regularly and we are always on the look-out for new material to add. If you have any information, photographs, recordings or contact details for any of the disc-jockeys we haven't been able to trace, please get in touch.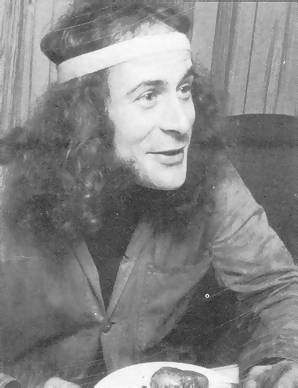 Dick Palmer had been heard on Radio Essex and BBMS (Britain's Better Music Station) during the sixties, where he was more formally known as Richard Palmer. His biography can be found in the main part of The Pirate Radio Hall of Fame. Dick had run a garage in Orpington, Kent after the closedown of the sixties pirates. When the mv Mi Amigo put to sea in 1972, he was employed to get the ship, and in particular the generators, operational again. On 21st December 1972 he presented his first show on Caroline and he broadcast regularly after that, as well as working on the technical side. In addition, for six months he was the ship's captain. He was always torn between staying with Caroline and returning to his garage, but he finally left when Radio Seagull (as it was then called) closed down in October 1973. (Photo by Martin Stevens, reprinted from 'Dee Jay & Radio Monthly'.)
Dick Palmer on a Night Trip programme from Radio Caroline International in June 1973, a time when the station was broadcasting on both 389 and 259 metres. This is an edited version of a recording provided to www.azanorak.com by Theo Bakker. Our thanks to Jim Nantz, Ray Robinson and Theo (duration 4 minutes 23 seconds)