Bob Mackie (or should that be spelt Macke?) An American, he broadcast over Radio Northsea International during the general election week of June 1970 while the station was known as "Radio Caroline International". We don't know much about him other than he had previously worked for the American Forces Network. In June 2019 offshore radio historian Hans Knot forwarded a scrap of paper to The Pirate Radio Hall of Fame. On it, Bob had scribbled his contact details for his ship-mate Carl Mitchell back in 1970. It appears he spelt his surname MACKE. His address at the time was c/o the Public Affairs Department of AFN headquarters in Baden Württemberg Support District, Stuttgart. Can anyone provide more information about Bob? Many thanks to Hans.
Two short poor quality clips of Bob Mackie on "Radio Caroline International" in June 1970. The second features the annoying jamming that the British government introduced to try to drive the station off the air. If anyone can provide a better recording of Bob, please get in touch (duration 1 minute 32 seconds)
Bob Mackie reading a news bulletin on "Radio Caroline International" in June 1970, recorded from the FM outlet so free from jamming. Our thanks to Fred Bunzl of the Campaign for Independent Broadcasting for providing the recording (duration 3 minutes 10 seconds)
John Mair Born in Kirkwall, Orkney in Scotland, John B Mair, as he was sometimes known, made his debut on Radio Caroline on the morning of 27th April 1974. He stayed with the station until the end of October but pre-recorded shows continued until mid-November. Having been stopped by the police on a tender while coming ashore, John decided not to return to the station. Although offered the chance to join the Voice of Peace, off the coast of Israel, John decided to return to north-east Scotland and was fortunate to be able to return to his previous employer as a Radio Operator in Peterhead, controlling oil supply shipping movements. It so happened that, during this period, he came across a former tender (The Delta) and also a certain Guardline Seeker, later to become the Laser 558 vessel, Communicator, both of which berthed in the port. In September 1975 he was one of the first people to be prosecuted under the Marine Offences Act. He pleaded guilty to working on an offshore station and was fined £100 with £50 costs. With the arrival of commercial radio in north-east Scotland, John joined North Sound Radio at its launch as the drivetime presenter and could be heard throughout the eighties and nineties. John's voice was also on various television commercials on Grampian Television in Aberdeen and was featured on a BBC Radio Scotland show reflecting on music and events in the seventies. After a successful stint on Waves Radio in Peterhead, John presented his final show in August 2008 and left the UK for Spain a couple of months later. Settled on the Costa Blanca, John was approached by members of a start-up team for a new radio station in Moraira, a few kilometres from his home, and in July 2009 commenced work with Heat FM. After six years with Heat he moved on to stints at Overseas FM, Bay Radio and Pure Gold FM. (Photo from 'Caroline 319 - Into The Eighties', published by Seagull Press. With grateful thanks to John for his assistance and to Bob Arnold.)
John Mair early in the morning of 7th July 1974 on Radio Caroline. This is an edited version of a recording available from www.azanorak.com. Our thanks to Jim Nantz and Ray Robinson for permission to use it and to Theo Bakker who uploaded it to their server (duration 4 minutes 15 seconds)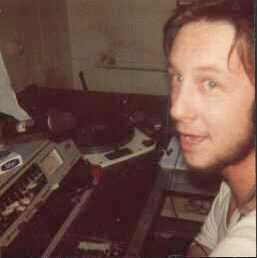 Brian Martin Born 26th April 1953. After leaving school, Brian worked a summer season at a holiday camp before joining the RAF as an apprentice chef. His first radio experience was with the forces networks, at HBS in 1970, whilst serving at RAF Hereford. From there he went to RAF Wattisham in Suffolk which also had its own cable radio station (and where he met future Caroline colleague Roger Mathews). After leaving the RAF he continued working as a chef but changed career completely in November 1977 when he joined Radio Caroline. Brian was with the station until generator failure closed it down (temporarily) the following October. In December he joined the Voice of Peace, off the coast of Israel, returning to the UK during the summer of 1979. He worked on the Caroline Roadshow and has since been heard on Invicta-FM in Kent, Coast-AM, EKR, the satellite incarnation of Radio Caroline and, currently, internet album station Quasar Radio. He is also employed as a mortgage broker. (Photo kindly provided by Johnny Lewis's Rounds And Sounds website. Thanks to Brian for his assistance, confirming the above information.)
Brian Martin in the first few minutes of Christmas morning, 25th December 1977, on Radio Caroline. This is an edited version of a recording available from www.azanorak.com. Our thanks to Jim Nantz and Ray Robinson (duration 4 minutes 3 seconds)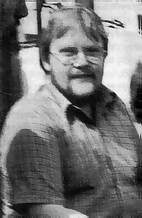 Roger Mathews Born in Birmingham, birthday 30th March, Roger got his taste for radio while serving in the RAF. He was posted to a base near Ipswich which had its own cable network called WFN (Wattisham Forces Network). Also on the station was Brian Martin. After leaving the RAF Roger joined Caroline in November 1976, as an engineer as well as a disc-jockey. Together with Stuart Russell, Roger set a record by working on board for a continuous thirteen weeks and six days (from 29th October 1977 to 3rd February 1978). In October 1978, while he was on shore-leave, the station closed down. This turned out to be one of the occasional interruptions to normal service which Caroline suffered throughout the seventies. Roger returned to the Mi Amigo to help prepare the ship for resumption of service. However in January 1979 he and four others had to be taken off by lifeboat when the vessel appeared to be sinking. (It didn't until some time later. The station returned to the air at Easter 1979.) During that summer Roger appeared on Caroline Roadshows in the Benelux and presented one further show on Caroline on 29th June. He was later heard on a couple of stations in Ireland and Sunshine Radio in Shropshire (using the name "Jack Daniels"). During the nineties, Roger worked in Oman as head of signals for the Royal Omani Airforce and, while there, was heard on a station called 3LO in that country. He returned to the UK, running an engineering consultancy while also finding time to broadcast on Forest FM a community station in Dorset and the internet incarnation of Radio Caroline. Now living in Cyprus, Roger can currently be heard on Quasar Radio and Radio Atlantis. We have more recent photos of him, taken at a 2018 DJs' reunion and the Spirit of the Seventies broadcast of July 2022. (Photo from 'Offshore Echos' magazine.)
Roger Mathews on Radio Caroline during the afternoon of 8th May 1977. Recording kindly provided by contributor Stuart Russell - not the DJ of the same name mentioned above (duration 4 minutes)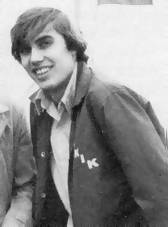 Paul May was born in April 1950, just outside Detroit, Michigan, to an American father and English mother, she being a war bride originally from Norwich. Paul says: "I really fell in love with radio as early as 1963, as there was a great radio station in Windsor, Ontario, called CKLW. They played much of the early 'British invasion' material. By 1965 we were living in Pittsburgh. My favourite DJ on KQV Audio 14 was Chuck Brinkman, the evening jock. I called him and told him I was interested in radio and he invited me to visit him at the station. Once in a studio. I knew that this was for me! During my childhood I traveled back and forth to the UK and, of course, along came 1964 with Radio Caroline and, being in Norfolk, the signal boomed in. I remember being in Bacton, at my aunt's bungalow, listening for hours. 1967 rolled around and I was back in England, this time I found Radio London. That was it. I was hooked. I knew then that this was the life for me and, at the age of 17, set about trying to get onto any of the stations. I was told by Radio Caroline that they may have an opening for me in August on one of their two stations. I told my father but he insisted I return to the US to finish my education. As it turned out, it was for the best, as we know Caroline didn't last. My father was a brick throughout my early years and helped me to get into radio. We were living in Baltimore in 1968 and he started to call on friends in the radio business. One of them, a news reader on station WBAL invited the two of us into the station. He had me read a script and said that I had a suitable voice for radio. He told me about a broadcasting school called the Broadcasting Institute of Baltimore, so I applied and was accepted. I attended school for 9 months. The school tried to place everyone in jobs at the end of the course. I joined a station in southern Maryland, WKIK, Leonardtown. I did 1 to 6 in the afternoon and within two months was Programme Director. I worked there from November 1968 to 1971. After my 21st birthday I made up my mind to return to England. I was getting the NME in the mail every week and saw that a new station was running off Holland. You guessed it - Radio Northsea International. So I wrote to (station owner) Edwin Bollier. He wrote back saying to come over and see (Production Director) Vic Pelli in Holland. So I handed in my notice at WKIK and booked my flight. I made my way to Hilversum. No one knew I was coming but I was immediately asked to go out to the Mebo II as they had just sacked Tony Allan and Andy Archer and were short-staffed." Paul joined Radio Northsea International in August 1971. In January 1972 he was appointed Senior DJ but left in July that year to get married. He returned to Norwich, working for the council by day, DJ-ing at night. Some of Paul's photos from his time with RNI are here. In 1984 he joined Laser 558 where he was known as "Paul Dean" (see The Pirate Radio Hall of Fame 'Eighties Supplement'). After living in Florida for some years, he is now back in England. Paul attended Radio Day 2014 in Amsterdam, photos here. (With grateful thanks to Paul May, the similarly named Paul Day and to Greg Bance. The photo is from 'Offshore Radio', published by Iceni Enterprises.)
Paul May on the Swinging Europe programme on Radio Northsea International. This is an edited version of a recording shared by The Offshore Radio Archive (duration 4 minutes 33 seconds)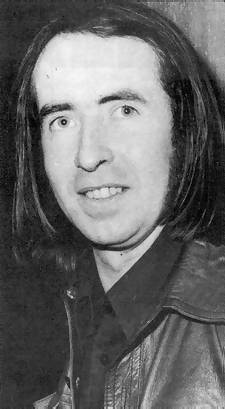 Brian McKenzie had broadcast on Radio Scotland during the sixties under the name of "Brian Webb". His biography can be found in the main part of The Pirate Radio Hall of Fame. Brian "McKilt" McKenzie joined Radio Northsea International in October 1971 (as mentioned by Paul May in the audio clip above). In addition to his regular daily programmes, he was responsible for the very popular weekly rock'n'roll show (initially on Tuesday, later Friday nights). On his late night shows he said goodnight to his listeners by playing the song Rock And Roll Lullaby by B.J Thomas. Brian stayed with the station until the closedown in August 1974. Following RNI, he had a number of jobs including DJ-ing at the exclusive Nova Park Hotel in Zurich, as advertised on RNI. In 1979 he moved to Ireland and set up Bay City Studios. He is now living in Spain. (Photo from 'Dee Jay & Radio Monthly'. There are more pictures of Brian in Paul May's photo album.)
Brian McKenzie on Radio Northsea International, in the early minutes of Saturday 24th June 1972, recorded from the station's FM outlet. The voice at the start is that of Tony Allan. Recording kindly provided by Stuart Russell (duration 4 minutes 44 seconds)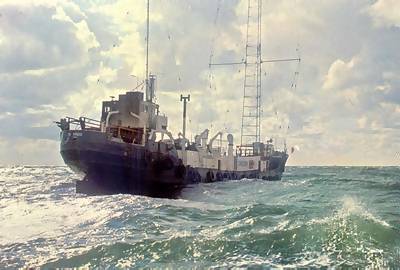 Photo of the Mi Amigo, used on Caroline QSL cards during the seventies.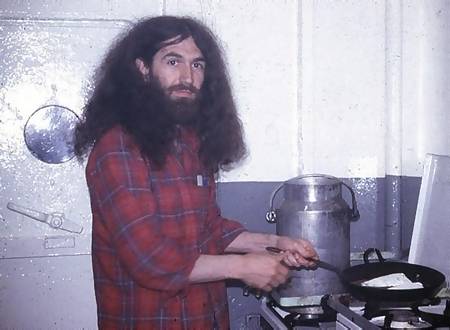 Mickey Mercer was an American from Seattle who, together with his wife Sue, ran a coffee-shop in the Dutch town of Delft. In 1974 he worked aboard the Mi Amigo as a cook and, from February to October, also regularly presented programmes on Radio Caroline (and Radio Seagull). After leaving the station the Mercers returned to America. Mickey now teaches theatre arts to the pupils of Flagstaff High School in Flagstaff, Arizona. In June 2015 he returned to the airwaves when he began presenting programmes on his local community station Sunnyside 101.5. (Thanks to Angelo Montelongo. This photo courtesy of Brian Anderson. There is another one featuring Mickey in Ian Anderson's Mi Amigo photo album. For a more recent photo, see our coverage of Radio Day 2014 in Amsterdam.)
Mickey Mercer from the early hours of 1st June 1974 on Radio Caroline. This is edited from a longer recording, kindly shared by Hans Hendriks on The Offshore Radio Club Forum (duration 4 minutes 17 seconds)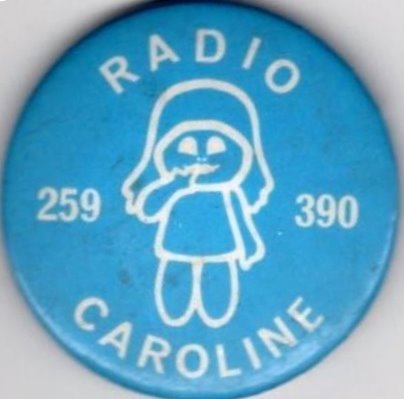 Mickey Mercer's souvenir of working at Radio Caroline,
a photo shared by him on Facebook.
Sue Mercer Wife of Mickey Mercer, Sue presented a one hour show on Radio Caroline on 23rd July 1974.
Mickey with Sue Mercer on her one and only programme on Radio Caroline, 23rd July 1974. This is an edited extract from a recording made available by The Offshore Radio Archive (duration 1 minute 17 seconds)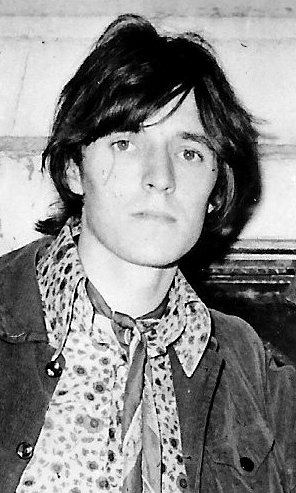 Stevi Merike had broadcast on Radios Scotland and Caroline South during the sixties. His biography can be found in the main part of The Pirate Radio Hall of Fame. In 1970 Stevi was working for BBC Radio One while, at the same time, English-language offshore radio was returning to Europe in the shape of Radio Northsea International. This station closed down in September 1970 but a few months later test broadcasts were heard and it resumed regular transmissions in February 1971. Stevi joined the station at this time as Senior DJ (a post he shared with Alan West). For a time the two of them co-presented a popular Sunday evening show called 'Lowering of Standards'. Stevi was with RNI until August 1971, leaving after a row with the station's owners. He moved to Hove, Sussex where he worked in clubs and was heard on BBC Radio Brighton. When his daily show was dropped from the schedule because of Corporation economies in July 1973, a group of angry listeners demonstrated outside the building to show their support. When LBC started in October 1973 he was one of three presenters on their daily 'At Home' programme (an attempt at a 'Woman's Hour'-type show on commercial radio). From there he moved to Piccadilly Radio in Manchester, then Bradford's Pennine Radio. Since then Stevi has worked on a large number of radio stations all over the country and as a lecturer in media and multimedia at New College, Nottingham. In May 2015 he was given a 9 month suspended sentence at Leicester Crown Court on nine counts of downloading indecent images and movies (details here) and in February 2020 he was jailed for 18 months at Plymouth Crown Court on similar charges (see here). (Photo courtesy of Luuk Meuwese.)
Stevi Merike sitting in for Mike Ross on the 4-6pm show on Radio Northsea International, 26th June 1971. Recording kindly provided by Stuart Russell (duration 4 minutes 55 seconds)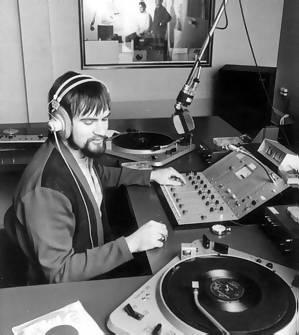 Carl Mitchell had broadcast on Radio Caroline South during the sixties. His biography can be found in the main part of The Pirate Radio Hall of Fame. Carl remained in Amsterdam after the closure of Radio Caroline, and so was ideally placed to join Radio Northsea International when it launched off the Dutch coast. This he did in February 1970. As on Caroline, Carl mainly hosted late night shows. His theme tune was Slim Jenkins' Place by Booker T & The MGs. Carl stayed with RNI until the closedown in September 1970 although, as with Caroline a couple of years earlier, he was on shore-leave at the time. His last show was on 16th September 1970. After a time working in Dutch, Danish and Norwegian clubs, he returned to America where he died in 1991 after a long illness. (Photo courtesy of Hans Knot.)
Carl Mitchell opens his show on RNI in the early minutes of 22nd March 1970. Recording courtesy of The Offshore Radio Archive (duration 4 minutes 53 seconds)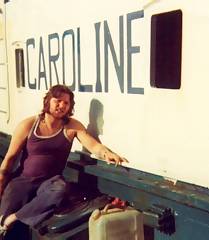 Phil Mitchell Born Philip Marshall on 7th November 1948 in north London, Phil played in various pop groups in the sixties most notably Style. This band was managed by the Philip Birch Agency which was affiliated with Radio London, which meant that Style were frequently booked for Radio London Big Nights Out. Phil worked on some landbased pirate stations, including WFRL and the well-regarded Radio Kaleidoscope, before joining Radio Caroline in June 1975. He stayed until October that year, later moving to the Voice of Peace off the coast of Israel. He wrote a chapter about his time on Caroline for Hans Knot's book The Wet And Wild History Of Radio Caroline. A correspondent to The Pirate Radio Hall of Fame, André de Raaij, has fond memories of listening to Phil's shows on Caroline, especially when, on one occasion, he inadvertently let slip his real name! He also says "Phil sent us to bed ("time to put the cat out") near midnight with Sweet Dreams by Roy Buchanan, a haunting number which I 'borrowed' from him and used for many years on late night shows." Phil was later heard on various restricted service license stations but unfortunately his broadcasting career was cut short when he suffered a severe stroke. He died on 25th March 2008. (This photo was provided by Phil. Our thanks to his brother Graham for his assistance. For more about Phil, see the Radio London site.)
A couple of clips of Phil Mitchell from a 10pm to midnight show on Radio Caroline from July 1975. Recording kindly donated by Hans Knot (duration 4 minutes 12 seconds)
The Pirate Radio Hall of Fame needs your

The site is updated regularly and we are always on the look-out for new material to add. If you have any information, photographs, recordings or contact details for any of the disc-jockeys we haven't been able to trace, please get in touch.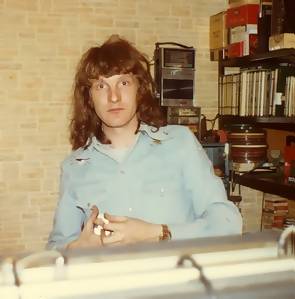 Scott Mitchell and Gabby Hernandez Omilado On Saturday nights during 1974 Radio Atlantis broadcast The Nightmare Affair, which featured these two characters. In fact both voices belonged to one person, DJ Leon Tipler, who during the 1960s had worked offshore on Radios City and 270. His biography can be found in the main part of The Pirate Radio Hall of Fame. The shows were recorded in his home studio and Leon did not visit the Radio Atlantis ship. He was later head on Sunshine 855 in Shropshire, Radio Maldwyn - The Magic 756 and Radio Hafren but died on 9th June 2013. There is a tribute to him here. (Photo courtesy of Steve England.)
Scott Mitchell and Gabby Hernandez Omilado on The Nightmare Affair on Radio Atlantis, a studio recording from 1974. This is an edited version of a recording sahred by The Offshore Radio Archive (duration 5 minutes 29 seconds)
Ed Moreno had broadcast on a number of offshore stations during the sixties. His biography can be found in the main part of The Pirate Radio Hall of Fame. He was involved in the initial planning for Radio Northsea International and his voice was heard on some early station promotions. He also carried out a controversial interview with singer Dorothy Squires which was transmitted in two halves on the 1st and 8th March 1970 during the Carl Mitchell show. In it she made allegations about the pop charts of the day. We previously suggested that these were his only on-air contributions to RNI but Grahme Wood has sent us a tape of a short programme presented by Ed on 1st March 1970 (extract below), so it seems he must have hosted at least one show. After Northsea, Ed changed career and worked in podiatry. He died in August 1980, aged 47. (There are letters that Ed wrote to fans here and here. There are also some photos of Ed, taken in 1965, here. This photo was sent by Ed to listener Pam Wood and passed on to The Pirate Radio Hall of Fame by Grahme Wood.)
Part of Ed Moreno's interview with Dorothy Squires, broadcast on 8th March 1970 on Radio Northsea International. The voice at the start of the clip belongs to Carl Mitchell. The recording was kindly provided by John Ashworth (duration 9 minute 38 seconds)
Ed Moreno on a late night programme on Radio Northsea International, 1st March 1970. The voice at the start of the clip belongs to Andy Archer. This recording was kindly provided by Grahme Wood (duration 4 minute 31 seconds)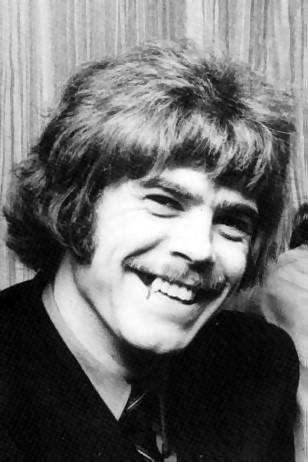 Spangles Muldoon (sometimes spelt Maldoon) had broadcast on Radio Caroline South during the sixties. His biography can be found in the main part of The Pirate Radio Hall of Fame. Following the closure of Radio Caroline in 1968 Spangles lived and worked in Cambridge where he organised the failed Caroline Club attempt to resurrect the station. His return to offshore radio came instead in July 1970 when he joined Radio Northsea International as station manager, DJ and engineer. He stayed until the September 1970 closedown when he moved to Birmingham with his wife Kate and baby daughter. On 15th September 1972 he rejoined RNI but, after only four days on board, announced his resignation on the air and told a waiting world about the return of Radio Caroline whose ship, the Mi Amigo, had just left harbour but was still to make its first broadcast. Spangles joined Caroline as station manager and programme director for the English programmes, and he and Kate ran the land-based side of the station. He only broadcast occasionally, being too busy keeping the station on the air. He left Caroline in August 1973 and set up a company making video games. In July 1975 he joined Radio Luxembourg as summer relief DJ. A full-time job followed but by then he had reverted to his real name, Chris Cary. In April 1977 he left Luxembourg and returned to his now very successful electronics firm in Barnet, moving into the expanding computer market. Chris went on to run the hugely successful Radio Nova in Ireland, another version of the station in the UK, a company selling satellite equipment and had many other projects on the go when he died on 29th February 2008. There is a tribute to him here. (Photo courtesy of Hans Knot.)
Spangles Muldoon at lunchtime on Saturday 8th August 1970 on Radio Northsea International. This is an edited version of a recording available from www.azanorak.com. Our thanks to Ray Robinson (duration 4 minutes 39 seconds)