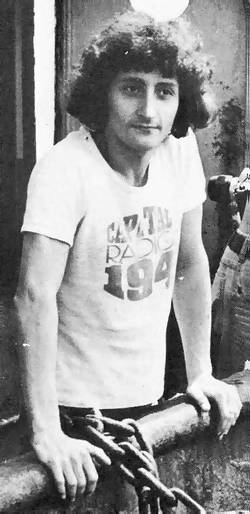 Jimmy / Kenny James. The man with three names. He was first heard on Radio Caroline on 23rd June 1976 as Jimmy James. On 7th July he metamorphosed into Kenny James and later that month briefly became Kenny Page, the name under which he had previously worked on Glasgow's Radio Clyde and the name which he was to use again for the rest of his broadcasting career after leaving Caroline. Born on the 13th April 1955 in Stirling, Scotland, his first job was as a clerk/typist in the BBC's buying department in London. He did some work in hospital radio and persuaded Andy Park, Programme Controller of Glasgow's Radio Clyde, to give him a show. His first programme on Clyde was Ken's Korner in January 1974. He was with Caroline from 23rd June to 2nd August 1976, before moving on to the Israeli offshore station, the Voice of Peace. He returned to Scotland in 1980 and joined Radio Tay. In 1988 he went back to the Voice Of Peace where he stayed until the station's closure in 1993. Kenny returned to Tay FM in Dundee but, in August 1997, left to work on Radio Napa in Cyprus. In 1998 he joined the production staff of Virgin Radio in London but went home to Scotland that summer when he joined Kingdom FM. In the autumn of 1999 he left Kingdom FM due to ill health and sadly died on July 30th 2002 after a long illness. (We are grateful to Carole Anderson, a great fan of Kenny's, for some of the above information. Photo from the 'Radio Caroline Picture Souvenir Book' published by MRP Books.)
Jimmy James starting the 3-6pm show on 26th June 1976. There is an advert for, and a track from, the new Loving Awareness album, then identified as being by "The Beatles". After complaints from fans of the original Beatles, the group became known as The Loving Awareness Band. This is an edited version of a recording posted by Steksis on the Radiotrefpunt (radio meeting point) forum. Our thanks to him (duration 3 minutes 49 seconds)
Broadcasting as Kenny Page, it is 7pm on 26th July 1976 and he is opening up evening transmissions on 259 metres. At that time Caroline broadcast on 192 metres during the days, 259 through the night. The voice at the start belongs to Tony Allan. Recording kindly provided by Hans Knot (duration 4 minute 29 seconds)
Now known as Kenny James again, two days later on 28th July 1976 on Radio Caroline. The two numbers he reads out at 8 o'clock are for the benefit of the station's office on land. There was a daily status report using a coded number system. This is an edited version of a recording posted by Vincent on the Internet Radiocafé, now known as the Radiotrefpunt (radio meeting point) forum. Our thanks to him (duration 4 minutes 8 seconds)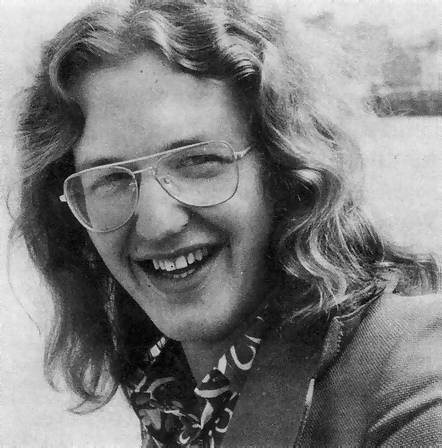 Johnny Jason was born on 13th September 1948 in England. We asked JJ for a biography and he supplied the following story of his life and career: "Johnny spent his childhood in Peru, where he learned Spanish, and at prep school in England before rounding off his education at public school in Germany, passing the equivalent of A-level exams in German, which he had to learn from scratch - something he rates as one of his greatest achievements! After trying out a number of menial jobs back in London, he joined Unilever Export as a marketing trainee in 1970, before heading out to Australia the following year as a £10 tourist. It was there that he became Johnny Jason for broadcasting purposes, having been born Rudiger Jonathan von Etzdorf (German father/English mother), as the first person he met in Australia reckoned your average Aussie wouldn't be able to come to terms with his real name! After enrolling in the Max Rowley School of Announcing and Drama in Sydney, he managed to get a job as a DJ on radio station 4MK Mackay in Queensland on the Great Barrier Reef before moving on to 4LM Mount Isa, in the middle of the Australian outback. In 1973 Johnny returned to the UK in time to audition for Capital Radio, which was hiring people like Kenny Everett and Dave Cash. However he didn't get in, maybe because of his strong Australian twang! Undeterred he heard about Radio Caroline starting up again and went out to the Mi Amigo for what turned out to be an incredible adventure for the next couple of years. He joined a motley crew of great broadcasters and had a very successful time, incorporating the advent of Radio Seagull and culminating in being voted seventh best radio show in Melody Maker magazine in 1975. That was also the time that he was arrested coming off the ship, was charged under the Marine Offences Act for being a British subject broadcasting on the high seas.. all true, nevertheless, he daringly pleaded not guilty, being assured by the mercurial owner of Caroline, Ronan O'Rahily that, if he put his neck on the line, he would get the best possible representation, which he duly did and was subsequently aquitted on a technicality, becoming a hero for a day! Also at that time he became good friends with the Caroline house band, Loving Awareness, being a modest strummer himself, who went on to become the nucleus of Ian Dury's Blockheads. Johnny moved into legitimate commercial radio with Metro Radio in Newcastle and Radio Orwell in Ipswich, a transition he found difficult, so it was no surprise that he found himself lured back to the ocean waves, rejoining Caroline in February 1977. Times and personnel had changed and he reluctantly left the ship in April. There followed stints as a newsreader at LBC in London and four happy years as a presenter at Radio City in Liverpool. Between 1983 and 1992, television beckoned and Johnny could be seen on screen as an announcer/newsreader at Grampian in Aberdeen, Central in Birmingham, Thames in London, TVS in Southampton and regular weekends at Yorkshire TV in Leeds. He was also in at the birth of BSB News in London. However TV turned out to be too hot under the lights and make-up and too shallow for him, so he went back to his first love, working at Red Dragon and Touch Radio in Cardiff, before joining Blue Danube Radio in Vienna, Austria, up until 1995, when Johnny finally arrived at BBC World Service as an announcer/newsreader." Johnny worked for the World Service for twenty years. He is now retired and living in France. (Our grateful thanks to JJ for taking the time to tell us his story. This photo by Martin Stevens is taken from 'Script' magazine. There are some more recent photos here and here.)
Johnny Jason on Radio Caroline from the evening of Sunday 4th May 1975, with interruptions from Tony Allan. Recording kindly provided by Hans Knot (duration 3 minutes 25 seconds)
The Pirate Radio Hall of Fame needs your

The site is updated regularly and we are always on the look-out for new material to add. If you have any information, photographs, recordings or contact details for any of the disc-jockeys we haven't been able to trace, please get in touch.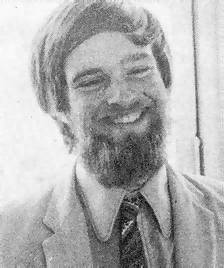 Dave Johns A journalist by trade, Dave wrote a series of articles on offshore radio for the shortlived magazine DeeJay & Radio Monthly in 1973. He later acted as the UK representative for Radio Atlantis and presented one pre-recorded show on the station's penultimate day on air, 30th August 1974. He later wrote for Music Week magazine, before moving to Sheffield's Radio Hallam as press officer. (Photo, left, from 'Dee Jay & Radio Monthly')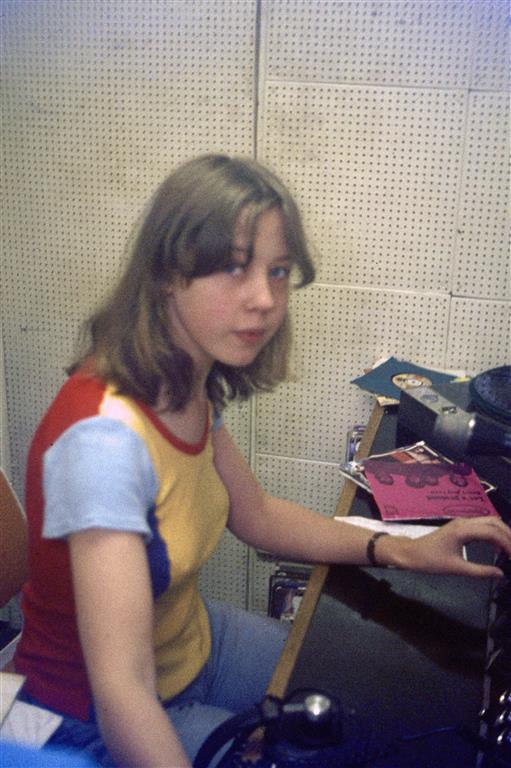 Barbara Johnson was the girlfriend of Ian Anderson and spent three weeks with him on board the mv Mi Amigo in October 1973. Unfortunately it was not a good time for the station. The aerial mast snapped on 1st October and, although programmes limped on until the 18th, they were on severely reduced power. Ian tells us that Barbara was from Shetland (like him) and while aboard the ship co-hosted a Radio Seagull show with Johnny Jason and looked after some of the Radio Atlantis output, playing non-stop music and making occasional announcements when the tapes ran out. She later worked in local and central government before becoming an air traffic controller and moving to Norfolk with her husband and children. Because of the station's low power at the time few were able to hear Barbara's shows and The Pirate Radio Hall of Fame would be very grateful if anyone could provide a recording. (This photo of Barbara, in the studio on 15 October 1973, was kindly provided by Ian Anderson. Our thanks to him for the photo and information.)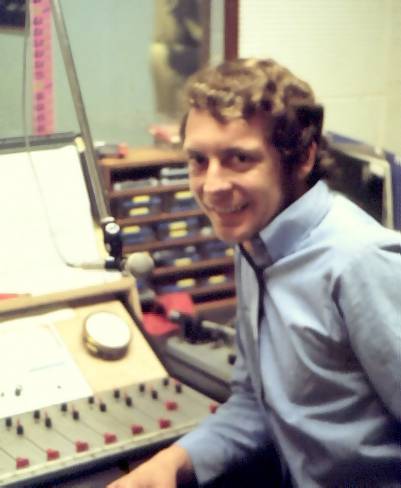 Duncan Johnson had broadcast on Radio London during the sixties. His biography can be found in the main part of The Pirate Radio Hall of Fame. Following his time with Radio London, Duncan was involved in running a photographic studio and was part of the launch team for Radio One although he did not stay with the station for long. On 10th April 1970 he joined Radio Northsea International and was with the station until June of that year. He then worked as a label manager for EMI Records and hosted some country music shows for BBC Radio London before joining Radio Luxembourg as production manager. From there to London's Capital Radio, then Canterbury's Invicta Radio. He spent the remainder of his career working for an advertising agency. He suffered from Parkinson's Disease and died on 11th October 2018. Our tribute to him is here.
Duncan Johnson on Radio Northsea International from the evening of 6th June 1970, recorded from the station's FM outlet. Sadly Duncan's World Cup prediction was wrong: Brazil beat England 1-0! This is an edited version of a recording available from www.azanorak.com. Our thanks to Jim Nantz and Ray Robinson for permission to use it and to Richard Crichton who donated it to them (duration 4 minutes 13 seconds)

Free Radio Association sticker.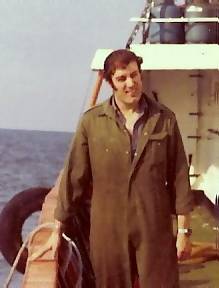 Derek Jones Diesel engineer on the mv Jeanine, Derek was heard on Radio Atlantis on 15th February 1974, and occasionally thereafter. We asked if anyone could provide more information and correspondent Ben Stegeman got in touch. He wrote: "Derek Jones is living in Vlissingen (in Holland). He is retired now." (Our thanks to Ben and to Steve England for the photograph, right.)
Derek Jones on Radio Atlantis at 1pm on the station's last day on air, 31st August 1974. This is an edited version of a recording available from www.azanorak.com. Our thanks to Jim Nantz and Ray Robinson for permission to use it and to Lee Mendham who provided it to them (duration 3 minutes 56 seconds)