Emile Garrett In late 1979 Mike Hagler began providing daily pre-recorded programmes for Radio Caroline from his home in America. The show was called Space Play and occasionally it was presented by one of Mike's friends. One of these was Emile Garrett who hosted three Monday night shows (12th, 19th and 26th November 1979).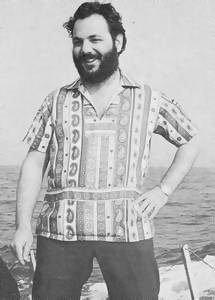 The Geator With The Heater was the on-air name used by Larry Tremaine, the American who took over from Roger Day as Programme Director of Radio Northsea International in the summer of 1970. He later becoming Managing Director of Mebo Ltd., the company that operated the station. He had been involved in the music business for some time, having worked with the Beach Boys early in their career, sung with his own band Larry Tremaine and His Renegades (later to become the Sunrays) and hosted Casino Royal, a nationally syndicated U.S TV dance show. He went on to work for KRLA, KBLA, KDAY, KABC-TV, KTTV-TV and KCET-TV. The Geator broadcast daily on RNI during election week June 1970 when the station was known as 'Caroline International' and later presented a weekly rock'n'roll show on Sunday afternoons. After the September 1970 closedown, he moved back to the United States. He lived in Beverly Hills, California and ran the Carol Lawrence Fine Art Gallery chain. Roger Day visited Larry in Los Angeles in 2003 and sent The Pirate Radio Hall of Fame this photo of the two of them. Larry died in May 2014. The 'Geator with the Heater' nickname had previously been used on American radio by DJ Jerry Blavat. 'Geator' is slang for an alligator. (The photo is from 'The RNI Book', published by Hit-Publications, Zurich.)
The Geator with the Heater on "Radio Caroline International", as RNI was known during election week 1970. This recording dates from 19th June 1970, the day after the General Election. The Tories had won and the RNI bosses hoped that this meant the jamming would end - hence the reference to the station "winning". Sadly it wasn't to be. The jamming continued, the station changed its name back to RNI and moved back to the Dutch coast. This is an edited version of a recording available from www.azanorak.com. Our thanks to Jim Nantz and Ray Robinson for permission to use it and to their unknown contributor (duration 4 minutes 30 seconds)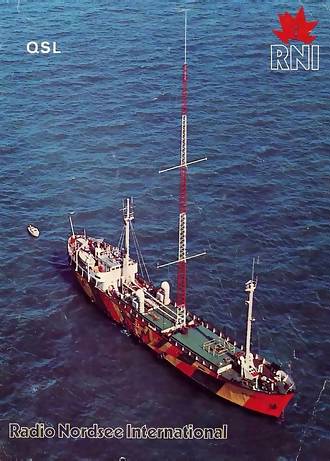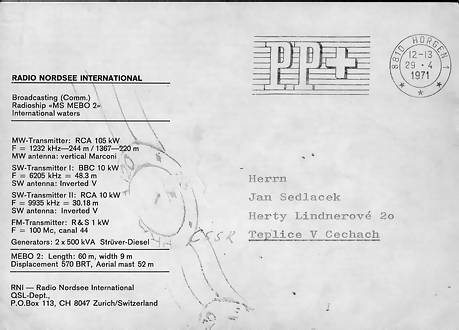 Both sides of a Radio Northsea International QSL card from 1971, kindly provided by Jan Sedlacek.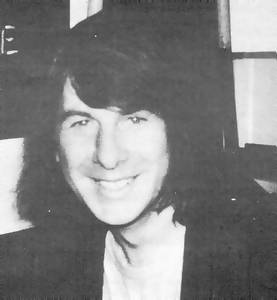 Graham Gill From Melbourne Australia, Graham worked for Radio London, Britain Radio, "Swinging" Radio England and Radio 390 during the sixties. There is a biography in the main section of The Pirate Radio Hall of Fame. Following the closedown of Radio 390, Graham moved to Holland and worked in clubs. In March 1973 he joined Caroline but only stayed for a week, moving instead to the rival station Radio Northsea International. Graham is particularly remembered on RNI for opening his show by singing his theme tune live every night over the backing of Junior Walker's Way Back Home. In May 1974 he paid a return visit to the Mi Amigo and, the following month, rejoined Caroline as Programme Director. (His last show on RNI was on 24th May 1974.) Graham left Caroline when the Dutch introduced their anti-pirate legislation in August 1974 and moved to to Radio Netherlands, the English language programmes of the Dutch overseas service. Following retirement, he continued to live in Holland. He died in his sleep at his home in Amsterdam in April 2018, 6 days before his 82nd birthday. The Pirate Radio Hall of Fame's tribute to Graham is here. We have some photos, which include Graham, taken on RNI here. (Photo from 'Dee Jay & Radio Monthly'.)
Graham Gill opening his show on Radio Northsea International just after midnight on 3rd June 1973. This excellent quality clip, recorded from the station's FM outlet, is part of a longer tape made available by The Offshore Radio Archive (duration 4 minutes 26 seconds)
The Pirate Radio Hall of Fame needs your

The site is updated regularly and we are always on the look-out for new material to add. If you have any information, photographs, recordings or contact details for any of the disc-jockeys we haven't been able to trace, please get in touch.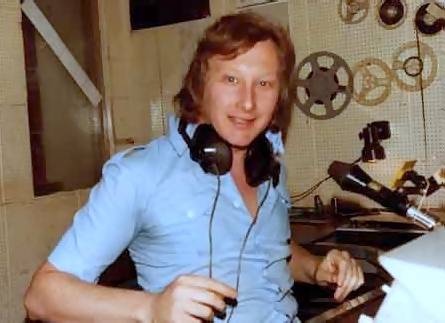 Stevie Gordon from Bournemouth, Stevie began his broadcasting career on a local hospital radio station. He worked in Danish discos and on the Israeli offshore station, the Voice of Peace, before joining Radio Caroline in September 1976. He left Caroline at the end of January 1977 to return to Denmark but rejoined the ship in April 1978. He left again in October, returning a year later. This time he stayed until the end - in fact Stevie's was the last voice to be heard from the mv Mi Amigo before it sank in 1980. His memories of that night can be found here. After a second stint on the Voice of Peace, Stevie moved to Ireland, where he broadcast as 'Stevie Dunne', later returning to Scandinavia. He has worked for a number of Norwegian radio stations including the national broadcaster NRK. He is now Programme Director of the new incarnation of Radio Seagull, a progressive and alternative rock station broadcasting on AM in The Netherlands. Stevie lives with his Norwegian wife and three children in a self-built timber house in the countryside north of Oslo. There are some recent photos of him, taken at a 2018 DJs' reunion, here. (Many thanks to Stevie for his help and for providing the photo, taken on board the Mi Amigo by Marc Jacobs.)
Stevie Gordon on the 6-9pm show on Radio Caroline, 18th September 1978. This clip is from a studio recording made by Stevie's Dutch colleague Marc Jacobs and shared on The Offshore Radio Guide (duration 4 minutes 19 seconds)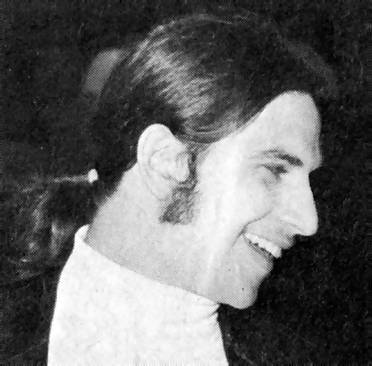 Dave Gotz Born on 20th October 1952 and raised in Ann Arbor, Michigan, Dave attended the University of Michigan where he worked as a DJ on the campus radio station. While on vacation at the Monte Carlo Grand Prix in 1971 he met Dick Palmer. They stayed in touch and when Dave finished college and visited the UK looking for radio work, he met up with Dick. He in turn introduced Dave to Ronan O'Rahilly, the founder of Radio Caroline. Dave went out to the Mi Amigo and was heard on air for a week in June 1974. He later worked for the station on land collecting new records from the record companies. We asked Dave to bring us up date: "I worked for a year and a half doing that (record company go-between) until the Radio Regulatory Dept. got my name and paid a visit, ending my association with Radio Caroline. While getting the records for the station, I would listen to the music and attach brief reviews to the albums for the DJs. I also recorded interviews with several bands, including Grand Funk, The Ohio Players and Lynyrd Skynyrd. This led me to start a music journalism career that went on until 1984. While in England I wrote for Radio Guide and, upon my return to the U.S., I made my way out to Los Angeles and wrote for Record Review magazine. In Los Angeles I had intended to get work as a DJ, however it never panned out and I learned to be a furniture restorer, which I did until 1996. I qualified to be a lawyer (after 4 years of school), but I never practiced law because I got married and became a stay-at-home dad. I have a son Alex and daughter Catherine. Nowadays I am very involved in the local history society (in Tiburon, California, just across the Golden Gate Bridge from San Francisco) and putting on concerts at our local hall." (Our thanks to Dave for his help and for supplying the photo - originally published in 'Music Week' magazine - and to Nik Oakley for putting us in touch. Nik and Dave were the co-authors of The Music Spinners: Britain's Radio DJs published by MRP Books in 1976.)
Dave Gotz on Radio Caroline in the early minutes of 11th June 1974. This recording kindly provided by John Ashworth (duration 1 minute 34 seconds)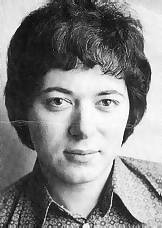 Dave Gregory From Ealing, west London, Dave had been a club DJ before moving into radio. His first live DJ-ing spot was at a West End club called La Poubelle in London's Greek Street. He joined Radio Northsea International on 10th July 1970, aged 21. His first theme tune was Monkey Shack by Johnny Hodges, later replaced with Everybody Zizzle by the Joe Loss Orchestra. Dave stayed with RNI until 6th September. He was relief DJ for those on shore-leave and briefly had his own show in the 6-9pm slot. After leaving the station, he joined the BBC, making trails, presenting programmes and, memorably, covering for Tony Blackburn on the Breakfast Show while Tony was away getting married. In 1974 Dave signed up to Newcastle's Metro Radio, moving in 1975 to Radio Tees and Pennine Radio in 1980. In the summer of 1981 he headed south to Essex Radio in time for their launch on September 12th. Here he presented Gregamix, a nightly three-hour soul show and the monthly Soul Night Special outside broadcasts. These were both hugely successful but Dave became frustrated with, as he saw it, UK commercial radio's largely unenthusiastic and sceptical attitude towards black music so in 1986, following a brief spell on Radio Luxembourg, he began moonlighting for London's land-based urban pirates LWR and TKO as 'The Lone Ranger'. He was later also heard on the pirate Solar. He spent a year as promotions and sales manager for Paul Hardcastle's record label, followed by eighteen months as the creative producer at one of London's first official urban radio stations, Choice FM, before moving back into full-time presenting at London's Jazz FM. He switched to commercial production and voice acting in 1997 but kept busy with regular guest slots on the legal incarnation of Solar Radio. Sadly Dave died on 22nd November 2016 after months of battling lung cancer. (Our thanks to Dave for his assistance and the publicity photo from 1971. Dave attended Radio Day 2014 in Amsterdam, photos here. Theme tune information courtesy of Hans Knot.)
Dave Gregory on his very first show on Radio Northsea International, sitting in for Andy Archer on the 9am-noon programme, 10th July 1970. Recording kindly provided by Hans Knot (duration 3 minutes 40 seconds)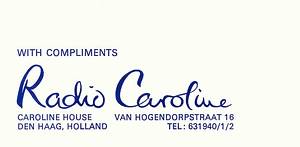 Radio Caroline compliments slip
from 1973/74.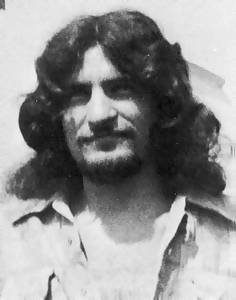 Mike Hagler was 26 years old when he joined Radio Seagull in January 1974. An American, originally from St.Louis, Missouri, he had previously lived and worked in California, where he had been employed on KRLA and KABC Los Angeles and KPPC in Pasadena, working mainly in the field of news and documentary. He was also an excellent and laid-back disc-jockey. The station had recently started propagating the philosophy of 'Loving Awareness' or 'LA' and Mike's presentation style fitted perfectly. Radio Seagull reverted to its original name, Radio Caroline, soon after Mike joined. He left Caroline in August 1974. He lived on a houseboat in Holland for a time and, the following year, worked as a coach driver on the overland route from Holland to Morocco. In 1976 Mike began running tours to Afghanistan and India. In 1978 he returned to America and in late 1979 was back on the Caroline airwaves via a daily taped show from Los Angeles. Now calling himself Michael Light, he introduced Space Play every evening. He also produced some excellent promotions. So good in fact that when Caroline returned to the air in the eighties, Mike was asked by station founder Ronan O'Rahilly to produce some new ones and, although by then living in New Zealand and no longer involved in radio, he obliged with some highly creative productions. In October 2011 The Pirate Radio Hall Of Fame heard from Mike and he brought us up to date: "I emigrated with my wife Pam and son and daughter from the USA to NZ in 1980 where I set up a solar energy and sustainable technology consulting firm, Pacific Energy Design, based in Auckland. Thereafter in 1984 I started working for Radio New Zealand as a news reporter winning two awards. In 1988 I took up employment at a talkback radio station called Radio Pacific in Auckland where I was a producer and reporter for my own show called Contact. As a journalist, I had become increasingly aware of the serious threats to the global environment and, for the sake of my two children, I felt compelled to take action to increase people's awareness of the need to protect it for future generations. I decided to leave broadcasting and in February 1989 I went to work for Greenpeace as an Oceans Campaigner which I did for 16 years. I now work as tutor of English for Speakers of Other Languages (ESOL) for Open English in Auckland. Indeed, I recently completed a Masters Degree in Applied Linguistics at Auckland University of Technology (AUT). My son Saunil is 30 years old and my daughter Angela is 33. She and her husband recently had a child (a boy, Isaac who is almost two) and so now I am a grandfather. Pam and I still live in Devonport on Auckland's North Shore where we have lived since our arrival in NZ back in 1980." Our grateful thanks to Mike for the update. (Photo from 'The Radio Caroline Picture Souvenir Book', published by MRP.)
Mike Hagler on Radio Caroline, 22nd July 1974. This clip is part of a longer recording shared by The Offshore Radio Archive (duration 5 minutes 25 seconds)
A few of the many familiar Loving Awareness and station promotions that Mike Hagler made for Radio Caroline. Taken from the Offshore Echo's cassette Caroline Masters, used with kind permission (duration 3 minutes 43 seconds)
Mike Hagler alias Michael Light aka "Mike in the night" on an edition of Space Play from November 1979. This clip is part of a recording made available by The Offshore Radio Archive (duration 3 minutes 37 seconds)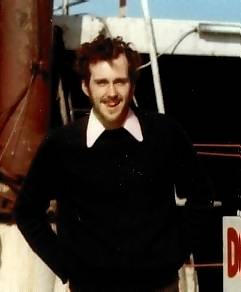 John Harding was from London and worked as an engineer and DJ on Radio Atlantis in 1974. A schoolfriend of Norman Barrington's, the two of them had previously run a mobile disco together called 'Hullabaloo'. John joined Atlantis on 19th April 1974 and stayed until the station closed down at the end of August that year. Correspondent Mark Keable writes: "I remember listening to Dave/Keith Rogers on Radio Orwell, probably late in 1975. I think it may have been a Sunday morning. Keith said he had a friend in the studio who had worked on Radio Atlantis with him, John Harding. John mentioned that he was visiting Ipswich and that he was now working for a motor dealership." If you can provide any more information about John's post-pirate career, please contact The Pirate Radio Hall of Fame. (This photo by Steve England, kindly supplied by Chris Edwards of 'Offshore Echo's' magazine. Thanks also to Mark Keable for his assistance.)
John Harding on the Yawn Into Dawn show early in the morning of Friday 23rd August 1974, just a few days before the station closed. This is an edited version of a recording available from www.azanorak.com. Our thanks to Jim Nantz and Ray Robinson for permission to use it and to the unknown contributor (duration 2 minutes 45 seconds)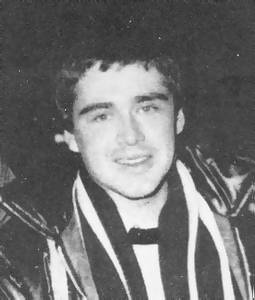 Tom Hardy Born 31st August 1954. Hailing from Abbots Langley, just outside Watford in Hertfordshire, Tom, like many of his generation, was turned on to radio by the 60s pirates Radio Caroline and Radio London. Hospital radio and illicit college radio followed in the early 70s and in June 1976 he quit his secondary school science-teaching job to fly to Israel to become a DJ on Abe Nathan's Voice of Peace station. During his time with the station he worked with, amongst many others, Crispian St.John, Stevie Gordon and James Ross. Tom signed up for Caroline in June 1978 and became one of the station stalwarts during its last couple of years of broadcasting from the mv Mi Amigo. He was rescued from the ship by life-boat in January 1979. However he returned to the station when it resumed broadcasts in April of that year. His last show on Caroline was on 15th March 1980, a few days before the Mi Amigo sank. After almost a year of conjecture and rumour about Caroline's return, Tom, at the invitation of former VOP & Caroline colleague Stevie Gordon, joined Robbie Dale's fledgling Sunshine Radio in Dublin, Ireland. After almost two years with Sunshine he crossed town to Chris Cary's Kiss FM/Radio Nova operation - initially presenting on Kiss and then replacing Andy Archer on Radio Nova. Tom was caught in the thick of the government raids on Nova in May 1983 and after a concerted jamming campaign by the Irish state broadcaster, he and a number of his colleagues were eventually 'let go' by the station in early 1984. In spring of that year Tom resurfaced at the Chiltern network as presenter, music director and assistant PD - staying with them until the end of 1987, when he returned to Ireland to establish, manage and present on the border-busting Kiss FM in Monaghan. After a brief return visit to Chiltern to do late nights and around three weeks as 'breakfast jock in waiting' at Oxford's Fox FM, he went back to Dublin to help launch the city's Classic Hits 98FM, working as assistant PD to Australian programmer Jeff O'Brien. Although it was not the intention, Tom found himself back on air when clauses in one of the presenter's contracts meant that there was a two-hour 'gap' on the weekday schedule! During his time with 98FM, Tom was seconded to Prague, to help set up the company's first overseas property, Kiss 98FM. After a further year at 98FM in Dublin, Tom joined GWR to re-launch Leicester Sound and in 1994 took up the group programming position at SBS in Stockholm with responsibility for their, at the time, 12 stations across Sweden, Denmark and Finland. Tom then spent around 18 months as programme director at 2CRFM, Bournemouth, before becoming programme manager at Ireland's national commercial station, Today FM in August 1998. After 14 years there, Tom left to run his own consultancy company. In 2021 he was diagnosed as suffering from cancer and underwent radiotherapy treatment. Tom suffered a heart attack while in hospital at the end of February 2022 and sadly passed away a few days later, on 2nd March 2022. Our tribute to him is here. (Photo taken just after Tom had been rescued by lifeboat from the ailing Mi Amigo in January 1979, from 'Radio Caroline, A Story In Photos', compiled by Jelle Boonstra and published by Threemaster Productions.)
Tom Hardy on Radio Caroline, 6pm on 17th April 1979. This is an edited version of a recording available from www.azanorak.com. Our thanks to Jim Nantz and Ray Robinson for permission to use it and to their unknown contributor (duration 4 minutes 2 seconds)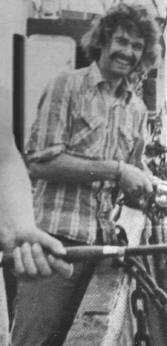 Peter Haze (or Hayes?) A crew-member on the mv Mi Amigo from Cheshire, Peter broadcast occasionally on Radio Caroline during 1974 while the ship was anchored off Scheveningen but is best remembered for the shows he did on and after 31st August 1974, when the Mi Amigo returned to the British coast. He and Tony Allan kept the station on the air after all the other English-speaking DJs had left. A soul fan, Peter was known as 'The Cheshire Flyer'. He had previously worked on the Voice of Peace station off the coast of Israel. Peter presented regular daily shows between 31st August and 7th September. After that date he was heard occasionally in the early hours but, from 27th September, with a full complement of DJs now on board, his contribution was reduced to just a quarter or half-hour of soul music each night. He left at the end of October 1974. We have no further information about him. Can anyone help? (Thanks to Andy Archer for this photo of Peter fishing over the side of the mv Mi Amigo while the ship was anchored off Holland.)
Peter Haze on Radio Caroline during the evening of 31st August 1974. Recording courtesy of The Offshore Radio Archive (duration 1 minutes 30 seconds)