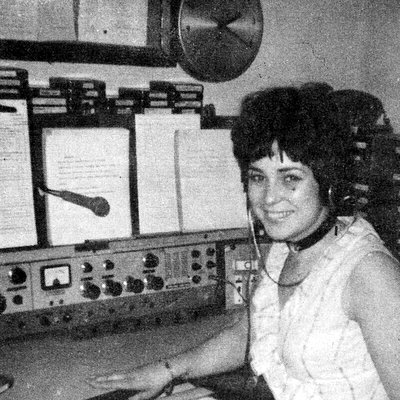 Louise Quirk A presenter on Manx Radio, Louise met Don Allen while he was working for the station. Later, when Don became Programme Director of Radio Northsea International, he asked Louise to provided some recorded links which could be mixed with music on the ship and transmitted in the middle of the night. Louise never visited the mv Mebo II but her Skyline shows were broadcast on RNI, 4am-6am daily, from January 1974 until the station closed down in August that year. She is the second cousin of Chris Payne of the Radio London website. Louise and her husband Harry Kewin have recently returned to the Isle of Man after a long period running The Bay Tree restaurant in Cyprus. The couple now manage the Manx Society for the Prevention of Cruelty to Animals tearooms. (Photo of Louise in Manx Radio's studio from the Commercial Radio News Agency bulletin.)
Louise on Skyline in the early hours of 24th August 1974 on Radio Northsea International. This is an edited version of a recording available from www.azanorak.com. Our thanks to Jim Nantz and Ray Robinson (duration 1 minute 48 seconds)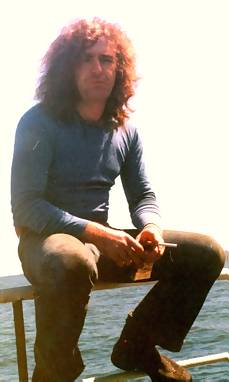 James Rafferty An engineer on the mv.Jeanine, he broadcast on Radio Atlantis on the night of 15th February 1974 and occasionally after that date. Present whereabouts unknown. (Photo, right, courtesy of Steve England.)
Philip Randall We don't know anything about Philip except that he was heard on Radio Seagull from 26th August to 7th September 1973. Can anyone provide more information?

Radio Caroline letter heading.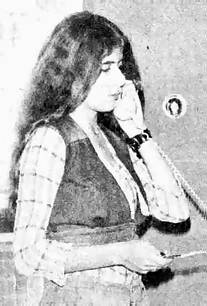 Charlotte Ribbelink 18 year old Charlotte ran Caroline's office in The Hague after Kate and Chris Cary left the station and, on 13th January 1974, she co-hosted a one hour show on Radio Seagull with fellow office worker René van de Snoek. (Photo, left, from the 'Radio Caroline Picture Souvenir Book' published by MRP Books. For a recent photo, see our coverage of Radio Day 2014.)
Brian Richards An American, he was heard on Radio Caroline from 3rd to 24th August 1976 before returning to the United States. He had plans to continue his involvement with the station by sending a daily one hour taped show from America but this never came to fruition. Can anyone provide more information about Brian?
Brian Richards on Radio Caroline from the early hours of 15th August 1976. This is an edited version of a recording available from www.azanorak.com. Our thanks to Jim Nantz and Ray Robinson (duration 2 minutes 58 seconds)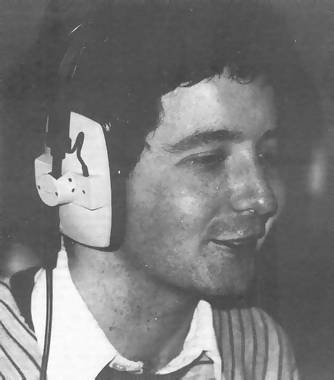 Nick Richards From Rayleigh, Essex, Nick was first heard on Radio Caroline on 9th September 1979 and then regularly from the beginning of November. He was one of the disc-jockeys who were rescued by lifeboat when the mv Mi Amigo sank in March 1980 although he was not heard on that historic final broadcast because he was busy at the time "blowing down a dirty old pipe in the engine room, trying to get a pump going". His memories of that night can be found here. After working as a security guard, he moved to Ireland and South Coast Radio. A spell of illness forced him home and in January 1985 he rejoined Caroline, on its new ship the Ross Revenge (see The Pirate Radio Hall of Fame 'Eighties Supplement'). After nearly a year with Caroline, he returned to Ireland to station WBEN in Cork. After many years on Cork's 96FM, he currently presents the afternoon show on C103. We have some recent photos of him, taken at a 2018 DJs' reunion, and an interview carried out by Ray Clark. (Photo from 'Monitor' Magazine.)
Nick Richards on Radio Caroline, 17th March 1980, just a few days before the mv Mi Amigo sank. This is an edited version of a recording shared by The Offshore Radio Archive (duration 3 minutes 44 seconds)
Some studio quality clips of Nick Richards on Radio Caroline from 1979 kindly provided by the man himself (duration 3 minutes 6 seconds)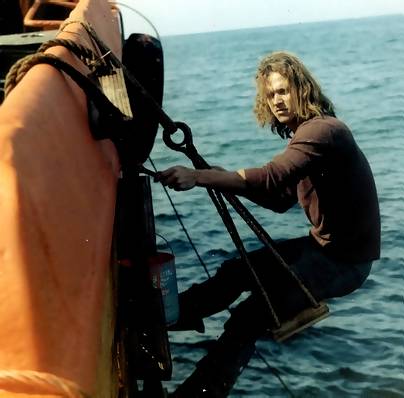 Rick Rock American cook/deckhand on the mv Jeanine, he broadcast occasionally on Radio Atlantis during 1974. Can anyone provide more information? (Photo of Rick painting the side of the ship courtesy of Steve England.)
The Pirate Radio Hall of Fame needs your

The site is updated regularly and we are always on the look-out for new material to add. If you have any information, photographs, recordings or contact details for any of the disc-jockeys we haven't been able to trace, please get in touch.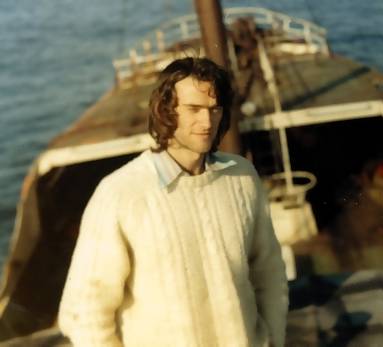 Dave Rogers joined Radio Northsea International in September 1970 at the age of 23 (birthday 19th June). Unfortunately the station closed down just six days later. Hailing from Devon, Dave had previously operated a mobile disco business and been involved with a land-based pirate station, Radio Lundy, using the name Dave Walker. Dave had also worked for the Rank Organisation as an assistant cinema manager. When RNI resumed broadcasting in February 1971, he returned to the station, becoming senior DJ in August of that year. In February 1972 he left after falling out with a new Programme Director but he returned in August when that PD left. However, just a couple of months later, a dispute arose between the Swiss owners of the station and the Dutch company which operated the daytime service. This resulted in all the English-language DJs being sacked, including Dave. He worked in non-radio jobs for a while and was working in a factory making bath salts when he received a call offering him a show on Radio Atlantis. He joined that station in March 1974 and stayed with them until the closedown in August. He was later heard on a number of ILR stations across the UK including Radio City, Radio Orwell and Essex Radio using the name Keith Rogers. We asked Dave / Keith to bring us up to date. He replied: "I have been working for Southend Borough Council as a Foreshore Inspector, the duties for which include driving the train down the longest pier in the world!! Also the hardened anoraks might want to know that I have reverted to my real name Keith Chanter and have become seriously involved with acting. If you Google 'Keith Chanter, actor' up I pop." Between October 2014 and January 2018 he was also heard (as Keith Rogers) on Phoenix FM, a community station serving Brentwood and Billericay, Essex. (Photo, taken on Radio Atlantis, courtesy of Steve England. There are pictures of him on RNI in Paul May's photo album and he has also kindly provided some pictures of his own. There is a recent interview here and one from 1974 here. There is a more recent photo, taken in 2008, on this page. Our thanks to Keith/Dave for his help.)
Dave Rogers sitting in for Mark Stuart on Radio Northsea International, 19th August 1971. This is an edited version of a recording available from www.azanorak.com (duration 4 minutes 42 seconds)
Dave Rogers opening up the International Service of Radio Atlantis for the evening with the Blast Off programme and encountering some rough seas in May 1974. This is an edited version of a recording provided to www.azanorak.com by John E. Patrick. Our thanks to Jim Nantz, Ray Robinson and John (duration 4 minutes 13 seconds)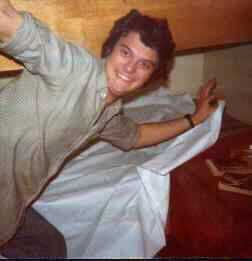 James Ross was first heard on Radio Caroline using the name Kelvin Carter. Formerly a land-based pirate, he had worked alongside other Caroline DJs Don Stevens and Steve Kent on the London pirate Radio Dynamite. He joined Caroline in June 1975. After a brush with the law he decided to change his on-air name and, on 26th November, he returned as James Ross and became one of the regular voices on the station for the next few years (apart from a few months in 1976 when he left for a stint on the Voice of Peace, off the coast of Israel). After leaving Caroline in March 1978, he worked as a lorry driver before joining the AA Traffic Unit, presenting traffic bulletins on LBC and BBC Radio London. In 1983 he left the AA to freelance on Chiltern Radio, LBC, Capital and BFBS among others before moving to Sky News where he was a senior producer for many years. He has now retired. James attended the Radio Caroline 45th birthday reunion and another gathering in 2018. He also took part in the Spirit of the Seventies reunion broadcast in July 2022, and kindly shared his photos of the event with us. (This photo kindly provided by Johnny Lewis's Rounds And Sounds website.)
A short clip of Kelvin Carter on Radio Caroline in 1975 (duration 1 minute 4 seconds)
James Ross on the Caroline Countdown of Album Sound for 20th February 1978. This is an edited version of a recording made available by The Offshore Radio Archive (duration 3 minutes 26 seconds)
Mike Ross Born 17th March 1947 in Chiswick, London, real name Colin Novelle, Mike was working as a disco DJ before he joined Radio Northsea International on 7th September 1970. He took over the 6-9pm show but the station closed down just a few weeks later. He returned to England and club work but on 6th May 1971 was back on the re-started RNI. As well as a DJ, he was also an engineer and, in January 1972, after falling out with a new Programme Director, gave up DJ-ing to concentrate on the technical side, just presenting the occasional show. During that summer he returned to full-time broadcasting and, following his marriage to Sheila in late 1972, the two of them ran the popular Sunday evening Hitback Show. There is a photo of Mike on RNI here. Mike achieved a certain notoriety in the free radio world as "The Toad", a nickname invented by Andy Archer. He left Northsea on 31st January 1974 (despite Radio Seagull's 'Save the Toad' campaign!). He had been Northsea's longest-serving DJ. Mike later worked in nightclubs, for the Ministry of Defence and for Texas Instruments before buying a hotel in Great Yarmouth. Correspondent Kevin Goffin tells us he knew Mike in the late eighties. At that time he was living in Great Yarmouth and DJ-ing, mainly in pubs. He was still using his Mike Ross name. Sadly Mike died on Sunday 25th June 2017 following a short illness. He had been suffering from throat cancer. (Our thanks to his brother-in-law Brian Bosworth for the information. Photo from 'Dee Jay & Radio Monthly' magazine. There is another picture of Mike in Ian Anderson's photo album.)
Mike Ross on Radio Northsea International on the evening of 21st May 1973, recorded via the FM outlet. Tape kindly provided by Hans Knot (duration 4 minutes 33 seconds)

Radio Northsea International car sticker
kindly provided by Roger Hurst.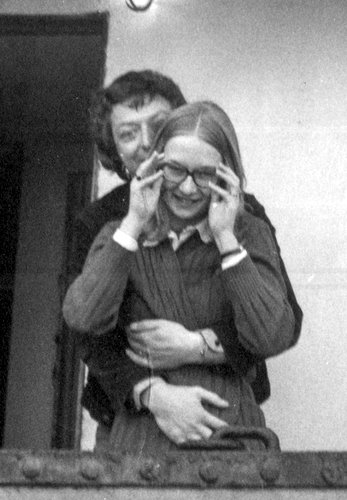 Sheila Ross Mike Ross's wife, the couple jointly presented the weekly Hitback Show on RNI. (This photo is from the collection of A.J Beirens and has been kindly provided by Hans Knot.)

Mike and Sheila Ross on the RNI Hitback Show of 25th March 1973. This is an edited version of a recording provided to www.azanorak.com by Theo Bakker. Our thanks to Jim Nantz, Ray Robinson and Theo (duration 4 minutes 19 seconds)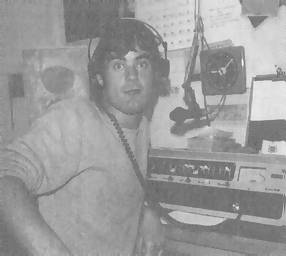 Stuart Russell Birthday 1st March. One of the mainstays of Radio Caroline over many years, Stuart joined the station in May 1976, straight from school, just as the daytime 192 metre service was starting. His was a regular voice over the next two years and he, together with Roger Mathews, set a record by working on board for a continuous thirteen weeks and six days (from October 1977 to February 1978). Stuart left the ship in October 1978 but continued to work for Caroline on land and, during the summer of 1979, appeared on Caroline Roadshow gigs in the Benelux. On 11th August 1979 he returned to the ship. His last show from the mv Mi Amigo was broadcast in the Dutch Service on 31st January 1980 but he continued to work on the organisational side ashore. After the Mi Amigo sank he was involved in a couple of unsuccessful attempts to launch new offshore ventures - Radio Phoenix and Radio Paradise - but instead his return to the air came when Radio Caroline resumed broadcasting from a new ship, the Ross Revenge. Stuart was heard again, both under that name and as Nigel Harris (see The Pirate Radio Hall of Fame 'Eighties Supplement'). At the Amsterdam Radio Day in 2009, he was presented with an award by Radio Caroline as a mark of appreciation of his 33 years of loyal service to the station (see photos). As Nigel Harris he currently presents a weekly show on the internet incarnation of Caroline and, as Stuart Russell, can be heard on Quasar Radio. He has written an excellent book about his offshore career, Ships In Troubled Waters, under his Nigel Harris name. The photo, left, is from the book. Away from the radio, he is a church organist. There are some recent photos of him taken at a 2018 DJs' reunion here and a 2022 broadcast here.
Stuart Russell on Radio Caroline just after 6 o'clock on 15th August 1977. Earlier that day the disc-jockeys had enjoyed a visit from fans who had been attending the Flashback 67 convention which had taken place over the previous couple of days. Confusingly this recording has been provided by another Stuart Russell who is no relation to the DJ (duration 4 minutes 30 seconds)