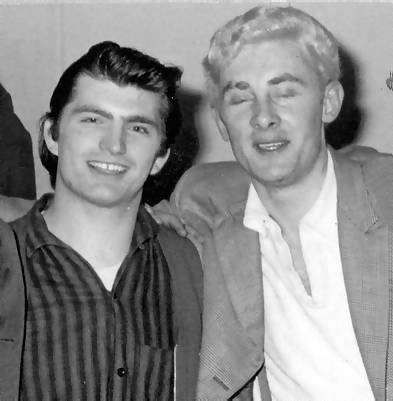 Colin Dale was brought up in Kilburn, north London, where he was a neighbour of Screaming Lord Sutch. Both the Dale and Sutch families later moved to Harrow in Middlesex and the two became good friends. When he was 22 years old, Colin started working with Sutch's band in a rôle he describes as "general factotum" - basically he did whatever jobs needed doing. Sometimes he was a singer, sometimes roadie, sometimes Master of Ceremonies, etc.. When Sutch started planning his radio station, it was natural that he should ask his old friend to get involved and Colin agreed. He was there on day one as the DJs posed for press photographers on the trawler Cornucopia. Speaking to The Pirate Radio Hall of Fame Colin is now prepared to admit that the ship was just used for publicity. They never actually broadcast from the vessel. Radio Sutch actually launched in May 1964 from Shivering Sands anti-aircraft fort in the Thames estuary. Although built during the Second World War, Shivering Sands had been occupied by the armed forces for some years after the war had ended and Colin remembers it was still in good condition in 1964. He says "while the other stations' DJs were slopping around and spewing up, these wonderful towers were as solid as a rock." (For more about this unique station, see here.) Radio Sutch only lasted a few months and, in September 1964, Sutch's manager Reg Calvert relaunched it as Radio City. Colin didn't stay on. He says "I didn't get on with Reg very well. He had a temper and, I must admit, so did I. And, to be honest, I could make more money elsewhere." That was the end of Colin's radio career. Since then he has been self-employed, working in a number of different fields but mainly hotels and antique dealing. He was also a local councillor and stood for Parliament, representing UKIP in the 2001 General Election, when he polled 847 votes. He now runs Buccaneer Antiques in North Wales. As he says "I am still an old pirate at heart". In recent years Colin has made television appearances on Bargain Hunt, Dickinson's Real Deals and faced Anne Robinson on The Weakest Link. (Our thanks to Colin for the photo which shows him, on the right, with Screaming Lord Sutch. For more about his time in offshore radio, see here.)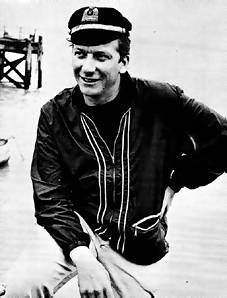 Robbie Dale was born in Littleborough, Lancashire, on 21st April 1940. After spells as an antiques dealer, press agent, salesman, bellboy and serving in the army, Robbie was working as a DJ in a discotheque in Kensington, west London, when he was spotted by Radio Caroline's Gerry Duncan. Gerry suggested that he should audition for the station which resulted in Robbie joining Caroline South in April 1966. He took over the evening Caroline Club Request Show, which became known as Robbie Dale's Diary. He appointed himself "Admiral" when he founded the "Beat Fleet," an organisation which doubled as free radio supporters association and fan club. Robbie used both sides of the same single as his theme tunes at different times. The A-side was I Was Kaiser Bill's Batman by Whistling Jack Smith but he also used the B-side The British Grin And Bear. Previously he had also used Yellow Jacket by The Ventures and for a brief time it was Fugue no.5 in D Major by the Swingle Singers. After the Marine Offences Act became law he elected to stay with Caroline and was joint Programme Controller and Senior DJ for the South ship with Johnnie Walker. He presented the morning show until a stomach ulcer forced him to leave the ship in January 1968, although he continued to work for the station on shore. After Caroline closed down in March 1968 he joined Radio Veronica, the Dutch pirate, later moving to Hilversum radio and TV. He returned to the UK in 1973 and ran an office-cleaning company. He was involved in a failed bid for the Belfast commercial radio franchise, which went instead to Downtown Radio. He later went to Dublin where he operated the very successful Sunshine Radio until government legislation closed it at the end of 1988. He then moved to Lanzarote in the Canary Islands having bought a holiday complex there. He and his wife Stella continued to live on the island after retirement but sadly Robbie died on 31st August 2021. The Pirate Radio Hall of Fame's tribute to him is here. Robbie was always very supportive of this site and made a number of contributions. You can read his memories of joining Caroline here. There are more pictures of him here, here and here. Some photos from Robbie's own collection are available here and there are some more recent photos taken at Caroline's 40th birthday party, the Radio Academy Celebration of Offshore Radio and the Offshore 50 reunion. (This photo was issued by The Caroline Club. Thanks to Geoff Toon for some of the above information. Some theme tune details courtesy of Kees Brinkerink, Frank van Heerde and Alan Field.)
"Robbie on radio" on 13th August 1966 on The Caroline Club Request Show, an extract from the Offshore Echo's tape Offshore Classics vol.8, used with kind permission (duration 2 minutes 26 seconds)
Robbie Dale on Radio Caroline South during the morning of 29th July 1967. This is an edited version of a recording available from www.azanorak.com. Our thanks to Ray Robinson (duration 4 minutes 34 seconds)
Robbie Dale on the Dutch station Radio Veronica from the evening of 17th March 1969. This clip is taken from a copy of the studio master tape kindly provided by Herman Content (duration 2 minutes 53 seconds)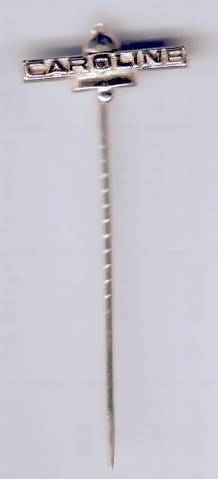 Thanks to Colin Nicol for this picture of a Radio Caroline pin badge.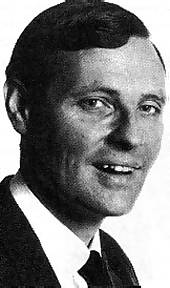 Ian Damon Born in Sydney, Australia, on 5th June 1935, Ian's first job was with a music publisher but he always wanted to work in radio. He started with station 2RG in Griffith, New South Wales, a small country station where he turned his hand to everything: sales, sports reporting, script writing and broadcasting. Three and a half years later he moved to 2LF in Young, 240 miles from Sydney. In 1966 he left Young and came to the UK. He took a job as a salesman for Bowater Scott, but also found time to do some hospital radio work and a bit of DJ-ing. When Radio London promoted a disco at the Rhodes Centre in Bishop's Stortford, where Ian was the resident disc-jockey, he met some of the team. They suggested he should apply for a job on the ship. Although concerned that the station only had a short time left before the legislation, Ian was persuaded and he joined Radio London on 18th June 1967. Nicknamed "Wombat" by Tony Brandon, he opened each show with the greeting "hi there, you there" and his theme tune Big Deal by The Tony Osborne Orchestra. He stayed with Radio London until the end, although he was on shore-leave on the actual last day, his final programme being on 7th August. After a bit of work as a reporter on a BBC Radio Two programme called Roundabout and some television announcing, Ian went back to Australia and worked in Bendigo, Wollongong and Sydney. He returned to the UK and took a job in the sales department of Southern Television. From there he moved to Capital Radio, where he combined a career in sales with regular programmes on air, using his real name of Ian Davidson. Since then he has been employed by a number of stations throughout the south of England, including Radio Mercury in Crawley, County Sound Guildford, 210-FM Reading, KFM Tonbridge and Delta Radio in Haslemere, mainly working as a salesman but often finding time to broadcast as well. Ian appeared on the various Radio London restricted service re-creations and, between 2005 and 2008, was on the station known as Big L which broadcast to the UK from an AM transmitter in Holland. We have more recent photos of Ian at the Radio London 40th birthday party, the Radio Academy Celebration of Offshore Radio, Radio London 50th birthday gathering and the Offshore 50 reunion. Some of his own photos taken during his time at sea can be found on the Radio London website and he has his own site at www.idthewombat.co.uk. Ian was interviewed about his career on the 39th edition of the Radio Rollback podcast.
Ian Damon at the start of the 3-6pm show on Radio London, Saturday 8th July 1967 (duration 2 minutes 28 seconds)


Saville Theatre adverts mentioning compère Rick Dane, shared on Facebook by Tony Bramwell. Click to enlarge.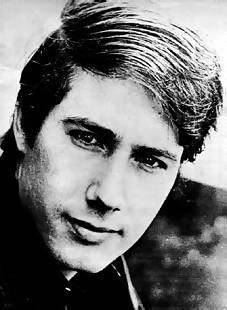 Rick Dane There seems to be some confusion as to where and when Rick was born. Who's Who In Pop Radio says it was Cape Town, South Africa. John Venmore-Rowland's Radio Caroline claims Port Louis, Mauritius, on 22nd February 1941. A 1967 profile in the New Musical Express says Mauritius but prefers the birth year of 1945. The article also gives his real name as Randal Gautier. All agree that, while still a teenager, he worked on Springbok Radio in South Africa as well as compèring touring pop package shows. Rick came to England and studied acting at the Webber Douglas Academy, performing in a stage version of The Knack and acting alongside Vanessa Redgrave in The World's Baby at London's Royal Court Theatre. After a spell as resident DJ at the Wimbledon Palais, Rick joined Radio Caroline in early 1966. He worked on both ships and had a couple of different theme tunes: All For You by Earl Van Dyke and In The Midnight Hour by Little Mack and the Boss Sound. He was involved in a drama at sea when, in May 1966, he helped rescue two female sailors when their catamaran got into trouble near Caroline South. After he left the ship at the end of 1966, Rick continued to be heard on the station via the pre-recorded Lucky Birthday Bonanza competition. He was involved in the promotion of concerts at London's Saville Theatre, then owned by Beatles manager Brian Epstein, and was one of the many ex-pirates to join Radio One at its launch in September 1967. He co-hosted an edition of Top Gear with Pete Drummond on 22nd October 1967 and presented a series called Radio One O'Clock the following year but did not stay with the station for long. He also appeared in a 1967 movie The Mini Affair (also known as 'The Mini-Mob') alongside singer Georgie Fame and a cast that included Clement Freud, Clive Dunn, Roy Kinnear and Willie Rushton. Rick worked in club promotion, both in the UK and on the continent, later running a company that installed audio-visual equipment to the hospitality industry, based in Miami, Florida. To see a picture of Rick in action in the Caroline South studio, see Keith Hampshire's photo album. (This photo was issued by The Caroline Club. Thanks to Mike Barraclough.)
Rick Dane on Sunday morning 13th August 1966 on Radio Caroline South and presenting an edition of Lucky Birthday Bonanza from 2nd June 1967. The first tape is courtesy of Ray Andrews, the second kindly provided by Steve Kirby (duration 3 minutes 4 seconds)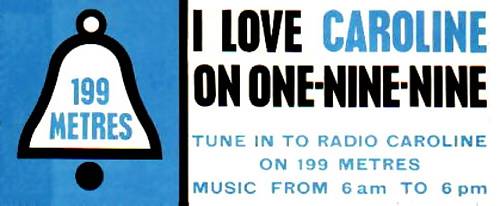 Thanks to Petra Henderson for these Caroline car stickers.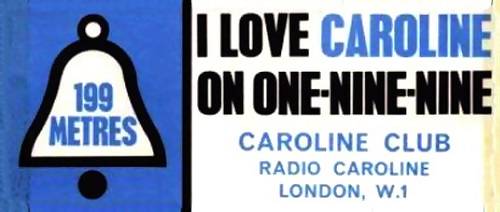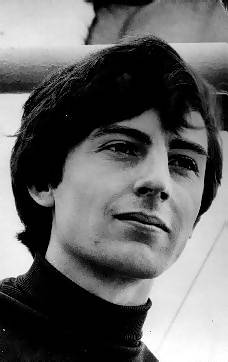 Roger Day Born 29th March 1945 in Cheltenham, Gloucestershire, Roger was living in Kent during the sixties. His first brush with fame came with an appearance on Southern TV's Pop The Question music quiz, hosted by Muriel Young in 1965. By the following year he was working as an accountant by day and part-time DJ at night. Dave Cash told Roger that some Americans were in London, recruiting for a new radio station. He went to see them and was invited to join "Swinging" Radio England. One of the original team on day one, he was the only one to survive until the station closed down a turbulent six months later. After a few months playing records in boxer Billy Walker's Uppercut Club, he joined Caroline South in July 1967. Known as "Roger 'Twiggy' Day, your thinner record spinner", he opened every show with brief clips of Let's Go Trippin' and Shut Down Part II, both by the Beach Boys, followed by his theme tune, The Ventures' Green Grass. His catch-phrase was "Hi, hello, how are you?" Roger was on board the Mi Amigo on the day the ship was towed away by creditors in March 1968. He then worked for Radio Luxembourg before returning to the water with Radio Northsea International (see The Pirate Radio Hall of Fame 'Seventies Supplement'). He has since been heard on Piccadilly Radio in Manchester, BRMB in Birmingham, Radio West in Bristol, Invicta in Canterbury, Pirate-FM Cornwall, Jazz-FM London and County Sound Guildford, among others. In June 2003 Roger started presenting programmes on the internet incarnation of Radio Caroline but had to stop when he joined Birmingham's Saga Radio. He then moved to BBC Radio Kent where he presented a popular weekday evening show. Unfortunately this was dropped due to BBC budget cuts and Roger was reduced to just a Saturday evening programme. He set-up an internet station called UnCool Radio, supported by contributions from listeners and accessible via his website www.rogerday.co.uk. These programmes were also heard on Caroline Flashback and Delux Radio. Roger moved to Spain and, for a time, continued with the Radio Kent show but it has now stopped. He can currently be heard in Spain on Bay Radio and in the UK on Boom Radio. He also hosts the syndicated Sixties Vinyl Countdown programme. Roger published his autobiography Pirate of the Airwaves in July 2023. For more photos and recordings, check out Spotlight On Roger Day. In March 2004 Roger organised Caroline's fortieth birthday party. There are pictures of the event here. Pictures of the 45th birthday party, five years later, are here. He has also written about his memories of joining his first station for our feature on Radio England and Britain Radio and we have some pictures taken at their 40th anniversary reunion, the Radio Academy Celebration of Offshore Radio and the Offshore 50 reunion. (This promotional photo was issued by Radio England / Britain Radio. Many thanks to Roger for his help. Theme tune details courtesy of Kees Brinkerink, Frank van Heerde and Alan Field.)
Roger Day in manic mode on an evening show from "Swinging" Radio England in October 1966. Tape kindly provided by Stuart Russell (duration 1 minute 47 seconds)
Roger Day almost a year later, at the end of August 1967, presenting the 3-6pm show on Radio Caroline South International. This tape courtesy of Ray Andrews (duration 2 minutes 53 seconds)
The Pirate Radio Hall of Fame needs your

The site is updated regularly and we are always on the look-out for new material to add. If you have any information, photographs, recordings or contact details for any of the disc-jockeys we haven't been able to trace, please get in touch.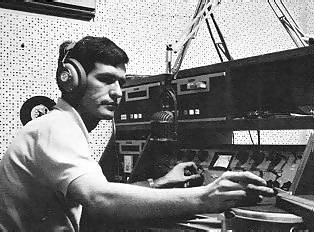 Larry Dean "Swinging" Radio England launched in May 1966 with a predominantly American DJ crew, three of the team coming from the same town of Moultrie in Georgia. Larry was one of them, the other two being Ron O'Quinn and Jerry Smithwick. Larry's real name was Frank Laseter. He had started working in radio at the age of 15 while still at school. He had gone on to a number of different stations and, like many of his fellow American broadcasters, had used various names on air. He says: "I first started using Larry Dean as an air name in June of 1963 when I was hired at WVLD in Valdosta, Georgia. I continued to use that name until I left in September of the next year. When I took the new job in Tampa, Florida, they decided that I should use 'James Bond'. Not what I would have wanted but it was a job. I returned to Larry Dean when I departed for WPTR the summer of the following year." WPTR in Albany, New York, had a fine jingle package produced by PAMS of Dallas and when Larry left there to join "Swinging" Radio England, he brought a copy of the jingle master tape with him. These jingles were too good to waste and a number of his new colleagues chose their DJ names from the tape. Chuck Blair, Johnnie Walker, Greg Warren and Boom Boom Brannigan were all WPTR broadcasters who, unknowingly, had identically named colleagues on this side of the Atlantic. Radio England did not last long and Larry did not stay for its full term. In late summer 1966 he returned to America and resumed his career there. His last job was as the morning news man on country music station WSOC in Charlotte, North Carolina, where he used his real name. You can hear more of Larry in our feature on Radio England and Britain Radio and see pictures taken at the Radio England 40th anniversary reunion. In later years he suffered from poor health, losing his eyesight and battling cancer. He died in August 2018. There is more about his career at Radio Years and a fine tribute on the Radio London website. (Photo from 'Who's Who In Pop Radio', published by The New English Library. With many thanks to Alan Field and Svenn Martinsen for their help.)
Larry Dean playing much more music on "Swinging" Radio England from the afternoon of 19th June 1966. Recording kindly provided by Svenn Martinsen (duration 4 minute 46 seconds)
Alexander Dee Real name Dennis Swinnerton, born in Birmingham in 1944, Alex trained to be an actor for two years after finishing school but, instead of finding fame on the stage or silver screen, it was offshore radio that brought him success. He joined Radio City in 1965. This station, on Shivering Sands fort off the Kent coast, had a huge turnover of staff, as various presenters were given a one week trial and then paid off with a fiver for their troubles. But Alex stayed for a year. In 1966 he transferred north to Radio 270, where he hosted the 9pm-midnight show. His theme tune on Radio City was Manhattan Spiritual by Eric Delaney & his band. On Radio 270 it was Along the Boulevard by Joe Loss and his Orchestra. Alex left 270 in November 1966 after expressing doubts about the ship's sea-worthiness to a newspaper. In 1969 he was back on Radio City's old fort, not for broadcasting purposes but to start a "hippy" commune. It is thought that he was later heard on BBC local radio but, when contacted by Monitor magazine in 1972, was working as a shop assistant. We have been told that sadly Alex died in 1995. (Photo from 'Who's Who In Pop Radio', published by The New English Library. Our thanks to Hans Knot, Roger Kemp and Martin van der Ven for the theme tune information.)
Alexander Dee on Radio City, one afternoon in August 1965. This clip is part of a longer recording shared by The Offshore Radio Archive (duration 2 minutes 35 seconds)
Alex on Radio 270 from 1966. Tape kindly provided by Stuart Russell (duration 1 minute 44 seconds)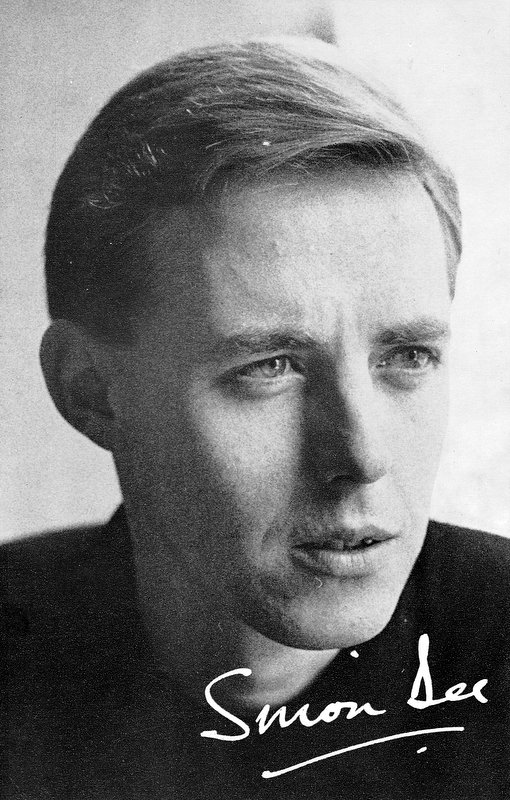 Simon Dee Simon's official Radio Caroline biography, released by the press office in 1964, said that he was born Carl Henty-Dodd in Ottawa, Canada, on 28th July 1935 and came to Britain at the age of 11. In fact this was not true. The book Whatever Happened To Simon Dee? reveals that he was actually Cyril Nicholas Henty-Dodd and was born in England. In fact, traditionally, all the males in the Henty-Dodd family had Cyril as a first name so they were called by their second name to differentiate them. So Simon Dee was known as Nicholas or Nicky to family and friends. The rest of the Caroline biography is largely accurate. Simon was educated at Shrewsbury public school (albeit briefly) and had previously worked as a bouncer in a coffee bar, an actor, a photographic assistant to Lord Snowdon, designer for Christian Dior and vacuum cleaner salesman, among many other things, before joining Radio Caroline for day one at Easter 1964. He had also studied acting with Caroline boss Ronan O'Rahilly which was how his came to be the first voice heard on the station on Easter Saturday, welcoming listeners to the station before handing over to the first programme which was presented by the only other DJ on the ship, Chris Moore. Simon was the first star of offshore radio. His theme tune was On The Sunny Side Of The Street by the Tommy Dorsey Orchestra. The (now defunct?) Thank Your Lucky Stars website reported that Simon was the guest DJ on this legendary Saturday evening ITV pop music television show on 27th February 1965. Later that year he was the first pirate broadcaster to become a national radio personality when the BBC offered him a show on the Light Programme which, to use his catch-phrase, "can't be bad". He also had a flourishing TV career and his BBC chat show Dee Time was an enormous success. For a time he could do no wrong. He appeared in a number of films including cult classic The Italian Job with Michael Caine. In 1970 London Weekend Television made him a lucrative offer to present a late night chat show. Sadly this new programme did not work out and his contract was prematurely terminated after just a few months. It was the end of his position as media golden boy. That same year he joined with his former Caroline boss, Ronan O'Rahilly, to campaign against the jamming of the Swiss-owned pirate ship, Radio Northsea International. This campaign issued a poster of Prime Minister Harold Wilson which caused some controversy. (There is a picture of Simon with a copy of it here.) Official papers, released under the thirty year rule, show that he came close to prosecution for his part in the campaign. Simon then did a number of jobs, including working as a bus driver and journalist. Although his career never returned to its former glory, he did present a series on sixties pop for BBC Radio Two in the late eighties. In December 2003 Channel 4 Television devoted two programmes to him, scheduled back to back. The first, Dee Construction, told the story of his rise and fall while the second, after 33 years, was a revival of Dee Time. Simon was one of the many DJs to attend Caroline's fortieth birthday party in March 2004. There are photos here. He died of bone cancer after a short illness in August 2009. Our tribute to him is here. He was 74. (There is a series of articles from 'Titbits' magazine, written by Simon in 1966, here and some photos from 1965 here. This photo was issued by The Caroline Club. Thanks to Nigel Fell.)
Simon Dee on Radio Caroline's Soundtrack programme from April 1964. This is an edited version of a recording available from www.azanorak.com. Our thanks to Ray Robinson (duration 3 minutes 1 second)
The first ever live music session on a British pirate station, from 1965. Simon Dee introduces the Jimmy Smith Trio. The group had to play out on the deck because Jimmy's Hammond organ was too big to get down the companionway into the studio. Understandably, there is a certain amount of wind noise. Tape kindly provided by the late Dick Morecraft. For the second live music session, see Alan Black. You can hear more of Simon on the Chris Moore aircheck (duration 2 minutes 54 seconds)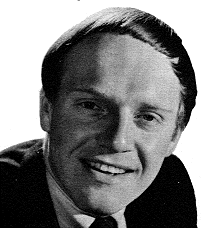 Chris Denning There has been some debate over whether Chris Denning should be allowed into The Pirate Radio Hall of Fame. The general consensus seems to be that if he was an important contributor to sixties offshore radio (which he was) then he should be included, irrespective of what he got up to in his private life. Born in Hayes, Middlesex, on 10th May 1941, Chris was a radio enthusiast from a very early age. As a teenager he appeared on a short wave radio station from the USA and on Radio Moscow. Keen to make a career for himself in broadcasting, he applied to the British Forces Network, was accepted and posted to Kenya, where one of his colleagues was Keith Skues. On his return to the UK Chris became the first announcer on the new BBC-2 television channel. Radio Luxembourg offered him a job in the Grand Duchy and he was with "the station of the stars" for nearly two years. In March 1966 he came back to Britain and, after meeting Ed Stewart in a club, was invited to join Radio London. He was the first DJ on the station to be allowed to keep his own name. His theme tune was Right of Way by the Andrew Loog Oldham Orchestra. Chris left to join BBC radio in August 1966. The following year he presented the ground-breaking Where It's At on the Light Programme which also featured his old Radio London colleagues Kenny Everett and Duncan Johnson. He was part of the Radio One launch team but left the BBC to work for various record companies. He became a freelance voice-over and was heard reading the news on Capital Radio in London in 1980 during a journalists' strike. Sexual indiscretions brought him to the regular attention of the police and he was jailed for offences in 1985, 1988 and 1996. In 1997 he was arrested in Prague and served a three and a half year prison sentence. In August 2005 he returned to the UK, was arrested at Heathrow Airport and, in February 2006, was given another jail sentence. Following his release in 2008 he was extradited to Slovakia to face child porn charges and in October that year was sentenced by a district court in Bratislava to five years in prison. In London's Southwark Crown Court in November 2014 he pleaded guilty to a number of charges relating to sexual abuse committed between 1967 and 1987. He was sentenced to 13 years in prison. In 2016 he was back in court and pleaded guilty to 21 further child sex offences committed between 1969 and 1986. He was jailed for another 13 years. He died on 24th June 2022 in a Bedford hospital from a bacterial infection caused by diabetes. At that time he was serving his jail term at HMP Bedford. (Photo from 'Who's Who In Pop Radio', published by The New English Library.)
Chris Denning sitting in for Tony Windsor on the morning of Saturday 21st May 1966. Tape kindly provided by Stuart Russell (duration 3 minutes 8 seconds)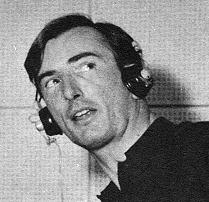 Dave Dennis After working briefly as a farmer, Dave trained as an actor at the Central School of Speech and Drama. He presented programmes on both Radio Atlanta, the station that later became Caroline South, and on Radio Invicta, a low powered sweet music station which later became Radio 390. On both, he used his real name of Neil Spence. He heard about the arrival of Radio London and sent them a demo tape. He got the job and a new name: Dave Dennis, otherwise known as "The Double D". His catch phrase was a shouted "That's a lovely one there, squire" which he scattered liberally throughout his lunchtime shows and huis them tune was Up A Lazy River by Si Zentner. Along with his colleague Pete Brady he helped save USAF pilot John C. Winn who had been forced to eject from his Voodoo jet at almost supersonic speed and had landed in the icy North Sea (see here). Dave left Radio London in December 1966, having released a record: Yes Virginia There Is A Santa Claus, written by his fellow DJ Tony Windsor. Sadly, it was not a hit. He later ran the United Biscuits factory radio station, was Programme Director of Nottingham's Radio Trent and taught the next generation of DJs at the National Broadcasting School. He died in December 2007 and there is a tribute to him here. (Photo from 'Who's Who In Pop Radio', published by The New English Library. There are more photos of him here.)
Dave Dennis live in "Dave's Den" from October 1966, an extract from Offshore Echo's tape More Highlights Of Big L part one, used with kind permission (duration 3 minutes 37 seconds)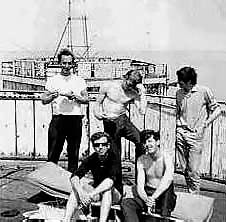 Thanks to Radio City's Dick Dixon for this picture of himself and some of his colleagues on the roof of the fort.
Left to right, back: engineer Phil Perkins, Alex Dee, "someone I can't remember", front: Dick and Chris Cross.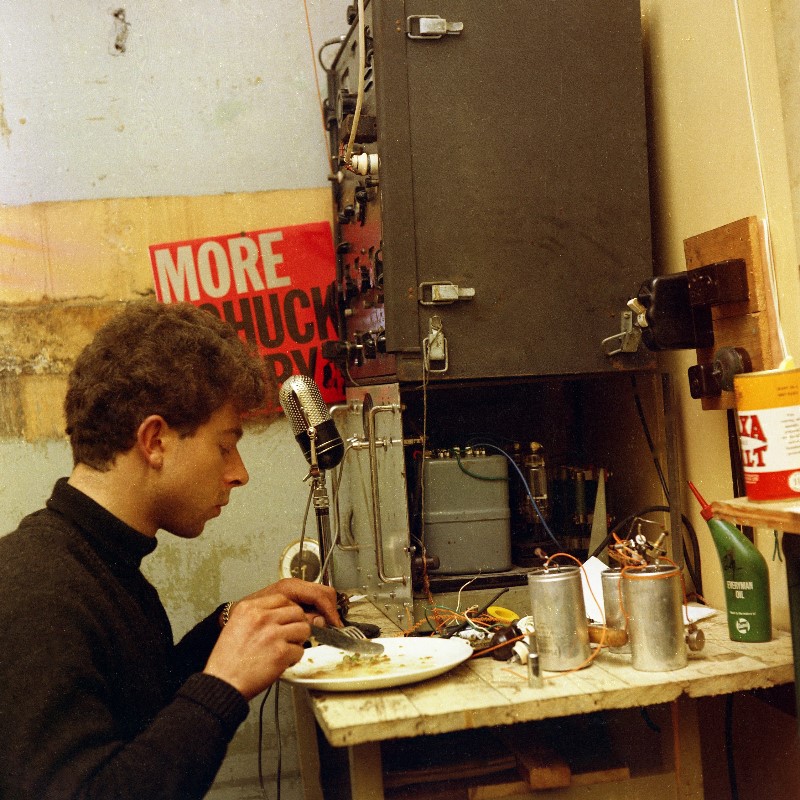 Dick Dickson / Dixon After spending his early years in London and Hampshire, Dick's family moved to Ramsgate in the early sixties and he remembers "that is when I heard Reg Calvert advertising for a radio engineer and DJ on a very faint signal from Radio Sutch." Dick got in touch with Calvert, Sutch's manager, and soon found himself working on Shivering Sands, the old war-time fort that Sutch and Calvert had recently occupied. Everybody on the fort was expected to contribute on air so Dick Dickson was frequently heard presenting programmes on Radio Sutch. This continued as Reg Calvert took over the station and renamed it Radio City. At the same time Dick altered the spelling of his surname. Radio Sutch's Dick Dickson became Radio City's Dick Dixon. During the summer of 1965 Calvert began talks with Allan Crawford, boss of Caroline South. Caroline was losing listeners to Radio London and, as a result, advertising revenue had plummeted. Caroline needed to cut costs and Crawford was thinking of buying Shivering Sands. He thought that a nice stable fort would be a cheaper base of operations than a ship. Calvert was keen to take his money but did not want to leave the radio business altogether so he dispatched some of his men to investigate another Thames structure, Knock John, to see what the condition of the tower was and if it was feasible to use it for broadcasting. The initial survey looked encouraging and a couple of weeks later, Dick was sent back with a small diesel generator and a Cossor transmitter, previously used for putting out night-time religious programmes on 188 metres. The plan was that they would launch "City 2" from Knock John. Unfortunately someone else had other plans for the fort: Essex businessman Roy Bates. When Dick and his colleagues arrived, they found that Bates had claimed the tower and left two men to guard it. A certain amount of disagreement followed. Despite press reports of fighting between the two groups, Dick says there was never any violence. However Roy Bates did order the City men off Knock John and proceeded to return them to Shivering Sands in his boat. On the journey back, Bates mentioned to Dick that he was looking for a radio engineer and suggested he might like to join the team. At that time Dick wasn't interested. He already had a job. But when he got back to City without the transmitter, Reg was furious and fired him. Dick was now suddenly free to take Bates up on the job offer. So he joined the guys setting up the new station on Knock John, Radio Essex. He says "Although I was employed as a radio/audio engineer, I filled in as a DJ/presenter on The Big Band Sounds when David Sinclair was on shore but mainly I did the stint through the night from 2 to 8am. I used to like working through the early hours and I still do." Dick stayed with Radio Essex for about a year. He has now retired after working as a technician with the University of Kent for some years. In September 2014 he organised a reunion in Whitstable to mark Radio City's 50th birthday. Dick also attended the Offshore 50 reunion in August 2017. (Many thanks to Dick for providing the above information and to George Morris for the photo, issued by The Free Radio Association.)
a very short clip of Dick Dickson, as he was then, on Radio Sutch in 1964. Recording kindly provided by Martyn Webster (duration 33 seconds)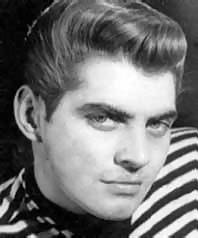 Peter Dolphin was an actor, originally from Birmingham. He was a regular on British television, including a 1961 appearance in the legendary Danger Man series (an episode called 'Sabotage') and was in Dixon Of Dock Green a number of times. In 1966, in a gap between acting jobs, he briefly joined Radio City as a newsreader. Unfortunately it was not a good time to be on the station. Only a few days into Peter's offshore career, the station was silenced by a raid on the fort. This dramatic event led to the death of station boss, Reg Calvert. Radio City was kept off the air for a week and, by the time it returned, Peter had decided that there were safer ways to make a living. He left the fort and returned to acting. In the seventies he appeared in Gerry Anderson's series U.F.O (an episode called 'The Psychobombs') and, in the eighties, he was in another science fiction series Tripods. He moved to France in 1992. A French website has reported that he died on 1st May 2009, aged 73. (Photo provided by Peter. Research into his acting career from UFO - The Series and IMDB.)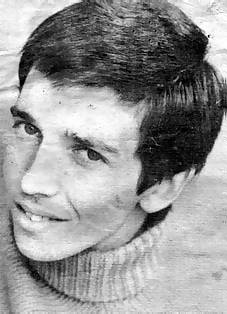 Pete Drummond was born in Bangor, Wales, on 29th July 1943. As a child he lived in Australia and France before attending Millfield public school where one of his fellow pupils was Tony Blackburn. He trained as an actor and, while working in a play touring America, realised that British accents were in great demand on US radio. It was the time of "The British Invasion" and every station wanted its own Beatles sound-alike. This same phenomenon also provided a training ground for Tommy Vance and John Peel among others. He worked on stations in Wichita and Topeka but returned to the UK in August 1966. He joined Radio London the following month, staying with the station until its closure. Known as "Dum Dum," his theme tune was Marble Breaks, Iron Bends by Peter Fenton and he ended each show with this piece of advice: "Smile, it makes everyone else wonder what you've been up to." Since his pirate days he has been heard on BBC Radio One & the World Service and now works as a freelance commercial voice-over. (Photo from 'Radio News'.)
Pete Drummond on his final show for Radio London, the morning of Monday 14th August 1967. Tape kindly provided by Stuart Russell (duration 3 minutes 3 seconds)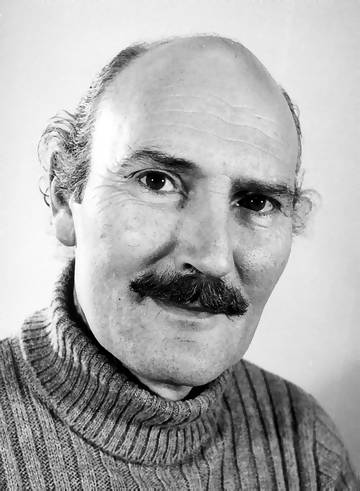 Peter Ducrow When Radio Caroline and Radio Atlanta merged in July 1964, some of the Atlanta DJs resigned rather than work on Caroline South (as the station was now to be known). This was mainly because Caroline's shows were presented live from the ship whereas Atlanta's had been recorded on land. Some of the Atlanta guys didn't want to work at sea. Some new broadcasters were needed to take their place and one of these was Peter Ducrow. Like many of the early offshore broadcasters, he was an actor and he appeared in a number of the seminal British TV series of the sixties, including Z Cars, Doctor Who and Adam Adamant, in which he played the hero's arch-enemy, 'The Face' (see IMDB). Margaret Bailey contacted The Pirate Radio Hall of Fame: "Peter Ducrow was my father-in-law. Ducrow was his stage name. His real name was Peter Bailey. He took the name Ducrow from his famous ancestor, Andrew Ducrow an equestrian and circus manager. My husband Simon, Peter's son, used to go fishing off Walton Pier as a young lad and would listen to his dad doing a request programme. His dad tried to arrange for him to visit the ship a couple of times but it was cancelled due to bad weather." Peter left Caroline in August 1964 to continue his acting career. He didn't abandon radio altogether, appearing on BBC schools broadcasts for over 15 years, taking part in over 4,000 programmes. Margaret continues "sad to say he died in 1976, aged 59, of a heart attack. He was a very talented character actor on TV, stage and screen - never a big star but always in work. We still miss him." (With grateful thanks to Margaret Bailey.)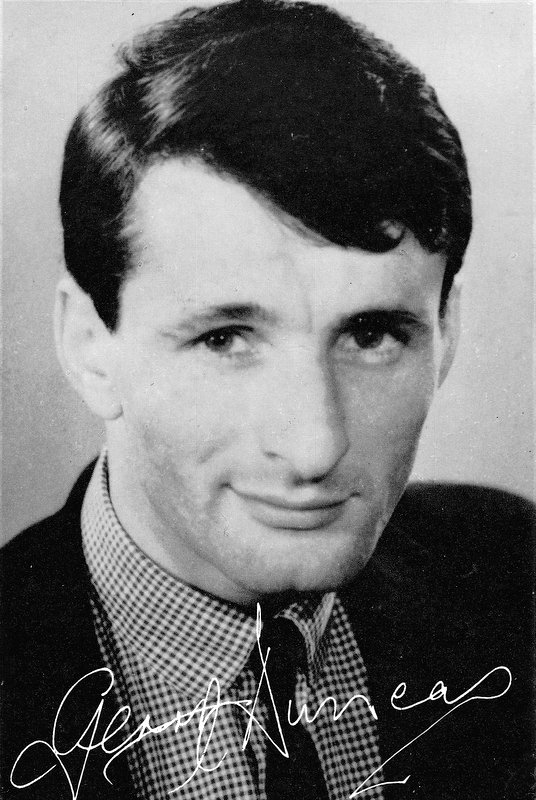 Gerry Duncan (or Jerry Duncan) was heard occasionally on Radio Caroline during the early days of the station but was mainly employed behind the scenes as a producer, making taped programmes on land and recording commercials. He was also responsible for Caroline's "sound of the nation" jingle package. Born in 1937 in London, he served in the RAF before finding work as assistant to film director Lewis Gilbert. Gerry worked on a couple of major films, Light Up The Sky and Sink The Bismark before moving into television in 1960 as a cameraman with ATV. He joined Caroline four years later and stayed until January 1967. He died during the seventies. (His first name was spelt 'Gerry' in Radio Caroline publicity material but this memo from 1964 shows that he preferred to spell it 'Jerry'.) (Photo issued by The Caroline Club.)
Gerry Duncan ending a late night jazz programme on Radio Caroline, 4th July 1964. This clip is taken from a recording made by Terje Isberg in Sweden, shared on www.azanorak.com by Mike Barraclough. Our thanks to Terje, Mike and Ray Robinson (duration 58 seconds)