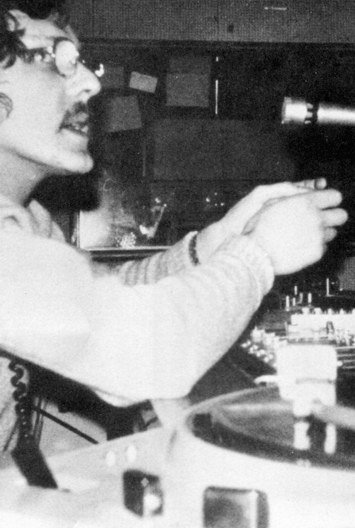 Trevor Campbell Born and educated in Belfast, Northern Ireland, Trevor spent a lot of time listening to Radio Luxemburg and Radio Caroline North while growing up. They inspired him to want to become a broadcaster. In 1970 he met and became friends with DJ "Daffy" Don Allen. In November 1972 Don, then running the English language service of Radio Northsea International, offered him a job. Trevor gave up his career as a civil servant and headed for Holland to join the station. Unfortunately acute sea-sickness intervened and he was forced to return home without presenting a single show. Instead his debut came in the early hours of 15th April 1973, in calmer seas, when he was visiting the Mebo II with journalist Dave Johns who was on board to interview the DJs for 'Dee Jay and Radio Monthly'. We previously reported that Trevor presented a one hour show on the short wave 'World Service' later that same day. Can anyone confirm this? After his one day spell as an offshore DJ Trevor went on to a long career in broadcasting on land when, in 1976 he joined Belfast's Downtown Radio. More than forty years later, he is still there. (Photo kindly provided by Hans Knot.)
Trevor Campbell on RNI from the morning of 15th April 1973. Apologies for the interference. Recording from the collection of Wim Willems, kindly provided by Vincent Schriel (duration 4 minutes 43 seconds)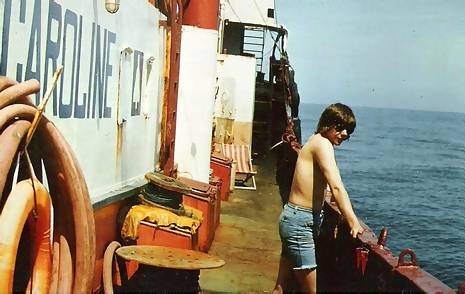 Jeremy Chartham An engineer on Radio Caroline, Jeremy presented one show on the station on 21st June 1979. Bob Lawrence (formerly Caroline DJ Richard Thompson) tells us that Jeremy was given his on-air name by Tony Allan: his first name came from Jeremy Thorpe, a politician then in the news, and his surname from an intimate personal product then advertised in certain men's magazines! We have also heard from Jeremy himself: "My time with Caroline was during the late seventies. I was an engineer and presented a show that I had actually forgotten about but seemingly it was in June '79. I also did some of the non-stop music hours on the Dutch service. After finishing my A-levels, I joined Caroline and, after the Mi Amigo sank in 1980, I went back to college to study electronics. My only involvement in radio now is with my football club, Crystal Palace, which runs its own matchday RSL Palace Radio. I take care of all the engineering there. I work as a freelance broadcast engineer, principally in television, spending much of my time covering football, rugby and other sports for Sky Television." Since writing this, Jeremy has acquired another involvement in radio - he has presented programmes on the internet incarnation of Radio Caroline and can now be heard on Quasar Radio. There is a recent photo of him, taken at a 2018 DJs' reunion, here. (Our thanks to Jeremy for the information and the photo, and to Bob for his assistance.)
an extract from Jeremy Chartham's one and only programme on Radio Caroline while she was at sea, on 21st June 1979. Recording kindly provided by John Burch (duration 3 minutes 14 seconds)
The Pirate Radio Hall of Fame needs your

The site is updated regularly and we are always on the look-out for new material to add. If you have any information, photographs, recordings or contact details for any of the disc-jockeys we haven't been able to trace, please get in touch.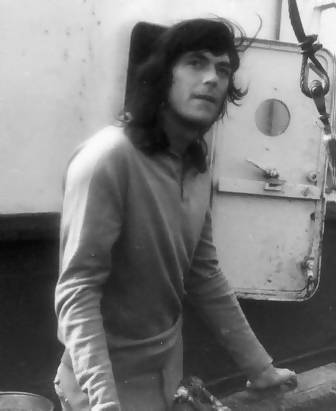 Peter Chicago Not really a DJ, although he has presented many shows over the years, Peter Chicago was one of the behind-the-scenes constants throughout two decades of offshore radio. From Thornton Heath, Surrey, he joined Radio Northsea International as a transmitter engineer in 1970, aged 22. While aboard the Mebo II he presented the occasional show, introducing his first when DJ Carl Mitchell, who was supposed to be on the air, was stranded in a dinghy - lost in fog - having gone on a visit to the neighbouring Radio Veronica ship. It was on RNI that Peter was given his nickname. Duncan Johnson referred to him as "Chicago Pete" because he thought he was the person least like a Chicago gangster he had ever met! Peter joined Radio Caroline as chief engineer as soon as the Mi Amigo returned to sea in 1972 and here too he presented the occasional programme. He was arrested during the police raid on the ship in November 1975 and fined. He still went back to sea but only broadcast very occasionally. In September 1977 he was fined again. His last programme from the Mi Amigo was on 18th December 1977. He was closely involved in the fitting-out of the new ship, the Ross Revenge and, although he only broadcast occasionally, was chief engineer and technical advisor throughout most of the eighties (see entry in The Pirate Radio Hall Of Fame 'Eighties Supplement'). Peter attended Radio Caroline's fortieth birthday party in March 2004. There is a picture here. There is an interview with Peter here. (Photo of Peter on the deck of the Mi Amigo in 1972 taken by Jelle Boonstra and provided by Hans Knot.)
Chicago on Radio Caroline, in the early hours of 12th March 1974. This clip is part of a longer recording made available by The Offshore Radio Archive (duration 3 minutes 55 seconds)

A Radio Caroline car sticker, produced by the Free Radio Campaign.
Ray Cooper had worked briefly on Radio Caroline South in 1967. His biography can be found in the main part of The Pirate Radio Hall of Fame. He also presented the weekly Bacardi Rum Reggae Hour on Radio Northsea International during March and April 1970. We previously described this show as being pre-recorded but Ray has been in touch to say that in fact it was live - and that was why he had to give it up. To present the programmme, he had to travel from Amsterdam to Scheveningen each Sunday and then take a tender out to the ship - and then make the return journey an hour later. He decided that it was too much effort for such a short show. The theme tune for Ray's show was Overproof by King Cannon. There is a photo of Ray, taken during his time on Radio Caroline South, on the Radio London website. Ray's real name is Ralph Pollard and he is now an artist. There is an interview with Ray/Ralph on the Interview Luton website, where you can also see some of his art. (Thanks to Hans Knot for the theme tune information.)
Ray Cooper on the Bacardi Rum Reggae Hour on Radio Northsea International, 8-9pm on 12th April 1970. This is a clip from a longer recording made by the late Buster Pearson and made available via www.azanorak.com by Keith King. Our thanks to Buster, Keith, Jim Nantz and Ray Robinson (duration 2 minutes 54 seconds)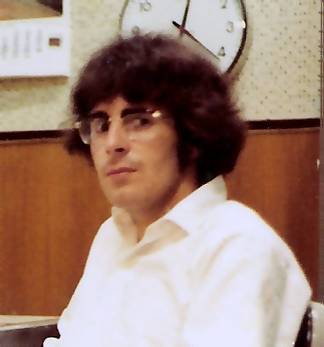 Clive Correll was an engineer with London's Capital Radio. He applied for a job in Saudi Arabia and, having been successful, gave in his notice at Capital. Unfortunately the Saudi work permit took a long time to come through, leaving Clive at a loose end. Caroline was short of a transmitter engineer so in September 1974 Clive went out to the ship to help out. He had previously worked for the BBC and diplomatic radio services so had plenty of transmitter experience. But he hadn't been a DJ before. Like most of the engineers who worked on the offshore stations of the seventies and eighties, Clive was called upon to fill a gap in the schedule. He presented his first show on Caroline on 16th September and presented the occasional programme after that, until he left the ship at the end of October. He later worked for various local commercial stations, as well as for a company installing transmitters all over the world. He now lives in Mexico and in 2018 wrote a book about his career under his real name, Clive Warner. It includes a chapter about his time at sea. Adventures in the Luminiferous Aether is available from Amazon. (Thanks to Clive for this photo. He doesn't have any pictures dating from his time on Caroline. This was taken about eighteen months earlier. For more recent photos, see our coverage of Radio Day 2014 in Amsterdam.)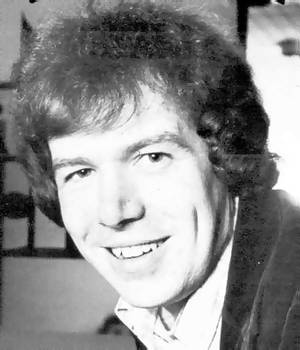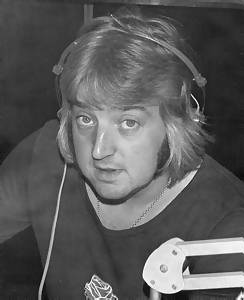 Brian Cullen and Bill Chrisp were signed up to join Radio Northsea International in November 1972 - but neither ever made it onto the air. Brian writes: "Don Allen had hired me after I had hosted one of his fan club get-together discos in Blackpool. I travelled out to Scheveningen with Bill Chrisp from Manx Radio. Unfortunately the weather was so horrendous in Holland that Bill and I weren't allowed to jump on board the 'Trip Tender'. We were told it would be too rough and that happened for quite a few days of bad weather during which time both Bill and I started to run out of money. Hundreds of pounds in those days was a lot of dosh. So sadly we decided to return home. I did meet up with Don a few months later to explain and he was great about it. I think we should admire all those jocks who braved nasty conditions for years on the offshore stations and kept the music going. Sometimes it wasn't easy!" Brian did eventually make it on air, although not on RNI. He has broadcast on BBC Radio Merseyside, Radio City Liverpool, the Marcher Radio Group, The Local Radio Company and Radio Maldwyn. He can currently be heard on internet station Caroline Flashback. Bill returned to Manx Radio where he worked for many years. Brian has very kindly sent us a copy of his RNI contract of employment and some memorabilia from his days as an enthusiastic listener to Radio Caroline North. (Many thanks to Brian for getting in touch and for supplying the photo, left, and the contract. The picture dates from his time with Radio City, a couple of years after his brush with RNI. And thanks also to Bill for providing his photo, right.)