Cyril Scott In late 1979 former Radio Caroline DJ Mike Hagler began supplying pre-recorded programmes to his old station from his home on the west coast of America. Now known as 'Michael Light', his show went by the name of Space Play. On a few Thursday nights they were presented by a couple of Mike's Californian friends, Sara Leone and Cyril Scott (real name David D'Aoud).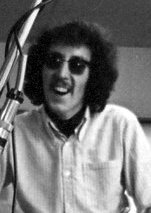 Johnny Scott was a Scottish DJ who was heard on Radio Northsea International during the test transmissions in February 1970. He left before the station formally opened for business. It is believed he had previously been a club DJ. We asked if anyone could provide more information and in November 2010 we heard from Richard Budniak. He wrote: "I was brought up in East Lothian and was into groups and rock music. Around 1970 our group originally Clockmill Lane and then The Eli Kyte Band were playing around central Scotland area when we were approached by a character who claimed to have been a DJ on Radio Northsea International. I think he may well have used the name Johnny Scott since the picture on your site appears to be the same person that managed the band. He also said that he had managed a group called The Four Pennies. My parents put up the funds and we all set off for Germany and Switzerland. He did find us some great gigs through a friend of his called Hans Baer who had a music agency in Zurich. I wonder what ever happened to him." (With thanks to Richard. Photo from 'Offshore Echos'.)
Johnny Scott on a test transmission for Radio Northsea International, 21st February 1970. Recording courtsey of The Offshore Radio Archive (duration 3 minutes 54 seconds)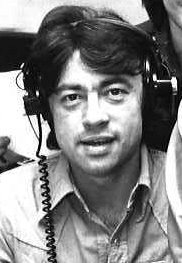 Alan Simons began his broadcasting career in 1968 and had worked on radio stations in North and South America, Sweden and the West Indies but by 1975 was farming in Cumbria. He tuned into Radio Caroline one evening and heard someone say that they needed new DJs. Alan made a tape and sent it off. Some weeks later he got a phone call, inviting him down to London, where he met station founder Ronan O'Rahilly. Alan says they got on very well and Ronan offered him a job. Apparently Ronan said: "anyone who sends me a tape with nothing on, then I just have to meet them". It seems Alan's demo tape had been blank! Despite that, he was out on the ship the next day. This was at the end of April 1975. Alan had two stints on the mv Mi Amigo, leaving in September 1975. In March 1976 he was one of the first presenters on Radio 210 Thames Valley when the independent radio station for the Reading area went on the air but he left within the first month. He tells us that he was fired for dropping news bulletins from a show which featured the last live radio interview with Marc Bolan. Alan was later heard on the Voice of Peace and has since worked all over the world. He now lives in Cheltenham. (Thanks to Alan for his help and to Sam Fryer for putting us in touch. The photo is from Alan's time at Radio 210 and is courtesy of David Addis.)
Alan Simons on Radio Caroline, 13th June 1975. Recording kindly provided by Ian Biggar (duration 3 minutes)
The Pirate Radio Hall of Fame needs your

The site is updated regularly and we are always on the look-out for new material to add. If you have any information, photographs, recordings or contact details for any of the disc-jockeys we haven't been able to trace, please get in touch.
Mark Slate In 1967 he had been heard briefly on Radio Caroline North under the name of Dee Harrison (see the sixties section of The Pirate Radio Hall of Fame.) His old boss on Caroline, Don Allen, became Programme Director of Radio Northsea International in November 1972 and offered Mark a job on the station. He joined under his new name on 16th December 1972. Mark Slate was also the name of the lead male character in the sixties TV series The Girl from UNCLE, a part played by another Harrison, Noel Harrison. Mark left RNI in February 1973. His last programme, which was pre-recorded, went out on the 23rd of that month. Following his time at sea, Mark returned to Merseyside to work at Vauxhall Motors in Ellesmere Port.
Mark Slate on Radio Northsea International's Top 30 show on 22nd December 1972. Recording kindly provided by Hans Knot (duration 3 minutes 18 seconds).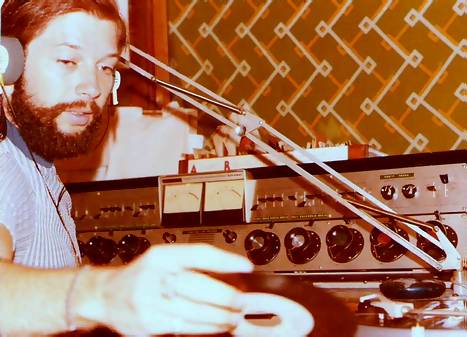 Don Stevens Born 25th March 1953. Like many people growing up in the sixties, Don was fascinated by the offshore stations. He started a mobile disco in 1966 and, for a time, worked for The Birds Nest in Slough, Pantiles, Bagshot and ran Motown and reggae nights in Windsor Lanes Bowl in Burnham, Bucks. He started the landbased pirate station Radio 259 in July 1969 which was on the air 24 hours a day until it was raided in September 1969. He then launched a second AM station, Radio 242, which broadcast until February 1970. In the meantime Don had been fined £10 for operating a pirate radio station. He made a couple of appearances on south London's Radio Jackie in 1970 and was active with the Radio Helen Network. Between 1973 and 1975 he was on Radio Concord, where he made friends with a guy called Keith York. Radio Concord then opened a daytime service, Dynamite 235 (where future Caroline DJs Steve Kent and James Ross were also heard). Through a mutual friend, Nik Oakley of Script magazine, Don got to know Caroline DJ Tony Allan. Don says "Tony became a permanent fixture at my house. My wife Anne and I really enjoyed his company." Tony suggested that Don might like to go out to Caroline. He did, and he presented his first show on the station on 5th March 1975. He stayed for only one stint, until 25th April. Unfortunately the tender taking him ashore was intercepted by the police. Don was arrested, charged and fined £50 with £25 costs under the Marine Offences Act. This put an end to his Caroline career and from May 1975 to February 1976, Don was resident DJ at Sloopy's in Piccadilly Circus, London. Unable to return to Caroline, the station founder, Ronan O'Rahilly, introduced him to Abie Nathan who operated the Voice of Peace radio station off Israel. Don joined the Peace ship in March 1976. He was voted Number One Foreign Broadcaster in Israel by a readers poll in La'Hi'Ton, Israel's pop magazine in January 1977. In February that year CBS Records, Israel, asked him to design a night club in Jaffa, for use as a vehicle to promote disco music. Don says: "El Macho opened in March 1977. I went on to design further clubs and sound systems for Hilton, Sheraton, Rafi Shauli, Mandy Rice Davis and many others. I also presented a pop show with Eli Israeli for Galei Zahal, Israel Army Radio which annoyed Abie Nathan. Apart from night club design and appearances, I worked for Abie on shore, providing accommodation for the DJs, and also appeared on the station for further tours of duty in 1978, '79 and again in 1985. I left Israel in August 1980, though I return often." Don returned to London and a job in advertising, followed by a position with a company that operated venues across the north of England. Then his friend, Keith York, got in touch. Don remembers: "Keith York headhunted me to be Station Manager for South Coast Radio in Cork, arranged my interview with its Board of Directors, and they confirmed my appointment. I was also the Breakfast Show presenter as well as Station Manager. During my tenure I re-vamped the format and had a 10kW RCA transmitter installed. Tony Allan was the first voice heard on it. I was an emergency replacement on Nova, Dublin, in 1984 when Declan Meehan quit Nova and joined Capital Radio, London. This allowed (station owner) Chris Cary time to find a permanent jock as Keith and I had just launched Atlantic Sound Galway. In 1985 Keith and I launched WLS Music Radio Galway, the first 24 hour stereo station in The West of Ireland which ran until June 1987, when it became Coast 103 (after I had left for England). In June 1987 I became a part of the burgeoning House and Techno scene in London and worked London clubs until July 1989 when I withdrew from the music scene and started Rapidtransit Logistics, a transport company. This lead me to a connection in Egypt and I formed a specialist supplier of Egyptian art and also transported artworks. By 1998, Rapidtransit had evolved into 24/7 Express and I had also become a facilitator, a one stop shop for business solutions. So, if a client wanted an item of furniture or a type of car, a connection to a person, or a specialist food stuff, I undertook to find and supply it. Clients ranged from film studios to corporate clients and I still engage in this activity for clients. Since 2003 I have moved back to journalism and script writing. I'm completing a screenplay for a possible green light in 2012. I am also a relief broadcaster and a regular Father Christmas every year at shopping malls in London and the South East." (Our thanks to Don for his help and the photo which was taken on the Voice of Peace in 1976. There is a fascinating interview with Don on Martin van Der Ven's German Radio Caroline site.)
Don Stevens on Radio Caroline from the evening of Friday 21st March 1975. Thanks to correspondent Herman Content for pointing out that the voice on the Don Stevens jingle belongs to Radio Mi Amigo DJ Peter Van Dam who also features during the clip. This is an edited version of a recording donated to www.azanorak.com by John Spargo. Our thanks to John, Jim Nantz and Ray Robinson (duration 2 minutes 52 seconds)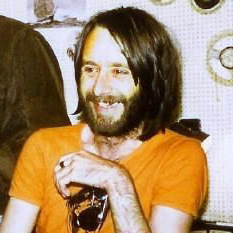 Mike Stevens The Pirate Radio Hall of Fame asked Mike for a few details about his life and career. He very kindly wrote the following: "Mike Stevens became interested in radio in the early 70s when he was involved with hospital radio in Maidenhead and campus radio at the University of Bath. In 1976 he was sending out demo tapes to numerous stations - including Radio Caroline - with conspicuous lack of success so he decided to give up his job and move to Ipswich to try and worm his way into Radio Orwell. Within a week of moving there he had stopped listening to Orwell and his radio was firmly tuned to Caroline. Coming from the West Country he had no history of listening to offshore stations and was just blown away by the great music and fantastic atmosphere coming out of the North Sea. So it was just amazing that, within four weeks of quitting his job, he got the call from Caroline. They had eventually listened to his tape and offered him a job. He did not need asking twice. He was under the impression he had been hired to play out tapes for (the daytime) Radio Mi Amigo but, when he got out to the ship, he found two Dutch DJs running Mi Amigo and just three English DJs to cover 24 hour broadcasting (on Caroline) so he immediately found himself on air - for six hours a day, seven days a week. He joined Caroline in November 1976 and, apart from a six month stint on the Voice of Peace in 1979, was there until March 1980, coming off just a couple of weeks before the Mi Amigo finally met her end. When he got the job on Caroline, Mike was just pleased to working in radio. However, it wasn't very long before he was completely in his element. He particularly enjoyed the freedom to play quality music unfettered by any kind of playlist. He found the whole Caroline experience a great adventure. The clandestine nature of the operation was always interesting - trying to load a very large colour TV onto a small fishing boat in Harwich Harbour while trying to look inconspicuous was just one example. One tender ride was memorable as it was on a totally unsuitable speedboat out of Whitstable. At one point there was doubt as to whether they had enough fuel to get there and all the guys arrived on the Mi Amigo soaked to the skin. Things were not always particularly comfortable. Living on sardines and potatoes for days because the weather was too rough to get a tender out - and more importantly running out of cigarettes - was not fun. By the end of the Mi Amigo's days there was no running water which made showering an interesting operation. In the good and bad times the thing that stood out for Mike was the spirit and comradeship on board, and the fact that whatever the situation, Caroline always produced fantastic music radio. After the Mi Amigo sank, Mike did a three month spell on Radio Nova in Italy in 1981, but that was his last full time radio job. He did some programmes for Radio Clyde in 1990 but was sacked for being too old. A short involvement with Q96 ended when he was sacked for being too patronising. He also deputized for Sydney Devine on West Sound, but doesn't like to talk about that! He took part in the Easter 2008 Caroline veterans reunion broadcast from the Ross Revenge, which he thoroughly enjoyed. Living and working on a radio ship again - albeit only for four days - completely recaptured the days of good company and good music radio. Now married with three children he runs a small business in Glasgow and looks forward to retirement." (Many thanks to Mike for writing the above and providing the picture. He says "Here's a photo of when I was somewhat younger and hairier, and wearing one of the infamous 'Miss Sheila' T shirts. It was taken in the Caroline studio and the shoulder next to me belongs to Tom Hardy. I can't remember the exact date but I'm thinking 1978." There are more of Mike's photos on Steven Pragnell's Caroline Memories 1976-80 website. More recent photos of him can be found here and here. Thanks also to Brian Martin for putting us in touch with Mike.)
Mike Stevens on Radio Caroline from the evening of 23rd August 1978. Recording kindly provided by Hans Knot (duration 4 minutes 18 seconds).

Crispian St.John car sticker.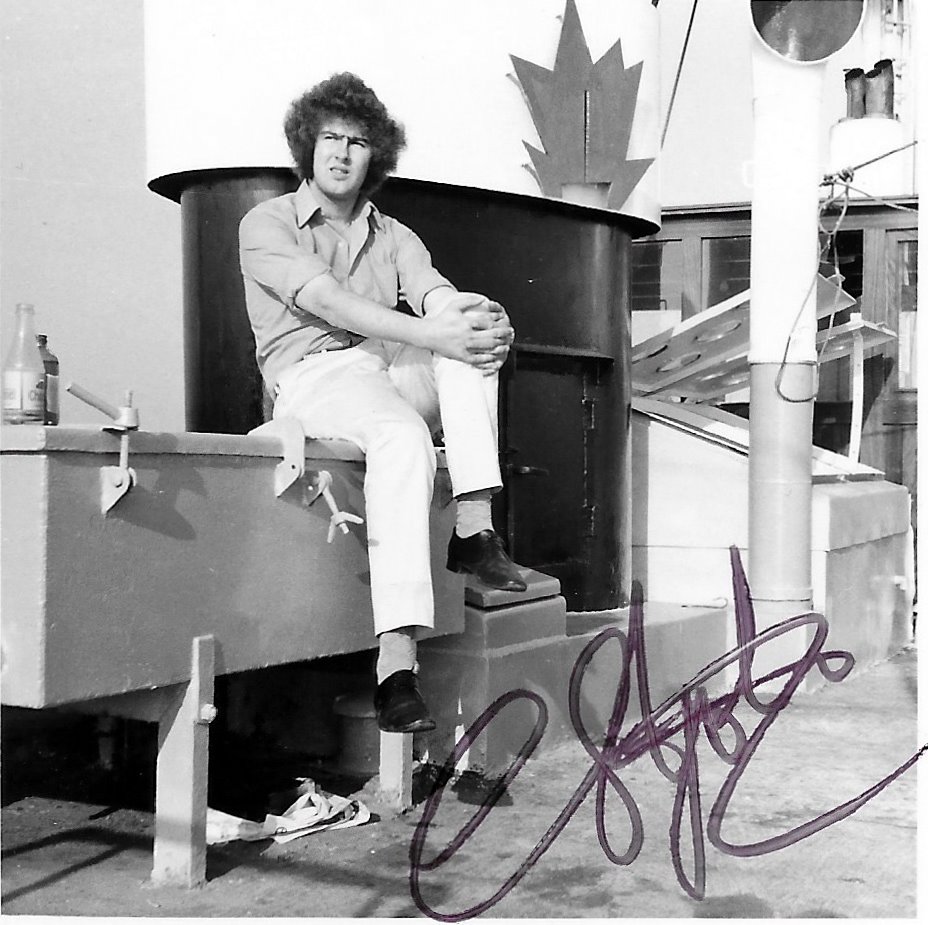 Crispian St.John Real name Howard Rose, from Great Bookham, Surrey, he was born on 17th March 1953. One of those larger-than-life characters who found a natural home in offshore radio, he joined Radio Northsea International in February 1971, aged just 17, where he initially presented the afternoon drivetime programme. When Dutch programmes took over the daytime output on 1st May, he moved to the 8 to 10pm slot, later switching to the 10pm to midnight show. Unfortunately Crispian was sacked in October after one of the bosses took exception to a comment he had made on air. Crispian worked for BBC Radio Brighton for a time, then moved to Norfolk from where he ran a short-lived magazine. In November 1972 he joined Radio Caroline off the coast of Holland and was on their brief "Radio 199" service. Moving on again in January 1973, he returned to his magazine publishing. At Christmas that year, when Radio Atlantis started English language tests from the mv Jeanine, Crispian was there as Programme Director and he stayed with the station until February 1974. In August he joined Swansea Sound until the summer of 1975 when he moved back to Brighton and a commercial production house, Sound of the Nation. He was also sub-editor of Wavelength magazine. In May 1976 he joined the Israeli pirate, the Voice of Peace, later becoming Programme Director. From there he moved to Ireland where he worked at North East Radio in Dundalk for a spell. He was then back in Swansea, where he ran another short lived magazine, before returning to the Voice of Peace in 1980. Correspondent Paul Graham tells us he thinks that Crispian left the Peace ship in 1981 and was freelancing at LBC in London in 1982, while setting up yet another magazine. In 1983 he launched the successful Surrey land-based oldies pirate Radio Sovereign. Court action forced Sovereign to close down on 1st January 1984 and, a couple of weeks later, he joined the recently relaunched Radio Caroline on the mv Ross Revenge using a new name, Jay Jackson (see entry in The Pirate Radio Hall of Fame 'Eighties Supplement'). In 2002 he entered hospital for a routine operation for gall stones but died of a heart attack following the operation. He was just 49 and left a wife, Patricia, and three children. (This photo of CSJ on RNI's Mebo II is from an edition of the Southern Independent Radio Association magazine kindly provided by George Morris. There are more pictures of Cris in Paul May's photo album. Our thanks to Patricia and Paul Graham for their assistance.)
Crispian St.John on Radio Northsea International on 24th July 1971, recorded from the station's FM outlet. The voice at the end of the clip, talking about the Apollo 15 mission, belongs to Alan West. Recording kindly provided by Hans Knot (duration 3 minutes 50 seconds).
Crispian St.John on an anonymous test transmission for Radio Caroline from December 1972. Recording kindly provided by Hans Knot (duration 1 minute 50 seconds).
Crispian St.John on Radio Atlantis, New Years Eve 1973, wishing everyone, including political leaders and the British royal family, a happy new year! Recording courtesy of The Offshore Radio Archive (duration 3 minutes 33 seconds).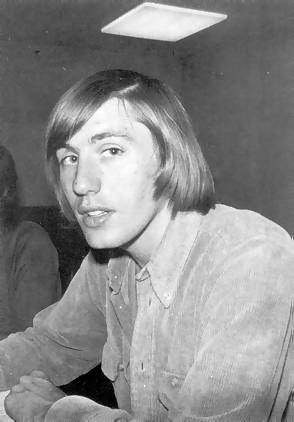 Mark Stuart joined Radio Northsea International on 17th June 1971, just after the firebombing of the mv Mebo II. From Brighton in Sussex, he had previously been heard on a number of local land-based pirates, including the excellent Swinging Radio England (no relation to the offshore station of the same name) as well as BBC Radio Brighton. Mark's theme tune on RNI was the version of The Overture From 'Tommy' by The Assembled Multitude. He was a popular presenter on RNI but quit when his friend Crispian St.John was fired in October 1971. He returned to BBC Brighton, later moving to Swansea Sound in the summer of 1976. On his return to Brighton he formed 'MBI Sound and Light' which supplied equipment to theatres and night clubs around the country. Some years later 'MBI Broadcast' was formed which designed, and together with partner company AHB, manufactured a DJ self-op sound desk for radio stations. Over 100 stations worldwide used the desks, the first being Centre Radio in Leicester. The first local BBC station was Radio Carlisle, followed by many others, as well as BBC Radio 4, the World Service and Radio One. MBI was purchased by Soundcraft and with the exception of some (non-broadcast) spells on Laser-558 that was the end of Mark's involvement in the radio business. (Some photos and recordings from Mark's time with Laser can be found here and following pages). Mark later became a professional tennis coach and played guitar in a covers band, VinylRiff. (With many thanks to Mark for his help with the above and to Brian Thompson for putting us in touch. The photo is from the RNI Souvenir Book, published by Hit-Publications, Zurich. There are more pictures of Mark in Paul May's photo album.)
One of Mark Stuart's first shows on Radio Northsea International from June 1971. This is an edited version of a recording provided by Theo Bakker and shared by The Offshore Radio Guide (duration 4 minutes 31 seconds).