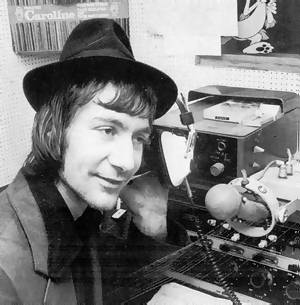 Robin Adcroft From Cheltenham, Gloucestershire, Robin was a fan of the sixties offshore stations and was lucky enough to visit Radio 390's Red Sands Fort in 1967. (There is a photo of him on the fort in David Sinclair's photo album.) Robin was fascinated by the place and in 1968, while working at Twickenham Films Studios, he encouraged director Dick Lester to film some of his movie The Bedsitting Room (which starred Spike Milligan) on the fort. Unfortunately lack of finance prevented this. There were also unsuccessful plans to use the fort as a discotheque or hotel. Robin followed his interest in radio by becoming involved with various land-based pirates and, in January 1973, joined Radio Caroline, soon after the ship had returned to the air. He was originally employed as an engineer but soon found himself presenting programmes too. In August 1973 he moved to Radio Northsea International where he changed his name to Robin Banks. He stayed with RNI until its closedown the following year and then worked aboard its ship, the Mebo II, preparing her for a planned future as Radio Nova International. When these plans were foiled, he worked with Spangles Muldoon in his electronics firm, with Robb Eden in Dutch clubs and as an engineer for Rank Xerox. He then moved to the Voice of Peace, the offshore station anchored of the coast of Israel, before returning to the Mebo II, which by this time had been sold to the Libyan government. In the eighties he worked as a transmitter engineer in Ireland and was involved briefly in the early days of Laser-558. Robin installed dozens of TV and radio stations in Central America, North and West Africa and in the Middle East. He was also one of the leading lights of the campaign to preserve Red Sands fort, Project Redsand. Sadly he succumbed to kidney cancer in September 2018. Our tribute to him is here. There are photos, taken in 2011, here. He is not the same 'Robin Banks' who has been heard on Virgin, Xfm, Kiss, etc.. (Photo by Martin Stevens, reprinted from 'Dee Jay & Radio Monthly'.)
Robin Banks getting confused about the time on Radio Northsea International, in the early hours of 1st June 1974. This excellent quality tape was recorded from RNI's FM outlet. It is part of a longer recording shared by The Offshore Radio Archive (duration 3 minutes 42 seconds)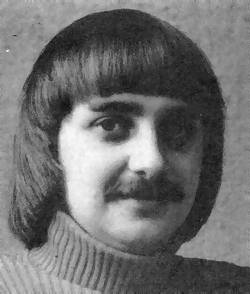 Paul Alexander Born Paul Alexander Rusling in Bridlington, Yorkshire, on 17th November 1953, Paul was inspired to work in radio by the offshore stations of the sixties. He spun discs in a local Mecca ballroom while still at school and later paid for his college studies (radio engineering) by working as a DJ and comedian in night clubs. He joined Radio Caroline in May 1973 and was first heard on test transmissions for the 389 metre service. He presented the first programme when regular shows began on that wavelength on 4th June. For a short time the ship sustained two outputs: an English language pop service, Caroline International, on 389 and a daytime Dutch service on 259, replaced during the hours of darkness by English language rock programmes. Paul was heard on the pop service. Sadly generator failure closed both of them just over three weeks later, ending Paul's career as an offshore DJ. Paul had a spell in the Merchant Navy as a radio operator during the Icelandic 'Cod War' of 1976 before managing several pubs in London with his wife Anne. In 1981 they bought the tenancy of The Punch Tavern in Whitstable, once the base of Radio Sutch. They sold it in late 1985. Paul set up Worldwide Broadcast Consultants in 1980 and has since been involved with several radio stations, including eighties pirate Laser-558, Sky Radio, Classic FM, Virgin Radio, Radio 10 Gold, Radio Veronica and others in Germany, Poland and Russia. He continues his broadcast consultancy work. He and his daughter Dawn have published two editions of the reference book Who's Who In British Radio. Paul has also written three books about Laser including Radio Adventures of the Communicator and Laser Radio Programming, an analysis of the station's musical output and its continuing legacy. Full details from Paul's website worldofradio.co.uk. He has also published The Radio Caroline Bible, a 500 page history of the world's most famous offshore radio station. More information and sample pages can be found at www.radiocarolinebible.com. (Photo from 'Happy Birthday Radio Caroline, 20 Years Old, Easter 1984', produced by Monitor Magazine. Thanks to Paul for his assistance. He has also sent us this photo, taken by Caroline engineer Peter Chicago at 11 am on Monday 4th June 1973, the first day on the air for Caroline International on 389 metres. Paul is on the Mi Amigo lifeboat with the ship behind. He says "I am celebrating in traditional Caroline style - a can of Heineken in one hand and wondering where my trousers went - but at least I kept my tie on - and anorak too!")
Paul Alexander on the launch programme for Radio Caroline International on 389 metres, 4th June 1973. This clip is taken from a longer recording shared by The Offshore Radio Archive (duration 4 minutes 29 seconds)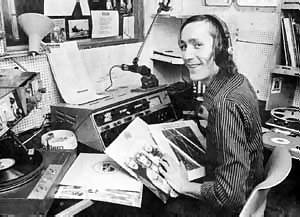 Tony Allan was one of the finest broadcasters of his generation. During the sixties he worked on Radio Scotland and his biography can be found in the main part of The Pirate Radio Hall of Fame. During the seventies he was heard on Radio Northsea and Radio Caroline, both when the station broadcast under that name and when it was called Radio Seagull. He was also the first presenter to sign up for the Israeli offshore station, the Voice of Peace. One of the most popular DJs with the listeners, Tony moved to Ireland in the eighties and worked on a number of stations there. He returned to the UK when he was diagnosed as having cancer and lived the last few years of his life in London. He died on 9th July 2004. There is a page devoted to the life and career of this highly talented broadcaster here. See also Ian Anderson's Mi Amigo photo album. (Photo from the 'Radio Caroline Picture Souvenir Book' published by MRP Books.)
Tony Allan on Radio Caroline from 3rd July 1979. This clip is part of a longer recording made available by The Offshore Radio Archive (duration 4 minutes 31 seconds)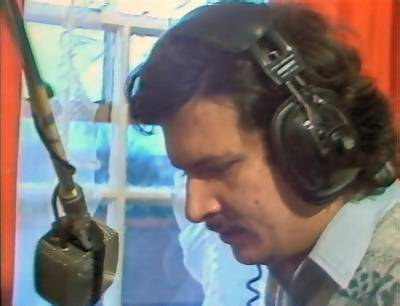 Dickie Allen A stalwart of south London land-based pirates Radio Jackie and Radio Kaleidoscope, Dickie broadcast on Caroline during September and October 1977. He later worked for the cable TV channel, Music Box, but there we lost touch with him. We asked if anyone could provide more up-to-date information and, in March 2007, we heard from the man himself: "Hi, I'm still alive. After Caroline I went back to Radio Jackie and stayed there until 1984, presenting the morning show 9-12. My last pirate broadcast was the FM Christmas special in 1988 - Laser-FM broadcast to London for three days. I started my own business soon after and retired aged 48 in 2004. I now live in rural Cheshire with my Flemish girlfriend and five gundogs. We spend our time between the UK and Antwerp. Still an avid radio fan! I was proud to be part of a radio revolution, but could never settle into ILR. No excitement or fun! I had to do my own thing." Since contacting us in 2007 Dickie and his partner have moved to Belgium from where he hosts the Breakfast Show each morning on 121 Radio. (Our thanks to Dickie for getting in touch and for supplying the photo. It dates from his time with Radio Jackie.)
Dickie Allen on the afternoon show from Radio Caroline, 14th October 1977. Recording courtesy of Ray Clark (duration 2 minutes 24 seconds)

A Radio Northsea International car sticker, produced by the Free Radio Association.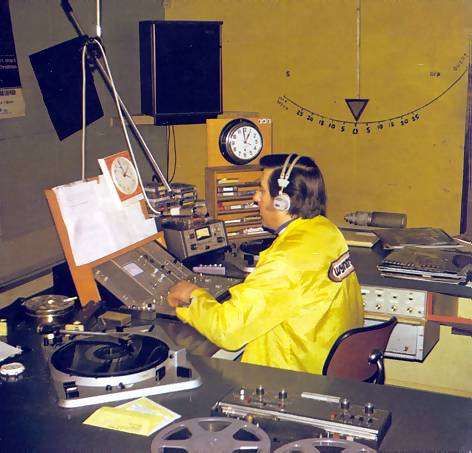 Don Allen worked on Radio Caroline during the sixties, mainly on the Caroline North ship. There is a biography in the main section of The Pirate Radio Hall of Fame. Following the station's closure in March 1968, he was heard on Manx Radio and BBC Radio Merseyside. Don joined Radio Northsea International in November 1972 as senior DJ/Programme Director for the International Service. On RNI he brought back his popular Country & Western Jamboree show that he had presented on Caroline and he also continued to record a similar programme for Radio Merseyside. He stayed with RNI until the closedown in August 1974. During the eighties, he worked on a number of Irish stations, his last being Radio 3 Tullamore. He died on 13th May 1995 following a heart attack. Don took a lot of photos during his time on Caroline and RNI. Many have been kindly donated to The Pirate Radio Hall of Fame by Norah Barnes and Kenny Tosh. For more photos and recordings, check out Spotlight On Don Allen. We also have some photos of Don on RNI here and here. (This picture reprinted from 'Deejay and Radio Monthly'.)
Don Allen on Radio Northsea International, in the early hours of 22nd June 1973, playing the wrong track from the Album of the Week. This tape is part of a longer recording shared by The Offshore Radio Archive (duration 4 minutes 31 seconds)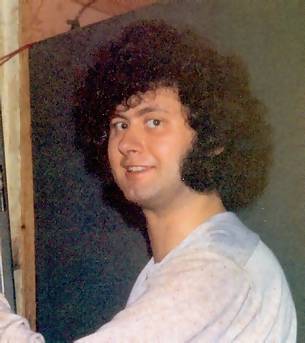 Andy Anderson Born 15th July 1952 in Hammersmith, London, Andy had a disco equipment business in Tunbridge Wells, Kent, until December 1973 when he joined Radio Atlantis as a DJ and engineer. His first broadcast was on Christmas Day and he stayed until the station closed down in August 1974. During that time he married Lynda, who was also heard on air occasionally. After Atlantis, he returned to his equipment firm and was also involved in the abortive 'Radio Dolphin' project, for which he was prosecuted under the Marine Offences Act. In June 1976 he joined Beacon Radio in Wolverhampton, later moving to a number of other independent local radio stations where he was chief engineer and, sometimes, weekend DJ. In 1983 Andy set up a company called Broadcast Designs making radio broadcast equipment under the trade name 'Soundtech'. In 1987 it became Alice Soundtech with Andy as Managing Director. Following divorce from Lynda, he married Grelen Cabanilla Gemmell Smith in Cyprus. Sadly Andy passed away on 1st July 2017 after a long illness. He was 64. (Photo by Steve England, supplied by 'Offshore Echos' magazine. There is an interview with Andy about his time with Radio Atlantis here.)
Andy Anderson on Radio Atlantis from 26th August 1974. During the last week of the station's life, English programmes replaced the daytime Flemish service and this is Andy broadcasting at lunchtime. This clip is part of a longer recording shard by The Offshore Radio Archive (duration 3 minutes 41 seconds)
The Pirate Radio Hall of Fame needs your

The site is updated regularly and we are always on the look-out for new material to add. If you have any information, photographs, recordings or contact details for any of the disc-jockeys we haven't been able to trace, please get in touch.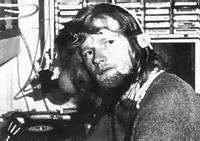 Brian Anderson From Tunbridge Wells, Kent, Brian's first radio experience was as a freelance contributor to BBC Radios Brighton, London and Medway. In 1973 he worked as a studio engineer for Radio Caroline in Holland, recording Dutch and English language programmes on land. On 11th January 1974 he was heard on air for the first time when he presented a show on Radio Seagull. After that he regularly presented programmes on Radio Mi Amigo. (Radio Mi Amigo was a Belgian company hiring the daytime output of the station. The evening programmes were known as Radio Seagull.) Later Radio Seagull changed its name back to Radio Caroline and Brian was heard there too although he was also employed to play out Mi Amigo's pre-recorded daytime shows. He also hosted an English language show on Mi Amigo. When the Dutch outlawed the offshore stations and Caroline returned to England, Brian left, intending to join the planned Radio Nova International. When this project collapsed he worked for the Kimberley-Clarke factory radio station, before joining Radio Tees in May 1975. In 1982 he became Head Of Programmes at Moray Firth Radio. Brian won Sony Radio Awards three years running in 1988, 1989 and 1990. In 1990 he set up a company making radio programmes in China, Vietnam and Mongolia. More recently he has helped set up radio and TV projects in Kosovo, South Africa, Botswana, Afghanistan and elsewhere. See his website for more details. He has also posted some great photographs taken while working on Caroline. (Thanks to Brian for his help. Photo from 'Offshore Echos' magazine.)
Brian Anderson on the Schools' Programme from Radio Caroline in April 1974. This is an edited version of a recording available from www.azanorak.com. Our thanks to Jim Nantz and to the unknown donor (duration 3 minutes 10 seconds)
Brian Anderson on the English programme of Radio Mi Amigo International, 21st June 1974. The DJ he doesn't name but mentions has just returned to the ship is Tony Allan. This recording kindly provided by Merbie, the same Merbie who gets a name check near the end of the clip. He recorded it on board HMS Brighton in Den Helder, the Netherlands (duration 4 minutes 1 seconds)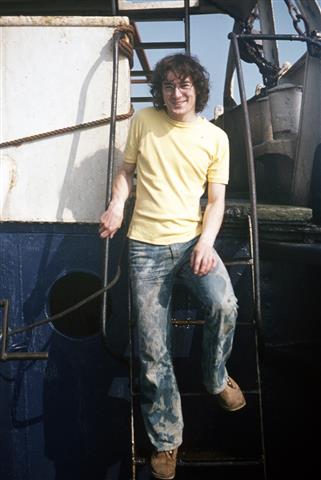 Ian Anderson was born and brought up in Shetland. In May 1966, while a student in Edinburgh, Ian was offered summer vacation work with Radio City but he did not take up the offer because of the invasion of the fort and the death of the station owner Reg Calvert. In 1968 Ian produced the pilot of a progressive music show for the BBC in Scotland. In 1969 he was in London trying to raise backing for after-midnight progressive music shows from the medium wave transmitter of Radio Monte Carlo when he met a group about to do the same from Radio Andorra. Ian joined the group, which after a few tests from Andorra, switched to Monte Carlo. In January 1970 the freeform music station, Radio Geronimo, started broadcasting late night at weekends from Radio Monte Carlo. Backed by Ringmaker music, run by the Move's manager, Tony Secunda, and Rolling Stones producer, Jimmy Miller, Geronimo was an attempt at an alternative form of radio, eventually part funded by mail-order. Sadly it did not last. Later, in 1973, two of its DJs, Hugh Nolan and Barry Everitt, joined the Caroline organisation to launch Radio Seagull. Meanwhile, in 1972, Ian Anderson, had joined Radio Northsea International. He has been asked by (general manager) Eva Pfister to look after the station's news service and public service announcements. Ian presented his first music programme on RNI's short wave 'World Service' on 10th December that year. He later became the regular relief DJ, and then a member of the three on/three off DJ shifts. In May 1973 the shift pattern broke down. Ian was only one day into his shore leave, after six weeks on board, when he was asked to go back to the ship. He refused and was fired. He was immediately asked by Chris Cary (alias DJ Spangles Muldoon), who was running the Caroline organisation, to set up a news service there. Caroline then entered a rough patch and Chris left the organisation. However Ian appeared on the Mi Amigo in September and October 1973, just missing joining his old Geronimo colleagues on Radio Seagull. They had left, never to return, leaving the original Geronimo record library behind. Sadly Ian's time on the station was cut short when the aerial mast collapsed. Some months later he returned to his home in Shetland and in 1974 became one of the team setting up Radio Forth in Edinburgh, first as senior DJ and then as Head of Music. In June 1976 Ian returned to freelance writing and broadcasting. He wrote The Radio Caroline Rock Record Collectors Guide (published June 1977) and other books. In September 1985 he established the Shetland Islands Broadcasting Company (SIBC) which is owned and operated by Ian and his wife Inga. SIBC started broadcasting in November 1987. (Many thanks to Ian for his help with the above and for the photo, taken on board the mv Mi Amigo in September 1973. There are more of Ian's photos, dating from the following month, here, and some from his time on RNI here.)
Ian Anderson on the early morning Skyline from Radio Northsea International, 16th May 1973, part of a longer recording made available by The Offshore Radio Archive. Thanks to Ian for correcting the date of the programme (duration 1 minutes 17 seconds)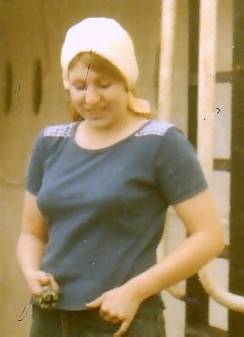 Lynda Anderson the wife of Andy Anderson, Lynda was heard occasionally on Radio Atlantis. We asked if anyone could provide more information and Lynda's colleague on the mv. Jeanine, Steve England, replied: "Lynda did one show on Atlantis but, after we gave her some advice and criticism, refused to ever do another show - although she did speak on air from time to time in other people's shows and on the farewell show. Lynda has the distinction of being married to Andy twice with approximately a decade gap. They are now divorced again." Since then we have heard the sad news that Lynda died in November 2014. (Our thanks to Steve. This photo was taken by Steve and kindly provided by Hans Knot.)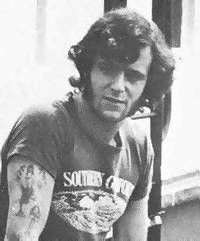 Tom Anderson One of the most popular Caroline DJs during the seventies and eighties, Tom was first heard on the station in the early hours of 14th June 1976. He left the following February but returned to the ship a couple of years later, in April 1979. He was one of the last DJs on Caroline's ship, the mv Mi Amigo, being taken off by lifeboat the night she sank in March 1980. His memories of that night can be found here. He helped on the fitting out of the new vessel, the Ross Revenge, and presented the first programme when the station returned to the air in 1983 (see entry in The Pirate Radio Hall of Fame 'Eighties Supplement'). He now lives in France but returned to the UK to take part in the Spirit of the Seventies reunion broadcast of July 2022. (Photo from the 'Radio Caroline Picture Souvenir Book' published by MRP Books. There are some more recent photos of him, taken at a 2018 DJs' reunion, here. )
Tom Anderson on an early evening programme from Radio Caroline, 8th July 1976, soon after he joined the station. The clip is part of a longer recording shared by The Offshore Radio Archive (duration 4 minutes 19 seconds)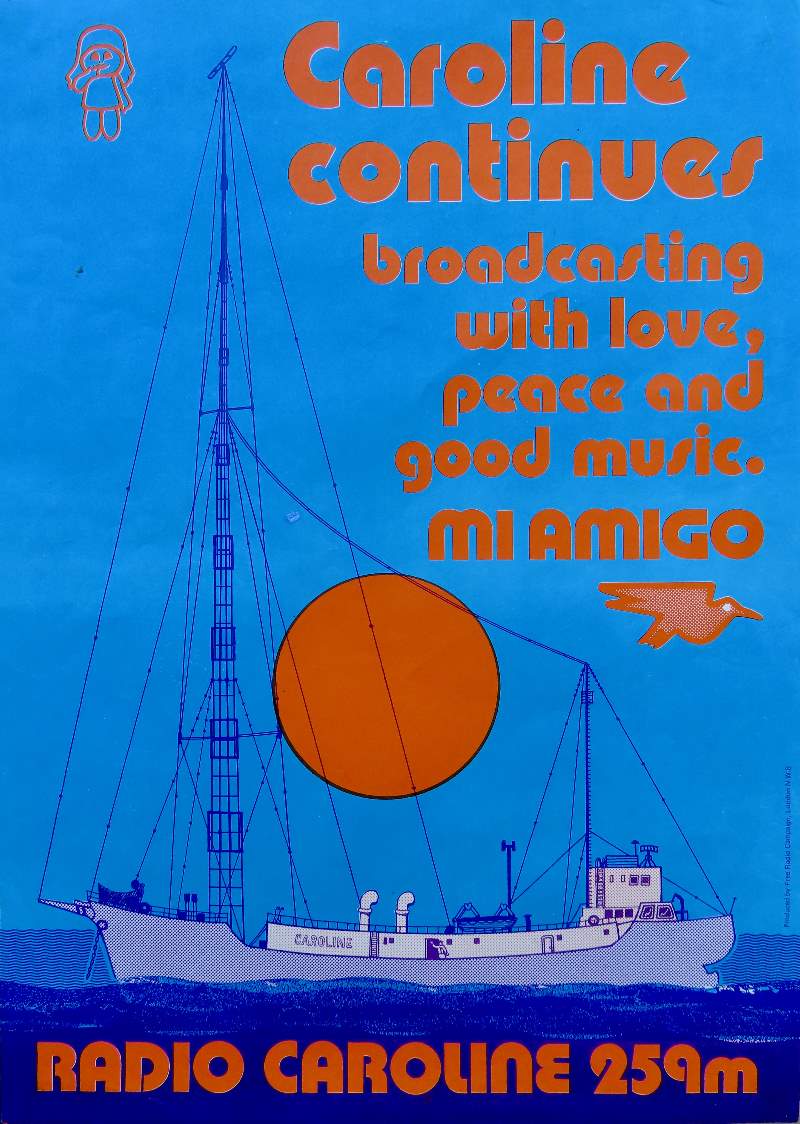 Caroline / Mi Amigo poster issued by the Free Radio Campaign.
Scan kindly provided by James Cook, the man who designed it.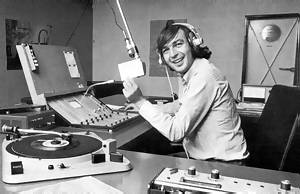 Andy Archer worked on Radios City and Caroline during the sixties. There is a biography in the main section of The Pirate Radio Hall of Fame. Following Caroline's 1968 closure Andy worked in discos and made the occasional appearance on the BBC's Radio One Club. In February 1970 he joined Radio Northsea International and stayed through a very eventful seven months until its closedown in September. He lived in Amsterdam for a while, returning to the UK in 1971. RNI reopened and Andy went back to the ship in August 1971 but, following a disagreement, he was sacked after just four days. When Caroline's mv Mi Amigo put to sea again in late 1972, Andy joined the station, initially running the Dutch Service but later taking over all programming. He has said that the period before the implementation of the Dutch anti-pirate legislation in 1974 was the happiest of his career. His diary of that year can be found here. He left Caroline at the end of October 1974 and joined Tyne-Tees Television as a continuity announcer, later moving to Radio Orwell in Ipswich. In September 1975 he was one of the first people to be prosecuted under the Marine Offences Act. He pleaded guilty to working on a pirate and was fined. From Radio Orwell he went to Devonair, then to Ireland's Radio Nova and Leicester's Centre Radio but, when that station went broke, he was free to join the new Radio Caroline in time for its re-launch from a new ship in 1983 (see The Pirate Radio Hall of Fame 'Eighties Supplement'). There are some recent photos here. (Photo from the RNI Souvenir Book, published by Hit-Publications, Zurich.)
Andy Archer on Radio Northsea International, during the morning of 27th August 1970 (duration 3 minutes 55 seconds)

Andy Archer on Radio Seagull from 25th September 1973. The 'Grizelda' and 'Mary' he mentions are Graham Gill and Robin Adcroft, two former colleagues now working on rival station, RNI. Both tapes courtesy of The Offshore Radio Archive (duration 3 minutes 30 seconds)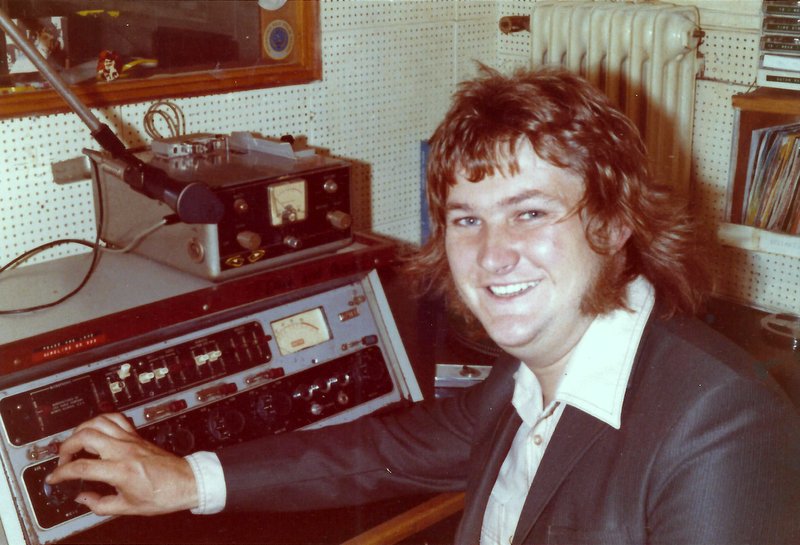 Eddie Austin from Dover, Kent, born 5th September 1949. Like many of his generation, Eddie was fascinated by the offshore stations of the sixties. As a 16 year old student, he planned to launch a part-time station, Radio Dover, from a friend's cabin cruiser although, sadly, this came to nothing. In early 1970 he met Steve & Debbie England, as both he and they had local mobile disco businesses. At the time Eddie was sharing a flat with Robin Adcroft and together they operated the land-based pirate Channel Radio. Eddie told us: "In early March 1974, Steve asked me to visit the MV Jeanine to assist Andy Anderson with engineering and present the Yawn Into Dawn show (on Radio Atlantis). As my wife was expecting our first child it was agreed I would only stay a few weeks." Eddie remembered one funny incident whilst on board: "I decided to do some spring cleaning after coming off air at 6am. I picked up what I thought to be some rags in my cabin. Later that day Dave Rogers was quite upset when he could find his underwear!! On my departure from the ship, I was given a stack of 10 inch open-reel tapes and asked to record shows to be used as 'storm tapes' for when the sea got too rough to play records. As these recordings could not contain time checks or any reference to chart positions, I decided to make up comedy sketches between the songs." As well as being used in times of rough weather, Eddie told us these were also transmitted sometimes late on Saturday nights, after the chart show. He also helped Atlantis in other ways: "When the station needed urgent supplies from the UK, I would send them on the Townsend Thoresen ferries at Dover and they would be collected by A.J Beirens in Belgium (who held a senior position for the shipping line at that time). A.J. ensured they got onto the tender out to the ship. During Atlantis' last week on air, in August 1974, my wife gave birth to a daughter. We named her after the station's ship, Jeanine. News reached the station and her birth was announced on air during the final hour. In my opinion Atlantis was the most fun-loving and imaginative of all the seventies radio stations. It was so sad the audience was limited by such a low powered transmitter." After the closure, Eddie brought back Channel Radio but was taken to court and fined a then record £250. He formed a company to bid for a local radio franchise. This resulted in Kent's Invicta Radio. He later put together another group to bid for an East Kent license and Neptune Radio was launched in September 1997. Eddie tols us "In 2001 I decided to sell my shares and move to Malaysia. Neptune is now part of the KMFM group." Eddie lived in Malaysia for many years but returned to the UK during the Covid pandemic in 2020. He died in a Kent hospital on 16th September 2021 from pneumonia induced by Covid-19 and prostate cancer. (This photo, courtesy of Steve England, shows Eddie in the Radio Caroline studio in 1973. He never broadcast on Caroline but joined Atlantis the following year. There are a couple of photos of Eddie from his time on Atlantis here.).
Eddie Austin on Radio Atlantis from 1974. Recording made by Jan Kees Bruinooge and kindly passed on to us by Hans Knot (duration 2 minutes 46 seconds)