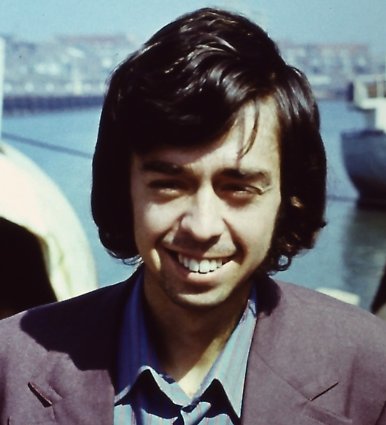 Graeme Kay Born 6th April 1951, in Jannali, a suburb of Sydney, Australia, Graeme completed a two year course in radio in his home country before becoming a panel operator at 2UE Sydney. From there he moved on to some smaller market stations such as 2BE Bega, 2MG Mudgee, 2DU Dubbo and 4VL Charleville. He also did some work in television. He visited the UK on a working holiday in early 1974 and wrote to Crispian St.John, asking about the possibility of work with Radio Caroline. Crispian passed the letter on to the Caroline bosses and, almost immediately, Graeme received a call. He joined the mv Mi Amigo in April 1974. He was heard once on Radio Caroline (11th April) but was mainly employed by Radio Mi Amigo putting out their taped Dutch programmes during the day and presenting their evening English-language show. When this programme was dropped from the schedule at the end of July 1974, Graeme left. He joined the Kimberley-Clarke factory radio station but this closed down in 1976. After a spell on the royal staff at Buckingham Palace and occasional disco work in his spare time, he returned to Australia. Real name Graeme Hartas, he can currently be heard on community station 91.9 Fresh FM in Gladstone, Queensland, Australia. (Photo kindly provided by Onno van Buuren. More of his pictures here. Thanks to Hans Knot and Mark Keable for their assistance.)
Graeme Kay on Radio Mi Amigo's English-language evening 'International Service' programme from 13th May 1974. The voice at the end of the clip belongs to Brian Anderson. This is an edited version of a recording made available by The Offshore Radio Archive (duration 1 minute 55 seconds)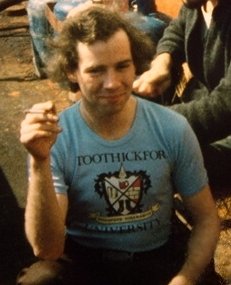 James Kaye An engineer on the mv Mi Amigo, James occasionally broadcast on Radio Caroline. His first show was on 13th May 1978, his last 3rd September 1979. He was also involved in the fitting out of Caroline's new ship, the mv Ross Revenge in Santander, Spain, in the early 80s. He then worked behind the scenes, organising the supply of equipment to the Ross. This photo was taken by Kees Borell and kindly provided by Stevie Lane. There is a more recent photo, taken at a 2018 DJs' reunion, here. Sadly James died suddenly on 4th February 2019, aged 66.
James Kaye on an early evening programme from Radio Caroline from 10th May 1979. The voice on the 15 second promotion for advertising on Caroline is Stevie Gordon. This is an edited version of a recording made available by The Offshore Radio Archive (duration 3 minutes 49 seconds)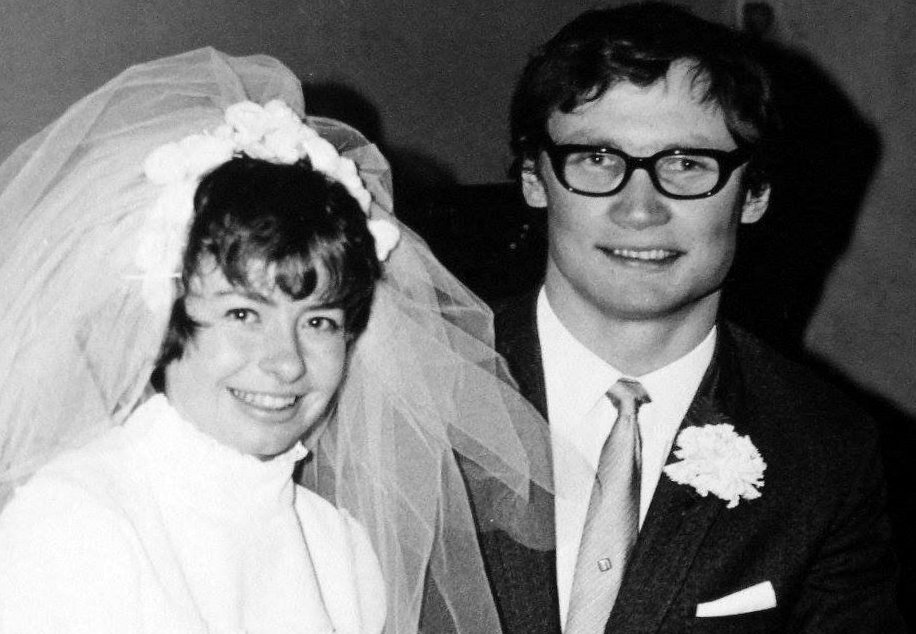 Martin Kayne had broadcast on Radios Essex, 355 and Caroline during the sixties. His biography can be found in the main part of The Pirate Radio Hall of Fame. He joined Radio Northsea International when it returned to the air in February 1971. We asked him about his time with the station: "I had been doing a disco gig at the Odeon Bar, above the foyer of Folkestone's main cinema, four evenings a week. Most afternoons I worked as a bingo caller at the nearby Savoy, a former cinema used exclusively for bingo. When RNI first started in 1970 I applied for a job with them and secured an interview with Larry Tremaine in London. However by the time we met the jamming had already started and expansion in programming was curtailed due to the uncertain political situation. However in December 1970 I received a letter inviting me to meet Vic Pelli in London's Hilton Hotel early in the New Year. I attended this, possibly in January, and was given a job on the station but sworn to secrecy. It was on this very same day, during the evening, that I attended a Free Radio Movement meeting at the Central Hall at Chatham. I arrived there just in time but could not mention anything about the plans for RNI's imminent return - most frustrating to put it mildly. Harold Rogers, a speaker at this event, the station manager of BBC Radio Medway actually invited me to guest on his station in the following March which I accepted, however when I was eventually heard on RNI this offer was promptly withdrawn. I travelled to Scheveningen and booked into the Grand Hotel, later to be joined by Dave Rogers, Tony Allan and Crispian St John. As I remember Alan West and Steve Merike were already aboard the Mebo II, having previously been with (owners) Meister and Bollier in Switzerland making plans for the station. While on shore-leave in March I got married and spent a week in the Hotel Splendid at Interlaken also in Switzerland. After this I was back on the Mebo. Heather my wife had big reservations about moving to Holland, missing her family and that. Also we didn't want to relinquish our rented flat in Kent. The running of both properties would have been financially impossible. There was also the question of radio being a precarious occupation on land, let alone on the high seas. So me staying on RNI would have placed too many eggs in one basket. This was very much a tug-of-love situation between a job I loved and the girl I loved. I left RNI in April 1971." (Our grateful thanks to Martin for his assistance, and for supplying the photo from his wedding day and the recording. There are more recent photos of him at Radio Caroline's 40th birthday party, Radio Essex's fortieth anniversary boat trip, The Caroline North Convention on the Isle of Man and the Radio Academy Celebration of Offshore Radio.)
Martin Kayne on an April 1971 edition of Radio Northsea International's late night Europe Into Friday programme. This studio recording has been kindly provided by Martin himself (duration 3 minutes 55 seconds)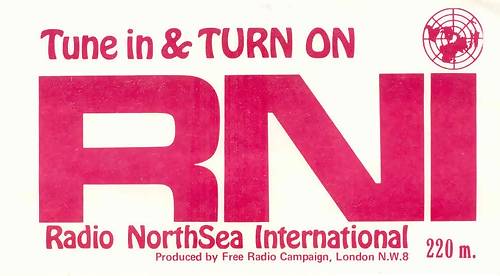 RNI sticker, produced by the Free Radio Campaign.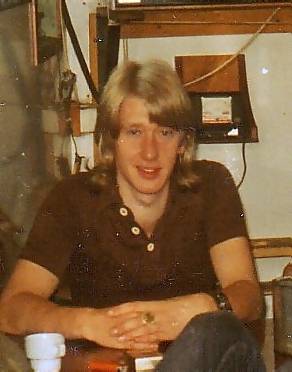 Roger Kent was a club DJ. He met Radio Northsea's Brian McKenzie while working in London's Tiffany's Discotheque. Brian suggested he might like to join the station. Roger's first programme on Northsea was on 16th February 1974 and he stayed until the closedown in August that year. He was later heard on Radio Nova in Italy. He was asked on Facebook why he didn't continue in broadcasting and replied: "After RNI I continued working as a club DJ in London for about 10 more years. It was difficult at that time to get into the new start-up independent radio stations without moving to some distant part of the country and the money was good and the work was plentiful in London, including working alongside many of the big names of the day and all the Radio 1 DJs. I really enjoyed my time on RNI and who knows ... it may have worked out differently if I had really tried to continue in radio. I am just amazed that people still remember it after so long.... It's 45 years ago now!" Correspondent Sarah Ellis remembers Roger DJ-ing in London during 1977/78 at the Lyceum on The Strand and The Dun Cow on the Old Kent Road. She says he also had a regular weekly stint at Cinderalla Rockafella's in Guildford. We have been told that he later worked for a London borough council, still finding time to DJ in the evenings. Roger attended Radio Day 2014 in Amsterdam, photos here. (Thanks to Sarah for the information and to Hans Knot for the photo.)
Roger Kent on Radio Northsea International in the early hours of 19th August 1974, just a couple of weeks before the station's closure. This is an edited version of a recording available from www.azanorak.com. Our thanks to Jim Nantz and Ray Robinson for permission to use it (duration 4 minutes 11 seconds)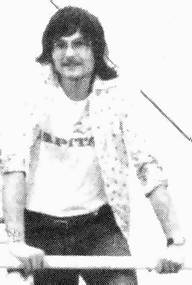 Steve Kent Steve's first legitimate job in broadcasting was answering the telephones for Capital Radio's overnight phone-in programmes but he had also been heard, alongside other Caroline DJs Don Stevens and Kelvin Carter/James Ross, on the London landbased pirate Radio Dynamite, for which he was prosecuted under the Wireless Telegraphy Act. Steve joined Radio Caroline in July 1976 during his college vacation. Writing of his first trip out to the Mi Amigo, he says "I did it on my own - no other DJs were going out and in typical Caroline fashion I had to meet someone in the railway station café at Ostend. My contact was only six hours late, spoke no English and in some way managed to communicate that we were not in fact leaving that day at all! Still it was at least more secure than loading TVs, records etc. onto a fishing boat in full view of the Trinity House guys at Harwich (which happened on a later occasion)." Steve left the ship in August to resume his studies. He returned in December 1976 for a month and again in July 1977. On 29th August 1977 he was taken off the ship by lifeboat after falling ill, although his last show, on tape, was broadcast a couple of days after the event. He later ran a small record label and managed a pop group before embarking on a career in journalism. He now runs a book publishing company. One of the books he has published is The Boats That Really Rocked, a history of offshore radio. (This photo of Steve wearing a Capital Radio T-shirt is from 'Happy Birthday Radio Caroline, 20 Years Old Easter 1984', published by Monitor magazine. Our thanks to Steve for his help.)
Steve Kent on Radio Caroline from 14th August 1977, the tenth anniversary of the station surviving the Marine Offences Act. 'Flashback '67', which Steve mentions, was an offshore convention taking place that weekend at a Heathrow hotel. Recording kindly provided by Stuart Russell (duration 3 minutes 31 seconds)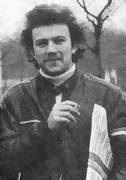 Dennis King This German gentleman was first heard on Radio Caroline in early 1973. He was only on the station for a couple of months at that time but was very involved behind the scenes and two years later, between August and December 1975, he co-hosted the pre-recorded Berlin Service programmes with American DJ Jack O'Brien. Dennis later worked in radio syndication in Germany and for RIAS Berlin, 94.3 rs2, BB radio, WDR, the Hitradio group and Radio Bheins in Potsdam. He is now responsible for the communications and social media of the German political party AfD. (Photo from 'Happy Birthday Radio Caroline, 20 Years Old Easter 1984', published by Monitor magazine. Thanks to Hans Knot for some of this information.)
Dennis King on a late night 'Berlin Service' programme from Radio Caroline. Recording courtesy of Hans Knot (duration 4 minutes 10 seconds)
The Pirate Radio Hall of Fame needs your

The site is updated regularly and we are always on the look-out for new material to add. If you have any information, photographs, recordings or contact details for any of the disc-jockeys we haven't been able to trace, please get in touch.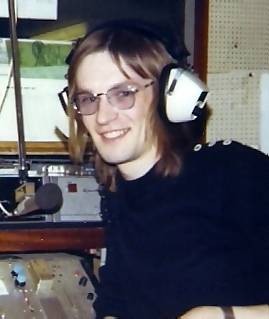 Steve King joined Radio Northsea International on 23rd February 1973. He had previously worked in Rank Ballrooms, as well as freelancing for a number of BBC local stations. He says: "In 1973 I was a jock at the Top Rank Suite in Sunderland. At the time I sent a tape to Don Allen on board. They were looking for someone at the time (I can't remember who I replaced). It all happened very quickly. I met Brian McKenzie in London who offered me the gig on behalf of the company. The next I knew I was on the ship being very seasick." Steve only stayed on RNI for a couple of weeks as his life on the Mebo II was plagued by sea-sickness. He later joined Newcastle's Metro Radio where he spent many years. He reverted to his real name of Steve Wells when he joined Capital Gold in London when the station opened in 1988. He spent five years in London, then nine at Piccadilly Radio in Manchester, first as a presenter then Programme Manager of Piccadilly 1152. He worked for Smooth Radio Manchester and Real Radio Yorkshire before joining Smooth Radio in the north-east. Of his time on RNI, he says: "I enjoyed presenting the shows, especially the short wave service at the weekend. (I remember receiving letters from listeners in the far east and Australia.) I did not like my life on board the ship. I went there at the time of year when the sea was particularly rough. I was constantly queasy, if not sick. I also found living on a ship very claustrophobic and I am very much an outside person so this combination meant it was not the place for me. I have never regretted leaving so quickly. I know lots of jocks loved being at sea but that was not for me." Steve has very kindly provided some great photos from his time on RNI. (Many thanks to Steve and to Bob Glen for his assistance.)
Steve King on the 8-10pm show on Radio Northsea International one Thursday evening in 1973. This is an edited version of a recording posted by Scotty on the Internet Radiocafé, now known as the Radiotrefpunt (radio meeting point) forum. Our thanks to him (duration 5 minutes 11 seconds)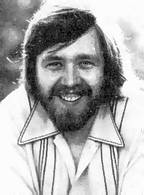 Roger Kirk Born in London, brought up in Norfolk, Roger studied engineering at Kings Lynn Technical College. He worked for BBC radio as a technical operator and also found time to present a run of four shows on Radio One in their Saturday afternoon DJ try-out spot in April 1970. He was disappointed not to get a regular show there and, while on leave from the BBC, joined Radio Northsea International the following year. Unfortunately for Roger he suffered from sea-sickness and only managed to host one show on RNI (on 29th April 1971). After formally leaving the BBC he worked in Holland for both RNI and Caroline, recording their Dutch service programmes on land. In October 1973 he joined the new Capital Radio in London as a technical operator and, in the autumn of 1975, moved to Bradford's Pennine Radio as a DJ. He was later heard on other stations in Yorkshire including Sheffield's Radio Hallam and Stray FM in Harrogate but sadly Roger died in 2001. (This photo dates from Roger's time working in ILR and is taken from The Music Spinners: Britain's Radio DJs published by MRP Books in 1976. Does anyone have a picture of him from his brief stay on RNI?)
Roger Kirk battling sea-sickness while hosting his one and only show on Radio Northsea International, sitting in for Alan West on the evening of 29th April 1971. This recording was kindly provided by Barry Bridel (duration 5 minutes 18 seconds)