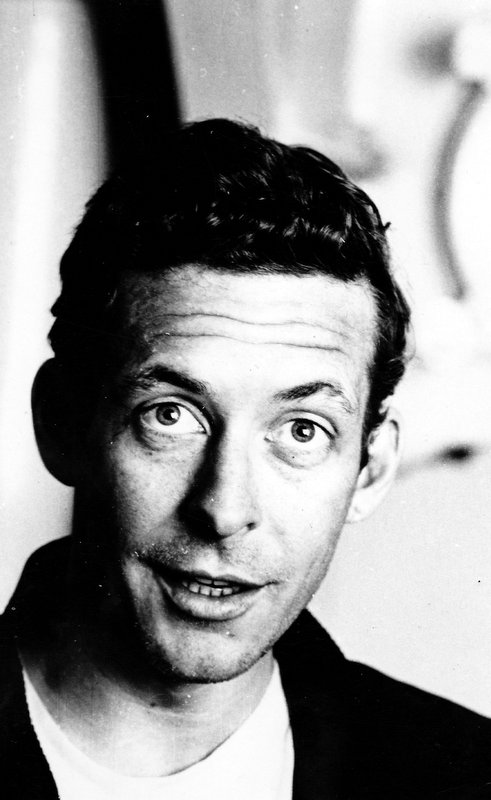 Duncan Johnson. A photo published by the Free Radio Association and kindly provided by George Morris.
The Pirate Radio Hall of Fame was saddened to hear of the death of Duncan Johnson, the owner of one of the most distinctive radio voices of his generation and a hugely popular man.

Born Gerald Clements in Toronto, Canada, he left school at 14 and worked at a number of short-lived jobs, including a period with a logging company. (Radio London's press office later exaggerated this into a supposed history as a lumberjack.) When people complimented him on his voice, he decided that radio might be a career for him. After approaching a few stations, he joined one in Swift Current, Saskatchewan, where he learned the basics of broadcasting. From there he moved to CJOC in Lethbridge, Alberta. He sent a tape of one of his shows in Lethbridge to a former colleague who had moved to station ZBM in Bermuda. This resulted in Duncan being offered a job there too.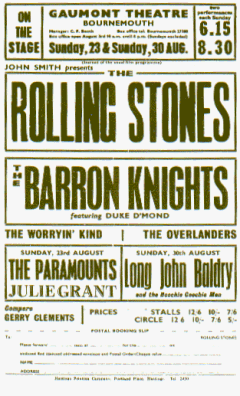 The Rolling Stones on tour, with compère "Gerry Clements".
After eighteen months in the sun, he came to the UK in August 1963, initially to visit some relatives. He had a number of jobs, including hosting a series of Rolling Stones gigs. Still using his real name, he was billed as Gerry Clements.

In November 1964 he noticed a newspaper article about a new offshore radio station, Radio London, which was due to start broadcasting soon. He phoned the public relations company mentioned in the article to find out the contact details and, soon after, met up with Programme Director Ben Toney. Ben requested a demo tape. All Gerald had was a recording of three commercials he had made in Bermuda. Toney said he was interested but didn't have any vacancies at the time. He suggested that they should stay in touch.

Gerald took a short-lived job, working in a bar, then - through his friend Dermot Harris (brother of actor Richard Harris) - became an extra on a film, The Bedford Incident. Working alongside him was his friend and former colleague from Bermuda, Michael Graham, later also to join Radio London under the name of Mike Lennox.

Filming finished at the end of January and, waking up with a hangover after the wrap party, Gerald realised he needed a new job. He phoned Ben Toney to ask if there were any vacancies yet. He was told to come into Radio London's office immediately. Throwing on his clothes, Gerald took a taxi to the station HQ where he met Managing Director Philip Birch. Birch was impressed by his smart turn-out ("nice to see someone around here wearing a jacket and tie") and offered him a job. All Radio London DJs had to choose a new name when they joined the station. Gerald Clements became Duncan Johnson, the name he would use for the rest of his life. He was instructed to go to the shipping agent in Ipswich the next day so that he could be taken out to Radio London.

The following day, 1st February 1965, he made his way to Ipswich, only to be told that the agent's contract had expired at the end of January and another company, based in Harwich, had taken over. Duncan turned round and set off for Harwich but with no idea where to go or who to see. Fortunately a random taxi driver he met had driven Radio Caroline's Simon Dee to a shipping company earlier that day. Duncan asked to be taken to the same place. Luckily it was the right destination but, after travelling all over East Anglia, he had arrived too late for the tender. Unusually, a second one was due to go out that day, taking an urgently needed spare part for the transmitter. Duncan was given a ride too.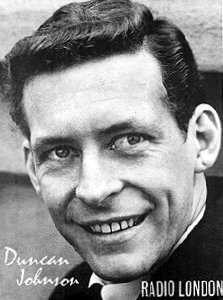 Radio London promotional photo.
When he arrived on the mv Galaxy, Radio London's ship, no one was expecting him. There was no bed, no cabin. Mitch, the ship's steward, gave him some clean sheets and suggested he sleep on the couch in the dining room. Duncan asked for some blankets but was told they were all being used to deaden the sound in the studio, which had been built in the ship's hold. Eventually a blanket was provided and he had a fitful night, sleeping on the couch. The next day they managed to find him a bed.

Duncan mainly covered for whichever presenter was on shore-leave but, when the broadcasting hours were extended to 2am, he hosted his own late night show London After Midnight. His colleague Kenny Everett was a great admirer of Duncan's deep voice and would often ask him to record bits and pieces for his inspired productions. He was also a regular newsreader on Big L.
Duncan Johnson on Radio London a few weeks after joining the station. Recording courtesy of the Offshore Radio Archive (duration 2 minutes)

Duncan Johnson on Radio London's Fab 40 show, 29th August 1965. This is an edited version of a recording shared on The Offshore Radio Club Forum by Hans Hendriks. Our thanks to him (duration 4 minutes 38 seconds)
During the summer of 1966 Radio London began talks with the smaller Radio City. The plan was to buy City and relaunch it as a 'sweet music' station, UKGM. Duncan and Keith Skues were appointed to take care of the programmes. They visited Radio City's base, Shivering Sands fort, and were preparing for the launch when one Major Oliver Smedley intervened. He sent a boarding party to take over the fort (see here), claiming ownership of a transmitter. In the ensuing row, Smedley shot Radio City's owner, Reg Calvert, dead. This put an end to the plans for UKGM. Duncan and Keith returned to Radio London but, in the meantime, replacement DJs had been taken on. The station was now over-staffed and, following a disagreement with Senior DJ Tony Windsor, Duncan decided it was time to move on.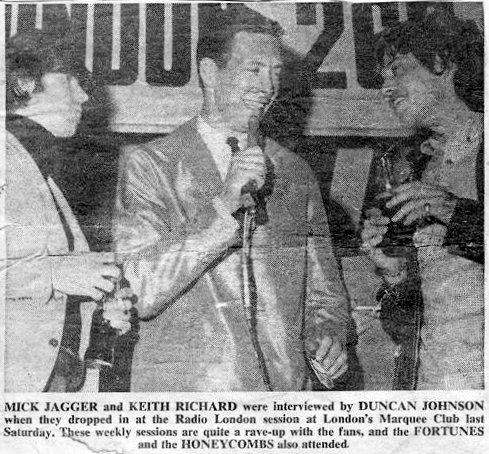 Duncan with Mick and Keith of the Rolling Stones.
After leaving Big L, Duncan helped run a studio in London with photographer Brian Ward. Duncan described his contribution as "I was the dark room assistant, office cleaner and model for syndication photographs for magazines like Woman's True Stories." The studio produced much of the early publicity material for Chrysalis Records as well as various album sleeves. In the early seventies Brian provided photographs for several David Bowie LPs, including the iconic covers of Hunky Dory and The Rise and Fall of Ziggy Stardust and the Spiders From Mars. Duncan didn't give up broadcasting. He hosted a series called Newly Pressed for the BBC Light Programme. His voice was also heard on a number of jingles and drop-ins on the same station's series Where It's At which was hosted by former Big L DJ Chris Denning and also featured Kenny Everett.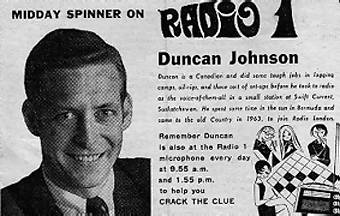 Duncan's 'Midday Spin' and 'Crack the Clue' are promoted in Radio Times.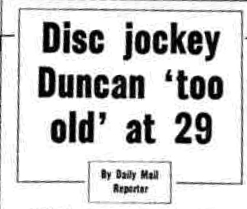 How the Daily Mail reported Duncan's departure from Radio One.
Duncan was part of the first DJ line-up when BBC Radio One opened at the end of September 1967, hosting a weekly Midday Spin programme and voicing the competition Crack The Clue. The station had launched with a lot of presenters, most of them on short-term contracts. A number didn't have their contracts renewed and, unfortunately, Duncan was one of the first to be let go.
Duncan Johnson on an edition of BBC Radio One's Midday Spin from October 1967. This recording kindly provided by Hans Knot (duration 2 minutes 33 seconds)
In 1968 he made a record, The Big Architect, composed by writer and cartoonist Barry Fantoni. It was not a hit but, some years later when Duncan was working at Capital Radio, his colleague Kenny Everett played it on air as one of the dreadful discs on his World's Worst Wireless Show! Listeners were asked to vote and Kenny created a "Bottom 30" chart of awful records. Duncan came in at number 19. K-Tel Records later put together a compilation album of some of the 'World's Worst' songs but, because they weren't able to license Duncan's original recording, he had to go into Abbey Road Studios to make a new version.
A short clip from the original version of The Big Architect by Duncan Johnson (duration 28 seconds)
Duncan got married in 1968 and he and his wife Lynne ran a clothes shop in Epsom, Surrey. Then in 1970, he returned to offshore broadcasting when he joined Radio Northsea International. It was an eventful, if frustrating, time for the station. Frequently off the air, forced to change wavelength a number of times, its signal jammed by the government - it was not like Big L. Duncan's shows were well-received but he only stayed a few months - from April until June. (Some of his photos from RNI are available on Flickr.)
Duncan Johnson on Radio Northsea International from the afternoon of 12th April 1970. This recording is courtesy of the Offshore Radio Archive (duration 3 minutes 55 seconds)

Duncan playing his own record on Radio Northsea International, 31st May 1970. The station was being jammed by the British government at the time which explains the very audible high-pitched tone in the background and the letter about it from The Times which Duncan reads out. Recording shared on the Internet Radiocafé, now known as the Radiotrefpunt (radio meeting point) by Bertus. Our thanks to him (duration 4 minutes 52 seconds)
The following year Duncan hosted some country music shows for BBC Radio London. He also joined EMI Records as a label manager. Duncan's main claim to fame while at EMI was persuading the company to release a piece of library music which had been used as a theme tune for the TV show Van Der Valk. The single Eye Level, credited to the Simon Park Orchestra, reached number 1 in the UK singles chart. In September 1973 he became Production Manager at Radio Luxembourg. His voice was occasionally heard on air but his main job was behind the scenes, making adverts. He was heard on one programme of which he was very proud. Together with Bob Stewart, he presented a two hour documentary about Radio Luxembourg's history called This Is How It All Began.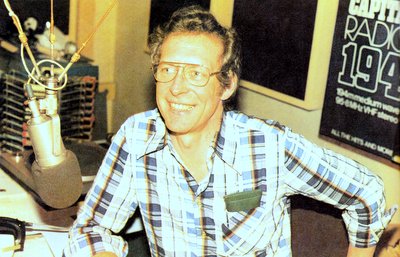 Duncan in the Capital studio.
Photo © Capital Radio.
The beginning and end of the Radio Luxembourg documentary This Is How It All Began (duration 2 minutes 23 seconds)
Duncan joined London's Capital Radio at Easter 1976 (or 1977?). His Saturday show Afternoon Delight, where he was able to combine his passions for football and music, was very successful and is still fondly remembered. He also hosted overnight shows where his warm conversational style of broadcasting and deep dark voice suited the nocturnal audience. In 1984 he moved down to Kent and was heard on Invicta Radio for four years. Following that, he joined a friend's advertising agency.
Duncan Johnson starting Afternoon Delight on Capital Radio, 17th October 1981. This recording kindly shared on Mixcloud by BJleDJ (duration 1 minute 35 seconds)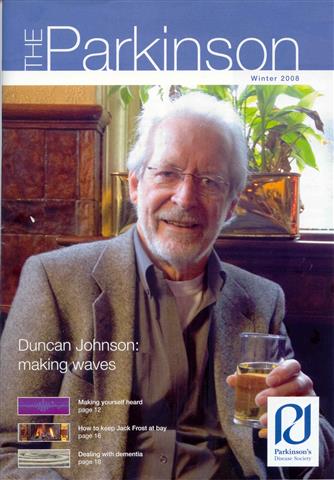 Duncan on the cover of 'The Parkinson' magazine.
At the age of 60 Duncan was diagnosed as suffering from Parkinson's Disease. Medication kept it under control for a few years and he was able to keep working until retirement at 65 but it gradually affected him more and more. Despite this, he was able to contribute to the Pirate BBC Essex broadcasts in 2004 and 2007, and attended a number of offshore radio reunions.
Duncan on the Pirate BBC Essex news jingle (duration 44 seconds) He spent the last few years of his life in Brinsworth House, a nursing home for former showbusiness professionals in west London. In October 2018 he was admitted to West Middlesex Hospital suffering from breathing difficulties. He passed away around 4 o'clock in the morning of the 11th, aged 80.

Following the announcement of his death, many people took to social media to sing his praises - listeners who had loved his voice and his shows, as well as friends who had enjoyed his company. Duncan had been as warm and friendly off the air as he was on it. A very popular guy, he was going to be greatly missed. Duncan was also a huge help to this website, generously sharing photos, providing information and always supportive. As many people mentioned on Facebook, he was a true gentleman. He will not be forgotten.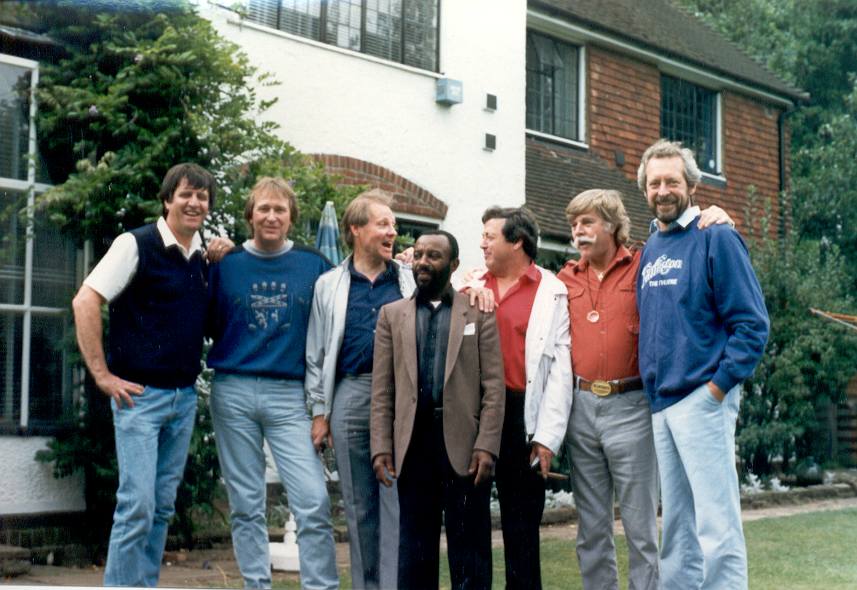 A Radio London reunion. Left to right: Ed Stewart, Mike Lennox, Ian Damon, Mitch the steward, Tony Brandon, Willy Walker and Duncan.
There are also tributes to Duncan on the Radio London and Offshore Echo's websites.