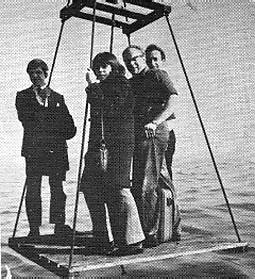 Candy and Susan Calvert There were very few female offshore broadcasters during the sixties. Some made an appearance during the seventies and there were a number during the eighties, especially on Laser-558, but in 1964 they were a rarity. In fact there were just three and they were all members of the same family. The on-air team of Radio Sutch was mainly made up of friends and family of Lord Sutch and his manager Reg Calvert. Two of the very earliest broadcasters were Reg's teenage daughters, Candy and Susan. Another was the girls' aunt, Tamara Harrison. None of them had long careers in broadcasting. In fact Susan was only heard once. She writes: "I can remember quite well that first trip out to Radio Sutch. The station was just being set up - not professional - that came later. It was like a holiday camp and great fun. Not many DJs, just anyone who went - including me - became a 'disc-jockey' for the day. I became the first pirate female DJ and someone wrote to me from Jersey who had heard my broadcast. There were mattresses, camp beds, sleeping bags, a makeshift kitchen which became my domain while I was there. The forts had narrow, very rocky, catwalks between them, some of them dangerous, high above the rough sea below. Ladders down to the sea which was so choppy by the legs that if you fell in you would probably not survive." Candy, Susan's younger sister, appeared a bit more frequently (on a show called Candy's Pop Shop) and continued to be heard occasionally during her school holidays on Radio Sutch's successor, Radio City. Susan thinks most or all of Candy's shows were recorded on land rather than presented live on the fort. She can still remember the initial idea for the station occurring to her father: "When Radio Caroline started, I was with him in the car with Screaming Lord (Dave) Sutch. He was Dave's manager and they were always thinking up crazy ideas for publicity, like standing for election. My parents, as well as managing groups, ran dances in various towns and cities and on Saturday night we went to Nuneaton to run the Co-op Hall. He had taught me to manage the dance halls and from the age of fifteen/sixteen, I was able to run a dance. On this particular night he and Dave Sutch sat in the car, while I ran the dance on my own. They were talking non-stop about Caroline and about starting a pirate radio station just for the publicity - and I think that Dave had no more intention than that. My father, though, was a lot more serious." This photo shows Candy Calvert being winched aboard Shivering Sands fort with Radio City DJ Alan Clark, DJ/engineer Paul Elvey and technician Phil Perkins. There are some more recent photos of Candy, taken at the Radio Academy Celebration of Offshore Radio in August 2007, here. (Many thanks to Susan Moore, née Calvert, for getting in touch and for sharing her memories. She has also sent some fascinating photographs from the days of Radios Sutch and City and a theatre programme for two plays she has written about her parents. She has also written a biographical trilogy. See Fillongley Publications for more details.)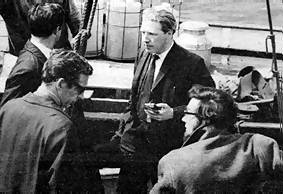 Reg Calvert was one of the great hustlers of the sixties music scene. He managed a stable of groups and solo singers. Although few of them were big national names, they could pack out local dance halls and he looked after them with a shrewd managerial eye and a showman's flair. One of his acts was Screaming Lord Sutch. When the arrival of Radio Caroline captured the public's imagination in early 1964 the two of them decided that a new offshore station might make a good publicity stunt. Radio Sutch launched at the end of May 1964 from Shivering Sands anti-aircraft fort in the Thames. Although originally intended just to get Sutch's name into the press, the longer the station continued the more Reg began to take it seriously. The presenter line-up mainly consisted of Sutch and Calvert with their family and friends. Reg's teenage daughters Candy and Susan presented occasional shows. As an offshore broadcaster, however limited in DJ skills, Reg is eligible for inclusion in The Pirate Radio Hall of Fame. In September 1964 Reg bought out the Screaming Lord and replaced Radio Sutch with his own Radio City. A new more powerful transmitter was installed and over the months that followed the station gradually grew in power, in proficiency and in revenue. Although never one of the big players, Radio City won a loyal audience in south-east England. However in September 1965 merger talks began between City and Radio Caroline South. Caroline was losing money and wanted to move from an expensive ship to a cheaper fort. The plans became apparent on air when City began to re-broadcast Caroline's news and plug some of the bigger station's programmes. A transmitter was delivered to the fort, intended to be used by Caroline when it jumped ship. But the merger plans collapsed. Keen to do a deal of some sort, Reg began talks with Caroline's great rival, Radio London. They agreed to launch a new sweet music station from the fort. To be called UKGM (United Kingdom Good Music) it was going to be run by Keith Skues and Duncan Johnson. Unfortunately a certain Major Oliver Smedley intervened. He claimed ownership of the transmitter and, on the night of 19th/20th June 1966 sent a group of burly dock workers, out of work because of a seamen's strike, to take possession of Shivering Sands. They surprised the sleeping occupants and locked the disc-jockeys out of their studio. Smedley wanted his transmitter back or he wanted a piece of the UKGM deal. That evening an angry Calvert visited Smedley's home. He pushed his way into the house and a scuffle developed with Smedley's housekeeper. The Major, seeing the fight, grabbed a shotgun, took aim and shot Calvert dead. The police were called and Smedley was charged with murder. This was later reduced to a charge of manslaughter, of which he was acquitted on grounds of self-defence. A dispute over something as trivial as ownership of a transmitter (which, by all accounts, did not even work) had resulted in a man's death. It was a tragic loss for Reg's family and friends and it signalled the beginning of the end for British offshore radio as the killing spurred the Government into legislative action. There is more about the raid here. For a detailed look at Reg Calvert's career, see the chapter in Johnny Rogan's book Starmakers And Svengalis. This photograph shows Reg going out to visit his fort with Radio London's Duncan Johnson (left foreground) and engineer Martin Newton (right) on their UKGM reconnaissance trip. There are more pictures of Reg in the Calvert family photo album. For those interested in his early career in pop management, there is a fascinating page about Reg on David St.John's website and more on this Reg Calvert blog. (This photo taken by Martin Stevens and published with his kind permission.)
Reg Calvert on Radio Sutch (duration 1 minute 34 seconds)
Radio Caroline South reporting the arrest of Major Smedley following Reg Calvert's shooting (duration 1 minute 20 seconds) Both tapes kindly provided by Nick Widdows.
Doug Carmichael was the Promotions Manager of Radio Scotland and presented programmes from the Comet while the ship was anchored off the coast of Troon. He first visited the ship as a reporter for the Newcastle Evening Chronicle. He must have made an impression on the station Managing Director, Tommy Shields, because he offered Doug a job as an airtime salesman in Edinburgh. When the ship moved to the east coast, Doug became Promotions Manager. He organised the '242 Clan Balls' on land and was also Stuart Henry's manager, booking his numerous gigs and personal appearances. When the Marine Offences Act closed Radio Scotland down, Doug returned to his old job as a newspaper reporter but he can now be heard on the air again. He says: "I do the Friday Drivetime Show for local community station Oban FM. I treated my listeners recently to a potted history of the pirates and played The Fortunes' Caroline." According to the Oban FM website, Doug's show has now moved to Wednesday lunchtimes. (Many thanks to Doug for getting in touch. If anyone has a photo or recording of him on the air, please contact The Pirate Radio Hall of Fame. Sadly Doug lost his collection when his flat was burgled in the late sixties.)
Tony Carroll was one of the many disc-jockeys to pass through Radio City during 1965. Sadly his broadcasting career was cut short when he developed acute appendicitis and had to be air-lifted off the fort by an RAF helicopter in June 1965. According to this newspaper cutting, kindly provided by Hans Knot, he had only been on the station for a matter of days. The article says that he got his first broadcasting experience while serving in the RAF in Aden. Real name Tony Armstrong, we are sorry to report that he died on the 2nd August 2007 in a car accident in Greece. He was 65 and working at the Macedonian Embassy. He was travelling from Skopje to Greece for a family holiday when the accident occurred. Keith Jennings contacted The Pirate Radio Hall of Fame with this sad piece of information. Keith is married to Tony's eldest daughter and writes: "Tony was married four times during his life and fathered four children. His first two wives were English and the later two were Russian. Tony had a couple of IT companies during the early eighties, primarily facilities management. He then went on to work for the European Parliament as a contractor on various business projects around the Baltic and eastern Europe. Tony's real love in his life was dogs of the hairy kind! He was the successful owner and breeder of Crufts best of breed of Briard (a big French thing, like a mountain dog with a silly bow in its hair). Tony was also a registered canine judge and judged many shows around the world and, even though for the last 18 months of his life he was fighting cancer, ever the optimist, he booked himself for judging shows into 2010. Tony often spoke of his times at the radio station. Even though short-lived, he loved music all of his life. Even at the funeral service, it was mentioned during a farewell speech by one of his good friends." (Our thanks to Keith Jennings for his help.)
Tony Carroll on an evening test transmission from Radio City. Apologies for the poor reception. Tape kindly provided by Nick Widdows (duration 1 minute 14 seconds)
Tony Carroll on a morning show from Radio City. Unlike the poor quality off-air recording above, this is a pristine studio recording kindly provided by Tony's wife, Angelika Armstrong (duration 3 minutes 42 seconds)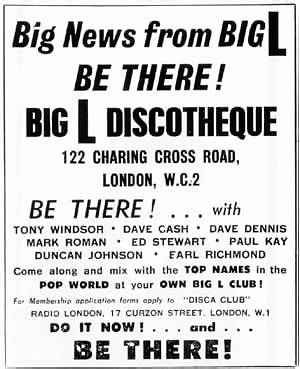 Dave Cash Born in Bushey, Hertfordshire, on 18th July 1942, Dave's family moved to Canada in 1949. His childhood and education were split between both countries but it was in Canada that he first encountered the world of broadcasting while working as a copywriter for a Vancouver menswear shop. Dave was invited to appear on a radio commercial when the actor who had been booked to voice it pulled out with a cold. This led to more radio work and Dave spent some time on CFUN, Vancouver, working over nights as co-presenter, news reader and coffee maker. He also did a short fill-in at CJAV Port Alberni, British Columbia. A letter from a friend in England alerted him to the arrival of pirate radio in the UK and, after a holiday travelling round the States, Dave moved back to London. A fortuitous meeting with Ben Toney, Radio London's first Programme Controller, led to Dave joining the station on 27th December 1964, just days after its launch. His nickname was "Rabbit" and his show was known as The Rabbit Patch. He co-presented the legendary Kenny & Cash Show with Kenny Everett, probably the most popular and best remembered of all the pirate programmes. After medical problems forced him to leave Radio London in 1966, Dave hosted some shows on Radio Luxembourg although he did return to Big L for a week in August 1966 when the station was short-staffed. He was heard on the BBC's Light Programme and, when Radio One opened the following year, was one of the initial line-up of presenters. He enjoyed a Top Thirty hit Groovy Baby under the alias of "Microbe", a character from his afternoon programme. He also fronted a television show, The Dave Cash Radio Programme, and, with Tommy Vance and Kenny Everett, presented on Radio Monte Carlo International. All three of them joined Capital Radio at its launch in 1973. In 1975 he released a version of Desiderata, credited to David. Dave later worked for a number of stations, including Radio West, as Programme Director, Invicta, Country-1035, satellite station EKR, Liberty-963 and, finally, BBC Radio Kent and other local stations in the south of England. Dave also wrote two novels set in the world of radio: The Rating Game and All Night Long, as well as an e-book about his time on Radio London, He Sounds Much Taller (Memoirs Of A Radio Pirate). On 21st October 2016 Dave collapsed and died. The Pirate Radio Hall of Fame tribute to him is here. (Many thanks to Mary Payne of the Radio London website. There are more pictures of Dave in Duncan Johnson's and John Lait's photo albums.)
Dave Cash on Radio London from August 1965, with interruptions from Kenny Everett. Tape kindly provided by Chris Baird (duration 1 minute 34 seconds)
Dave Cash on Radio London in the early hours of Christmas Day 1965. This clip is part of a longer recording shared by The Offshore Radio Archive (duration 3 minutes 1 second)
Dave Cash opening up Big L for the day at 5.30am on 19th March 1966. Recording courtesy of Harm Koenders (duration 4 minutes 44 seconds)

Thanks to Colin Nicol for this picture
of a Radio London pin badge.
The Pirate Radio Hall of Fame needs your

The site is updated regularly and we are always on the look-out for new material to add. If you have any information, photographs, recordings or contact details for any of the disc-jockeys we haven't been able to trace, please get in touch.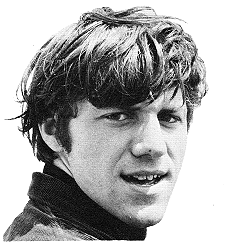 Alan Clark Born in Wales but brought up in Croydon, south London, Alan joined Radio City in November 1965 after hearing an advertisement for disc-jockeys on the station. Radio City was one of the smaller stations, based on Shivering Sands fort in the Thames estuary, and in those days station owner Reg Calvert would often take on a new recruit for a week then pay him off with £5 "expenses". Alan was not prepared to leave it at that and pestered the management until they gave him a full-time job. He stayed with Radio City for sixteen months and became one of their most popular presenters. Along with Ian MacRae he hosted the much-loved comedy show The Aunty Mabel Hour and, with Tom Edwards, shared responsibility for the Five By Four Beatles and Rolling Stones request show. When City closed down in February 1967 he joined Radio 390 but changed his name to Christopher Clark. Here he hosted the station's very last programme. Following the demise of the pirates Alan worked as a journalist for Radio Netherlands, Independent Radio News, TVS and Meridian Television. He is married to Helen Clark, the former MP for Peterborough who lost her seat in the May 2005 general election. (You can hear some recordings of Alan in his guise of "Christopher Clark" on Radio 390 and see another photo here. This photo is from 'Who's Who In Pop Radio', published by The New English Library. There are yet more pictures in Edward Cole's, Peter Berkeley's, Graham Gill's and David Sinclair's photo albums as well as in Carl Mitchell's collection.)
Alan Clark on a Five By Four Show from early 1967. Bill Price, Phil Perkins and Ian West, mentioned in one of his dedications, were Radio City engineers. Tape kindly provided by Martyn Webster (duration 2 minutes 28 seconds)
The sponsored Marie Simone Hour on Radio 390, presented by Christopher Clark, from 13th March 1967. Recording kindly provided by Ray Andrews (duration 5 minutes 38 seconds)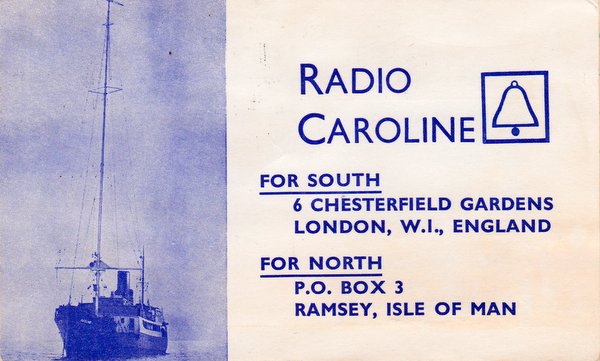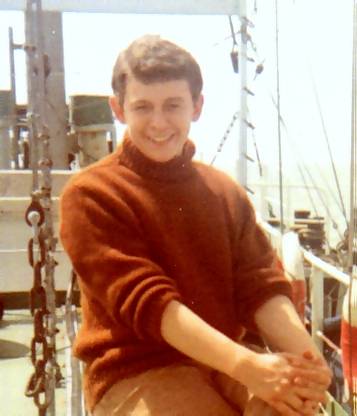 Kerry Clarke Born on 3rd January 1948 in Bexley Kent, Kerry took a long time to decide on a career. He could never stay put and once estimated that he had had around a hundred jobs in a very short space of time. At one stage he had four in a week. Adept at going for jobs, even if not at keeping them, Kerry applied for a position with Radio Caroline and, despite his lack of experience, was accepted. He joined Caroline South in July 1967, at the same time as Roger Day. As with so many of his previous jobs, he did not stay long - just a couple of weeks. Although his time offshore was brief, this was not the end of his radio career. In fact it was just the start. When Capital Radio launched in 1973, Kerry was employed as a presenter and producer, working under his real name of Kerry Juby. He interviewed many of the major stars of the day on his weekend Kerry-Go-Round show. One of the programmes he produced was a 1980 documentary about Radio Caroline called Adios Mi Amigo. After his time at Capital, Kerry was heard on Radio Invicta (the local station in Canterbury not the pirate of the same name) and, as a freelance producer, he made programmes for a number of different stations including Talk Radio. A series he produced for Classic-FM won an award at the prestigious New York Radio Festival. He was also the author of Kate Bush: The Whole Story and In Other Words - David Bowie. He set up a magazine for broadcasters called Q Sheet which he sold in 1998 and then launched the National Recall Chart a Top 40 based on internet votes rather than airplay or sales. The chart countdown programme was heard on the satellite version of Radio Caroline for a time. Sadly Kerry was diagnosed as suffering from lung cancer and, after a period in hospital, died in July 2003. He was 55. (This photo of Kerry on the deck of the Mi Amigo was taken by Sheridon Street who was an engineer on Caroline. You can see more of Sheridon's pictures on his website. We are grateful to him for the photo and permission to include it on The Pirate Radio Hall of Fame.)
Kerry on a late night programme from Radio Caroline South, 23rd July 1967. The recording suffers from some interference and, if anyone has a better tape of Kerry on air, please get in touch. The clip has been kindly provided by Ray Andrews (duration 2 minutes 26 seconds)