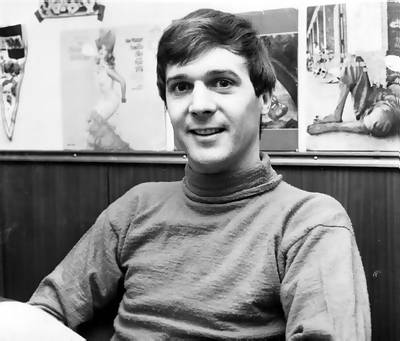 Colin Nicol (originally spelt Nichol) was born in Perth, Western Australia, in the suburb of Buckland Hill, now Mosman Park, on 29 December 1936. Colin's first venture into radio was in 1957 with the 6PM network. Becoming top announcer in the state, he moved to the 6KY network in 1960 where he was also programme director. He made a name for himself championing many of the new rock'n'roll bands of the time. There was a fascinating article about this period of Colin's life on the Rock & Roll Council of Western Australia website. However this site seems to have closed down or moved. If anyone knows its present URL, please get in touch. Before the site disappeared, the text was cached by Google. We hope the Council's web-master does not mind if we reprint it here, with a few updates. Like many of his countrymen, Colin decided to set off to see the world and arrived in the UK in early 1963. A chance meeting with Ken Evans, a fellow Australian who was involved in the launch of Radio Atlanta, led to Colin's recruitment as a disc-jockey in September 1963 - although the station did not go onto the air until the following year. He presented the first full show on Radio Atlanta's day one: 12th May 1964. Most of Atlanta's programmes were pre-recorded on land. The tapes were then sent out to the ship, the mv Mi Amigo, where the transmission was taken care of by two Americans, Johnny Jackson and Bob Scott. After a month these two left. Colin and Bryan Vaughan were sent out to the ship to take their place. They were responsible for playing the recorded shows and for presenting the live ones. In July Atlanta merged with Caroline and the Mi Amigo became home to Radio Caroline South. Colin stayed with the new set-up. His theme tune was Find Me A Golden Street by The Norman Petty Trio. Colin was with Caroline until 1966 when he transferred to the Radio England / Britain Radio team. After a few months he moved to Radio Luxembourg, later becoming a BBC staff announcer, working also on BBC World Service and BBC Radio London. That was followed by five years with the British Forces Broadcasting Service in Malta and Gibraltar. After returning to Western Australia, he ran shopping malls, but also found time to do some part-time broadcasting and lecturing to university media students on a subject he knew well: pirate radio. Colin has been a generous contributor to The Pirate Radio Hall of Fame, providing a Caroline North programme schedule from 1965, the 1964 QSL cards below, some photos taken on board the mv Cheeta II in 1966, his memories of joining his last offshore station Swinging Radio England, a tribute to Radio Atlanta investor Kitty Black, an in-depth interview with Atlanta's founder, Allan Crawford, a Radio Atlanta advertising rate card, some photos of the Caroline Good Guys causing chaos at Battersea Fun Fair and more. Colin is now busily retired to a southern suburb of Perth. He continues with his interest in radio and is in regular contact with radio, entertainment and musician friends worldwide. His current major project is to place on record his collection of mementoes from all his activities. At the same time, he researches local history and writes on that and other matters for local newspapers. (Many thanks to Colin for getting in touch, for all the many contributions and for providing the photo above. Thanks also to his former colleague Colin Berry for correcting the theme tune information.)
Colin Nicol on Radio Caroline South on 2nd January 1966 as he runs through some of the musical film and stage highlights of the previous year. The audio is a bit muffled and a better quality tape would be appreciated if anyone can provide it. Many thanks however to Ray Andrews for this one (duration 1 minute 56 seconds)
Colin Nicol reading a noon news bulletin on Radio Caroline South in December 1965. The voice at the beginning of the clip belongs to Graham Webb. Tape kindly provided by Geoffrey Snow (duration 3 minutes 3 seconds)
Thanks to Colin Nicol for these 1964 Radio Caroline QSL cards.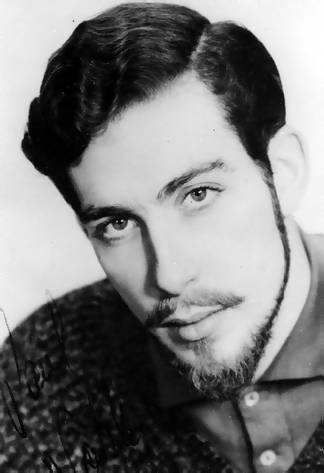 Paul Noble Born on 10 April 1941 in Gosport, Hampshire, his real name is William Butcher. At the age of 10 his father taught him how to make a crystal set and he would listen to Radio Luxembourg and Sam Costa with an earphone under his pillow. Educated at St Joseph's College, Paul had done a variety of jobs before coming to broadcasting, including working as a private investigator and as a farmer. While doing a stint in the RAF he read ghost stories on the base radio station. One day he heard Keith Skues on Radio Caroline mention that he was ex-forces radio. Paul immediately applied to join Caroline - successfully. He was initially given a job as an engineer on Caroline South, arriving on board in September 1964. After presenting the occasional show he was offered a full-time position as a DJ. Known as "Nutty Noble", he hosted the breakfast show and for obvious reasons chose Noble's Theme by The Noble Watts Band as a theme tune. At the end of 1965 he left Caroline. Colleague Bryan Vaughan offered to introduce him to a station in Sydney Australia, so Paul decided he would hitch-hike there. His first port of call was Barcelona where he met the owner of five stations in Spain, Radio Andorra, two in France and, until recently, one in Algeria. The man was now setting one up on the island of Montserrat. This was Radio Antilles which was to beam a signal as far as Venezuela and broadcast in three languages. Paul became the first programme director in French and English and was known down the islands as "La Voix D'or". Visiting Jamaica to get some reggae records for the station, he was offered a job in an advertising agency there as TV and Radio Manager. He later became Creative Director. At the same time he hosted a weekly pop programme which was simulcast on major radio stations and later a three hour Saturday morning programme on which he was disguised as "the Mighty Quinn" - introduced by the Manfred Mann song of that name. A local film production company asked him to direct the first Red Stripe television commercials and, as he says, knowing a lot about beer and nothing about film, he went to learn about celluloid at EUE Screen Gems and computerized images at Dolphin Productions in New York. He started his own film production company in Jamaica in 1969. The work has taken him throughout the Caribbean and Central America. As for Australia, he never made it. He says he stayed in Jamaica "a weekend too long!". Happily married for 35 years to Donna, their daughter Robyn now works in the same business in the USA. Paul's hobbies are sailing and running an organic farm. Looking back he says that Caroline was one of the biggest laughs of his life, along with croc hunting, a Cuban shipwreck and the Belize-Guatemala war! He has sent us some great photographs dating from his time on Caroline South and one more recent one. There are more pictures of Paul in Colin Nicol's photo album. (This photo courtesy of Colin. Our thanks to Paul and to Steve Kirby for their assistance. As yet, we haven't been able to find any recordings of Paul on Radio Caroline. Can anyone help?)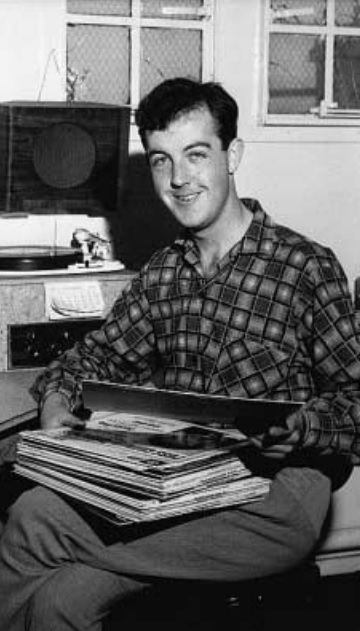 David O'Brien From Waikato, New Zealand, David had been employed in radio for a year in his home country before coming to the UK. He got some work with the BBC before joining Radio 390 as a record librarian and presenter. The librarians on Radio 390 did more than file the records - they also chose which ones would be played. In effect, they were the programme producers. He tells us: "The programme department on Radio 390 was Bernard Goodman (see Edward Cole's photo album) and myself. We worked alternate weeks." In early 1967 Ted Allbeury, the managing director of Radio 390, fell out with his fellow directors and moved to the ailing Britain Radio. He relaunched it as Radio 355, initially a virtual copy of his former station. To help him with this, he took a number of Radio 390 staff-members with him - including David. On Radio 355 he had the title of Programme Supervisor and, as on 390, he was responsible for selecting the music. We are not aware of him presenting any programmes on Radio 355. Following the station's closure in August 1967 David tells us: "I played piano in pubs in London and then started Old Tyme Music Hall shows as a Musical Director. I also did a 4 year stint at the Carlton Tower hotel in Mayfair as a pianist. I returned to New Zealand in 1981 and settled in Te Awamutu (a town on the North Island) where I was Theatre Manager at Riverlea Theatre - an arts centre in Hamilton - for nearly 20 years. Alongside managing the theatre, I also had opportunities to direct musicals there. In Te Awamutu I joined up with the TALOS group (Te Awamutu Operatic Society) and did a number of shows for them as musical director or director. When I left Riverlea, I worked part-time at the Regent Cinema. A major stroke left me paralysed down the right side and shortly after I moved to Auckland to be closer to my family." There is a 2009 newspaper article on-line about David from his time in Te Awamutu (scroll down to page 3). The paper's editor also sent us this photo of David playing one of the antique organs at Te Awamutu's Regent Theatre movie complex. (Some of this information and the photo of David in the Radio 390 record library are from 'The Te Awamutu Courier', with grateful thanks to editor Dean Taylor; thanks also to David for his assistance.)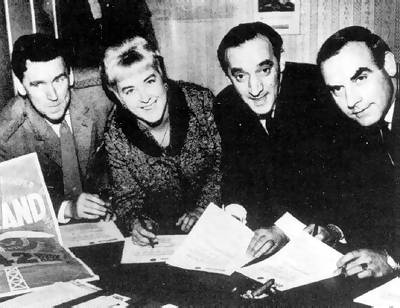 The One O'Clock Gang Tony Currie writes: The One O'Clock Gang was a very successful ITV series, made by Scottish Television and shown at lunchtime for the first eight years of that company's operations both locally and later, on certain days of the week, on Border TV. It came to an end on the last day of 1964. When Radio Scotland launched, its Managing Director Tommy Shields, who had been Head of Publicity at STV, recognised the enormous pulling power of this lunchtime mix of songs, sketches, interviews, birthday dedications and jokes, so he signed up some of the original TV stars to present a radio version. So for the first few months of the pirate station's existence, Larry Marshall, Moira Briody and Tommy Maxwell's trio reprised their TV success on 242, joined for this radio version by David Kinnaird. The daily half-hour shows were recorded at the station's Cranworth Street Glasgow headquarters. (Many thanks to Tony for this information. The photo shows, left to right, David Kinnaird, Moira Briody, Larry Marshall and Tommy Maxwell. It was originally printed in the Glasgow Herald and reprinted from 'Offshore Radio', published by Iceni Enterprises.)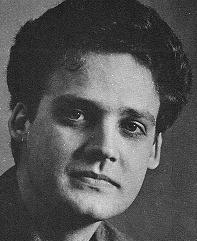 Ron O'Quinn When "Swinging" Radio England launched in May 1966 there were three presenters on the team from the town of Moultrie, Georgia: Larry Dean, Jerry Smithwick and Ron. He was the senior DJ. His start in radio had come with WMGA in Moultrie, at the age of 16, while he was still in school. He had also worked on a number of other stations including WLCY, St. Petersburg Florida, under the name of "Jack E. Rabbitt" and WFUN, Miami, as "Jack Armstrong". Rick Randall has kindly sent this photo of Ron from his time at WFUN. It must have been a huge culture-shock to move from Miami to a boat in the North Sea. Especially a boat with such limited creature comforts as the mv Olga Patricia had in those early days. When The Beatles toured the US during the summer of 1966, Ron went along to report on the gigs for Radio England. Kenny Everett and Jerry Leighton were also there for their respective stations. "Swinging" Radio England was very exciting to listen to and had its supporters but it failed to capture a large enough audience. It was soon in financial trouble and, when Ron encountered immigration problems on his return to the UK after the Beatles tour, he decided to go home. He went back to America and picked up his career where he had left off, on WUBE Cincinnati. For some years he presented Memories Unlimited, a weekly oldies request show, before retiring from full-time work and moving to Ecuador. There he presented the weekly Rock 'n Roll Rewind show which was syndicated in many countries around the world until June 2017 when, after 57 years in broadcasting, he really did retire. See www.teddwebb.com for more about Ron's career. You can hear more of Ron on the radio in our feature on Radio England and Britain Radio. (Many thanks to Ron for getting in touch and for his kind comments: "You have built a very impressive site. Great work! Thanks for including me." Some of Ron's own photos can be found here. This photo from 'Who's Who In Pop Radio', published by The New English Library.)
Ron O'Quinn from the very first test programme on the launch day of "Swinging" Radio England, 3rd May 1966. The station opened with test tone, followed by Mitch Miller's Yellow Rose of Texas. There is some debate about who suggested this song be played first. Johnnie Walker has recalled that it was the choice of station boss Don Pierson but Don has said that it was picked by an American engineer, with his approval. There were then three tracks back to back (The Animals' Don't Bring Me Down, Crispian St.Peters' Pied Piper and The Who's Substitute, all edited out here) before Ron's first words. Recording kindly provided by Harm Koenders of The Offshore Radio Archive (duration 1 minute 47 seconds)
"Ron on the radio" on "Swinging" Radio England during the afternoon of 19th June 1966. Recording shared on the Internet Radiocafé, now known as the Radiotrefpunt (radio meeting point) forum by Paul de Haan. Our thanks to him (duration 4 minutes 8 seconds)
The Pirate Radio Hall of Fame needs your

The site is updated regularly and we are always on the look-out for new material to add. If you have any information, photographs, recordings or contact details for any of the disc-jockeys we haven't been able to trace, please get in touch.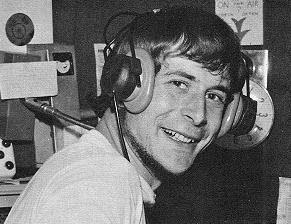 Richard Palmer Born in Wimbledon, London, on 29th March 1943, Dick's family moved to Kent when he was young. After completing his schooldays he took an apprenticeship and worked in motor engineering. He joined the team on Radio Essex, the country's smallest offshore station, based on Knock John fort in the Thames, where he had his work cut out looking after the station's fairly basic technical equipment as well as presenting programmes. He became senior disc-jockey and fort captain and stayed on as the station changed its name to BBMS. When it closed down at the end of 1966, he became road manager for Pink Floyd. During the seventies he was heard on Radio Caroline while it was broadcasting off the coast of Holland (see The Pirate Radio Hall Of Fame 'Seventies Supplement'). Dick was also captain of the ship for a time. Since then he has worked for the Sultan of Oman and is an acting Lieutenant-Commander in the Omani Navy. He now runs an engineering company in Sussex. During the summer of 2001 he returned to the air when he appeared on the Radio Northsea International restricted service broadcast. (This photo is from 'Who's Who In Pop Radio', published by The New English Library. There is a more recent picture, taken at Caroline's 40th birthday party here and he also features in Roger Scott's Radio Essex photo album.)
Stuart Craigen has kindly sent us this clip of Richard Palmer on The Essex Beat Club from 1966 (duration 1 minute 53 seconds)
Richard Palmer on the Formula 67 show on BBMS and closing the station down for the night on 26th November 1966. The station normally operated 24 hours a day but, on this occasion, was having to close for engineering maintenance. The theme music is Who's Afraid Of Virginia Wolf by The Graham Bond Organisation. Recording courtesy of www.azanorak.com. Our thanks to Ray Robinson (duration 4 minutes 31 seconds)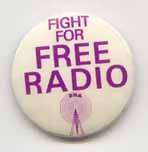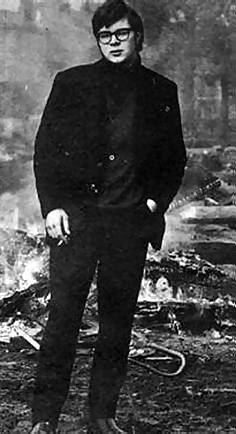 Richard Park Born on 10th March 1948 in Kirkcaldy, Fife, Richard became a journalist after finishing his education, working on the Fife News. He joined his local pirate station, Radio Scotland, in September 1966 and used Wild Weekend by the Rocking Rebels as his theme tune. This track had originally been recorded as a theme for American DJ Tom Shannon. After his time at sea he returned to his old job at the Fife News but was also heard on the BBC presenting the occasional Radio One Club programme. In 1973 he joined Glasgow's new Radio Clyde and stayed 14 years, becoming Head of Music. He moved to London's Capital Radio in 1987, also as Head of Music, rapidly rising to Programme Controller and then Group Programme Director, overseeing all the various stations owned by the company. He still found time to file reports from London for the programme hosted by his old Radio Scotland colleague John Kerr on station 2UE in Sydney, Australia. In March 2001 he resigned his position at Capital to work as a media consultant. He appeared in BBC TV's Fame Academy. After running London's Magic, Richard was appointed Group Executive Director & Director of Broadcasting of Global Radio, a company which acquired many of the major commercial radio brands in the UK including Heart, Galaxy, Capital, Classic-FM and Xfm (now called Radio X). There is a photo of Richard with three of his Radio Scotland colleagues, taken in 2005, here. (With many thanks to Raoul Verolleman for the photo. There is another vintage picture of Richard here.)
a very short clip of Richard Park introducing the Ceilidh programme on Radio Scotland, 8th August 1967. Thanks to Martyn Webster for the tape (duration 35 seconds)
Richard Park on the Swing Across Midday show on Radio Scotland, 1st August 1967. Recording courtesy of Manfred Steinkrauss (duration 3 minutes 35 seconds)
Richard Park on another Swing Across Midday programme on Radio Scotland from 8th August 1967. Recording kindly provided by Harm Koenders of The Offshore Radio Archive (duration 2 minutes 46 seconds)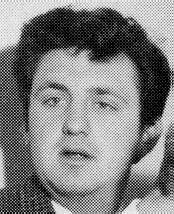 Brian Paull was working as road manager for pop singer 'Screaming' Lord Sutch. He was used to his boss's desire for publicity so when, in 1964, Sutch decided to launch a pirate radio station, he did not take it too seriously. He knew it was just another stunt. But although it started that way, Sutch's manager, Reg Calvert, soon began to take the idea seriously. He realised that it might work. So Brian found himself roped into becoming a broadcaster. Life on Radio Sutch was fairly basic and, on occasions, frightening. In an interview in Monitor magazine, Brian told of how he was stuck on the station's Shivering Sands Fort alone: "I closed (the station) at about half past eleven. I had to refill the generator with petrol from the tank then close it down to save petrol. So there I was in pitch black, just me and these creaking doors and the wind blowing through these steel towers. It was cold and dark and all these noises. The catwalks between the towers used to swing and they had never been oiled since the war so they used to make terrifying noises." Life was not all bad though and Brian used to enjoy sunbathing on the roof and swimming round the fort. You can hear a reference to Brian going for a dip on the Lord Sutch audio clip. Jon Walker, a correspondent to The Pirate Radio Hall of Fame, worked on Radio Sutch and its successor Radio City for a few weeks. He says: "I was a pretty crumby DJ! However it was a very exciting time in my life. Lord Sutch's road manager (Brian) was a DJ. I did save his life when he swam too far off the fort by hauling him back in a small boat." Brian obviously enjoyed his swimming but, sadly, Monitor reported that he drowned in an accident while on holiday in Greece in 1971. (The photo is by Syndication International from "Offshore Radio" published by Iceni Enterprises.)
Brian Paull on Radio Sutch on 12th June 1964. The station broadcast on very low power. Apologies for the poor reception. Recording kindly provided by Hans Knot (duration 4 minutes 32 seconds)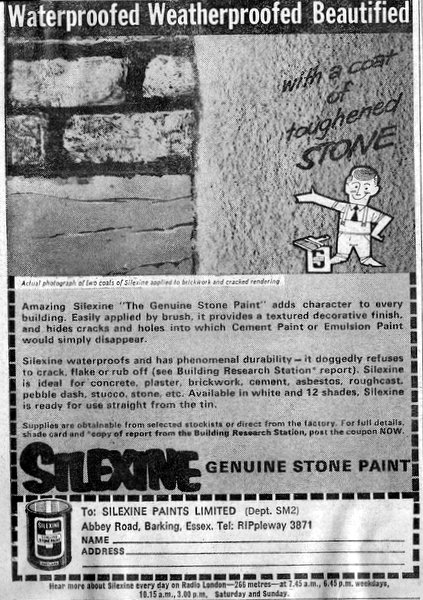 Thanks to Mike Lewis for this press advert for Silexine Paint, a product which was advertised on most of the offshore stations.
Note the comment at the bottom of the advert, drawing attention to its campaign on Radio London.


John Peel playing a Silexine advert on Radio London in July 1967 (duration 57 seconds)
John Peel Born 30th August 1939, in Heswall, Cheshire, he was educated at Shrewsbury public school and did his National Service in the Royal Artillery. He then worked at Townhead Mill in Rochdale, Lancashire, before moving to America. His first job there was with the Dallas Cotton Exchange but his love of the blues led to him making a guest appearance on a local radio station, WRR. When the Beatles took off in America, an English accent, especially an almost Liverpudlian one, was much in demand. John became the resident Beatles expert on KLIF in Dallas. A full time job on KOMA in Oklahoma City followed, then KMEN in San Bernardino. An unsuccessful marriage prompted his return to the UK where a neighbour of his mother's put him in touch with Radio London. On the basis of his experience on American radio, John was immediately given a job and joined the station in March 1967. As always, the newest recruit had two air-shifts. John deputised for whichever DJ was on shore leave and presented the midnight-2am show. While working in America John had become very aware of the music of the "underground". It was the hippy era and dozens of new bands were emerging. John began to feature the best of this new music on his late night programme which came to be known as The Perfumed Garden. It immediately won a large and loyal following and was hugely influential. He stayed with Radio London until its closedown when he became part of the founding team of Radio One. He was with Radio One until his death - nearly forty years. He was constantly ahead of the pack, championing the new and the interesting. Too many artistes to list got their big breaks on his show. John played all sorts of music - and usually before anyone else. During his long broadcasting career he also presented programmes for the World Service and BFBS, and hosted Radio Four's Home Truths magazine programme. In January 1990 John was the castaway on Radio 4's Desert Island Discs. The programme is still available on the BBC website. He was awarded an OBE in 1998. Radio Academy, a trade body for people who work in the industry, has its own Hall of Fame honouring those who have made an outstanding contribution to UK radio. John Peel was inducted into this august group in December 2003. John died suddenly in October 2004, while on holiday in Peru. He was 65. A report of his death is on the BBC website. There is a collaborative Wiki site devoted to John and his career at peel.wikia.com/wiki and The Pirate Radio Hall of Fame's own tribute is here. (Photo from 'Beatwave' magazine. Thanks to Chris for pointing out a couple of mistakes, now corrected.)
John Peel in The Perfumed Garden on Radio London on 18th July 1967. Tape courtesy of Ray Andrews (duration 3 minutes 6 seconds)
John Peel ending the last ever Perfumed Garden on Radio London on 14th August 1967. The programme had continued through the night on this one occasion and John was about to hand over to Chuck Blair with the final Breakfast Show. Recording kindly provided by Albie Somerset (duration 3 minutes 45 seconds)

Mac Peters One night in 1964, a Coventry club disc-jockey got into a fight. He turned up for work late - and with two black eyes. The manager took one look at him and refused to let him go on stage like that. He was sent home and, instead, Peter the trainee manager was instructed to take over the "Off The Record" disc session. The young lad had never played a record on stage before but gave it his best shot and the night proved a great success. So much so that, at the end of the evening, a man called Reg Calvert came over to see him. Calvert was in the venue to arrange a booking for a group he managed called The Fortunes but he also owned a radio station. He had just taken over Radio Sutch and relaunched it as Radio City. He needed disc-jockeys and he offered Peter a job. They shook on it and Peter joined Radio City. Calvert gave him a new name. Real name Peter MacDougall, he became 'Mac Peters' - a name he hated. Unfortunately this was not the start of a dream career. In his own words, at that time he was "a dreadful disc-jockey". Fortunately he got better. Mac lasted on the Radio City fort for just one stint - a total of three weeks. Although his offshore career was brief, he worked in broadcasting for many years. Having ditched the Mac Peters name, he worked as Peter Madison on BBC local radio, the American Forces Network, WCFL in Chicago, WIRA in Florida, and a whole host of Irish stations. Later he lived in the west of Ireland producing commercials and jingles in his home studio. He died in December 2018 after a short illness. (This photo dates from 1984 when Peter was working for South Coast Radio in Cork. Does anyone have a picture of him from his Radio City days?)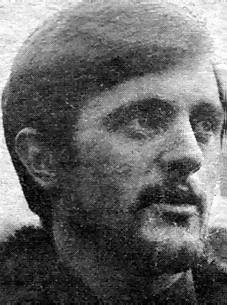 Brendan Power was born in Fethard on Sea, Ireland, on 7th September 1944. He moved to England in the early fifties and was educated at Tiverton Grammar School in Devon. His early career was initially spent in the City, where he worked for a stockbroker, before joining Beaverbrook Newspapers. In the sixties he managed various pop groups including Episode Six which included Ian Gillan and Roger Glover, later of Deep Purple. A story in the Daily Mirror of two disc-jockeys leaving Radio 270 because of the bad weather, and alleged poor sea worthiness of the ship, led him to apply for a job with the Yorkshire based station. Programme Director Noel Miller turned him down but, when Miller returned to Australia, Brendan managed to convince station owner Wilf Proudfoot that he had been hired and had quit his job to take up this new position. Fortunately Pete Bowman had just left and there was a vacancy so between Christmas and New Year 1966 he joined the ship. His theme tune was Rocking Goose by Johnny & The Hurricanes. After a few months he left to take up a position with Radio Antilles in Montserrat, the same station that Pete Bowman had joined. Here, at different times, Brendan was a disc-jockey, news editor, programme director and sales manager. He returned to the UK in November 1973 to join BRMB Radio in Birmingham as commercial producer. After three years he switched career paths when he left to work in financial services. Brendan became one of the country's top sales people, a leading motivational speaker and was at one time President of the Professional Speakers Association of Europe. Some time ago he compiled a book called From The Heart of Ireland, a collection of inspirational stories from Ireland, in aid of Laura's Hope, a charity devoted to finding a cure for Huntingdon's disease. More recently he wrote Heroes of the Helen Blake, the story of one of the greatest lifeboat tragedies in Irish maritime history. (Many thanks to Brendan and Karl Jones for the above information. This photo is from 'Rado News'. There is a picture of Brendan with some of his Radio 270 colleagues in Guy Hamilton's photo album. and some more recent ones here.)
Brendan Power presenting the 9-midnight show on Radio 270, 30th December 1966, soon after joining the station. Tape kindly provided by Martyn Webster (duration 1 minute 35 seconds)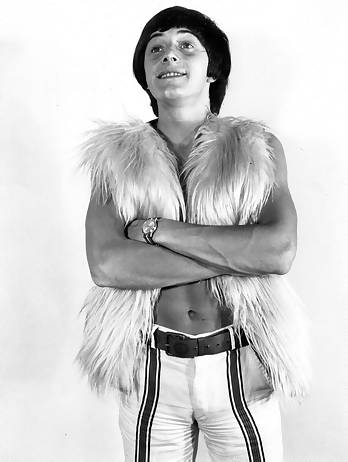 Tony Prince Born 9th May 1944, in Oldham, Lancashire, Tony is the only offshore personality to have been a real jockey before becoming a disc-jockey. This part of his career was short and was followed by time as an apprentice toolmaker and member of a band called The Jasons. He became a club DJ and, while working in Bristol, presented an early ITV pop programme, Discs-a-Gogo. On one of the shows, Tony Blackburn made an appearance to plug his latest record (the edition broadcast on Tuesday 7th September 1965, according to the TV Pop Diaries website). Tony Prince asked him for a contact number for Radio Caroline. He phoned them, had an audition and joined the north ship at the end of 1965. He transferred to Caroline South briefly, presenting programmes from the station's temporary home on the Swedish mv Cheeta II. This ship was on loan to the Caroline organisation while the Mi Amigo was being repaired, after losing its anchor and being washed up on the beach at Frinton-on-Sea. Tony then returned to Caroline North and "your royal ruler" was one of the station's most popular presenters. He used a number of different theme tunes including two recorded by Sounds Incorporated: Go and I'm Coming Through. Tony stayed until the introduction of the Marine Offences Act in August 1967. He went on to be Programme Director of Radio Luxembourg. Since then he has been heard on Capital Gold in London and Xtra-AM in Birmingham. Tony was quick to spot the potential of club culture and started the very successful Disco-Mix Club and the spin-off magazine Mixmag. This he later sold but he continues to operate the club, now known as DMC World. The book The Royal Ruler & the Railway DJ by Tony and Jan Šesták was published in hardback in December 2016. It tells the story of Radio Luxembourg from both sides of the Iron Curtain. Between April 2018 and May 2021 Tony operated United DJs Radio, an internet station he set up which featured a number of ex-pirates and friends from his time on Radio Luxembourg. (Thanks to Robbie Dale for the photo. There are some articles about Tony's time with Radio Caroline in the fans' memorabilia section and some pictures taken during his short stay on Caroline South here. Tony has also kindly shared some of his own photos from his time on Caroline North here. He also features in Nick Bailey's photo album and home movies. In July 2004 Tony attended the First North American Pirate Radio Reunion in Vancouver, Canada. There are photos of the event here. He also attended the Offshore 50 reunion in August 2017. See also the Manchester Beat site. As well as the audio, below, Tony can be heard in a clip on the Mick Luvzit tribute page.)
Tony Prince hosting the Midnight Surf Party on Radio Caroline North, early in his broadcasting career on 3rd January 1966. This is an edited version of a recording available from www.azanorak.com. Our thanks to Ray Robinson (duration 4 minutes 8 seconds)
Tony Prince on Radio Caroline North from 13th August 1967, the day before the Marine Offences Act became law. It was Tony's last show, a fact pointed out by an interrupting Dave Lee Travis. The voice on the advert for the transistor radio offer is that of Carl Conway. Tape kindly provided by Chris Baird (duration 4 minutes 5 seconds).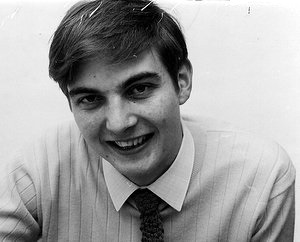 Mike Procter was heard on Radio City for a short time in February 1965 as a 'trial DJ'. In the early days of the station, when money was tight but eager DJs were plentiful, station owner Reg Calvert would invite potential broadcasters out to the fort for a short period, unpaid apart from their board and lodging. There were many 'trial DJs' on Radio City during 1965. Most of them are featured on The Pirate Radio Hall of Fame but there are others that we still have not tracked down. (It took over 40 years in Mike's case! If you worked on City, please get in touch.) Mike says that his stay on Radio City was so brief that he has no 'big picture' memories to share just anecdotes like the blue plastic bucket acting as a supporting insulator for the transmitting antenna, a minor transmitter fire adding to the feeling of being stuck out in the middle of nowhere, the sheer cold of being in a metal box in the Thames estuary in February, and an oft repeated live-voiced advert for the new film The Sound of Music! Mike says he became "very fired up about radio and DJ-ing at the time". His outlets for this in later years have been hospital radio, mobile disco work and a community radio station in Oman but mostly his career has been in broadcast engineering. However, for the final 15 years until he retired in 2011, he was back behind the microphone. He managed a Christian radio project making public service programmes for second language English users, broadcast on about sixty outlets internationally. These broadcasts involved voicing at about half speed yet still sounding natural. Mike's voice can still be heard on some of the programmes (try Googling 'Mike Procter Spotlight English'). He lives near Cambridge, married with two adult daughters. (Many thanks to Mike for the photo, the information and the recording. We have a couple of photos of Mike at Radio City's 50th birthday gathering in Whitstable in September 2014.)
Mike Procter on his very first show for Radio City, 26th February 1965. He was 18 years old, had never broadcast before and, with no slip mats on the turntables, he admits it wasn't the slickest of shows. There were a few gaps which we have tightened up. Thanks to Mike for the recording (duration 2 minutes 51 seconds).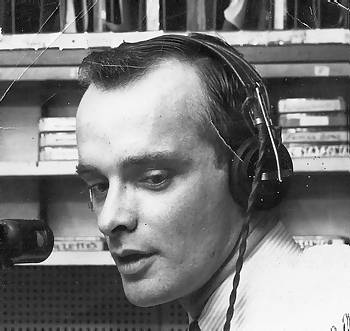 Harry Putnam (born 1936, Washington, D.C.) was an American airtime salesman who worked with and was heard on both Radio Essex and Britain Radio. Before heading to the UK around 1965, he broadcast from the DC area on such stations as WDON, WEAM, WASH, WEEL, WIVE, WPIK and WTOW and served as General Manager at some of them. He became involved with Radio Essex very early in the station's life and brought some high-powered salesmanship to the operation. (There are apocryphal stories that he had his car radio 'tweaked' so that Radio Essex's notoriously weak signal sounded louder than any other station on the dial when he demonstrated it to prospective advertisers; and, allegedly, he could be known to play a client Radio 390's much more powerful output, claiming it was Radio Essex!) Although he was not a daily broadcaster on Radio Essex, Harry's voice was heard on numerous commercials and he did occasionally present programmes from the Knock John fort. Many of the American records played on Radio Essex were from Harry's personal collection. In 1966 he transferred to the Radio England/Britain Radio setup. Again he was mainly employed as an airtime salesman but he also found time to host the regular Sunday evening R&B Night Ride on Britain Radio under the name of Johnny Dark. Following the end of the sixties era of offshore radio, we lost touch with Harry but his Britain Radio colleague Jack Curtiss tracked him down in June 2008. He wrote at the time: "the irrepressible Dark Lord of the Night Ride (aka Harry Putnam) is alive and well, despite having a few strokes, and is living with his current wife, Cherl, in Pasadena, Maryland, not that far from Towson, the Baltimore suburb where he worked on WTOW years ago." From what we understand from Harry's family, after Britain Radio closed down in 1967, Harry, his second wife, Penelope, and infant daughter Michele moved back to the Washington DC area and he worked as General Manager at WTOW and WEBB. By the seventies Harry had left broadcasting altogether but continued to work in the music business, selling recorded background music. He was one of the top producers and eventually went on to own his own background music company, as well as operating several petrol stations, a satellite dish business and numerous other successful ventures. One of Harry's daughters, Michele Trankovich, very kindly sent us this photo and other items of memorabilia from her father's career. Sadly Harry passed away in January 2019, aged 82. (Our grateful thanks to Jack, Michele and Harry. There are some photos of Harry, taken in 2009 and 2011 with his old Britain Radio colleague Jack Curtiss, here.)
Harry Putnam on a Radio Essex commercial for Channel Airways. Recording courtesy of Andy Cadier (duration 35 seconds).
A promotion for Johnny Dark's R&B Night Ride from Britain Radio, 1967 (duration 37 seconds).