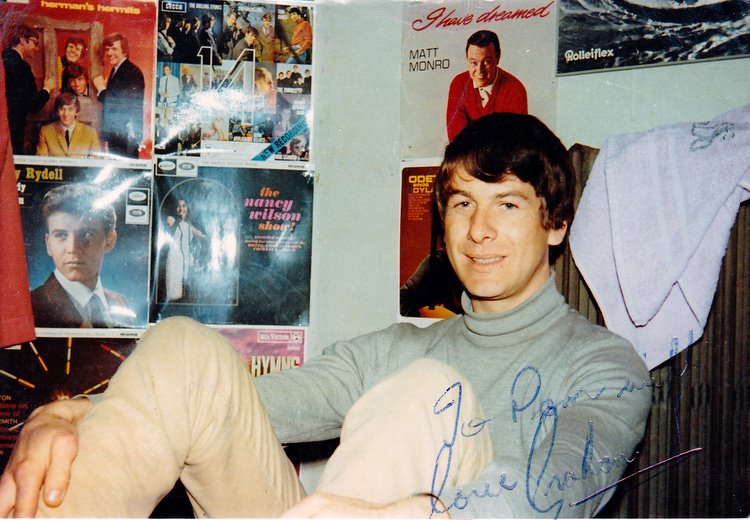 Autographed photo that Graham sent to Pam Wood, his fan club secretary, kindly provided by Grahme Wood.
One of the most distinctive voices in offshore radio has been silenced by the death of Graham Gill.

Born Graeme Gilsenan at 1.20am on 15th April 1936 in Melbourne, Australia, he showed an interest in radio from a young age. Bought a crystal set receiver for his ninth birthday, he delighted in tuning around the dial. As an asthmatic child, he was forced to spend a lot of time indoors which gave him plenty of opportunity to listen to the broadcasters of the day. By the age of 11 Graeme had a studio in his bedroom and was 'broadcasting' down a telephone line to his neighbours. His unlicensed station proved so popular that the local paper carried a story about it.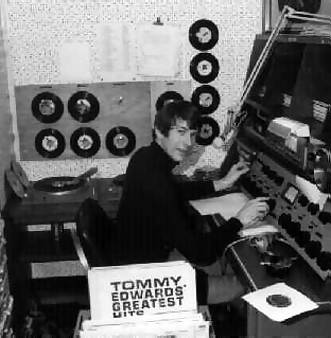 Graham Gill in the Britain Radio studio. Photo courtesy of Look Boden.

When it was time to leave school, there was only one career which interested him. Fortunately his father heard about a position going in the programme department of Melbourne station 3UZ. Graeme applied - and got it. It was only a junior administrative post but he did occasionally get to speak on air when delivering records to the studio for the station's star DJ. Graeme attended the Vincent School of Broadcasting after work three nights a week and even found time to attend voice coaching classes too. He was determined to get on the radio.

His voice coach told him about a position going at station 3KZ for a panel operator / trainee announcer. Graeme got the job. One of 3KZ's top DJs was Alan Freeman, later to be a star in the UK, and Graeme became his regular panel operator. Unfortunately his asthma was getting worse and a doctor suggested he should move somewhere with a drier climate. He applied to various stations and, in February 1955, was taken on by 2RG, Griffith, New South Wales. One of his colleagues there was Ian Davidson, later to join Radio London as Ian Damon. Graeme spent ten very happy years at 2RG but wanted to see more of the world. He booked a trip to Europe on a cruise ship, intending to return to 2RG after his travels. The ship docked in Piraeus and Graeme travelled through Greece, Italy and France before arriving in the UK.

When he got to London, his old colleague Alan Freeman pointed him in the direction of Earls Court, then home to so many visiting Australians, and Graeme quickly found a room in a shared flat. Almost immediately he was offered work too - playing records and introducing the performers at the Wimbledon Palais dancehall.

Radio London regularly promoted events at the Wimbledon Palais and, by a lucky coincidence, Graeme's first night there was one of theirs. He met the station's Promotions Manager, Gordon Sheppard. Gordon was impressed and suggested that the young Aussie might make a suitable addition to Big L's DJ roster. The Programme Director agreed and Graeme joined Radio London on 11th May 1966. After discovering that most of the fan mail was spelling his first name the English way, he began spelling it that way himself.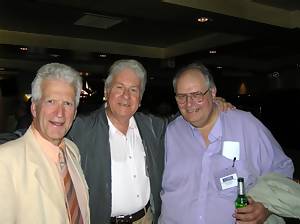 Three Britain Radio colleagues reunited at the Radio Academy's Celebration of Sixties Offshore Radio in August 2007. Left to right: Phil Martin, Graham and Dave MacKay.
At the end of his fortnight's stint on Radio London, Graham (as he now was) came ashore on leave. When he got off the tender he was met by Don Pierson. Don had been the original founder of Radio London but had fallen out with his fellow directors. He was now in the process of setting up a rival operation which would house two stations, Swinging Radio England and Britain Radio. He offered Graham a lift back to London - and a job. At that time Graham was only interested in the ride but, when he popped into Radio London's offices for a meeting with Programme Director Alan Keen, he was astonished to find that Big L was dispensing with his services. After only two weeks on the station, he was out. (At the time Graham was too stunned to ask why but we think he was let go to make room for Willy Walker. Willy was a friend of a number of the existing DJs and they were pressing for him to join.) Graham immediately called Don Pierson. Was that job still open? It was and Graham was swiftly taken on to join the launch team, presenting shows on both Swinging Radio England (fast moving Top 40) and Britain Radio (easy listening).
Graham Gill in the early hours of 19th June 1966 on Swinging Radio England. Recording courtesy of the Offshore Radio Archive (duration 3 minutes 53 seconds)
Graham Gill on the Morning Requests show from Britain Radio in July 1966. Recording courtesy of Stuart Russell (duration 2 minutes 37 seconds)
It took a while for the two stations to get going. Technical problems dogged them and, once they were on the air, things did not run entirely smoothly. Radio England only survived until November but Graham continued on Britain Radio. Although he enjoyed working with his professional American colleagues, he decided it was time to move on. Alan Freeman had introduced him to Jeff Kruger, owner of Soho's Flamingo Club. Kruger needed a DJ to introduce the acts performing there and Graham was happy to oblige.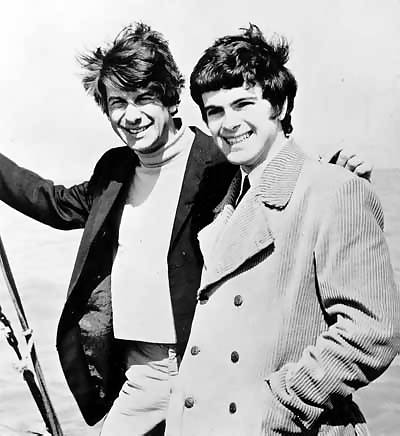 Radio 390 colleagues and later on Radio Northsea International too, Graham, left, and Roger Scott (known as Arnold Layne on RNI). Photo courtesy of Roger.
After a while working in the club, Graham bumped into his old Britain Radio colleague Jack McLaughlin. Jack was now working for Radio 390 - and enjoying it. He mentioned that a vacancy was coming up shortly on the station and suggested that Graham should audition. He did and, soon afterwards, was out on Red Sands fort, trying to tone down his Australian accent as much as possible on "Britain's family station", Radio 390.
Graham presenting the Lunchbreak programme on Radio 390, 14th June 1967. Recording shared by Paul de Haan on The Offshore Radio Club Forum (duration 2 minutes 42 seconds)
Unfortunately Radio 390 was fighting a battle for survival in the law courts and all too soon the end came. On 28th July 1967 Graham hosted what turned out to be the last live show, although he didn't know it at the time. He read the 5pm news bulletin and started the tape of a pre-recorded programme. Then word came through from land of the court's decision. The station had to close. Senior announcer Edward Cole faded out the tape, made an announcement and Radio 390 was gone.
Graham's final words on Radio 390's last day on air, 28th July 1967, as he finishes the Teatime Tunes programme and reads the news. Recording courtesy of the Offshore Radio Archive (duration 2 minutes 12 seconds)
The Radio 390 announcers had prepared a closedown programme in which they said their goodbyes. Unfortunately it was never broadcast. This is Graham's farewell. Recording courtesy of Martyn Webster (duration 3 minutes 34 seconds)
It was the end of Radio 390 and, as Graham's UK visa had expired, it was the end of his time in Britain too. He was intending to return to his old station in Australia but, before he left Europe, decided to visit his step-father's family in Amsterdam.

Almost as soon as Graham arrived in the Netherlands, he met a man who was about to open a club. He needed someone to book the acts and run the entertainment. He offered Graham a six month contract. Surely Australia could wait a little longer. But when that contact expired, he was offered a job at another club and regular DJ gigs around the country. He also went on a tour of Sweden with Dutch pop group The Cats.

In 1973 Radio Caroline was back on the air, this time from off the Dutch coast. Graham joined the station but quickly realised that the station had no money. After a week on the mv Mi Amigo, he decided that - for now - he was better off DJ-ing in clubs.
Graham Gill on Radio Caroline, 8th March 1973. This is an edited version of a recording available from www.azanorak.com. Our thanks to Ray Robinson (duration 3 minutes 15 seconds)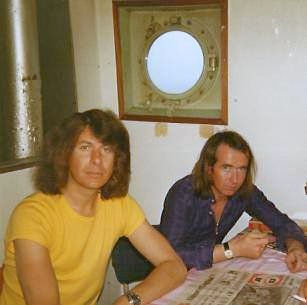 Graham Gill, left, with Brian McKenzie on Radio Northsea International's ship, mv Mebo II. Photo shared on Facebook by Mike Willis.
One night in one of the clubs, he got chatting to Radio Northsea International's Brian McKenzie. Brian suggested that maybe Graham would like to join RNI. He would.

It was on Northsea that Graham really made a name for himself, right across Europe. He had only been on Radio London a short time - too short for people to really get to know him; on Radio England and Britain Radio, he had been restricted by the station formats; and on Radio 390 personality broadcasting had been frowned upon. But on RNI, he could express himself. And this was particularly true with his choice of theme tune. Every night he played the instrumental version of Junior Walker's Way Back Home over which he sang live about his life, coming from Australia and ending up on the mv Mebo II.
Graham Gill starting his show on Radio Northsea International just after midnight on 3rd June 1973. This recording from the station's FM outlet was made available by The Offshore Radio Archive (duration 4 minutes 26 seconds)
At that time each of the RNI disc-jockeys had a weekly specialist show (Don Allen played country music, Mike Ross - and later Roger Kent - oldies, Brian McKenzie rock'n'roll, etc.). Graham took over the Sunday night request show.
Graham Gill opening the Request Show on 14th April 1974 with help from 14 year old Bobby Schmidt, the nephew of engineer Rudi Kagon. Recorded from the FM outlet of Radio Northsea International, this tape was shared by Hans Hendriks on The Offshore Radio Club Forum. Our thanks to him (duration 4 minutes 12 seconds)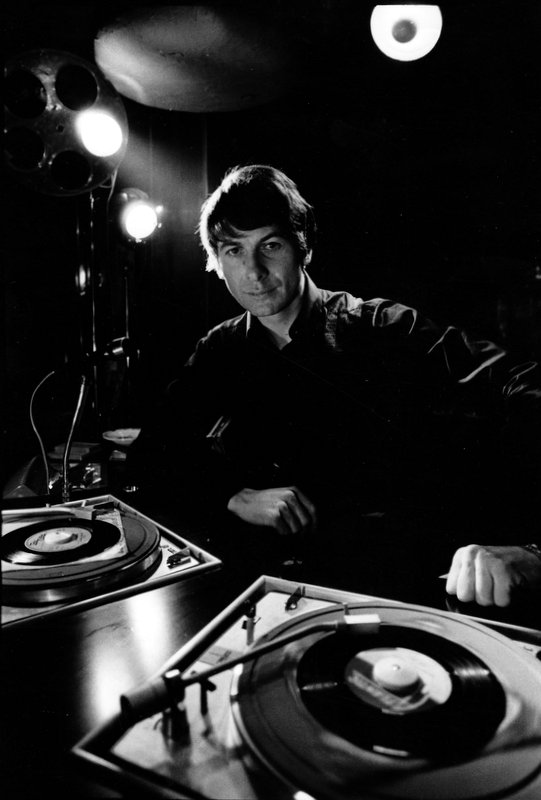 Graham Gill behind the turntables at the Birds Club, Amsterdam. Promotional photo copyright de Volkskrant, kindly provided by Grahme Wood.
Graham enjoyed his time with RNI and stayed for more than a year but he had kept in contact with the guys on Caroline. When station boss Ronan O'Rahilly offered him the post of Programme Director, he decided to swap ships. He re-joined Caroline on 8th June 1974. Graham arranged for some of Caroline's programmes to be recorded in a record shop in Amsterdam and, towards the end of his time with the station, tended to tape his shows there rather than hosting them live from the ship. His panel operator for these programmes was a man called Robert de Goede, later to become a DJ himself under the name Ad Roberts. (Sadly Ad died in April 2018, a few days before Graham.) Graham was sometimes referred to on air by the nickname Grizelda.

Graham left Caroline when the Dutch Marine Offences Act became law in August 1974. He still had his club gigs but was beginning to tire of the late nights. Fortunately some freelance work turned up with Radio Netherlands, the Dutch World Service. Initially this consisted of reading the news and doing continuity announcements but soon he was taken on full-time and given music shows to present. He was in his element and enjoyed working there.

Unfortunately this didn't last. There was a new boss and a change of policy. Radio Netherlands cut down on the music and increased the news content. Graham found himself on long shifts, reading news bulletins at anti-social hours. In 1984 he decided it was time to call it a day.

He made the occasional appearances on air, most memorably on the short-lived Radio Caroline cable service in Holland, but otherwise lived a contented life of retirement in Amsterdam. He was a regular at the Dutch Radio Days, often finding himself persuaded to sing a rendition of his old RNI theme song. His autobiography, Way Back Home: The Graham Gill Story, from which much of the information on this page comes, was published in 2010.

He passed away in his sleep at home on 9th April 2018, 6 days before his 82nd birthday.

Graham was a true radio professional, able to cope with a wide range of programme formats. He will be remembered fondly by many - especially his fans from RNI who will never be able to listen to Junior Walker's famous tune again without hearing Graham deep and distinctive voice singing along: "Now I come from Australia. That's the place where I come from. I have travelled this whole wide world over. Come and join the throng....."
---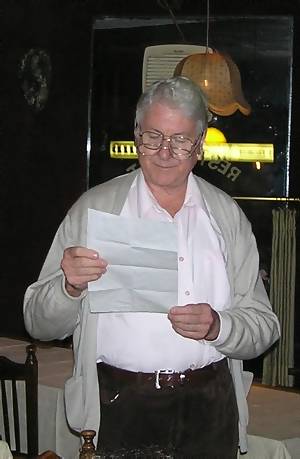 Graham Gill performing his old RNI theme tune at the 2005 Radio Day in Amsterdam.
A number of friends and former colleagues have paid tribute to Graham on Facebook:

"Another great presenter and all round good guy. Soon he will be 'way back home'. RIP mate."
Johnny Lewis

"Dear old Graham. Very sad news. I could bore for Britain with tales of Graham. He was such an amazing character who I will greatly miss."
Andy Archer

"Dear, so very human, Graham. And he was certainly A One! We first met aboard Red Sands 51 years ago and always had a fond regard for each other. But then Graham was just generally fond of people - which alone made him outstanding. His departure is a grievous loss to this life of ours. God bless dear soul."
Roger Scott / Arnold Layne

"I am sorry to hear this news. I am glad I got to visit with Graham again in Amsterdam at the Radio Days a few years back."
Ron O'Quinn

"Very sad news indeed. Met Graham on a number of occasions and of course at the Radio Days in Amsterdam. RIP Graham and sincere condolences to his many close friends. Best Wishes, Norman."
Norman St. John

"Very sad news. Graham was a true professional and a joy to work with. He won't be forgotten. I'm sure that he's on his Way Back Home, Good People! RIP Graham."
Robin Banks / Adcroft

"So very sad, another great broadcaster has left us, RIP Graham."
Martin Kayne

"Brilliant broadcaster and most entertaining company. Farewell Graham. xo"
Johnny Jason
See also Radio London's tribute to Graham.

Martin van der Ven and Hans Knot have put together an album of around 350 photos of Graham. It can be found on Flickr.