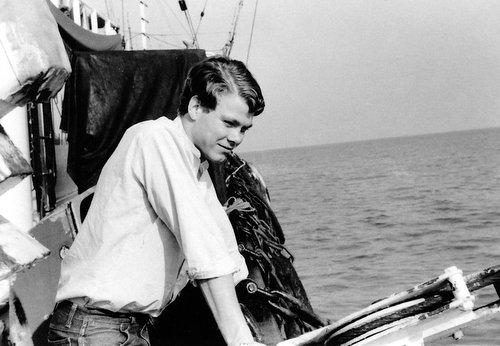 Nick Bailey was born in London on 30th April 1947. The son of actor Robin Bailey, Nick also appeared on the stage as a member of a theatre company in Plymouth. He later worked in the publicity department of London's Mermaid Theatre, before joining Radio Caroline South as a newsreader in September 1966. He later moved to the North ship and remained with the station until the introduction of the Marine Offences Act the following August. He emigrated to Australia in 1968 on a £10 assisted passage ticket. After working on several radio programmes in Australia, Nick moved to Hong Kong where he presented a classical music show. He was with the British Forces Broadcasting Service in Gibraltar, Cologne, Berlin and Hong Kong before rejoining Radio Hong Kong in 1985 where he presented a daily current affairs programme. When BBC Radio 5 launched in August 1990 Nick became their Hong Kong correspondent, returning to the UK to join Classic FM in time for its launch in September 1992. The first voice on the station, he stayed with Classic for 25 years, retiring in 2017. Nick has very kindly provided some fantastic photos and cine film which he shot on Caroline North. There is another picture of Nick in Keith Hampshire's photo album and some more recent ones, taken at the Radio Academy Celebration of Offshore Radio in August 2007, here. Nick has a website at www.nickbaileyradio.com where it is possible to purchase copies of his autobiography, Across the Waves: From Radio Caroline to Classic FM. Since July 2022 Nick has been one of the station voices on Boom Light, the sister station to Boom Radio, playing music from the 50s and standards. He now also has his own show on Sunday mornings between ten and twelve. (Thanks to Nick for this photo, taken by his colleague Bob Larkins on board Radio Caroline South's vessel, the mv Mi Amigo.)
Nick Bailey reading the 8am bulletin on 8th August 1967, his last day on the station. He went on shore leave later that day and never returned due to the introduction of the Marine Offences Act. Recording courtesy of The Offshore Radio Archive (duration 3 minutes 50 seconds)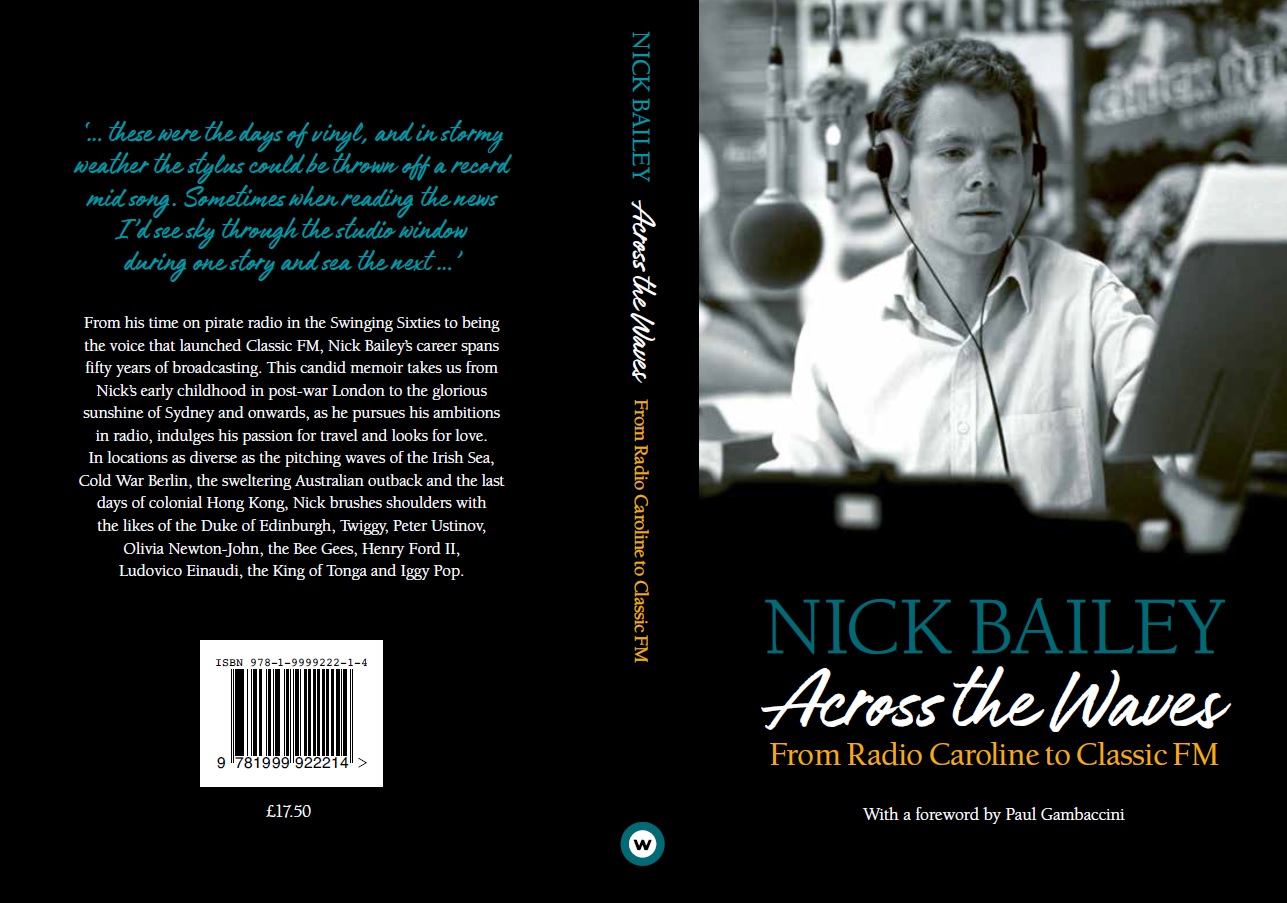 The cover of Nick Bailey's autobiography, available from www.nickbaileyradio.com and Amazon. Click to enlarge.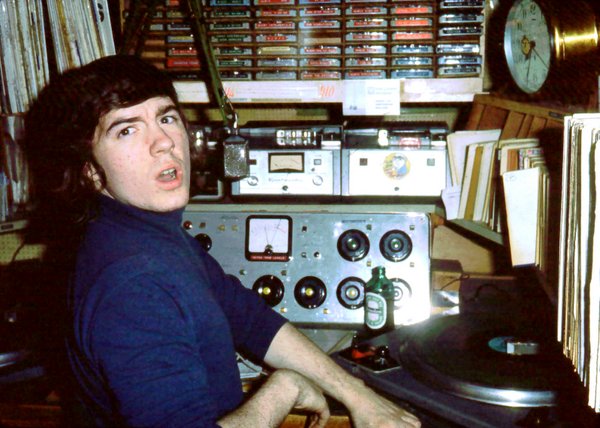 Bud Ballou Born in Syracuse, New York, Howie Castle always had the ambition to work in radio and, in 1965, at the age of 17 while still at school, he starting helping out at country music station WBRG, Lynchburg, Virginia. He played out the taped shows at the weekends and filled-in for any holidaying presenters despite a total lack of knowledge of country music! Fortunately, just across town, another station, WLLL, offered him a job playing pop music - something he did know about. For a while he presented the Breakfast Show, then headed off to school, returning after classes in time to do an Afternoon Show as well. A true radio education. In 1966 he visited the UK for a brief holiday and heard the pirate stations for the first time. Despite returning to America he had become fascinated by the concept of offshore radio and in late 1967 Howie came back to the UK, this time to work. Unfortunately, while he had been away, the government had passed the Marine Offences Act. Almost all the pirates had closed down and the only remaining station, Radio Caroline, was now being run from overseas. Fortunately a journalist put him in touch with Ronan O'Rahilly, Caroline's boss and, on the same day as Andy Archer, he joined Radio Caroline South. Because of the new law it made sense to remain incognito so Howie chose a new name - that of one of his favourite hometown broadcasters: Bud Ballou, the star of WOLF, Syracuse. The newly named "Bud Ballou" took over the 6-9pm show on Caroline South, as well as taking care of the weekly American Hot 100 Show. There is a recording of Howie/Bud from his first day on Caroline on the Northeast Airchecks site. The quality is not perfect but, considering it was taped by a listener in Kenitra, about 150 miles north of Casablanca in Morocco, it is pretty impressive. Howie stayed with Caroline until the very end and, in fact, was on board the ship when she was towed away by creditors in March 1968. He stayed in Britain long enough to help launch the landbased pirate Radio Free London before returning to the States to resume his career. WOLF in Syracuse, the one-time home of the other Bud Ballou, was Howie's first stop and since then he has followed the nomadic route of the American professional broadcaster. He is currently living and working in San Diego, California. To find out more about the original Bud Ballou and to hear Howie Castle on his home town station, check out the unofficial WOLF tribute website. Thanks to Hans Knot for identifying the theme tune used by Howie/Bud on the second clip below as I Was Made To Love Her by King Curtis. Howie was back in Britain for the first time since his pirate days in August 2000 and was heard on the Radio London re-creation that took place on Clacton pier. There is a picture of him on the Radio London website. He enjoyed it so much that he returned for the 2001 broadcast too. There are some more recent photos, taken at the Radio Academy Celebration of Offshore Radio in August 2007, here and at the Offshore 50 reunion in August 2017. (Much of this information has come from an interview with Howie carried out by Ray Anderson during Radio London 2000. Many thanks to Mary Payne for providing the tape. This photo was taken by Caroline engineer Morris Brown and kindly provided by Byron Richards. It is not to be reproduced without permission. There are more of Morris's photos here. Thanks to Svenn Martinsen for providing one of the links. Svenn also pointed out a mistake, now corrected.)
Bud Ballou on the 6-9pm show on Radio Caroline South International, 17 January 1968. Many thanks to Alan Field as well as Chris and Mary from the Radio London site for providing the recording (duration 1 minute 23 seconds)
Bud Ballou closing another 6-9pm show on Radio Caroline South International, 2nd March 1968. This recording courtesy of Bob Le Roi (duration 3 minutes 8 seconds)
Dave Barker From Maidenhead in Berkshire, Dave was a friend of fellow offshore broadcasters John Aston and Mark Sloane. He was working as a salesman for Curry's, the electrical goods retailer, when Mark suggested he might like to try life as a pirate. Dave joined Radio Essex. The station had only been on the air for a few months and didn't have much of a record library. Dave thought that might have been why they offered him job - he had a big vinyl collection! He went out to Knock John, the home of Radio Essex, in late 1965 and spent Christmas on the fort. He didn't stay long. Although he enjoyed the experience, he decided it wasn't for him. He left Radio Essex after just one stint on the fort. He told The Pirate Radio Hall of Fame that he couldn't remember exactly how long he was there but thought it was probably about a month. He then joined an advertising agency. Dave worked in sales and marketing for a time before setting up digital printing company based in Somerset. He died in February 2020. (Our thanks to Christine Hatt.)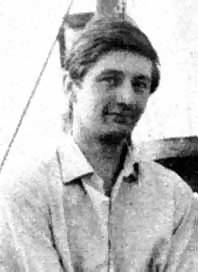 Mike Barron was first heard on Radio Essex, broadcasting from the Knock John fort in the Thames estuary. This tiny station lasted little over a year and many of its presenters later moved to Radio 270 off the coast of Yorkshire. Mike was one of them. It has been suggested that Mike also spent a short time on "Swinging" Radio England but we haven't been able to confirm this. The Pirate Radio Hall of Fame has been trying to find out more about his post-pirate career and has been piecing together information from a number of different sources. Correspondent Richard Thompstone tells us that he met Mike in 1970 and at that time he was living in Leeds and doing DJ gigs all around the north. Mike Barron's friend Mike Turner tells us that he worked at Grampian Television in continuity during the early seventies, then did some work for BBC Radio Leeds before setting up Radio Allerton at Chapel Allerton Hospital in Leeds in 1978 with the assistance of, amongst others, former Radio Leeds colleague Gilly Margrave, his then girlfriend. Mike then decided to further his education, studying for an English degree at the University of Leeds. Paul Rusling informs us that he thinks Mike was also heard on Northsound in Aberdeen for a short period and worked at several ITV stations including TWW in Plymouth and Tyne-Tees, as well as Grampian. As well as these UK sightings, New York web-surfer Eric Britton wrote to the Radio London website about working with Mike in America: "Mike came over to the US for the first time around 1984 and worked at rock/pop (station) WXTQ in Athens, Ohio." Dave Palmer, owner of WXTQ, has more information: "One of my station alumni, Ty Richards, was at WONS in Tallahassee Florida. There are many stations in that market - very competitive. Mike started a show and it began doing very well with ratings. Enough so that some competing stations began snooping into the background of this Englishman. WONS then realized that Mike's visa was one that didn't allow him to be employed. Ty called me and asked if I would take Mike in while his immigration status was being straightened out. I guess in our less competitive market he figured Mike's dilemma could be kept a secret. The whole things sounded pretty weird! I didn't like the sound of it. But Ty persisted and eventually had Mike speaking to me over the phone. Mike was non-stop one-liners, wit and humor. Add to that his British accent and he was truly unique! Ty traded bus fare and Mike was headed to Athens, Ohio .... Mike's show (7pm-midnight) became immensely popular .... He smoked a series of the damndest pipes I've ever seen and a compound I was certain was a blend of peanuts and aged manure .... Shortly after he arrived, we began the process of sponsoring his immigration papers. An attorney was hired and appropriate papers were filed all at station expense. We learned that the process would take nearly two years and Mike would have to return to England to await the outcome. It was at about this same time that Mike learned that his mother had become very ill. So his reluctance to return to GB was erased ... he went home. 28 months later his application was approved. I was in Virginia overseeing a new station I had just purchased when this happened." Mike Turner takes up the story: "When his US immigration papers eventually did come through, he returned to the USA in 1987 or 1988 but seemed this time unable to settle, despite (or maybe even because of) his now 'above-board' status. He moved from station to station .... I understand from Gilly that he did eventually return to the UK, and I heard rumour of him having worked in Manchester (possibly in some sort of academic capacity) but this is, as far as I know, uncorroborated." Paul Rusling has some later, and sad, information. Writing in October 2001, he told us: "I'm afraid that Mike Barron died at least 8 years ago." (Many thanks to all the correspondents for their help. This photo was issued by The Free Radio Assocation and is courtesy of George Morris.)
Mike Barron on Radio 270 during the morning of 1st August 1967, including an advert for his boss's Proudfoot Supermarkets. Recording kindly provided by John Ashworth (duration 5 minutes 14 seconds)
The Pirate Radio Hall of Fame needs your

The site is updated regularly and we are always on the look-out for new material to add. If you have any information, photographs, recordings or contact details for any of the disc-jockeys we haven't been able to trace, please get in touch.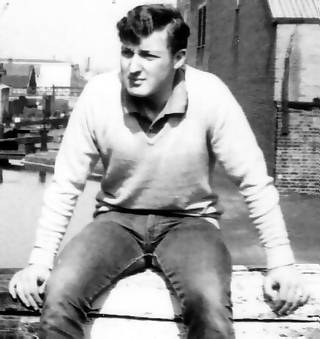 Karel Beer During the first year or so of its existence, Radio City had a rapid turnover of staff. There were no large corporate investors and owner Reg Calvert had difficulty making ends meet. He would frequently take on a young man to work as a DJ for a couple of weeks then pay him off at the end of his stint with five pounds - if he was lucky! Karel was one of these short-stay DJs. Born in Sutton Coldfield in 1947, he was attending drama school. He says: "It was in 1965 during the Easter or summer holidays and I took time off from drama school to practice my cod American accent over the airways. Can't say I enjoyed the experience much being stuck in a rusty tin can out in the channel with a rather limited selection of records to play and the distinct impression that no one was listening. I recall the food was appalling. There was a lot of condensed milk and we played The Fortunes frequently because they were managed by the guy who owned the station (Calvert). Apart from that I didn't get paid but did get grease all over the cuffs of my new arrow button-down shirt that I foolishly wore when taken out in a dinghy to the fort!" Following his time at sea, and completing his drama course, Karel moved to Paris and worked as an actor dubbing films. He was involved with a Birmingham group called Bachdenkel from 1968 to 1978 whose career mainly took off in France. He continues: "In the '80s I produced various records and started the Initial Recording Company, an indie label, and was in a fictitious group called The Hypothetical Prophets who signed with Epic in 1982. Currently I have a recording studio and promote stand-up comedy shows and concerts in Paris. The website is www.anythingmatters.com". (Many thanks to Karel for his help and this photo.)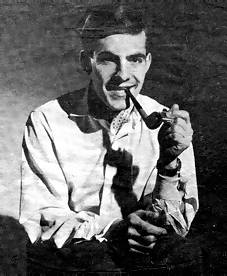 Paul Beresford Born in September 1939, Paul was brought up in the country and an early ambition was to be a farmer. When this did not work out, he took an acting course but failed to find much in the way of paid employment. After stints as a milk bar attendant, stunt man and watch salesman, he joined King Radio, where he broadcast as Paul Levy. In September 1965 King was replaced by the much more powerful and professional Radio 390 and at the same time as the change of station name, Paul changed his own on-air identity to Paul Beresford, the name that he would use for the rest of his career. He had a miraculous escape when he was struck by lightning on board the station's Red Sands Fort but lived to tell the tale (see cutting). Radio 390's longest-serving presenter, and one of the most popular, Paul stayed with the station right up until the end. Following 390's closure he moved to South Africa in 1968. He was a successful commercial voice-over artist, actor and game show host on Springbok Radio for a decade. In the early eighties he moved to Radio 702, a new independent station for the Johannesburg area. He was initially a newsreader but soon became the station's 'eye-in-the-sky' traffic reporter, a role he held for many years. (See photo, kindly donated by Gary Edwards.) In the early nineties the station switched from music to an all-talk format and Paul left to do public relations for a resort/marina on the west coast of South Africa. He moved back to Johannesburg and was employed as a courier and tour guide, still finding time for occasional freelance radio work, but died of a heart attack in a Johannesburg hospital on the morning of 27 November 2002. He was 63. There are more pictures of Paul in Edward Cole's and David Sinclair's photo albums. (This is a promotional photo issued by Radio 390, reprinted from 'Radio News'. Many thanks to Dave Sinton, Andrew Spring, John Ross-Barnard and Gary Edwards for their assistance.)
A very short clip of Paul as "Paul Levy" on King Radio's Lunch Box programme in 1965. Tape kindly provided by Nick Widdows (duration 25 seconds)
Paul Beresford presenting Intermezzo and Masters Of The Organ on Radio 390, Friday 13th January 1967. This is an edited version of a longer recording made available by The Offshore Radio Archive (duration 4 minutes 27 seconds)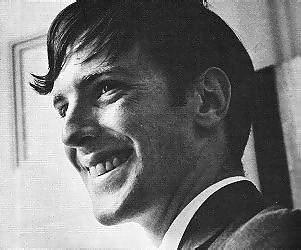 Bill Berry was born in Harrisburg, Pennsylvania, in 1943. He began broadcasting while at college and had worked for a number of different stations, including WHGB and WKBO in Harrisburg, KENI in Anchorage, Alaska, and WSSB in Durham, North Carolina, before crossing the Atlantic to join "Swinging" Radio England. This station attempted to bring the fast-moving, frenetic, sound of American Top 40 radio to a British audience but sadly it did not catch on. Radio England only lasted six months. Bill "Boss" Berry was the Programme Director at the time of its closedown in November 1966. He says: "I stayed in London for six to eight months after leaving SRE and managed groups and solo artists. Most notable was 'The Honey Band', a seven-piece group plus a lead singer, similar to Chicago. They did well and even toured Scotland and Europe but never quite made the big time. I was also the MC/DJ at Billy Walker's Uppercut Club. We had most of the big names there and I especially remember the Jimi Hendrix concert. He was incredible!" Following this, Bill returned to the States and graduated from Penn State University. In 1975 he bought a radio station. At one time he owned five in Pennsylvania and New York. Now known as Wolf Berry, for a time he hosted Wolf and the Weasel on WHHO. Bill/Wolf also deals in worldwide paper ephemera, especially stamps and covers, as well as books, art, records and coins. (Many thanks to Bill for his help, to Svenn Martinsen for the link and to Mary from the Radio London website for putting us in touch. You can read more about Bill/Wolf here. Photo from 'Who's Who In Pop Radio', published by The New English Library.)
Bill Berry "boosting the Beatles" on Radio England. In July 1966 an American music magazine had reprinted a five month old interview in which John Lennon was quoted as saying "We're more popular than Jesus now." This comment had provoked uproar in the States from religious leaders. As a result there was some concern for the Beatles when they embarked on their US tour that August. "Swinging" Radio England showed their support for the band with the Boss Beatles Weekend - every record played was by the Fab Four. This is an extract from that extravaganza. Many thanks to Mick Thompson for providing the recording (duration 1 minute 36 seconds)

Colin Berry was born in Welwyn Garden City on 29th January 1946. After completing school he got his first taste of the media working in the advertising departments of Granada and Westward Television. He joined Radio Caroline's commercial traffic department in 1964 looking after the scheduling of advertisements. He auditioned for a position as a disc-jockey and acted as an occasional relief presenter and news-reader on board Caroline South. His first stint on board came in December 1965. Colin remembers: "Colin Nicol was taken ill and they needed someone to read news. It was a baptism of fire and I recall not being very good in those early days." Because there was already a Colin working for the station, he called himself Robin Berry during this first period on air. Colin says: "As Christmas was looming Paul Noble came up with the idea of me taking the name Robin. It didn't fool too many listeners as I had done the odd voice piece before and the DJs had referred to me on numerous occasions." Although he made occasional visits to the ship, Colin did not enjoy life at sea and was mainly based in Caroline House. His voice featured on numerous adverts and on the pre-recorded Partners In Profit competition. Following the anti-pirate legislation he worked as a plugger for a music publisher, helping Lieutenant Pigeon get to number one in the charts with Mouldy Old Dough. He then became a continuity announcer on HTV, presented a Saturday afternoon music and sport show on BBC Radio Medway and worked in the promotions department of Radio One. For many years he was an announcer and news-reader on BBC Radio Two, retiring in January 2006, and he recently presented a weekly show on BBC Three Counties Radio. Colin attended the Offshore 50 reunion in August 2017. There is an interview with him here. (Many thanks to Colin for his help.)
Colin in his "Robin Berry" guise, reading the 1pm news bulletin on Radio Caroline South during his first stint on board in December 1965 (duration 2 minutes 46 seconds)
Colin in an extract from a Weetabix Partners In Profit segment. This was an emergency edition, only to be broadcast in the event of the scheduled tape not arriving on the ship. It is taken from a cassette of Caroline commercials issued by Offshore Echo's and used with kind permission. Both recordings have been kindly donated by Lynne Sims, from Martin Lynch's collection (duration 43 seconds)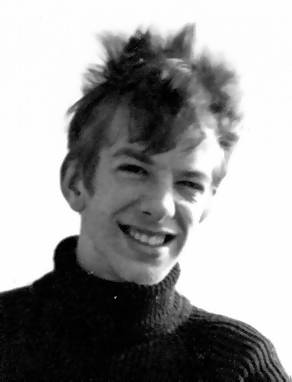 Robin Best was born in York on 7th August 1948 but moved to Scarborough when he was ten. The Pirate Radio Hall of Fame asked him to tell us a bit about his life and career, including his time on Radio 270: "Before Radio 270, I went away to art college to study advertising photography on a three year course but I didn't stick at it. So I found myself back in Scarborough working for a pittance as a merchandiser in a big local department store. Wilf Proudfoot, an ex-Yorkshire Tory MP, owned five or six local supermarkets in and around Scarborough. The one nearest to his home, in a smart suburb to the north of Scarborough, was earmarked as a mini-department store. In mid-summer 1966 Wilf turned up out of the blue at my then girlfriend's house and asked me to work for him, fitting out his new retail venture. Where he got my name from, I've absolutely no idea. The only connection I had to him was that I was on slight nodding acquaintance with his son. So I helped him out with the creation of his suburban store. We worked in the store at night after the supermarket had closed and of course Wilf ensured that his latest 'toy', Radio 270, was playing loudly over the speakers while we worked. A cunning plan occurred to him in autumn 1966 and he called me up to his house for a meet. 'How would you like to be a DJ on my station?'. I was staggered. It was something that had never occurred to me. Much later he explained that part of his plan was to replace all the 'mid-Atlantic' accents with local Yorkshire accents - after all, the bulk of the station's revenue came from local repeat advertising." Robin was set up in a spare room at Wilf Proudfoot's house with a tape recorder, record deck and a pile of singles - and told to practice being a DJ. Every night after work he would go round to the house and make a one hour demo tape. After a few weeks of this, he was told he was ready and sent out to the ship. Robin said: "I was introduced to Vince 'Rusty' Allen and told that he would act as my mentor. For weeks 1 and 2 of my life on the ocean wave, I sat in with Rusty on his morning show learning the use of the technology and joining in with his cheery banter. I also started to take part in the news-reading shifts. Then my apprenticeship really got under way when they allowed me to broadcast exactly what music I wanted between the hours of 1 and 2am, when they were normally closed down. I can't remember exactly when I got a normal daytime show but I do remember that Brendan Power left to take up another job. I didn't get his afternoon show but I did get the evening show, 9 until midnight, which was where I really wanted to be." Robin stayed with 270 until the late spring of 1967. In early 1968 he joined a firm of bookmakers where he spent the rest of his working life. Married to Sheila, they lived in Leeds, West Yorkshire. Sadly Robin passed away on 21st May 2021. (There are more of Robin's memories of Radio 270 here.)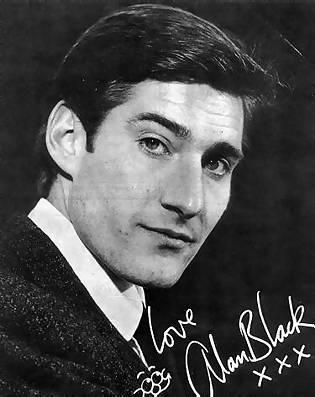 Alan Black was born in Rosyth on 15th January 1943 and had previously worked as a commercial artist. He entered a competition organised by Radio Scotland and The Daily Record to find a new broadcaster and won a job on the station, joining in time for its launch at Hogmanay 1965. Radio Scotland broadcast from a former lightship, the Comet, then anchored in the Firth of Forth. In September 1966 Alan travelled south to join "Swinging" Radio England but it closed down soon after his arrival. He stayed aboard the ship working for its sweet music sister station, Britain Radio. This was relaunched as Radio 355 the following year and Alan continued to broadcast on this new station. According to Offshore Echo's magazine, Alan used Flamingo by Herb Alpert & the Tijuana Brass and, later, Wooden Heart by the Gary Blake Orchestra as theme tunes. Radio 355 closed down just ahead of the introduction of the Marine Offences Act. A highly proficient cartoonist, Alan then worked on the Beatles animated film Yellow Submarine. He continued to broadcast for many years on Radio One and was one of the presenters of Sounds Of The Seventies and In Concert. His cartoons also appeared in Radio Times. For a couple of examples of Alan's cartooning skills, see Jack Curtiss' memorabilia page. After his time at Radio One, Alan worked for Polydor Records but eventually turned his back on the music business. When the Radio England reunion took place in May 2006, Alan was not able to attend because of poor health. Only his closest friends knew how seriously ill he was and he died in March 2007. The Pirate Radio Hall of Fame's tribute to Alan is here. (With many thanks to Raoul Verolleman for this photo. There are more pictures of Alan in Look Boden's photo album and Tom Collins's photo album, as well as a more recent one, taken in 2005, here.)
Alan Black on Radio Scotland from the afternoon of 17th March 1966. Tape kindly provided by John Lilley (duration 2 minutes 41 seconds)
Alan Black, along with Tony Windsor, introducing a live session from American singer José Feliciano on Radio 355 in July 1967. Despite Alan's comment about this being the first live session on offshore radio, it was actually the second. See the entry on Simon Dee for an extract from the very first. Tape kindly provided by John Aston. José performed in John's cabin because there was not enough room in the studio (duration 2 minutes 23 seconds)
Alan Black during the last ever programme on Radio 355, 5th August 1967. All the presenters talked about their careers, paid tribute to their colleagues, past and present, and said goodbye to the listeners. This is an edited version of Alan's section of the show. Tape kindly provided by Nick Widdows (duration 2 minutes 9 seconds)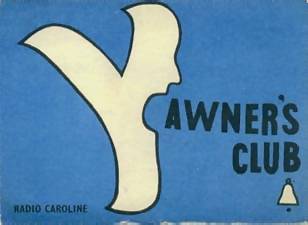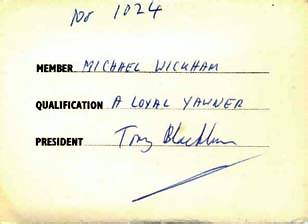 Thanks to Michael Wickham for this Tony Blackburn Yawners Club membership card.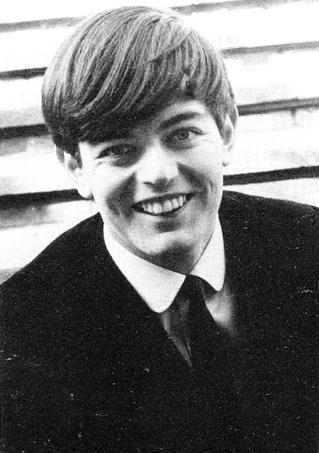 Tony Blackburn Born in Guildford, Surrey, on 29th.January 1943, Tony was educated at Millfield School. He had ambitions as a singer and performed with his backing band The Rovers, which at one time included future singing star Al Stewart on guitar. After seeing a World in Action television programme about Caroline, he thought that being on the radio might help his singing career and answered a recruitment advertisement. He joined the Caroline South ship in July 1964. At that time he was the youngest DJ on British radio and rapidly won an enthusiastic teenage following. He also acquired the nickname "Tea Cosy" because of his mop-top haircut, a sound-effects "dog" called Arnold and the habit of opening every show with "let's away" and ending them with "have lots of fun, be good and 'bye for now - goodbye everyone". In between there was a constant flow of self-acknowledged corny jokes. His theme tune was Beefeater by Johnny Dankworth with the addition of Arnold's barking edited in. In 1965 Tony was offered a job on the rival Radio London but it was conditional on him changing his name to Mark Roman and presenting a show called The Roman Empire. He declined the offer and the show went to someone else. The following year Radio London made him another offer and, in June 1966, Tony moved across, keeping his own identity. He left Radio London shortly before it closed down, joining the BBC just ahead of the rush for jobs. He started as one of the presenters on The Light Programme's Midday Spin. When the new Radio One launched at the end of September 1967 Tony was the first DJ on the air, presenting the Breakfast Show from day one. Throughout the sixties Tony continued to sing. He released a number of singles and a couple of them made the charts. So Much Love and It's Only Love were both minor hits. Tony remained on Radio One's Breakfast Show until 1973 when he moved to the Morning Show. In 1980 he took over the weekend kids programme Junior Choice but, after falling out with Radio One, joined BBC Radio London where he presented a daily soul show. He was also heard on the short-lived satellite station, Radio Nova International, owned by Chris Cary, alias Spangles Muldoon. Between 1988 and 2002 Tony was heard on Capital Gold and that was followed by a stint on the rival oldies network Classic Gold. He then returned to the BBC presenting Pick Of The Pops on Radio 2 as well as shows on BBC Radio London, BBC Radio Berkshire and BBC Three Counties Radio. In February 2016 his employment with the BBC was terminated following the publication of Dame Janet Smith's report on the Jimmy Savile inquiry (news reported here). Tony denied any wrong-doing and announced that he was planning to sue the BBC. He continued to work on various commercial stations including KMFM in Kent, the Bauer Greatest Hits Network (Metro2, City2, etc.) and Thames Radio/Dragon Radio then, in October 2016, the BBC announced that the dispute had been resolved and that Tony would be returning to Radio 2 and their local stations. He currently hosts Tony Blackburn's Golden Hour and Sounds of the 60s on Radio 2 and a Sunday show on BBC local radio. There are a couple more pictures of Tony in Colin Nicol's and Willy Walker's photo albums and some more recent ones here. Second-hand copies of his 1985 autobiography Tony Blackburn, a Living Legend are sometimes available from Amazon and a newer autobiography Poptastic!: My Life in Radio was published in September 2007. A radio industry organisation, the Radio Academy, has its own Hall of Fame honouring people who have made an outstanding contribution to UK radio. Tony was one of the first inductees. For more photos and recordings, check out Spotlight On Tony Blackburn. Tony attended the Offshore 50 reunion in August 2017. (With thanks to George Morris and Alan Hardy.)
Tony Blackburn on The Big Line Up on Radio Caroline South in November 1965. Recording courtesy of the Offshore Radio Archive (duration 4 minutes 1 second)
Tony Blackburn on Radio London on 11th February 1967, an extract from the Offshore Echo's tape Highlights Of Big L part one, used with kind permission (duration 2 minutes 42 seconds)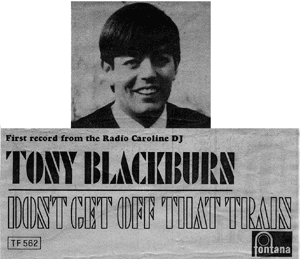 Thanks to Lars Holm for this music press advert from April 1965.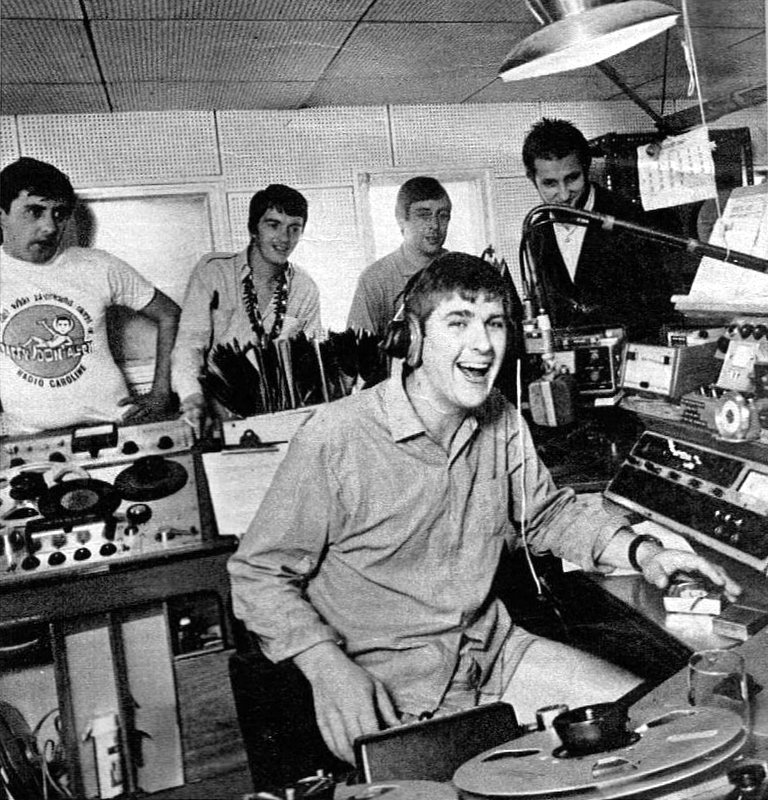 Guy Blackmore One of the many Australians to find a welcome on the British offshore stations, Guy was first heard on Radio 390. With the introduction of the Marine Offences Act, he changed his name to Jim Gordon and joined the team on Radio Caroline North. His nickname was "Jumbo Jimmy Gordon". When his days at sea came to an end, Guy formed a record plugging company with his Caroline colleague and fellow countryman Ross Brown. Despite achieving a Top 3 hit, this venture was not a financial success. After some time working as a DJ in Dutch clubs, Guy became an announcer on the BBC (including some Radio One shows in 1969), Southern TV, Thames TV, IRN and others. A correspondent in South Africa, Gary Edwards, also remembers hearing him on SABC in Johannesburg in about 1970. Guy returned to Australia. We asked if anyone could provide details of Guy's career down under. His daughter Kate wrote "Dad met my Australian mum, Wendy Brown, in London in 1976 at a time when both were thinking about moving back to Australia so they bought a motorbike with a sidecar and travelled overland for 6 months to Dad's home town of Adelaide. Upon reaching Adelaide my parents got married and had four kids, James in 1978, Robert in 1980, and twins Kate and Matthew in 1982. Whilst in Adelaide Dad worked as the compère for Adelaide's current affairs show State Affair (for which he received 2 silver Logies for best television personality) and newsreader for Channel 10, as well as breakfast announcer for Adelaide's 5AA and 5AD radio stations. In 1986 our family moved to Sydney where Dad mainly worked as a freelance voice-over artist. Sadly he passed away from lung cancer on Christmas Day in 1995." Our thanks to Kate Blackmore for getting in touch. (This photo shows Guy/Jim in the Caroline North studio with Don Allen, Dee Harrison, Mark Sloane and engineer Manfred Sommer. It is from the German magazine Stern and has been kindly provided by Robbie Dale. There is also a colour picture of him in Jason Wolfe's photo album.)
Guy as "Jim Gordon" on Radio Caroline North International, presenting the Breakfast Show on 16th September 1967. Tape kindly provided by Ray Andrews (duration 2 minutes 34 seconds)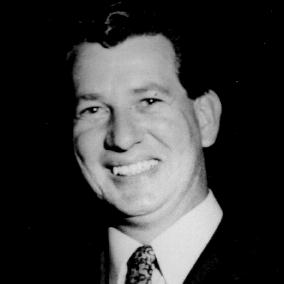 Chuck Blair According to the Radio England press release, Chuck was born in Sweden, where his American father was working. His family moved to Massachusetts when Chuck was three. A talented musician, he paid his way through college by working as a cocktail bar pianist but got his first taste of radio while serving in the USAF. After trying his hand as an actor he began working in radio full time and was heard on a number of different American radio stations before crossing the Atlantic to become general manager of "Swinging" Radio England. When SRE foundered he transferred to Radio London, where he entertained the "groovers and movers and ring-a-ding-a-dingers" until the final close-down. Chuck used a number of different theme tunes including the instrumental version of Night Train by James Brown, Honky Tonk by Earl Palmer and Gassin' by The Peddlers. It was generally believed that Chuck returned to America after his time on Radio London but the rest of his life remained a mystery for a long time. After extensive investigations the Radio London website has now revealed that Chuck pretty much gave up radio after his days at sea and in his later years worked as a chef in Leesburg, Virginia. For a time he owned his own restaurant but, after a marriage break-up, he moved to Hyattsville, Maryland, where he died following a heart attack in August 1989. (Much of the biographical information in the original Radio England press release was not 100% accurate. It would appear that Chuck liked to re-write his past. The Radio London website has unearthed much about him, including the fact that he was not born in Sweden at all but in the USA and that he used numerous different names during his life. He chose the on-air name "Chuck Blair" from a WPTR jingle package brought to the UK by Larry Dean, the same set of jingles that named Johnnie Walker and Boom Boom Brannigan. This photo was issued by Radio England / Britain Radio. Thanks to Hans Knot for some of the theme tune information.)
Chuck Blair on Swinging Radio England from the afternoon of Sunday 7th August 1966, with Larry Dean on Bannerline News. Recording kindly provided by Svenn Martinsen (duration 4 minutes 8 seconds)
Chuck Blair on Radio London from 8 February 1967. Tape kindly provided by Chris Baird (duration 2 minutes 52 seconds)