Flashback '67, the first ever offshore radio convention, took place at The Centre Airport Hotel near London's Heathrow Airport over the weekend of 13th and 14th August 1977, ten years after the passing of the Marine Offences Act had forced the closure of most of the sixties pirate stations.

In the intervening decade there had been a second wave of offshore stations broadcasting to the UK and, at the time of the convention, Radio Caroline was still on the air, sharing its ship with the Flemish Radio Mi Amigo.

The event was organised by Mike Baron and Nik Oakley of Music Radio Promotions, the publishers of Wavelength magazine. In the months leading up to it, the publication promoted the forthcoming attraction extensively.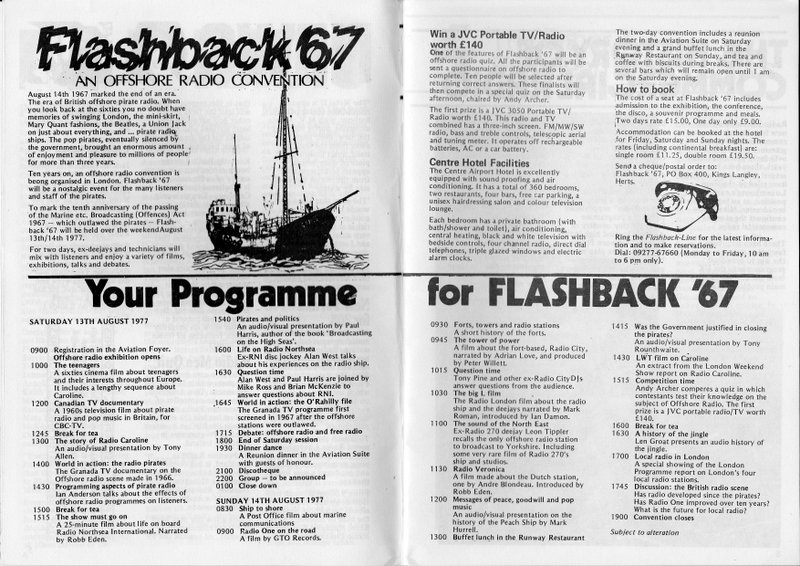 The programme of events for Flashback '67, as published in 'Wavelength'.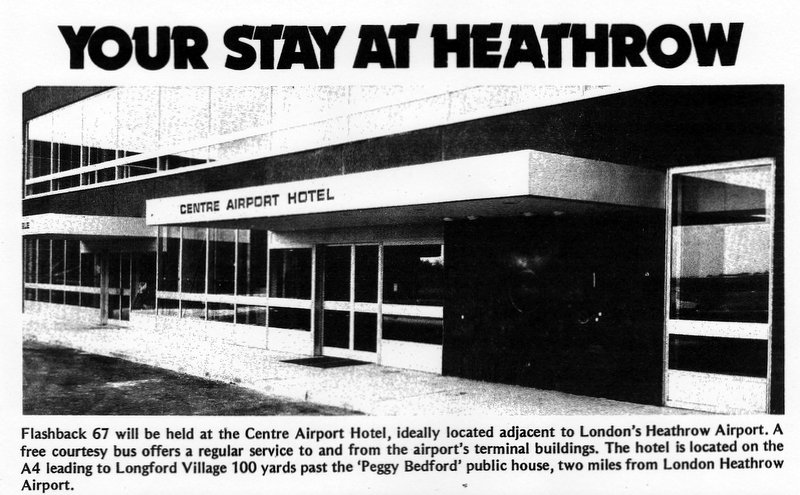 The venue. From a leaflet kindly provided by Ray Clark.
Nik Oakley: "Ten years on from that fateful day on 14th August 1967 when the pirate airwaves fell silent - save for Radio Caroline - it seemed right to celebrate all that was good about the era.

I'm not sure whose idea Flashback '67 was originally, but it certainly involved all the staff of Radio Guide & Wavelength as well as Music Radio Promotions. Mike Baron organised the programme and I was responsible for the marketing and anything that needed the creative touch of the designers and writers.

Such a large task also required the extended family, with the late Mike Bass heading up the technical team. I'm not really sure whether the hotel knew what they were letting themselves in for, but the Centre Hotel, Heathrow was packed to the gunnels on both days.

The guest list got longer and longer with people like Ronan O'Rahilly, Robbie Dale, Simon Dee, Andy Archer, Greg Bance (Arnold Layne), Mark Roman, Ian Damon, Robb Eden, Graham Gill and Johnny Jason to name but a few. The Voice of Peace was there and so was a TV crew from Veronica."

About six or seven hundred radio fans attended the event, with more people arriving for the disco on Saturday evening. Over a packed two days, videos were shown, old radio programmes were aired, there was a fine display of offshore memorabilia and a number of former offshore disc-jockeys spoke from the stage. The schedule differed from the one reproduced above - a session with Robbie Dale replaced the advertised one with Tony Allan, a session on Radio London was added, etc.

As well as the disco on Saturday evening, there was a live performance from Screaming Lord Sutch and, on Sunday afternoon, a quiz about offshore radio hosted by DJ Andy Archer.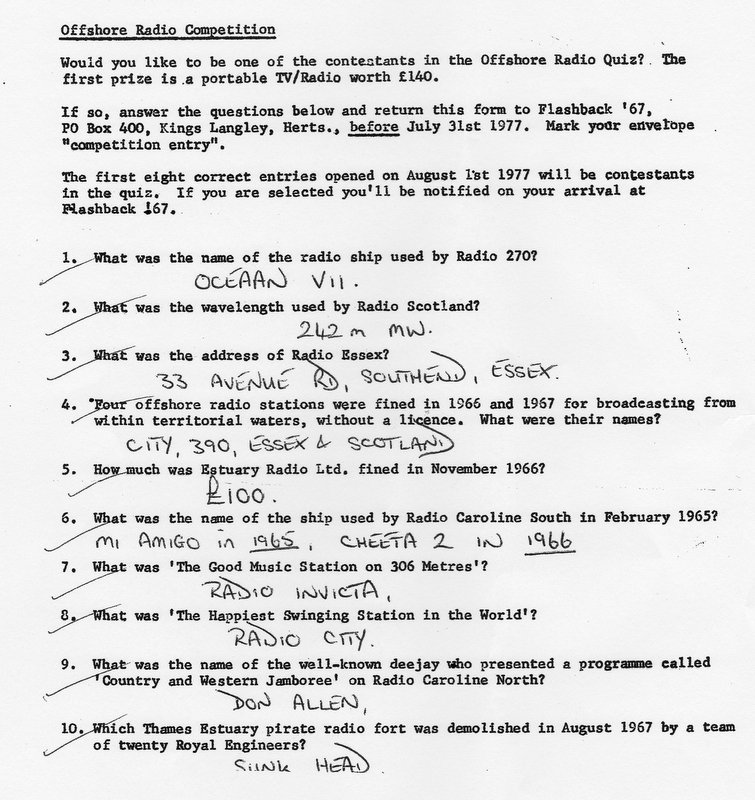 Ray Clark's entry for the quiz. Thanks to him for the copy. Click to enlarge.
The winner of the quiz was Ray Clark, later to become an offshore DJ himself when he joined Radio Caroline in the eighties. He still has vivid memories of the event: "I remember being amazed that so many people had the same interest as me and really surprised that so many offshore radio recordings had survived. I remember being excited about some of the shows that were to be relayed through the hotel's cable system - sad! Everyone who bought tickets for the event received an offshore radio questionnaire (left). I was selected as one of eight (I think) to take part in the quiz on Sunday afternoon. Andy Archer presented the quiz and Ray Anderson and Bill Rollins played the audio. I won a JVC radio/TV with a 3 inch screen. The radio was, and still is, good. I have a studio at home and often flick the radio on while I'm waiting for the computer to boot up. The TV never did work although perhaps had I lived in Crystal Palace it might have picked up a signal, but it was a nice thing to win and the quiz ultimately resulted in me working on the radio by getting to know people like Bill."
All the stage presentations were recorded and edited highlights were released on a double vinyl album by Jumbo Records. Unfortunately the proximity of Heathrow Airport caused problems for the PA system and there was audible interference from radar scanners, both on the day and on the record.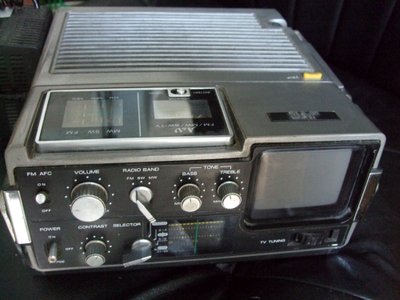 Ray's prize, the JVC radio/TV. Thanks to him for the photo.
Robb Eden opens the event on Saturday morning, then, from later in the day, Alan West talks about the history of Radio Northsea International (duration 2 minutes 6 seconds)
A question and answer session with Robbie Dale. The first question in this clip is about his old ship-mate, Johnnie Walker, then in America (duration 3 minutes 1 seconds)
Bill Rollins talking about his time working for one of the less successful offshore ventures, Tower Radio/TV. The interference from the radar at Heathrow Airport is particularly intrusive during this recording (duration 4 minutes 2 seconds)
Radio London DJs Ian Damon, Mark Roman and Duncan Johnson, together with ship's steward Mitch Philistin, take to the stage to talk about their time at sea. (duration 6 minutes 24 seconds)
All these clips are from the double album released by Jumbo Records.
During the dinner and disco on Saturday, former Radio Caroline DJ Robbie Dale interviewed a number of the attendees, both former pirates and members of the public. This tape was then rushed out to the mv Mi Amigo. The following evening a special joint programme of Radio Caroline and Radio Mi Amigo was broadcast on both stations' frequencies (962 kHz and 1412 kHz). As the DJs played out Robbie's taped interviews, they announced they had a "live link-up" with the event. Your webmaster was leaving The Centre Airport Hotel around this time on the Sunday evening, having spent both days at Flashback '67. While pulling out of the hotel car park to head home, a fleet of police cars came roaring in the other way. Is it possible that somebody in authority had heard the broadcast and been fooled into thinking the 'link-up' really was live?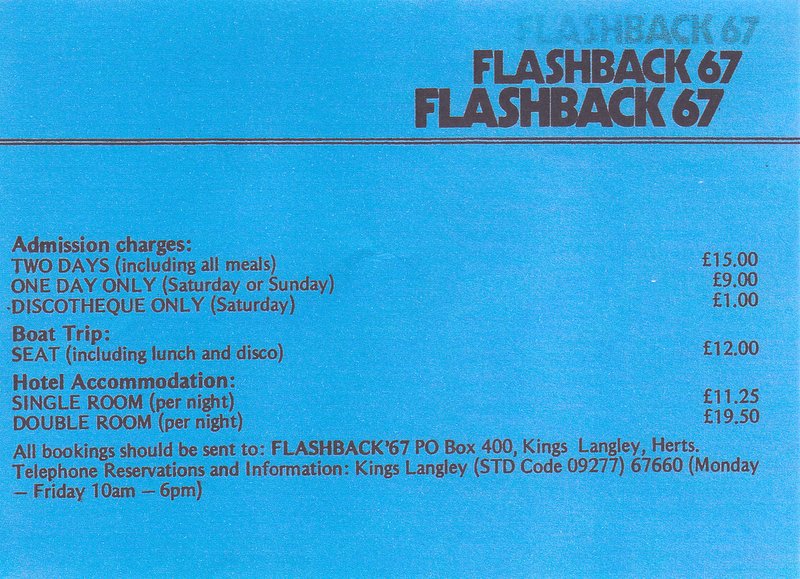 Price list kindly provided by Ray Clark.
Radio Mi Amigo's Herman De Graf and Radio Caroline's Stuart Russell start the special programme at 6pm on Sunday 14th August 1977 and 'link up' with the bilingual Robbie Dale at Flashback '67, talking to DJ Mark Roman, author Paul Harris, Robbie's old ship-mate Spangles Muldoon and Caroline's first DJ Simon Dee. The "young Irishman with grey hair" they mention is Caroline founder Ronan O'Rahilly (duration 4 minutes 50 seconds)
More from Robbie Dale, talking to Radio London's Ian Damon and Tower Radio's Bill Rollins (duration 4 minutes 12 seconds)
Robbie talking to some offshore fans at Flashback '67. Stuart and Herman have now been joined in the two on-air studios by their colleagues Roger Mathews and Marc Jacobs (duration 3 minutes 18 seconds)
The party continues on the mv Mi Amigo as the DJs enjoy the special occasion and link to Robbie talking to another offshore fan (duration 3 minutes 52 seconds)
Robbie tries to make himself heard over the sound of Mark Stuart's disco as he chats to another fan and Simon Dee again. This time Ronan is referred to as a "very elderly grey-haired gentleman". He also meets Dave Johns. These clips are taken from a full-length recording available from www.azanorak.com. Our thanks to Ray Robinson (duration 2 minutes 34 seconds)
Although there was a good turn-out of former pirates, none that were then working for the BBC attended.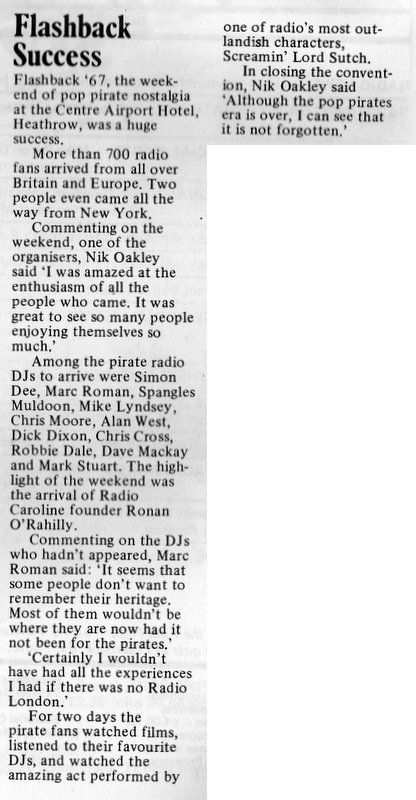 The following month's 'Wavelength' reports on the event.
Nik Oakley remembers: "There were a few unwelcome guests, but I doubt whether the hotel knew that the place was being staked out by the Met's Serious Crimes Squad. But, by then we were used to them following us around, since they'd been investigating our involvement with Caroline for some time. Their presence outside the hotel on suspicion of a live link with Robbie Dale and the ship was something they simply couldn't resist.

A few Radio 1 guys got cold feet and didn't want to be seen there. Their secret's quite safe, as I really can't remember who they were, although I suspect one was the owner of an irritating dog called Arnold. Ironically, Simon Bates was desperate for an invite, but since they were strictly limited to pirates, he was out of luck. Bates phoned the office whilst doing his morning show to blag a ticket. The admin people all shared an open plan office with Mike Baron and he was put on speakerphone for all to hear. He even said 'hang on I need to speak to the nation', while they stifled their sniggers. And no, he didn't get a ticket.

The Wavelength/Radio Guide editorial team produced an exhibition on the pirate stations from 1964-1967. Displayed in the banqueting suite foyer, we were probably quite proud of it at the time, although I doubt whether I'd really want it in my portfolio now. A few years ago, I went to Harwich for Pirate BBC Essex. A booth on the pier had an exhibition and it felt strangely familiar. Then I realised it was the Flashback '67 one. The owner had bought it on eBay. I don't think it had quite stood the test of time, and rumour has it that it had spent a couple of decades in Mike Baron's loft.

Events were always an opportunity to sell the huge range of merchandise that Music Radio Promotions produced. The lads in the sales team loved their job so much that they were even prepared to model the merchandise and appear in the ads. I still have a faded Flashback '67 T-shirt somewhere and a very incriminating photo of two people who now run a radio station and an ad agency.

Lots of other organisations were there plying their business, from the Free Radio Campaign through to the Voice of Peace and Jumbo Records who produced much of the documentaries for MRP.

Linked to the convention was a Flashback '67 magazine, which was designed to feature all the events of a flower-powered 1967. Edited by me, there was naturally a feature on the pirates, but it also included music, fashion and sport. DJ turned musicologist Ian Anderson also wrote one feature, and Sergeant Pepper was in glorious colour on the cover.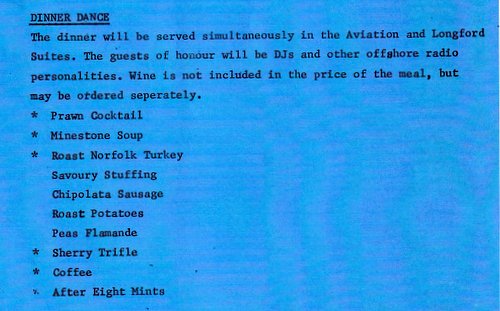 Dinner menu. From a leaflet kindly provided by Ray Clark.
Being one of the main organisers I didn't get to see as much action as the audience. I spent little time in the auditorium - other than when I was on a discussion panel with a few people like Andy Archer and Alan West. It was a weekend spent running on adrenalin and black coffee, although I dare say a lot of alcohol was consumed as well. Fortunately I cannot recall the DJ who I found passed out behind the hotel after the grand reunion dinner but one thing I do remember well was Screaming Lord Sutch setting fire to the curtains whilst playing the Saturday night gig. I had to persuade the duty manager, that it really wasn't 'anything much' and that we'd cover the cost. He had other ideas about reparation and it was lucky that in those days I could run!

So two days of fun, films, talks and nostalgia came to an end and, for those who hadn't had quite enough, there was a trip out to the Mi Amigo the next day.

We must have all loved it, because we did it all over again the following year at Zeezenders 20. And, yes, I've still got that T-shirt too!"