Leon Tipler was never one of the country's best-known broadcasters but he was a hugely talented man who enjoyed a career in radio which lasted from the mid-sixties offshore era right up until his death in 2013, working both on the air and in production.

Born in Kettering, Northamptonshire, Leon was a keen tape recording enthusiast. This article on a BBC website mentions his involvement in the early career of a local beat group, Cliff Ward & The Cruisers during the sixties. Leon recorded their demos. Cliff was later to find fame as singer-songwriter Clifford T. Ward with hits like Gaye and Scullery. (Another article about his work with Ward, on the Marmalade Skies website, describes Leon as both a "whizz kid" and "a typical and genuine British eccentric".)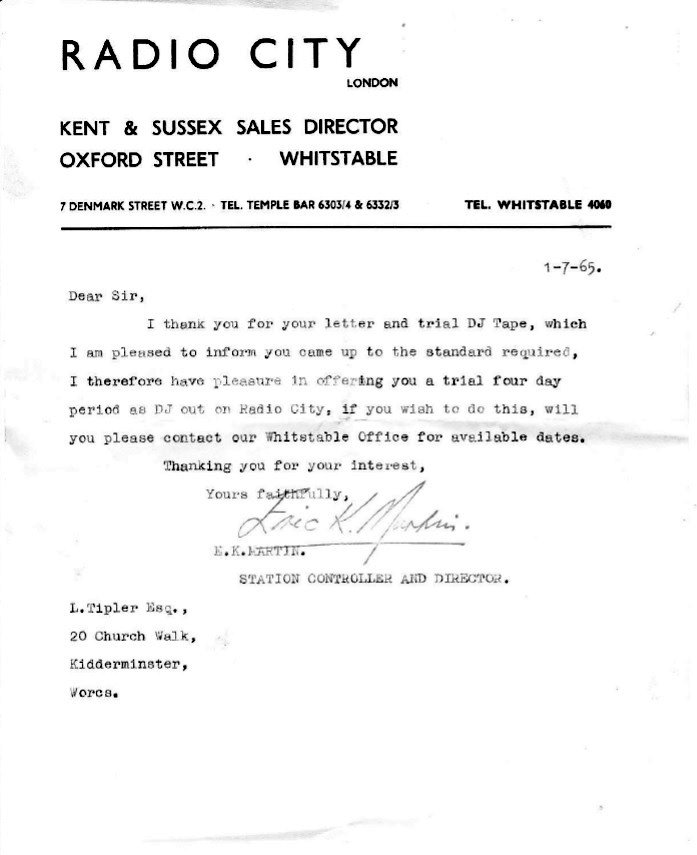 Letter from Radio City, offering Leon a position as a "trial DJ". Click to magnify. Scan kindly provided by Steve England.
Leon's first broadcasting work came with Radio City - as it did for so many pirate DJs. Reg Calvert, the station's owner, regularly took on inexperienced people for a trial period on an unpaid or expenses-only basis. It is not known how long Leon was on Shivering Sands, the Radio City fort, but it was probably only a few days. While he was there he shot some footage with a movie camera which is now available on YouTube. He used the on-air name Leon Taylor although, in this clip, a slip of the tongue caused him to reveal his true identity.
"Leon Taylor" accidentally revealing his real name on Radio City during July 1965. This recording is from Leon's personal archive and has been kindly provided by Steve England (duration 1 minute 2 seconds)
Leon's first proper, paid, offshore job was with Radio 270, joining this Yorkshire-based station soon after it launched in 1966.
Leon Tipler opening Radio 270 for the day with the Breakfast Show on 17th October 1966. This studio recording is from Leon's personal archive and has been kindly provided by Steve England (duration 1 minute 40 seconds)
Leon was a regular tape-sponder (corresponding via recorded tape) and one of his audio letters, describing his start on Radio 270, has also been posted on YouTube: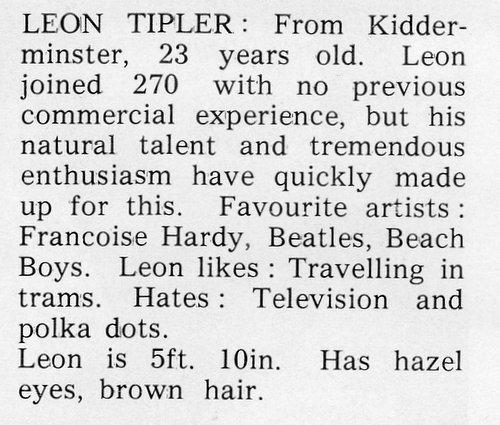 Description of Leon Tipler from 'The 270 Set' promotional leaflet issued by Radio 270.
Radio 270 had a loyal following but it was not always a happy ship. The mv Oceaan 7 was smaller than the other offshore radio vessels and life on board was often unpleasant. The DJs had to endure harsh conditions and, as mentioned in Leon's audio letter, there were occasional disputes with the management. Leon alternated as presenter of the Breakfast Show with Paul Burnett, depending on which of them was on board at the time. He also shared responsibility for the news with Hal Yorke.

On Wednesday 16th November 1966, the little radio ship encountered one of the worst gales in living memory. Part of the mizzen mast was lost and seawater caused enormous problems for the electrical equipment. Three DJs were on board at the time - Andy Kirk, Alex Dee and Leon. They felt that they were in danger and, when the storm was over, complained to the management that their lives had been put at risk. Their story was taken up by the local press and, after interviews with them appeared in the newspapers, all three DJs were promptly fired.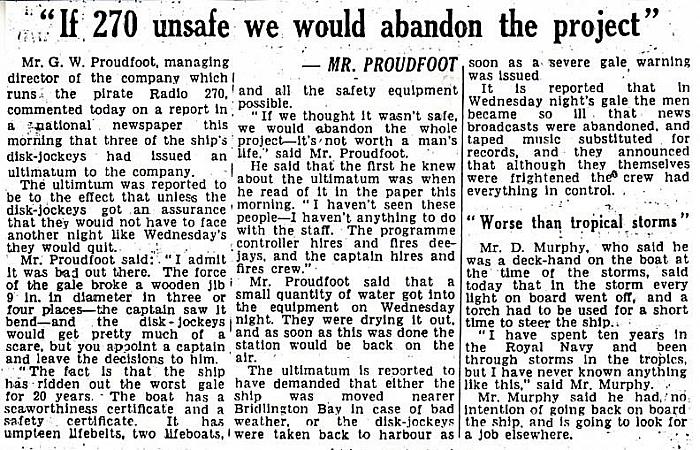 Radio 270's management replies to accusations that the ship is unsafe. Cutting courtesy of www.wikiradio.nl.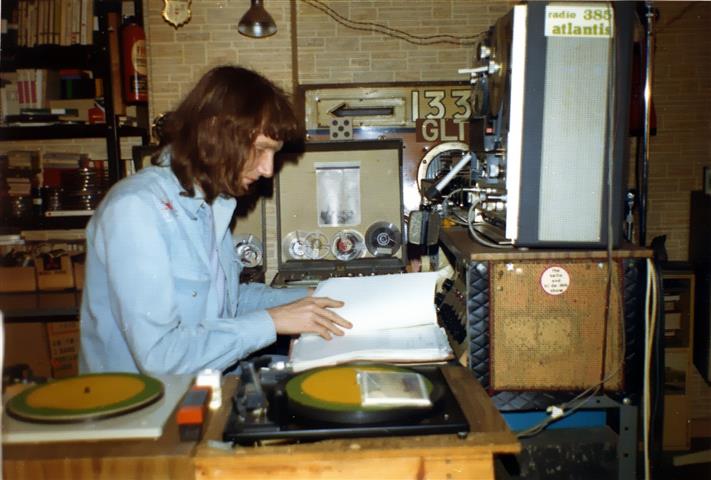 Leon Tipler in his home studio during the seventies. Photo courtesy of Steve England.
Leon returned to Radio 270 briefly the following year when he broadcast under the name Phil Oaker.

Radio 270 closed down with the passing of the Marine Offences Act in August 1967 but Leon was heard again on offshore radio in the seventies, on the Belgian-owned Radio Atlantis. He provided a weekly show called The Nightmare Affair, recorded in his home studio on land. The programme appeared to be presented by two people, Scott Mitchell and Gabby Hernandez Omilado, but in fact both voices were provided by Leon. He was a master impressionist and skilled editor. It is a shame that Radio Atlantis's weak signal prevented it reaching a wider audience.
Scott Mitchell and Gabby Hernandez Omilado on The Nightmare Affair on Radio Atlantis, a studio recording from 1974 courtesy of The Offshore Radio Archive (duration 5 minutes 29 seconds)
Radio Atlantis Programme Director Steve England tells us: "Lee was so quiet yet funny and very creative - he did lots of character voices and did lots of shows in these characters on local stations as well as Atlantis. His Nightmare Affair shows were wonderfully creative with lots of great production. One of the things he did, hoping to syndicate it, in the 1970s was 'Radio Bludgeon' (later 'London Radio') with his friend Clifford T. Ward who was also good at comedy and voices. It was a sort of 'Chickenman' idea with lots of short episodes - most unlike 'Chickenman' but very, very funny. He played some episodes during his recorded shows on Atlantis." (Webmaster's note: Chickenman was a syndicated American radio series featuring a spoof comic book hero.)

During the eighties Leon worked on Sunshine Radio, a landbased pirate station in Ludlow, Shropshire, where he produced commercials and presented shows. Although the station was illegal, Sunshine enjoyed a long successful career and was eventually awarded a license. Leon stayed with the station when it went legit. As on Radio Atlantis, Leon used a number of different voices and characters on his programmes, including 'Uncle Gabby' and 'Arnold Gutbucket'. Leon also worked with his old colleague Steve England at Alfasound where he produced a documentary on the story of Irish pirate radio and edited an interview which Steve had carried out with former Radio London boss Philip Birch. (The interview can be found on YouTube.)
Leon Tipler as 'Arnold' playing vintage 78 rpm records on Sunshine-855 (duration 2 minutes 49 seconds)
Leon Tipler as both 'Uncle Gabby' and 'Pappy' playing rock'n'roll on Sunshine-855. Both these studio recordings are from Leon's personal archive and have been kindly provided by Steve England (duration 3 minutes 5 seconds)
Leon later worked on Radio Maldwyn and, lastly, Radio Hafren, a local radio station serving mid-Wales and the borders.

Sadly Leon developed cancer of the kidneys. His medical team was in the process of getting him strong enough to undergo chemotherapy but it was too late. Leon passed away on Sunday 9th June 2013 at 9pm. He was 70. His father had died a few weeks earlier at the age of 102.

Steve England says: "Leon was a huge talent and a lovely quiet guy. I saw him the day before he died but he was on such strong medication he wasn't really there anymore. He was a big part of my life and I will miss him tons."
---
Radio 270 engineer Stephen Muir-Field has posted about Leon on Facebook:
"We could always rely on his smile and cute outlook on life aboard the Oceaan 7, no matter what was happening."
"Leon Tipler, the legend. He returned to 270 when I was there at the end of the day. He looked like a teenage icon but was extremely quiet. OK, quiet until he went on air, when he truly came alive. Quite simply, he blew your head clean off. We seemed to get on and I learned a lot from him. I'm really upset to hear that he has passed away."
Leon's Radio 270 colleague Noel Miller wrote:
"I just heard the sad news about Leon Tipler and it brought back some wonderful memories.
I was the Program Director at 270 and I was trying to find someone for the breakfast show rotation who could hold his own with Paul Burnett who was the other breakfast presenter. There were 100's of applications but, as soon as I heard Leon's silky smooth voice, the choice was easy.
Leon was on my rotation and it was a pleasure to work with him. He had a great sense of humour and a natural ability to connect with an audience. Leon's enthusiasm in the morning set us up for each day and even when it got rough nothing seemed to faze him.
Leon was also responsible for the news (everyone to multitask). He used to record the BBC news, rewrite it and read it on the hour. One of our directors (who didn't have much time for DJs) once said he was amazed how much more precise and informative the Radio 270 news was.
I will never forget him.
Noel 'Neddy' Miller"
See also the obituary in local paper The Kidderminster Shuttle.

With thanks to Steve England, Noel Miller, Hans Knot and Mike Coller.
Steve has also kindly shared some photos and audio from Leon's collection, as well as this video.

You can hear vintage Leon Tipler radio programmes streaming 24 hours a day at myradiostream.com/gltk.