Many people who worked in offshore radio have been described as "larger than life". Few deserve this description more than Chris Cary, known on air as Spangles Muldoon. The Irish Times, in an article headed "The Godfather of Irish Radio" wrote: "People have a lot to say about Chris Cary, but no one ever claimed the man who revolutionised Irish radio was boring. A hyperactive, dynamic, divisive figure, never far from the margins of illegality, Cary has lived a rollercoaster life of deal-making and intrigue. He has made fortunes and lost them, twice. He has been sentenced to prison, twice. Yet there is a touch of the Robin Hood about his crimes, and even his detractors express admiration for the brash Englishman who ran Radio Nova in Dublin in the 1980s." And two decades earlier, he worked on the North Sea.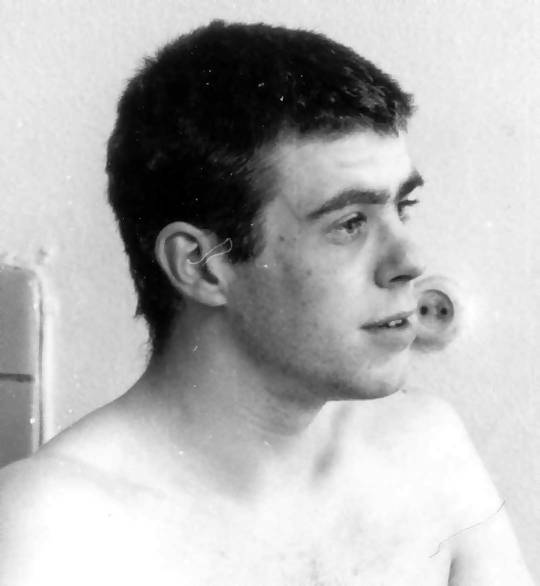 Spangles Muldoon from his time on Radio Caroline South, from a photograph published by the Free Radio Association.

Born Harry Christopher Cary in Chester on 5th October 1946, Chris was working as a television maintenance engineer by day, Blackpool night-club DJ by night, when, in 1967, he submitted an audition tape to Radio Caroline. He was interviewed and offered a job.

On 14th August 1967, with the Marine Offences Act due to come into force within a matter of hours, most of the broadcasting team of Radio Caroline South decided to quit rather than risk prosecution. Johnnie Walker, Robbie Dale and newcomer Ross Brown were the only ones on board, contemplating how they were going to manage to keep the station going 24 hours a day on their own. Then, late in the afternoon, an unexpected tender arrived, bringing engineer Ray Glennister and an extra DJ - Chris. As he wrote in the biographical section of his web site, he felt that the established broadcasters were not too impressed by this new arrival: "I think Robbie and Johnnie were a bit disappointed that I wasn't a big name DJ whom they could recognise. What they got was this blond-haired git from Blackpool." However Chris quickly won their approval when he fixed their broken television. The skills he had acquired in his old job had proved useful in this new one.

At midnight, as the new law came into effect, Johnnie and Robbie took the station into a new era - that of Radio Caroline International. When they had finished their programme at 2am, Chris was given the job of playing non-stop music through the night. As he wrote: "Johnnie showed me how the desk worked and said 'just play back to back music like this ... and throw in the odd jingle until the morning ... then if you're a good boy you can have some toast ...'" At the time he was known on air as Chris Anthony. He soon acquired the confidence to introduce the tracks he was playing and, within days, had a new name - Spangles Muldoon. (The spelling of this surname is uncertain. It has frequently been printed as 'Maldoon' but, as Chris used the 'Muldoon' spelling on his website, that is the one used here.)
Robbie Dale introduces Caroline International's newest DJ, 15th August 1967. Recording kindly provided by Hans Knot (duration 3 minutes 50 seconds)
The newly named Spangles Muldoon took over the 12-3pm show which became known as the Lunchtime Loonabout. Somehow he had managed to reach the Caroline ship, the mv Mi Amigo, without a passport and, as the tenders were now based in Holland, he had no way of leaving the ship. Spangles was stuck there! After many weeks aboard, he was beginning to go stir-crazy so he persuaded some fans in a pleasure-boat to smuggle him back to England. This they did and he was able to get hold of a new passport. Unfortunately Caroline's administration was in Amsterdam and Chris had no way of getting back to the ship. So he went to Frinton, "borrowed" a local council rowing boat and rowed the three and a half miles back to the Mi Amigo! Even when he got there, his troubles weren't over. He had left the ship without the Captain's permission. The Captain's word was law and he was not best pleased. He wouldn't let Chris back on board. He had to sit in the rowing boat with it tied to the anchor chain as the DJs on board pleaded with the Captain. Eventually he was allowed back onto the ship and onto the air.
Spangles on a Lunchtime Loonabout from Radio Caroline International (duration 3 minutes 14 seconds)
For a few weeks Chris broadcast under the name of 'Herb Oscar Anderson', having acquired a jingle for an American DJ of that name. He claimed he received fan mail saying how much better he was than that Spangles guy he had replaced!

Having grown up in the north of England, listening to Radio Caroline North, Chris was keen to transfer to the other ship. He left the Mi Amigo in late January 1968, intending to move to the Fredericia. Unfortunately, over the weekend of 2nd/3rd March, both ships were silenced and towed into port.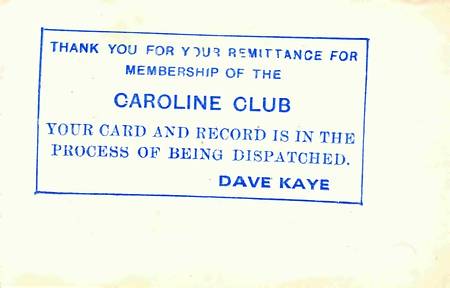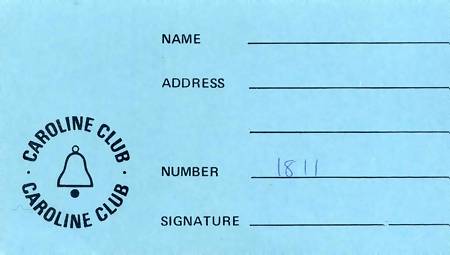 Correspondence and membership card from Chris's 'Caroline Club'. Thanks to George Morris for the latter. Click to magnify.

Following the demise of Radio Caroline, Chris was involved in the launch of the land-based pirate Radio Free London but moved to Cambridge where he did mobile disco work. Short of money, he also placed advertisements in the music press for a new 'Caroline Club' under the name of Dave Kaye. In return for their postal orders, fans received a seven inch vinyl record of Caroline jingles and a booklet about the station. Sadly the booklet contained a number of blank spaces where photos should have been but the cost of printing these had been prohibitive. It might have been a bit of a scam - the profits did not go to relaunching Caroline as the advertisements had claimed - but it did put dinner on the Cary table.

In 1970 Radio Northsea International was launched off the Dutch coast and, in July, Chris joined as station manager, DJ and engineer. Writing about the period on his web site, he said: "I was very excited when I first heard the tests transmissions on 1611 kHz (186 metres) for Radio Northsea. Bad frequency for daytime, but went like a train at night. So I tracked down Larry Tremaine who was the Programme Director at the time and convinced him that I was the next best thing to happen to him. I don't think I overly impressed him but, in any event, I went out to the Mebo II a month or so later. This station was packed full of adventures. I think we changed frequency sometimes four times in a day, to avoid the jamming. We even once had bombs thrown at us! The Mebo II was the Rolls Royce of radio ships, hosting the most transmitters and sporting both FM and short wave. Carpets on the floors. Generally a very smart interior - almost luxurious."
Spangles on Radio Northsea International from 8th August 1970. This is a clip taken from a recording available from www.azanorak.com. Our thanks to Ray Robinson (duration 4 minutes 13 seconds)

Some clips of Spangles from RNI's last day on the air in 1970. The other voice belongs to Andy Archer (duration 2 minutes 17 seconds)
Northsea closed down in September and Chris moved to Birmingham with his wife, Kate, and baby daughter. The station returned to the air the following year and, in September 1972, Chris rejoined RNI. However, after only a few days there, he announced his resignation on air and told a waiting world about the return of Radio Caroline whose ship, the Mi Amigo, had just left harbour but was still to make its first broadcast.
Spangles Muldoon on the Kent Request Hour from 14th September 1972, his first day back on RNI after almost two years. This clip is part of a longer recording made available by The Offshore Radio Archive (duration 4 minutes 14 seconds)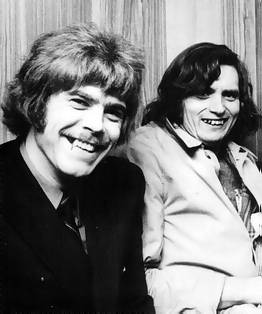 Chris Cary, left, and Gerard van Dam at the time of Radio Caroline's return to the air in 1972. Photo courtesy of Hans Knot.
In May 1972 the two former Radio Caroline ships had been put up for sale in Holland. The Mi Amigo, the old Caroline South, had been bought by an offshore radio enthusiast Gerard van Dam and station founder Ronan O'Rahilly. On 3rd September the Mi Amigo had been towed back out to sea. Anonymous test transmissions began on 29th September and the honour of being the first to speak from the new Caroline went to Spangles Muldoon when, at 1.05pm on 9th November, he announced: "This is a test transmission, testing for microphone hum".
Spangles on a test transmission for the still anonymous Radio Caroline. Clip from Jumbo Records' Radio Caroline Story (duration 25 seconds)
Chris was station manager and programme director for the English language output and he and Kate ran the land-based side of the station. This was a full-time job and he was only heard on air occasionally. The pair left Caroline in August 1973.

Chris set up a company making video games but in July 1975 joined Radio Luxembourg as summer relief DJ. Initially he used the Spangles Muldoon name but, when a full-time job followed, he began broadcasting as Chris Cary. In April 1977 he left Luxembourg and returned to his now very successful electronics firm in Barnet, north London, moving into the expanding computer market. He planned a Mediterranean-based English language holiday pirate station, Sunshine Radio, but the intended ship sank and the project was abandoned.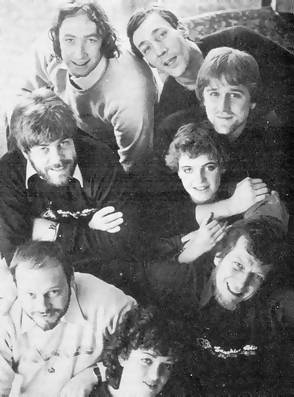 The Sunshine Radio team, including Chris Cary, centre left, Tony Allan, top right, Peter Madison (formerly known as Mac Peters), bottom left, and Robbie Dale, bottom right. Photo from 'Radio Radio', published by Borderline Publications.
The Irish representative for his computer company was former RNI DJ Brian McKenzie. He told Chris about the thriving Irish land-based pirate scene. Convinced that there was an opportunity to make money there, Chris launched a Sunshine Radio in Dublin, using the name and jingle package he had planned for his station in the Mediterranean. Co-owner was former Caroline director Philip Solomon and the station manager was ex-Caroline colleague Robbie Dale. Leaving the day-to-day operation to Robbie, Chris concentrated on his computer company. While in California, he fell in love with the sound of FM hit radio. This is an edited version of the account he wrote for his web site: "I was by now transfixed by the FM radio sound, which had progressed from long-haired hippie stations to run full time Top 40 entertainment stations. I went to see the different programme directors of these stations and learnt how to dissect formats. I was told that the key to all this FM excitement was due to something called an Optimod processor. I decided that I had to have one of these Optimods. Constant communication with my friend Brian McKenzie in Dublin as I enthused to him about this fantastic FM sound, encouraged him to suggest that I brought this kit to Dublin where it had never been heard. He told me that the FM band was empty, apart from RTÉ in mono and spasmodic tests from (pirates) Big D and Radio Dublin."

Back in Dublin, Chris needed a name for his new station. He met up with A.J Beirens, who had been involved with Radio Northsea International and later ran another RNI, Radio Nova International, in Italy. A.J lent Chris a tape of his jingles. Chris remembered "He thrust this cassette into my hands saying 'look after this. It's the only one there is. See what you think'. I was down the pub with Brian McKenzie that night and lo and behold spilt my drink over this damn cassette. Knowing how fastidiously correct A.J was, I didn't have the heart to tell him I'd wrecked his tape and hadn't even yet listened to it. As luck would have it, after a good shake and a hair-dryer, the tape played back perfectly in Brian's house that night, and then we heard this wonderful French rendition of the Radio Nova jingle. I was spellbound by the melodic sound of the jingle (made by Steve England). So what the hell - Radio Nova it was to be."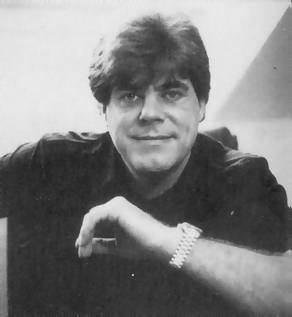 Chris Cary. Radio Nova promotional photo.
Leaving Sunshine Radio in Robbie Dale's capable hands, Chris launched Radio Nova, bringing the sound of FM Contemporary Hit Radio that he had heard in California to Dublin. Nova was the most professional and successful of all the Irish pirates. It also won a substantial audience in the north-west of England and Wales too. Eventually the Irish government legislated against the pirates and introduced legal independent radio. Chris moved back to the UK to set up Radio Nova International, a satellite-delivered radio station. He already had a company selling satellite receivers, based in Camberley, Surrey, and he installed a radio studio in the same building. The station took to the air in April 1988 and featured a number of former offshore DJs including Mark Wesley, Paul Burnett, Tony Blackburn and Robb Eden, as well as a team of broadcasters he had brought over from Dublin. This Nova was not as successful as the Irish version. Satellite receivers were not as plentiful as they are now and the market just was not big enough. The station closed in January 1989. Chris had another go the following year and for a while some programmes under the Radio Caroline name were broadcast over his facilities but he couldn't find a way to make satellite radio pay. For a while Chris took over the Birmingham city centre station Buzz-FM but, annoyed by its limited coverage, he closed it abruptly when the Radio Authority wouldn't allow him to increase transmitter power.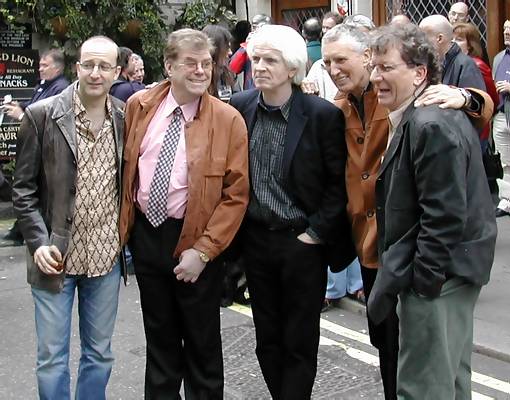 Chris Cary with Paul McKenna, Ronan O'Rahilly, Johnnie Walker and Robbie Dale at Caroline's fortieth birthday party. Click to enlarge.
He continued to trade in satellite equipment but in 1996 police raided his factory and charged Chris with manufacturing pirate satellite television decoder cards. In April 1998 he was sentenced to four years in jail. He was sent to an open prison but escaped. He was tracked down in New Zealand, brought back to the UK and sent back to prison - this time to the much tougher Parkhurst Jail. While there, he suffered a stroke.

Although the stroke left its mark, Chris was still as full of ideas and enthusiasm as ever and, on his release from prison, threw himself back into things - his computer business, a bid to take over the long wave transmitter previously used by Atlantic 252, a possible involvement in an Isle of Man station, subscription radio and the revival of Radio Nova. He had already set up an internet feed of Nova and was in Tenerife launching the station there when, in January 2008, he suffered a second stroke. This one affected the other side of his body from the first, leaving him totally paralysed. To make matters worse, he had acquired a serious lung infection. After weeks in a Spanish hospital, Sybil Fennell, his third wife, made plans to have him transferred to the UK by air ambulance but, on the day he was due to make the journey - 29th February 2008, Chris died.

Chris was happy to admit that he wasn't the best disc-jockey in the world. But he knew how to make great radio. He was one of those rare people who constantly generate new ideas. Not all of his ideas worked but he threw himself into each of them with enormous enthusiasm, energising all around him to do the same. And he had so many good ideas that no one minded if a few were less good! In the sixties and seventies, he was a major player in changing British radio forever. In the eighties he did the same for Irish radio. Given more time, who knows what he might have done? His early death robbed his family and friends of a much loved man and the listeners of a radio great.
---
A number of correspondents have paid tribute to Chris:

"Chris was a truly colourful Good Guy who has left a lasting impression with those who knew him and worked with him. My deepest condolences to Sybil at this sad time."
George Hare.

"I only met Chris Cary once and I couldn't pretend to know him. However it may shed a bit of light on his career at a time when he wasn't working in radio. In the early seventies the book publishers Allan and Heath set up a division selling audio mixers. They had one that particularly interested a colleague and I. It was about the size of a notebook computer and boasted 6 channels, each with a pan pot and equalisation for treble bass and middle. It had RCA inputs and VU meters. It looked like luxury to us in local radio at the time. We attended an exhibition of professional audio equipment in Birmingham. Allan and Heath had a stand there and the rep was Chris Cary. My colleague went on to buy the mixer. Not much of an anecdote, but it may throw a bit of light on his life and times."
Nigel Fell

"I was very sad to hear about Chris Cary's untimely death. I read about his many achievements on his website and although I was never a great fan of his DJ-ing, he certainly knew how to make a great radio station. I'm not sure what his latest project was all about - I assume it was something to do with internet streaming, but maybe someone could tell us more. Chris was by all accounts a loveable rogue, and he sailed pretty close to the wind at times with a lot of his projects. He was there at a lot of historic times in Offshore and Pirate radio. Characters like him don't come around all that often. R.I.P."
Martyn Webster

"Very sorry to hear the news of Chris Cary. I met him a number of times after the closure of Caroline when he lived in Cambridge and ran the Caroline Club - the start of his financing the radio projects he later became so famous for. He will indeed be missed quite a bit."
Francis Pullen
---
There is also a tribute to Chris Cary on Dr. Martin van der Ven's Offshore Radio Nostalgia website.