That's what Johnnie Walker claimed in his legendary "Man's Fight For Freedom" broadcast in 1967. Sadly his other prediction that the government would one day relent and that Caroline would sail "majestically and proudly" up the Thames never did come true. But he was right about one thing - that people would always remember that sad day.....
At the height of the sixties offshore radio boom in 1966 there had been ten stations broadcasting from around the British coast. On Christmas Day 1966 BBMS, the former Radio Essex, closed to the sound of The Markeys' instrumental Philly Dog. DJ Mark West said that the station hoped to be back on the air from a new location in a couple of weeks. The equipment was moved to Roughs Tower, later to be known as Sealand, but BBMS never did resume broadcasting. One down, nine to go.

On 8th February 1967 Mrs. Dorothy Calvert was found guilty of operating Radio City from inside territorial waters and that night at midnight her station closed down. (See cutting.) Then there were eight.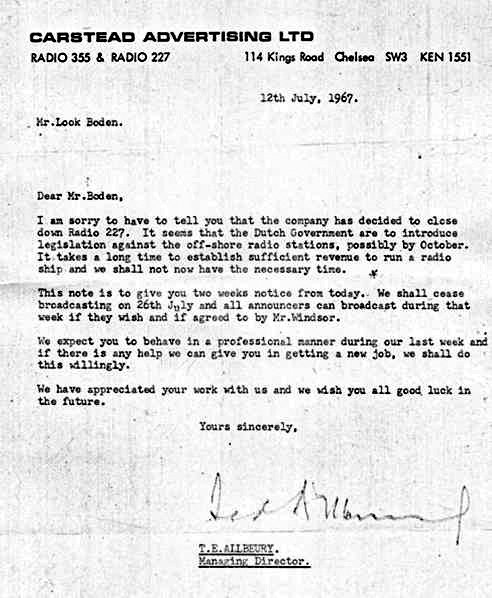 Dutch DJ Look Boden is told his station, Radio 227, is closing down. Letter provided by Hans Knot. click to enlarge. It is thought to have closed slightly earlier than the date given in this letter, on 23rd July.
Tom Edwards and his colleagues close Radio City down for the final time. Recording kindly provided by James Pringle (duration 1 minute 53 seconds)

On 23rd July Radio 227, the Dutch language station that had replaced "Swinging" Radio England on board mv Laissez-Faire, closed without warning. Five days later the fort-based sweet music station Radio 390 also went off the air after losing a final court battle. That left six.
The end of Radio 390, 5pm, 28th July 1967. Recording courtesy of the Offshore Radio Archive (duration 2 minutes 31 seconds)
The next to go was Radio 355. Previously known as Britain Radio, it shared the mv Laissez-Faire with Radio 227. The contract with Wijsmullers, the Dutch company that serviced and crewed the ship, was about to expire and it wasn't considered worth renewing as the station was going to be outlawed only a few days later. It closed shortly after midnight in the early minutes of 6th August. Five stations left.
Tony Windsor and Managing Director Ted Allbeury close Radio 355 down forever. Recording kindly provided by Nick Widdows (duration 6 minutes 1 seconds)
As with all the ship-based stations, Radio London had always insisted that it intended to stay on the air despite the impending Marine Offences Act. However, in the event, the sales company could not find sufficient international advertisers prepared to support the station or British ones prepared to break the law. On 28th July 1967 it announced that 'Big L' would close down at 3pm on 14th August, just nine hours before the new law would come into force. At two o'clock on the 14th Radio London began its final hour of broadcasting. Disc-jockeys past and present, recording stars and others, paid their last respects in a special show pre-recorded the previous night. Presented by Ed Stewart and Paul Kaye, it was a professional and moving farewell. The last record was played, The Beatles' A Day in the Life (an album track banned by the BBC), the final advert was aired (for Consulate cigarettes) and then Paul, the station's first voice, became its last as he closed Radio London down for the final time. At 3pm 266 metres fell silent. There is a photo of engineer Russell Tollerfield switching off the RCA transmitter for the last time on the Northern Star web site. That left just four stations.
Clips from Radio London's final hour, 2-3pm, 14th August 1967 (duration 5 minutes 10 seconds)
On the neighbouring ship, the disc-jockeys of Radio Caroline South were listening as Radio London closed down. His voice cracking with emotion, Robbie Dale, welcomed the new listeners who had just tuned across and held a minute's silence in memory of the departed rival.
Robbie Dale on Caroline South, 3pm on 14th August 1967. This is taken from a recording shared on the Internet Radiocafé, now known as the Radiotrefpunt (radio meeting point) forum by H.Roos. Our thanks to him (duration 1 minute 33 seconds)
At 6.40 that evening the returning Radio London disc-jockeys arrived at Liverpool Street station in London where thousands of fans had gathered. Earlier that afternoon they had seen off the last team of Caroline broadcasters to leave the country. They welcomed the Big L presenters defiantly. The railway station was brought to a complete standstill as the fans swarmed everywhere, waving banners and shouting support for the offshore stations. It was a final act of protest by thousands of unhappy listeners. After two and a half years they were going to have to come to terms with life without wonderful Radio London (cutting here).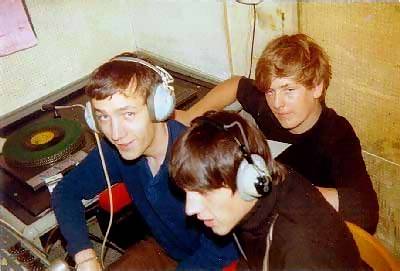 Tony Allan, left, and Mark West with a crew-member during the final live show from Radio Scotland. Photo by Bob Donnelly. There are more of his photos on www.rossrevenge.co.uk.

Most of Radio Scotland's last day's programmes were pre-recorded. Just two presenters, Tony Allan and Mark West, were left on the ship to play out the tapes. As midnight struck, their DJ colleagues were at a closedown ball in Glasgow's Locarno ballroom. 2,000 fans turned up to mourn the passing of the station that "swings to you on 242". (Cutting here.)

Radio Scotland DJ Stuart Henry's thoughts on the station closedown are here.
Tony Allan says goodbye at the end of the last live show from Radio Scotland, 14th August 1967. The recording is from Martin Lynch's collection and has been kindly donated by Lynne Sims (duration 42 seconds)

The station Managing Director, Tommy Shields, says his goodbyes at the end of the pre-recorded final programme. Tape kindly donated by David Burke (duration 4 minutes).
Off the coast of Yorkshire, Radio 270 called it a day at midnight too. The original intention was that all the DJ team should be on board for the final show. Unfortunately rough weather prevented the tender getting out there, so the broadcasters who were stuck on land recorded some farewell messages. Deputy Programme Director Mike Hayes called up a friend in the RAF and persuaded him to drop the tapes onto the ship from a helicopter. Because this was strictly against the rules, a note was included in the package insisting that no mention should be made of it on air. Great plan - in theory. Except that the parcel missed the deck and ended up in the sea. So no one got the tapes and nobody could read the message. The DJs did not know they were not supposed to acknowledge the helicopter pilot who they thought had just flown by to wave goodbye. So they thanked him on air. This did not go down well back at base and questions were even asked in Parliament. (See cutting.) Because the tapes had ended up in the sea, the station's final hour was rather lacking in content. The last day's output also suffered from technical problems after some jellyfish were sucked into the generator's water cooling system. Although probably not one of Radio 270's finest programmes, it was an emotional farewell. Vince "Rusty" Allen closed Radio 270 down for the final time just before midnight.
A couple of extracts from the last show on Radio 270, 14th August 1967. The "Mike, Mike and Paul" that Rusty refers to were the three DJs on shore-leave, Mike Hayes, Mike Barron and Paul Kramer. Tape courtesy of Ray Andrews (duration 2 minutes 15 seconds)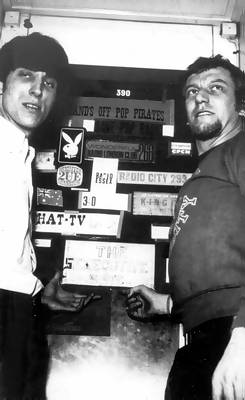 Johnnie Walker, left, and Robbie Dale. A photograph issued by the Free Radio Association, kindly provided by George Morris.
And then there were two - Radio Caroline North and Radio Caroline South. The north ship, anchored off the Isle Of Man, was in a strange position. Caroline was well loved on the island and the members of the Isle of Man parliament, The Tynwald, opposed the Marine Offences Bill. Despite their objections, the new law was forced on them from London when an Order in Council was issued. This extended the new law to cover the island - but not until midnight on 31st August. This meant that it was business as usual on the 14th - in theory. In practice, most of the existing DJ team decided to leave. Canadian Don Allen, Caroline's longest serving disc-jockey, was unaffected by the law which only covered British citizens, but all the others headed home. Don was not alone. A new team of DJs arrived on the 14th and the station continued.

Down on the south ship, DJs Johnnie Walker and Robbie Dale had just enjoyed their last shore leave in Britain. Both had said publicly that they intended to continue broadcasting and were hoping that some of their colleagues would join them. But when they got out to the Mi Amigo, they found that everyone had their bags packed. One of the departing DJs, Roger Day, would return a few weeks later after renewing his passport but on the afternoon of 14th August it looked like the station would have to operate with just Johnnie, Robbie and Ross Brown, an Australian who had been working as a librarian on Radio 390 until recently. Later that night an unexpected second tender arrived bringing another DJ Spangles Muldoon. At midnight, as Radio Scotland and Radio 270 were closing down, Caroline continued. A massive audience tuned into Caroline South as Robbie Dale and Johnnie Walker welcomed the listeners to a new era, that of "Radio Caroline International".
Johnnie Walker with Robbie Dale on Caroline South, midnight 14th August 1967 (duration 5 minutes 13 seconds)

Don Allen at midnight on 31st August 1967, with some clips from the first post-Marine Offences Act programme on Caroline North. Recording courtesy of Andy Cadier (duration 3 minutes 17 seconds)