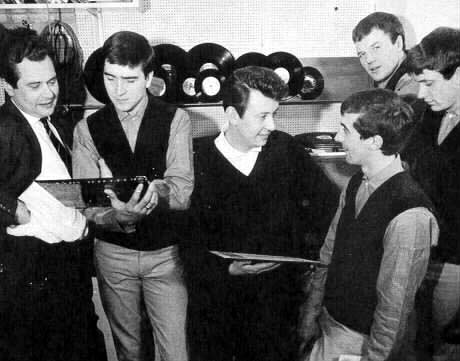 Doug Stanley was heard on the first English-language offshore radio station to be beamed to Britain. A Canadian, he had been working for British Forces Broadcasting in Cologne before getting involved with CNBC, the Commercial Neutral Broadcasting Company. This early offshore venture operated from the Radio Veronica ship mv Borkum Riff, anchored off the Dutch coast, in late 1960 and '61. The programmes were recorded on land. They hoped to attract British listeners and advertisers but unfortunately the station was too low powered and the signal into the UK too weak for it to have much impact. CNBC didn't last long and Doug moved to the much larger and more successful Radio Luxembourg. There is more information about CNBC here. Doug's colleague at forces radio, CNBC and Luxembourg, Paul Hollingdale, tells us that after leaving Luxembourg, Doug emigrated to Australia, living in Adelaide, where he began a new career as a documentary film maker, going on to make award-winning films and earning great acclaim for his work. (With thanks to Paul for his help. Photo of Doug, centre, with the Swinging Blue Jeans kindly provided by Hans Knot.)
Doug Stanley on an early test transmission from CNBC. Recording kindly provided by Hans Stieper (duration 4 minutes 51 seconds)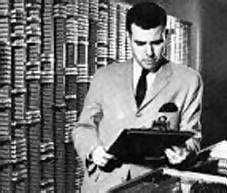 Gary Stevens Like Jack Spector, Gary Stevens worked for WMCA, one of the top stations in New York City. He had joined in 1965 replacing the legendary B.Mitchell Reed. In 1966 he started sending taped shows across the Atlantic to go out on "Swinging" Radio England. He also appeared on BBC Television's Juke Box Jury on 22nd October 1966 while on vacation in the UK. Gary has been in touch with The Pirate Radio Hall of Fame. He recalls: "the (Radio England) shows were provided at no cost to the station. We were given assistance by the American record companies which provided the funds to produce the programmes. I did visit the ship once, when it first signed on. Great fun. Very exciting. Went out and back on a Dutch tender from Felixstowe." Gary presented a one hour show each weekday but Radio England only lasted six months. It closed down in November 1966. Gary then transferred to Radio City where he also produced an R&B show presented by New York DJ Ralph Cooper. These carried on until Radio City closed down the following February. Gary continues: "I left the airwaves in 1968, lived in Switzerland and London until 1970, then joined the broadcast subsidiary of Doubleday Books where I rose to President. We built one of the biggest radio groups in America (but) in 1985 Doubleday was sold to the German parent of BMG, the stations auctioned off and I joined the American arm of Schroders, the UK investment bank. After two years I formed my own station brokerage, handling the sale of radio properties and, from 1986 to this day, I have sold over $5 billion worth of radio stations. It's a long way from that cold Saturday morning when I made my way into the North Sea for a visit to Radio England. One particularly humourous aside: I ended a programme one day with the remark 'keep your pecker up'. This has a decidedly different connotation in America and one of the Radio England owners happened to hear it, went nuts and wanted to dump the show. It took some local intervention to remind him that we are two cultures, divided by a common language!" (Many thanks to Gary for getting in touch and reliving his pirate past.)
Gary Stevens on Swinging Radio England during the summer of 1966. This particular show included coverage of the Beatles tour of America and Canada. See here for more on that tour. Clip kindly donated by Martyn Webster (duration 2 minutes 54 seconds)
Gary Stevens on a programme recorded for Radio City and due for transmission on Thursday 16th February 1967. Unfortunately the station had closed down the previous week and this show was never aired. Tape kindly provided by Stuart Russell (duration 1 minute 16 seconds)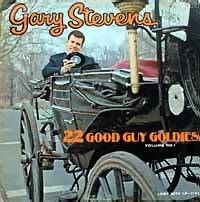 Chuck Eames has emailed The Pirate Radio Hall of Fame. He says "I like the web page you've dedicated to pirate radio. I was looking through my old LPs and found this assorted hits record that Gary Stevens got his picture put on the cover of." Click here for more details of the album.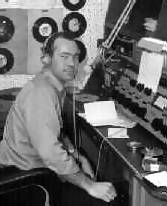 Mark Stevens of "Swinging" Radio England and Ted Delaney of Britain Radio were one and the same person. The two stations operated from the same ship and he used a different name, depending on which studio he was broadcasting from. Neither was his real name. To his family and friends he was Ron Rose. He joined the ship in autumn 1966. Not much was known about him until recently but a Norwegian fan, Svenn Martinsen, has been carrying out extensive research and, with the help of Eric Gilder, has discovered the following: Mark/Ted/Ron was 33 years old when he joined Radio England in 1966. An American, he had previously worked as a broadcaster in California and Oregon. He had also served as a police officer for a couple of years while living in Redding, California. His broadcasting history included spells as a DJ at KSDA, KPAP and KAHR, all in Redding. At this last station he was also Production and Copy Manager, then Program Director, Senior Announcer and Chief Engineer. Between 1959 and 1961, he had also worked at KBOY in Medford, Oregon. When Radio England closed down in November 1966, he stayed on to work just on Britain Radio - but not for long. What happened to him next? We don't know. Correspondent Terje Isberg tells us that Mark/Ted/Ron got married on 26th November 1966. Could that be the reason he left the station? Correspondent Michael Fitzmaurice reports that Ron was the news anchor at channel 6 in Eureka, California, CA in the mid 70s but that was the end of his broadcasting career. He tells us that Ron passed away in 2014 in New Mexico, USA. (This photo is courtesy of Look Boden. More of Look's pictures can be found here. Many thanks to Svenn Martinsen, Eric Gilder, Terje Isberg and Michael Fitzmaurice for their help in compiling the above. More of Svenn's research into Radio England, Britain Radio and the other stations that broadcast from the Olga Patricia/Laissez-Faire can be found at stellamaris.no/olgapatricia1322845.html.)
Ted Delaney on Britain Radio, Christmas Day 1966. This clip is part of a longer recording made available by The Offshore Radio Archive (duration 1 minute 38 seconds)
Mark Stevens nearing the end of an overnight shift on "Swinging" Radio England from a Friday morning in either September or October 1966. Two people have sent us copies of this recording so our thanks to both Svenn Martinsen and Hans Knot. The reception is not great - does anyone have a better tape of Mark in action? (duration 3 minutes 33 seconds)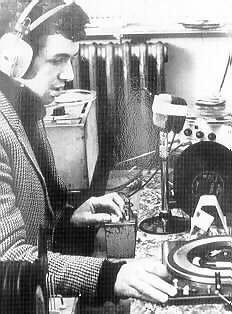 Martin Stevens Most of the well-known pictures of the sixties offshore stations and their DJs were taken by two photographers. One of them, Martin Stevens, makes it into The Pirate Radio Hall of Fame because he also, briefly, became a disc-jockey. It happened when he was visiting Radio City's home, Shivering Sands Fort in the Thames estuary. He was there to take pictures but a storm blew up and he was stranded. As he was there for some time, he ended up presenting a few shows and, as an offshore DJ, however fleetingly, is therefore eligible for inclusion in the Hall of Fame. Martin remembers: "I visited Shivering Sands several times to take photographs. The first time was January 11th to the 18th 1965. It was only meant to be a brief stay but the weather turned bad and the tender couldn't come. There was only one DJ out there at that time, Chris Cross. Dick Dixon the engineer was also there so he and I sat in as DJs. From my diary of the time I averaged about four hours per day on air. My second visit was February 28th to March 7th 1965. This time the weather was even worse. Dick Dixon was there again and the only DJ was Alexander Dee." You can see some recent photos of Martin at Radio City's 50th birthday gathering in Whitstable in September 2014 and at the Offshore 50 reunion in August 2017. The other major pirate photographer, Dave Kindred, worked for local newspapers in Ipswich but also has another claim to fame. He was unwittingly part of one of offshore radio's finest hoaxes. On April Fools Day 1967 what appeared to be a new official station called "Radio East Anglia" began broadcasting on an announced wavelength of 267 metres. Throughout the morning it kept interfering with the programmes of Radio London on 266. Two inept DJs were heard playing an odd assortment of middle-of-the-road tracks and they claimed to be broadcasting from an abandoned signal box on the railway line between Norwich and Kings Lynn! The Radio East Anglia signal kept obliterating that of Radio London until, strangely, it disappeared just before noon and was never heard again. A mailing address was given out - Dave Kindred's home. He received more than one hundred irate letters. The hoax was organised by Radio London DJs Ed Stewart and Keith Skues who were reprimanded by the station management, although they were probably delighted by the wide-spread publicity that it received. (There is more about this stunt here.) More than a hundred of Dave Kindred's photos of offshore radio can be found in the book Pirate Radio: An Illustrated History. (Many thanks to Hans Knot for the improved quality photograph.)
Martin Stevens on Radio City in early 1965. Tape kindly provided by Bob Le Roi (duration 1 minutes 36 seconds)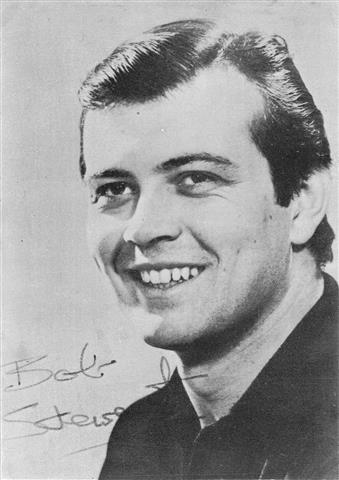 Bob Stewart Born on 3rd July 1939 in Liverpool Bob did his national service in the army and then worked in various local clubs after becoming a DJ at the suggestion of Pete Best, the original Beatles drummer. He joined Radio Caroline in 1965, spending a short stint on the South ship before transferring to the North. He was advised that his Liverpool accent might alienate listeners so he developed the very authentic sounding mid-Atlantic accent we all remember. "Baby Bob," as he was known, presented the noon-3pm show. His catch-phrase was: "This is your Bobby baby who loves you so crazy" and his theme tune was Image by Alan Haven. Bob stayed with Caroline North until about six weeks before the introduction of the Marine Offences Act in August 1967. He joined Radio Luxembourg and was there for eighteen years. In 1987 he moved to Dallas, Texas, for a time but returned to Europe and was heard again on Luxembourg as well as Jazz-FM, Red Rose Gold, Capital Gold and others. He returned to Dallas but had problems with his health. He underwent surgery for cancer of the larynx but also suffered from Parkinson's Disease and had heart issues. He passed away on 28th March 2019. Our tribute to him is here. (Bob wrote to The Pirate Radio Hall of Fame some years ago: "Thanks ... for remembering. They truly were good times." He also kindly signed the guestbook. Our thanks to Steve Kirby and Phil Hart for some of the above information. This photo was published by the Caroline Club. There is another picture of Bob in Colin Nicol's photo album and one in Tony Prince's.)
"Baby Bob" Stewart on a Caroline Club Request Show from Radio Caroline North, 16 June 1965. Thanks to Harm Koenders of The Offshore Radio Archive for pointing out the correct date. We previously credited the recording as being from 1966. Apologies. Tape kindly provided by Stuart Russell (duration 2 minutes 47 seconds)
Bob Stewart closes Caroline North down for the night at 2am. Tape kindly provided by Nigel Fell (duration 1 minute 2 seconds)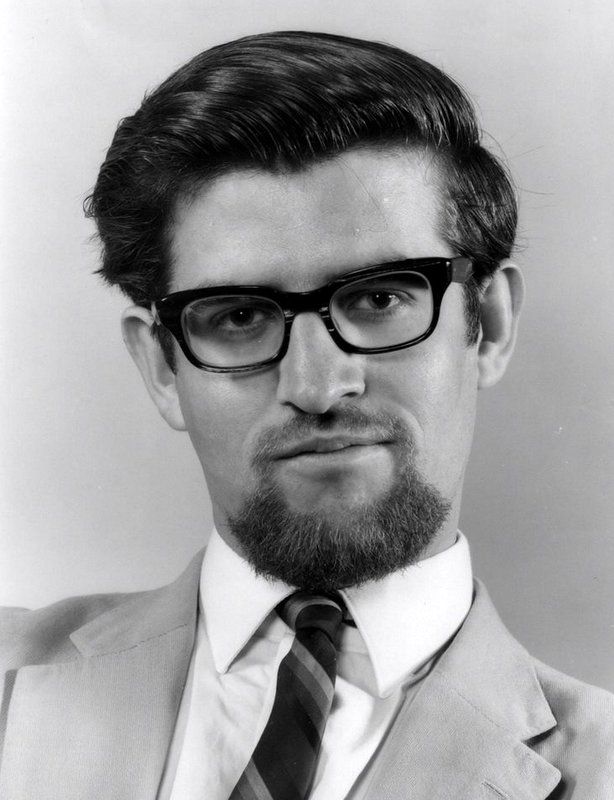 Ed Stewart was born on the 23rd April 1941 in Exmouth, Devon. He visited a friend in Hong Kong, intending to make a living playing the double bass. Unfortunately his music career failed to take off so Ed started working for Radio Hong Kong. While in the colony he presented programmes on both radio and television, as well as acting as rugby commentator and film critic. In 1965 he returned to Britain and applied for work on the various offshore stations. Radio Caroline turned him down as they did not have any vacancies but Radio London took him on for the summer, to cover for any DJs on holiday. His first show was on 5th July and his temporary appointment was rapidly made into a permanent one. Dave Cash gave him the nick-name of "Stewpot" and he developed a mythical co-presenter called Myrtle: "Hello Myrtle" (falsetto:) "Hello dear." His regular programme was 3-6pm and included the daily Schools Spot. He used a couple of different theme tunes: Drum Diddley by Joe Loss & his Orchestra and Lover by Buddy Merrill. When Tony Windsor left, Ed was appointed Senior DJ and he remained with the station until it closed down. Indeed, he co-hosted the very last show with Paul Kaye. He then joined the BBC, later moving to commercial radio with Radio Mercury. Ed rejoined BBC Radio 2 in 1991 and stayed with them until announcing his retirement in 2006. With a home in Spain, he was also heard on an English language station there called Spectrum FM. He made occasional return visits to Radio 2 to present nostalgic editions of Junior Choice, the kids' request show he had previously hosted on Radio 1 for many years. Ed's autobiography Out of the Stewpot was published in March 2005. In early 2016 Ed suffered a stroke, sadly dying a few days later on the 9th January. He was 74. See the BBC website. The Pirate Radio Hall of Fame's tribute to Ed is here. (There is a video of Ed broadcasting on Radio London here. There are some pictures of Ed in Willy Walker's and Mitch Philistin's photo albums. Click here for a more recent one, taken at the August 2007 Radio Academy Celebration of Offshore Radio.)
Ed Stewart presenting The Fab 40 on Radio London on 19th February 1967, an extract from Offshore Echo's tape Highlights Of Big L part two, used with kind permission (duration 2 minutes 7 seconds)
Ed Stewart on his penultimate show on Radio London, 13th August 1967, the day before the station closed down. Recording kindly provided by Stuart Russell (duration 4 minutes 46 seconds)
The Pirate Radio Hall of Fame needs your

The site is updated regularly and we are always on the look-out for new material to add. If you have any information, photographs, recordings or contact details for any of the disc-jockeys we haven't been able to trace, please get in touch.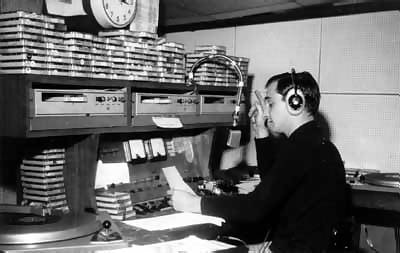 Norman St.John Born on 12th May 1943 in Healsville, Australia, Norman began his radio career as a panel operator on Melbourne station 3UZ when just 14. By the time he was 16 he was a presenter on 3CS, a rural station 100 miles from Melbourne. Over the next few years Norman worked on a number of Australian radio stations, including 3UZ again, and for a while he was a television announcer. Health problems interrupted his career and a holiday was prescribed to aid his recovery. He set off on a world tour and, after working on a cruise ship, arrived in the UK in 1965. He was heard first on Radio City. He writes: "I had just arrived in the UK and met (Radio City owner) Reg Calvert at some gathering. He mentioned that he had a radio station on one of the forts and that if I was at a loose end I should come and work for him. I said I would and we met at Whitstable in Kent a week later. It should be remembered that I had just finished a contract, as entertainer, with Lloyd Triestino on their ship the 'Marconi' where I had enjoyed the very best of everything. Reg had mentioned to me that the accommodation was a little 'sparse' at the time but the fort was being refitted in several weeks. He also said that the station equipment was the best in the UK. The day I arrived the sea was very rough and I managed to get on to the ladder. The tender tried to make it back again but it was unable to do so. Reg yelled out to me that they would try to get back later or the next day and that I was to go up to the fort and make myself known to those on board. I did but I was amazed at the shambles the place was in. The equipment was not much better that a glorified radiogram with several domestic tape recorders. The accommodation most certainly left much to be desired and the food was all tinned with little fresh available. I was given the 9-12 noon shift. I stuck it our for 5 days until the tender returned and had a discussion with Reg, at which time I think I expressed my disgust. I was told not to take it to heart but in the spirit of adventure. In the next week the fort was to be refitted and that it would be something special then. I agreed to return in a week, did so, and stayed for a further 8 days. No one seem to know of any new fittings and so I decided, adventure or not, it was not for me. Several weeks later I met (Programme Director) Bill Hearne from Radio Caroline at a record company function and he offered me a job on Caroline South. I took it and the rest is history." Norman joined Caroline in July 1965, initially as a news-reader, later moving on to presenting programmes. When the Mi Amigo lost her anchor in January 1966, Norman was one of the DJs hauled ashore, along with Tom Lodge, Tony Blackburn and Dave Lee Travis. On 5th July 1966 he joined the rival Radio London, where he stayed until the following February. After a time on Radio Luxembourg Norman returned to Australia and worked in radio and television there for about ten years. He then went into the aviation business, obtaining a pilots licence and selling aircraft thoughout Australia, Asia and the South Pacific. Norman also flew solo from the USA to Australia. Since then he has worked in the steel wire industry but, in addition, does public speaking engagements and has worked at a number of conferences around the world including some in Thailand, Brazil and the USA. Norman now lives in Brisbane. Although no longer working in radio, was heard in the UK on the Radio London 2001 broadcasts from Clacton Pier and the 2007 programmes of Pirate BBC Essex. He has also attended the Radio London 40th birthday party, Radio Academy Celebration Of Offshore Radio and the Offshore 50 reunion. (Many thanks to Norman for updating us and to Ken Guy for putting us in touch. Norman says: "The years I spent working in radio in the UK and Luxembourg were truly wonderful years and I have many memories I will cherish forever. When I see the work that you have done and are doing with The Pirate Radio Hall of Fame it makes me so proud that I was a part of the very successful commercial radio pioneering days." There are some pictures of Norman in the Radio Caroline studio here. This photo of Norman in the Radio London studio, issued by The Free Radio Association, kindly provided by George Morris.)
Norman St.John reading the 12 noon news bulletin on Caroline South one Saturday in December 1965. The voice on the news jingle is Bill Hearne and after the bulletin there is a short bit of Tony Blackburn starting the weekly Sound of 65 chart countdown. Tape kindly provided by Nick Widdows (duration 2 minutes 44 seconds)
Norman St.John sitting in for Tony Windsor on the 9am-noon show on Radio London, 29th December 1966, an extract from the Offshore Echo's tape More Highlights Of Big L part one, used with kind permission (duration 4 minutes 52 seconds)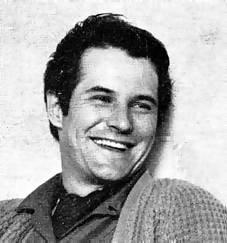 Dennis Straney An Australian, born on 29th May 1939, Dennis had worked for a number of radio stations in his home country before setting off on his travels. He was first heard in the UK on Radio City where he was known as "Dennis the Menace" (no surname). He was a larger than life character and provided a great deal of humour and professionalism. Dennis moved on to join the first on-air team for Radio 270 in the summer of 1966, initially presenting the noon to 2pm show, later doing 9am-noon and 2-4pm. His theme tune was a version of On The Street Where You Live by Quincy Jones. Following his time at sea, he returned to Australia and a position on 2UE Sydney. His radio career did not continue and he faded from public view. Some time ago The Pirate Radio Hall Of Fame asked Ian MacRae about his former colleague and fellow countryman: "I never saw Dennis again after Radio City closed shop. The only word I had was quite some years ago when someone said he'd been seen spruiking in a Sydney department store." We then had to ask Ian for a definition of the Australian word 'spruiking'! "Pronounced sprook-ing, it means to speak in public, especially advertise, sell etc. It used to refer to showmen who would do a lot of shouting to attract people passing by into their shows. It refers to those people in stores who get on a microphone and annoy passing customers." Another Australian correspondent Maggie White (née Lucas) also got in touch. Back in the sixties she worked in the Radio 270 office. She had been speaking to former Radio 270 senior DJ Noel Miller and was able to report: "When Noel was on 2SM in Sydney (during the late eighties) he did catch up with Dennis Straney who at that time was selling insurance." Following the time 'spruiking' and selling insurance, then in his forties, Dennis decided to return to education. He attended university as a mature student, obtaining a B.A. and a Diploma of Education, as well as completing a qualification to teach English as a second language. He taught English to foreign students. Sadly he developed Parkinson's Disease which made life increasingly difficult. Dennis died on 1st August 2010 and our tribute to him is here. (This is a Radio 270 promotional photo. There are a couple more pictures of Dennis in Leon Tipler's photo album. Thanks to Hans Knot for the theme tune information.)
"Dennis the Menace, your ace from outer space" kicks off a show on Radio City from January 1966, kindly provided by Harm Koenders of The Offshore Radio Archive (duration 1 minute 1 second)
Dennis Straney with a 1966 advert for a "four transistor tape recorder," a special offer from Radio 270 and a bargain at just £7. Recording courtesy of Bob Glen (duration 43 seconds)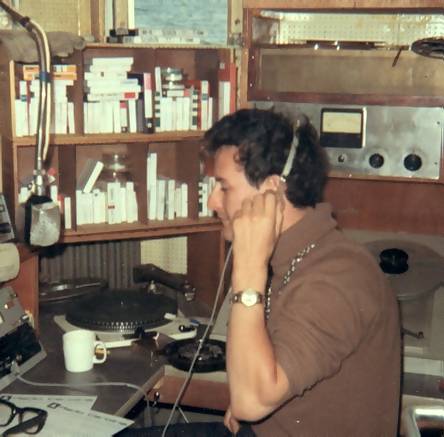 Keith Street Sheridon Street, from Blackburn, Lancashire was an engineer who worked on both Caroline ships during 1966-7. He started on the North ship but it was while working on the South that he got his first chance to present programmes. At the time there was a shortage of broadcasters and senior DJ Robbie Dale asked Sheridon to deputise on the 9pm-midnight show, normally hosted by Johnnie Walker. Sheridon chose to broadcast using his middle name so, for a few days, 'Keith Street' covered for Johnnie. He can't remember the precise date but thinks it was within his last three weeks on Caroline and, as he left on 14th August 1967 when the Marine Offences Act came into effect, that means his shows were in July or August. Since his time at sea Sheridon has worked as an engineer in many countries around the world. He and his wife now live in Thailand. He has a fascinating website, covering various aspects of his life, hobbies and career including his memories of Caroline and some wonderful photos. This picture is provided by Sheridon, as are others on The Pirate Radio Hall of Fame. We are very grateful to him for permission to publish them.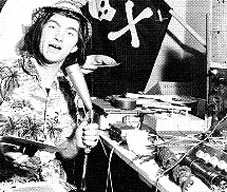 Screaming Lord Sutch David Sutch was born in West Hampstead, London, on 10th November 1940. He started performing as a rock'n'roll singer under the name "Screaming Lord" Sutch at the famous Two I's coffee bar in Soho. He had an outrageous stage act combining elements of horror movies with a routine borrowed from blues singer "Screaming" Jay Hawkins. The legendary Joe Meek produced a number of records with him although none were hits. One of Sutch's recordings was a song called Dracula's Daughter which was written by Alan Zeffert and Tony Day, also known as Caroline DJs Mike Allen and Eddie Anthony. On 24th May 1964 Sutch unveiled Britain's third offshore radio station when Radio Sutch was launched in a blaze of publicity on board the trawler Cornucopia. The exact details of what happened next are a matter of some dispute. Sutch himself, in an interview with Offshore Echo's, claimed that he broadcast from the Cornucopia for a fortnight "off and on" but the boat was not really suitable as it was still being used for fishing. He then moved onto Shivering Sands, a disused war-time anti-aircraft tower off the Kent coast. The usually reliable "Offshore Radio" by Gerry Bishop maintains that Sutch never actually broadcast from the Cornucopia but, straight away, moved onto Shivering Sands. Whichever is correct, it is generally agreed that the first record played on the station was the Screaming Lord's own Jack the Ripper. Radio Sutch's transmitter was powered by car batteries, rather than generators, and could only stay on the air for a few hours at a time. Transmission power was very low and the audience tiny. The studio equipment was rudimentary and the living conditions extremely basic. It was billed as "Britain's first teenage radio station" which tied in with Sutch's alternative career in politics: the previous year he had stood for parliament under the banner of the National Teenage Party. The main policy of this one-man party was the then ridiculed proposal of votes for 18 year olds. After a few months Sutch tired of the radio station. With a general election looming, he decided to concentrate on his political career. He also had a lucrative singing tour of Australia and New Zealand in the offing so he sold up. His manager, Reg Calvert, took over the station and renamed it Radio City. Sutch's political career continued for many more years. In 1970 he was the candidate for the Young Ideas party. In 1974 he formed the Go To Blazes party and later the Official Monster Raving Loony Party. Altogether Sutch ran for parliament unsuccessfully some forty times. He also found time to write an autobiography Life As Sutch. He suffered from depression and on 16th June 1999 was found hanged at his home in Harrow, north-west London. He had committed suicide. Following his death a Downing Street spokesman was quoted as saying "Screaming Lord Sutch will be much missed. For many years he made a unique contribution to British politics. Our elections will never be quite the same without him." For more on Sutch, see The Screaming Lord Sutch's Savages blog. (With thanks to Helen Cronin, Alma Driver and Dave Savage for their assistance. The photo is by Syndication International from "Offshore Radio" published by Iceni Enterprises.)
One of Lord Sutch's uniquely informal programmes from August 1964. Tape kindly provided by Stuart Russell (duration 3 minutes 18 seconds)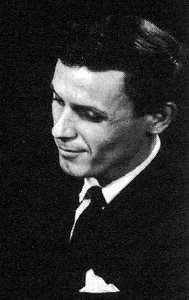 Richard Swainson was mainly employed 'behind the scenes' of Radios Atlanta, Caroline South and London but was also heard on air occasionally, reading the news on Radio Caroline South. He was working for Chappells, the music publisher, when he met Kitty Black. She was an investor in Radio Atlanta. He was offered the job of liaison man between the ship and London office. Radio Atlanta soon became Radio Caroline South and Richard continued to shuttle backwards and forwards between the mv Mi Amigo and Caroline House. When Radio London arrived at the end of December 1964, it was decided that the two ships would save money by sharing the tender service. Richard remembers: "Monday was Caroline's change-over day and Tuesday was Radio London's .... As to my foray into Radio Caroline news-reading, it all happened by accident really. I was on the ship, sorting out some problems, and was due to leave on the Monday but, due to really bad weather, the tender was unable to get alongside. We were short of people on board so I was asked to read one or two bulletins as we had nobody else to do it. It became a regular thing that, in the event of any further similar problems, I would help out by reading some bulletins .... Roll on a further nine months or so, my day for travelling to the Mi Amigo became Tuesday, which was Radio London's change-over day so, of course, I got to know all the Radio London boys. I had worked with Tony Windsor on Radio Atlanta. On one of these trips Tony told me that Philip Birch, Radio London's Managing Director would like to have a chat with me and, if I was interested, to give him a call. I did and we arranged to have a meeting. He told me that Ben Toney, the then Programme Director, was leaving to go back to America and that Earl Richmond, TW's assistant on the ship, was also going to leave. Alan Keen was to become Programme Director in London and he asked me to take on the job of Tony's assistant on the ship. Of course I jumped at the chance. My duties would be to handle all the contact between the ship and shore. Philip Birch had always insisted that, while the Programme Director would be in Radio London's office in Curzon Street, all the choice of music should be done on the ship by TW. I would help him compiling the Fab 40 when he was on board and, when he was off for his week ashore, I would do it. All I can say is that it was a wonderful time." Richard stayed with Big L until it closed, later working in the music industry, for Radio Luxembourg and for 2CR, the local station for Bournemouth. He has now retired. (Our thanks to Richard for his help and to Mary Payne for putting us in touch. Photo from 'Pop Went The Pirates', published by Lambs' Meadow Publications. Richard's name appears, as Dick Swainson, on this Caroline South programme schedule for August 1965, as noted by Jempi Laevaert.)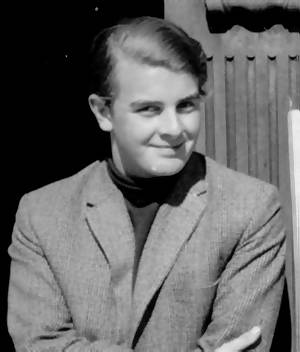 Gordon Swann Born in Crowborough, Sussex, on April 11th 1947, Gordon moved to Kent with his parents and sister Yvonne (now a freelance journalist) when he was four. His mother was American and his father Anglo-French. In fact his Parisian grandfather went to school with Proust and was well known in French artistic circles. Proust even borrowed his family name for the famous book Du côté de chez Swann (or, in English, Swann's Way). Gordon was educated at Worth Preparatory School in Sussex. He left school at 16 with a few O-levels. A keen pop fan, he wanted to become a DJ and contacted Radio City. At that time, 1965, the station was just finding its feet. Station owner Reg Calvert was always willing to give someone a chance and Gordon soon found himself out on Shivering Sands. His sister Yvonne remembers their father listening to Gordon's programmes, banging his fist on the table and shouting "If he says 'marvellous record' one more time I'll go mad. Can't we teach him more adjectives!" Yvonne isn't certain how long Gordon served on the station. Possibly only a couple of weeks. Following his brief time with Radio City, he became Assistant Stage Manager at the Marlow Theatre in Canterbury. He was there with his cousin, the actor Robert Swann, who later starred in the film If. Gordon occasionally appeared on stage too, doing bit parts or being shot and having to lie still for the rest of the scene. Apparently he was also an excellent front end of a pantomime horse! In 1967 Gordon and his family moved to Touraine in France. He became an abstract painter - something he continued to work on all his life. His paintings sold, he had many exhibitions and his work was well reviewed. He married in 1971, moved to Paris and founded a language school with his wife - starting out with just 50p in his pocket. In a few years 'Swann Formation' became the biggest language school in Paris. Sadly he died of a heart attack in 1984 at the age of just 36, leaving two young sons. (Many thanks to Yvonne Swann for getting in touch and providing the above information and photograph. Neither she nor The Pirate Radio Hall of Fame has any recordings of Gordon on Radio City. If you can provide one, please get in touch.)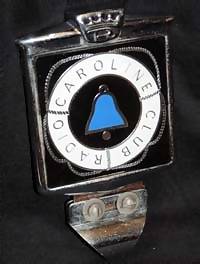 This rare Caroline Club car badge was offered for
auction on eBay in October 2003. It went for £77.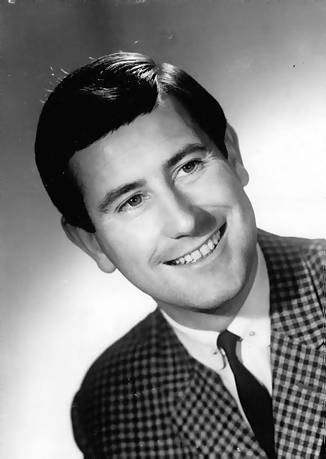 Jon Sydney Former newsreader on London's LBC, Ken Guy, got in touch with The Pirate Radio Hall of Fame from Brisbane: "When I first visited the UK in mid-65 a former Oz radio colleague, Brian Whetstone, was with Radio Caroline South. From memory he was using (the name) "Jon Sydney." Ken is absolutely right. Brian was calling himself Jon Sydney. Born in Clare, South Australia, on 12th December 1939, his first job was as a railway porter. After working on Australian radio he came to the UK and was one of the "Good Guys" on Radio Caroline South between March and September 1965. His theme tune was The Brothers Go To Mothers by Henry Mancini. In this interview, former Radio Caroline Programme Director Ken Evans says that Jon's background was in musical theatre and that, following his time with Caroline, he appeared in Babes In The Wood at the London Palladium, as confirmed by this theatre programme. As a member of The Bel-Canto Singers he appeared in a 1967 BBC television series called Melodies For You. Jon later returned to Australia. Ken Guy continued: "he (carried on using the name) Jon Sydney when he returned to Oz and appeared in one or two TV series." Ken got in touch again in June 2000 after discovering some sad news: "Jon had been living in Hobart, Tasmania, until about a year ago but has since died." There are more photos of Jon, provided by Colin Nicol, here. (Some of this information comes from a biography issued by Radio Caroline in 1965 kindly provided by Steve Kirby. The photo is courtesy of Robbie Dale.)
Jon Sydney, identified here as "Sidney John" for some reason, on The Big Line Up programme from Radio Caroline South, 10th July 1965. Fellow 'Good Guy' Keith Skues can be heard too. Recording kindly provided by Geoff Gilham (duration 3 minutes 4 seconds)