ROB CHAPMAN has written a critical analysis of the programmes put out by the sixties offshore broadcasters.
RAY CLARK broadcast on Radio Caroline during the eighties as Mick Williams. He has written an authoritative history of the station, reviewed here.
STEVE CONWAY was on Radio Caroline during its last dramatic years at sea. His is a fascinating tale.
NIGEL HARRIS, also known as Stuart Russell, enjoyed a long career on Radio Caroline spanning the seventies and eighties. Nigel's book also includes his time on a couple of other radio ships.
PAUL HARRIS risked prosecution under the then brand new Marine Offences Act when he wrote and self-published the first book to tell the story of UK offshore radio.
STEPHEN HEBDITCH tells the story of London's land-based pirates from the early hobbyist operations of the sixties to the big commercial enterprises of the eighties.
ADRIAN JOHNS has written an academic study of the story of Reg Calvert, Radio City and the fatal disagreement with Oliver Smedley.
The late TOM LODGE broadcast on Radio Caroline North and South during the sixties. His book is part history, part memoir. You can read extracts here.
If you have an iPad, LION KEEZER's iBook Pirate Radio Ships in the 70s is hard to beat. For more information, see his website.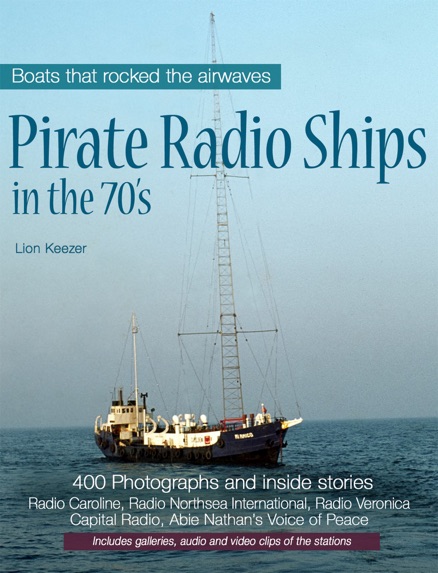 GORDON KELLY tells the Radio Seagull story, covering the output from both the mv Mi Amigo and the Jenni Baynton.
DAVID KINDRED was a photographer based in Ipswich. Fascinated by offshore radio, he took every opportunity to visit and photograph the stations off his local coast. This book is a collection of his photos with the pirate story related by Keith Skues. Also available in paperback and as a Kindle e-book.
MICHAEL OF SEALAND, born Michael Bates, is the son of Radio Essex's founder Roy Bates. After Radio Essex closed down, the Bates family moved onto Roughs Tower and declared it an independent state, Sealand. This is the Sealand story told by someone who was there from the start.
PAUL ALEXANDER RUSLING was involved with the launch of Laser-558. Radio Adventures of the MV Communicator is a history of Laser and the other stations which broadcast from the ship. A second book, Laser Radio Programming: 10 million listeners can't be wrong discusses Laser's format.
KEITH SKUES was a DJ on Radio Caroline South and Radio London, and the author of probably the definitive book on UK offshore radio in the sixties.
STUART VINCENT was an engineer on the Voice of Peace, Caroline and Laser. The book tells his story and includes memories of another offshore venture which didn't make it onto the air. Also available from Lulu.com.