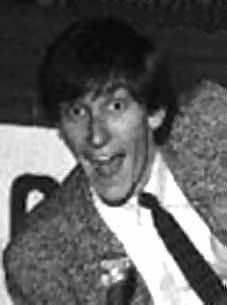 Chris Sandford Like many of Radio Caroline's early presenters, Chris came from a theatrical background. After leaving school at 16, he had worked as an actor in repertory companies and on children's TV. He appeared in London's West End but National Service interrupted his career. After serving in The Royal Signals, he went back to acting and joined Coronation Street where he played a character called Walter Potts. Walter was a window-cleaner who became a pop singer. The song featured in the programme, Not Too Little Not Too Much, went on to become a Top 20 hit for Chris in 1963. He released a number of other singles including You're Gonna Be My Girl with backing band The Coronets which featured drummer Mitch Mitchell, later to join the Jimi Hendrix Experience. In 1964* he joined Radio Caroline. Keith Skues's book Pop Went The Pirates refers to Chris working in the sales department in Caroline House, the station's headquarters, but he also hosted promotional events and briefly broadcast on Caroline North. He was only there for about six weeks but he made a big impression on one listener. Derek from Manchester wrote in The Pirate Radio Hall of Fame guestbook: "A great DJ. (The other presenters) took the piss out of him and locked him in the loo whilst on the air!" Chris continued to make records including a duet with the late voice-over star Bill Mitchell under the name "Yin and Yan". Their spoof of Telly Savalas' version of If was a Top 30 hit. After his time at sea Chris continued to act and appeared in an episode of ITV's Danger Man series set on a fictional pirate station. Called Not So Jolly Roger, it is currently available as part of a DVD box-set (see here). Chris appeared in TV's The Persuaders as well as such films as Half A Sixpence, Deep End and Up The Chastity Belt. See the Internet Movie Database for full details of his acting and The Forgotten Bands Blog for details of his pop career. Chris was also a very successful commercial voice-over and producer. He is something of an expert on angling and has a vast collection of vintage fishing tackle. He now writes for the angling press and his TV series, Just Fishin', was shown on the Discovery Channel. He is also the author of a number of books on the subject. (* We previously said that Chris joined Radio Caroline in 1965 but this in incorrect. Our apologies. Thanks to Brian Nichols of the Felixstowe & Offshore Radio Facebook page for pointing it out. Photo from Offshore Echo's)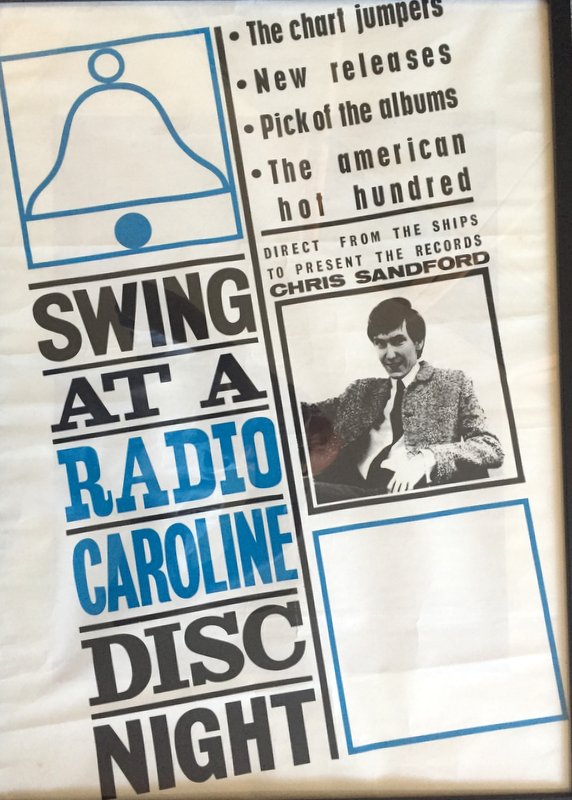 Thanks to Andy Archer for this vintage poster advertising
a Radio Caroline 'disc night' with Chris Sandford.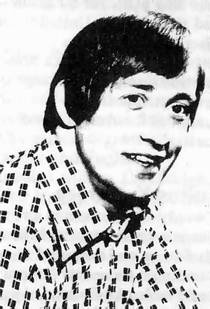 Mike Scott Born 1947 in Port Seton, East Lothian, Mike was heard on Radio Scotland for two stints of a fortnight each during the summer of 1967. He was then 19 years old. After his time at sea Mike trained as a printer and worked for Scotprint in Edinburgh. He left there in 1976 and joined Radio Forth, where he presented the breakfast show for many years before moving into promotions. Mike was later Head of Promotions for the EMAP radio stations in Scotland. (The photo and birthplace details come from 'The Music Spinners' published 1976 by MRP. Other information courtesy of Ian Anderson via Hans Knot's International Radio Report.)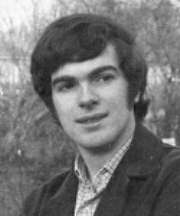 Roger Scott No relation to his professional namesake who broadcast on Capital Radio and Radio One, this Roger was born in north London and, aged 17, joined Radio Essex with no previous on-air experience in February 1966. Like many of his fellow Essex DJs, he graduated to Radio 270 off Yorkshire. For a few months in 1967 he was on Radio 390 and was aboard the sweet music station's Red Sands towers on July 28th, the last day of transmission, following the operating company's final legal defeat. He joined Radio Caroline North just four days before the ship was towed away on behalf of creditors, being on board at the time. He provided voiceovers and was a full-time TV announcer at Harlech, Anglia and Tyne-Tees, before returning to sea in 1972 under a new name, Arnold Layne. (See The Pirate Radio Hall of Fame 'Seventies Supplement'.) After sixteen months with Radio Northsea International he moved back to dry land and, after a stint at UBN, began using his real name, Greg Bance, professionally for the first time. Since then he has been relief TV announcer at Southern, ATV, Granada and LWT, as well as presenter, newsreader or disc-jockey at stations including Radio Orwell, LBC, Independent Radio News (network bulletins), Beacon Radio, Two Counties Radio, Melody Radio and Breeze AM. Commercial voiceovers were a sideline in the late 1970s (although he says he "did what he could to keep TWA flying") but during the 1980s and 1990s, he was particularly in demand for these, finding much success with local radio commercials, TV trails and 'corporates'. In the early 21st century, he is a writer and lives in Canterbury. (This is a Radio 270 promotional photograph. There are more pictures of Roger in Guy Hamilton's, Graham Gill's, Peter Berkeley's and David Sinclair's photo albums and he has also very kindly donated some of his own photos. There are also some more recent pictures taken at Caroline's 40th birthday party, the Radio Essex's fortieth anniversary boat trip, a Radio 270 reunion held in December 2010 and the Offshore 50 reunion in August 2017. You can hear more clips of Roger on the air in David Sinclair's tape collection. Our thanks to him for his assistance with the above.)
Roger Scott, sounding concerned that supplies are running low, on the Musical Magazine programme from BBMS on 6th November 1966. This is an edited version of a recording made available by The Offshore Radio Archive (duration 3 minutes 19 seconds)
Roger Scott on Radio 270 at lunchtime on Saturday 12th August 1967. Recording courtesy of Martyn Webster (duration 2 minutes 22 seconds)
Roger Scott's first (and only) show on Radio Caroline North, 2nd March 1968. The voice at the start of the clip belongs to Charles Brown (duration 4 minutes 16 seconds)

Jon Sedd John Crosse was born in Northern Ireland and joined Radio London as a junior salesman in the very early days of the station. He then switched to the commercial traffic department, looking after the scheduling of advertisements. In September 1965 he was asked to go out to the Radio London ship, the Galaxy, for a couple of weeks to help with administration. As the station was short-staffed senior DJ Tony Windsor asked John to assist by reading the news. At that time nobody used their real name on air so John had to choose an alias. At the suggestion of Dave Dennis he became Jon Sedd as in "Jon said the news". As well as reading the bulletins he also co-presented some shows with Paul Kaye but his time on the station was brief: just two weeks. He then returned to his job in the Curzon Street office. In 1966 he moved to RadioVision, selling airtime for Radio England / Britain Radio. John then went to BFBS Cyprus as a newsreader, presenter and producer. The next stop was BBC Radio Four, then Southern TV. John then joined Yorkshire Television in Leeds where he spent 17 years. He retired a few years ago and now spends much of his time in America where he has family. (Many thanks to Bob Preedy and John Crosse for much of the above information. Bob points out that YTV also employed a number of other former offshore broadcasters as freelance announcers during the sixties and seventies including Paul Kaye, Earl Richmond and Keith Martin.)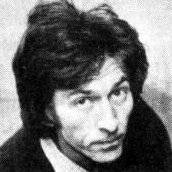 Clement Shaw Born 7th February 1943, Clement sold cars and antiques before training to be an actor. He joined Radio 390 in 1967(?) and, when Managing Director Ted Allbeury defected to Radio 355, he took Clement - along with other members of the 390 staff - with him. However none of the broadcasters stayed on the new station for long as Radio 355's programme format soon changed. Clement became a television continuity announcer, working for the BBC and then various local ITV stations, including Tyne Tees, Anglia and Scottish TV before joining Border Television in 1975. He later moved into making programmes, setting up a production company called Prometheus Productions. Clement died on Sunday 14th May 2017, aged 74, leaving three children, two grandchildren and two great-grandchildren. He was an active member of the Communist Party of Great Britain (Marxist-Leninist). Clement's family put together a short video which was shown at his funeral. It is available on YouTube. (Many thanks to Paul R Jackson for his assistance. Photo copyright 'Who's Who on TV?', courtesy of The TV Room.)
Clement Shaw on Radio 390's 'Scene At Six' programme from 30th January 1967. Clement's is the second voice you hear. The first belongs to Peter James. This is an edited version of a recording made available by The Offshore Radio Archive (duration 3 minutes 43 seconds)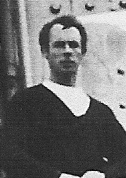 Tony Silver was first heard on the low powered sweet music station Radio Invicta. This was a small-scale operation and everyone was expected to take turns behind the microphone. "Tony Silver" was the on-air name of engineer Phil Perkins. Phil later moved to another fort-based station, Radio City, and again "Tony Silver" made the occasional return to the air. From City he moved to Radio Caroline North but here he concentrated on his engineering duties and did not present any programmes. Nowadays Phil lives in High Wycombe, Buckinghamshire, from where he operates an electronics supply company, Pervisell. He also has a personal web site at www.philperkins.com. Some of his memories of working in offshore radio are here.
A very short recording of Tony Silver on Radio Invicta's Top Sticks programme kindly provided by Harm Koenders of The Offshore Radio Archive (duration 42 seconds)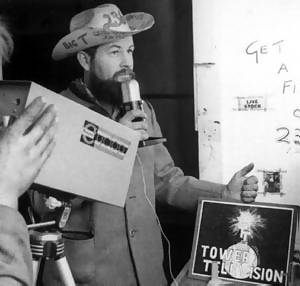 Dave Simser was one of the people behind Tower Radio, as a director and disc-jockey. This short-lived venture was based on Sunk Head Fort, fourteen miles from Walton on the Naze and operated, intermittently, during the last few months of 1965 and first few of 1966. An American, he was known on air as "Dynamite" Dave Simser. He remembers: "I was at the time honourably discharged from the U.S. Air Force in the UK when the offshore stations caught my attention and I checked out what I could do with reference to any structures (the naval forts) still available. With a number of friends we ventured out with a small fishing boat to see if it was possible to get any structures not presently occupied. We saw Sunk Head Fort, abandoned, and returned to shore to get food, water supplies and, with expert hobbyists John Waters & Bill Rollins on radio transmitting, went to London where all sorts of broken-down radio equipment and parts were available - most likely left over from the British military. This equipment was secured and transported by a Dutch tender as we needed a larger ship to get equipment to the fort. To enable us to board the fort, we used a squirrel ladder. After test transmissions towards shore, we discovered that there were many black spots and at times our only audience was fish!! Eventually we heard, via reception reports from shore, that the service had improved and I hosted a show from 12 noon to 2pm, The Country & Western Roundup. If you could not get a request played on my show, give up because you couldn't get it played anywhere! Then 4 to 6pm I had a show called Lucky Dip where anything came up. We received many mail sacks of reports of receiving our broadcasts, saying that our programmes were enjoyed and many letters of encouragement. When on shore we represented the station with a view to the advertising potential from the many businesses who were aware of our venture into commercial broadcasting and many of them did in fact support us until we were put out of business. The navy and coastguard kept vigil on all the forts with the view to putting them out of business at the first opportunity, and did. In the meantime making supplies rather difficult by holding up cooking and heating supplies and bags of potatoes, Brussels sprouts, etc. in case they contained T.V. or radio transmitting equipment. The Tower was in 60 or so feet of (salt) water. It was water, water everywhere but not a drop to drink so we went sparingly on our drinking water rations. We were on 236 metres, 14 hours per day. We crossed over to TV transmission which, due to the time element, never really got off of the ground, off the water, or even off the fort!" The following year, in August 1967, Sunk Head Fort was destroyed by a team of Royal Engineers as a hazard to shipping. Dave went for a change of career. He writes: "I decided to raise chickens and turkeys in upstate New York, USA." (Many thanks to Dave Simser for his memories, to Bobby Simser for putting us in touch and to George Morris for providing this Free Radio Association picture of Dave taking part in a 'test transmission' for Tower Television.)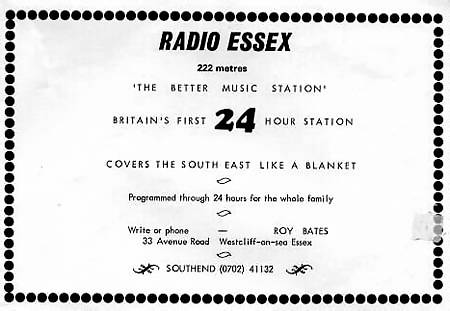 Thanks to Martin Fokkens for this press advert.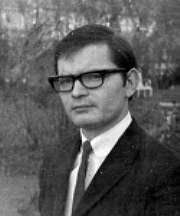 David Sinclair was born in 1942. After finishing school in Kent he worked as a trainee printer before becoming an accounts clerk in a shipping company and then a building society. He was also assistant manager for a security firm and ran an entertainment agency before becoming a pirate broadcaster. His offshore career followed a similar career path to that of Roger Scott, taking in Radio Essex, Radio 270 and Radio 390. With a taste for big band music, the first and last stations on this list were probably closer to his own preferences but he also played the Top 40 on 270 where he hosted two shows: David Sinclair's Ladies Morning Music and the late night In The Midnight Hour. Following the anti-pirate legislation he moved to Canada where he has worked as a broadcaster and voice-over under the name David Vincent for many years: 1967-70 announcer on CHWO Oakville, Ontario; 1970-71 Music Director at CKSO Sudbury, Ontario; 1971-74 Program Manager for CFTK Television in Terrace, British Columbia; 1974-85 Program Manager at CKXM-FM Edmonton, Alberta, and 1986-91 announcer for CHQT Edmonton, Alberta. Between 1987 and 1992 David was also Chief Instructor at the Columbia Academy Of Radio & TV Arts in Edmonton. In 2015 David published a fascinating account of his life as a pirate. Making Waves is available to download as an e-book from Lulu.com, the Apple iBookstore, and Amazon as an audiobook narrated by the author. David died on 13th March 2018 in St. Albert, Alberta. Our tribute to him is here. (David very kindly provided a number of recordings and photos from his collection to this website. More pictures of David feature in Guy Hamilton's, Peter Berkeley's, Edward Cole's and Roger Scott's albums. More recent photos, taken at Radio Essex's fortieth anniversary boat trip, can be found here and at the Radio Essex fiftieth anniversary reunion here. This picture is a Radio 270 promotional photo.)
David Sinclair on Radio Essex, 4th August 1966. This clip kindly provided by Ray Andrews (duration 1 minute 1 second)
David Sinclair on Radio 270 on an undated clip, probably from early 1967. The recording is courtesy of Martyn Webster (duration 2 minutes)
David Sinclair on Radio 390's 'Lunchbreak', 28th June 1967. This is from a studio recording kindly provided by the man himself. There are more of David's recordings here (duration 3 minutes 58 seconds)
Al Singer was an American news reader who was heard for a short time on Radio Caroline South. While studying at Dartmouth College, New Hampshire, he had done some college radio and, after graduating, decided to take a trip to Europe before starting law school. He was in the UK when his cash ran out. He remembers: "I was in London, three weeks before the return charter flight and reluctant to ask my parents for more money. I decided to look for a job, not knowing anything about work permits, visas, etc.. I knew where the pirate radio station offices were and went into Radio London. I met a fellow from Texas. He was very accommodating but he didn't have a job. He took me a few doors down to Radio Caroline and introduced me to the General Manager of the station. As luck would have it, the station needed a 'news reader'. I took a short audition, passed and was hired right then for one stay on the station so that the General Manager would have time to find a permanent hire. The next morning I was on my way as an 'able bodied seaman' (if asked by customs and immigration) to Radio Caroline as the new news reader. My recollections of the few weeks on the ship are hazy but, after hearing from you, I bought a book on pirate radio and the pictures brought back a lot. After a couple of days of seasickness, things settled into a routine. The news was broadcast from a room about the size of an airline restroom, down below in the ship. There was no news wire so it was gathered by getting up early and recording the BBC and then rewriting it. If the BBC had broadcast that the world was flat, I was likely to rebroadcast it. At the outset I took a lot of grief for my American accent and quickly learned the correct way to pronounce 'Bernard', among others. I don't remember the names of the other broadcasters other than Rosko and (mynah bird) Alfie. The other DJs, I think, were Canadians and Australians. All of this was very exciting to me, broadcasting on a 50,000 watt station with the range that Caroline had. After a couple of weeks, my shift was up, we headed back to London where I caught up with some of my friends from college. As a Radio Caroline broadcaster, I was invited, along with my classmates, to a couple of parties. Heady stuff to be a 'celebrity' chatting with rock groups whose music you followed. But it was soon time to catch the flight home. Would I have stayed? At that time, if I was not in school, I would have been eligible for the draft, so that was not an option. Caroline was my last broadcasting experience. I started law school in the Fall of 1966 at Duke University in North Carolina. The first semester was an incredible drag. I was in Durham, North Carolina, studying contracts and torts and not in London in the music scene! I graduated law school in 1969 and went in the Army for 4 years. I started practice as a trial lawyer in Charlotte and have been engaged in practice since then. I am planning to retire to the mountains of North Carolina this spring." (With grateful thanks to Al for getting in touch and to André de Raaij. Can anyone provide a recording of Al?)
The Pirate Radio Hall of Fame needs your

The site is updated regularly and we are always on the look-out for new material to add. If you have any information, photographs, recordings or contact details for any of the disc-jockeys we haven't been able to trace, please get in touch.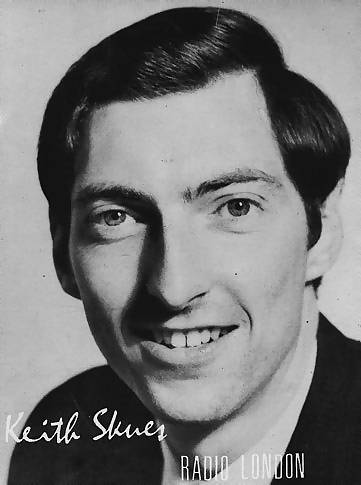 Keith Skues The author of the definitive book on British offshore radio, Pop Went The Pirates, Keith was born on 4th March 1939 in Timperley, Cheshire. After working as an insurance clerk he was called up for his National Service in 1958. Keith made his first broadcast with the British Forces Network in Germany and was also heard in Kuwait, Kenya and Aden. On returning to Britain he joined Radio Caroline South in September 1964. He had already acquired the nick-name "Cardboard Shoes" and developed a number of catch-phrases including: "Mrs.Lady," "speaking of ____ which we weren't" and, when signing off after reading a news bulletin: "on the news, Keith Skues." His theme was an orchestral version of Bob Dylan's Mr. Tambourine Man by The Golden Gate Strings. The TV Pop Diaries website reports that Keith was the guest DJ on ITV's Thank Your Lucky Stars television show on 13th March 1965. Keith was one of the "Good Guys" on Caroline but left in the general upheaval that engulfed Caroline South at the end of 1965 (see The Radio Caroline Story). There were a large number of staff changes and in December he moved to Radio Luxembourg. Keith went back to sea the following May when he joined Radio London. He stayed with this station until the close-down in August 1967 when he joined the BBC. He was on both Radio One and Radio Two before moving on to commercial radio. He served as Programme Director of Radio Hallam in Sheffield for many years and then moved on to BBC Radio Norfolk and other local stations in the eastern region. Keith was awarded the MBE in the 2004 new year's honours for services to broadcasting and charity. In 2019 he celebrated 60 years in broadcasting. On 27th September 2020 he presented his 500th, and last, show for BBC local radio and, after 61 years on the air, retired from full-time broadcasting. There is an interview with him here. The revised edition of Keith's book, Pop Went The Pirates II is available in hardback from Amazon. Keith also wrote the text for Pirate Radio: An Illustrated History, a book of photos taken by David Kindred, published in September 2014. (As well as the clips below, you can hear Keith on one of the Bryan Vaughan airchecks. This is a Radio London promotional photo. There is another picture of him in Keith Hampshire's photo album, he also features in Colin Nicol's photo album and there are more recent ones taken at Caroline's 40th birthday party, the Radio Academy Celebration of Offshore Radio and the Offshore 50 reunion.)
Keith Skues presenting The Big Line Up on Radio Caroline South from May 1965. The recording is from Martin Lynch's collection and has been kindly donated by Lynne Sims (duration 2 minutes 30 seconds)
Keith Skues presenting Star Verdict on Radio Caroline South from 12th December 1965 with guest reviewer singer Kathy Kirby. This is an edited version of a recording shared by The Offshore Radio Archive (duration 7 minutes 29 seconds)
A couple of extracts from a special programme featuring Keith Skues with the Beach Boys, broadcast on Radio London on 11th June 1967. Tape courtesy of Ray Andrews (duration 2 minutes 29 seconds)
Keith Skues reading an April Fools Day spoof news bulletin from 1967. The Slough phone number he mentions belonged to Radio London Programme Director Alan Keen. This is an extract from the Offshore Echo's tape Highlights Of Big L part two and is used with kind permission (duration 2 minutes 31 seconds)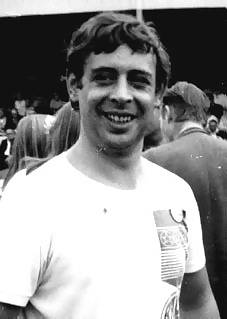 Mark Sloane Born 7th March 1942, originally from Somerset, Mark was a radio fan from an early age. While on holiday in Luxembourg in 1965 he met DJ Chris Denning and asked his advice on getting into the business. He suggested Mark should contact Mike Raven who was recruiting for King Radio. Mark got a job and broadcast under the name of Mark Hammerton. King Radio turned into the much more successful Radio 390 and Mark stayed on through this change. He was one of the station's most popular broadcasters and, after a year on 390, he was approached by Radio Caroline South offering him a job as a news reader. He moved to Caroline but they insisted he took a more radio-friendly name. He became known as "Mark Sloane," a name he found by browsing through the telephone directory. Mark left Britain for a job on Radio Antilles, Montserrat, but this did not work out and, after a couple of months, he was back in the UK. He landed a show on Radio 355 where he stayed until it closed down in August 1967 just ahead of the Marine Offences Act. His theme tune was Flamingo by Herb Alpert's Tijuana Brass. Radio Caroline was determined to carry on despite this new law and needed DJs. Mark returned to Caroline and this time joined the North ship. Unfortunately an article in a tabloid newspaper identified him. The legislation was still new and untested in the courts and Mark felt it was probably safer to leave the station than risk prosecution. That was the end of his radio career and he moved into the advertising industry, although he was heard on Radio Caroline's restricted service broadcast from London Docklands in 1996. (This photo was issued by the Free Radio Association. There are more pictures of Mark in Keith Hampshire's photo album, Tom Collins's photo album, Martin Kayne's photo on Caroline North and Edward Cole's photo album. Mark has also provided a couple of photos himself. There are more recent pictures taken at Caroline's 40th birthday party here, at the Olga Patricia DJs 40th anniversary reunion here, at the Radio Academy Celebration of Offshore Radio here and the Offshore 50 reunion. Mark has very kindly donated some studio recordings from his time with King Radio and Radio 390.)
Mark Hammerton on the evening edition of the Radio 390 request show, From Me To You, for 1st August 1966. This tape was kindly provided by Harm Koenders of The Offshore Radio Archive (duration 2 minutes 52 seconds)
Mark Sloane on the lunchtime request show on Radio 355, 8th July 1967. There is an extract from the José Feliciano session that Mark mentions on the Alan Black audio clip. This tape is kindly provided by Stuart Russell (duration 2 minutes 41 seconds)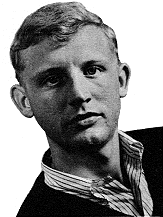 Jerry Smithwick One of the three DJs on the original "Swinging" Radio England team to come from the town of Moultrie in Georgia, along with Ron O'Quinn and Larry Dean. Jerry served in the US Army for two and a half years as well as working for WMTM in Moultrie and WDUN in Gainsville, Georgia, before crossing the Atlantic to join Radio England. This station was a glorious failure. Some excellent programmes won it a loyal following but there were not enough listeners to make it pay and it only survived for six months. None of the Moultrie three even lasted that long and Jerry soon returned to his radio career in the States. He then went back to the army for a while and, following that, back into radio. In 1974 Jerry switched to television and in 1987 was appointed President and General Manager of the NBC-affiliated TV station in Panama City, Florida. In 1994 he left broadcasting and did a couple of years of consulting work. In 1996 one of his friends ran for Congress and Jerry ran the Congressman's office in Tallahassee, the Florida state capital. You can hear more of Jerry and see more photos in our feature on Radio England and Britain Radio. (Photo from 'Who's Who In Pop Radio', published by The New English Library.)
Jerry Smithwick on a 3-8pm show from "Swinging" Radio England. Tape kindly provided by Frank George (duration 3 minutes 14 seconds)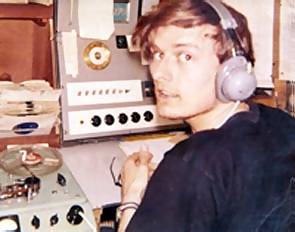 Bob Snyder was born in Newark-on-Trent, Nottinghamshire. During the early sixties he worked in the theatre as a stage manager as well as a club disc-jockey. His ambition was to become an actor and, after a variety of short-term jobs including beach photographer and chicken processor, he enroled at RADA in 1965. On graduating from the Academy, he couldn't find work as an actor so joined Radio 270 in April 1967. His theme tune was Quite A Beat by Sandy Nelson. The Oceaan 7, Radio 270's ship, was not the most stable of vessels and Bob says there were many scary times when extreme gale force weather made him think his time was up. In 1968, like his fellow Radio 270 men Pete Bowman and Brendan Power, he joined Radio Antilles in Montserrat. When commercial radio started up in the UK, Bob was heavily involved. For several years he worked with former Radio London boss Philip Birch as a radio consultant, bidding for franchises. He was on Piccadilly Radio in Manchester, the original programme director at Nottingham's Radio Trent and he presented the morning show on Beacon Radio in Wolverhampton. In 1980 he emigrated to Canada. He worked for CKLG in Vancouver and then moved to northern British Columbia to do the breakfast show on CJDC. Bob had always written topical comedy material for use in his shows but in the mid-80s he began it to sell it to other DJs as well. This hobby rapidly grew into a large-scale business. In 1999 he retired after almost two decades with CJDC to concentrate on his Toms Lake Humour Company, a "show prep" service supplying gags and topical one-liners to radio personalities across the United States and Canada. Correspondent Steve Rudell tells us: "It was legendary in radio with many of the big names in USA and Canada and hundreds of small market guys using the funny stuff he wrote but he retired that a while back." (Many thanks to Bob for supplying the photo, to Hans Knot for the theme tune information and to Steve for the update.)
Bob Snyder battling against the elements during a rough night on the North Sea, possibly 24th June 1967. Apologies for the poor reception. Recording courtesy of the Offshore Radio Archive (duration 4 minutes 3 seconds)
Bob Snyder on the Radio 270 morning programme, Sunday 25th June 1967. It was the morning after a big storm so this recording could be from the day after the show above. Recording kindly provided by Martyn Webster (duration 3 minutes 1 second)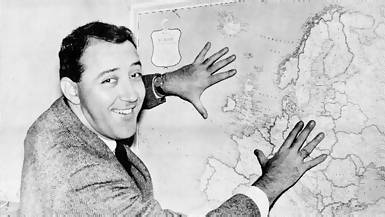 Jack Spector was a former Brooklyn Dodger who had become a big American radio star on WMCA, New York. In 1965 he began hosting a taped daily show, recorded in the States, which went out on both Radio Caroline ships. It was the nearest most British listeners would get to hearing true American Top 40 radio. Compared to the more sedate sound of UK radio, it was truly wild. Jack would yell, ring bells, throw in sound effects and every word was drenched in echo. He also had a number of catch-phrases. He was "your main man, Jake, your leader, your boss with all the hot sauce." Every night you were encouraged to take the pledge: "raise your right hand and repeat after me: I will have no other leader after my leader, Jake." Every show ended with "look out street, here I come." Jack made a concerted effort to tailor his show to his British audience, throwing in comments about the other Caroline DJs, and he played a great deal of excellent music. Despite being sponsored by Roulette Records, he reflected everything that was happening on the American Hot 100, on whatever label, and won a loyal national audience. The programme ran until the spring of 1966 on Caroline South but the North ship carried on broadcasting his tapes for a few months more. Jack Spector continued broadcasting in America for many years after his UK listeners had last heard him. He died of a heart attack on the 8th March 1994, aged 68, while on the air at WHLI, Long Island New York. There is an excellent WMCA web site which contains photographs and airchecks of all the station "good guys," including Jack. Bryan Vaughan has very kindly provided this studio quality recording of one of Jack's Caroline shows from early 1966. (Thanks to Colin Nicol for this photograph of Jack studying Caroline's reception area and also to Kenny Tosh for pointing out that one of Jack's theme tunes, 'Hand Clappin'' by Red Prysock, is available on Hard To Find Jukebox Classics 1957: Rhythm & Rock. Kees Brinkerink, Frank van Heerde and Alan Field inform us that another of Jack's themes was 'Popping Popcorn' by Dave "Baby" Cortez.)
Jack Spector on Radio Caroline in October 1965 (duration 3 minutes 32 seconds)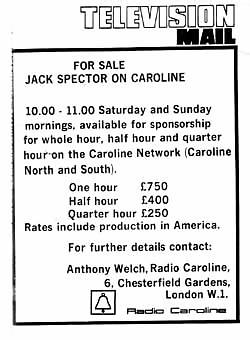 Thanks to Hans Knot for this trade paper advert seeking
sponsors for Radio Caroline's Jack Spector Show.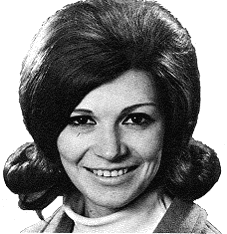 Cathy Spence Radio Caroline had the Caroline Club; Radio London had its club; Radio 270 has the 270 Set and Radio Scotland had the 242 Clan. Cathy Spence ran the Clan. Born in Perth on 14th November 1945, she was a former beauty queen who took care of the club administration, wrote a column for the magazine and presented a weekly request programme on Radio Scotland every Saturday lunchtime. The show was packed with dedications for members of the Clan and star interviews. Prior to working for the station, she had been a secretary for TVS Publicity, the advertising agency owned by Tommy Shields, Radio Scotland's Managing Director. We asked if anyone could provide more recent information and Cathy's Radio Scotland colleague Jack McLaughlin has sent this: "Cathy Spence and I were great friends during our time on Radio Scotland. She co-hosted The Radio Scotland Club programme with Stuart Henry from the studios in Cranworth Street Glasgow. In the mid 1970s I was host of a TV series on Grampian Television called Pop Scotch. We had some really top names of the day including The Move, The Moody Blues, Desmond Dekker, Johnny Nash etc. I was asked by the producer to find a co-presenter and I immediately thought of Cathy. We worked happily together for a couple of series before the producer left to return to London and dear old Grampian reverted to more traditional music. I kept in touch with Cathy for some time. She was involved in the beauty and hairdressing business." (Many thanks to Jack, to Mary Payne for passing on the email, and to John Morgan. This photo is from 'Who's Who In Pop Radio', published by The New English Library. You can see more pictures of Cathy with some famous friends and read one of her magazine columns here and here. She attended the Radio Academy's Celebration of Offshore Radio in August 2007 and there are photos here. There are also recent photos of Cathy, taken at a 2017 Civic Reception in Glasgow honouring Radio Scotland, here.)
Cathy Spence on the last ever 242 Clan programme from Radio Scotland, 12th August 1967. Tape kindly provided by Ray Andrews (duration 2 minutes 58 seconds)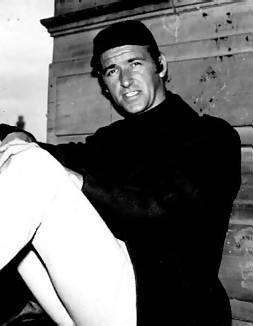 Bob Spencer Originally from Newquay in Cornwall, Bob's first radio job was on Radio City. This pop station, based on Shivering Sands Fort, had a tendency to take on new, inexperienced disc-jockeys, stick them on the air for a week, then pay them off with £5. As a result, a large number of offshore DJs got their first taste of radio on the "tower of power." From City, Bob headed north, joining Radio Scotland, where he made a name for himself. In 1967 this station hit trouble. It was prosecuted for broadcasting from inside territorial waters and had to go off the air until the ship could be moved to a safe anchorage. Bad weather delayed this and, for a time, the ship moved to Northern Ireland. Unfortunately the radio signal from there was not strong enough to reach its Scottish fans. The delay in getting back on the air proved very costly and one of the station executives was fired over it. Bob, who by this time was Senior DJ, quit in sympathy. After a time skippering boats in Florida and the south of France, he retired to the Helston area of Cornwall where he died in September 2014. The Pirate Radio Hall of Fame tribute to Bob is here. (Many thanks to Arthur Sutherland for his help and George Morris for the photo.)
Two clips of Bob Spencer on Radio Scotland. The first, from the Sixpenny Snowball Show, is taken from a documentary about the station made by the Forth hospital radio network in 1968. The second is from Swing Across Midday on 19th May 1967. That tape kindly provided by Ray Andrews (duration 2 minutes 47 seconds)