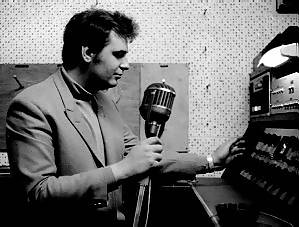 Dave MacKay Born in Ilford, Essex, on 8th September 1941 and educated at Warwick public school, Dave got into offshore broadcasting by pure chance. He was working as an air traffic controller at Gatwick Airport and one day went to a pub with some colleagues. The conversation got round to pirate radio and Dave expressed critical comments about a Radio City DJ. A stranger overheard and asked if he thought he could do better. This man turned out to be Eric K Martin, Radio City's station manager. As a result of this chance encounter, in February 1965, Dave was invited out to the Radio City fort to present a few shows. He used his real name of Dave Gillbee. Reg Calvert, the owner, was suitably impressed and over the next few months Dave combined his shifts at Gatwick with periodic trips out to Shivering Sands, although he never joined the City staff full-time. Bitten by the radio bug, Dave sent off applications to all the other offshore stations. In August 1966 he got accepted by Britain Radio but changed his name to Dave MacKay when he joined the station. He stayed when, in March 1967, it became Radio 355 and, in fact, he remained with this middle-of-the-road station right up until it closed down in August 1967. Following the closure, he joined forces with fellow 355 presenter Tony Monson to start a mobile disco businesses and in 1971 they opened a record and hi-fi shop in Brighton, Sussex. While living in the town he also broadcast on BBC Radio Brighton using his real name. He was later heard on Essex Radio, BBC Essex, Melody and Primetime Radio but died in May 2017, aged 75. (This photo was issued by The Free Radio Association. There are more pictures of Dave on Radio 355 in Tom Collins's photo album. We also have some photos of him taken at the Radio England / Britain Radio 40th anniversary reunion, here, and at the Radio Academy Celebration of Offshore Radio here.)
Dave MacKay on the 3-6pm afternoon show on Radio 355 from 3rd August 1967, a couple of days before the station closed down. Recordings shared by Hans Hendriks on The Offshore Radio Club Forum. Our thanks to him (duration 4 minutes 35 seconds)
Dave MacKay starting his last show on Radio 355 at 3pm on 5th August 1967. Apologies for the interference. This is an extract from the Offshore Echo's tape Offshore Classics vol.27 used with kind permission (duration 2 minutes 25 seconds)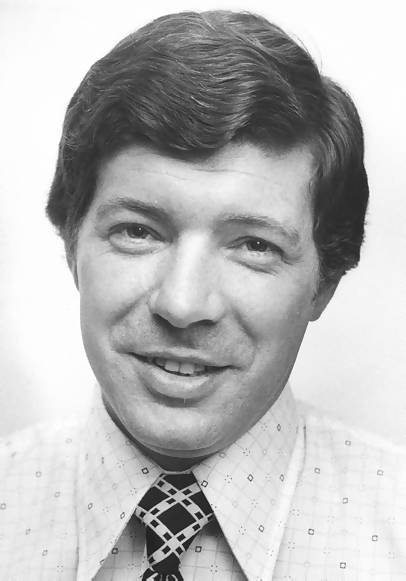 Allen Mackenzie Born in Glasgow in 1943, Allen was educated in Canada but returned to his homeland and, for a short while, worked on board Radio Scotland. Unfortunately we do not have much information about his stay on the Comet. We asked if anyone could provide some and Jack McLaughlin has responded: "I read you piece on Allen with interest. We were together for a short time on Radio Scotland before I headed down south to Britain Radio and 390. He was not a good sailor and spent most of his time on production in the HQ at Cranworth Street." Although Allen's time on Radio Scotland was short, he went on to a long and successful career in broadcasting, working both overseas and in the UK. He was a journalist at Capital Radio and LBC, then in management at Beacon Radio in Wolverhampton and Radio Tay in Dundee. He later moved into academia, working for the University of Dundee as Director of Development throughout the nineties. The Pirate Radio Hall of Fame attempted to contact Allen via the University in 2003. Although he had left the job by that stage, the letter was forwarded and he replied. He wrote: "Well done on the website. If you give me a little time I will get some information to you about my time at Radio Scotland. If I get a chance and dig deep enough in the attic I might even find some off-air tapes and also publicity material from those halcyon days of broadcasting! Right now I am very busy with a new publishing venture which is taking most of my time but I promise to keep in touch and I will get some material to you as soon as I can." Sadly he never did have the time. His partner in the publishing venture, Derek Smart, tells us that Allen suffered from poor health and died in February 2004. (If anyone can provide information or recordings of Allen from his time on Radio Scotland, please get in touch. Many thanks to Jack McLaughlin, Tony Meehan, Derek Smart and David Burke for their assistance.)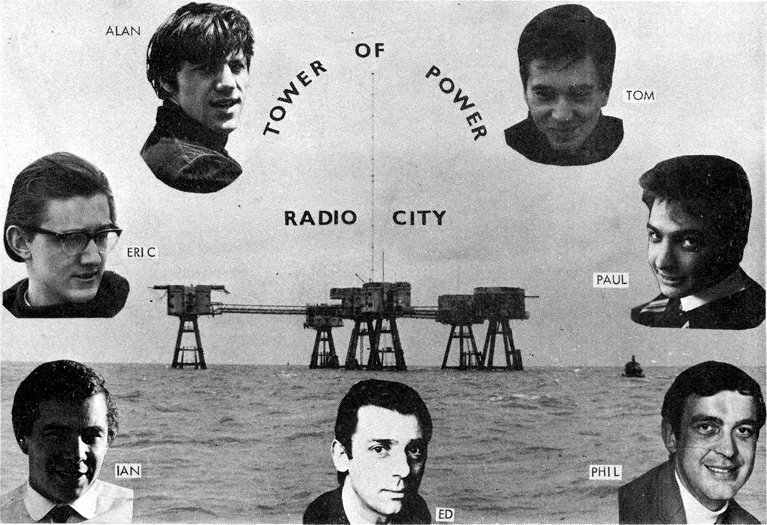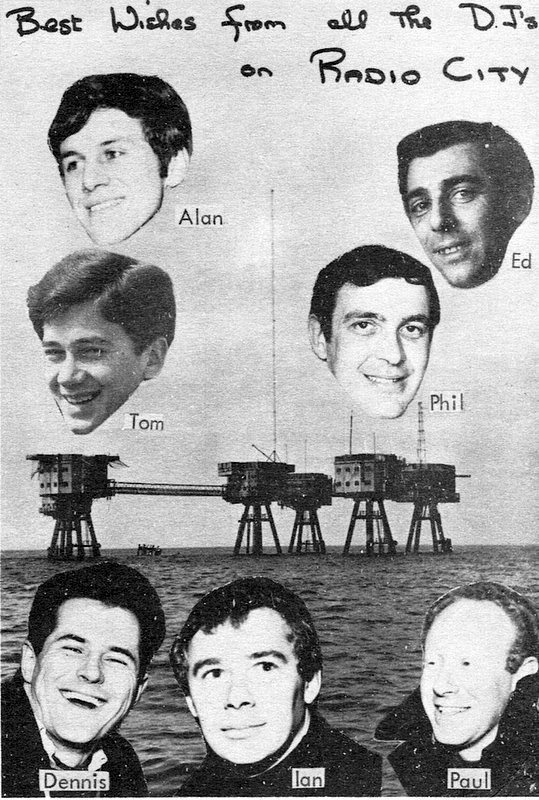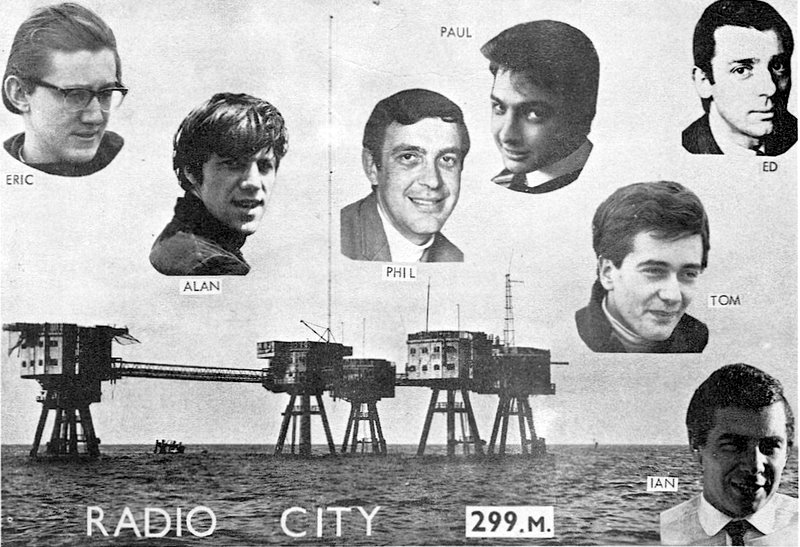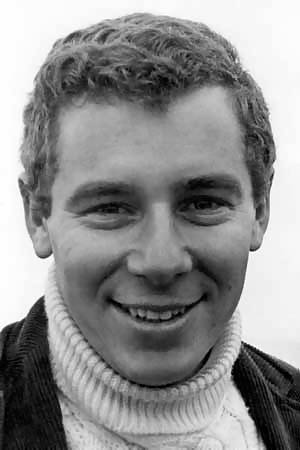 Ian MacRae Born in Melbourne, Australia, on 22 June 1943, Ian started in radio at station 3AW in his home city as a panel operator and record librarian. He wanted to be a broadcaster and eventually got a gig with station 3CS. Deciding it was time to see the world, he set off on his travels and arrived in the UK in 1966. He joined Radio City in February and quickly became one of the station's most popular presenters. His main programme was Monstrous Macca's Music Show ("mic-side, Ian MacRae with the hits of the day") but he also co-presented the legendary Auntie Mabel Hour comedy show with Alan Clark. Ian was on Radio City's Shivering Sands Fort the night it was taken over by a boarding party in June 1966. His was the first voice back on the air after the raiders had departed. When the station closed down in February 1967 he joined Caroline South and stayed until the legislation in August. Ian returned to Australia and a job on top station 2SM Sydney. Others to benefit from his talents have included 5AD and KAFM in Adelaide. More recently he has been heard again on 2SM, Radio 2, 2UE and 2CH. He also operates the Ian MacRae Radio School, training the next generation of disc-jockeys, and has written an e-book The Beginners Guide to Becoming a Radio Star. There is a fan page devoted to Ian's time on 2SM at www.debbiekruger.com. Like a number of DJs Ian has made a record: The Ballad Of Lady Di by The Hon. Nick Jones and Ian MacRae was released in the UK by Stiff Records in 1981 at the time of the wedding of the Prince and Princess of Wales. In 2015 he published a novel called The Wilton Bay Chronicles. He told us: "The story is based on two competing radio stations in an idyllic beachside resort town. One has a 'New Age' type format and the other is a network station playing 'The Music of Your Life'. It also involves religion plus hypocrisy, spirituality, sex, drugs, comedy, drama and the end of the world." In 2019 Ian appeared on an Australian TV documentary about sixties pop group The Seekers. (Many thanks to Ian for getting in touch. Regarding his record he says: "We actually came to London and filmed (a performance of 'The Ballad of Lady Di') for 'Top of the Pops' but it was never shown because, the very week we were there, there were a number of threats against the Royal couple and the BBC took all of the Lady Di songs off the air. That's show biz!" In fact, although it was never shown at the time, the clip has been seen since on 'Top Of The Pops 2'. With many thanks to Ian's old Radio City colleague Ross Brown for providing the photo. There are other pictures of Ian in Keith Hampshire's and Bill Price's photo albums. And more recent ones here. Thanks also to Mary Payne.)
"Monstrous Macca" on Radio City from the summer of 1966. Recording courtesy of Martyn Webster (duration 2 minutes 2 seconds)
Ian reading the 10am news on 27th June 1966, the morning after the raiding party had left Shivering Sands. Many thanks to Harm Koenders of The Offshore Radio Archive for the recording (duration 1 minute 57 seconds)
"Ian Mac"as he was known on Radio Caroline South, sitting in for Steve Young in June 1967. Recording courtesy of the Offshore Radio Archive (duration 3 minutes 54 seconds)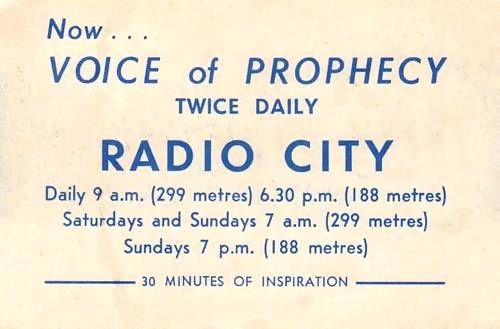 Thanks to Hans Knot for this advertisement for Radio City's Voice of Prophecy broadcasts.
The Pirate Radio Hall of Fame needs your

The site is updated regularly and we are always on the look-out for new material to add. If you have any information, photographs, recordings or contact details for any of the disc-jockeys we haven't been able to trace, please get in touch.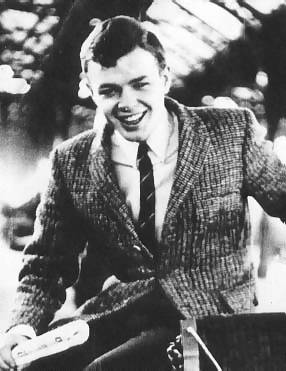 Jack McLaughlin Born in Glasgow on 11th July 1943, Jack attended Glasgow University. After a variety of jobs, including salmon fisherman, bingo-caller and teacher, he joined Radio Scotland. Known as "Yak MacFisheries" he presented the very popular Ceilidh programme of traditional Scottish music as well as the usual Top 40 fare. He was invited south to join Britain Radio and then poached by Radio 270 where he broadcast under a different name, Steve Taylor. He says: "Steve Taylor was actually me heavily disguised as an Englishman! .... My experience at 270 was not a happy one. (Managing Director) Wilf Proudfoot treated all his jocks like 'serfs' and the ship was appalling. It used to come into harbour and they would have guided tours when you were trying to catch up on your sleep! ... Two weeks was enough and I left to join 390 under my own name .... After 270, Radio 390 was a real luxury. It was a very well run station through I would not say I agreed with their music policy. However conditions on the fort were first class." 390 closed down at the end of July 1967 and Jack then returned to Radio Scotland for its final week. Jack goes on to say: "My career, following the 'pirates', was split between radio and television, where I was lucky enough to win the Scottish TV Personality of the Year Award and do a number of network TV quizzes, including Now You See It. I recently set up an internet broadcast company, Radio Scotland Worldwide, which covered a number of important events. These included the state opening of the new Scottish Parliament which we did for Microsoft, the Open Golf from St. Andrews and the Edinburgh Festival. We are moving into new premises just south of Edinburgh and developing the concept. I live between Edinburgh and Malaga, Spain, and have been broadcasting on Radio Clyde from both Glasgow and Marbella." On 7th November 2004 the legendary McLaughlin's Ceilidh made a return to the airwaves when a one-off edition of the show was broadcast on the short wave and internet station Radio Six International. In October 2012 Jack published a book based on his time with Radio Scotland. He said: "Pirate Jock is dedicated to the memory of (station boss) TV Shields. Without his vision and steely determination, the story would not have been possible. It's not for the squeamish. It's a light fictionalisation based on actual events ... so you can believe the bits you want to believe!" It is reviewed here. Correspondent Bob Arnold has pointed out that Jack is listed as a presenter on Quality Radio in Paisley although, at the time of writing, he doesn't appear on the station's programme schedule. (Many thanks to Jack for his help and for providing this photo. He says "this is the very first PR shot I had taken when I joined Radio Scotland. I was still at University and it was taken at Queen Street Station." He has also provided some information about a few of his Radio Scotland colleagues. See the entries for Charlie Whyte, Eddie White and Cathy Spence. You can find more of Jack here and here as well as a picture in Edward Cole's photo album. There are also some more recent photos of him at the Radio Academy Celebration of Offshore Radio.)
Jack McLaughlin on Radio 390 with short clips from two programmes: Music From the Shows and The Marie Simone Hour (duration 2 minutes 51 seconds)
Jack McLaughlin's Ceilidh on Radio Scotland from 12th August 1967. Tape kindly provided by Martyn Webster (duration 1 minute 17 seconds)
A rare recording of "Steve Taylor" reading the news on Radio 270 from March 1967. The DJ forgetting Steve's name is Paul Burnett. This clip is part of a longer recording made available by The Offshore Radio Archive (duration 1 minute 48 seconds)