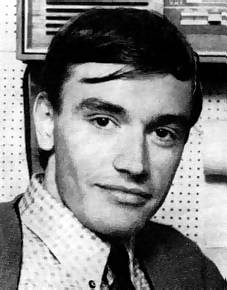 Peter Bowman Born in Carlisle, Pete went into journalism after finishing his education. This led to some freelance work with Border Television and he also did a bit of ballroom disc-jockey work in his free time. It was a lucky encounter with Caroline DJ Roger Gale that started him on the road to an offshore career. The Caroline man was in town for a promotional event, Pete met him and Roger promised to keep in touch. Sure enough, shortly afterwards, Roger was appointed Programme Controller for a new station, Radio Scotland, and he needed some staff. He sent for Pete who joined in time for its launch on 31st December 1965. It was here that he acquired the nickname, "Boots," after some rather stylish pigskin footwear that he owned. Radio Scotland's career was not a smooth one and, after a personality clash with another DJ on the ship, Pete found himself out of a job. His next stop was Radio 270 where again he met up with Roger Gale. His theme tune was Bird Rockers by The Ventures. At the end of 1966 Pete accepted a job in Montserrat so he missed out on Radio 270's closedown. After a year in the West Indies he emigrated to Australia but a family illness forced him back to the UK. When the book Pirate Radio Then And Now was published in 1984, Pete was described as working for Trust House Forte Hotels in London. We asked if anyone knew Pete's current whereabouts and, in January 2007, we heard from the man himself: "When I left Australia, there were far fewer (radio) opportunities here (in the UK) so I drifted into other things. I am now doing boring old office work for a major cleaning firm. That is as exciting as it gets. I will be retiring in a year's time." Since writing this Pete has indeed retired. For a time he hosted a fortnightly show on Scotland69am but sadly the station closed at the end of 2022. (Our thanks to Pete for his email. This is a Radio 270 promotional photo. There are some more recent pictures of Pete, taken at a couple of Radio 270 reunions, here, at Radio Day 2014 in Amsterdam, the Offshore 50 reunion in August 2017 and a 2017 Civic Reception in Glasgow honouring Radio Scotland.)
Pete Bowman on Radio 270 one Friday evening during 1966. The recording has been kindly provided by Martyn Webster (duration 2 minutes 33 seconds)
another extract of a Pete "Boots" Bowman show on Radio 270 from late 1966, this one generously donated by Harm Koenders of The Offshore Radio Archive (duration 2 minutes 41 seconds)

Pete Brady Born in Montreal, Canada, in 1942, Pete got his first experience of radio while living in the Caribbean. He got a summer job with Radio Jamaica, working in the record library, when one of the presenters committed suicide and the station was suddenly one man short. Instantly Pete became an announcer. As well as broadcasting, he also found time to water ski and represented the West Indies in the 1963 World Water Ski Championships, held in France. He decided on a move to Europe and settled in the UK where he found work as an Assistant Producer making television commercials. When Radio London opened up in December 1964, Pete was the first Breakfast Show presenter. His theme tune was Walking With Mr.Lee by Lee Allen although he also used the theme tune from the television series Danger Man. In April 1965 Pete and his colleague Dave Dennis saved the life of a USAF pilot who had baled out over the North Sea. Fortunately for the airman the tender shared by Radios London and Caroline came along at just the right time and the two DJs were able to haul him aboard (more details here). In October 1965 Pete came ashore to compère the Star Scene '65 concert tour which Radio London promoted. It starred The Everly Brothers, Cilla Black and Billy J Kramer & The Dakotas. Following the tour Pete left the Radio London ship, although he could still be heard on the sponsored Reveille programme which was recorded on land. He presented programmes on Radio Luxembourg, the BBC Light Programme and, later, Radios One and Two. He also enjoyed a television career as one of the hosts of Thames TV's Magpie programme. Pete worked in TV commercial production then ran his own events management company. He is in recovery from cancer and currently organises support groups for sufferers of Head and Neck Cancer. He also presents a weekly show on a local internet-based community station near his home, 4Legs Radio, aimed at people living in the Lambourn Valley, Berkshire. A trial service to test viability, the station currently broadcasts live two days a week. There is an article about Pete's career and interview here. As well as the audio clip below, there is a recording of Pete from an early test broadcast in Keith Martin's collection. There are some photos from 1965 here. We also have some more recent pictures taken at the Radio Academy Celebration of Offshore Radio in 2007, Radio London's 50th birthday gathering in 2014 and the Offshore 50 reunion in August 2017.
Pete Brady on Radio London's Breakfast Show on the first official day of broadcasting - 23rd December 1964. The reception isn't great so, if anyone can provide a better tape of Pete in action, please contact The Pirate Radio Hall of Fame. This clip has been kindly donated by Hans Knot (duration 4 minutes 2 seconds)
Peter Brady reading the news on Radio London, 12th January 1965. This recording kindly provided by Martyn Webster (duration 1 minute 27 seconds)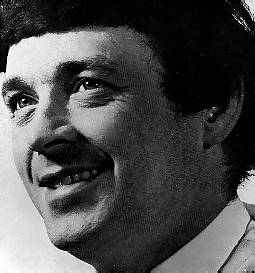 Tony Brandon was born on 12th December 1933 in Portland, Dorset, and, after finishing his education, became a journalist on a local paper. Keen to get into show business, he auditioned for a talent contest which resulted in a string of television and cabaret appearances as a comedian / impressionist. Following an extended tour of overseas army bases, he decided that he had enough of life on the road and thought that radio might be a more convenient way to make use of his talents. He had the standard one week try-out on Radio City, as experienced by so many of the inductees into The Pirate Radio Hall of Fame, where he met someone he would work with again on Radio London: Mark Roman. Tony then joined the rather more established Radio Luxembourg in March 1966. After a year out in the Grand Duchy home-sickness got the better of him and he moved to Radio London. His nickname on the ship was "Bird Brain" and his theme tune was Fuzz Duck by Jerry Allen. Tony's impressionist skills were put to good use as he provided the voice of "Sid," boyfriend to Ed Stewart's "Myrtle." (They even released a record as Sid and Myrtle called Myrtle's Birthday. It was not a hit.) Tony's last show on Radio London was on 1st August, almost a fortnight before the station closed down, but he went back out to the ship on the 14th to be there for the very last day. He later worked as a DJ on BBC Radios One and Two as well as starring in a number of radio and television light entertainment shows. He regularly appeared in pantomimes and was heard on various commercial radio stations including Southern Sound, County Sound and Saga 105.7FM. He has now retired. (Photo from 'Beatwave' magazine.)
Tony Brandon starting the 3-6pm show on Radio London, Friday 2nd June 1967, an extract from the Offshore Echo's tape Highlights Of Big L part one, used with kind permission (duration 1 minute 45 seconds)
Tony saying goodbye at the end of his last show on Radio London, 1st August 1967. Recording kindly provided by Hans Knot (duration 4 minutes 47 seconds)
The Pirate Radio Hall of Fame needs your

The site is updated regularly and we are always on the look-out for new material to add. If you have any information, photographs, recordings or contact details for any of the disc-jockeys we haven't been able to trace, please get in touch.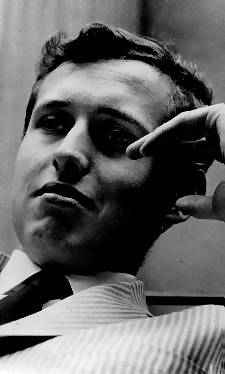 Boom Boom Brannigan When Larry Dean joined "Swinging" Radio England in May 1966, he brought with him a tape of the jingle package from his previous radio station, WPTR Albany New York. These immaculately produced PAMS ident jingles were too good to waste so the Radio England DJs changed their names to fit the jingles. One of them became Johnnie Walker, another became Chuck Blair and, when a young man joined the ship in August 1966, he was given another identity from that same jingle tape, the name of a legendary WPTR broadcaster. He became known as Boom Boom Brannigan. His real name was Robert Wayne Klingeman. His Swinging Radio England biography gave his home town as Bryn Mawr, Pennsylvania, but his childhood friend Bob Southard tells The Pirate Radio Hall of Fame that "he was from Linglestown, a small town about 5 miles east of Harrisburg", about 100 miles from Bryn Mawr. Because he had the same first name as his father, as a kid he was known by his middle name - Bob remembers him as 'Wayne'. Robert Wayne Klingeman was born on 17th July 1947 and, although only just 19, had already worked on two US stations in his home state, WFEC in Harrisburg and W100 in Carlisle, before heading for the UK. The Radio England broadcasters were expected to read the news on their sister station Britain Radio (and vice versa) and, as "Boom Boom" was not considered an appropriate name for a news-reader, he was known as "B.B.Brannigan" when on news duty. Boom Boom's former colleague Jack Curtiss tells us that he thinks Boomer also presented a few shows under the name of "Bruce Wayne" to utilise another jingle the station had, part of a Batman package. Bob Southard recalls seeing his schoolfriend on television: "I was home from college in the summer of 1966. I was watching the evening news on national TV, The Huntley-Brinkley Report as I recall. They were doing a story on the pirate radio stations. All of a sudden, they are interviewing a DJ on one of the stations. Yep, it was Boom Boom. I yelled for my parents, who were out of the room (they knew Wayne too). 'Wayne! Wayne's on TV!' It was a short interview, but it was my friend Wayne. He had an unmistakeable laugh -- yuk, yuk, yuk kind of laugh. They called him 'Boom Boom'. That was the first time I heard that name. I don't remember much about the interview, but I do remember one question they asked him. 'What do you miss the most about being on a boat all the time?' they asked. 'Girls!' was Wayne's reply. And then, yuk, yuk, yuk. That was Wayne." Boomer stayed with Radio England until almost the very end, leaving the station the day before it closed down in November 1966. Correspondent Steve Nelson has filled us in on what happened next: "When Boomer left Swinging Radio England he went to Roanoke, Virginia and worked at WROV (where Jack Curtiss had been a DJ prior to joining the ship). Boomer had brought with him a copy of Herman's Hermits' No Milk Today and the song was played there as an exclusive. The record company released it in the States and it became a number one record." (web-master's note: Steve may be referring to a regional chart. The song only reached number 35 on the Billboard national countdown.) At the urging of Marty Shayne, with whom he shared a flat, Boom Boom left WROV after a short time and joined Shayne at rival rock station WPXI, also in Roanoke. He was killed in a motorcycle accident on 4th April 1967 just two blocks from the station. He was sitting on the bike at a stop sign when a lady did not see him. Her vehicle dragged him for about 20 feet. WPXI Operations Manager Perry Woods (in correspondence with Curtiss) has more details. He says that the motorbike had been borrowed from a dealer by David Warf, a DJ on sister station WCFV in Clifton Forge. The disc-jockeys were taking it in turns to try it out. Perry heard about the accident and rushed to the scene. He says that Boomer was still alive when he got there and he remembers holding him. When the medics arrived they took over but, by the time they had put the young DJ into the ambulance, he had died. In April 2012, 45 years after Boomer's death, a group of his former work-mates gathered at the junction of Franklin Road and Highland Avenue in Roanoke, where the accident occurred, to pay tribute to their onetime colleague. There are photos here. Jack Curtiss says "In a way, I think Boomer's life was truly emblematic of sixties pirate radio itself ... brash, cocky, bursting with adolescent energy, full of promise ... and cut short way too soon before its time." Bob Southard tells us that Boom Boom's younger brother Marty also went in to broadcasting, using the name Marty Reid (see Wikipedia). (Many thanks to Bob, Jack, Errol Bruce, Ron O'Quinn, John England, Perry Woods and Steve Nelson who all helped in the compilation of this biography. Steve has also kindly sent this press cutting from a Roanoke newspaper reporting Boomer's death and Jack Curtiss has contributed a photo of Boomer from his time on WPXI.)
"Uncle Boomer" on The BB Spree from "Swinging" Radio England one Sunday lunchtime in September 1966. By this stage in the station's life each Sunday was a Sold Gold Sunday - every record played was an oldie. Two people have provided us with copies of the same programme. Many thanks to both Martyn Webster and Stuart Russell (duration 2 minutes 44 seconds)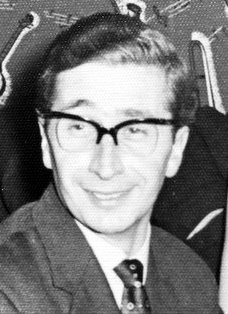 Stacey Brewer Born on 9th December 1927, Stacey came from Pickering in Yorkshire and was educated at Lady Lumley's Grammar School. He obtained his first taste of radio with the British Forces Network in Northern Italy, where he served with the RAF from 1946 to 1948. He joined York's Evening Press newspaper the following year and wrote for it for more than forty years. His son Adrian tells us: "My father's involvement with Radio 270 came from a chance meeting with (station founder) Don Robinson on York station and a brief conversation through a half-open window of a railway carriage. My father had just boarded a train to Newcastle that Mr Robinson had just disembarked. The meeting was followed up by a telephone call in which he was asked to present an early evening show, from 6.30pm to 7pm on weekdays, Monday to Friday. 'There's no way I'm going out onto the North Sea to do a radio programme' dad vowed. 'You don't have to' said Mr Robinson, 'You can record your programmes on shore, in Newcastle.' And that is what happened. Five shows in a day - three in the morning and two in the afternoon - on a Friday which was my father's day off from his full time newspaper job. Thirty programmes were recorded in total over six consecutive Fridays." Radio 270 planned to begin transmissions in April 1966 but the ship lost its mast in a storm and the launch was delayed until June. Although his time with Radio 270 was short, Stacey went on to a long and successful career in journalism. He also found time to continue broadcasting on a freelance basis and was heard on the BBC's Radio Newsreel and Today programmes as well as on various regional shows. He appeared on ABC Television, Tyne Tees Television and ITN. In 1986 he won an award for a series of articles describing his own heart attack and the open-heart surgery he received following it. In 1989 he was awarded the MBE for services to provincial journalism. He died in December 1999 at the age of 72. (Many thanks to Bob Preedy, Adrian Brewer and Edward Waterson for their help. Other information comes from the York Press website.)
Stacey Brewer on a very early programme on Radio 270. The recording has been kindly provided by Karl Jones (duration 1 minute 20 seconds). Offshore historian Hans Knot has identified the theme tune as Mr Lucky by Henry Mancini.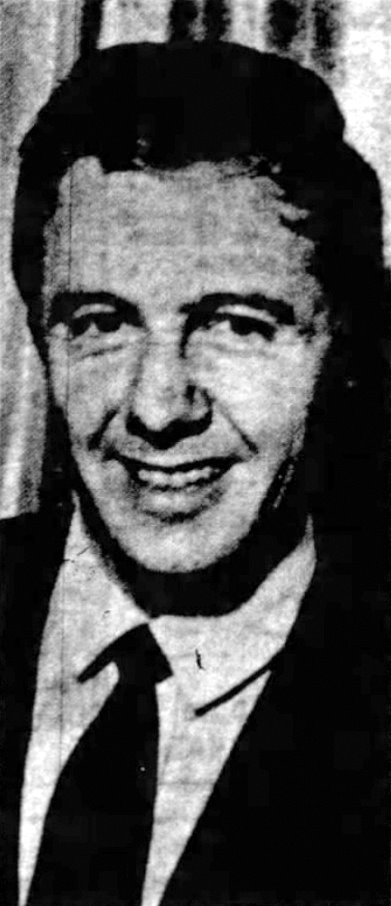 Bob (or Bobby) Brown was born in Glasgow and had a background in show business. His father was a producer, his mother was a singer, tap dancer and circus bare-back rider, and three of his uncles had variety shows in Ireland. He first trod the boards aged 6 as "Scotland's boy comedian", then attended drama school. After graduating he appeared at Butlin's holiday camps and was a disc-jockey on the Top Rank ballroom circuit before joining Radio Caroline South in August 1964. He retained his links with Top Rank, working for the organisation when he wasn't on the ship. Keith Skues's book Pop Went The Pirates says that Bob stayed on Caroline until December 1964 but listener André de Raaij's Caroline South DJ roster only logs him being heard in August. We assume that, following his time at sea, he returned to the ballroom circuit but we have no further details about him. The information above, and the photo on the right, come from a couple of pieces in the Bristol Evening Post kindly provided by Mike Barraclough. The two articles (see here and here) give conflicting places of birth but we think Glasgow is correct. One of them also mentions that Bob was a circus trampoline artist before he became a DJ. It also says he was about to switch to Radio Caroline North but, as far as we are aware, that never happened. We have another photo of him here. Can anyone provide a recording of Bob on Radio Caroline, or any further information about him?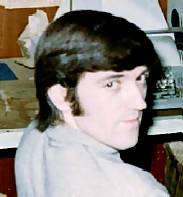 Charles Brown Another one of the slightly mysterious names who appeared on Radio Caroline after the passing of the Marine Offences Act legislation (see also Dee Harrison, Jason Wolfe, etc.). Despite the lack of information about his background, his arrival on board was given a massive build-up. "Lord" Charles Brown, as he was sometimes known, joined Caroline North in November 1967 amid much mock ceremonial. The station even broadcast a running commentary (see below) as he stepped from the tender onto the ship! Also known as Charlie Brown, he presented the 6-8pm show and read the news bulletins throughout the day. He stayed with Caroline until the station closedown in March 1968. We asked if anyone could provide further information and have received TWO different and conflicting stories!

CHARLES BROWN I: In August 2008 we received an email: "'..slightly mysterious indeed..' - perhaps I can solve something of the mystery for you. Lord Charles Brown is alive and well and 'retired', living in South Africa. For the purposes of broadcasting on Caroline North International after the MOA slightly zany names were adopted by some of us, in my case Charlie Brown, or Lord Charles if you like! I hail from Western Australia and am now 63 years young. After the Caroline days, I returned to Australia and worked at various relatively boring jobs, until moving to Southern Africa in 1980. I did get back on the radio for a few months on a station called Swazi Music Radio under the name of Terry John (which is somewhat closer to my real name). Incidentally, I understand that the transmitter we were using for our medium wave programmes at SMR was ex-Radio England (* see below). You may be interested in a few memories of my arrival on the mv Fredericia (Caroline North) which was at 5pm on Friday 15th November 1967. We travelled out from Dundalk in Eire leaving at 10am (so a fair trip despite the relatively calm weather). My actual arrival was on a small fishing smack although the on-air hype made this into a Navy Destroyer. Another part of the build-up was to bill me as the brother of the First Lord of the Admiralty, being piped aboard, etc. It was also put over that I had an honorary commission in HM Navy! (OK I did serve a year in the Australian navy.) There was also a 72-gun salute and RAF-flypast - anyhow it all sounded pretty realistic over the airwaves. As you know, I was on Caroline when we were towed away to Holland. What a boring trip (if only we could have broadcast on the way). I well remember our arrival in Amsterdam, it was March 8th 1968 - my 23rd birthday!" (* Webmaster's note: According to Svenn Martinsen's extensive research, both the transmitters from the Radio England/Britain Radio operation ended up in Swaziland after their offshore days. It seems that the Radio England one was used by Trans-World Radio while Swazi Music Radio was broadcast via the transmitter previously used by Britain Radio. Thank to Terry for getting in touch.)

CHARLES BROWN II: In January 2010 we heard from correspondent Mike Dover. He told us he went to school with Charles Brown (not his real surname) in south-east London and later shared accommodation with him in Australia for several years. Mike informed us that Charles was born in October 1943 and "was my best friend for some years at Erith Grammar School and then later in Australia. We both shared a house with Guy Blackmore in Adelaide before Charles and Guy went to England together in 1966." When Guy joined Radio Caroline North in 1967, using the DJ name "Jim Gordon", he asked if there was a job for his old housemate. It turned out there was and Charles joined the ship in November 1967, staying until the station was closed down in March 1968. Another correspondent, David Smith, tells us that, following his time on Caroline, "Charlie Brown worked for the GPO telephone service (now BT), where he met his wife to be, Marilyn. He went on to live near Worthing, West Sussex and then Northamptonshire, working in the insurance industry. He has now retired and has two grown up children." (Our thanks to Mike Dover and David Smith for their help.)

This is very confusing! Terry has confirmed that he is not Mike Dover's old schoolfriend but with very convincing evidence provided by both parties, we are unable to reconcile the two conflicting accounts. We just don't know whether Terry or Charles was Caroline North's Lord Charles Brown. Could both of them have used the same name on air? The Pirate Radio Hall of Fame previously published an interesting account of the Charles Brown Story, as told by Terry. This page has been temporarily removed from the site while our investigations continue. Can anyone shed any further light on this mystery? This photo is from Jason Wolfe's photo album.
Martin Kayne commentating on Lord Charles's arrival on board Caroline North, 15th November 1967. The other voice belongs to Jim Gordon. This was something of a spoof. Charles had actually arrived on the ship some time earlier. Martin says "Although I was reputed to be reporting from on deck, I was really sitting at the news desk with the studio door wide open! I had to laugh because when we planned this 'event' about an hour earlier it was daylight but, being November, it was almost dark by the time we actually did it. If anything it does illustrate the sometimes crazy spontaneity and weird goings-on of offshore radio." (duration 7 minutes 4 seconds)
Charlie Brown at lunchtime on New Year's Day 1968 on Radio Caroline North International. Many thanks to Ray Andrews for the tape (duration 2 minutes 57 seconds)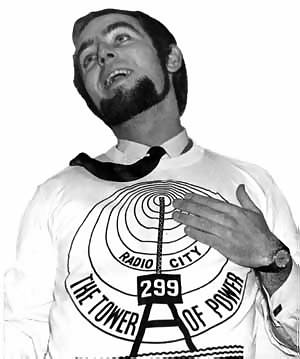 Ross Brown August 14th 1967 - a date that every pirate radio fan remembers. It was the last day of legal offshore broadcasting; it was the day that most of the stations closed down and it was the day when Johnnie Walker and Robbie Dale challenged the new law as Caroline South continued past midnight. But perhaps less well known was the third disc-jockey on board that day, Ross Brown. Born in Queensland, Australia, he tells us his first radio job was in Sydney: "I worked in radio production at 2SM in Sydney in the late 1950s before I joined 2BS Bathurst as a producer/announcer. Then I was offered a job with 7HT Hobart, Tasmania, where I ran a successful 'Hot 100' show and a Friday / Saturday night dance at Sandy Bay. Then I was recruited by 2XL Cooma, New South Wales, where I ran the Breakfast Show. I left Australia in 1965 to join the pirates in the UK. On arrival I convinced Dorothy Calvert to give me a job with Radio City." Ross worked on City under the name RWB mainly as a newsreader but also presenting some programmes. He was with the station until it closed down in February 1967 when he moved to Radio 390 to work behind the scenes. He did not present programmes there because his Australian accent was considered too strong for this very prim and proper English station. After a long legal battle, Radio 390 closed down on 28th.July 1967. A couple of weeks later, on the eve of the new Marine Offences Act becoming law, he joined Radio Caroline South. Now known by his full name of Ross Brown, he used Raunchy '65 by Ernie Freeman as a theme tune. He did not stay on the Mi Amigo for long. Ross takes up the story: "We were based in Amsterdam and travelled by Dutch tender to and from the ship. (I remember) we were at a gathering in Amsterdam when we heard the news that the defiant Manx Government was being forced to toe the line and to cease permitting Radio Caroline North from being provisioned from the island. This caused a crisis with staffing the station on the North ship and we were asked if anyone wanted to go north. I decided that it sounded like a great adventure and set off for Dundalk, Ireland. In Dundalk we met up with the Dutch tender crew and sailed out to the MV Fredericia to keep Caroline North going." Ross changed his name to Freddie Beare when he joined his new home. His nickname was "Frantic Freddie" and he stayed with the station until the enforced closure in March 1968. He was on board the Caroline North ship when the end came: "We were told that there were some payment problems with the Dutch tender company. A tug arrived and a group of armed crew members took control. We waited twenty four hours for word that payment had been arranged. This did not eventuate and the tug captain was finally ordered to tow us to Scheveningen in the Netherlands. We arrived one week later, having been delayed around the Isle of Wight by bad weather. In the Netherlands we all settled into our rented house in Amsterdam and waited for word of our future. We were eventually told we could no longer be paid but to wait around as there were efforts being made to get Caroline back on air." In the meantime Ross, and his colleague and fellow countryman Guy Blackmore, started a music plugging business. Ross remembers: "Guy and I ran a record promotion outfit called Kando Promotions. I think we shared office accommodation with some of the people who used to be involved with Radio City. With the 'inside' help of Peter James, who was then producing for the BBC, we stormed the BBC citadel to promote the record Son of Hickory Holler's Tramp by O.C Smith. We had an 'illegal' copy of the BBC phone directory which helped us to track down radio and TV producers. Our one and only record went on to be a big hit (number 2). We were supposed to be paid a penny a record but the money never turned up and we were forced to close up shop through lack of finance." Ross and Guy returned to Amsterdam and the world of discotheques: "I worked first for the King's Club and was then offered a better deal by the Hilton Hotel to run their 'business man's' club called the Fietsotheque, in the hotel's converted bicycle garage. I married my Dutch girl friend Patricia and we returned to Australia. Back home I worked for two radio stations in New South Wales (2LM Lismore and 2KM Kempsey) with moderate success. In 1971 I decided to go back to school and then on to University. I joined the Australian Public Service and worked in several federal government departments, including the Department of the Media. I worked my way towards the Australian foreign service which I joined in 1975 and have been on diplomatic postings to Jakarta, Malta and the Netherlands. In The Hague I was First Secretary, Consul for four years returning to Canberra in January 1991." (Many thanks to Ross for getting in touch from Canberra, bringing us up to date and sending the photo. There are more pictures of Ross in Edward Cole's, David Sinclair's, Jason Wolfe's and Mike Wright's photo albums, and recent ones in our coverage of Radio Day 2014.)
Ross Brown on Radio Caroline South International from the afternoon of 29th August 1967. Recording courtesy of Hans Knot (duration 2 minutes 39 seconds)
Ross as "Freddie Beare" on Radio Caroline North International from February 1968, spinning the debut single from "The" Genesis. Tape kindly provided by Mick Thompson (duration 2 minutes 25 seconds)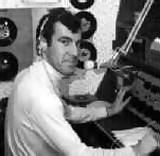 Errol Bruce Although born in Alexandria, Egypt, on 27th October 1942, Errol was one of the many Canadian broadcasters to bring a touch of professionalism to Britain's emerging commercial radio industry. He joined Radio Caroline in 1964. His theme tune was Jimmy McGriff's I've Got A Woman and he was heard on both Caroline ships before transferring to "Swinging" Radio England in 1966. This station referred to itself as "Boss Radio," its disc-jockeys were called "Boss Jocks" and Errol now became known as "Bosscat" Bruce. After the pirate era, Errol returned to Canada and worked for CKFH, CHUM-FM, Q107, the CBC, was part of the team that created the expression Fast Forward for a high-tech TV programme and was involved with North America's first All-Night Show. He lived in Toronto and ran the Virtually Strange Network website under his full name of Errol Bruce-Knapp for many years. He had a long-running UFO radio programme called Strange Days...Indeed and, when the show was cancelled, continued it in podcast form. There is a fascinating interview with Errol, in which he discussed his offshore career, on YouTube. Sadly Errol died in August 2016, aged 73. The Pirate Radio Hall of Fame tribute is here. (This photo was taken by Errol's colleague Look Boden. See also Look's photo album, Paul Noble's photo album and these photos taken on Radio England.)
Errol Bruce and Garry Kemp putting on some fake Irish accents for an edition of The Sound Of Music on Radio Caroline South. Recording kindly provided by Hans Knot (duration 2 minutes 12 seconds)
Errol Bruce on "Swinging" Radio England near the end of the station's life in November 1966. The announcement in Dutch relates to the new service, aimed at The Netherlands, which was shortly to replace it. Tape kindly provided by Martyn Webster (duration 2 minutes 28 seconds)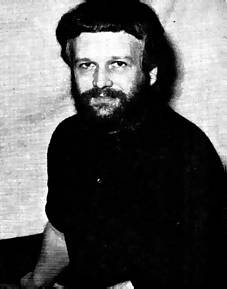 Gerry Burke Just as the name Paul Kaye was synonymous with Radio London's news, so Gerry Burke will always be associated with the rival Radio Caroline South's Newsbeat. Born Gerald Frow in Croydon, south London, in 1930, Gerry had previously been a journalist and worked in the theatre. The son-in-law of actor Bernard Miles, he had been in the Publicity Department at Lord Miles' Mermaid Theatre before becoming an offshore broadcaster. In 1960 the Mermaid had staged a musical written by Gerry called 'Mr Burke MP' (details of the Original Cast Recording by Wally Whyton and the Vipers with Sally Miles, Gerry's then wife, can be found on discogs.com). Taking his new surname from his play, he became Gerry Burke when he joined Caroline South in December 1966. He was News Chief until August 1967 when he left the ship ahead of the introduction of the Marine Offences Act. However he returned the following year and broadcast under a different name, Henry Morgan, for a couple of weeks in February. As well as reading the news, this time he also presented some shows, using the theme tune Sucu Sucu by the Laurie Johnson Orchestra. During the seventies he made appearances on Johnnie Walker's Radio One shows as "Bill The Boilerman." Under his real name he wrote for a number of radio and television series including My Old Man, Young Sherlock and The Kids From 47a as well as for the comedy duo Hinge and Bracket. Ian Anderson tells us that Gerry and his second wife Jean moved to Shetland in the nineties. Sadly Gerry died in December 2005. (Photo by Richard Burn from "Radio Caroline" published by Landmark Press. Thanks to Ian Anderson, Mike Barraclough and Geoff Toon for their assistance.)
Gerry Burke reading the news at 10.30am on 29th July 1967. This is from a recording available from www.azanorak.com. Our thanks to Ray Robinson (duration 2 minutes 27 seconds)
Gerry as "Henry Morgan" sitting in for Robbie Dale on the 9-noon show on Radio Caroline South in February 1968. This recording kindly provided by Steve Kirby (duration 3 minutes 53 seconds)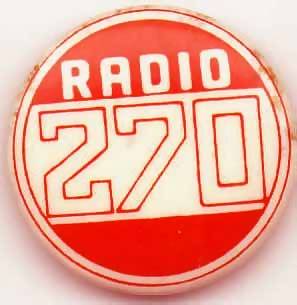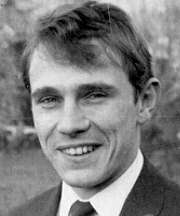 Paul Burnett was born in Manchester on 26th November 1943 and, as a child, travelled the country while his parents trod the boards performing in variety shows. After completing his education, he worked in a department store, then joined the RAF and, while in the forces, he broadcast in Aden. Bitten by the radio bug, he bought himself out of the air force so that he could take a job with Radio 270 where he presented the Breakfast Show. Paul was not a particularly good sailor and the Radio 270 ship was very small. It got pretty rough on the North Sea and he once famously threw-up live on the air in the middle of reading a script advertising the delights of a bacon breakfast. The advertiser was less than impressed. Paul's theme tune was Peridot by Bob Miller and His Millermen. He left 270 to join Manx Radio. From there he moved to Luxembourg and later Radio One. Paul has since worked for a number of local stations, including Capital Gold between 1988 and 1995, for Chris Cary (alias Spangles Muldoon) at Radio Nova International, for the forces radio service BFBS and the Classic Gold network. For many years he presented the Vintage Chart Show on the BBC World Service and even made the charts himself under a couple of aliases: As "Laurie Lingo & The Dipsticks" he and Dave Lee Travis reached number four in 1976 with a spoof version of Convoy and as "The Pee Bee Squad" he had a smaller hit in 1985: Rugged And Mean, Butch And On Screen. For many years Paul attempted to get a film project off the ground. Making Waves, based loosely on his time with Radio 270, got as far as casting and pre-production but unfortunately then stalled. There is a fascinating interview with Paul about his long career in broadcasting here. (This is a Radio 270 promotional photo. There are more pictures of Paul in Guy Hamilton's, Hal Yorke's and Roger Scott's photo albums, and some more recent ones at a Radio 270 reunion in December 2010.)
Paul on The Burnett Breakfast Club on Radio 270, 14th February 1967. Tape kindly provided by Stuart Russell (duration 3 minutes 4 seconds)
Derek Burroughs didn't really exist although his shows ran every night on Britain Radio. That station was equipped with an automated playout system which was able to insert adverts, jingles and voice links into tapes of pre-recorded music. The system was used overnight and occasionally during the day if the weather was particularly bad. The anonymous voice providing the links was given the name 'Derek Burroughs' by the other Britain Radio presenters although he never mentioned any name himself. Dave MacKay told us that, in fact, the voice belonged to American broadcaster Jack Wagner (see Wikipedia).
An undated 'Derek Burroughs' programme on Britain Radio (duration 3 minutes 53 seconds)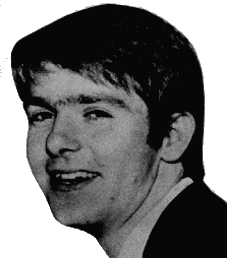 Woolf Byrne During the sixties "beat boom" all manner of hopeful British groups released one single and then disappeared without trace. The Manish Boys, from Maidstone in Kent, did only manage to make the one record but their legacy has lived on, mainly because their singer, Davie Jones, went on to greater things. He became better known as David Bowie. Two other members of the band also achieved fame - as offshore disc-jockeys. Guitarist Johnny Flux and saxophonist Woolf Byrne both joined Radio City. Woolf stayed for three months and was known as "Big Bad Woolf." He was born on 31st October 1941 and has been in touch with The Pirate Radio Hall of Fame: "Although I was only there (on Radio City for) three months, it was quite surprising that it lasted that long. We worked seven days, then had three days ashore, then worked another week followed by four days off. Most times when I got ashore the boss, Dorothy Calvert (who had taken over the running of the station after the death of her husband Reg) would fire me - usually for something I had said on air to which she had taken exception. But when I had not been replaced after the three or four days ashore, I would be offered 'another chance'. The final straw came when, after a weekend in Paris, I brought back some Johnny Halliday records and played them on Radio City. I didn't ask first, so was out!" Woolf then moved on to Britain Radio and, later, Radio 390. On Radio City his theme tune was originally Herb Alpert's version of The Third Man Theme but changed after a short time to André Brasseur's Special 230. On Britain Radio he used Honey Badger by The Harry Roberts Sound. Wolf says: "With the arrival of the Marine Offences Bill, there was a huge scramble to join the shortly-to-be-launched Radio One. I didn't even bother to try for it. Instead, with the help of some useful introductions through another of The Manish Boys, Paul Rodriguez, who had become a record plugger, I worked for a while for the BBC World Service where, as well as broadcasting in English, I was able to make use of my command of German. I presented pop programmes and did voice-overs on the German service." A model and actor as well as musician before becoming a disc-jockey, Woolf has continued to act and frequently features in films and on television, including episodes of BBC Television's Silent Witness. Woolf can also be heard on commercial voice-overs. He attended Radio City's 50th birthday gathering in Whitstable in September 2014 and the Offshore 50 reunion in August 2017. (This photo dates from Woolf's time with the World Service. He has also very kindly sent us this great picture taken in the Radio City studio. Many thanks to Woolf for the information and the photos, and to Martin van der Ven for the theme tune details.)
Three short clips of Woolf Byrne on Radio 390 from 1967. The first is from Morning Melody on 13th March followed by extracts from South of the Border and Dinner at Eight the precise dates of which are unknown. The Morning Melody clip is from a cassette originally issued by CM Leisure Sales and used with kind permission. Many thanks to Lynne Sims for passing on this tape from the Martin Lynch collection. The other two were shared on The Offshore Radio Club Forum by Hans Hendriks. Thanks to him too (duration 2 minutes 40 seconds)