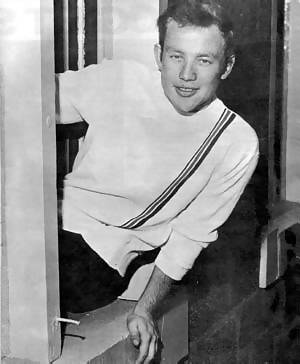 Ben Healy Born in Ballina, County Mayo, on the west coast of Ireland on 5th May 1945, Ben lived in Manor Park, east London during his teenage years. He began spinning discs in various venues around town and was voted London's top club DJ three years running, working at the Empire Ballroom in Leicester Square, the Marquee in Soho, The Rainbow Room in Chelsea as well as clubs in Ilford, Leyton and Hammersmith. Ben sent an audition tape to Radio City which resulted in him going out to the Shivering Sands fort for a short trial period. It was at the same time that Radio London was planning to buy the City fort, intending to replace it with a "sweet music" station to be called UKGM. Ben was invited to join the team, along with Duncan Johnson and Keith Skues. But fate intervened when Reg Calvert, the owner of Radio City, was shot dead in a dispute over ownership of a transmitter. The deal was called off so, left without a job, Ben joined Radio Scotland instead. He became one of the station's most popular presenters with his shows Rooster Call and Destination Midnight. His theme tune was Phil Upchurch's You Can't Sit Down and he opened each show with his catch-phrase: "Hey there, you there, how in the world are you? My name's Ben Healy, what's yours?" He stayed with Radio Scotland until the end in August 1967, by which time he was the Senior DJ. Following the station closedown he moved to Canada where he has worked in the record business for many years. In July 2004 Ben attended the First North American Pirate Radio Reunion in Vancouver, Canada. There are photos of the event here. There is also a picture of Ben visiting London in 2005 here and some photos of Ben at the Radio Academy Celebration of Offshore Radio in August 2007 here. Ben has very kindly sent us some press cuttings dating from his time with Radio Scotland. (For a fuller biography, see the Radio London website. Many thanks to Mary Payne for permission to make use of her research and to Jim Sinclair for providing the photo from an issue of '242 Showbeat' magazine. You can see more pictures of Ben here and here. Thanks also to Ben for his email: "What a great site. It was like meeting old friends again after so many years. It is a pleasure to be included in the company of so many great DJs. Best wishes from Canada.")
Ben Healy on the last ever Destination Midnight programme from Radio Scotland, ahead of the station closedown. Tape kindly provided by Martyn Webster (duration 3 minutes 5 seconds)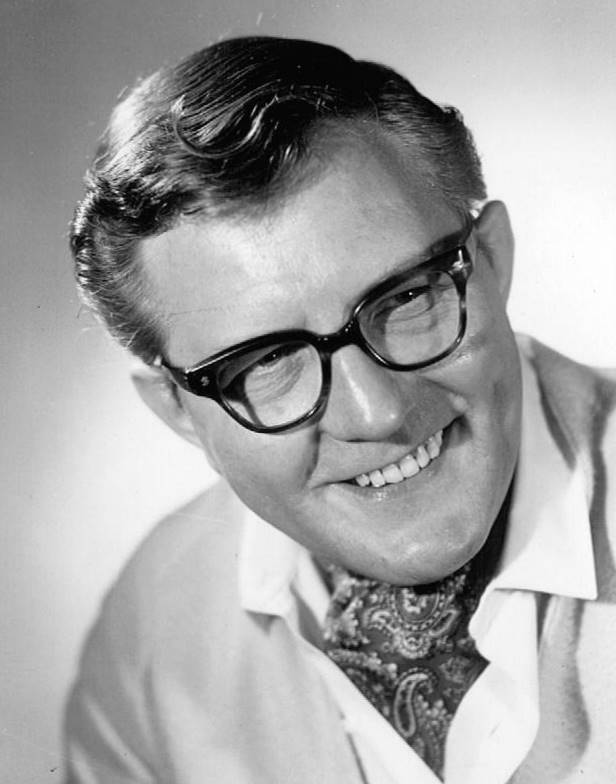 Bill Hearne A number of offshore DJs, including Dave Cash, Keith Hampshire, Jerry Leighton and Steve Young, were originally Brits but brought up in Canada. Bill Hearne was another. He was born in London and moved with his parents to Toronto at the age of three. Trevor Enefer, who has been researching Bill's life and career, tells us he was born on 6th August 1922 which means that either Bill or the Radio Caroline press office knocked five years off his age. They claimed he was born on that date in 1927. Bill returned to London when he was 17 and joined the RAF. He served until the end of the Second World War when he moved back to Canada to be a commercial artist. He also studied broadcasting and began to work in radio there. In 1964 he headed back to the UK and, after a brief spell with Radio Luxembourg, joined Caroline North in April 1965. He then worked in Caroline House and was Programme Director for the South ship until January 1966. We think he may have done another stint on Luxembourg around this time (there is a mention of "Big Bill Hearne" being on the 208 team in early 1966 in the book Radio Luxembourg: The Station of the Stars by Richard Nichols) but in June that year he transferred to Radio London. Offshore radio historian Hans Knot tells us that Bill used Scheherazade's Theme by Tilsley Orchestral as his theme on late night shows on Big L. Bill only stayed on Radio London for three months before returning to Caroline. It was during this second spell with the station that he became best-known as the voice of Caroline Cash Casino, a hugely successful competition which went out hourly each day on both Caroline ships from October 1966. Although the prize money pales in comparison to the figures given away now, it was the first time that thousands of pounds had been offered as prize money on the radio in the UK and Caroline House became stuffed to over-flowing with sacks of entries. It was estimated that in the first eleven weeks of Cash Casino, one million people took part. By the end of twenty-seven weeks, four million. The casino closed in July 1967. The upcoming introduction of the Marine Offences Act meant that this sort of competition would no longer be possible. Bill returned to Radio Luxembourg for a short time but his later career remained a mystery until Simon Broad contacted The Pirate Radio Hall of Fame: "A friend of mine was a graphic designer for the Open University in the mid-70s, and remembers Bill Hearne working as a technical model-maker, occasionally appearing on screen in a white coat, wheeling the said models on!" In fact Bill was a very proficient model-maker and won a number of awards for it. For a time he worked in the special effects department at the BBC. Trevor Enefer's research shows that he also operated a company called 'Hearne Originals', selling kits to make his, mainly military, models and figurines. (See front page of catalogue below right. Click to enlarge.) Unfortunately Bill suffered from cancer and died in Tidcombe Hall Hospice, Devon, on 30th September 1990. (With many thanks to Trevor and Simon. The picture of Bill above was a Radio Caroline promotional photo.)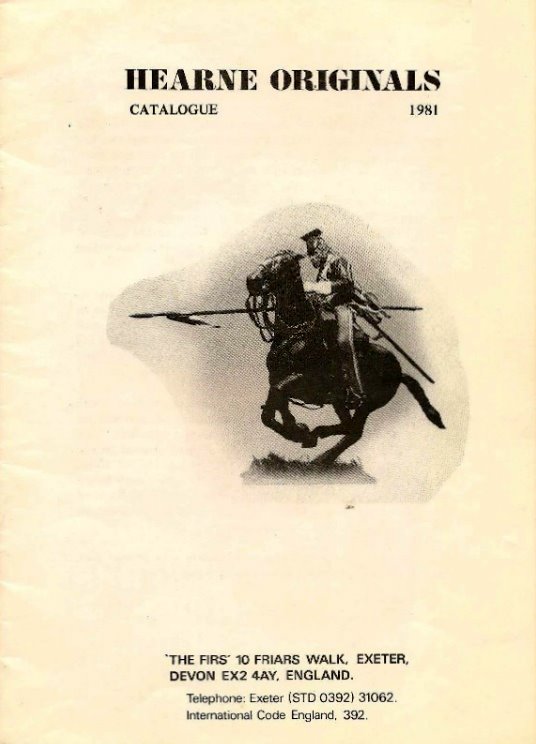 Recordings of Bill Hearne on Radio London are very rare so we are grateful to a listener in Germany for providing this tiny clip of Bill, sitting in for Mark Roman, in August 1966 (duration 38 seconds)
Bill Hearne presenting an edition of Caroline Cash Casino from March 1967. A prize of £2,820 was won the following day by Mrs.Anthony of Burghfield Common who correctly guessed the mystery object was Tommy Cooper's fez (duration 2 minutes 23 seconds)
Bill Hearne with part of an edition of Lucky Birthday Bonanza from 1967, recorded about 1000 kilometres from the ship by Thule Thulesen in Denmark (duration 1 minute 5 seconds)
The Pirate Radio Hall of Fame needs your

The site is updated regularly and we are always on the look-out for new material to add. If you have any information, photographs, recordings or contact details for any of the disc-jockeys we haven't been able to trace, please get in touch.
Jim Henry An American disc-jockey, Jim joined the "Swinging" Radio England/Britain Radio operation in July 1966 but did not stay long. His colleague Bill Berry says: "He was one of the four guys that went over (to the UK) at the same time that included me. Strangely Jim and I were both working on-air shifts in Lewistown, Pennsylvania. He was on WMRF and I was on a competing station: WKVA. Neither of us knew the other had applied to SRE. The first time I saw him in London was just after I got off the plane and went to the Curzon Street offices. There he was. Neither of us could believe it. What a small world. By the way: Bill Vick had sent all 4 of us plane tickets (one way) to London. We finally got out to the ship but Jim only lasted a few days. I'm not ever sure he pulled a shift. He had some problems back home with a wife or girlfriend and had to leave in a rush. Sorry I don't remember any more detail than that." (Our thanks to Bill and to Svenn Martinsen.)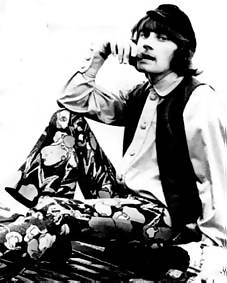 Stuart Henry Born in Edinburgh in February 1942, Stuart trained as an actor but joined Radio Scotland as soon as it started transmitting at the end of 1965. Unfortunately he was never able to conquer his sea-sickness and was forced to pre-record his shows on land. As he was not stranded on the ship like his colleagues, he was available for gigs and he built up a large following through his live road-show appearances. His theme tune was Soul Finger by The Bar-kays. Stuart joined Radio One at its launch and during the early seventies presented a very successful Saturday morning show, later moving to Radio Luxembourg. With his softly-spoken intimate delivery, use of the catch-phrase "alright my friends" and obvious passion for music, he developed a unique and instantly recognisable broadcasting style. As time went on his increasingly slurred delivery caused some listeners to suspect that he was drunk but, in fact, he had developed the incurable disease multiple sclerosis. For a time he was able to carry on, with the help of his wife Ollie, but eventually the illness forced him to stop work. He continued to live in Luxembourg and made occasional public appearances in aid of MS research. In 1984 he published Pirate Radio Then And Now which he co-wrote with Mike von Joel. He died at his home in Luxembourg on 24th November 1995. There is another picture of Stuart here and more photos and another recording of Stuart on Radio Scotland here. A broadcasting industry organisation, the Radio Academy, has its own Hall of Fame to honour people who have made an outstanding contribution to UK radio. On 2nd December 2004 Stuart Henry was posthumously inducted and joined a glittering list of great broadcasters. (This photo was sent to the webmaster by Stuart during his time on Radio Scotland.)
Stuart Henry on an edition of Radio Scotland's Sunday record review programme Knockabout Pop from the summer of 1966. Tape kindly provided by Martyn Webster (duration 2 minutes 28 seconds)

Thanks to Ronnie Thorpe for this Radio Invicta sticker.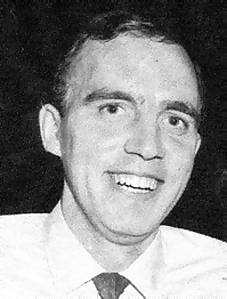 Bruce Holland was born in Hertfordshire on 6th October 1939. During his teenage years he played a tea-chest bass in a skiffle group and DJ'd at a local nightclub. After working as the manager of a Brighton ten-pin bowling alley, he joined Radio Invicta on Red Sands Fort in December 1964 at the same time as John Ross-Barnard. They arrived only a day or two after the owner, Tom Pepper, had drowned along with an engineer and disc-jockey Simon Ashley when their supply boat had sunk in a storm. Bruce was known as "your long tall DJ," being six foot four inches tall, and his theme tune was Rocking Goose by Johnny & The Hurricanes. In January 1965 Bruce fell badly on the fort and needed urgent medical attention. It was too stormy for a boat to reach him so a doctor was sent out by helicopter. In atrocious weather he was lowered on to Red Sands to stitch up Bruce's wound. In February 1965 Radio Invicta closed down to be replaced, a month later, by King Radio. Before this could happen, however, Bruce was involved in another drama. He and fellow DJ Roger Gomez, along with a young lad called Roy, were sent out to the fort to make test transmissions for the new station. And there they were left, forgotten by their colleagues on shore. Their food supply ran out and they were reduced to living on whatever scraps remained in the old Radio Invicta larder. When Programme Controller Mike Raven arrived to launch the new station he discovered them freezing cold and starving. They had been living on dehydrated peas for ten days. When his eventful time as a pirate was over, Bruce had several jobs in London but never lost his love for radio. After retiring to the south coast with ill health, he was keen to join the various local radio stations that were opening up but sadly, before this could happen, his heart gave out and he died peacefully while listening to the radio. (With very many thanks to Bruce's sister Wendy Haberl for providing this photograph, some recordings and the information. Brian Smith has also been in touch: "Bruce and I worked together from mid-85 to mid-86 at International Thomson Publishing Ltd. His job title was something like Business Development Manager and he was a very good, friendly colleague. At the time I was involved in two hospital radio stations so Bruce and I had a lot to talk about. Towards the end of my time there he had a heart attack but recovered to continue at ITPL ... He occasionally spoke of his time at King and Invicta but never about the starvation episode. It probably brought back too many bad memories.")
Bruce Holland on The Noon Show from Radio Invicta some time in late 1964 or early 1965. This studio recording was kindly provided by Wendy Haberl (duration 1 minute 35 seconds). For another recording of Bruce see the King Radio page.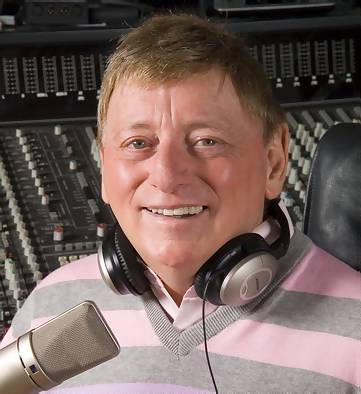 Paul Hollingdale Although best known for his long career with the BBC and commercial radio, Paul was also a very early pirate DJ - one of the UK's first. It wasn't his start in show business though. That came at the age of nine when he was an 'extra' in the classic Richard Attenborough movie Brighton Rock. Paul's broadcasting career began while he was serving in the RAF in Germany in 1958. He worked as a DJ/Presenter at BFN (the British Forces Network, later known as BFBS). In 1959 Paul was offered the opportunity of presenting the Cologne end of the BBC's long-running Sunday lunchtime request show Two Way Family Favourites. This lead him to return to the UK in 1960 to become a full-time broadcaster. With only the BBC and Radio Luxembourg operating, jobs were in short supply and Paul found life difficult at first. However, through a former BFN colleague, Doug Stanley, he became involved with CNBC. This was an English-language service broadcast from the Dutch Radio Veronica ship, anchored off Holland. (More about CNBC here.) Sadly the station's transmitter was not powerful enough to win many listeners and CNBC did not last long. Paul then worked for Radio Luxembourg, initially presenting sponsored shows taped in London, later moving to the Grand Duchy to become one of their resident DJs. His was the first voice to be heard when BBC Radio 2 opened for business on Saturday 30th September 1967 and Paul was one of the regular presenters of the station's Breakfast Special programme. He left Radio 2 in January 1970 and, during the next few years, worked as a freelance presenter for BBC Radio Brighton where he met local singer-songwriter Johnny Wakelin. Paul became his manager as Johnny's song Black Superman became a top 10 hit in the UK and all over the world. In March 1976 Paul joined Radio 210 Thames Valley, the local station in Reading. In 1979 he opened Blue Danube Radio, an English-language station in Vienna. His association with BDR continued until 2000 when the station closed. During the eighties and nineties Paul was also heard on a number of other stations: London's LBC (a weekly film show), Chiltern Radio (weekend presenter), and Radio Luxembourg (another series on movies). Paul was also part of the launch team for Britain's first country music station Country 1035 which opened in London in 1994. He later moved to Vienna, Austria, where he worked as a broadcaster and film commentator for the ORF and others but he died on 5th July 2017. (With grateful thanks to Paul for his assistance and for supplying this recent photo. There is an interview with Paul about his time on CNBC on www.hansknot.com. There is also a picture of Paul, taken at the Radio Academy's 'Celebration Of Offshore Radio', here.)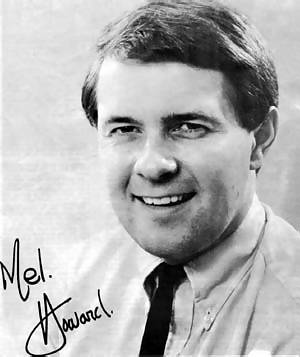 Mel Howard Born in Winnipeg, Canada, on 2nd July 1940, Mel left university at the age of 20 and became a "bad actor" for a year. He saved up $1,000 to study music at the San Francisco State College but, instead, spent it on a trip to Europe. He arrived in Britain in 1961 and worked for EMI Records before continuing his travels by moving to Spain. On returning to the UK he joined Air Canada but, fascinated by the emerging offshore radio scene, applied for work with a number of stations. Radio Caroline South gave him his big break in October 1965. Born Howard Melvin Hicks, reversing his first and middle names gave an excellent DJ alias. Unfortunately for Mel his time on Caroline was short. At the end of the year Caroline South changed management and there was a wholesale purge of on-air personnel. He was out of a job. Mel worked at the 100 Club in London's Oxford Street until March 1966 when he was offered a position on Radio Scotland. His theme tune was My Star by The Frank Chacksfield Orchestra. After his pirate days, Mel went back to Air Canada for a time before returning to Winnipeg. He was heard on CJOB while also studying for a degree in education. He then became a teacher - a job he continued until retirement in 1999. In July 2004 Mel attended the First North American Pirate Radio Reunion in Vancouver, Canada. There are photos here. He also visited London for the Radio Academy Celebration of Offshore Radio in August 2007. There are some pictures of Mel on Radio Caroline in Colin Nicol's photo album. He died on the 13th October 2022 from pulmonary fibrosis. There is an obituary here. This is the article in the Winnipeg Free Press mentioned in the obituary. (Thanks to Steve Kirby, Hans Knot and Colin Johnson for supplying some of the above information and to Jim Sinclair for the photo from an issue of '242' magazine. As well as the recordings below, you can also hear two other small examples of Mel's work on a couple of Bryan Vaughan audio clips.)
Mel Howard opening up "Radio Scotland and Ireland", 12.30pm on Saturday 9th April 1967. Following prosecution for broadcasting inside territorial waters, the Comet had moved to a new anchorage. Bad weather caused delays but, after nearly a month's silence, the station re-opened, with a new name, off the coast of Northern Ireland (duration 1 minute 7 seconds)
Mel Howard reading a short poem he had written, on his last show, on the final day of Radio Scotland, 14th August 1967. Both recordings are from a documentary about the station made by the Forth hospital radio network in 1968 (duration 48 seconds)

Shaun Howard was one of the many disc-jockeys who featured briefly on Radio City. He writes: "I have just come across your website and it reminded me of the time that I spent two weeks as a DJ on Radio City along with Chris Cross. Pet Clark's Downtown was number 2 in the charts so it must have been during the first two weeks of November 1964 that I was there - unpaid of course. I found the experience amazing and one that will always remain with me. (Station owner) Reg Calvert tried to get me to come back but I had a record shop in Victoria to run and I just couldn't spare the time. And the pay was non-existent. I went on to run my record shop until 1982 when I gave up to become an investment adviser which I still do to this day." Many thanks to Shaun for getting in touch.