Part Two: The all-day music station meets the ship that rocks the ocean.

The Times, 30th March 1964.
Although Radio Caroline was transmitting on 197.4 metres, the station announced its wavelength as "199". With so few stations on the dial, precision was not essential for tuning a radio and 199 was much easier to remember as it rhymed so nicely with the station name. Broadcasting from 6am to 6pm each day, with a power of 10 kilowatts, the reaction was immediate. Within three weeks a Gallup survey revealed that Caroline had seven million listeners, an incredible achievement, especially as the station had launched with no advance publicity.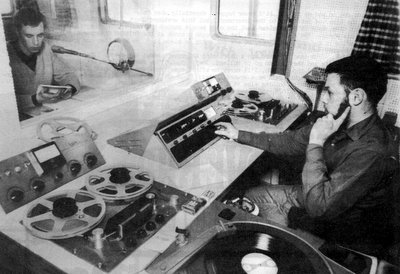 Simon Dee, left, broadcasting on Caroline's first day on air. At the start of the station, an engineer operated the controls for the DJ and played in the records. Here that job is being done by former Radio Nord engineer Jan Gunnarson. Photo from 'Happy Birthday Radio Caroline, 20 Years Old, Easter 1984', published by Monitor Magazine.
Listening to recordings now, it can be hard to see what was so appealing about those early programmes. In most cases the DJs limited their links to simply identifying the tracks and many hours were filled with the bland pre-recorded shows which had been stock-piled before the station launch. With no jingles, no news, no features and, initially, no adverts, the station sounded very different from how offshore radio is usually remembered but it was playing music all day - something that wasn't available anywhere else - and, in stark contrast to the scripted announcers of the BBC, there was a natural informality about the presentation. And, of course, the very novelty of a floating radio station was exciting. Initially Simon Dee and Chris Moore were the only live DJs on the ship, supplemented with taped shows - some they had recorded themselves before launch and some hosted by Carl Conway and John Junkin. None of them had broadcasting experience. Simon, Carl and John had been members of Ronan's actors' studio. Chris had played records in a club. They were soon joined by people who had previously worked in radio like Canadians Tom Lodge and Doug Kerr.
Chris Moore on Radio Caroline's afternoon pop programme The Big Line Up from 30th March 1964 (duration 37 seconds)
A good example of the informality of some of Radio Caroline's programmes as Simon Dee chats to the technicians on some clips from The Big Line Up of 8th April 1964 (duration 1 minute 22 seconds)
Simon Dee introduces a pre-recorded show hosted by John Junkin, Radio Caroline 12th April 1964 (duration 1 minute 5 seconds)
Some clips of Doug Kerr on a Sunday morning show from Radio Caroline in April 1964 (duration 51 seconds)
Now that the post has arrived - and the ship is receiving visitors - the DJs have a bit more to talk about. Simon Dee on a Soundtrack programme from April 1964. This and the clips above are taken from recordings available from www.azanorak.com. Our thanks to Ray Robinson (duration 3 minutes 1 second)
Tom Lodge from an undated edition of The Big Line Up, probably from April or May 1964. Recording kindly provided by Albie Somerset (duration 2 minutes 31 seconds)
With the Atlanta ship now alone in Greenore, work could continue on her uninterrupted. On 17th April she left harbour and set sail for her anchorage. Unfortunately part of the aerial rigging came loose and the ship had to enter Falmouth harbour so that repairs could be carried out. On 27th April the Mi Amigo dropped anchor off Frinton, Essex, about 14 miles away from Caroline. However their troubles were still not over. Thanks to some sabotage from two Caroline engineers, the launch of Radio Atlanta was further delayed.
Radio Caroline engineer Ove Sjöström remembers how he and Jan Gunnarson obstructed the launch of Atlanta. Both had previously worked on the ship (which he refers to by its old name, mv Bon Jour) and asked to pay a visit. A bit of subtle sabotage did the rest. It was to to be another couple of weeks before Radio Atlanta could begin transmissions. This an edited clip from a speech given by Ove at the 2010 Radio Day in Amsterdam. The complete audio is available from www.radioday.nl (duration 1 minute 48 seconds)
On 1st May 1964 Caroline's first advertisement was broadcast. It was for the Duke of Bedford's Woburn Abbey. Despite bad weather, over four and a half thousand people turned up to visit Woburn the following day, 500 more than usual. The Duke was delighted. From this small beginning, the advertising began to grow and a number of companies, both big and small, were soon promoting their products on Caroline. By the end of May commercials were being aired for Kraft Dairylea Cheese, Harp Lager, the News of the World, Ekco televisions, William Hill the bookmakers and the Hastings Postal Bingo Club, among others.
Radio Caroline's first commercial, voiced by the Duke of Bedford, advertising his home, Woburn Abbey. This recording is from Leon Tipler's archive and has been kindly provided by Steve England (duration 16 seconds)
The arrival of offshore radio created something of a stir. At that time the policing of the airwaves was in the hands of the Post Office (GPO). They were not happy about Radio Caroline and withdrew its ship-to-shore link (except for emergency use). They initially refused to list the station in the telephone directory. Eventually they relented on this and from November 1964 there was an entry for "Caroline Sales Office, Radio", telephone number HYDe Park 9721. The GPO requested the assistance of the International Telecommunications Union. The ITU response was that it would ask Panama, under whose flag the Caroline ship sailed, to intervene. A number of MPs raised questions in Parliament and the Postmaster General, Conservative Reginald Bevins, promised that action would be taken. On 6th May DJ Simon Dee interrupted his programme on Radio Caroline to broadcast an unscheduled "news report". He revealed that the customs vessel Venturous was nearby and asking permission to board the radio ship. He said the customs men wanted to inspect Caroline's duty-free stores. However, when they were told that only one person would be allowed aboard (and - perhaps - when their bosses on shore heard the whole incident being broadcast on the radio), they turned tail and sailed away.
Simon Dee with his "news report" on Radio Caroline, 6th May 1964 (duration 56 seconds)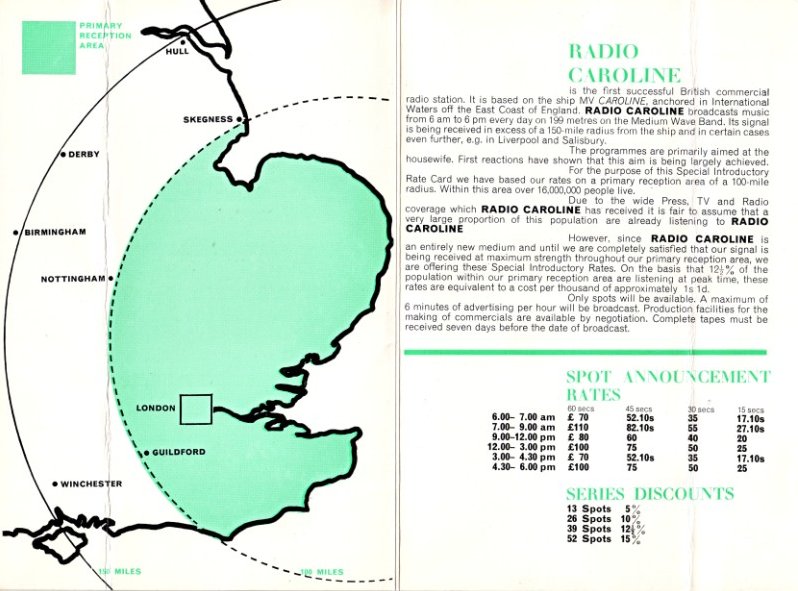 Radio Caroline's first advertising rate card, kindly provided by Colin Nicol. Click to enlarge. Atlanta's rate card is here.
Crystals for both Caroline and Atlanta's transmitters had been ordered from Continental Electronics, the American manufacturers. These had been posted to Greenore where somewhow they had all had ended up in the hands of Radio Caroline. On 9th May Radio Atlanta put out a test broadcast on Caroline's frequency after that station had closed down for the evening. At the time it was assumed that this was a publicity stunt to attract Caroline's listeners but in fact Atlanta only had the one crystal at the time, so they had no choice. This prompted the guys on Caroline to hand over the other crystal.
Bob Scott on a test transmission for Radio Atlanta, 9th May 1964, taken from the CD 'The Things You've Never Heard Before Volume 1', compiled by Hans Knot and kindly provided by Martyn Webster (duration 1 minute 24 seconds). This was not the very first test. In his interview, Allan Crawford refers to an unidentified broadcast in French (a tape made by his secretary) which had gone out prior to this.
The Guardian, 1st April 1964.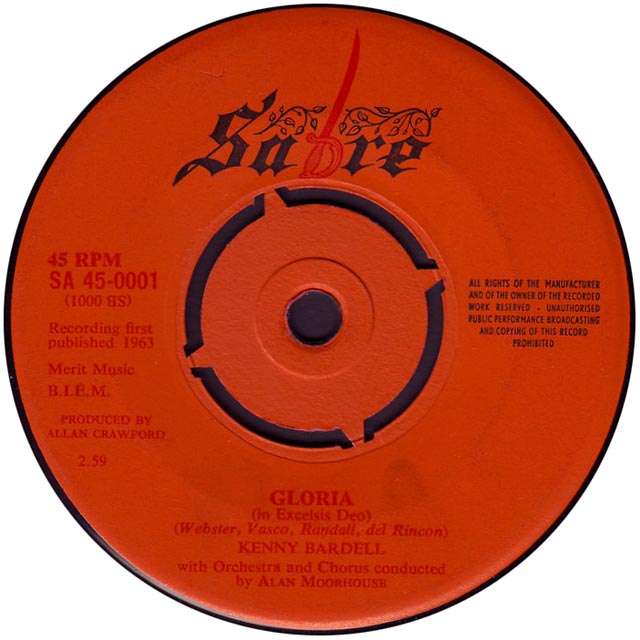 Kenny Bardell's record 'Gloria', released on one of Allan Crawford's labels and heavily plugged on Radio Atlanta. Scan courtesy of www.45cat.com. Click to enlarge.

It was not until 12th May that Atlanta began regular programmes, on 201 metres, 1493 kilohertz, just slightly up the band from their rival. Colin Nicol presented the first show. He says: "I'm told my recording of the breakfast show was the first programme on Atlanta. Frankly, I can't really remember! I didn't hear it - I seem to recall being told afterwards and wishing I'd been listening, but the situation with Atlanta at the time was a bit chaotic with Bob Scott and Johnny Jackson (on board DJs) playing around with transmissions, taking 'live' breaks for themselves when tapes should have been running and so on. Also, as I remember, there was no real warning - to me anyway - that the ship was going on air until it had."

Unlike Caroline's low-key launch, Atlanta's first day on air included numerous pre-recorded messages from stars wishing the new station well. Benefitting from the knowledge and experience of their Trinity House shareholders, the Atlanta ship had a better, more sheltered, anchorage than Caroline, and the station enjoyed a slightly stronger signal too.

Whereas many of Caroline's programmes were introduced live on the ship, Atlanta preferred to record its shows in its London studios. Atlanta was on the air from 6am to 8pm each day. Both stations featured the pop music of the day but neither was what could be described as Top 40 radio. Caroline DJs frequently played jazz, show-tunes and light orchestral pieces. Atlanta, too, covered a wide spectrum of music including country and Latin-American but the station boss, Allan Crawford, also had another agenda. It was very noticeable on his station that prominence was being given to releases, mainly cover versions of hits, from his own labels such as Carnival, Cannon, Crossbow, Rocket and Sabre.
1964 PROGRAMME SCHEDULES.

Radio Caroline
weekdays, initial schedule
Radio Atlanta
weekdays, June 1964


6.00am Early Show
9.00 On the Air
11.00 Top Deck
12.00pm Around Lunchtime
2.00 Soundtrack
4.00 The Big Line Up
6.00 closedown


6.00am Early Call
6.15 Country & Western Style
6.45 Early Call cont.
7.30 Breakfast Club
8.45 Musical Mailbag
10.00 Work Along
11.15 Morning Star
11.30 Spin Around
1.00pm Headline Hits
2.00 Music The Wide World Over
4.00 Sounds Of The Sixties
6.00 All Systems Go
6.30 Music Of The Moment
8.00 closedown


The mv Mi Amigo. Photo from 'Beatwave' magazine.
During the first month of Radio Atlanta, the taped shows were played out by the American father and son team of Bob Scott and Johnny Jackson who also presented their own programmes live from the ship. This recording from 18th May 1964 features the end of Mike Raven's All Systems Go show, followed by "Mrs Scott's little fat boy Bob". Clips taken from a recording shared by Hans Hendriks on The Offshore Radio Club Forum. Our thanks to him (duration 2 minutes 49 seconds)
Clive Burrell on a Saturday afternoon Latin Americana programme on Radio Atlanta. Recording courtesy of Steve Kirby (duration 1 minute 34 seconds)
Tony Withers counting down the Hit Parade on Radio Atlanta from Sunday 14th June 1964, with one of the boss's releases at number 20. Recording kindly provided by Albie Somerset (duration 3 minutes 9 seconds)
Radio Sutch began broadcasting at the end of May 1964 which meant there were now three British offshore stations, all clustered together at the top end of the medium wave band. With a long aerial attached to his radio, Keith Martin was able to receive all three from his home in west London and recorded this comparison of the stations. He started with Atlanta, then Sutch - which used a considerably lower powered transmitter - then Caroline and finally back to Sutch. Our thanks to Keith for this fascinating and unique recording (duration 2 minutes 26 seconds)
Although the advertising revenue began to come in, there wasn't enough and, with both Caroline and Atlanta covering the same area of south-east England, it was an inefficient use of resources. Radio Atlanta, with less start-up money behind it, soon ran short of funds and, after only a few months on air, the two stations were forced to strike a deal.
Part three of 'Caroline in the Sixties' over the page.

Back to the previous page.