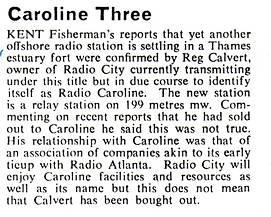 Trade paper 'TV Mail' reports the tie-up between Caroline and City. Cutting courtesy of Hans Knot.

In September 1965 merger talks began between Radio City and Radio Caroline South. The ship-borne station was losing both listeners and revenue to the bigger, more powerful, more professional Radio London. As the fort was considerably cheaper to operate, it was proposed that Shivering Sands should become the base for Caroline South. Project Atlanta, which owned and operated the Caroline South ship, sent a transmitter out to the fort for use by the new station. This piece of equipment was later to be the cause of a dispute which resulted in a raid on the fort and the death of Reg Calvert. For more on this sad chapter in the history of offshore radio see this page.


As these negotiations were getting underway, Radio City took over the Knock John fort off Southend. (See Cliff Cuttelle's photo album.) The official reason for this occupation was that Knock John was to be used as a test-bed for new equipment but, obviously, if Shivering Sands was now to be used by Caroline, Reg Calvert was looking around for a new home for his station. However, it was not going to be here.

Southend businessman Roy Bates had plans to start his own station, Radio Essex, on the same fort and a feud developed between the two groups of pirates. Knock John repeatedly changed hands, with each side kidnapping the other's men, and, although it never actually got violent, some threatening incidents took place out at sea. Fortunately, before it went too far, an agreement was reached between the two groups. Radio City got its equipment back and Roy Bates got to keep the fort. Radio Essex started broadcasting from there in October. (See press cutting).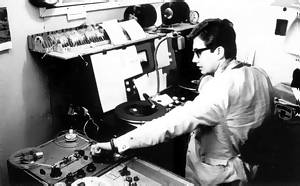 Tom Edwards in the Radio City studio. Photo published by the Free Radio Association, kindly donated by George Morris.
Tom Edwards remembers his time on Radio City with great affection:
"Reg Calvert hired me some time in 1965 and at once took a shine to me, as did the whole of his family - Mrs. Calvert plus Candy and Susan the daughters.

When I first arrived at the towers I was amazed at the size of them, then being hoisted up 90 feet above sea level! I hated getting on and off the blasted things in all my time there. Chris Cross was senior DJ at the time, plus Alex Dee. Paul Kramer came along later as did Adrian Love, Ian MacRae and Alan Clark, Dennis Straney aka Dennis the Menace (which he was!) and RWB.

I was a young man of 22 and it was an exciting time. I also made friends on shore in Whitstable and eventually set up home with Phil Perkins who was a City engineer. A lovely place right on the seafront with Peter Cushing the actor as a neighbour.

I recall a few members of the City staff wanting to form some kind of company and when Reg heard of this he went into one of his terrifying rages. He sacked almost everyone on the spot and appointed me as Chief DJ and Programme Director there and then. Later of course I firmly believe it was Reg's temper that caused his death.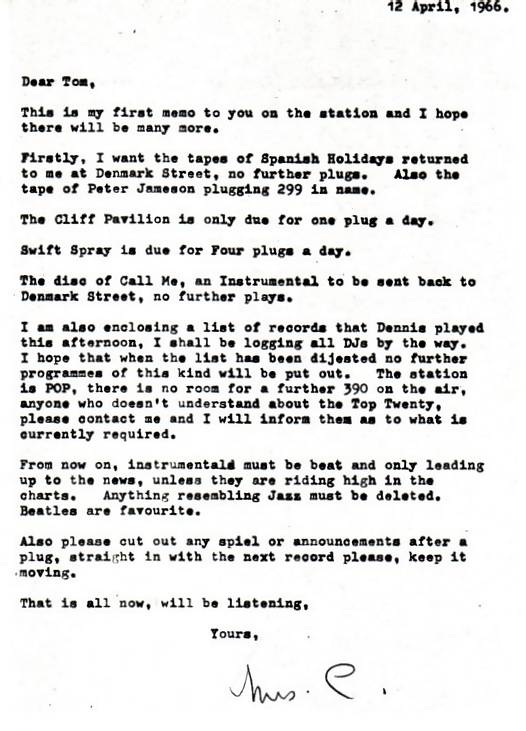 The first of many memos about station programming sent to Tom Edwards by Mrs. Calvert. Click to magnify. Kindly donated by Hans Knot.
I wanted to 'upgrade' the sound of Radio City and thought we must have a news service, which we did - gathering stories from the BBC Light programme and World Service. I rejigged the stories and thought no one would ever suss what we were up too.

Ian and Alan formed The Auntie Mabel Hour which was way way ahead of its time ... very very funny and inventive. We also had The Five by Four Show each weekday with nothing but the Beatles and Rolling Stones music. Hundreds of requests poured in with every visit from (the tender) Harvester II, always ably supplied by Freddie Downs the skipper.

I also got Reg to fork out for a proper studio clock and we did have the most accurate timechecks of all the pirates. I would set the second hand to the BBC's 'pips'.

Reg wanted his groups, The Fortunes and Pinkertons Assorted Colours, played on a regular basis - and why not - it was his station after all.

What actually paid our wages, and the running of Radio City really, was the American religious programmes such as The Voice of Prophecy and the unforgettable A.A Allen Revival Hour. The way Allen shouted used to overload the compressor and sometimes take us off the air. Oh what fun!

With the music, I would sit and sift through all the many singles sent out. I got well known 'names' to say they listened to City. I knew by instinct that Sinatra's Strangers in the Night would be a number one. All the guys thought I was nuts. Well I wasn't. And also Frank's daughter Nancy I knew would have a hit with These Boots Are Made For Walkin'. My favourite, which still makes me think of those far off days, is Fontella Bass and Rescue Me. Still played a lot but never made it to number one. A turntable hit in other words."
Tom Edwards on the air from August 1966. Recording kindly provided by Stuart Russell (duration 2 minutes 34 seconds)

Ian MacRae on the air from August 1966. Recording kindly provided by Stuart Russell (duration 3 minutes 12 seconds)

Ian MacRae and Alan Clark on the unique 'Auntie Mabel Hour' on Radio City. Recording kindly provided by Nick Widdows (duration 2 minutes 49 seconds)
The merger talks with Radio Caroline South collapsed and Reg Calvert carried on the operation of Radio City on his own. At the same time he began talks with Caroline's great rival, Radio London. The fascinating book Starmakers And Svengalis has a chapter devoted to Reg Calvert. In it author Johnny Rogan suggests that Calvert had realised by this stage that offshore radio from a fort could not last forever and wanted to sell up while his station was at the peak of its success. Rogan also reveals that the ever-inventive Calvert had a plan to use the money raised by selling Radio City to launch a pirate television station from a submarine!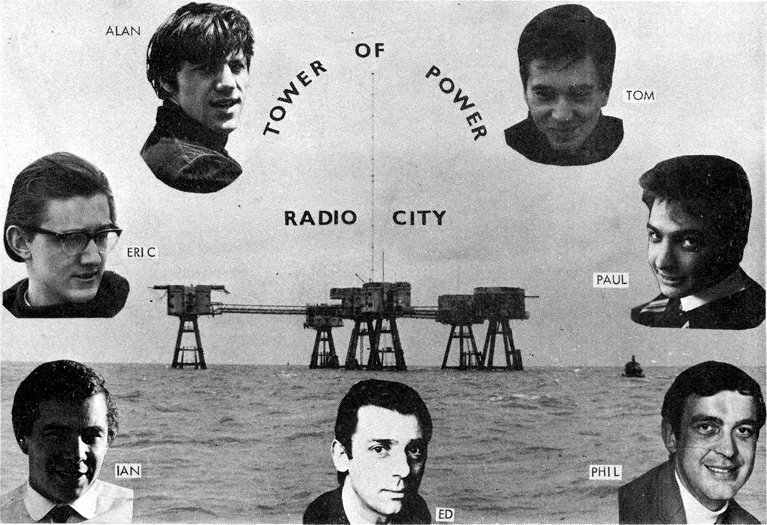 Radio City promotional postcard. DJs pictured, clockwise from bottom left: Ian MacRae, Eric Martin (not the same man mentioned by Johnny Flux), Alan Clark, Tom Edwards, Paul Kramer, Phil Jay and Ed Moreno. These last two recorded their shows on land and did not work on the fort.
After long discussions between Reg Calvert and the Radio London organisation, an agreement was reached to launch a sweet music station from the fort to be called U.K.G.M (United Kingdom Good Music). But, before this could happen, in the early hours of 20th June 1966 the fort was boarded by a group of unemployed dock workers led by Oliver Smedley and Kitty Black, two investors in Project Atlanta, the owners of the transmitter that had been delivered to the fort the previous year. (There is a press cutting relating to this incident here with more on successive pages.) The dispute is chronicled in greater detail here. It resulted in Radio City being silenced for a week and, tragically, Reg Calvert being shot dead by Oliver Smedley.

Paul Elvey was on the fort at the time:
"Unfortunately everything started to go wrong with the business side. Reg had serious problems with a partner, lost his temper and threatened him. The other guy, apparently in self defence, fired a fatal shot. That basically was the end of Radio City. There was also the occasion when we were invaded by some guys who were paid to seize the station. I awoke one morning to find a guy standing by my bed pointing a gun at me. I just told him to take whatever he wanted. I was just worried about my colleague Ian West who was in an adjacent bed to me. I knew he had an air rifle under his bed. I thought 'my God if he instinctively reaches for his rifle it could be awful'. I quickly explained this in whispered tones to the gang leader. He was OK with it. He realised we were definitely not going to pose a threat."

At the end of the week, the boarding party departed. The shell-shocked Dorothy Calvert, Reg's widow, announced that she would keep Radio City going. She already looked after the programming side of the station but now she had to deal with the business side as well. She discovered that City's finances were not in good shape, with numerous debts dating back to the unsuccessful partnership with Caroline South. She immediately cut staffing, clamped down on expenditure and, despite various religious advertisers deserting the station after the incident, she managed to get things under control.
It is back to business as usual for Ian MacRae on 27th June 1966, the days after the raiders left the fort. This clip is part of a longer recording shared by The Offshore Radio Archive (duration 3 minutes 38 seconds)
In late 1966 both of the other fort-based stations, Radio Essex and Radio 390, were prosecuted under the Wireless Telegraphy Act for broadcasting inside territorial waters. It was only a matter of time before the same happened to Radio City. However, although the future looked uncertain, City appeared confident on the air. Recorded shows by American disc-jockeys Gary Stevens and Ralph Cooper were imported and broadcasting hours were increased from 13 to 18 a day.
Radio City Programme Schedule, January 1967.

Monday - Friday
Weekends

6.00am 'Early Bird show'
7.30 'Voice Of Prophecy' (repeat)
8.00 'Breakfast Break'
8.30 'Allen Revival Hour'
8.45 'Up And About'
10.00 'Just Go' (incl. 10.45-11.00 'Coffee Break' and mon, wed, fri 11.00-11.15 'Radio Doctor')
12.00pm Gary Stevens
1.00 'Breakaway'
5.00 'Five by Four'
5.30 'Sixty Minute Special'
6.30 'Voice of Prophecy'
7.00 Ralph Cooper
7.30 'City by Night'
(Friday 8-9pm 'The Auntie Mabel Hour', repeat)
11.00 'Late Date'
12.00am closedown

News: On the hour 8.00am-8.00pm

SATURDAY
6.00am as Mon-Fri
4.30pm 'Discamania'
5.00 as Mon-Fri
12.00am closedown

SUNDAY
6.00am 'Early Bird show'
7.30 'Voice Of Prophecy' (repeat)
8.00 'Breakfast Break'
9.30 'Basildon Request Show'
11.00 'Just Go'
12.00pm 'A La Carte'
2.00 'The Auntie Mabel Hour'
3.00 'Breakaway'
4.30 'Discamania'
5.00 'Cobweb Corner'
5.30 'Release Date'
6.30 'Voice of Prophecy'
7.00 'City Top 20'
8.00 'City By Night'
11.00 'Late Date'
12.00am closedown

Information from Offshore Radio by Gerry Bishop, published by Iceni Enterprises.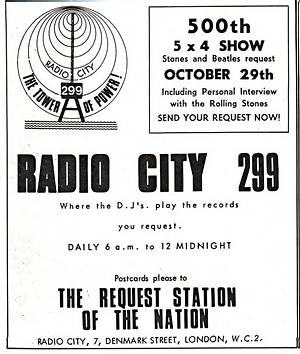 Press advert for Radio City, mentioning the 500th 'Five By Four Show'. There is an extract from the 200th edition on the second page of this feature. Cutting kindly provided by Hans Knot.
Ralph Cooper getting funky on Radio City, 12th January 1967 (duration 4 minutes 45 seconds)
'The Auntie Mabel Hour' was normally presented by Ian MacRae and Alan Clark but both were on shore leave when this programme was broadcast on 18th December 1966. Adrian Love and Paul Kramer deputise. Both clips are part of longer recordings made available by The Offshore Radio Archive (duration 2 minutes 51 seconds)
In January 1967 the station moved into bigger offices, just off Bond Street in London's West End. But it did not have much time to use them. Within a month Radio City, like the stations based on the neighbouring forts, was prosecuted under the Wireless Telegraphy Act. Six months earlier the police had told Mrs. Calvert that Shivering Sands was outside the territorial limit and they could not help her get the raiders off the fort. Now, apparently, it was inside UK waters after all.

On Wednesday 8th February 1967 a Southend court found Dorothy Calvert guilty of broadcasting without a license. She was fined £100. That night, at midnight, Radio City closed down.
Tom Edwards, Ian MacRae and Alan Clark get a bit political during the final hour of Radio City (duration 2 minutes 33 seconds)

Tom Edwards and his colleagues close Radio City down for the final time. Both recordings kindly provided by James Pringle (duration 1 minute 53 seconds)
Tom Edwards again:
"I decided that, for the final hour, all of us should be in the studio to talk about what our dreams were for the future. An emotional sixty minutes and I chose Shirley Bassey singing The Party's Over as our last record. Which it was. The rest as they say is history.

We all went our separate ways. Some of the lads are no longer with us. Those of us who are left are much older now. I'm told that to look back and live off the memories of life is maybe wrong. I don't think so. What fun we all had - but also touched by tragedy. I'm so glad I sent that seven minute tape to Reg all those decades ago. Little did I realise what fate had in store. And you know what? I wouldn't have missed it for anything!

I got the nickname of 'Mother' on Shivering Sands ......... and it sticks to this very day! I used to fuss and cluck about. Old habits die hard."

That final show was a sad farewell but the station was professional to the end. When it was all over, the City DJ team split up. Alan Clark joined Radio 390, where he became known as Christopher Clark; Adrian Love and RWB worked on London 67, a syndicated radio show they hoped to sell round the world; and three City men went to Radio Caroline: Paul Kramer to the North ship, Tom Edwards and Ian MacRae to the South. Eric Martin left broadcasting altogether.

Radio City claimed an unconfirmed audience of three million. It was never one of the big boys but there was something special about it. The technical quality may have been a bit dubious, the high turnover of DJs may have meant that occasionally the on-air polish slipped, but it had an enthusiasm and excitement all its own. Many Radio City presenters went on to enjoy long careers in broadcasting. It was a first rate training ground, had some genuinely innovative programming and was well loved by its listeners. It would be greatly missed.