As we all know Radio Caroline was the first offshore radio station to be based off the coast of Britain. But it is less well known that there was another ship that beamed programmes into the UK some years before and two other earlier attempts to launch offshore stations.
1960-1962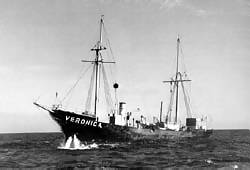 CNBC The Dutch station Radio Veronica launched, off Holland, in April 1960. Although it quickly won widespread support, it was not an immediate financial success. In an effort to win a larger audience, and attract more advertising, English-language programmes began under the name of CNBC ("the Commercial Neutral Broadcasting Company") in late 1960. This service was run by Doug Stanley, a Canadian DJ who had previously worked for the British Forces Network in Germany. One of his colleagues from BFN, Paul Hollingdale, also presented programmes, as did another Canadian, John Michael. Paul Hollingdale later went on to a long career in British broadcasting, taking in the BBC, Luxembourg and local radio. CNBC's signal was aimed at south-east and eastern England and transmitted each morning on 192 metres. Radio Veronica's Dutch language programmes filled the rest of the day. The British advertising representative was Ross Radio Productions, a company which mainly produced sponsored shows for Radio Luxembourg. Reception in Britain was poor and CNBC only lasted a few months. There are fuller accounts of the CNBC story on the mediapages.nl and Soundscapes websites.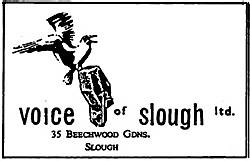 GBLN, THE VOICE OF SLOUGH In 1961 John Thompson, a Slough journalist, unveiled his plans for Britain's own offshore station. This was to be called either GBLN (after his wife Ellen and the city of London), Radio Ellen, Radio Elb or, less romantically, The Voice of Slough. He had been working on the project since the previous year and announced that it would broadcast from a 70 ton former Admiralty motor vessel on 306 metres. This would be anchored near the Nore lightship about three miles off Southend. Programmes would be pre-recorded and the station intended to transmit 24 hours a day. American evangelist Herbert W.Armstrong, whose programme The World Tomorrow was later to be heard on many offshore stations, was said to have bought airtime. In fact a nightly broadcast of this programme on the Voice of Slough was advertised in Herbert W's magazine 'The Plain Truth'. Two DJs who later worked on other pirates were employed to stockpile programmes, Keith Martin and Roger Gomez, but sadly these were never to be heard. (Keith's memories of the project can be found here.) A correspondent to The Pirate Radio Hall of Fame, Roy Barrett, was closely involved. He was working for Laskys Radio, the electrical retailers, when he met John Thompson in the Edgware Road branch in London. The two men got talking and Thompson asked if Roy fancied some extra weekend work in Slough. This quickly turned into the offer of a full-time job. As the salary was double what he was earning at Laskys, it did not take him long to decide. He remembers: "The Voice of Slough started to get organized in late 1960, with the studios in Slough. I built all the recording consoles, etc. The enterprise was run by a Canadian called John Thompson (web-master's note: it is believed that Thompson was actually British but had lived and worked for some time in Canada). He was going to use a lightship off the Nore but he ran into some problems. He then bought a fishing boat in Leith which I sailed down to Dunbar for him. If I remember correctly, it was a 120ft boat. I was informed at a later date that it should have had a minimum of a 120 horsepower engine but, because of finance, Thompson had two 27 horsepower Bedford petrol engines fitted, un-marinised, so that when one broke down, we could couple the other one. Also, to save money, we ran on a mixture of petrol and paraffin. Needless to say, we broke down a few times. We had no communication equipment on board, only a car radio I took with me for weather forecasts, no navigation charts and no life-saving equipment. When I look back I must have been crazy to take charge of the boat and I can understand why the Customs and Excise tried to stop us, as they said the boat was not safe for sea. Every day the Customs would serve a writ on the owner of the boat and every day the boat changed hands. For some unknown reason the Customs had no authority over the lock officials so, in the middle of the night, we went into the middle of the harbour, waited for the lock to be opened and the Customs could not stop us. As we sailed down the estuary all the boats were sounding their sirens and cheering us on. At the time we did not know why. When we came into Dunbar harbour we were treated like heroes and people brought us food and drinks etc. Apparently people thought we were Scottish Nationalists! This was also reported in the national papers. I left the boat in Dunbar and came back to London. We intended to use a 1kW RCA transmitter which I purchased for £100. We had one test transmission which actually took place in Slough although I believe the Post Office was quoted in the newspapers as saying that we were transmitting offshore from Dover!" Although the Voice of Slough project failed to get off the ground, John Thompson was not deterred. He was later one of the people behind Radio Invicta. This station also used the intended wavelength of 306 metres but it is not known if it used the same transmitter.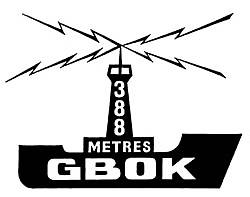 GB-OK One of Thompson's colleagues in the Slough project was a Canadian, Arnold Swanson. It was reported at the time that he was a millionaire who had made his fortune from an involvement in the invention of the car seat belt although this story now looks unlikely. In early 1962 he announced he was about to launch his own station, to be called GB-OK. This would broadcast from the 84 year old teak lightship Lady Dixon. The station was to transmit on 388 metres. Studios were built (by Roy Barrett) in an out-house at Swanson's large Buckinghamshire home and a London sales office was set up. Hours of programming were recorded, presented by future offshore DJ Ed Moreno, and a glossy sales brochure was produced. Sadly Arnold Swanson's efforts, like John Thompson's, came to nothing. Roy Barrett remembers: "Mr.Swanson persuaded me to go and work for him for double the salary again. He had recently purchased Notley Abbey from Sir Laurence Olivier and Vivien Leigh after their marriage break up. We used one of the bungalows for a studio and offices. I built all the recording studios and interviewed a number of DJs. Swanson bought a Marconi 5 kilowatt transmitter from Z & I Aero Services in London. I never saw it assembled but it was apparently 27 foot in length. Although Swanson was fairly wealthy he ran into some problems with cash and was getting fed up with people ripping him off so, in the end, he decided to call it a day. By this time I had got married and decided to leave." There is a picture of the Lady Dixon here.
Many thanks to Roy for his memories. Other information and the illustrations are taken from Offshore Echo's magazine and From International Waters by Mike Leonard, published by Forest Press. If anyone can provide more details about these pioneering attempts at offshore radio, please get in touch. Thanks to John England for pointing out an error, now corrected.

There is a timeline detailing the history of UK radio from 1917 to the birth of offshore broadcasting over the page.