During the summer of 2016 The Pirate Radio Hall of Fame began receiving emails from former offshore DJs, asking if anything was being organised to mark the fiftieth anniversary of the Marine Offences Act which was coming up the following year. The MOA was the law which forced the closure of most of the pirate stations and which Radio Caroline bravely defied. It was going to be the last major anniversary of the sixties era of offshore radio and, from the correspondence we received, it seemed that there was considerable interest in marking it.

We began asking around and, at that time, it appeared that nothing was being planned, so we joined forces with Chris and Mary Payne of Radio London, and our mutual friend Alan Hardy, to organise Offshore 50 - a grand reunion for the pirates of the sixties.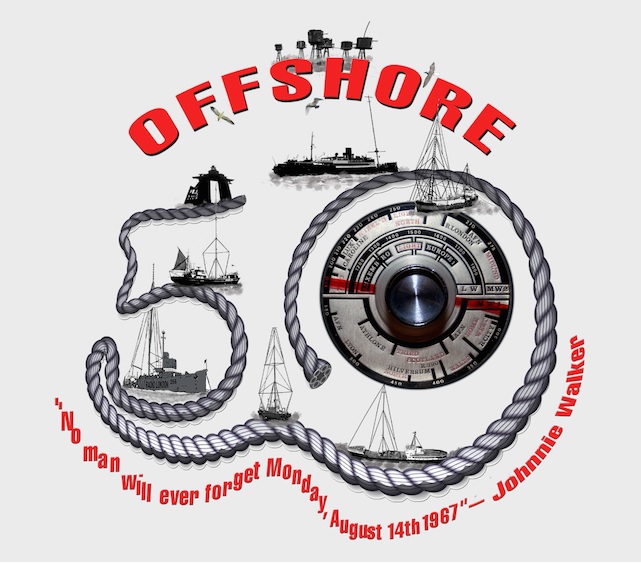 Logo designed by Mary Payne.
We were fortunate to be able to secure The Stateroom, a function room on board the Tattershall Castle. This former Humber ferry is moored on the Thames, opposite the London Eye, and now serves as a floating pub and restaurant. We booked it for 14th August 2017 - exactly fifty years after the closedown of Radios London, Scotland and 270. Invitations were sent to every surviving former pirate of the sixties that we could trace. The response was immediate and very positive. Around a hundred former offshore DJs, engineers and on-shore personnel wanted to attend - with a number flying in from far-flung corners of the globe.

There are more photos on the Radio London site and the Offshore Radio Guide's Flickr page but here are a few that we took on that memorable Monday afternoon, augmented by some kindly supplied by contributors and others we found on social media. (Please note that the offical Offshore 50 website set up for the event has now been absorbed into the Radio London site and can be found here.)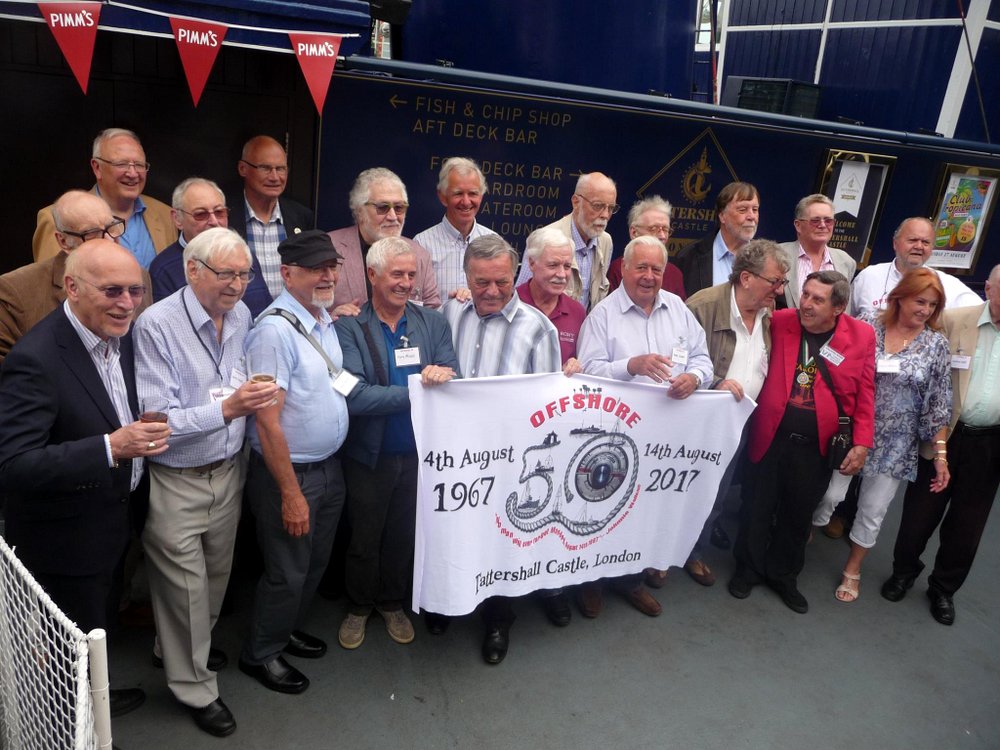 Group shot of mainly Radio Caroline personnel, kindly provided by Mike Barraclough. Front row, left to right:
Colin Berry
,
Keith Skues
,
Steve Young
,
Tony Prince
,
Tony Blackburn
,
Bud Ballou
,
Mark Sloane
,
Robbie Dale
,
Graham Webb
, Caroline House staffer Carolyn Bristow and (chopped off in his prime) shore liaison man George Hare. Middle row:
John Edward
and
Jerry Leighton
. Back row:
John Ross-Barnard
,
Martin Kayne
,
Dave Lee Travis
,
Martin Stevens
,
John Aston
, Mi Amigo engineer
George Saunders
,
Bryan Vaughan
, engineer
Patrick Starling
and
Keith Hampshire
.