Radio Caroline's "curly-headed kid in the third row", Steve Young, was one of the organisers of the reunion. We are extremely grateful to him for this report and for his photographs of the event. Steve writes:
"The first ever North American Pirate Radio Deejay Reunion took place in Vancouver, British Columbia, Canada on July 19th and 20th. Close to a dozen pirate deejays from Australia, the U.K and Canada gathered to share their memories and to enjoy the sunny weather in the beautiful city of Vancouver.

Some of the participants, who arrived on the weekend prior to the reunion, got the event off to a roaring start with a pub tour that made their pirate radio days seem tame by comparison. Some of the bars they visited will never be the same again!"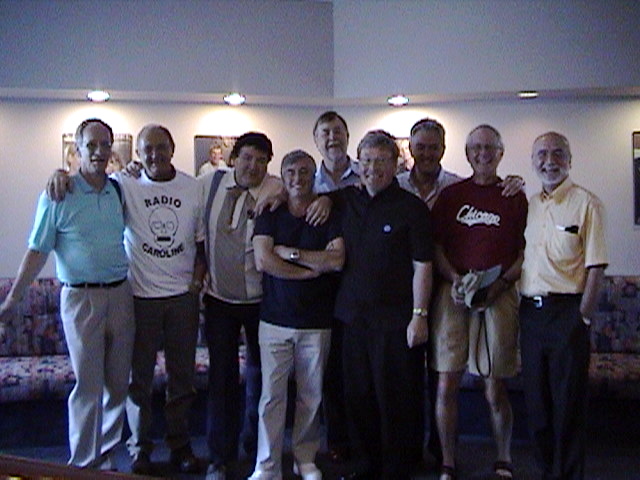 left-right: Lorne King, Gord Cruse, Mick Luvzit, Tony Prince, Bryan Vaughan, Ben Healy, John Kerr, Mel Howard, Steve Young
"The official reunion itinerary commenced with a television interview on CITY-TV after which the participants gathered at a waterfront bistro for some thirst-quenching adult beverages prior to boarding the S.S. Constellation for a two and a half hour sunset dinner cruise in the waters surrounding the city of Vancouver. It was a wonderful opportunity to reminisce about 'stormy days at sea' and to enjoy the beautiful Vancouver skyline from the calmer waters of Coal Harbour, English Bay and False Creek. The first day ended back at the bistro where the group wound up the evening on the patio overlooking the North Shore mountains, drinks in hand and memories being shared.

Day two of the reunion got underway with a hearty breakfast at a marina-side restaurant. Appetites were hearty and so were the laughs when Tony Prince (Caroline North) did his pirate imitation wearing a Jolly Roger bandana, an eye patch and using a tableside champagne bucket as a wooden leg. After breakfast it was off on a sightseeing tour of Vancouver, stopping along the way to take photos and to quench thirsty appetites."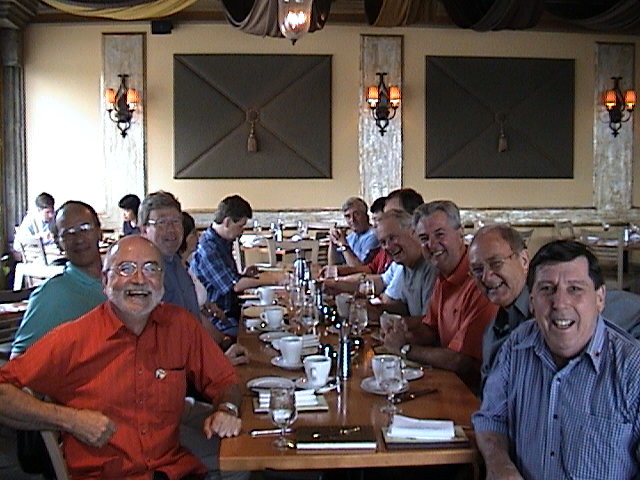 Arrrrgghhh mates...now that's a hearty breakfast.
"That evening the final gathering took place in the offices of Mercer Advertising on Granville Island. This was an opportunity to watch videos of various pirate radio documentaries, to swap memorabilia and to listen to recordings of old shows. A lot of forgotten memories and events were recalled and many friends from near and far, some no longer with us, were called to mind.

After a final drink at a nearby watering hole everybody went their various ways, some to return home the next day, some to stay on to enjoy a longer holiday in and around the beautiful city of Vancouver.

In attendance were: Gordon Cruse - Radio Caroline; Ben Healy - Radio City and Radio Scotland; Mel Howard - Radio Caroline and Radio Scotland; John Kerr - Radio Scotland; Lorne King - Radio London; Mick Luvzit - Radio Caroline; Tony Prince - Radio Caroline; Bryan Vaughan - Radio Atlanta, Radio Caroline, Radio Luxembourg and Radio Scotland; Graham Webb - Radio Caroline; Steve Young - Radio Caroline; Mary Payne of www.radiolondon.co.uk and Kenny Tosh of Citybeat FM, Belfast.

At the end of the reunion it was agreed that everyone should get together again in 2006 in Australia. Stay tuned for further details as this story unfolds."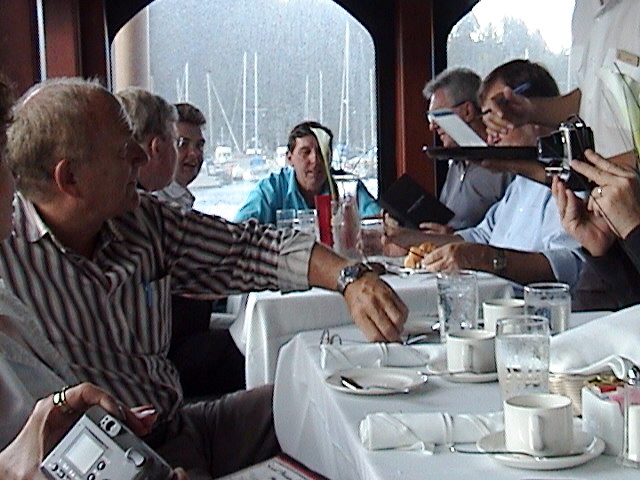 Life at sea was never like this when we were pirates.
All photos ©Steve Young. Many thanks to him for sharing them and for his report.
Kenny Tosh's photographs of the event are here.