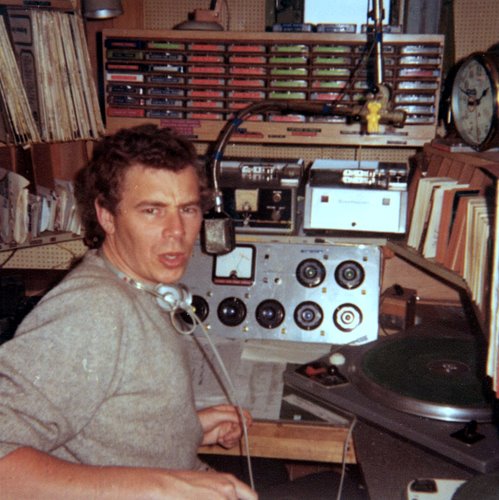 Ian MacRae in the Caroline South studio. Photo kindly provided by Sheridon Street.
Ray Clark has interviewed numerous people involved with Radio Caroline for documentaries and his book, Radio Caroline: The True Story Of The Boat That Rocked (reviewed here).

One of his interviewees was Ian MacRae.

Ian is mainly remembered for his long stint on Radio City but, when that station closed down in February 1967, he joined Radio Caroline South where he stayed until the Marine Offences Act came into force in August.

Ray asked him if he had any amusing anecdotes from his time on Caroline.

We are grateful to Ray for sharing the recording with us.
---
IAN MacRAE: I guess, looking back on the days of Caroline South, it was a situation which, when you try to explain it to people today how it all worked and what really happened, they'd look at you in some sort of disbelief. But, of course, in those days those little tiny ships, bobbing off the coast around Britain had a huge audience because there was nothing on shore giving the people what they wanted at that time. Caroline had a huge following. We often would have concerts ashore in various places in London and also I seem to recall we had some concerts in some caves somewhere ... (thinking) it could have been Chichester or somewhere like that[1] and I know one big show we had featured a newcomer who was just making the charts, a guy called Jimi Hendrix[2]. That was a most incredible night.
Ian on Radio Caroline South, sitting in for Steve Young in the early hours of 18th June 1967. It sounds like he was following Don Allen's Country & Western Jamboree. This is an edited version of a recording available from www.azanorak.com with thanks to Ray Robinson (duration 2 minutes 31 seconds)
Looking back on those days, I suppose things come to mind to me such as ... one night, it was quite late, I'd just finished a shift and I walked out onto the deck of the Mi Amigo. It was a summery night; a very placid night; calm waters; a little breeze but a fog came in and I heard the rumble of approaching engines. I thought "My God, this is a big ship coming along here" and a light came through the fog and I thought "I hope he knows we're here" - and indeed he did. It was a Royal Navy ship. It came alongside. I heard the engines reversing and I thought "we're in trouble here. They are going to tow us away" and this guy came onto the bridge. I am the only bloke (on Caroline) really conscious at this stage, except for the guy on the air. I was on deck and this guy came on the bridge and he had a loudhailer. He said "ahoy Caroline" and I said (little voice) "hello". He said "could you play the lads A Whiter Shade of Pale?" and I thought "why not?", and off they went. Never saw them again. (laughs)

That was one little occurrence. Those sort of little things happened all the time. In a situation like that it's quite a strange thing. It's almost like a dream now, but it happened alright.
---
NOTES
| | |
| --- | --- |
| | |
| | Wikipedia says that Jimi Hendrix played the Caves twice, on 16th December 1966 and 27th January 1967. Does anyone remember which of these nights was promoted by Radio Caroline? |
Back to Ray's chat with Nigel Harris.
Ray's conversation with Emperor Rosko is over the page.