Part Four: Kenny Everett tours with The Beatles
In August 1966 The Beatles embarked on their final concert tour of America. Following the furore over John Lennon's "more popular than Jesus" comment there was considerable concern and interest in how the group would be received. NEMS, the Beatles' management company, arranged for a number of British journalists to accompany the tour and, from the offshore stations, Caroline's Jerry Leighton, Swinging Radio England's Ron O'Quinn and Radio London's Kenny Everett were invited.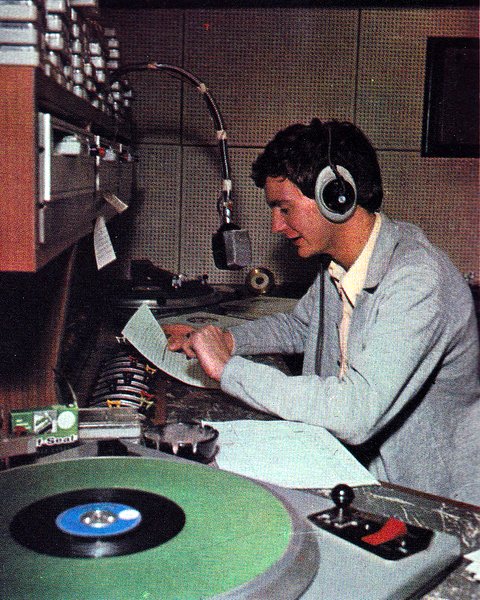 Kenny Everett. Photo from 'Beat Wave'.
It was not possible for Kenny to send live reports direct to the ship because the Post Office had cut off ship-to-shore communication with all the pirate vessels so he had to phone a number on land. Radio London news chief Paul Kaye would come ashore to take the call, record the conversation with Kenny, then head back to the ship where the recording was edited and music added to compile a 30 minute programme. Sponsored by Bassett's Jelly Babies, supposedly The Beatles' favourite sweets, the shows went out each evening at 7.30pm for the duration of the tour.

This is part of one of the programmes, a copy of the studio master. Radio London suffered from night-time interference so the telephone conversation would have been difficult to hear on air. But on this recording you can make out every word. Hosted by Senior DJ Tony Windsor the clip includes Kenny telling Paul Kaye about the trans-Atlantic flight and the first concert of the tour. Part of it was recorded at that first gig at the International Amphitheatre Chicago on 12th August 1966.
Part of a Paul Kaye promo for the Bassett's Jelly Babies Show. Audio kindly provided by Thomas Pattberg (duration 24 seconds)
Kenny Everett reports on the Beatles tour of America from August 1966. Many thanks to Hans Stieper for providing this rare clip. It is a copy of a tape obtained by a couple of German fans who visited the Radio London ship in 1968. Their story, pictures of the ship and more studio recordings are here (duration 3 minutes 30 seconds)
There is an interview with Kenny in which he discusses this trip to America on the Radio London website. He describes receiving the phone call inviting him on the tour as being "the greatest day of my life".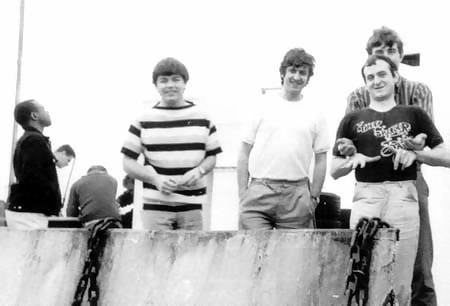 Tony Blackburn on the deck of the Radio London ship with colleagues Ed Stewart and Mark Roman, engineer Dave Hawkins and, on the far left, Mitch the steward. Photo issued by the Free Radio Association, kindly provided by George Morris
Radio London was the only offshore station to broadcast daily on-the-spot voiced bulletins. Jerry Leighton sent his reports back by telex and these were simply read out by the disc-jockeys on the two Radio Caroline ships. (There is a recording of Rick Dane with one of Jerry's reports on Radio Caroline South here.) These were also published in Disc & Music Echo. Talking about the tour on Facebook in January 2014, Ron O'Quinn said: "Radio England had a problem recording the phone reports so I brought back all of the interviews on a tape which I was going to edit (but) .... I had immense problems with UK Immigration when I returned from the trip and was given three weeks to get my affairs in order and leave the country .... or leave the employ of Radio England. I obviously had a bad taste in my mouth for the UK immigration authorities, Tony Benn in particular, and never put the interviews on the air. I left them on the ship and who knows what happened with them. I actually have one tape, but I am saving it for my estate to do away with."
Mike Lennox on Radio London, 27th December 1966. Clip edited from a recording issued by the Radio Broadcasting Library. Tape from Martin Lynch's collection, kindly provided by Lynne Sims (duration 3 minutes 17 seconds)

Tony Blackburn on Radio London from 11th February 1967 (duration 3 minutes 32 seconds)
Ed Stewart, who took over as Radio London Senior DJ following the departure of Tony Windsor, from his show of 20th March 1967. Both this and the above clip are taken from recordings available on Azanorak. Our thanks to Ray Robinson (duration 3 minutes 54 seconds)

Radio London programme schedule, as it appeared in 'Radio News' dated 14th March 1967, courtesy of Mike Lewis.