Radio Essex launched in October 1965. Forty years later, to celebrate the anniversary, a group of the station disc-jockeys and engineers got together for a boat trip out to their old home, Knock John fort (pictures here). After a mere thirteen months on the air, in November 1966, Radio Essex was prosecuted and fined for operating inside territorial waters. They carried on broadcasting but changed the name to BBMS, Britain's Better Music Station. BBMS only lasted a further month. At Christmas 1966 it closed down. The intention was to transfer the broadcasting equipment to another fort, Roughs Tower, which was definitely outside the limit of British jurisdiction, and resume transmissions from there. But, although the equipment was transported, BBMS never did return to the air. So forty years after the closedown, in December 2006, it was time for the team, with wives and partners, to gather again for another anniversary. The Pirate Radio Hall of Fame was delighted to be invited too.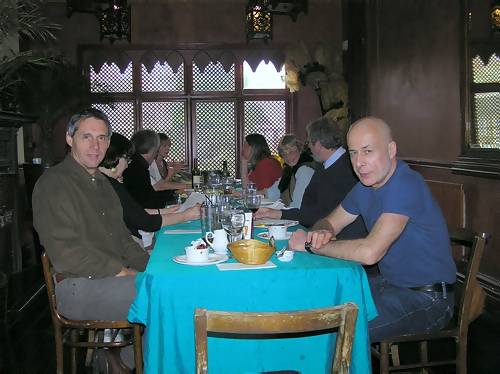 Two of the original DJ team, they stayed with the station to the very end.
Left: Mark West and right: Richard Palmer.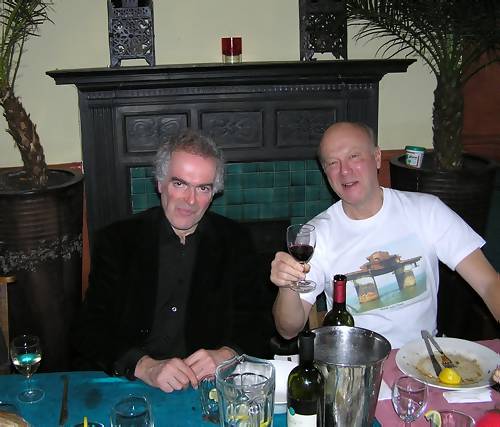 After Radio Essex, they worked together again on Radio 270:
Left: Roger Scott and right: Guy Hamilton, wearing a T-shirt featuring his old home.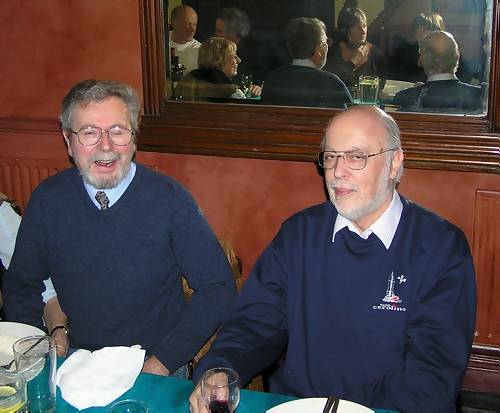 Left: Engineer Dick Dixon and right: Programme Director Chris Stewart.
Mark West has made a fascinating computer-generated animated 3D model of the Knock John fort. He had brought a copy of it to the party on an mp3 player. These pictures, taken by Guy Hamilton, show him describing how he made it and displaying it to his former colleagues: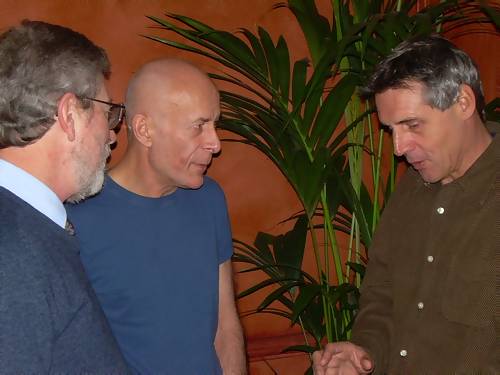 Dick Dixon, Richard Palmer and Mark West.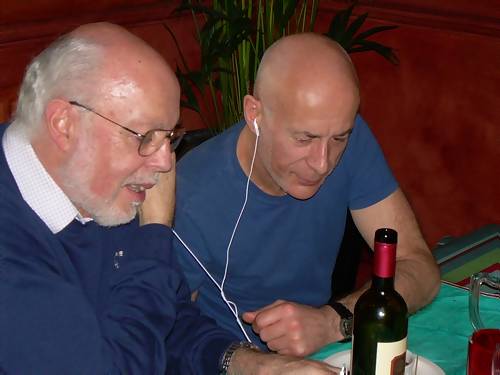 Chris Stewart and Richard Palmer study the model of the fort.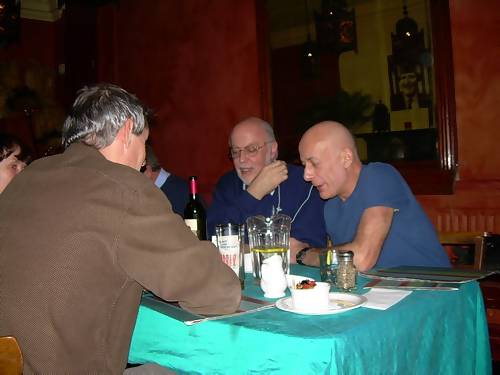 Mark West, with his back to the camera, Chris Stewart and Richard Palmer.
Thanks to Guy Hamilton for the photos.