Swinging Radio England had closed in November 1966, to be replaced by a Dutch station Radio Dolfijn. Sister station Britain Radio continued but neither made enough money. The American owners realised that changes were needed and, in February 1967, they tempted Ted Allbeury, Managing Director of the fort-based sweet music station Radio 390, to join them.

Front page headline from 'Radio News', 21st February 1967, courtesy of Nigel Fell. Click on the headline to see the whole story.
It was not an auspicious start for Ted. On 28th February 1967 a force 9 gale hit the North Sea. On board the mv Olga Patricia (also known as the Laissez-Faire), the ship that housed the two stations, the Captain was away on shore and some of the marine crew were missing having not returning from leave. The ship was at the mercy of the elements. She took an almighty pounding and the top half of the aerial mast was lost over the side. Both Radio Dolfijn and Britain Radio were silenced. Ted Allbeury turned up for work on his first day in the new job to find both his stations were off the air.

The Captain was recalled and the ship set sail to Holland for repairs. By the time the ship returned to her anchorage, a new station was on board: Radio 355 was a virtual facsimile of Ted Allbeury's old station, Radio 390, even using the services of some former 390 presenters who had been persuaded to come with him. Presumably Allbeury thought that, with Radio 390 facing a legal battle, it was likely to close soon and, if that happened, Radio 355 would be ready to scoop up the listeners with a soundalike station with a similar name. Radio Dolfijn's name was changed to Radio 227.
SPOT THE DIFFERENCE: Radio 390 and Radio 355 in March 1967.

Radio 390
Radio 355

6.30am Bright and Early
7.00 Morning Melody (incl.
7.50-7.55 Revive Your Heart)
9.00 Spotlight
9.15 Marie Simone Hour
10.15 Master Of The Organ
10.35 Pause for Prayer
10.45 Keyboard Cavalcade
11.00 LP Special
11.15 Doctor Paul
11.30 Music from the Shows
12.00pm Lunchbreak
1.00 From Me To You
2.00 Playtime
2.15 Melody Fair
3.15 Stateside
3.30 Intermezzo
4.00 Memory Lane
4.30 Teatime Tunes
5.00 On the Scene
5.30 Music Express
7.00 Country Style
7.30 From Me To You
8.00 Dinner at Eight
8.30 Continental Cabaret
9.00 Serenade
11.55 Thoughts at Midnight
12.00am closedown

6.00am Rise and Shine
7.00 Breakfast Club
9.00 Country Style
9.20 Light and Bright
10.30 Pause for Prayer
10.40 Showcase
11.00 Elevenses
11.30 Top of the Morning
12.30pm World Tomorrow rpt.
1.00 Requests
2.00 Melody Hour
3.00 Café Continental
3.30 Allegro
4.00 For the Children
4.15 Afternoon Star
4.30 Daily Instrumental
5.30 Middle of the Road
6.30 World Tomorrow
7.00 In the Country Style
7.30 Evening Requests
8.00 Eight by Ten
9.55 Thought At The End Of The Day
10.00 closedown
Alan Black playing requests on Radio 355, 19th March 1967. Recording kindly provided by Stuart Russell (duration 1 minute 54 seconds)
David Allan In the Country Style on both Radio 355 and Radio 227. Recording courtesy of Martyn Webster (duration 1 minute 27 seconds)
In March the company set up to run Radio England/Britain Radio, Peir Vick Ltd., was one year old and its financial situation was reported to shareholders. Debts amounted to £113,601 and the assets were just £5,004. The company went into liquidation.

Ted Allbeury's Carstead Advertising was now in charge. John Withers, who had been responsible for advertising sales at Radio 390, moved with his old boss to run the business side of Radio 355. Budgets were slashed, new offices were obtained - far less salubrious than the prestigious Curzon Street address - and, for a while, 355 closed down each evening at 10pm to save money.

Things did not start smoothly. Britain Radio Station Manager Jack Curtiss resigned over Allbeury's appointment. He was quoted as saying he could not work with a "stone age radio" format.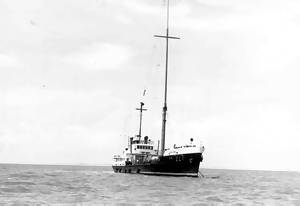 The mv Laissez-Faire, back from repairs. Photo published by the Free Radio Association and kindly donated by George Morris.
Although Jack left the organisation, ultimately his views were proved correct. The copy of 390's format was not a success. The listeners who had stayed from the days of Britain Radio did not like it; the presenters who had moved from the fort-based Radio 390 found life on a ship was not to their taste; and, with Radio 390 still broadcasting, it did not seem sensible to have two stations offering such similar fare. A change was needed.

John Withers brother, Tony, had been Senior DJ on Radio London where he had broadcast as Tony Windsor. He had left Radio London on 7th February and was looking for a new challenge. He was appointed Programme Director. He immediately drew up a format that was similar to the old Britain Radio one: three hours shows, presented by personality disc-jockeys. Those presenters who could not sustain a show of that length, the ones who had arrived from Radio 390, were let go. Those that could, such as Alan Black and Dave MacKay who had both been on Britain Radio, were retained. They were joined by such names as Mark Sloane, John Aston and Martin Kayne, all of whom had previous offshore experience, and Tony Monson who had worked on radio in Bermuda. With a new easy listening playlist and a team of highly professional broadcasters, the new Radio 355 began to win listeners.
A Radio 355 schedule from summer 1967.

Monday - Saturday
Sunday

6.00am Breakfast Club (incl.
7.00-7.30 The World Tomorrow and
7.50-7.55 Revive Your Heart)
9.00 Tony Monson (incl.
10.30-10.45 Pause for Prayer)
12.00pm Mark Sloane (incl.
12.30-1.00 The World Tomorrow)
3.00 Dave MacKay
6.00 (Martin) Kayne's Kingdom
7.00 355 Countryfied
7.30 John Aston
(Saturdays 8.30 Encounter)
9.00 Dave MacKay
10.30 The AB Spree (Alan Black)
11.55 Epilogue
12.00am closedown

Information from 'Offshore Radio' by Gerry Bishop.

6.00am Breakfast Club (incl.
7.50-7.55 Revive Your Heart)
9.00 The World Tomorrow
9.30 Tony Monson (incl.
10.30-10.45 Pause for Prayer)
12.00pm The Easy-Listening Top 40
2.00 Storytime
2.15 Mark Sloane
3.00 Dave MacKay (incl.
4.00-4.30 Sunday Selection and
5.00-5.30 Hour of Decision)
6.30 The World Tomorrow
7.00 355 Countryfied
7.30 John Aston
9.00 (Martin) Kayne's Kingdom
10.30 The AB Spree (Alan Black)
11.55 Epilogue
12.00am closedown
Some station promotions for the new DJ line-up. Recordings courtesy of Alfasound and John Aston (duration 3 minutes 13 seconds)

Tony Windsor ends an afternoon show on Radio 355 and hands over to Mark Sloane. Recording courtesy of Stuart Russell (duration 1 minute 59 seconds)
At the end of May Radio 227 also had a revamp. It had been a Dutch sweet music station but that format was not working. Now it became Swinging Radio 227, a fast moving Top 40 station. The old Radio England jingles were dusted down for use again. The word "England" was edited out and replaced by Dave MacKay saying "double two seven". They might not have been perfect, but they worked.
Dutch DJ Lex Harding introduces some of the new line-up on Radio 227 to Tony Windsor, 30th May 1967. Recording kindly provided by Svenn Martinsen (duration 3 minutes 11 seconds)
In early July there was a drama on board the Laissez-Faire when a crew member got very agitated and started threatening people with a knife. The Captain made an SOS call to shore. The coastguard took the call and alerted the police. They decided that, as the ship was outside UK waters, it was not a matter for them and called the Navy who, in turn, got in touch with the Ministry of Defence in London - who decided not to do anything. Meanwhile the ship's crew were having to remain locked in their cabins to keep away from their knife-wielding colleague. In the end the matter was resolved when the station's tender, the Offshore II, arrived from Holland with a large number of men on board. They were able to remove the troublesome crewman without incident.
Tony Monson on his morning show, 17th July 1967. Recording kindly provided by Stuart Russell (duration 3 minutes 14 seconds)

Alan Black presents the Easy-Listening Hit Parade for 23rd July 1967. Recording kindly provided by Stuart Russell (duration 1 minute 4 seconds)
Although almost all the music was played from record, there was one live session when American singer José Feliciano visited the ship in July 1967. The studio was not big enough for the singer to perform so some microphones were set up in DJ John Aston's cabin. José's live set was broadcast on both Radio 355 and 227. This was the second live music session on an offshore station, the first being Jimmy Smith's performance on Caroline South two years earlier.
Alan Black and Tony Windsor introduce a live session from American singer José Feliciano in July 1967. Recording kindly donated by John Aston (duration 2 minutes 24 seconds)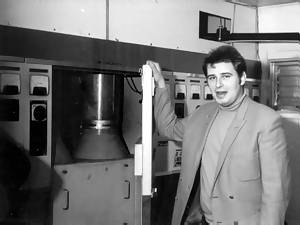 David MacKay with the Radio 355 transmitter. Photo published by the Free Radio Association and kindly donated by George Morris.

Slowly advertising began to come in and, with the ubiquitous sponsored evangelical programmes, the station began to make some money. There was little effort made to research audience figures but Radio 355 claimed 2.25 million listeners at its peak. In Holland Radio 227 even started to make inroads into Veronica's long-established audience. But it had all come too late.


The government announced that the Marine Offences Act would become law on 15th August 1967. The owners of the Laissez-Faire contacted the Home Office, asking for a license to broadcast ashore. They had purchased a plot of land in Essex and suggested that, as the studios and transmitters were already containerised on the ship, it would be a simple matter to transfer them onto land. The Home Office declined this kind offer. The stations had to close down along with all the others.

Because the contract with Wijsmullers, the Dutch company that serviced and crewed the ship, was about to expire, Ted Allbeury decided to close the stations prematurely. It just did not seem worth renewing the deal when the Marine Offences Act was about to come into force. Radio 227 passed away, rather suddenly, on the 21st(?) July. Soon after midnight on the 5th August Radio 355, too, became silent. The transmitters were sold to radio stations in Swaziland and the Laissez-Faire returned to the United States.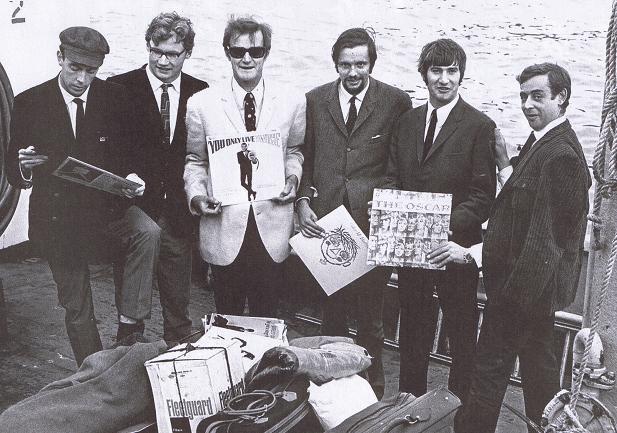 Radio 355 DJs on the tender Offshore II, the day after close-down. Dave MacKay was still on the mv Laissez-Faire. The others, left to right: John Aston, Martin Kayne, Tony Windsor, Tony Monson, Alan Black and Mark Sloane. Photo from 'Let's Talk' magazine kindly provided by David Scarff.

Given more time, Radio 355 could have been a success but it was only just beginning to become established when the end came. It was a shame. The station was trying to do something a bit different - something that wouldn't be tried again until Melody Radio began broadcasting in London twenty years later.
Martin Kayne on Radio 355's penultimate Breakfast Club, 4th August 1967. Recording kindly provided by Albie Somerset (duration 4 minutes 34 seconds)

Mark Sloane closes Radio 355 for the night on 4th August 1967, the station's penultimate day on air. The short religious programme has been edited out. Recording kindly provided by Dickie Bird (duration 3 minutes 7 seconds)

Part of David MacKay's last show, 5th August 1967. The recording is taken from a cassette issued by Offshore Echo's and used with kind permission (duration 3 minutes 17 seconds)

Tony Windsor and Managing Director Ted Allbeury close Radio 355 down forever, 5th August 1967. Recording kindly provided by Nick Widdows (duration 6 minutes 1 seconds)
Svenn Martinsen has been carrying out extensive research into all the stations that broadcast from the Laissez-Faire.
You can read a fascinating essay about them on his website.

In May 2006 a group of former Radio 355 DJs came together at the fortieth anniversary celebrations for Radio England. There are photos of the event here.