On 17th September 1965 a young singer called Sylvan (full name Sylvan Whittingham) paid a visit to Radio Caroline South to promote her new single, We Don't Belong. When it was time for her to leave, she refused to go. The tender was forced to return to shore without her. Sylvan had locked herself in the lavatory and, without another tender due until Monday, she was on board Caroline's ship, the mv Mi Amigo, for the whole weekend. More than fifty years later, she still remembers it well.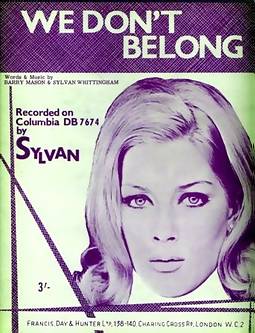 Sheet music for Sylvan's record, 'We Don't Belong'.
"I was very nervous and excited. I had had a very promising start to my pop career and there had been a lot of interest in me and my record We Don't Belong. I had appeared on (TV programme) 'Thank Your Lucky Stars' - Ken Dodd was top of the bill with Happiness and they put a photo in the paper the next day of the two of us entitled 'Happiness and Tears'. Unfortunately Auntie BBC decided to ban We Don't Belong which was based on Romeo and Juliet's tragic love story. I can quite understand why now, of course, though I don't think that Romeo & Juliet has been responsible for many suicides or it would surely have been banned in schools!

The week I was banned, so was Barry McGuire's Eve of Destruction - for its gloomy message (which is still very pertinent today). Trouble was that he was better known than me, and news of his ban hit the headlines which ensured huge record sales as the fans loved anything that was banned by the Beeb and of course, so did the pirates, so they played him to death. My banning was not such big news.

The trip to the Mi Amigo was a promotional one of course. I badly needed some publicity as the BBC had taken me off their playlist. I was being taken out to the ship so that, hopefully, the pirates would continue to play the record. The normal procedure was to arrive on board in the morning, do an interview and talk about the disc, meet the DJs, have lunch and then return at tea time when the tender came back from Radio London (where the crew had their lunch) to collect me and anyone else who was going on shore leave.

My manager had said to me "Don't come back on the tender. Throw a moody and pretend you are too scared to get on it. We'll get some publicity that way." So, I'm afraid to say, I did what I was told, and when the time came to leave the Mi Amigo, I locked myself in the loo and refused to come out. I can remember standing there the other side of the door, my heart beating frantically thinking 'what am I doing?'. There was an open porthole on my left and the fresh air was making my eyes water. Good, I thought, they will think I have been crying. So after a lot of banging on the door and the tender's fog horn hooting and me saying 'I'm too scared' it went quiet. The tender had left for Harwich, not to return for two days, and I unlocked the door and stepped out.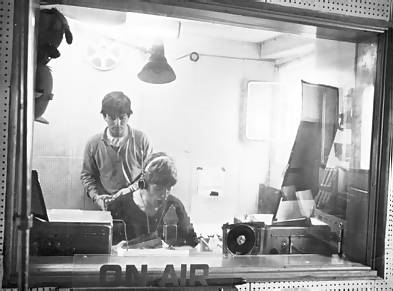 Tony Blackburn, standing, and Roger Gale in the Caroline South studio. Photo copyright Agence de Presse Dalmas, provided by Colin Nicol.

The pirates on board were Tony Blackburn, Roger Gale, Mike Allen and someone else I have forgotten the name of. The person who looked after me the most was dear old Patrick 'Child Scientist' Starling, the public school, red haired electrician-extraordinaire, who was an absolute dear. Needless to say, they were all thrilled at what I had done. My rebellious act was hailed as a triumph and they started broadcasting about having a 'stowaway' on board. It was very exciting and great fun.

They then had a problem as to where I was to sleep. There were absolutely no spare beds. However Patrick and whoever he was sharing with magnanimously gave up their cabin for me. I don't know where they slept. My next quandary was that I didn't have anything to remove my makeup with. Makeup included Dusty Springfield eyes in those days and couldn't just be washed off. Patrick went off in search of something and came back with axle grease which did the job but smelt a bit dieselly!

It was a very unromantic environment. Cold, uncomfortable, greasy and slightly smelly.

Over the next couple of days, I hung out with the boys. I watched them making their jingles on the cartridges that they used to push in to play. I helped with a couple of them. I read out the quiz questions for the listeners. I was the 'mystery guest' on one show - though it didn't take an Einstein to work out who I was, and I sat in on the Roger Gale 'Party Time' show on Saturday night. I even closed the station down one night: 'On behalf of the captain and the crew, this is the stowaway girl, Sylvan, wishing you a very good night. Good night.' We also spent a lot of time on deck smoking and chatting. Lots of jokes and pranks. They were all planning what they were going to do to Dave Lee Travis who was joining them on Monday when I left. I heard from Patrick later that they had set off the alarm in the middle of his first night and he had gone running onto the deck in a panic in his pyjamas and they all had a good laugh.

Tony Blackburn was pleasant but kept himself to himself a lot. He didn't seem to mix with the others or have fun with the rest of us. The others were sweet and flirtatious - especially Roger Gale, now an eminent MP for North Kent! They gave me signed photographs of themselves and Roger gave me a tape of the show I had been on with him. The other people on board who also seemed to keep a distance were the Dutch captain and the engineers. The captain was the man in charge of the ship and had quite a responsibility to keep these overgrown schoolboys safe!"
Sylvan makes the occasional interjection on Roger "Howling" Gale's late night Party Time programme on Radio Caroline South, 18th September 1965 (duration 9 minutes 40 seconds)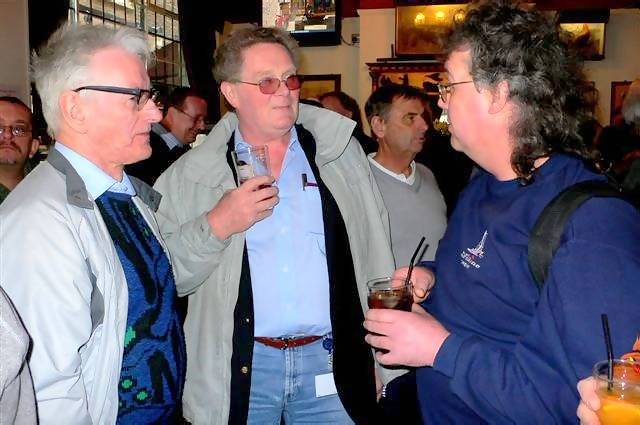 Patrick Starling, centre, photographed by Sylvan at Radio Caroline's 45th birthday party.
"On Monday the tender duly arrived and took me back to Harwich. On the way we stopped at Radio London and they all came out to wave approval as they knew what had happened. That was almost the end of the adventure. Patrick Starling, who I had become good friends with, later rented a room in my flat at Marble Arch for when he was on leave - one week in three. He installed hundreds of records in my flat, some of which I still have and of course I would hear all about the goings-on on board through him for the next few months. Tommy Vance popped round a couple of times to visit him.

We Don't Belong was not destined to be the big hit I had hoped for though I did get to 46 in the October 2nd. Caroline chart. EMI stopped producing it after a while, so there were no records to be bought. I did make another record called When You Do What You're Doing which did quite well in Germany and Czechoslovakia. I then went on to write songs and had 35 published, one of which was the Morecambe & Wise TV theme song which they used before Bring Me Sunshine.

We Don't Belong has enjoyed a bit of a revival recently - firstly on the 'Dream Babe - Backcomb and Beat' compilation CD which sells steadily to the memorabilia market and more recently on the 'Hatbox Collection of Girl Groups Lost and Found' which was nominated for two Grammy awards in February 2008.

It was wonderful to find Patrick again after a gap of 20 years and he invited me along to the 45th Radio Caroline reunion party which I thoroughly enjoyed. There was a great atmosphere and I met many new old Caroline friends. I feel very privileged to have had such an exciting experience and to now be part of pirate history."
Sylvan's song, courtesy of YouTube:
| | |
| --- | --- |
| | |
| Sheet music for the Morecambe and Wise theme tune, written by Sylvan. | Roger Day and Alan Turner, right, with Sylvan at Radio Caroline's 45th birthday party in 2009. More of her photos from the event here. |
Sylvan was married to song-writer Barry Mason and is now also known by her married name. She is a professional photographer. For more information about her music and photography, see www.sylvanmason.com. Our grateful thanks to her for writing about her time on Caroline and providing the photos and audio.