Ray Clark has interviewed a number of the people involved with Radio Caroline. Extracts from these conversations were used in his book Radio Caroline: The True Story Of The Boat That Rocked (reviewed here).

We are very grateful to Ray for allowing us to publish some of his interviews on The Pirate Radio Hall of Fame.

This one is with the late Carl Conway. He was one of the earliest DJs to be heard on Radio Caroline in 1964, although his shows were pre-recorded on land. He was also the voice on scores of commercials and promotions throughout the sixties era of the station. He died on 10th February 2017, four days after his 95th birthday.
---

Carl's biography from the first Caroline Club leaflet, kindly provided by Colin Nicol.
CARL CONWAY: I was very lucky because I worked at Chesterfield Gardens most of the time and it was a big fraud on my part because all my stuff was recorded and sent out to the ship. We used to time it on the studio clock to the time it was going to go out on the ship - which was common practice, of course - and so one day I thought, yes, now I remember when I was out there the big ferry from Harwich was going across to Holland, was it, and I thought right, it's about now so I'll say, "Oh, yes, there goes the big ferry, I wish I was on it, we're stuck out here", and all the rest of it. Then afterwards the repercussions were that Simon Dee, who was on the ship said, "Why did you say that, Carl?" he said, because it wasn't going by then and a lot of people were coming out to visit us at that time, it was a Sunday afternoon, and they said, "What's he talking about? There's no ship in sight", and Simon had to quickly say, "Oh, well, he adds a bit of colour to the show, you know". Anyway, that's just a little bit, you know, the truth.

I was very lucky again because I had a film spot and we used to go out to the studios and interview big stars like Alfred Hitchcock when he came over, Roger Moore when he was doing 'The Saint'. You know, any big star that was... Because as we've just said, Radio Caroline was very important in those days and everybody wanted to be part of the scene so we got the big stars. The American stars had heard all about it, knew all about it and so that's what I did.

The commercials, I did sometimes about ten different commercials a day, voiceovers, and that is why I was lucky and stayed on land.

RAY CLARK: Were you there until the end of Caroline or until they moved over to Holland?

CC: Yes, sir. I was there until the very end and they said "Would you like to come to Amsterdam with us?" and I was doing a bit of film work, which I'd done before Caroline anyway because acting was really my game, and I thought well, I don't know, if I go over there I've finished with a career in films or television as an actor so I decided to stay. I don't know whether it was a wise move or not, actually. I suppose it was, really.

RC: Was it a well organised operation or was it very much hit and miss, especially in Caroline House?

CC: Do you know, you've asked me a question which I can't remember. I don't recall it being terribly hit and miss because we had the different departments on the different floors and I was always down in the studios right down in the lower basement and I never really saw much of what went on upstairs. There was a big sales department on one floor and so on and so forth and the managing director had his office up there and Ronan used to appear quite a lot, he had a big office there. I don't recall anything - it seemed to run quite smoothly when I was there.

Radio Caroline was playing in garages, in shops, you know, I mean, it was a fantastic era, it really was because, for instance, you got priority treatment wherever you went because if you just mentioned you were with Radio Caroline people's attitudes changed and said, "Oh, really?" "Yeah." Well, you know, they gave you preferential treatment for various things except people who absolutely hated pop music and loathed anything to do with it and said, "Bloody row", but, you know, didn't meet many of them. Every major, every major company advertised, I think, with Radio Caroline: cereal companies, food companies.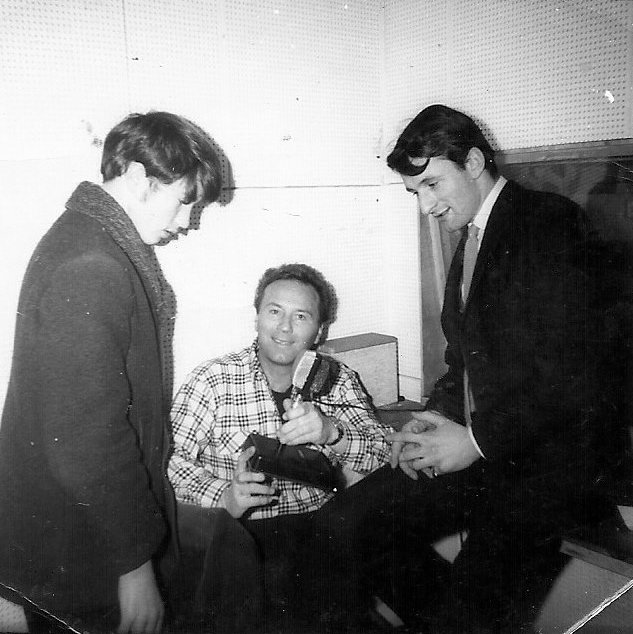 Left to right: Caroline listener Stuart Calver, Carl Conway and Gerry Duncan in the basement of Caroline House. Photo taken by Dilys Calver and kindly shared by the Felixstowe & Offshore Radio Facebook page.
RC: Can you remember how you were first approached to join Caroline? I mean, did somebody come up and say, "Do you want to work on a radio station?"

CC: No, I remember well. Yeah, when I was first approached actually it was through my agent who I was doing all my voiceovers for television commercials and acting jobs and all that and she said, "There's some mysterious radio station. I don't know anything about it, they won't tell us anything, but you can go along for an interview or an audition, if you like". So I went along. Was it not the EMI studios in St John's Wood, was it? It seemed like it. I believe it was and Michael Joseph who was Ronan O'Rahilly's right hand man, he was holding the auditions, and he said, "Just sit on a stool and just talk in a nice relaxed way, just chat away to the people, that's the sort of thing we want, and introduce a few records," which I did and right away he said - he had a chat with somebody, I don't know if it was Ronan, who it was, somebody back in the office - he came out and said, "Well, we'd very much like to have you with us." I said, "Oh, thank you very much." He said, "You'll hear more later on." Anyway, it all started, we recorded all the shows to start with, the whole, oh, programmes for about ten weeks ahead, I think it was, at a studio in Gerrard Street or Wardour Street, somewhere like that, and they were all stockpiled, the tapes, so it all started with programmes on tapes, then I believe that became illegal, the copyright people said, "You can't do that", and then everybody went out to the ship and very quietly I still did do that.

RC: Can you remember, Carl, where you were when the big switch-on came? Were you all gathered together? Did you all meet up and tune in to listen to the first broadcast or anything?

CC: Ah. I was driving around Canterbury, Herne Bay, Birchington, Margate, Ramsgate, at that time - Easter, wasn't it, 1964? - because Ronan said "We want to know how it's being covered down on your part of the coast so would you drive around on the test transmission as much as you can and as far as you go and as quickly as you can and make a note of where it's fading and where it's coming in strong and all that". So that was my memories of the first test transmission, it was marvellous. I thought, crikey, I'm part of this fantastic new venture. Yeah, that was exciting, I have to admit that.
---
Our thanks to Ray Clark for providing the interview, to Pauline Miller for transcribing it and to Brian Nichols for the photos.
Back to the interview with Graham Webb.
Another of Ray's interviews, with Peter Chicago, over the page.