Listeners to Radio Caroline during 1966/7 could not avoid the frequent advertisements for Findus Foods featuring the accident-prone announcer Frobisher Collingwood. But who was this man? More than fifty years later The Pirate Radio Hall of Fame can now reveal his identity.
A Findus commercial from December 1966. Taken from a recording of a Keith Hampshire show on Caroline South courtesy of the Offshore Radio Archive (duration 1 minute 6 seconds)

A Findus commercial from April 1967. Taken from a recording of a Mike Ahern show on Caroline South, shared on the Internet Radiocafé, now known as the Radiotrefpunt (radio meeting point) forum by Paul de Haan. Our thanks to him (duration 1 minute 12 seconds).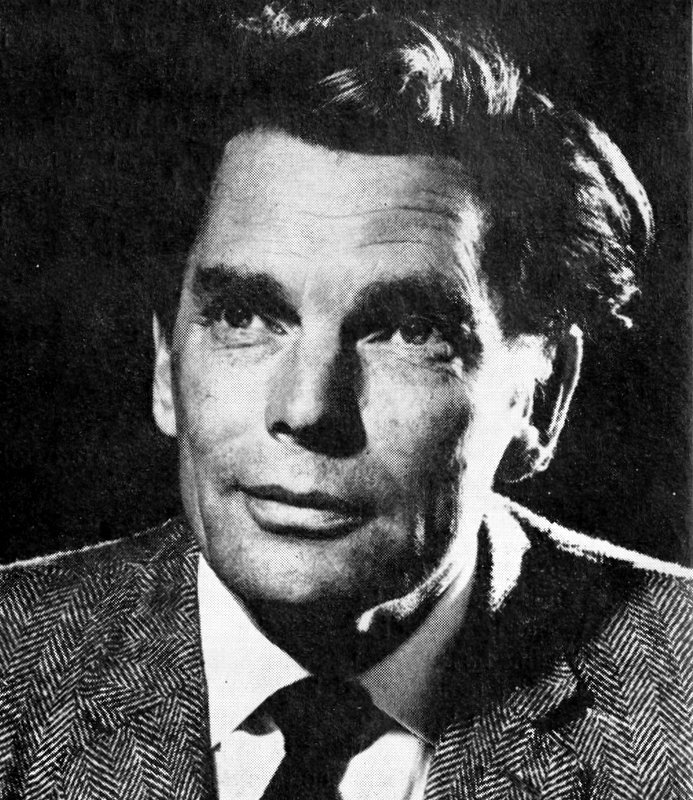 Frobisher Collingwood, as pictured in 'Radio Caroline' by John Venmore-Rowland, published by Landmark Press.
In February 2018 The Pirate Radio Hall of Fame heard from Nick Squire. He told us that his late father was the voice of Frobisher Collingwood. His real name was William Squire and, when he wasn't extolling the virtues of Findus products, was a highly accomplished actor.

Nick says "the name was cooked up by the writer of the ads, Hugh Bredin, who was a good friend of my dad's." Nick was under the impression that the name Frobisher Collingwood came from two London telephone exchanges of the time but, although there was definitely a Frobisher exchange (covering the Earls Court area), we haven't been able to find an exchange called Collingwood.

Nick continues: "Dad had a very interesting life, and quite extraordinary too. He was one of eight working class children, born in Wales and totally lucked into a full scholarship at RADA (The Royal Academy of Dramatic Art). Interrupted by the Second World War, he joined the navy, survived the Atlantic and began his very varied but successful acting career."

The Internet Movie Database lists William Squire's numerous film roles. He provided the voice of Gandalf in The Lord of the Rings (the 1978 animated version) and appeared in such famous movies as Where Eagles Dare, The Man Who Never Was, Alexander the Great, The Battle of the River Plate and The 39 Steps. A friend of Richard Burton's, the two acted together a number of times and they were both in the Oscar-winning Anne of the Thousand Days. William featured in many fondly-remembered TV series of the sixties, seventies and eighties such as Doctor Who, Callan, Softly Softly, Armchair Theatre, Paul Temple, Jason King, All Creatures Great and Small, When the Boat Comes In, Rumpole of the Bailey and Blake's 7.

He performed on stage in London's West End, at Stratford-upon-Avon and the Old Vic, and played King Arthur in the musical Camelot on Broadway. There are photos of him in a number of different film and TV roles on the Movie Dude's Pictorial Filmography of Screen Actors website.

It seems he also worked as a television continuity announcer. The Transdiffusion website has an audio clip (scroll down the page) of Frobisher Collingwood introducing the wrestling on London's Rediffusion Television in 1965. If that year is correct, it looks as if William Squire's use of the Frobisher Collingwood identity may have predated the Findus advertising campaign.
Nick says: "His second marriage was to Juliet Harmer who had quite a successful TV show, Adam Adamant Lives! starring Gerald Harper - all about the same time as the birth of Frobisher. Heady fun, crazy times. I was very lucky to be around to see and experience some of them although I was very young then." (Webmaster's note: Coincidentally, another regular on Adam Adamant Lives! was former Radio Caroline South DJ Paul Ducrow.)

William Squire / Frobisher Collingwood died on 3rd May 1989 in London, aged 72. There is a bench on Hampstead Heath dedicated to his memory. Nick says of his father "Frobisher would have been a lark with his friend Hugh, although no doubt he made a few quid as well. I know it tickled him pink to be heard on a 'pirate' radio station."

Correspondent John Sales tells us that there is a Frobisher Way and a Collingwood Way in Southend-on-Sea, Essex. The two roads are adjacent. He says "They are relatively modern housing developments. Is there any connection with the radio announcer or is it pure coincidence? Well, all I can say is that they had to get those road names from somewhere!"

Ray Clark adds: "Many years ago, before my radio days, I was sitting in a traffic queue on the Embankment in London, alongside the huge flat complex Dolphin Square, and there was, perhaps still is, a list of the various areas in the complex. Collingwood followed Frobisher - and may still do." Our thanks to Ray. A glance at the Dolphin Square entry on Wikipedia confirms that the development is divided into 13 'houses', each named after a famous navigator or admiral - including Frobisher and Collingwood.
A Findus commercial from March 1967. This is a copy of the studio tape taken from the RBL cassette Offshore Fun volume 1. From Martin Lynch's collection, it has been kindly donated by Lynne Sims (duration 1 minute 7 seconds)
Our thanks to Nick Squire.

More about offshore radio sponsors here.