Ben Healy's pirate press cuttings - part three
This press cutting, kindly donated by Radio Scotland's Ben Healy is from 14th August 1997, exactly thirty years after the closure of the radio station. It is from Glasgow's Evening Times. A number of the original disc-jockeys had got together for a reunion and Tony Currie took the opportunity to look back. The feature was headlined 'The Days We Rocked The Boat'.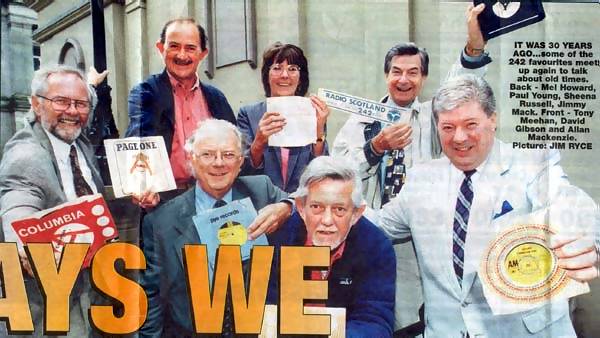 At the reunion, left to right, back: Mel Howard, Paul Young, Sheena Russell, Jimmy Mack,
front: Tony Meehan, David Gibson and Allen Mackenzie.
Many thanks to Ben.
Back to previous page.

Return to the disc-jockeys' photo index.