According to Bob's official Radio Scotland biography, he was born in Newquay, Cornwall, on 4th August 1939 but, as he was reported to be 77 years old when he died in September 2014, the Radio Scotland publicity machine may have knocked a couple of years off his age. It seems probable that his birthdate was actually 4th August 1937. His real name was Robert Hogarth.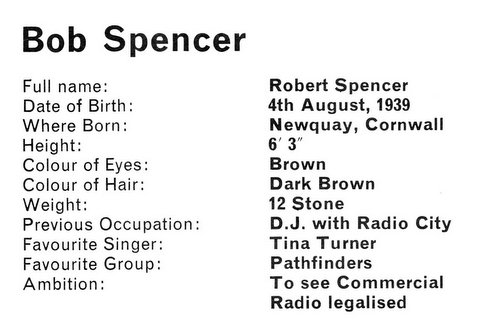 Bob Spencer's details from 'Beat Wave' magazine.
Bob's first broadcasting experience was on Radio City in 1965. At that time the station owner, Reg Calvert, would often employ people as "trial DJs", what would now be termed 'work experience'. The DJs would spend a week or two on Shivering Sands fort learning their trade and, more often than not, that would be the end of their time with the station. If they were lucky, they would get £5 'expenses'. It is not known how long Bob was with Radio City but he is much better remembered for his next job.

At the end of 1965, Radio Scotland began broadcasting from the Comet, anchored off Dunbar in the Firth of Forth. Bob was part of the first DJ team and quickly established himself. He was later promoted to Senior DJ and Presentation Controller.
In Jack McLaughlin's fictionalised account of Radio Scotland, Pirate Jock, the character Bob in the book is described as "gangling six foot two or three with dark wavy hair which was beginning to recede ..... His father had owned a yacht chandlery in Poole, and Bob had delivered yachts all over the Med. He had spent much of the last year in the port of Palma which explained his deep tan. He had set up discos at various yacht clubs and discovered that being a DJ was a sure way to attract the ladies ..... As well as being a natural broadcaster, he was good company and we enjoyed hearing of his adventures when he was delivering yachts round the Med."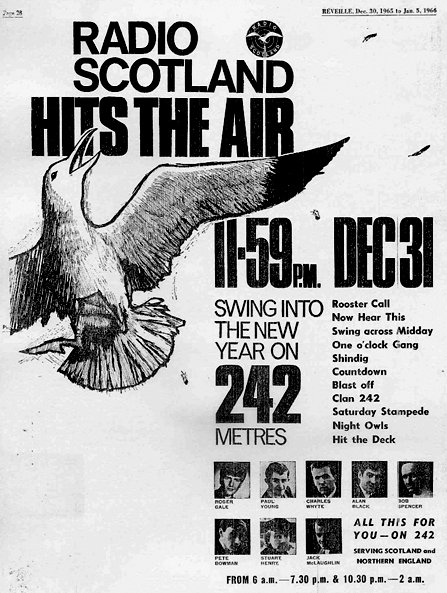 Magazine advertisement for the launch of Radio Scotland.
Like many offshore DJs, Bob acquired an on-air nickname. He was "Ugly" Bob Spencer, presumably meant ironically as a number of the press articles of the time commented on his good looks.

Although Radio Scotland was well-received in the east of the country, its signal wasn't strong enough to penetrate the population centre of Glasgow so, at the end of April 1966, it was decided to tow the ship around the country to an anchorage off the west coast.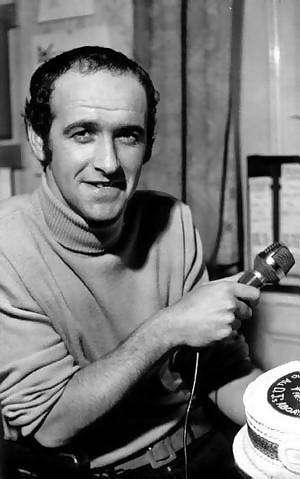 Bob Spencer. Radio Scotland publicity photo.

Bob Spencer on the Uptown Scene programme on Radio Scotland, 18th May 1966, while the ship was under tow. Recording kindly donated by Kenny Tosh (duration 2 minutes 43 seconds)
The new position in the Firth of Clyde meant that Radio Scotland was able to build a larger following, both in Scotland and Northern Ireland, and numerous promotional events were staged on land. Unfortunately, after nearly a year broadcasting from the west coast, a summons arrived. Apparently the ship was anchored inside UK territorial waters.

A long period of confusion followed (see details here) and the station was forced to remain silent for a number of weeks, seriously affecting its finances. Managing Director Tommy Shields decided that it was the fault of Co-ordination Controller Brian Holden, who he sacked. Immediately four DJs, including Bob Spencer, quit in sympathy. It was the end of Bob's time in offshore broadcasting.
Bob Spencer on Radio Scotland from an evening in September 1966. Apologies for the night-time interference. Bob Donnelly, who he mentions, was an engineer on the station. Recording courtesy of www.azanorak.com. Our thanks to Ray Robinson (duration 1 minute 21 seconds)
Bob Spencer on the Swing Across Midday show on Radio Scotland, 19th May 1967, towards the end of his stint with the station. Recording kindly provided by Hans Knot (duration 4 minutes 49 seconds)
We don't have full details of Bob's career after Radio Scotland but we believe he spent some time working in the yachting industry, skippering, crewing and delivering boats to new owners in Florida and the south of France. The friend whose message was posted on Facebook announcing Bob's death also mentioned that he had worked as an airline pilot. Bob's colleague on Radio Scotland, chief engineer John Lumsden adds "he told me he lost his pilot's license after an incident over the Indian ocean where to quote Bob 'I took a calculated risk that paid-off but they took my license'. I can well imagine Bob taking a calculated risk ... it was in his character. I'm not sure - it was a long time ago - but I think he was flying for the Air Force." Bob returned to broadcasting in 1981 when he invested in the Italian station Radio Nova which transmitted programmes in English, French, Dutch and German to the French Riviera.

Bob retired to Helston, Cornwall, but had health problems. His fellow Radio Scotland DJ Paul Young tells us Bob underwent a heart transplant some years ago (see below). Bob Spencer passed away on 3rd September 2014, aged 77.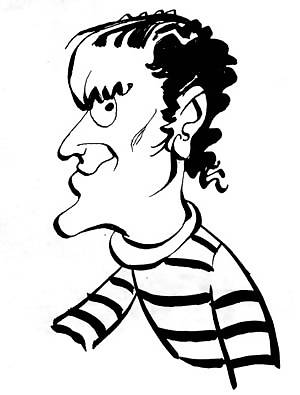 Caricature of Bob Spencer, drawn by his Radio Scotland colleague Alan Black, from '242' magazine.

Paul Young writes: "Sad news. I worked with Bob on Radio Scotland in 1966 and socialised with him in Glasgow and Edinburgh. He was a great supporter of the RNLI. Last time I spoke to him he was trying to contact Paul McCartney for a contribution for a lifeboat station on the Mull of Kintyre. Bob had a heart transplant some time ago and was grateful for the chance of those extra years."

Jack McLaughlin: "So sad. He really was one of the Radio Scotland greats. I am sure we all remember him with great affection."

Peter Bowman: "Bob was a great character who ran a fabulous breakfast show."

Tony Meehan: "The words from Paul, Jack, John and Pete are a perfect tribute to the man, a larger than life character who knew how to please his radio audience. He will be missed, his passing is a reminder that mortality awaits us all.

Brian Webb posted on Facebook: "He was a lovely guy."

Radio Scotland listener Dave Burke: "Very sad news. For me, he was really the voice of Radio Scotland, a very smooth and professional presenter."
---
* Bob's official Radio Scotland biography gave his birthdate as 4th August 1939 but, as he was reportedly 77 years old when he died, it was probably 1937. Can anyone confirm?

With thanks to Ian Biggar.