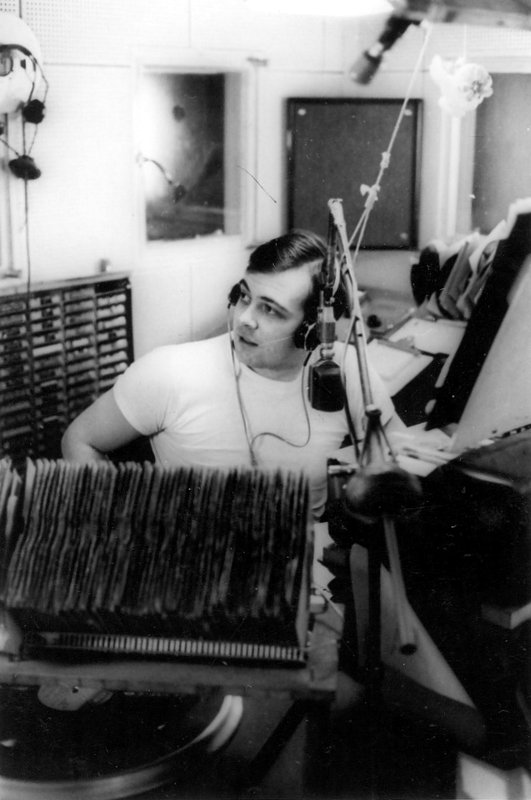 Bob Stewart in the Radio Caroline North studio. Photo kindly provided by Carl Thomson.
The British offshore stations were greatly influenced by American Top 40 radio and a number of local disc-jockeys tried to emulate the great US jocks by adopting a mid-Atlantic twang to their voices. But one English broadcaster's invented accent was so convincing that when Americans came to work with him on Radio Caroline, they would inquire which part of the States he was from. They were amazed to discover he was born and brought up on Merseyside!

The man with the deep dark voice and the convincing accent was born Graham Robert Stewart in Liverpool on 3rd July 1939. A tall man - he measured 6ft. 5 ins. - he left school at 16 and became a car salesman. He went on to have a number of different jobs and spent his National Service in the Army, serving in east Africa.

Tony Evans, a correspondent to The Pirate Radio Hall of Fame, used to be in a beat group from Warrington called The Boys. He recalls meeting Bob, who was then working as a butcher, at a gig in Liverpool. Bob drove their van for a while. Tony says Bob was "was one of the nicest guys you could ever wish to meet."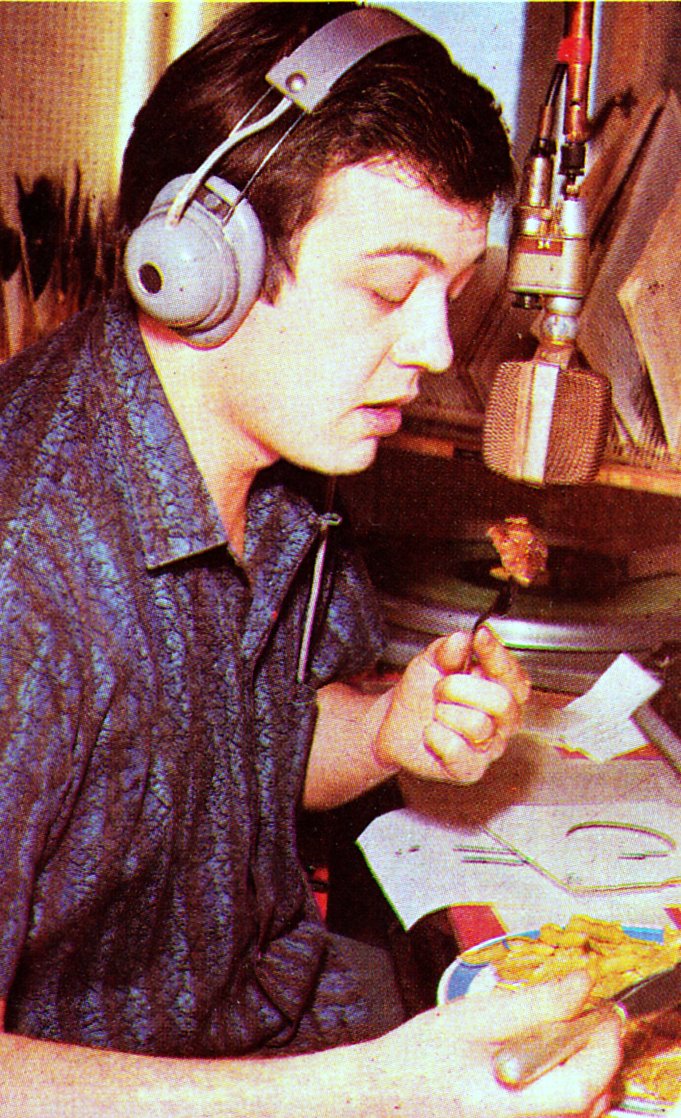 Bob Stewart multi-tasking - hosting a show and eating a meal! Photo from 'Beatwave' magazine.
After leaving the army, a friend, Pete Best - the original drummer with The Beatles - suggested that Bob's deep resonant voice would make him an ideal disc-jockey. Bob took some convincing but Pete was right and Bob was soon spinning discs in a number of Liverpool clubs at the height of the Merseybeat boom.

In 1965 he applied for a position with Radio Caroline and, after a brief stint on the South ship, was transferred to the North where he stayed for the next two years. It was while working for Caroline that Bob developed his new accent. The bosses were concerned that his natural Scouse tones might not go down well with some of the listeners, especially on the southern station, so it was suggested he try something less polarising. His invented American accent was such a success that Bob stuck with it for the rest of his career. It was also on Caroline that he became known as "Baby" Bob Stewart. He hosted a number of different programmes but is probably best remembered for his time presenting the 12-3pm show.
Bob Stewart on the Caroline Club Request Show show, 30th June 1965 (duration 4 minutes 38 seconds)

Bob Stewart ending the Caroline North Breakfast Show on 26th August 1965. The theme tune is Kinda Kinky by Ray McVay. This and the recording above were shared on the Internet Radiocafé, now known as the Radiotrefpunt (radio meeting point) forum by Bertus. Our thanks to him (duration 4 minute 11 seconds)

Bob Stewart ending his last ever programme on Radio Caroline North in June 1967. Recording kindly donated by Albie Somerset (duration 5 minutes 19 seconds)
In June 1967 Bob left Radio Caroline, about six weeks before the introduction of the law which would make it illegal for British citizens to work on the offshore stations. He returned to the Liverpool clubs but the following year was persuaded by his old colleague Tony Prince to apply for a job with Radio Luxembourg. "The Royal Ruler" was already working for Luxembourg and put in a good word for his former ship-mate with Programme Director Tony McArthur. He was in the process of putting together a new line-up of DJs, mainly consisting of ex-pirates, and Bob soon joined them. He was to stay with Luxembourg for nearly twenty years and, for many listeners, became the voice of the station.
Bob Stewart introducing his fellow Radio Luxembourg DJs, from the documentary This Is How It All Began made in the seventies (duration 2 minutes 32 seconds)

Some clips from a Bob Stewart programme on Radio Luxembourg from August 1985. This is edited from a recording shared on The Offshore Radio Club Forum by Igorra. Our grateful thanks (duration 2 minutes 32 seconds)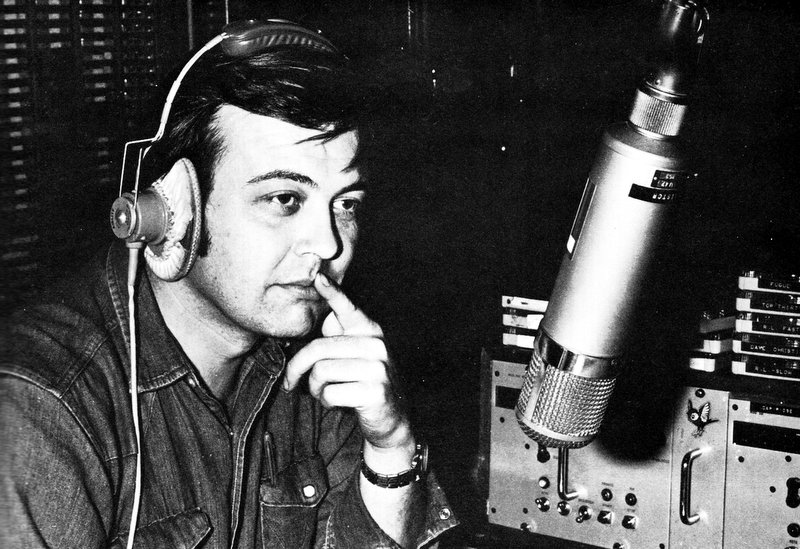 Bob Stewart in the Radio Luxembourg studio. Photo from 'Radio Luxembourg: The Station of the Stars', published by Comet.
In the late eighties he and his second wife Cynthia moved to the USA but a couple of years later Bob was back on Radio Luxembourg where he stayed until RTL closed its AM service at the end of December 1991. He transferred to the UK and was heard on a number of stations including Jazz-FM, Red Rose Gold in Preston and London's Capital Gold.

He and Cynthia then headed back to the USA, settling in Dallas, Texas. Unfortunately Bob's health was not good. He underwent surgery for cancer of the larynx, endured a bad car accident, suffered from Parkinson's Disease and had heart issues. Sadly he passed away at around 9am, local time, on 28th March 2019. He was 79.

Bob's many years of service on Radio Luxembourg, and that station's wide coverage, means that he is mainly remembered for his time there but readers of this website will never forget "your Bobby baby who loves you so crazy" on Radio Caroline North.
---
A number of former colleagues have paid tribute to Bob:

"What can I say? A great lad. We had lots of fun together on the ship. Happy days!"
Alan Turner (Caroline DJ)

"Baby Bob was a very close friend on the North Ship and we still communicated over the years right up until his illness took him down.
Memories from 1966: My first few hours on the North Ship were an experience. At 18 years old and on my first real ship the seasickness was a bit annoying. Bob came to my cabin, told me to go to the saloon and get a greasy egg sandwich down my neck. I did, and it worked. He also suggested a few Heinekens and that also helped. Later that night we all we gathered in his cabin and Bob fancied a shirt I was wearing (paisley green and red button-down collar). He said it looked so transatlantic he had to have it. Not a day on Caroline and Bob was buying the shirt off my back. (He later told me he wore it until it fell apart.) Back in those days Bob and I were about the same size. Another shirt followed a month or two later. It seems Carnaby Street just didn't have the Oxford cloth American style he wanted. Through the winter of 1966-67 Bob and I would stay up very late at night discussing radio broadcasting in the USA and his desire to be a major player was burning hot even then. He asked me about his delivery - was it American enough? I told him for a non-native he was as close to a Yank as anyone I had heard. That pleased him.
Baby Bob was a warm, funny, intelligent, sensitive and caring person. His interior was all heart and it was difficult for him at times to keep that from showing. Latterly we exchanged emails and talked of old times. He never lost the sharp edge and his dry wit was so great to hear in his banter back and forth.
As we get older more of our old mates from Caroline will pass on. I was lucky to be so very young at the time maybe I will make it a few more years.
Very few actually knew Baby Bob up close and believe me it was a great privilege to have been so close to such a great person."
Bob Read (Caroline engineer)

"Bob and I were pals from 1965 and spent a couple of years bobbing around in Ramsey Bay. We were the only two mad enough to stand at the bow in a force 12 storm. I think we thought we were on a ride at Blackpool Pleasure Beach. I always thought how wonderful it was to have such a great American buddy until he revealed to me he was a Liverpudlian! Bob and I learned the art of DJing, jingle creation, tape editing and mic technique from the likes of "Daffy" Don Allan (Canada), "Murph the Surf" (America) and Graham "Spider" Webb (Australia). Bob's first marriage was to Joyce, a Mancunian. We bonded together until I joined Radio Luxembourg in April 1968. When we inherited Tony McArthur as our new Programme Director I was quick to recommend he employ Bob. We subsequently spent two decades employed by RTL living and breathing the Luxembourg air. Bob was one funny guy. I first ran into his mischievous ways when I came out of the shower on Radio Caroline North to be chased naked in the bowels of the ship, hiding in the engine room behind a throbbing cog! Bob intended throwing me to the tourists who circled us in the summer of 1967. Bob was the greatest voice on British radio but he never even tried to rid himself of his Texan drawl, instead moving to Texas with his second wife Cynthia, his American dream girl. And there he remained happy as Larry to the end of his days."
Tony Prince (Caroline North and Luxembourg)

"It is sad to learn that he has passed away. The Bob that I remember was always amenable, generous and thoughtful. My thoughts go out to Bob's family and friends."
George Hare (Caroline North shore support)

"A wonderful work colleague with a great voice. The only time I ever heard him get angry was when there weren't enough chips at dinner time on board the MV Fredericia! Whilst working at BFBS Cologne I popped over to Radio Luxembourg in 1977 where Bob allowed my wife and I to sit in on his programme and he then took us to a nightclub where we reminisced about the pirate days into the small hours. That was the last time I saw him. No doubt he's already making jingles in heaven."
Nick Bailey (Caroline newsreader)

"Very sad to learn of Bob's passing. Radio Caroline North ... Bob Stewart and I shared a year of memories '66-67. My best memory of Bob: about a year after I had returned to Canada, I received a package from England. Inside was an off-air recording of Radio Caroline North from Bob. He had placed his recorder mike in front of a radio speaker - he was in Manchester - a fair distance. As the recording continued Bob, in that astounding radio voice said "I thought you'd like the memories". A profound statement all those years ago. Yes, I am still cherishing those thoughts. I still have the tape and the letter. I will always have the memory. For too short a time we shared a path. My condolences to Bob's family. In sympathy."
Gord Cruse (Caroline DJ/newsreader)

"Bob had a big voice, he drove big cars and, until yesterday, he had a big heart that finally failed him. I remember clearly the first time I met him in 1971 in the parking lot of the Villa Louvigny, where the Luxy studios were. His reputation preceded him by virtue of the voice I had heard on Luxy before I joined. What kind of a big bad-ass of a macho man was this legend going to be? A big bad pussy cat as it turned out. Funny, charming and disarming. Oh he had a temper, but it manifested itself only in his big, growling voice, he wasn't a physical kind of guy. But when he was ticked off - you knew it!! I smile as I remember him now. Another of the original big six has gone to that great radio antenna in the sky. He lived in the States for many decades so I haven't any recent memories. But the ones I have from those days in the 70s are hard-wired and unforgettable. Thanks Bob. And my very deepest sympathies to his wife Cynthia."
Mark Wesley (Luxembourg) on Facebook
There is an obituary for Bob on the Daily Telegraph website (registration required).