Radio Caroline publicity photo, from 'Who's Who In Pop Radio', published by New English Library.
Don had plenty of broadcasting experience in North America before crossing the Atlantic but the first time we heard him in Europe was on Radio Caroline South during the spring of 1965.
Don Allen, joined briefly by an uncommunicative Jon Sydney, on a morning show from Caroline South, 12th July 1965 (duration 2 minutes 17 seconds)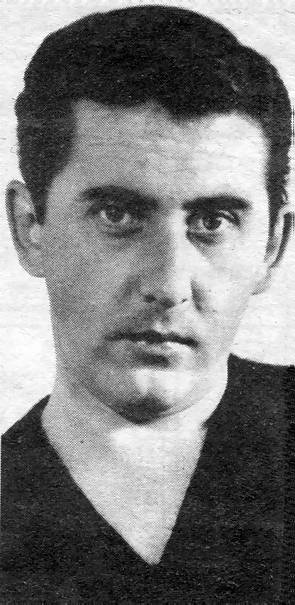 Photo from 'Disc' magazine.
Don did not enjoy his time on Caroline South but, when he moved to the North ship later in the year, it was a different matter. At that time Caroline North had a much more exciting presentation style and Don was able to let rip with the jingles and wacky drop-ins that became such an essential part of his show.
Don on Caroline North's Big Line Up, 22nd November 1965 (duration 1 minute 39 seconds)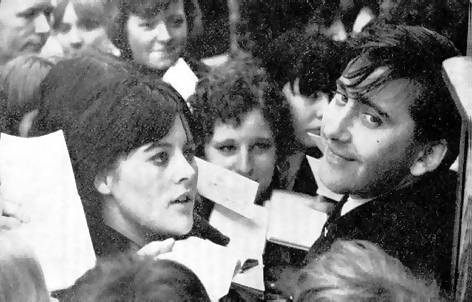 Surrounded by autograph-hungry fans. Photo by Doug MacKenzie from 'Radio Caroline', published by Landmark Press.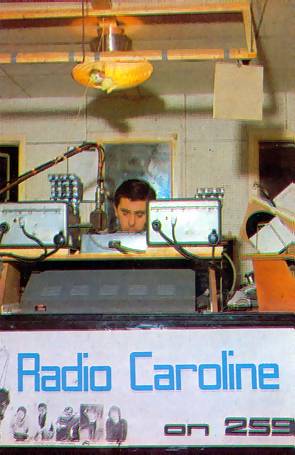 On the air on Caroline North. Photo from 'Beatwave' magazine.
In November 1966 Caroline North switched wavelengths from 199 to 259 metres. Before making a permanent move, the station put out some late night test transmissions:
Don on the East of Midnight show in the early hours of 3rd November 1966 - easy on the reverb, Don! (duration 3 minutes 5 seconds)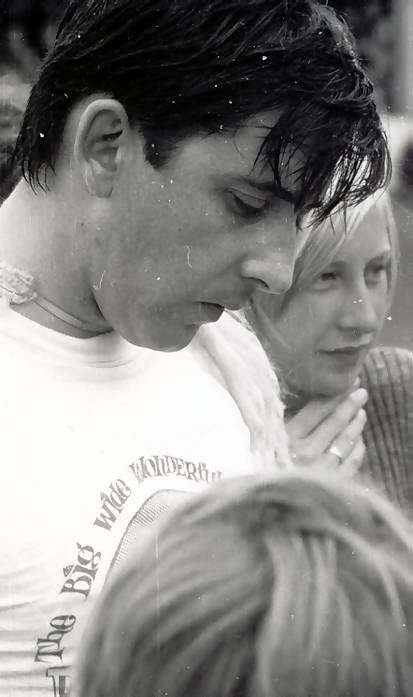 Signing autographs. Photo courtesy of George Morris.
The Marine Offences Act became law in mainland Britain on 15th August 1967. The Isle of Man parliament resisted the legislation but it was forced upon them from London. It came into effect there at midnight on 31st August. Don elected to stay with Caroline and became Senior DJ.
Don at midnight on 31st August 1967 and some clips from the first post-Marine Offences Act programme on Caroline North (duration 3 minutes 17 seconds)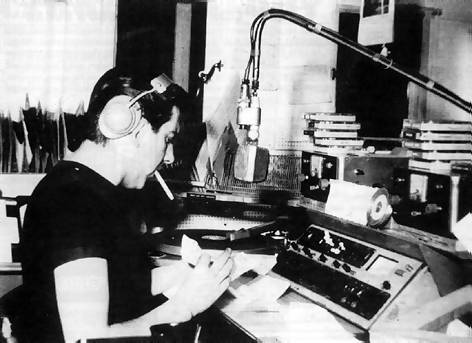 In the Caroline North studio. Photo from Offshore Echo's.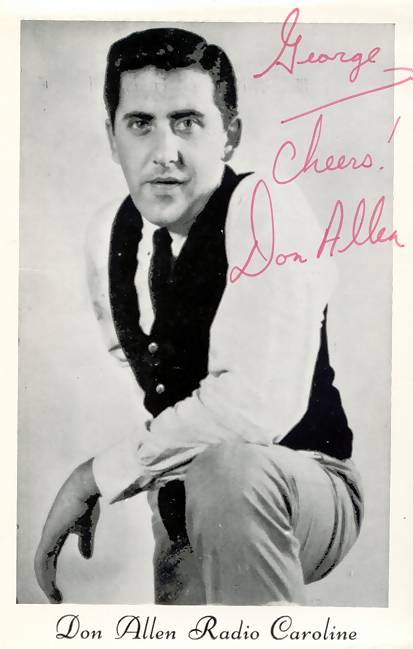 Autographed photo, courtesy of George Morris.
As well as his regular Big Wide Wonderful World of Daffy Don Allen programme, Don presented the weekly Country & Western Jamboree.
Don opening and closing the Country & Western Jamboree on Caroline North, 2nd March 1968. Little did he know that it would be the last one (duration 2 minutes 28 seconds)
Following closedown that night, both Caroline ships were boarded. They were towed to Holland and impounded. Don joined Manx Radio and was also heard on The Caroline Revival Hour, a one-off show on Radio Andorra.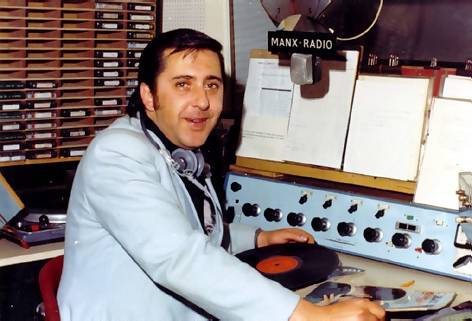 In the Manx Radio studio. Photo courtesy of George Morris.
In November 1972 Don returned to sea with Radio Northsea International, anchored off the coast of Holland. He stayed with the station until it closed down on 30th August 1974:
Don, with Brian McKenzie during the final hour of Radio Northsea's International Service (duration 1 minute 8 seconds)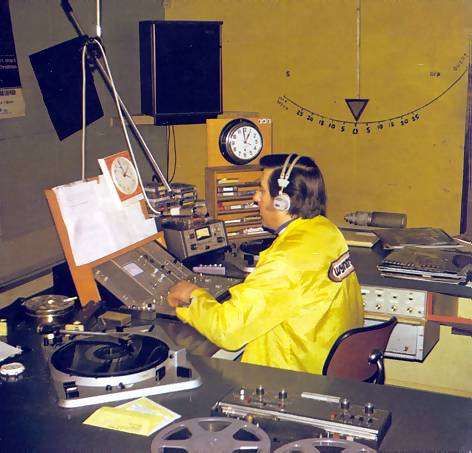 In the Radio Northsea International studio. Photo from 'Dee Jay & Radio Monthly'.
Click here to see details of the Don Allen fan club from 1968.